The Hard Rock Vault Orlando is a kind of museum which features some of the organization's most precious and valuable memorabilia. Since every cafe in the chain is home to some pretty amazing stuff, I was always curious to know how it could get any better. The building itself is far-removed from the hotel and cafe in Orlando, and sits off the incredibly congested International Drive, just south of Universal Studios.
The building exterior is funky and dramatic... but mostly decorative, it would seem. As far as I know, there is nothing up in that inverted pyramid...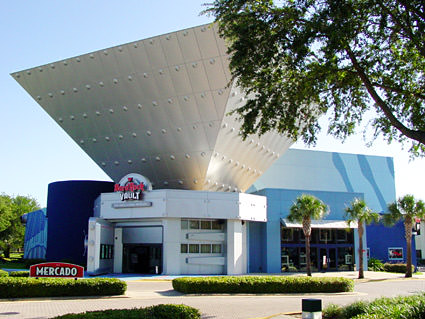 A ticket costs $15 and gains you admission to the "hub" where photography is permitted...
I have to hand it to them, they did a pretty amazing job of cramming a heck of a lot of stuff in that room in very inventive ways. It makes me wish that the city of Cleveland would hand over their lame "Rock & Roll Hall of Fame" to the Hard Rock and let them make it much, much better. Nobody can take a load of old crap and make it come to life with warmth and interest better than the Hard Rock. It makes the "Hall of Fame" look cold and boring by comparison.
A cool piece that I almost missed is Elvis' Green & White Harley-Davidson motorcycle! The story is that he gave it to his chauffeur as a gift, and it was eventually sold the the Hard Rock. What a beauty...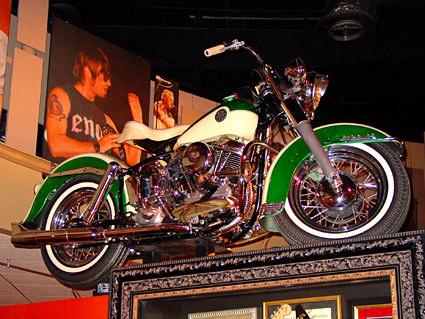 After wandering around the exhibits for a while, I was called for my tour into the actual "vault" where no photography is allowed. Since I was the first (and only?!?) visitor of the day, I was all alone on the tour which was very cool. There are 5 different rooms, each themed differently. The first room is the Punk Room, which I loved. The second was the Dressing Room which had some of the more outlandish costumes from rockers of the ages. The third was the Psychedelic Room (just like it sounds, mushrooms not included!). The fourth was pretty much all the Beatles Room (incredibly cool... my favorite piece being the back of the cereal box that Lenon wrote out the lyrics for Help on!). The last was an Elvis Room (complete with those stupid Vegas lounge singer duds he wore late in life).
If you have any interest in the history of Rock and Roll, the Vault is an absolute can't-miss opportunity, though I think the $15 entrance fee is a bit stupid, as I don't think very many people are going to be willing to pay that. They should have the entry be free, and then clean up on merch sales.