"Huh? You're going to Oslo for vacation?? What in the hell for?" —Just About Everybody I Know
Trying to explain how sometimes I like to travel to places "just because I haven't been there before" is a challenging ordeal. But here I am in the capitol city of Norway for exactly that reason. I've never been here, there's a Hard Rock Cafe in the city, and one of my first blogging buddies (whom I've never met) lives in the area. That's more than enough reason for me, even if people I know have trouble understanding why I'm here instead of Hawaii.
The tough thing about Olso is not the cold, snowy weather this time of year... I'm used to that back home. No, the problem is affording to spend time here. As The World's Most Expensive City, Oslo is a real challenge for the tourist traveler. And when you compound that with the INCREDIBLY F#@%ING WEAK U.S. DOLLAR, an expensive city becomes almost prohibitively expensive. Because, let's face it, on the international market, the American dollar ain't worth shit.
In fact, I'd be willing to wager that if you forced somebody here to choose between our dollar and a pile of shit, they'd actually take the shit because it could be used as a fertilizer, whereas a U.S. Dollar has practically no value at all. And the fun starts the minute you get here... a train from the airport into the city, which would be around $5-$10 anywhere else, is $32 in Oslo. And, since I measure everything compared to the price of a roll of toilet paper, I found out that the Blogography Toilet Paper Index Score for Oslo is $4.50.
If my hotel didn't provide toilet paper, I'd be wiping my ass with the U.S. currency I had left in my pocket... it just makes economic sense.
But enough about the INCREDIBLY F#@%ING WEAK U.S. DOLLAR, here's a few things I saw today...
One of my very first blogging buddies is Karla from "Tales of a Texpatriate." She is funny as hell, loves to travel, and has a similar outlook on things as I do. I'd say this makes her a hotter female version of me, but my ego won't allow it. Instead I'll just say I love her to death, and couldn't wait to meet her at long last. So imagine my excitement when I get a text message on my iPhone telling me she'll meet me by the giant tiger at the train station...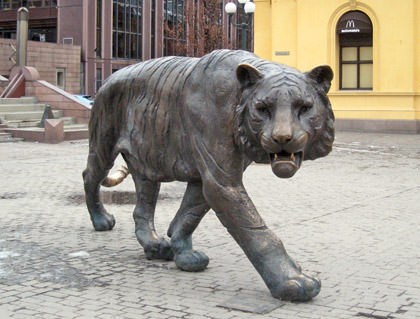 That doesn't look very "giant" so here it is again, but with people so you can see how tall it is...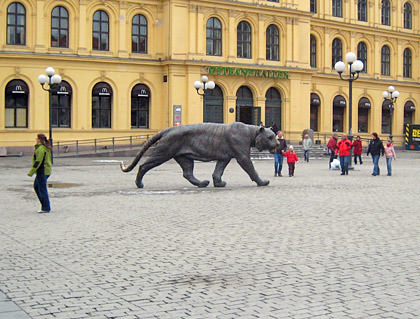 Well, not how tall "IT" is, but how tall "HE" is, ahem...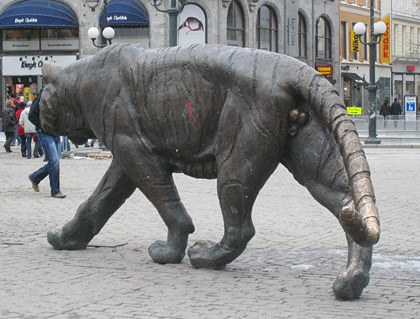 After a walk down the main street "Karl Johans Gate" we arrived at the Hard Rock Cafe Oslo, where Karla bought me birthday dinner! I guess she wanted to delay that inevitable moment where I run out of money and have to sell myself on the street for food...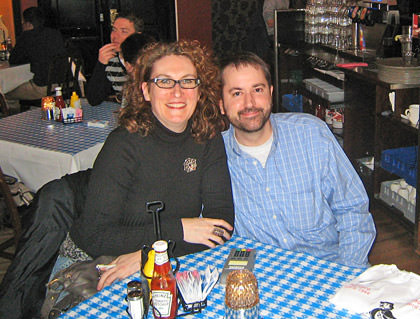 After a lovely chat over potato skins and nachos, we were off to Akershus Castle down the street. Along the way, I was surprised to see a statue of Franklin D. Roosevelt. He's honored here because of the assistance the U.S. offered Norway during the war. It's kind of nice remembering when we had a president that was liked and respected around the world. It's been so long...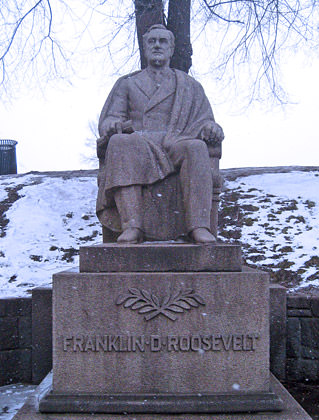 Once at the castle, we could look down into the harbor. It was snowing pretty hard by now, which made taking photos difficult, but I did get a nice foggy panorama out of the deal...

Oslo has a lot of public art, some of it very strange. Like this "Let Your Fingers Do The Walking" kind of thing here...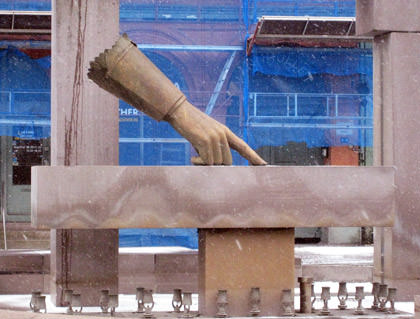 After a a little more wandering around, my lack of sleep from the past 32 hours finally caught up with me and it was time to say goodbye to Karla and head back to my hotel (conveniently located near the train station). Karla warned me that this is a popular area for hookers to hang out, but I haven't seen any yet. At first I was disappointed, but then I figured if hookers are as expensive as everything else here, I probably couldn't afford one. Besides, my bed is barely big enough for me...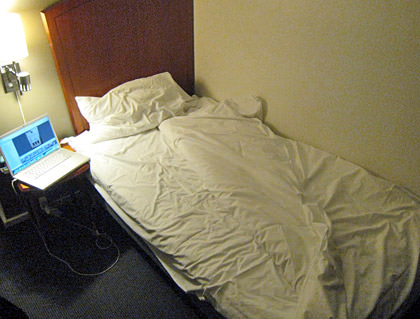 And before I go, a big thanks to everybody who was kind enough to send my birthday wishes via Twitter, blog entries (I'm a holy day now!), comments, text messages, emails, and e-cards! Getting older sucks a little bit less when you know people are thinking kindly of you.