Posted on July 27th, 2020

The global COVID-19 pandemic has been hard in so many ways, but the toll it hass taken on businesses has been devastating. Without money coming in, there's a large number of them that will likely never fully recover, and many of those will probably end up closing. From shops and stores to markets and museums, everybody is hurting. But the industry that seems hit harder than any other is food services.
A lot of restaurants barely scrape by even when fully operational. And while some have reopened for takeout or have partially opened their dining rooms, that's not enough to keep them operating for much longer... if they haven't had to close already.
I'm not a huge restaurant person (it's an expense I can rarely justify), but I've visited more than my share of Hard Rock Cafes. So measuring the effect of the pandemic on restaurants is fairly easy for me to do when I look at the number of Hard Rocks that have closed since the coronavirus came calling...
UPDATE August 6, 2020: Well crap, Aruba just shuttered. I visted in March, 2012, and always hoped to go back one day so I could get a T-shirt since they were out when I was there. BOOOOOO!
Hard Rocks open and close all the time... but that's like... a lot. And, sadly, I'm sure that's not going to be the end of it.
If we ever see the other side of this pandemic, meaning we get a vaccine or find a cure or something, I have to wonder how long it will take for our restaurants to start coming back. And this is assuming that once we see the other side of this pandemic that we aren't hit with another soon after. For all we know, that could be life on earth from here on out. All we can hope for if that's the case is that governments are more receptive to the science of surviving... and people aren't a bunch of stupid assholes who refuse to do their part.
But I'd be fooling myself to think that's never going to be a factor.
Posted on July 16th, 2020

Ever get the feeling that the government is actively working against your best interests and is happy to endanger your health by pandering to ignorance, denying science, and covering up the data that reveals how badly they are fucking over the American people?
Call me paranoid, but it's tough to see it any other way when you follow the headlines...
Florida tops its single-day record for coronavirus deaths as the UK and France seek to mandate mask wearing. — The Chicago Tribune, Posted July 14, 5:11pm Eastern
Trump administration cuts CDC out of data collection on hospitalized COVID-19 patients. The move has immediate effect. — USA Today, Posted July 15, 9:27am Eastern
Coronavirus data has already disappeared after Trump administration shifted control from CDC. — Posted July 15, 9:31am Eastern
COVID-19 power shift: Experts have 'deep worries' about hospital data sent to Washington. — NBC News, Posted July 15, 2:19pm Eastern
Out of View: After Public Outcry, CDC Adds Hospital Data Back to Its Website — for Now. — ProPublica, Posted July 15, 2:38pm Eastern
Did Trump Admin Remove CDC as Overseer of COVID-19 Hospital Data? • TRUE. — Snopes. Posted July 15

If the pandemic is such a huge hoax involving a conspiracy of doctors and scientists around the globe, then why try to control infection data unless it contradicts your claims? THIS DATA IS HOW STATE AND LOCAL GOVERNMENTS MAKE DECISIONS AS TO THE HEALTH OF THOSE PEOPLE THEY REPRESENT!
Not that some State and local governments give a shit...
Data shows new COVID-19 cases steadily climbing in Georgia. — FOX 5 Atlanta, Posted July 16, 8:47am
Report: As COVID-19 cases continue to grow, Gov. Kemp sues Atlanta for requiring masks. — Decaturish.com, Posted July 16
Kemp is so far up Impeached President Cadet Bone Spurs' ass that he can give Trump a colonoscopy just by looking out his fucking window. And the people of Gerogia are suffering because of it. Just goes to show that you get what you vote for.
The truly awful thing is that people who trust our government to do the right thing are subsequently finding out the hard way that the government can't be trusted. Former game show host Chuck Woolery infamously declared the COVID-19 pandemic as some kind of hoax by the CDC, the media, Democrats, and doctors... then had to backtrack the very next day because his son was diagnosed...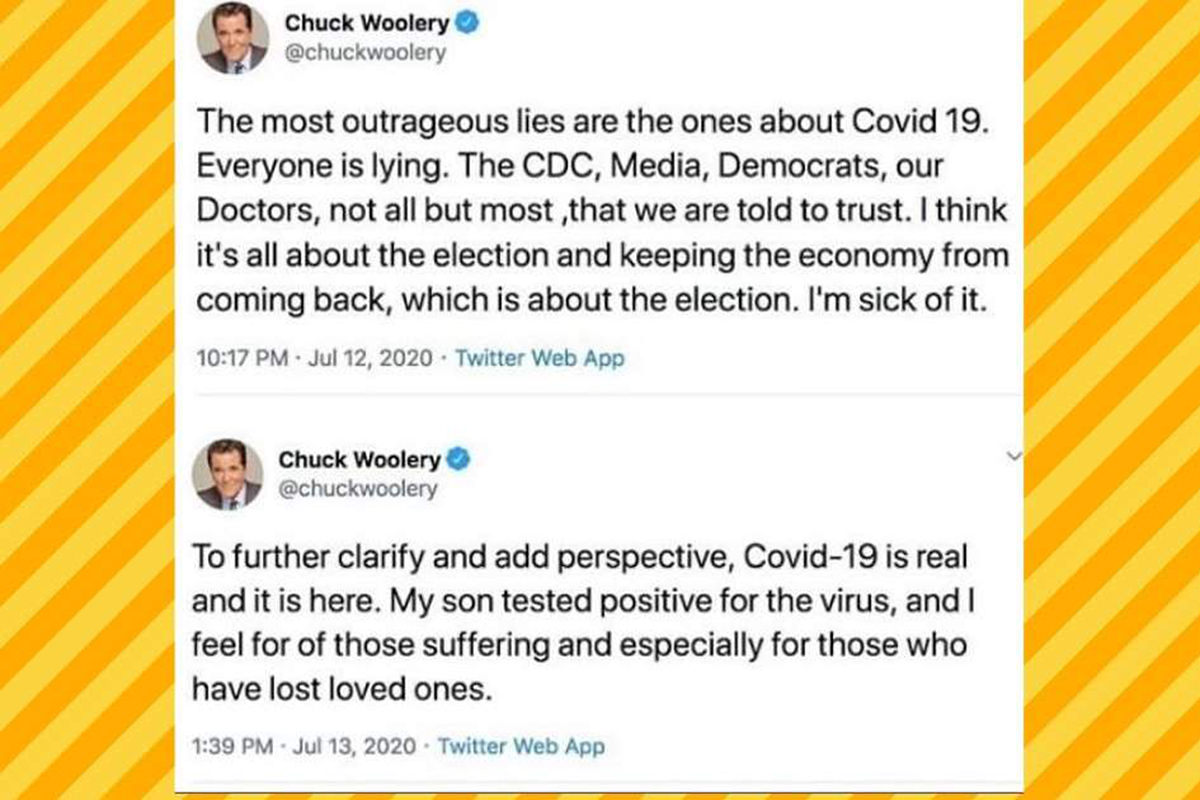 SOURCE: Snopes: Did Chuck Woolery Say His Son Tested Positive for COVID-19?
Do people or their loved ones REALLY have to be infected with COVID-19 before they take this shit seriously? People like Chuck Woolery are why this country is so fucking fucked. I wish his son the best... not just for recovery from the coronavirus, but for having to deal with having a fucking ignorant piece of shit for a father.
Masks help prevent the COVID-19 virus in the moisture we expel in our breath from infecting others. Masks don't weaken you or cut down on your oxygen intake. Countries which have mandated masks have drastically cut their infection rates by as much as 90%! And then there's this...
Hairstylists with COVID-19 didn't infect any of their 139 clients. Face masks may be why.
People who deny masks are working... or bitch and complain because a mask is uncomfortable so they shouldn't have to wear one... are assholes. WEARING A MASK SAVES LIVES! SO WEAR A FUCKING MASK!
Or ignore the headlines and keep dying, I guess. It's entirely in your hands.
Posted on June 17th, 2020

Today was the first time I've had a semi-normal day in a very long time. Nearly four months, which seems like forever given lockdowns and such.
After canceling appointments and locking myself away at home for everything except grocery shopping, today was the day I finally threw caution to the wind and headed out into the wilds of Redneckistan. I had an appointment that I really didn't want to reschedule for a third time. That went fine. Everybody I spoke to was masked and respected social distancing norms. Pretty much all that I could hope for.
So then I decided to get really crazy and get some take-away lunch (I'm not quite to the point where I want to chance dining in). I decided to get an Impossible Whopper at Burger King as a "thank you" for continuing to support vegetarians. I was so excited that I actually took them up on a "Two for $6" special. They so rarely include Impossible Whoppers on specials, so I decided on a second one instead of fries.
They tasted incredible.
I ate them slowly, savoring each bite, while sitting in my air conditioned car.
Surprisingly, most people visiting Burger King were masked and respecting the 6-foot rule! The only customer not masked was a construction guy two people ahead of me. Color me shocked.
Then I went to Petco because I was running out of kitty litter. Same thing. Most people masked again! Could it be that Redneckistan and their idiotic "FUCK GOVERNOR INSLEE!" rhetoric were finally getting a clue? That Inslee isn't out to kill their businesses and strip them of their freedom... he's just following expert advice of people smarter than him when it comes to pandemics to try and keep Washingtonians safe?
Maybe!
And then I went to Safeway to pick up some rice noodles, Sriracha sauce, and Tamari sauce so I can make loads of the Coconut-Peanut Rice Noodles with Blistered Green Beans that I love so much...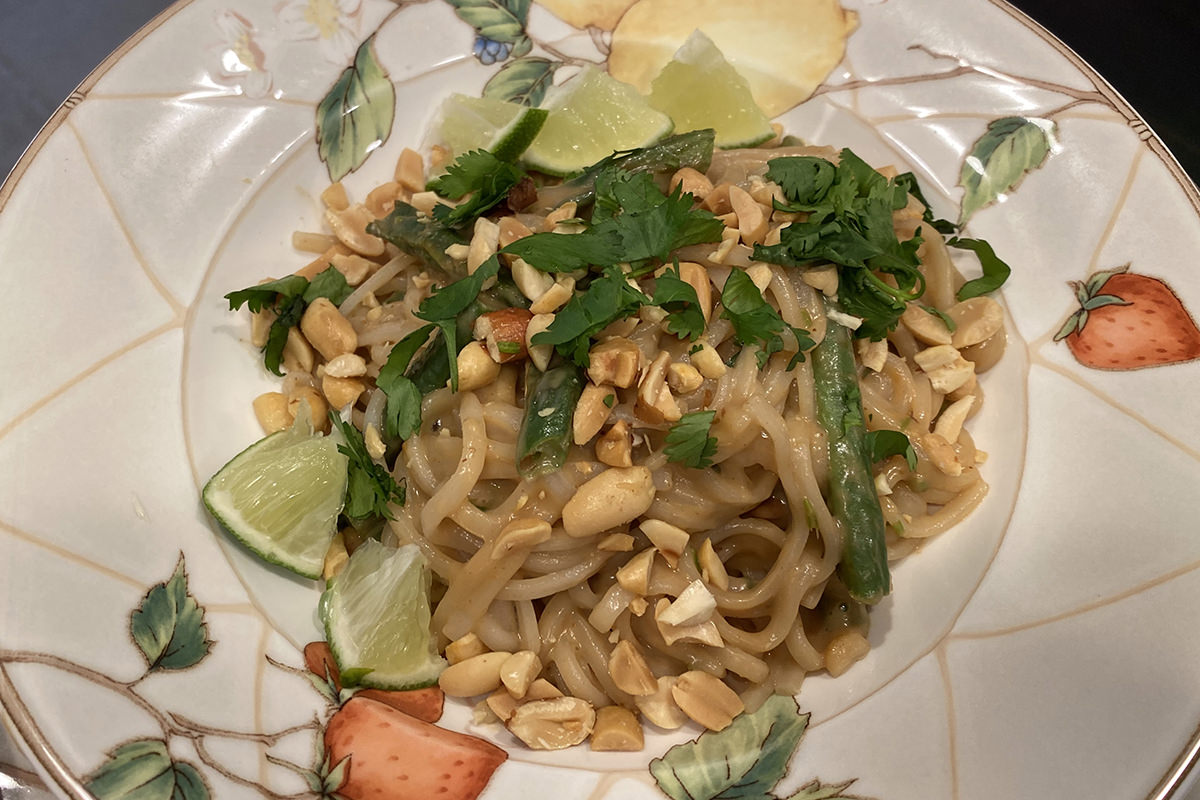 And... there I was... right back in the Redneckistan I know and love.
Not only were at least half of the people going without a mask, some of them were acting like outright assholes about going unmasked. Not that they have to go out of their way... the fact that they weren't wearing a mask is enough to tell me that they're an asshole. We wear masks to protect others in case we're infected! So of course there are selfish people who don't give a fuck about other people. Of course! Never mind that research shows a 90% drop in COVID-19 infections where masking is mandatory. Never mind that it's such a simple fucking thing to do. THAT'S AN ASSAULT ON MY FREEDUMB! And since Washington State went into lockdown before the the infections in Seattle came across the mountains in force, I'm guessing a majority of the people here still think that the pandemic is overblown (at best) or a Democrat hoax (at worst). But, when you think about it, who can blame them? Those who worship all things Trump see him setting a horrifically irresponsible personal example and are just following suit.
But hey... even if I did end up with the Coronavirus, at least my cats have something to poop in and I managed to get my first fast food in nearly half-a-year. That's not nuthin'.
In other news, I picked up some contact lenses to try out today. I stopped wearing contacts almost a decade ago when I started needing progressive lenses. Problem is... glasses fog up when wearing a mask. So now I'm trying to figure out a contacts/reading glasses combination which will make things a little easier (and less foggy) in our new COVID-19 reality.