Driven: As we made our way to Berlin, we passed mile after mile of traffic piled up behind a serious accident on the A-9 back to Munich which made us seriously happy we weren't heading in the opposite direction. Of course, karma has a way of balancing life, and so we ran into serious congestion due to poorly planned construction detours. Our five-hour journey quickly became seven hours, which took a huge chunk out of the time we had available in the city.
Rock: The Hard Rock Berlin has the distinction of being my only truly horrible HRC experience. in my previous visits, both the food and the service were abysmally bad. This time they seemed to have managed to get their act together a bit, because both the service and our dinner were fine. The cafe itself is pretty sweet, so I'm glad they're improving.
Charlie: About the only thing we had time for on our sightseeing list was a visit to the Checkpoint Charlie Museum for the Berlin Wall. It's a great museum (but unbearably hot) filled with fascinating memorabilia of a country divided. I particularly like the displays showing the ingenious methods East Germans used to escape to the West. The wall has long since gone, but you can purchase souvenir chunks and see a panel that's been preserved here...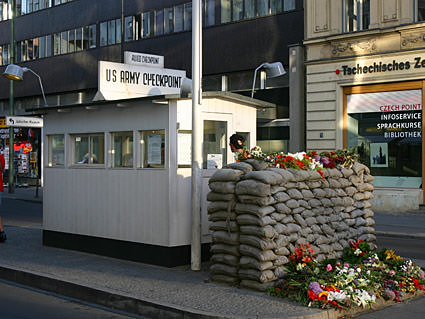 Tomorrow it's an early flight back to London and the bulk of our Hard Rock visits throughout England and Wales.