Posted on Thursday, January 18th, 2007

AAAAAAAAAAAAAHHHHH!
So there I am innocently flicking through channels when I see Orville Redenbacher on television selling his popcorn. He's one freaky-looking guy, which would ordinarily be scary enough. But this commercial is particularly disturbing for one simple reason... HE'S F#@%ING DEAD!!
The only explanation I can come up with is that the people who make Orville Redenbacher popcorn read my Blogography entry where I don't want to eat a dead man's corn, and decided to revive him all zombie-like in a series of new commercials to get me to buy...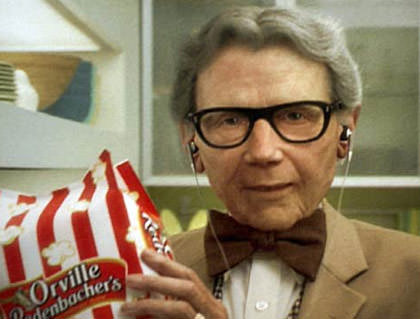 The problem is that he was always kind of zombie-like while he was alive, so the computer-enhanced version is just downright terrifying. If they made a horror film staring Dead Orville, I would be too afraid to watch. "CORN OF THE DEAD!". they could call it...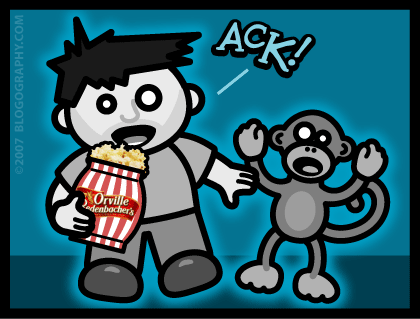 But the commercial did make me hungry.
Here is my dinner menu tonight...
A can of Coke with Lime.
Two Eggo toaster waffles with extra butter and Mrs. Butterworth's maple syrup.
A Snack-Pack chocolate pudding.
Delicious! Pudding kicks ass.
But what I really want now is popcorn.
Unfortunately I'm out of popping corn, and it's too frackin' cold out to go buy more. Bummer.

Here's another panorama photo I made using Adobe's super-sweet pano-stitcher tool in the PhotoShop CS3 beta. It's a shot of the "Field of Dreams" from my trip to Iowa. My previous efforts to stitch it together failed miserably, but Adobe's magical new software somehow managed to do a beautiful job...
At this size it's hard to tell but, even at high resolution, I can't find the seams. All pieces were warped and blended flawlessly. Bravo Adobe.
P.S. I HAD TOTALLY GUESSED THE IDENTITY OF THE MASKED WOMAN IN "UGLY BETTY!" I totally should write for television.
Posted on Thursday, February 1st, 2007

I had set a wake-up call for 6:00am with the intention of getting up with the sunrise and seeing a bit more of Madrid at dawn. Yesterday I had noticed that the light was really nice in the morning, and intended to take advantage of it.
Yeah, like that was going to happen. I was so totally dead from miles of walking yesterday that I barely made it out the door for my 10:00 shuttle to the airport.
After an uneventful 1-hour plane ride (assuming sitting behind a smelly, smelly man during the flight and then having to wait 50 minutes for my luggage counts as "uneventful"), here I am in Lisbon, another city I've never been to before. Since it was lunchtime when I got to my hotel, I tossed my luggage in the closet and headed out to the Hard Rock Cafe...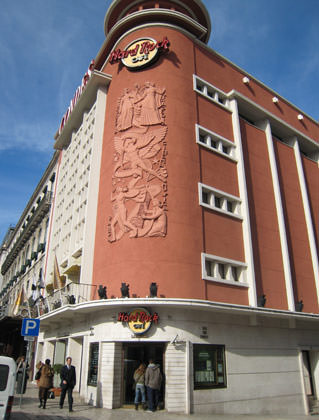 Turns out this is a fantastic dual-level property with really interesting architecture and an incredible amount of memorabilia stacked from floor to ceiling...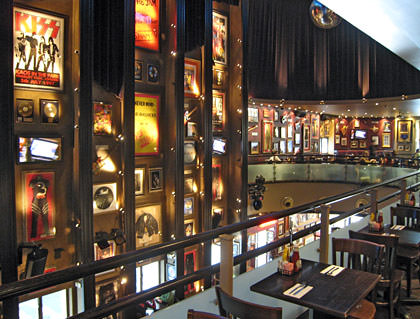 In recognition for their awesomeness in winning "World-Wide Cafe of the Month" back in November, Lisbon has the honor of getting to display an original Jimi Hendrix guitar from his appearance on the Dick Cavett Show in 1969 (previous months were won by Buenos Aires, Lake Tahoe, Dublin, Houston, and Kowloon cafes)...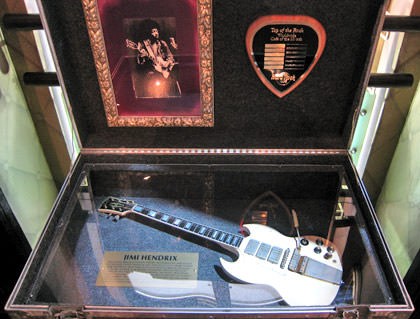 With plenty of daylight left, I decided to take a walk down to the Tagus River and see the sights. One thing you tend to notice quite quickly is that the sidewalks here in Lisbon are made from beautiful stone mosaic patterns, some of which are quite ornate. I guess when you live here, it's easy to take the sidewalks for granted, but I found myself looking down just as often as up...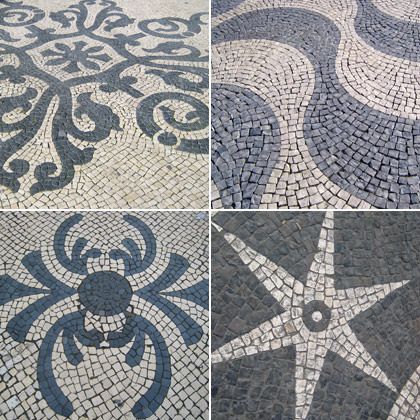 The city of Lisbon itself is quite nice. It has a very different "feel" to it from other European cities. Almost Caribbean or something... it's very strange, but in a good way. About the only thing that wasn't pleasant is being pestered every fifteen minutes to buy some sunglasses (Armani! Very beautiful!) or other imitation crap. But that wasn't nearly as exciting as being offered some hash every ten minutes (Hashish! Good hash!). Though all of that pales when compared to some guy who came up to me with a Canon EOS camera in a paper sack...
GUY: Want to buy camera? Very good price!

DAVE: Uhhhh... nope, I'm good.

GUY: Are you sure?

DAVE: Sure I don't want to buy an obviously stolen camera? Yes, I'm quite sure.

GUY: But I give you very good price!
Oddly enough, I was just thinking about how I wish I had my own Canon EOS Rebel with me. I left it back home because I had loads of crap to haul over for work and didn't want to bother with it. Still, my little pocket camera takes some pretty good shots...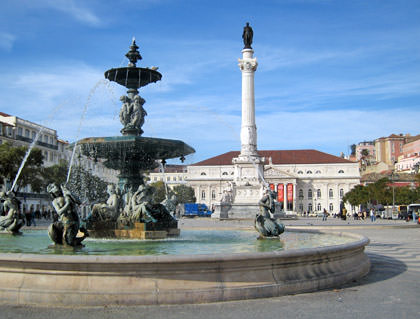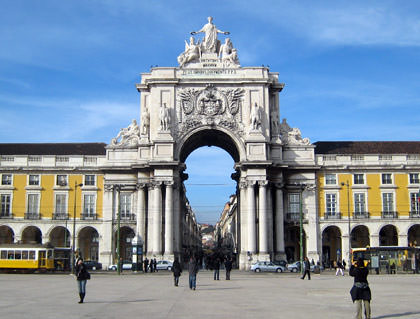 PHONE CALL!
Living the jet-set lifestyle like I do (ha!) can make for some strange interactions with people back home. Mostly because nobody is ever really sure of where you are or what you are doing. Like Bad Robert, who just called me as I was writing this entry...
DAVE: (answering phone) Hello?

ROBERT: Dude, I need to get my car to the shop. Can you bring me back home so I don't have to sit there all day?

DAVE: Dude, I'm in Lisbon.

ROBERT: Can you drop by after you're done?

DAVE: I'm in PORTUGAL... I won't be back until Sunday.

ROBERT: (dramatic pause) Oh. I thought you meant like the restaurant.

DAVE: Huh?

ROBERT: So how are things in Lisbon.

DAVE: Pretty good so far. I've only been here for four hours.

ROBERT: Ah. Hey... do you wanna know what Ben did to his car?

DAVE: Is it worth the dollar-a-minute this phone call is costing me to find out?

ROBERT: Uh... probably not. Oooh! Call me when you get back! I need to tell you about my new air horn!
And so it goes...
I haven't a clue what I'm going to be doing tonight. About the only things I can be sure I WON'T be doing is this...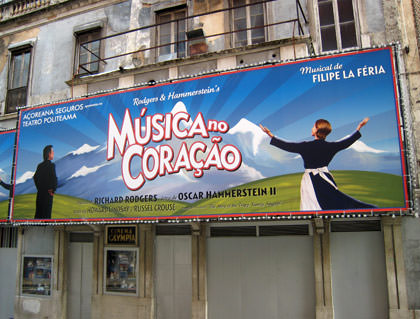 Because the only way I could sit through The Sound of Music would be if I was doped up on hash.
Hey! Wait a minute... I might just have plans for tonight after all...
Posted on Saturday, March 3rd, 2007

Thanks to everybody who sent me e-cards and kind notes over Elizabeth Hurley's wedding today. Thirty-six of you were nice enough to send your condolences, which was a bit unexpected (that's more people than usually comment on an entry!).
In an act of sublime selflessness, I wish nothing but the best for the happy couple. If Elizabeth Hurley is happy, then I'm happy... I love her that much. I mean, it's not like I am wishing for a building to fall on her new husband or anything. I'm sure he's a terrific guy, and I'm glad she found him. I suppose I could sit around hoping that Arun Nayar gets attacked by a pack of wild hyenas, but what would be the point? Elixabeth Hurley has made her choice (misguided as it may be) and I will just have to live with it. Best of luck to the happy couple!
Okay, maybe I don't wish "the best" for them... that's a little much. But I do wish that good things come their way. Just because Elizabeth Hurley decided to marry a guy who is not me doesn't mean that she should be cursed with unhappiness the rest of her life. Does it? Maybe he's not perfect or anything, but he seems nice. So good luck you two!
Alright, you got me. Being completely honest here, wishing "good things" for Liz and Arun is probably a stretch. How about I just send happy thoughts with no well-wishing at all? Sure Elizabeth Hurley just made the biggest mistake of her life, but it's not really her fault. If she had ever met me, she would realize that I was the perfect guy for her... but since she had the misfortune to never even know I exist, well, it's hardly appropriate for me to be wishing Arun fall down a well or something. That would just be wrong. He doesn't seem like the nicest of guys, but I'm sure he's not too bad.
Okay... okay... okay... sending "happy thoughts" is probably going too far. Because doesn't Arun Nayar look like a total bastard? I've never met him or anything, but doesn't he just seem completely wrong for her? He's probably a puppy-kicker. Yep, I'll bet when he sees a puppy he kicks it as hard as he can just because he likes it. And the perfection that is Elizabeth Hurley just married him in an unholy union that will wreck havoc throughout the known universe. Why should I wish anything "happy" for their marriage when there's nothing happy about it? We're all doomed.
OMG! What has she done? RUN LIZ! RUN FOR YOUR LIFE! YOU JUST MARRIED A PUPPY-KICKING ASSHOLE!! Oh the humanity! I suppose I'll just have to hope that Liz manages to break free of Arun Nayar's evil spell before something horrible happens... like her sleeping with him. Oh! Oh! Oh! That would be just terrible! Like the worst day ever! Is it too much to hope that Elton John has a gun in his purse and will destroy the Ultimate Evil that calls himself "Arun" before the incomparable Elizabeth Hurley is lost to the world forever?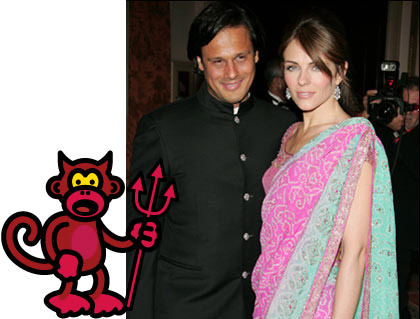 Gee... I hope that nothing happens to the plane that is taking Elizabeth Hurley and her new husband to India. It would be just terrible if it crashed and Arun were to perish while Elizabeth Hurley were to miraculously escape completely unharmed. Yeah, let's all hope that doesn't happen.
Ahem.
Speaking of pure evil on earth...
I finally got to sleep around 2:30am. Most of my work was finished, and I simply couldn't keep my eyes open any longer. So guess who decided to come calling three hours later and wake me up? That's right. THE EVIL GEESE FROM HELL ARE BACK AGAIN!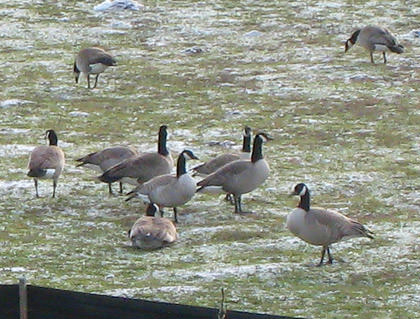 Just look at the cheeky bastards all honking and riled up! Clearly minions of the devil.
And to make the entire situation even more scary, their numbers keep increasing. At first there were a dozen... then around 26... then about 40... NOW THERE ARE 67! SIXTY-SEVEN!! And I realize people think I am exaggerating here, but I'm not. There were so many of them that I had to take a panorama of seven pictures and then stitch them together so that all of the little bastards would fit into the shot...


Click on the image to enlarge. WARNING! May frighten small children!
(you will have to scroll to see the whole thing)
Between Elizabeth Hurley getting married and the startling increase in the goose population, can the Apocalypse be far behind? I'm telling you, geese are going to take over the world.
I, for one, welcome our new geese overlords.
Back to work...