I was originally planning on visiting the Hard Rock Hotel & Casino Biloxi in November of 2005, shortly after its grand opening on September 1st of that year. But then Hurricane Katrina came and completely destroyed it just days before it was due to open. According to that fucking piece of shit televangelist asshole Pat Robertson, this was God's wrath wrecking vengeance on the sinners of New Orleans and the surrounding area. I prefer to think that Pat Robertson is a lunatic opportunist who takes current events and perverts them to make God sound like a jerk so he can con people out of their money. I cannot wait until that fucking douchebag dies and gets to meet God in person so he can find out what His vengeance is really like. Something tells me that hating people in the name of Jesus and speaking for God is not cool with The Almighty.
Well, unless God takes pity on the old bastard because, after all, Pat Robertson is certifiably insane...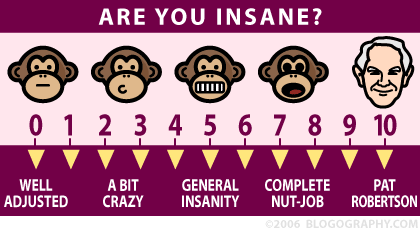 Anyway...
Since my work ended Thursday night, I didn't have a Saturday-night stay to get a cheap airline ticket. To save money on airfare, I decided to add on a weekend adventure in Biloxi so I could finally visit the Hard Rock (it opened for reals on June 30th of last year)...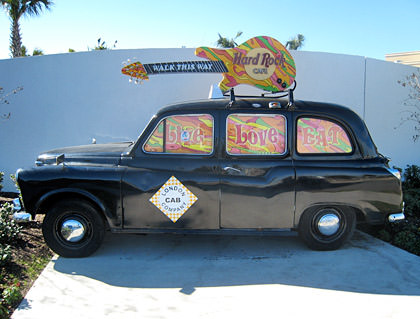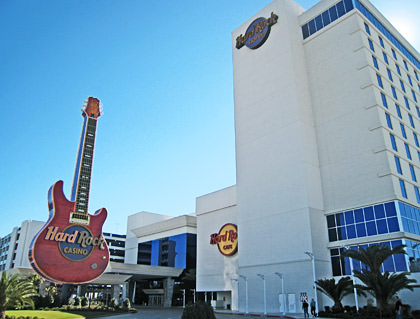 After checking-in and dumping my crap off in my hotel room, I decided to go to the casino where my visit started off with a real bang. I was mere steps away from entering the casino when a woman came running in front of me frantically screaming "SECURITY! SECURITY! SECURITY!" Not wanting to miss out on anything good, I stopped and waited as two employees came running up to her. "THAT MAN RIGHT THERE JUST PUNCHED A POOR WOMAN IN THE FACE!!" she said, pointing to somebody who was quickly approaching the casino exit. The two guys just looked dazed and confused so she said "HE DID! HE PUNCHED HER AND PUSHED HER TO THE GROUND! By this time real security guys showed up, at which point the alleged attacker screamed to them "IT'S OKAY... SHE'S MY WIFE!!" and hurried past them, heading towards the hotel exit (as if beating your wife is somehow okay?). The security guys went after him, but I decided not to follow.
Once I got to the ATM, I withdrew $200 cash... $100 for each day. Within 35 minutes, I had spent $40 and already won $380 playing quarter slots. Deciding there was nowhere to go but down, I cashed out my winnings and called it quits for the night (and because I am completely inflexible on my $100 per day limit, I also added the left-over $60 to my winnings). Then it was time for dinner at the Hard Rock Cafe Biloxi located in the hotel itself...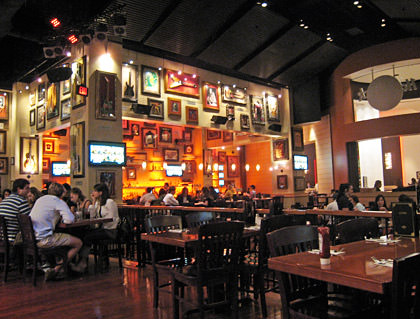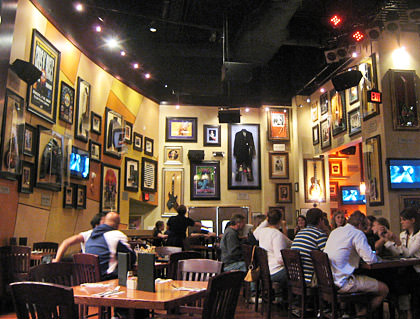 It's a nice, albeit basic, property with no real surprises, But they did a good job maximizing the memorabilia (which is always a good thing) so I'm happy with it. Service was good, though the restaurant itself seemed pretty slow for a Friday night at 7:30pm. Maybe this is the off-season for gambling? I don't know.
Today I am taking it easy. I slept in until 9:30am (a real treat), gambled away $30, ate a nice breakfast at the Hard Rock's "24/7 Grill", wandered around to see a few other casinos in the area, then just now came back to work on my blog entry for tonight and relax for a bit before heading back to the casino and seeing if I can win anything with my remaining $70.
UPDATE: Meh. I gambled it all away while watching the Seahawks get spanked by Green Bay in the snow, but did win $65 on my last $2 (WHEEL. OF. FORTUNE!!), so I'm really only down $35 for the day. When deducted from my $340 in winnings yesterday, I'm ahead $305 total. That almost pays for my hotel room for the two days, which is pretty sweet! I must be lucky at Hard Rock's, because I came out ahead at their Hollywood and Tampa casinos in Florida too.
And now, since I know Hard Rock talk is boring to most people, I'm putting my in-depth review of the Hotel & Casino in an extended entry. I'll probably end tonight early considering that I have to get up at some insane early hour to catch my flights back home (boy I hope I can get some sleep on the plane).
The Location. The Hard Rock Hotel and Casino Biloxi is located near the tip of the Biloxi "peninsula" (known to locals as "The Point") right on the Mississippi beachfront at 777 Beach Blvd. On the drive to the casino, the devastation wrought by Hurricane Katrina was still evident, with some buildings having been washed away... only their foundations remaining. A sad reminder of hard times for the city. I arranged reservations with the hotel for a Gulfport Airport shuttle operated by Hotard ($12 one-way, $22 round-trip), and taxis are also available ($32.50 one-way).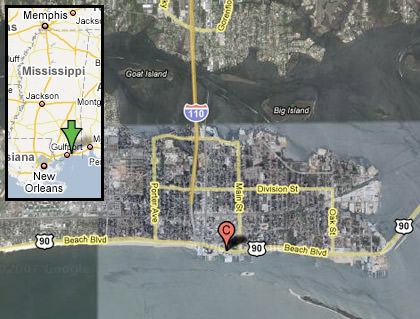 The Hotel. The design of the property is fairly modern and basic with public spaces having an open and airy feel. While nothing is overly-extravagant or jaw-dropping, it does have a classy and polished look to it. I didn't visit the spa, but I did take a look at the outdoor pool, which is pretty sweet (though there's no add-ons like waterslides and such).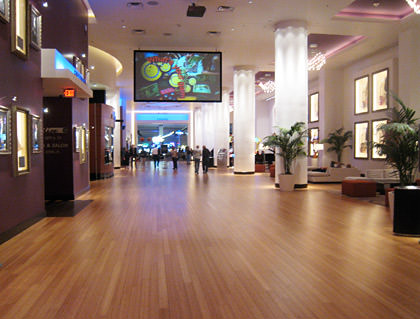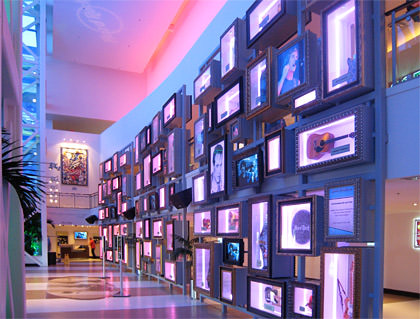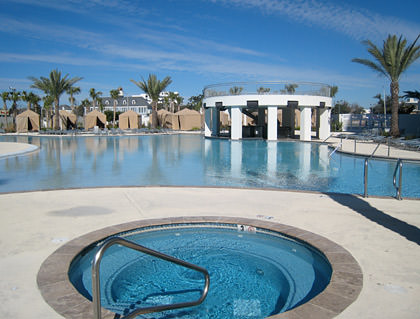 The Room. I stayed in a standard non-smoking room with a king-sized bed on the eighth floor (not much of a view though) at a rate of $159 per night. Like the hotel itself, the room features open spaces, with the bathroom area separated from the sleeping area by a kind of wet-bar. The decorating is modern, featuring pan-generic art with a musical theme on the walls (I'm guessing luxury suites would have actual famous memorabilia hanging up). The large 42-inche plasma flat-screen television is sweet, connected to a mini media center with CD player and an iPod dock(!). Furnishings are sparse but well-appointed, and there's an in-room safe big enough for a laptop. My pillow-top bed is really comfortable, and has very good linens. Toiletries are all provided by Aveda and are of excellent quality. The shower is of the spacious ceiling-to-floor glass "showcase" variety, and features three shower-heads: one on each side and one in the ceiling (which is kind of silly, because there really isn't adequate water pressure to run all three at once... though I had an excellent shower when turning off two of the three). The big problem is that the rooms don't seem to be sound-proofed, which is odd given the stereo set-up. My room was next-door to a group of at least six people who were screaming and partying all night long. Even when they weren't in the room, they'd leave the music blasting at full-volume. This type of behavior is hardly surprising (this is a Hard Rock, after all) but it's disappointing that so little effort was made to insulate guests from it. Even worse... the hallways are obscenely noisy, with the wooden door obscuring no sound whatsoever (still, things were not nearly as bad as the horrendous noise at THIS hotel!). Internet access is (shockingly) FREE! All you have to do is call up for the wireless code at the front desk and you're good to go. Noise aside, I was very happy with the room, and thought it was a fairly good value for the money (and would be more so if they included ear plugs).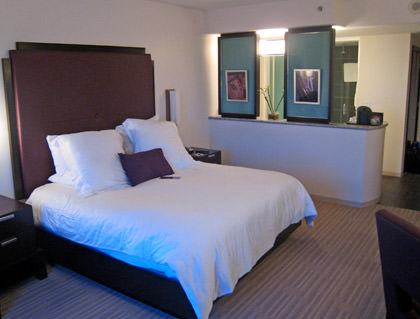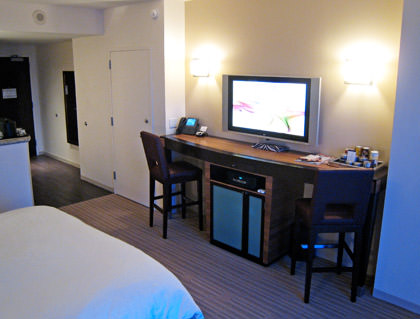 The Casino. While positively modest compared to Vegas standards, the casino is not so bad. I was afraid that the slots would be the absurdly stupid "psuedo-BINGO-based" crap that they had in the Florida casinos, but the Biloxi property has "real" machines for play. But they seem to be all the "basic" kind, not featuring any post-spin movement (such as "Haywire" which are the type I like to play). Both the mechanical, progressive, and video-based slots are all here... with a surprisingly large number of nickle and penny slots available. Table games are plentiful, and all the standards are around: poker, Texas hold-em, blackjack, roulette, etc. The drink hostess uniforms are a one-piece black number that's very short both top and bottom. Nice.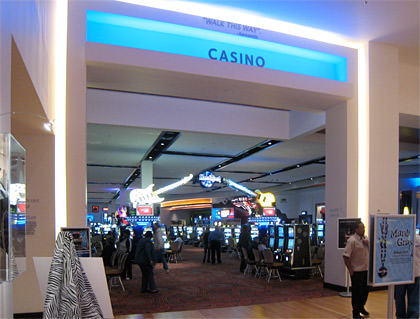 The Dining. In addition to the Hard Rock Cafe (classic American), there's also the 24/7 Grill (diner casual in the casino), Ruth's Chris Steak House (gourmet steaks), Vibe (steak & seafood), Satisfaction! (buffet), Wet Spot (pool bar), Ben & Jerry's (ice cream), and even a Starbucks (coffee). Prices seem universally expensive, but no more than you'd pay at any resort like this. Not a whole lot of options for a vegetarian, but I had no trouble eating within the hotel options for every meal.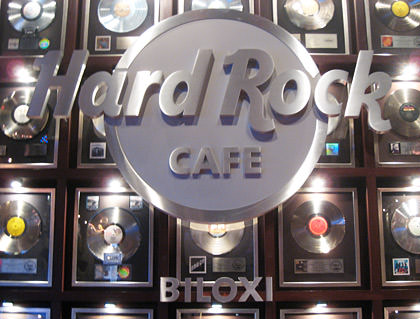 The Shopping. The hotel's "Rock Shop" is filled with all kinds of clothing and souvenirs (only a few of them Hard Rock branded though). There's also various sundries like pop, candy, and chips (all over-priced, of course). The Hard Rock Cafe has a small shop with various T-shirts, pins, glassware, and all the other usual suspects. The only 3rd-party shop, "Taunt" is a very fashion-forward boutique clothing store with fairly high prices plus a good selection (and is surprisingly positioned to compete directly with much of the merchandise in Hard Rock's own "Rock Shop"). Odds are that people coming here aren't going to want much more than Hard Rock souvenirs, so the lack of shopping is no big deal (especially for me, who hates to shop).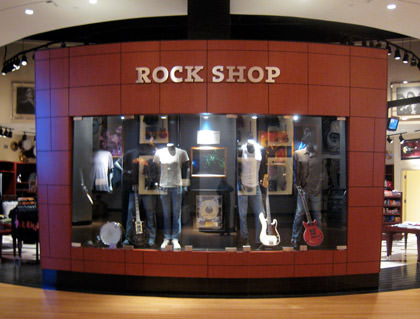 The Entertainment. The television has several custom Hard Rock channels, which I love. One of them does nothing but play a continuous loop of all the world's Hard Rock properties (with trivia!)... which is fun for me to sit through so I can do a "got it, got it, got it, need it, got it, got it," kind of thing (sadly, they are still displaying the Hard Rock Cafe Nottingham, which has closed). Biloxi is also home to a Hard Rock Live venue, where top-talent comes to play... upcoming acts include Jerry Lee Lewis, Foghat, Blue Oyster Cult, Heart, and Avril Lavigne. Not a lot going on entertainment-wise really, but most people come here to gamble anyway.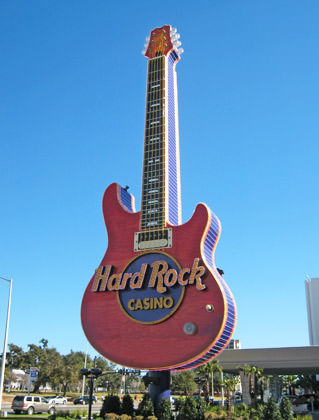 The Conclusion. While not a destination-level experience like the hotels in Bali or Vegas, The Hard Rock Hotel and Casino Biloxi is nevertheless a worth a visit if you're going to be in the area. I enjoyed most all aspects of my stay (except the lack of noise insulation), and will probably come again if I'm looking for something to do while in the New Orleans-Mobile-Pensicola loop... especially if there was a Hard Rock Live event playing that I wanted to see. Built to be similar in tone and style to the very nice Hollywood and Tampa Hotel/Casinos in Florida, this is a worthy addition to the Hard Rock chain, and will hopefully be a successful one.