Our first stop whilst back in England was the Hard Rock Cafe London so we could visit with the "Lovely Rita," on "Rita Day" (which is the first Thursday of every month). Rita is the first waitress from the cafe back when it began, and now serves as an official ambassador for the organization. Unfortunately, this particular "Rita Day" was Rita-less, as she was away on holiday. Both Perry and I had met her previously, but it still would have been a hi-light of our run to have our photo taken with her.
The front of the cafe has been boarded up (again)... not for remodeling this time, but actual repairs. Apparently part of the front facade has fallen off of this grand old building. Given that this is the "original" Hard Rock Cafe, and the oldest in the chain, I guess it shouldn't be entirely unexpected. No big deal though, I had plenty of other photos from previous trips.
From the cafe, we made our way across the street to the Hard Rock Vault London. Unlike the spectacle that is the Orlando version of The Vault, this is an actual vault which was used when the building was formerly a bank. Also unlike the property in Orlando, if you ask Jimmy the tour guide really nicely, he'll also let you take a closer look at the goods (including the original guitar that Eric Clapton hung on the wall, which started the entire Hard Rock Collection in the first place -- it's the red one in front)...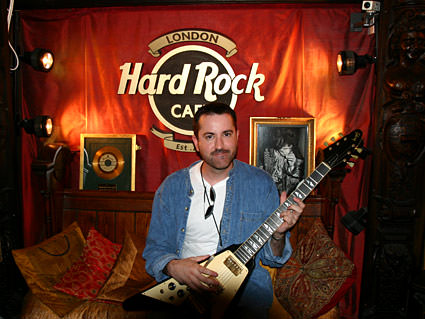 That's me with Jimi Hendrix's custom Gibson Flying-V guitar, insured for a cool two million pounds sterling (about $3,700,000 US!). Needless to say, actually being able to touch rock-n-roll history makes this a more personal experience than what you get when visiting Orlando.
Next up was the Hard Rock Casino over in Leicster Square. It's more like a personal gambling club than an actual Vegas casino... small and intimate (pretty much just a few slot machines, and some gaming tables, with the clear favorite being roulette). Even so, it's a pretty nice place...
Now we're off to the new Hard Rock Bar in Bristol.