Aloha!
Today was mostly a work day, but I did get some time to goof off in Honolulu and do some of the things that made me not mind dragging my ass across the Pacific to be here. This pretty much boils down to three things...

#1 PUKA DOG!! Originating on Kauai, Puka Dog eventually opened up a shop in Waikiki (UPDATE: Puka Dog is now Hula Dog in Oahu, still Puka Dog in Kauai. UPDATE 2: Hula Dog in Waikiki was CLOSED when they tore down the International Marketplace! SUCKS!! Check Hula Dog's website for their locations). I can say without reservation that this is my favorite meal in all of Oahu. Just like Chicago, which has a hot dog to call their own, Puka Dog is a hot dog done Hawaiian-style, and they are amazing...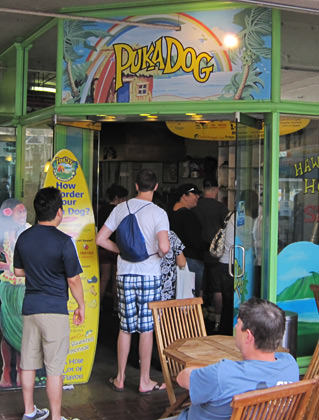 Don't let the line scare you... Puka Dog is worth the wait!
They are also very different and uniquely Hawaiian in oh so many ways...
THE DOG! You can either get Polish Sausage or a Veggie Dog. I must say, the vegetarian option is among the best veggie dog I have ever tasted. Not even a little bit rubbery!
THE BUN! Well... it's not really a bun. It's a tiny loaf of bread that has a hole drilled in the end. They place them on heated spikes, so you get a toasted interior and a soft exterior that tastes like magic. Your choice of white or wheat.
THE CONDIMENTS! And here is where an already unique hot dog goes completely off he rails. Condiments are injected into the hole in the "bun" and the dog is poked down into it...

Secret Lemon-Garlic Sauce! Choose from Mild, Spicy, Hot, or Hot-Hot. Do NOT be scared off because you think it will taste too lemony! It is an AMAZING mayo-based sauce, and the lemon is just a hint. I always go with "hot" which is not too hot for me at all.
Specialty Relish! There's Mango, Pineapple, Coconut, Banana, Papaya, and Star Fruit. The Mango is my favorite (and their most popular) but sometimes they have a "special" flavor. This time it was MAUI SWEET ONION AND I LOVED IT!
Mustard! They have "regular" mustard... or even ketchup if you're insane... but what you really want is the Hawaiian Mustard in your choice of Lilikoi (tangy) or Guava (sweet). Both are good, but the Lilikoi (Passion Fruit) Mustard IS TO FUCKING DIE FOR!
The way you order is kind of "Soup-Naziesque" but they don't treat you too badly if you goof it up. But it's pretty hard to goof up if you follow the steps on their menu board. For example, I order like this: "I'll take a Veggie, Hot, Mango, Lilikoi on White, please!" But, no matter how you order, you're getting an amazing meal that's unlike anything else on earth... in a very good way...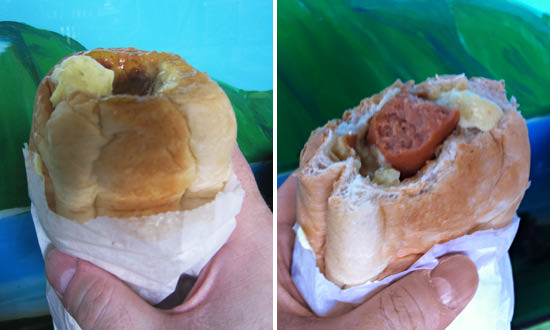 Left is a dog in the hole. Right is down a few bites so you can see all the condiment goodness within!

#2 KISSES!! Everybody loves Hershey's Kisses. Those little foil-wrapped pieces of deliciousness are truly a treat to behold. And then Hershey's took it to The Next Level and introduced Kisses with almonds, caramel, and peanut butter in the middle (among other things). BUT... only here in Hawaii can you get Hershey Kisses with Macadamias in the middle! They are everything you'd dream they'd be. And at $5 a bag, they'd better be...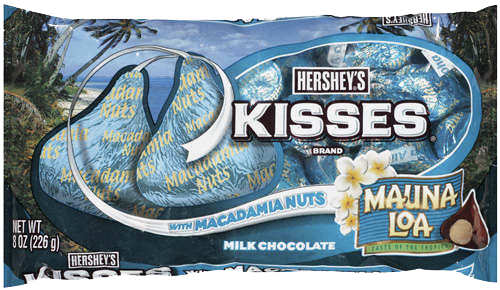 #3 NEW HARD ROCK!! As anybody who follows this blog already knows, I am incredibly disappointed with the "new-style" Hard Rock Cafe properties. Instead of the old-school method of cramming every available surface with awesome Rock-n-Roll memorabilia, they instead put a few meager pieces in glass cases and scatter them on a few walls. So when they moved Honolulu's Hard Rock from the old location to the new one in Waikiki, I was horrified at the idea of it being a shitty "new-style" cafe. And it is. Kind of. Because while there isn't a tremendous amount of memorabilia, it is more than usual. And they DO have this awesome ribbon of guitars running up the wall and across the ceiling of this beautiful, beautiful restaurant...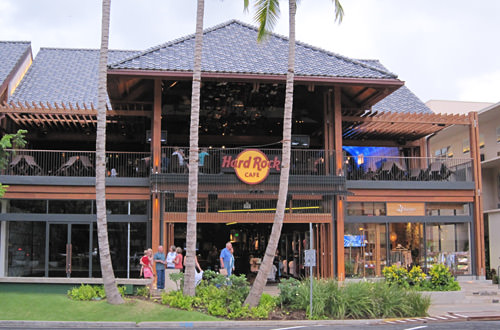 Approaching the all-new dual-level Hard Rock Cafe at Waikiki!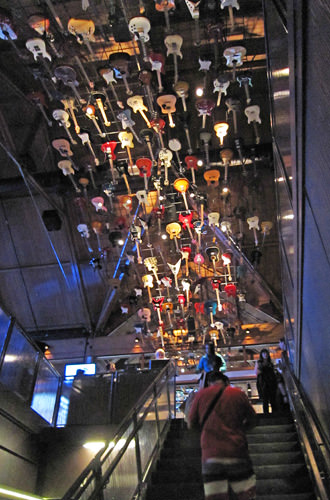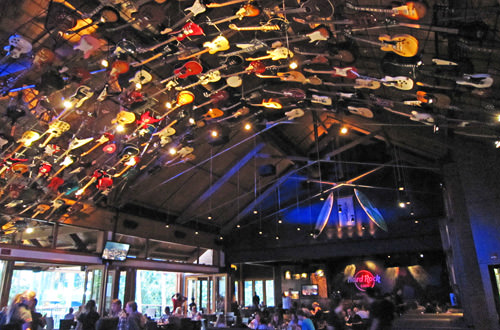 Pretty sweet, eh? And, on that note, I am about ready to pass out, so I'm off to a night of (hopefully) sweet slumber.
BUT, BEFORE I FORGET...
I ran across proof positive that President Obama was BORN AMERICAN, BABY! Because if it's in a children's book, it must be true, right?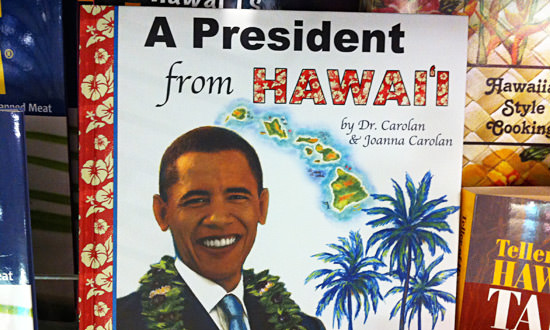 Good night!