So here I am at the Hard Rock Hotel and Casino in Tampa! This is a "vacation day" for me today, as I am trading it for next Monday's holiday (Memorial Day) at work. The reason I am here is to visit with a friend in New Port Richey this evening, which is over an hour away. Sure I could have gotten a hotel much closer, but it wouldn't be a Hard Rock now would it?
As with the hotel in Hollywood, they have somehow messed up my reservation. Furthermore, there was some arguing with the reception desk over my Hard Rock Pin Club discount of 10%... his response?
"I am sorry, but we are not affiliated with the Hard Rock."
Now, to fully appreciate this absurd comment, you have to know that he was standing next to a card with a Hard Rock logo, wearing a Hard Rock name badge, while handing me a welcome kit with Hard Rock written on it. How in the hell they could be "not affiliated" with the Hard Rock is a complete mystery to me. It isn't until I hand over an e-mail I received with "SAVE 10% AT THE NEW HARD ROCK HOTEL AND CASINO IN TAMPA" that he confirms I have my discount. Odd.
While smaller than the Hollywood property, I think I like this one better. Like last time, I was supposed to get a pool view, but again did not. I did, however get a nice corner suite upgrade with a lovely view of the Tampa skyline. When I actually visited the pool, it is pretty small (and not nearly as remarkable as all other hotels), so I guess I have nothing to be upset about after all...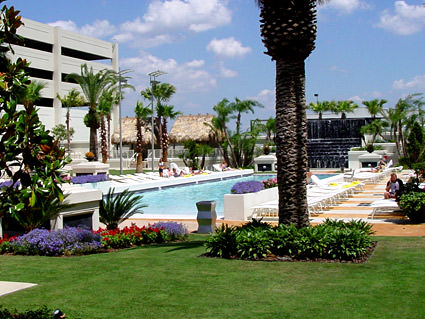 This Hard Rock Hotel has music lyric quotes everywhere, even in the elevator, which I thought was cool...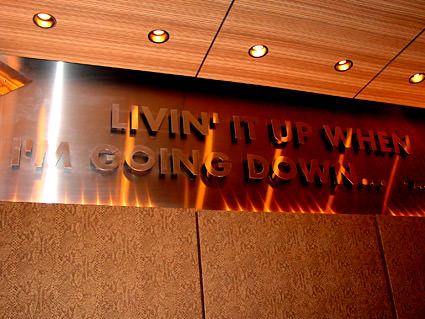 The rooms are a bit eclectic, but much nicer-looking to me than the mixed-up Hollywood decor...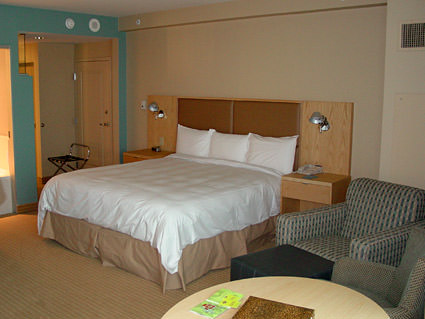 The merch store has this sweet Harley sitting in the window... I think I want to steal it...
They don't have motorcycle helmet laws here in Florida, which is kind of bizarre to me. I can't imagine being foolish enough to bomb down the highway with no protection for my brain.