It's Bullet Sunday with the lights out! Problems with the electrical power have wrecked havoc with my work plans today, so here I am blogging on my laptop where it's safe.
As a side-note, I should mention that I am aware that Blogography has been having problems recently. My web hosting company, Media Temple, has been having serious issues with their new "Grid Server," and being able to access my site or comment on entries has been hit-or-miss as of late. Media Temple is supposedly working on the problem, but these issues have been going on for months now, so I'm not sure how much faith I can put in that. All I can say is "sorry" and please come back later if you're having problems.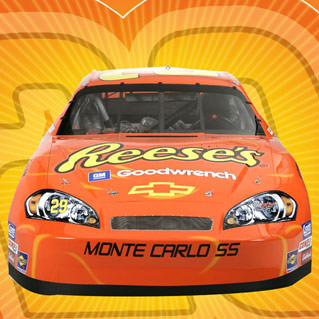 • Disappointment! There's a dilemma I like to call "The Reese's Gambit." It hinges on the mysterious Russian-Roulette game you play every time you buy a Reese's Peanut Butter Cup candy bar. Will the peanut butter in the center be deliciously moist and tasty... or will it be all dried-up, powdery, and disgusting? There's no way of knowing, so you just have to buy one and find out what you get. When the center is good, there's very few candy bars I like better than a Reese's. When it's BAD, however, it usually pisses me off so much that I will go months without eating one again. Today, after a suitable three-month mourning period following a crappy Reese's experience, I tried again and got a good one. Yay me. Thinking I'd hit the jackpot, I went running back to the mini-mart to buy more... and was horrified to find that all of them had gross dried-out centers. So now I'm thinking it will be a while before I'm willing to play the Reese's Gambit again. I guess I'll just have to live off the memory of that yummy first Reese's for a while, and that sucks ass.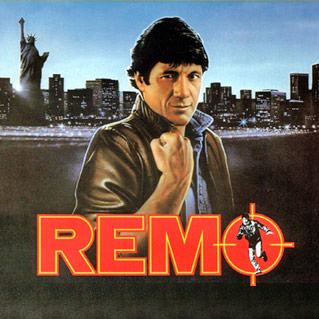 • Destroyer! I watched Remo Williams: The Adventure Begins on DVD for the hundredth time last night, and wondered for the thousandth time why somebody hasn't made any more movies based on the series of excellent Destroyer books. Sure the original film (starring Fred Ward and Joel Grey) wasn't much of a financial success, and Destroyer fans disliked it because the story didn't follow the books closely enough... but I loved the movie. I still love it. And now that Tor Books is reviving the book line again with a series of "New Destroyer" novels in May, isn't it about time somebody step up and revive the movie franchise as well? The series really has it all... action, drama, intrigue, humor, and some of the most brilliant characters ever written. With the right director and cast, a Destroyer film would kick ass.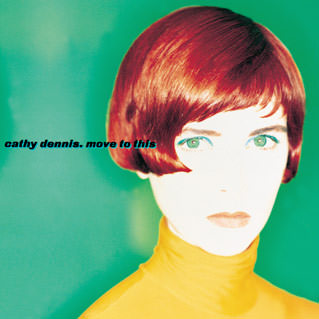 • Deception! Back in 1994 there was a radio hit called Touch Me (All Night Long) by Cathy Dennis. The vocals were quite good, Cathy was suitably hot, and it had a sweet Europop electro-beat I liked. After a couple of listens I decided to run down to Hastings so I could buy the CD, which was titled Move to This (I was going on a road trip, and wanted something new to listen to). Imagine my surprise when I found out that the Touch Me song they were playing on the radio was not the same song on the CD. Instead of that kicky Europop beat driving the song, the CD track was all boring and shitty. I have a running joke with my friends about kicking the crap out of Cathy Dennis if I ever see her for betraying me this way. It may have been a dozen years past, but I just can't let it go. And then this morning I check my email to find that my friend Meagan had gifted the crappy song to me on iTunes... presumably as a joke. Well ha ha, the joke's on her because, as I was claiming the song, I noticed that iTunes had the REAL version of the song for sale off of a compilation called 100% Pure Dance. It's a mix that runs a little long, but it has the proper beat and I've been rocking out to it all morning. I think that I am finally... finally able to release my rabid hatred of Cathy Dennis now.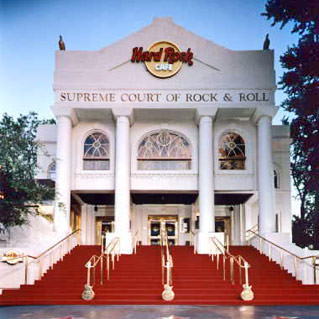 Photo swiped from Virgil LaFerney's EXCELLENT Hard Rock Dallas Page.
• Dallas! I've been meaning to write about the sad closing of the Hard Rock Cafe Dallas since it happened two weeks ago, but just couldn't bring myself to do it. The pet project of Hard Rock co-founder Isaac Tigrett, the Dallas cafe was a special property indeed. Originally a Baptist Church, 13 million dollars was spent renovating the building and creating the cafe, which finally opened on November, 1986 (the fourth Hard Rock in the US and ninth world-wide). There were many features that made this cafe unique in the chain, and the property quickly became one of my favorites when I first visited in July, 2001. Hearing about the closing was painful, and I feel terrible that I didn't manage to get back once I heard they were shutting their doors for good. It's things like this that really have me questioning why I care about the Hard Rock anymore. If the owners can't appreciate the chain's history, why should I? Oh well, at least I got to visit this one before they dumped it... nothing is more frustrating than having a cafe close before I have a chance to visit.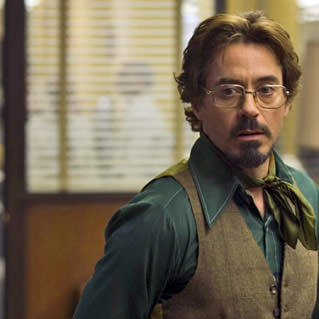 • Downey! How is it that Robert Downey Jr. can steal every movie he's in... even if it is a relatively minor role? Sure Jake Gyllenhaal and Mark Ruffalo were excellent as the driving force behind David Fincher's latest film, Zodiac, but it's Downey who makes the film truly interesting to me. Playing seriously flawed reporter Paul Avery, he just blows everybody else off the screen. Suddenly a film that seems more like a crime reenactment than a cohesive story comes alive because Robert Downey Jr. just sucks you into his character. My only real criticism of this beautifully-shot movie is that it didn't have enough Downey in it. Well, that and the really bad toupee that Anthony Edwards was forced to wear throughout the film. Holy crap did it ever look like a ferret died on his head. Why why why couldn't they have just left his character bald so as not to distract the audience and embarrass the actor?
Oooh... the power is back on again! Guess I'll save my remaining bullets for next Sunday, because it's back to work for me...