Today is the fortieth anniversary of the Hard Rock Cafe.
On June 14th, 1971 in London, England, Isaac Tigrett and Peter Morton opened up a cafe serving American food with a rock-n-roll sensibility. One day Hard Rock fan Eric Clapton gave Tigrett a guitar. When Tigrett told him that he didn't play guitar, Clapton said he should hang it on the wall. When Pete Townsend found out about it, he wanted his guitar hanging on the wall too. Thus began the tradition of adorning Hard Rocks with rock-n-roll memorabilia, turning them into mini museums with some of the most astounding rock artifacts on the planet.
With the sole exception of Apple (and possibly Sony), I can't think of a company which has had more of an effect on my life than the Hard Rock Cafe. Since 1990 I've been to 137 properties around the world. Many of those places I would have never visited if not for the Hard Rock Cafe. In addition to encouraging me to see the world, it was the Hard Rock which first got me to share my life online. It was also the Hard Rock which is responsible for Lil' Dave and Bad Monkey coming into being...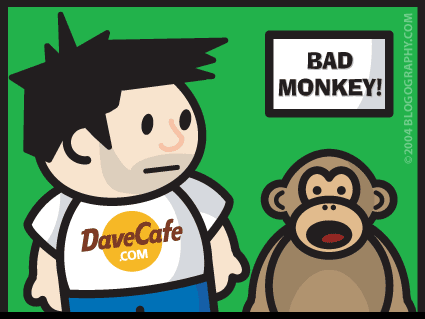 As if that weren't enough, I've met dozens of fellow Hard Rock fans from around the globe who have become my friends.
To say I owe a lot to the Hard Rock Cafe is a bit of an understatement. I quite honestly don't know what my life would be like today without the place.
Undoubtedly it would be a lot less interesting.
So happiest of anniversaries and many thanks to the Hard Rock Cafe!