And so here I am in Sin City. I've been a lot of bizarre and strange places, but all of it pretty much pales in comparison to the bizarre and strange stuff you see in Las Vegas. Limos with hot tubs in the back... people puking on the street... half-naked partiers on the sidewalk... gamblers sobbing inconsolably... drunks EVERYWHERE... it goes on and on. Some might say this parade of non-stop debauchery is the ultimate expression of humanity's downfall. I just think it adds to Las Vegas's already considerable charm.
My day began very, very early as I drove to the airport at 4:00am for my 6:00am plane ride. From there I had three quick back-to-back flights which deposited me in Vegas around 11:00am. I packed light to avoid Horizon Airline's STUPID FUCKING $15 LUGGAGE FEE, which allowed me to skip baggage claim and head directly to my hotel.
After checking in, I played the slots for 15 minutes before winnings $200. Yay me! This money got pocketed, leaving me $62 of my original $100 daily gambling budget (which I would eventually lose, netting me out at +$100 for the day).
I'm guessing that was all the luck I'm gonna get this trip. But you never know.
I cashed out my winnings and headed out to have some drinks with a good friend and his wife whom I haven't seen in nearly seven years. That's when the magic began, as we headed out into the wilds of The Vegas Strip. We started out at The Excalibur where I decided to go out and people-watch while my friends played the tables...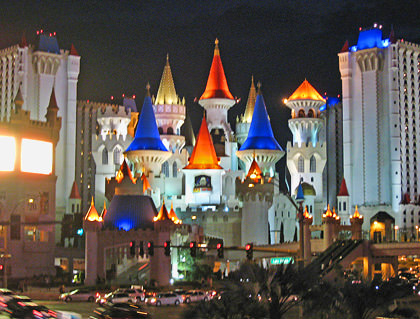 In wandering around the South end for a while, I came to the inescapable conclusion that a lot of people...
a lot
of people... come to Vegas to fight. Every 50-feet I ran into people yelling about something. One drunk woman was causing a major scene as she screamed for her boyfriend/husband to "GIVE ME SOME MONEY!!" over and over and over again. Next I'd see two people yelling over who's turn it was to buy cigarettes. More than a couple of times I overheard people fighting over where they wanted to go next. A particularly nasty brawl erupted in front of the MGM Grand Casino because, from what I could gather, one guy slept with his friend's girlfriend and was freaking out because the guy who got cheated on was threatening to tell the guy's mother on him. This might have been funny, except I'm guessing the guys were in their late 30's or early 40's.
In an attempt to get caught up on the USA Hard Rock properties I haven't visited yet, I dropped by the new cafe on The Strip (leaving only the new Hotel & Casino in Tulsa, Oklahoma remaining)...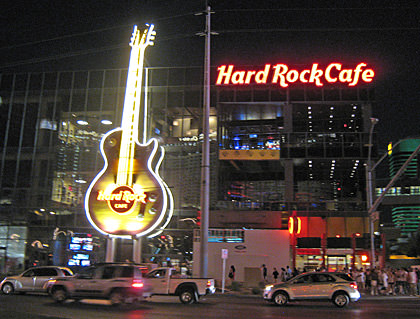 After joining back up with my friends and losing $50 at blackjack, the three of us decided to eat a late dinner at the original Hard Rock Cafe Las Vegas, located in front of the Hard Rock Hotel...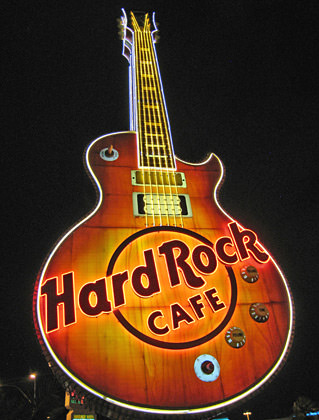 The hotel's casino is where I decided to blow my last $12 in nickel slots before we started doing Jäger shots at the bar. Oddly enough, it took well over an hour to lose my remaining money... even at MAX BET. They really know how to drag things out in Vegas... but it doesn't really matter, because the house always seems to win in the end. At least they're patient about it.
My friends were staying at Paris Las Vegas, so we decided to take the shuttle back to the MGM Grand and walk back to their hotel. I didn't have any gambling money left, but my $100 in winnings was quickly consumed in alcohol-related expenses along the way...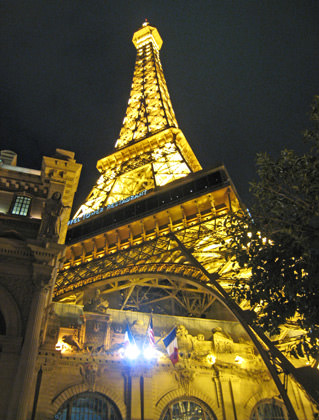 After saying goodnight to my friends around midnight, I walked north along The Strip to catch The Deuce Bus back to my hotel, when I saw something interesting at the Flamingo...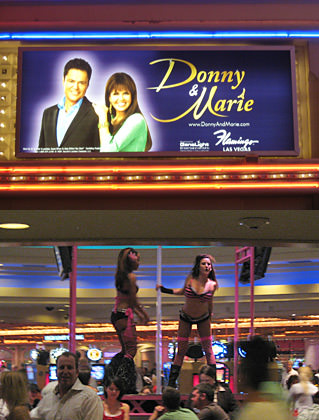 Yes, that's right... it's Mr. Morality Himself, Donny Osmond. I find it oddly satisfying that this self-righteous ass is more than happy to tell people how to live their lives according to his beliefs with his lobbying against gay marriage... and yet here he is, right next to his twice-divorced sister advertising at a venue where pole dancers are shaking their ass to beckon people inside the casino to smoke, drink, and gamble (all three of which I'd imagine are also against his beliefs). I guess Donny's moral superiority can be yours... IF the price is right.
But I'd imagine that would hold true for a lot of people in Las Vegas.
Me included!*
*My morals can be rented for very favorable hourly rates. Long-term leases also welcome!
If you're not afraid of bugs, there's more to today's post in an extended entry...
→ Click here to continue reading this entry...