Well, the crappy weather I was expecting yesterday finally decided to make an appearance today. Not that I am in any way complaining... I am so very grateful for yesterday's unexpectedly beautiful weather that I'll gladly suffer through a little rain.
After meeting up with Kazza we headed east to visit St. Mary's Cathedral. Unfortunately, photography is not allowed in the beautiful interior, but the exterior is quite nice as well...

Impressive. Most impressive.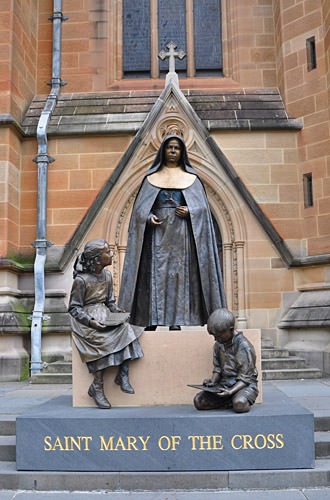 The nun looks pretty bitchy, but...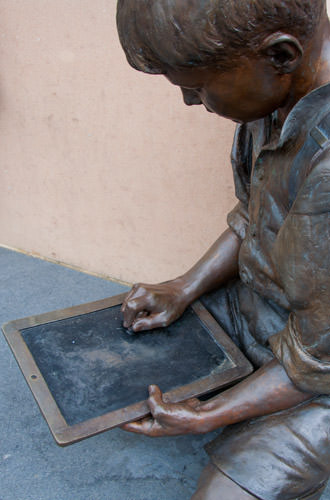 ...she gives all the kids an iPad, so she can't be all bad.
From there we were off to Mrs. Macquarie's Point. There's an interesting story behind the name, and it's a great place for spectacular Sydney Harbour views, even in the rain...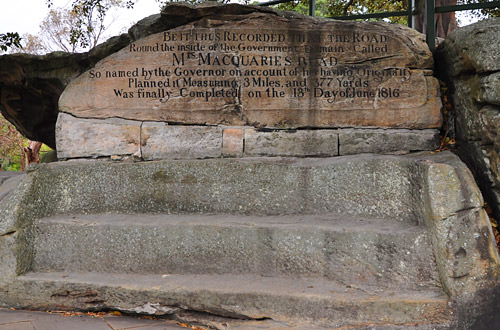 Yes. Mrs. Macquarie's Chair is just as comfortable as it looks.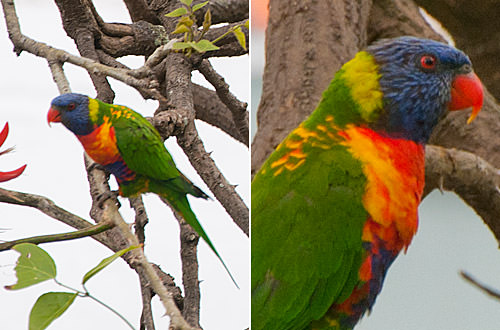 A Rainbow Lorikeet... they're everywhere.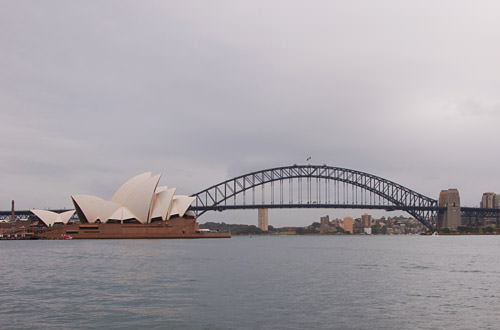 Still a pretty sight, even in the rain.
Heading back towards the city you run right through the Royal Botanic Gardens...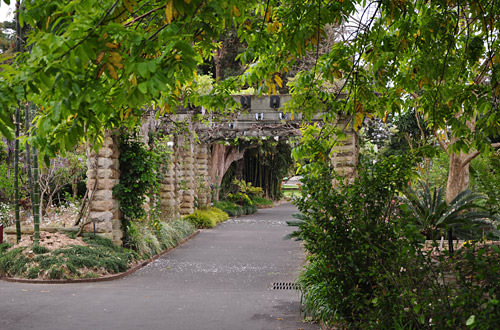 Leaving the Asian Gardens section of the Royal Botanic Gardens.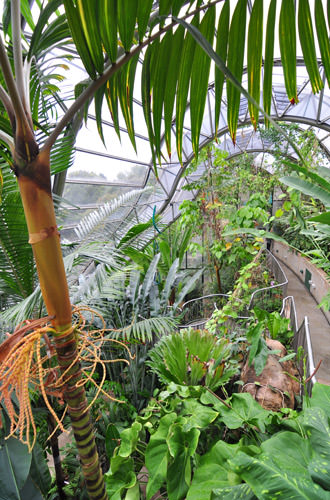 Inside the Royal Botanic Gardens Greenhouse at the Tropical Center.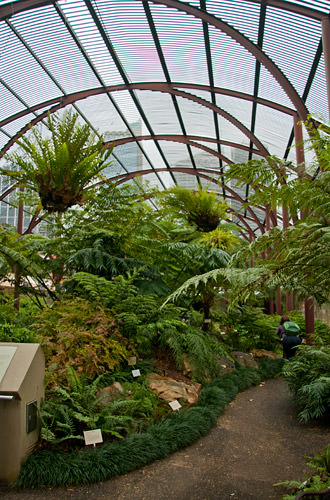 The Fern House atrium at the Royal Botanic Gardens.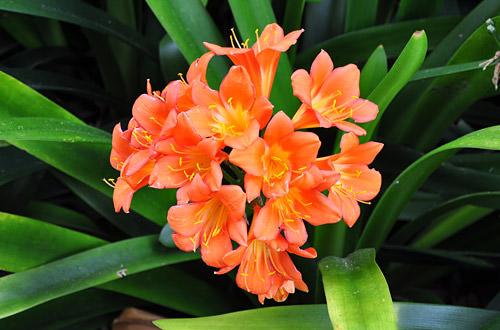 It's Springtime in Sydney, so all the flowers are blooming.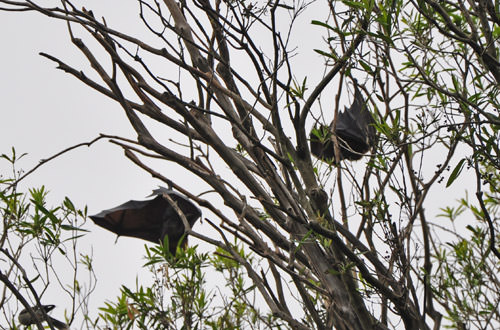 Bats are hanging around everywhere... mostly sleeping, fighting, or drying their wings.

This is called a "Cockatoo," but I call it "Fucking Bastard Bird"... vicious, nasty, and total destruction with wings.
From there it was time to take a ferry across the harbor to Manly...

It's the world-famous Manly Ferry!

Cruising by that Sydney Opera House. Again.

Walking down The Corso towards Manly Beach.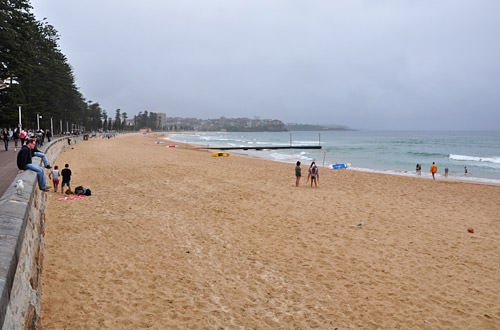 Manly beach. Where only manly men dare swim in the rain.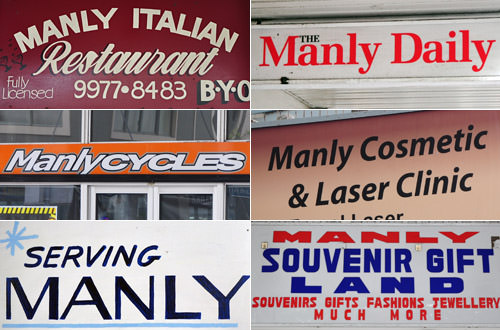 Everything in Manly is pretty manly...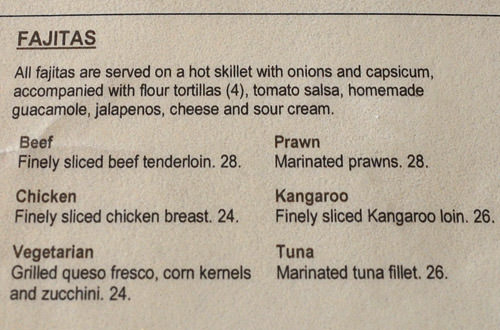 ...especially the Manly menus, where they make cute little kangaroos into fajitas.
After returning to Sydney, it was time to visit the Queen Victoria Building, which is a real jaw dropper. Certainly the best-looking mall I've ever seen...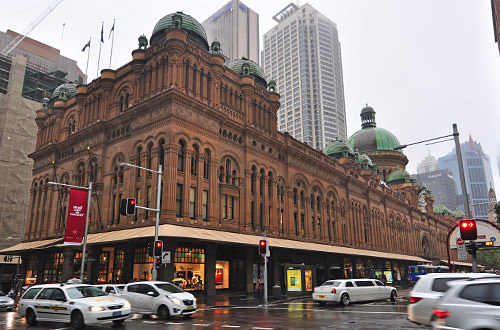 Not wanting to get drenched, it was time to visit the Queen Victoria Building!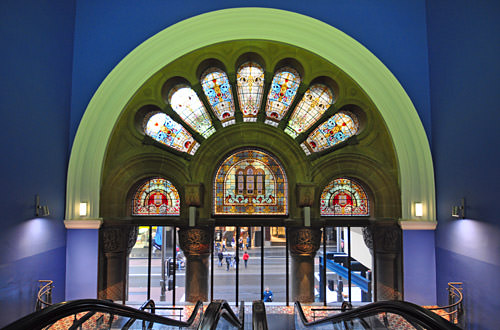 Seriously beautiful everywhere you look. This is an entryway.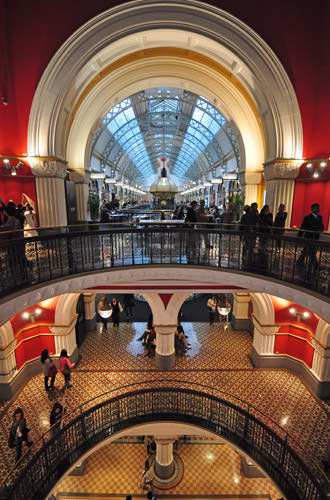 Center atrium at the Queen Victoria Building.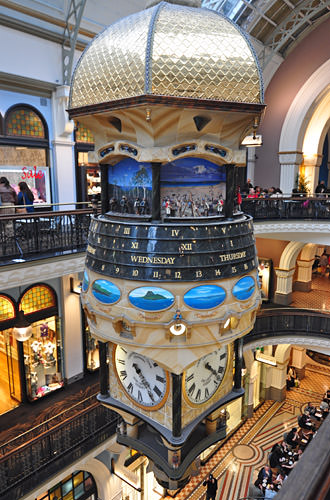 Awesome diorama clock at the QVB.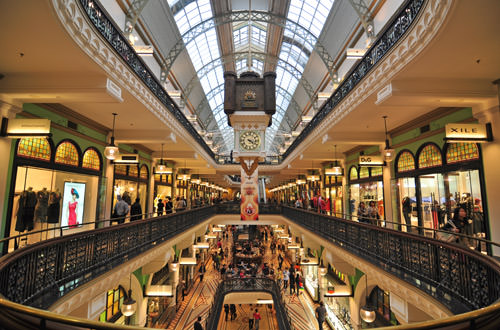 The sexiest damn mall you'll ever see.
It was as we headed toward Darling Harbour that the rain decided to get serious...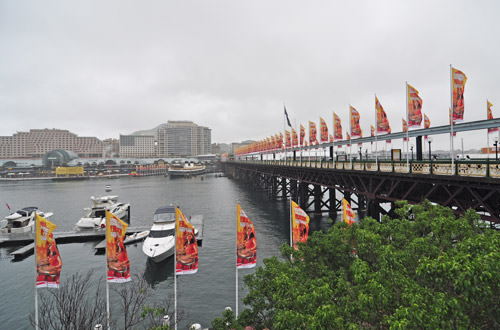 Rain pours down on the bridge across Darling Harbour to the Harbourside Mall.
But that's okay, because I was more interested in visiting my 138th Hard Rock than the weather. Unfortunately, Sydney's new Hard Rock is yet another "Hipster Lounge" travesty, but it's massive size means you get to see a lot of memorabilia even though it's pretty spread out...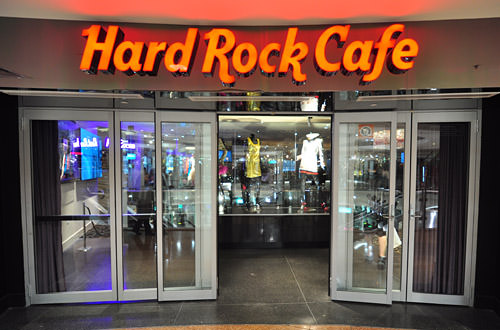 Hard Rock Cafe entrance.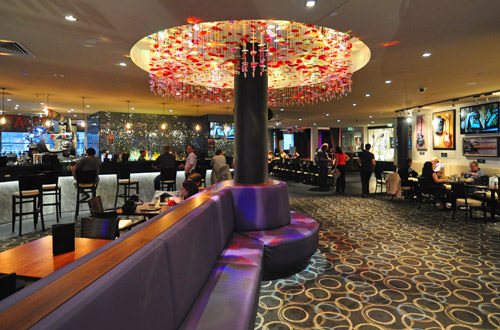 Welcome to the cheesiest hipster lounge you ever will see!

The Hard Rock Cafe Sydney's so-called "shrine" to INXS.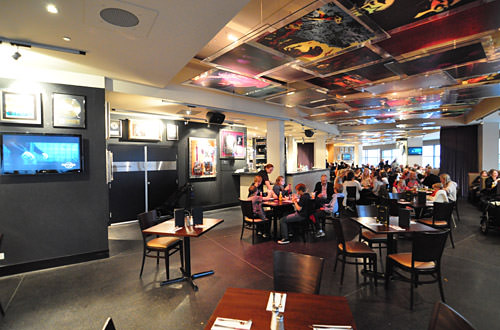 Not the most intimate and cozy Hard Rock property I've been to. The place is massively huge.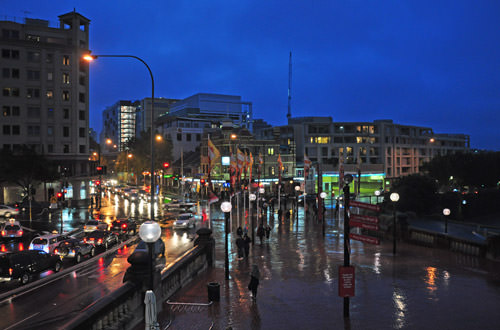 Leaving Darling Harbour at night.
Something I didn't know: Sydney has a monorail. It was a convenient way to escape the rain and head back into the city...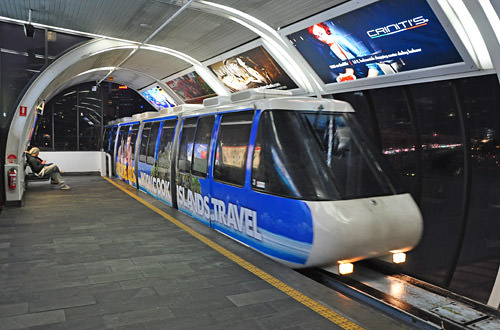 Hey, it may cost $5, but that's still cheaper than a ticket to Disneyland.
Another perfect day Down Under... albeit with police horses waiting in my hotel lobby...

No. They weren't there to arrest me. I think.
And.... I guess it's time to log-off and go charge every piece of electronics I own. It's shocking how much gadget crap it takes to be civilized now-a-days.