And so it's time for my annual late-October trip to Orlando.
Except I begged to have my meeting relocated to Tampa, because it's home to the only Hard Rock Cafe in the USA that I haven't visited yet. Fortunately, my begging skills are unparalleled, so I got my wish and here I am.
The last time I was here was to visit the new Hard Rock Hotel & Casino in May 2004 (and to see some friends in the area). The following year I virtually visited the city when I tried to figure out where a mystery photo had been taken, but that doesn't really count. So... it's been a while.
Anyway, for some odd reason the hotel/casino complex launched without a Hard Rock Cafe. That was remedied in December of last year when, after nearly seven years of waiting, a cafe was added and opened its doors. Or maybe it wasn't added and just ended up replacing some other restaurant, I don't know. What I do know is that it's big. 17,500-square-foot big. I also know that it's one of the "new-style" cafes with very little actual rock-n-roll memorabilia, which is a shame. All that aside, it's still pretty cool...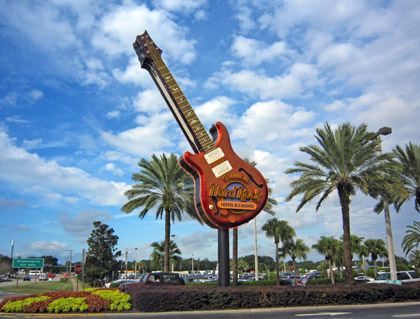 At the Hard Rock Hotel & Casino!

The new cafe has its entrance off the casino's main floor.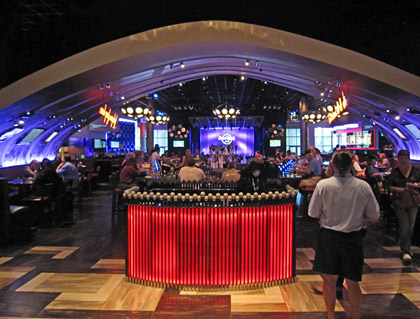 You actually walk through the bar to get to the dining room.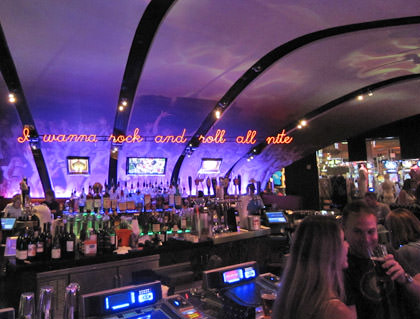 The bar itself is very cool... despite having no rock memorabilia.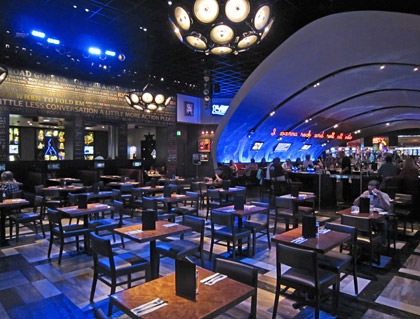 The dining room is massive, and even has a stage.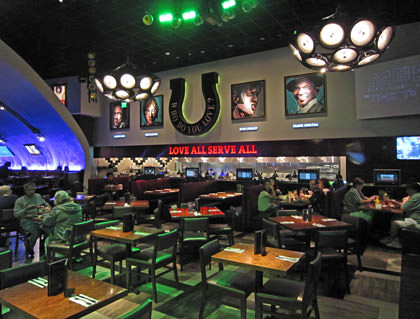 A big restaurant has a big kitchen! The horseshoe above says "Who Do You Love?"

But even cooler than checking another Hard Rock of my list? I got to meet up with the amazing Blondefabulous for lunch!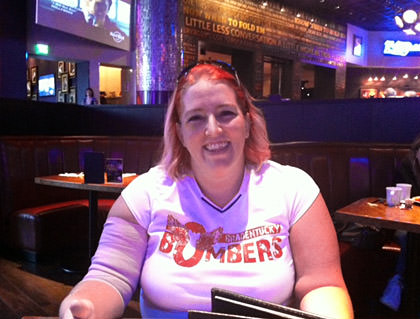 After my adventures in Hard Rock Land, I returned to the airport to finish up work stuff, then went back to my hotel so I could take a nap before dinner.
At which point I then risked my life to eat at Earl of Sandwich.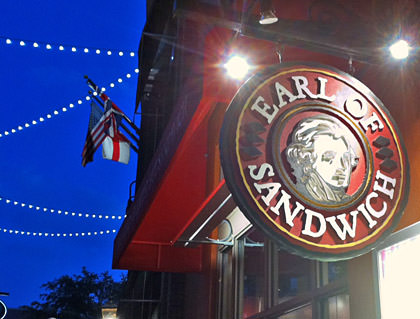 In a day and age when places are sued because they don't have handicap accessibility, I am regularly shocked at how many places have no pedestrian accessibility at all unless you drive there by car. Like so many places now-a-days, The International Plaza (home of Earl of Sandwich) can't be reached by foot... even though it's pretty much across the street from my hotel...
A) I walk to the end of the road... NO CROSSWALK.
B) I see there's a crosswalk on the other side of my street, but there's NO CROSSWALK to get over to it.
C) Once I survive running to the other side of my busy street, I can finally cross over to The International Plaza... except the sidewalk stops, and there's no place to walk to get there.
D) Miraculously, there's a crosswalk to the Northeast, so I cross back across my street so I can climb through bushes to some grass and not have to walk on the road. But eventually I have no choice, because there's nowhere else to go. I then nearly get hit by traffic... twice.
E) After dinner, it's dark. I don't want to risk walking on the road, so I exit on the other side of the mall where there's a sidewalk.
F) The sidewalk doesn't go out to the road, so I'm screwed again. I once again climb through the bushes to grass so I don't have to walk on the road.
G) Once again, NO SIDEWALK and NO CROSSWALK. I end up having to walk along the shoulder of a dark, busy road so I can get back to the only crosswalk I know.
H) Still no crosswalk on my street, so I walk down the road to cross in the hopes I might be more easily seen if a car comes bombing down the road. Nearly get nailed by a motorcycle.
Sheesh.
I mean, seriously, this is insane. Why in the hell can't we WALK anywhere anymore? Do they really expect me to get a taxi so I can just cross the street? That's just stupid. Public places should be legally required to be publicly accessible by pedestrians. How hard is it to add a frickin' sidewalk when you put in a road?
But whatever. As I have blogged many, many, many times, Earl of Sandwich makes the best frickin' sandwich on earth (which only makes sense considering their family invented the thing back in 1762). Their Veggie Sandwich (hold the Roasted Red Peppers) is pretty much worth risking your life over...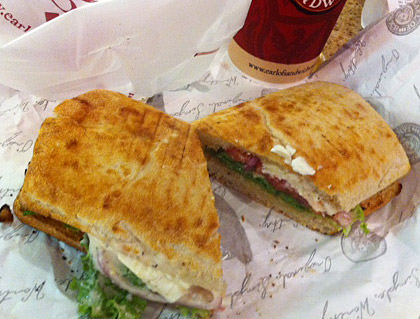 And now that work is over, the Hard Rock & Blondefabulous have been visited, and I've eaten Earl of Sandwich, I guess my work here in Tampa is done. Tomorrow I fly back to Seattle...
Don't you just love crossing the entire country for a single day's adventure?