Posted on Wednesday, January 6th, 2021

I'm just going to get this out there... not a fan of JaBiden.
I never wanted Joe Biden as my president. I definitely didn't want ex-prosecutor Kamala Harris as my Vice President. And Hillary Clinton, who is the very model of a garbage politician, was nowhere near my list of desired presidential candidates when she was shoved down our throats last election. But my thinking that she's "garbage" isn't saying much because 98% of our politicians are lobbyist-fed garbage as far as I'm concerned. So long as MONEY is allowed to corrupt our politics and buy off the government, the entire system is garbage.
But my loathing of Biden, Harris, and Clinton pales in comparison to how much I outright despise President Trump. His every single move was made to exclusively benefit himself, corporations, and the über-wealthy wealthy... in that order. Anybody who says otherwise has never actually looked at what he did for his four years in office and asked "Who does this really benefit? He exploited people's ignorance, bigotry, and Faith to screw us all.
So, yeah, I'm saying good riddance to Trump and will be very happy to say good riddance again when JaBiden leaves office.
Good Lord. How in the hell have we gotten here? That Trump and Biden are what we end up with as our leaders is is both inexplicable and sad. It's like the bar is now so low now that nothing will surprise me any more. Big Bird winning the presidential election in 2024? Yeah, sure. Whatever.
But what really gets me is how people become fanatically devoted to politicians in the first place. They're just people... not Jesus... or The Beatles. It makes zero sense... and I'm saying that about both Republicans and Democrats. I was absolutely bewildered by the Cult of Hillary Clinton. What was it about her that had people so consumed? And we don't even need to talk about the Cult of Donald Trump, which is even more bizarre to me. I mean...

Um... well... that's... unique? Is the word I'm looking for? Photo from the European Press Agency
From what can be theorized, anybody this devoted (yet this different in their varying ideology) are just all hating the same thing. Hate is what binds them together. It has nothing to do with loving their country, which was made quite clear when they assaulted the police, stormed the Capitol, tore down the American flag, then raised a Trump flag in its place. I mean, aren't those all the things that anybody who truly loves the USA would say are a bad thing?
What's amusing (for lack of a better word) is the sublime ignorance which is driving all this.
I've heard more than a couple times how people are branding this as a "revolution." I keep hearing things like "This is what had to happen! When we declared our independence in 1776, did we write a letter to the British telling them that we were going to be America? NO!! We went to war and kicked them out!"
Except... um... yeah... not so much.
The entire history of American Independence is well-documented, if anybody should care to investigate it. In actuality we wrote a rather important "letter" and did indeed "send it" to King George of England by publishing its text in colonial newspapers. It's called the Declaration of Independence. Perhaps you've heard of it? From what we know, the letter arrived in Britain via papers in Belfast the month after it was signed. It was all a formal affair, and the British even published a rebuttal to it and everything.
Also? There was massive support for the Revolutionary War. Like everybody in the colonies was behind it. This wasn't a splinter group who wanted to break away from England... absolutely everybody wanted it to happen. So a handful of people buying into completely unfounded election conspiracy theories which have been disproven over and over and over again... and even been disproven by Trump-voting Republicans... does not a revolution make.
I mean, I'm not happy Biden is our president either... but holy shit! SEDITION?!?
And now, if you'll excuse me, I'm having another idiopathic angioedema attack. Half of my tongue has swollen so large that I am having difficulty swallowing. Which is a bummer, because that's he only way I can take huge loads of antihistamines in order to stop it from getting so large that it chokes me to death. What I'm having to do is crush them into powder, mix with water, then use a straw shoved way back in my mouth to get them in me. How fun!
My evening will be spent propped up by pillows with an epi-pen in my hand, just in case.
And, assuming there's a country left when I wake up in the morning, I guess we'll see what tomorrow brings for the United States of America.
Posted on Friday, January 8th, 2021

I got up early this morning to get some work done before feeding the cats and running into Tourist Town to do some grocery shopping. Early morning shopping is the best shopping because the store is so empty. But also? My cupboards and refrigerator are low on staples, so I was excited about having food in the house again.
The other big draw for my grocery shopping today was a coupon I had which gives me $11 off a total of $110 or more. That's 10% off... on top of the other coupons I have. I love it when opportunities like this comes along, because it's the one time I allow myself to buy stuff that's not on sale. But you have to be careful. One penny under $110 and no discount for you. I kept careful track in my head and got to $120 (actual total $116.88), so way to go, me.
Along with a shiny new iPhone, I changed my service plan with AT&T. My new phone can do 5G, my service plan didn't have 5G, and even though I probably won't see 5G any time sooon where I live, I'd like it available when I travel (assuming I travel again). AT&T had a deal where I could get my two lines for $65 a line (with auto-pay and paperless billing enabled), and I'd actually be saving money in the long run over what I had, so sign me up...
Before (virtually) signing on the dotted line, I went over the details of what I would be charged very, very carefully with the phone rep. I wanted to be darn sure there weren't going to be any hidden fees above what I was already paying. After a very patient person went through everything with me... twice... I changed my plan to the new $65 per line.
My previous bill was a mess. I had no idea what was going on because AT&T jerks you around with pro-rated billing and activation fees and other stupid shit that I had no way of understanding. But then today my current bill with none of the extras arrives. And I looked it over very carefully. And, wouldn't you know it, only ONE of my lines was $65. The other was $75...

=sigh=
So I online-chat with AT&T and explain the problem. After pulling up my account, I'm told this:
I see that you have been charged for monthly service charge. That is why you got high in your bill.
I explain that my bill very clearly shows one of the lines was charged $75. Then I get this:
I see that you have been charged $65 for one account and $65 for another account. But this time they have added $8.33 for one account.
I then have to tell them that I am looking at my bill and it clearly shows one line is $75, so I don't know where they're seeing both are at $65. I don't care what the fees are showing, the amount per line I was quoted (and which is still showing on their website) is NOT being honored.
After a while of them "looking into it" I get this:
Yes you are right. Sorry for that. Let me go ahead a note to change that for you. So it will not reflect in your next billing cycle.
Look, I really want to give AT&T the benefit of doubt here, but I see this shit ALL THE TIME, so it's tough not to be cynical. I signed up for a new plan so I could get 5G at $65 a line (if I use auto-pay and paperless billing, which I do). but I'm charged $75 for one and $65 for the other. And the ENTIRE TIME I'm chatting with customer support, I think back to my grandmother and mother being easily confused by pages of bills that are designed to obscure how much YOU'RE ACTUALLY BEING BILLED FOR, and I know beyond any doubt that they would have just paid the overcharge month after month because they didn't know any better. And if they did call customer support, they undoubtedly would have believed the bullshit about "extra fees" and not pressed the issue any further.
This is rage inducing.
And I cannot help but ask... is AT&T doing this on purpose? Do they make their billing statements confusing and encourage auto-pay and paperless billing so they can rip you off and have less chance of being caught? I am seriously outraged right now. I'd dump these assholes in a second if other carriers were any better... but they're all the same, aren't they? So what good would it do?
If the Democrats in power want to make me happy after they're done sucking off the lobbyists lining up to pay them to betray US citizen interests... FIRST they can put us on permanent Daylight Saving Time so we're not dicking with the clocks twice a year. THEN they can pass an act which forces all these asshole companies to not hide all their charges when you sign up for shit. The price they advertise should be the price you pay... AND IT SHOULD INCLUDE ALL THE FUCKING FEES AND OTHER BULLSHIT THAT **NEVER** ALLOW YOU TO KNOW WHAT YOU'RE PAYING BEFORE YOU COMMIT TO A CONTRACT!
But you know what? AT&T probably shovels millions upon millions upon millions to politicians so they can just keep doing exactly what they're doing. Which means nothing is going to change any time soon. Our politicians won't do anything to threaten that sweet, sweet lobbyist payola now would they?
At least not in my State. Senator Patty Murray is OWNED by the medical lobby, and we all know how much they just LOVE to obscure costs in their billing. Major surgery results in pounds of never-ending bills that are intentionally confusing so you just shut up and pay. Which is exactly the kind of behavior our politicians crave... "I'll shut up just so long as you pay."
God bless America.
Posted on Sunday, January 10th, 2021

Free speech has consequences, which is nothing new to bloggers like me... because an all new Bullet Sunday starts... now...

• Colosseo! My mom's favorite landmark is the Roman Colosseum. She asked to visit it every trip we made to Rome which, I believe, was four times (it was a cruise stop twice and a trip stop twice). I'd ask her why she loved it so much and she'd say "I don't know... I just do." When I told her that maybe she was a gladiator in a previous life, she thought that was funny and started telling people that when showing this photo...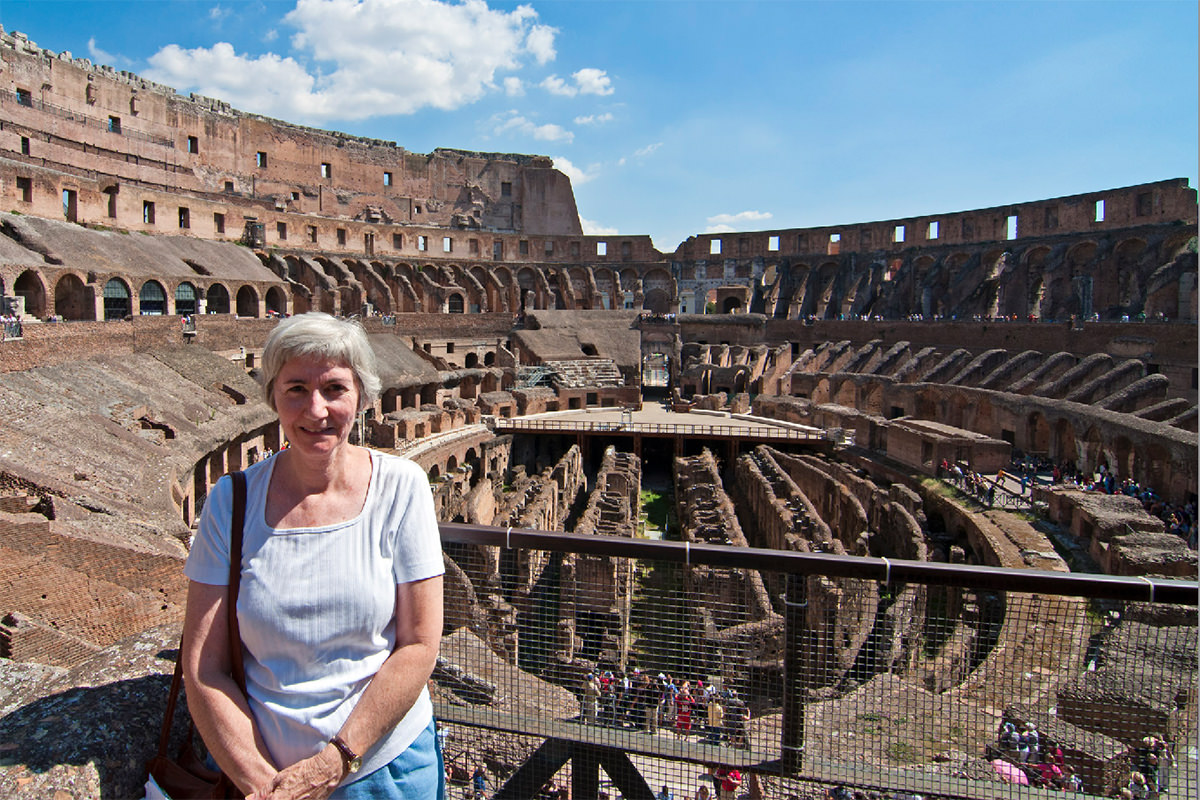 Because of this, I very much wish she was still alive, because Rome is renovating the Colosseum, and I think the idea of being able to stand on the floor of the Colosseum arena would be so thrilling to her that we would have definitely made a fifth trip once it was completed. This is really, really cool, and I'd love to be able to visit again. But it won't be the same without my mom there to share it.

• LEGO! I have to say... whomever works in LEGO advertising which came up with this ad for a "Make Your Own MiniFig" game apparently doesn't have the same filthy mind that I do, because, well...
Is that a hotdog in your pants, madam, or are you just happy to see me?

• PERFECT! I've watched this TikTok more times that I'd ever admit. It's hilarious because it's true...
Though I'd argue the point that this is how girls make coffee, because I see plenty of guys doing essentially this. And given my distaste for coffee, this would absolutely be me as well.

• Cute Gay Shit! TikTok is so much more than funny coffee memes. There is some genuinely touching stuff on there that gives me hope for all humanity...
And just KNOW that this gentleman gets lumped in with people he's condemning because of how he looks and talks. You know it. God bless you, sir.

• NEWSFLASH! FORBES: Close To A Worst-Case Scenario—Former CDC Director Issues 'Horrifying' Outlook For New Covid Strain. If your balls don't shrivel up after reading this, then you probably don't have balls. But you are alive if you're reading this, balls or no balls, which means you should be horrified that there are still people not taking this shit seriously. Protect yourself. Protect others. This has catastrophe written all over it.

• Specs? Apple is the most ridiculous fucking company. They want to make their products as simple to use as possible by taking all the "tech" out of everything. Which is fine. EXCEPT YOU CAN NEVER MANAGE TO GET ANY FUCKING SPECS FOR ANYTHING THEY SELL. Will this cable work for charging? I dunno. What is the maximum transfer rate for this cable? I dunno. Can I quick-charge with this cable? I dunno. What about the charger? I dunno. Can you at least tell me if it is USB-PD compliant? I dunno. They literally tell you NOTHING in their support docs or on anything in their entire store. — If you want to shield your customers from scary tech-speak, fine. But at least have the fucking information SOMEWHERE for the people who need to know this shit. Their solution for everything is to say "Well, if it doesn't work, you can always return it." Which is an astound attitude to take considering that it wastes my time and their resources, and I'm getting seriously tired of it.

• Apolitical! My existence right now:
REPUBLICANS: You're just a Democrat shill.
DEMOCRATS: You're just a Republican shill.
ME: I AM NEITHER A DEMOCRAT NOR A REPUBLICAN! I DON'T UNDERSTAND THE NEED TO WORSHIP POLITICIANS AND FALL IN LINE WITH A POLITICAL PARTY RUN BY WEALTHY ASSHOLES THAT ARE PROPPED UP BY WEALTHY CORPORATIONS WHO DON'T GIVE A SHIT ABOUT US! WHY CAN'T I JUST BE A NON-PARTY SHILL?! WHY DOES MY SHILLNESS HAVE TO BE ATTACKED LIKE THIS? I AM A SHILL FOR ALL HUMANITY! AND A SHILL FOR CATS! TOWANDAAAAAAA!!!
Because, like, how could you not be a shill for floofy bellies like dis?

Stay frosty out there, my friends.
Tags:
Apple
,
Bullet Sunday
,
Bullshit
,
Cats
,
COVID-19
,
LEGO
,
News
,
Pandemic
,
Politics
,
Rome
,
TikTok
,
Travel
Categories:
Apple Stuff 2021
,
Bullet Sunday 2021
,
Cats 2021
,
LEGO
,
News – Politics 2021
,
Travel 2021
—
Click To It:
Permalink
—
2 Comments: Click To Add Yours!
Posted on Sunday, January 24th, 2021

A new era may be dawning, but some things will never change... because an all new Q&A Edition of Bullet Sunday starts... now...

• Does the stair shelf you built for your cats work?
Yep! No falls since I installed it! Jenny has never been a banister girl, so she just walks along it on occasion. But Jake still lays up there all the time. Especially in the Summer when the sun shines on it. Since the catwalk I built adds a couple inches to the width, he's a lot more comfortable laying on it, and like to prop his head on the ledge to watch me and Jenny on the stairs. This, along with the catio, are two of the best things I've made to keep my cats safe and healthy.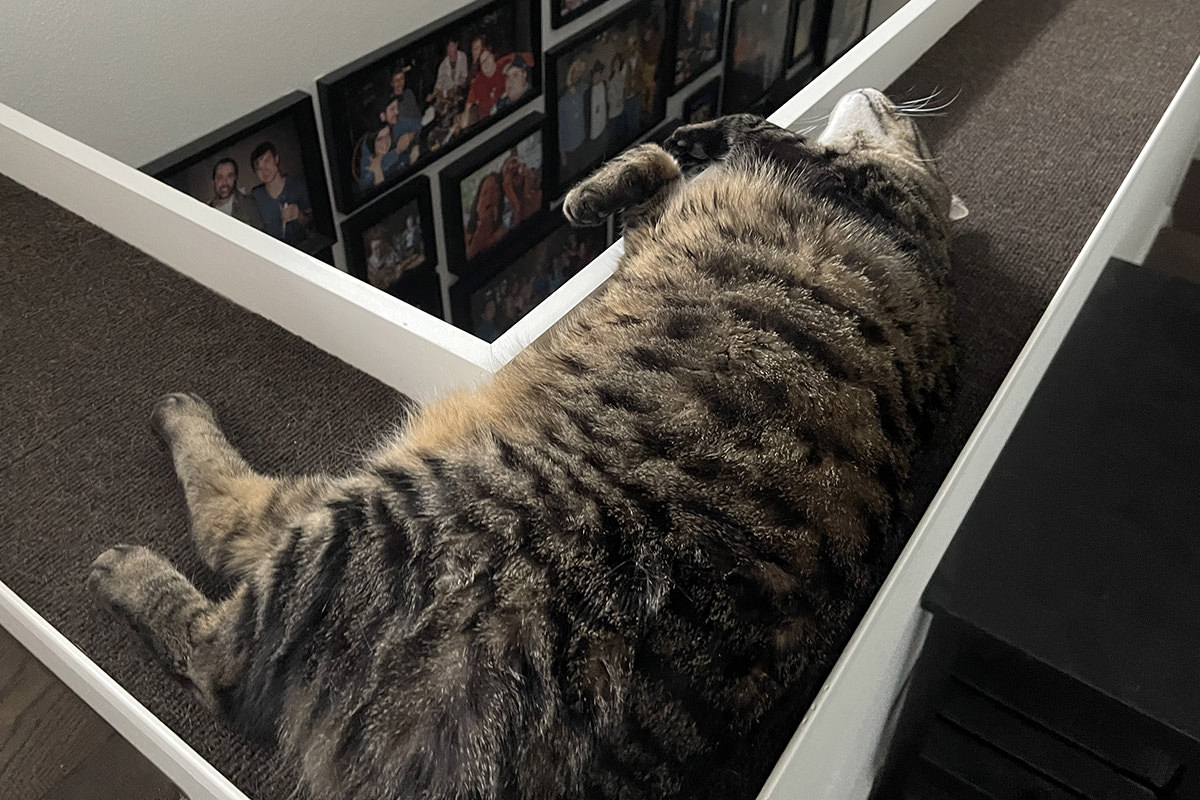 • Which meal service do you like best?
Are you talking between Martha Stewart & Marley Spoon and "Hello Fresh," the two I am currently using? That's actually a very good question! Both of them allow you to skip weeks (which I do often because they are expensive) so when I do order, I have been bouncing back and forth. Comparing them in a face-off is actually a good idea for a post. I'll do that sometime in the coming week!

• Japanese knives RUST... they are NOT stainless steel!
Yes. When I reading up on knives, this was brought up many, many times. I made my purchase with my eyes wide open. I expected for rust to appear. But it was still the best knife for what I would be cooking, and I just made a mental note to be sure and wash the blade after every use. And I've never seen rust. Until one day I did! I went into a Google panic, found out the easiest way to deal with it was a Rust Eraser, ordered one, and then found out it wasn't actually rust before the eraser ever arrived. It was a piece of food that I didn't get wiped off and only looked like rust. Since I first got it a year ago, I've never seen a speck of rust and my Rust Eraser hasn't even been taken out of the wrapper. My MAC Chef's Knife and Bread Knife are from their "Professional" series which is "rust resistant" but will still rust if you don't wash and dry them immediately after use. I also have some "Original" series knives which are supposed to rust more easily but, as I said, I've never seen any rust on them because I keep them clean and dry.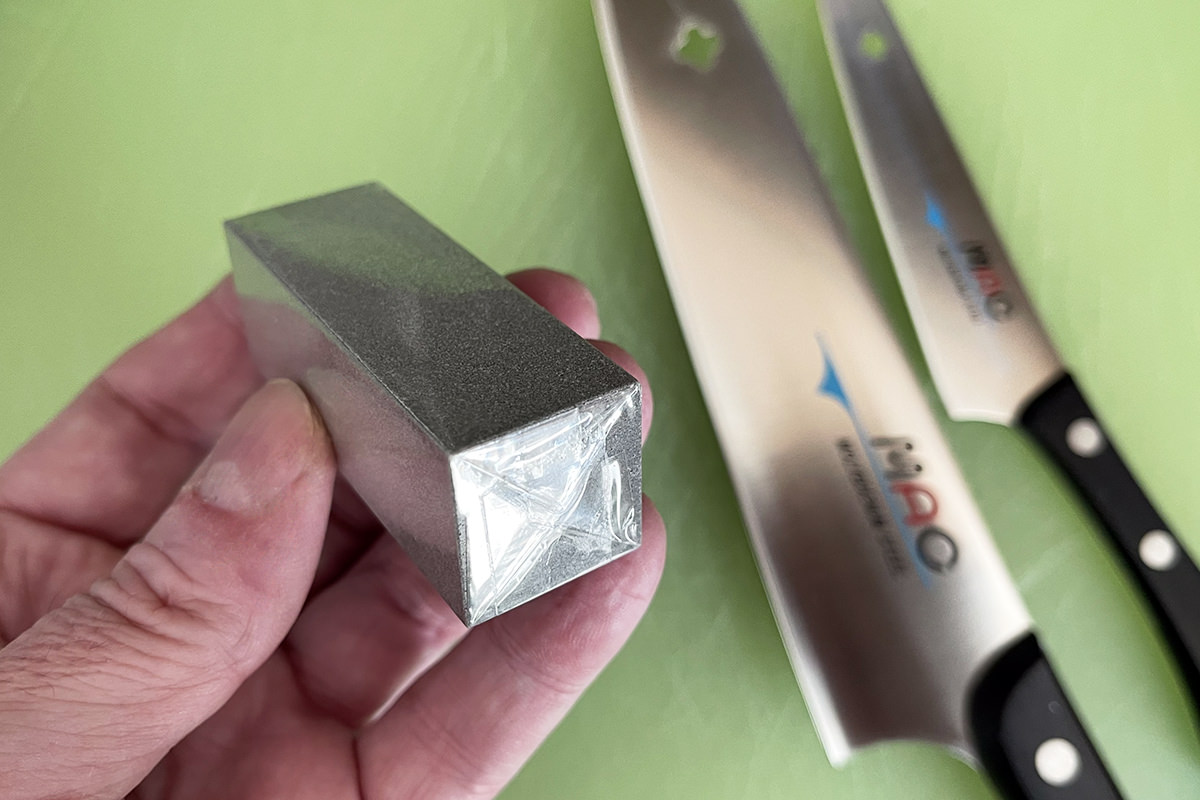 • Are you still playing Animal Crossing?
Sadly, no. I haven't had time. And I'm scared to look and see how many weeds I'll have to pull in order to get my island back. It's a great game and helped a lot when we were first under quarantine, but I was spending 2+ hours a day playing it and had stop because there were other things I need to do with my time. Might pick it back up one day and just force a time limit so it's not consuming me like it was. Now I've got TikTok for that!

• Where's your Bernie meme?
Ummm... right here!
My house is kept fairly cool in the winter in order to save on heating costs, so Bernie judging me for the temperature... along with Jenny (and Jake, who has clearly turned his back on me)... seems appropriate.

• Are you finally happy now that Biden is president?
No. No I am not. As I have said quite a few times now, Biden was never my guy so I'm not "finally happy" that he's president. I am, however, elated that Trump is no longer president. So there's a big difference there. I won't be truly "happy" until all the career politicians and other assholes who exploit their office for personal gain at the expense of the American people are out of office. I will also be happy once all the pieces of shit who have so severely divided this country are out of office. Alas, what this would take is the American people WAKING THE FUCK UP and realizing that they are being majorly played. But that takes thinking for themselves, and we all know that this is not something we seem to be very good at right now. So... here we are.

• Where's the first place you'll go once you can travel again?
Well, odds are I won't be traveling for work or for volunteering again... at least not any time soon... so it will likely be a personal trip. My guess is it will be one I've been planning for over a year with friends to Maui. We have unfinished business there that we need to take care of. Otherwise? Not entirely sure. It will take a while for the world to get back to normal and I have no idea where my life will be by then.

And that's the last of my answers to questions I've been asked.
Posted on Tuesday, January 26th, 2021

I have been trying to wrap my head around the logic behind attacking workers who have to enforce mask mandates. They have literally NO control over it. They don't control what elected officials dictate... they don't control what their county dictates... what their company dictates... what their manager dictates. So screaming at them with your anti-mask tirade when there's nothing they can do just makes you the worst possible kind of asshole.
So congratulations! You made a waiter at a cafe break down in tears. And that wasn't good enough, so you started shouting homophobic slurs at him, because apparently you feel his life isn't hard enough already. So... we get it. You are outraged that you have to wear a mask. And you are grossly intolerant of homosexuality. But making this poor minimum-wage earning kid completely break down doesn't win you any victory points. It just shows people how cruel, heartless, and utterly bankrupt you are as a person. You had the opportunity to reach out with kindness and understanding to a young kid just trying to earn a living during these difficult times, but instead you decided to destroy him for no reason over something he has no control over.
Whatever you're taking that allows you to sleep at night... can I get some? Because I haven't been sleeping so well lately and this sounds like it REALLY must knock you out.