Whee! I'm in Oklahoma!
In my effort to keep up with any new US & Canada Hard Rock properties as they open, I'm here to visit the Hard Rock Hotel & Casino Tulsa on my way back to Seattle. It's pretty much a raging disappointment, but that's probably my own fault for hanging on to Hard Rock memories of yesteryear instead of the reality of Hard Rock today.
All in all, a pretty crappy day to be me...
A direct flight to Tulsa from Atlanta was outrageously expensive. So I connected through Salt Lake City and ended up flying three times the distance in four times the duration at one-fifth the cost. I give up on the math that makes all that work.
Ended up sitting on the Atlanta tarmac for 40 minutes while they decided if our plane was safe to fly in the face of "mechanical difficulties." Apparently it was, so we did, and ended up landing only 10 minutes late. That would have been a good thing, except it caused a backlog with the luggage and it took forever to get my suitcase.
I was the first to leave the plane and arrive to a closed door. Nobody was outside, no sign on the door said not to open it, so I walked through... and had an alarm go off. The gate agent was infuriated and yelled "AAAAAAGGGGHHHH!" at me, then slammed the door while calling it in as a false alarm. Like it's my fault that he didn't do his job and open the door for an arriving flight. Well fuck you. Fuck you sideways. Helpful customer service tip... when you fuck up, APOLOGIZE to your customer and be mad at yourself, not them, for YOUR screw-up.
I went to pick up my rental car and was told that I had been "upgraded" to a full-size vehicle. Well, here's the scoop... if I had wanted a full-size vehicle, I would have reserved one. So when you give me anything other than what I requested, it IS

NOT

A FUCKING UPGRADE! Of course, they didn't "upgrade" me because they like me, they did it because they ran out of compact cars. Fortunately, begging at the returns counter got me the car size I had wanted all along.
Karma being what it is, the cigarette lighter doesn't work, so I can't charge my iPhone while I drive. Shit.
The highways here are being upgraded and/or repaired. I missed the exit I needed because the temporary sign naming it could be seen ONLY after you passed the exit. It's a flavor of stupid that I can't quite wrap my head around.
Now that I've finally made it to the Hard Rock Hotel & Casino Tulsa, all I want to do is leave.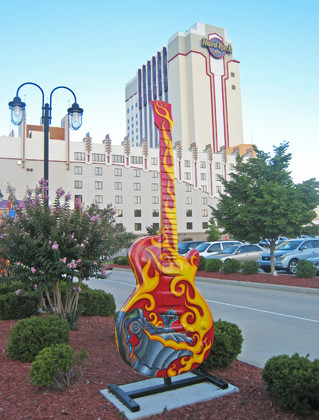 Time to update my travel map for this trip...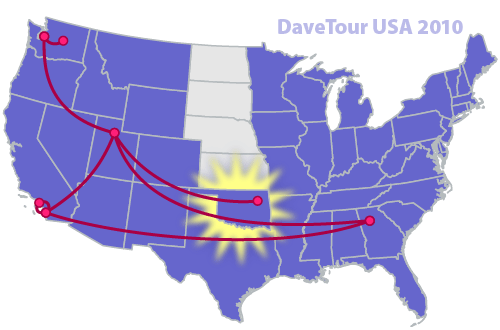 Ooh! Look at that! I've filled in a State I've never been to before! Just four more to go!
For anybody interested in my thoughts on the Hard Rock Hotel & Casino Tulsa and the state of the Hard Rock chain in general, I've put that in an extended entry. For everybody else, good night!
When I first started obsessing over the Hard Rock Cafe in 1990, it was the uniqueness and specialness of the properties that kept me coming back. Cafes were crammed to the rafters with cool rock-n-roll memorabilia. Employees were as unique as the properties, celebrating rock counter-culture by living it. The motto of the chain was "Love All, Serve All" and they genuinely meant it. Every outing to a new Hard Rock was like discovering Hard Rock for the very first time.
But that was then.
Now, it's quite different...
New Hard Rocks are cold, sparse, and boring, with a few scattered pieces of memorabilia locked away in display cases rather than proudly nailed to a wall in such huge numbers that you can't see everything in a single visit. On the contrary, everything about the place practically ensures you never want to visit again.
Each new property is decorated like some lame hipster lounge that no rockstar would be caught dead in. As a consequence, even the more unique and colorful employees seem oddly out of place and constrained.
Hard Rocks no longer "Love All, Serve All" but instead cater to a chic elite which belies the very principles that built the chain. Classic example... when I was just in San Diego at the Hard Rock Hotel, I wanted to go in and buy some pins, but was turned away from the Rock Shop entrance. I went to the main entrance and was treated like a lying criminal for wanting to get in TO SPEND MONEY. After I used my Pin Club Card to convince them I wasn't trying to crash whatever exclusive Comic-Con party they were hosting, I still wasn't welcomed in, but instead treated like I was barely tolerated and reluctantly allowed through TO SPEND MONEY.
Here in Tulsa, my Pin Club Card was refused... meaning I don't get my discount and don't get credit for my visit. This is categorically stupid, and I don't give a flying fuck if you're a "franchise partner" or not. You're either a Hard Rock, or you're not. You're either part of the Hard Rock family and welcome its fans, or your just another building with the Hard Rock logo on it and not really a Hard Rock at all. Apparently the corporate offices at Hard Rock International no longer give a shit about protecting their brand and honoring their fans... they just want money, and don't care how they get it. I find it inconceivable that they franchise out their brand without dictating the terms as to how it's used. If you're a fucking Hard Rock, then ACT like a fucking Hard Rock or just turn into the Denny's or Motel 6 you really are.
My room is very nice. But there's nothing "Hard Rock" about it. No prints of famous rockers on the wall. No Hard Rock inspired linens. No clever rock-inspired touches to let you know where you are. N-O-T-H-I-N-G-! You could literally be anywhere in any upscale generic hotel in the world. This is very different from earlier Hard Rock Hotels I've been to, and a sad, sad reminder of where Hard Rock is headed. They're no longer special. They're no longer unique. They're just there.
Hard Rock advertises their properties with the phrase "You Know Who You Are..." Well, yes, I do know who I am... do you?!? Because if your current properties and attitudes define you, then who you are is pretty lame.
Odds are, I will still seek out Hard Rock properties in my travels because my visits are always about more than just the Hard Rock Cafe. It's about exploring new places and finding new things. It's about forcing myself step out of my travel routine and get distracted. It's about meeting new people. It's about seeing more of this world. And, yes, adding another checkmark to my list.
But the love has gone.
Which is why you'll have to excuse me for hanging on to my Hard Rock memories of yesteryear.