The only thing I really had on my list for Orlando was the Hard Rock Vault, and so I was left with five hours to kill. There are a lot of things to do in Orlando, but most of the things I'd want to do I have already done on previous trips. I then remembered that Universal Studios had just installed the new "Revenge of the Mummy" roller coaster a few weeks ago, so I thought that would be something interesting to do. Unlike Disney, where the rides keep getting lamer and lamer, the Universal stuff always seems to be pretty cutting edge.
Tolls: $4.00
Parking: $8.00
Admittance Ticket: $58.00
Spending $70 to ride one ride in 100-degree heat on Memorial Day Weekend when the crowds are the worst that they can possibly get: Priceless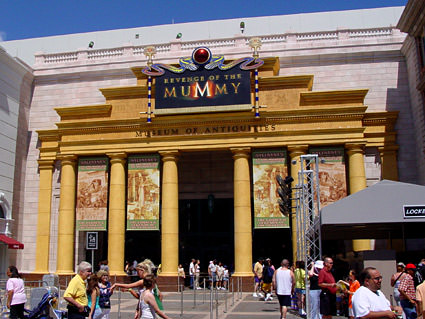 Actually, thanks to Universal's "Single Rider" line, I was able to ride the thing
twice
in under 20 minutes which was pretty sweet!
The ride itself is excellent. Short, but really excellent. I think "Mummy" is meant to compete directly with Disney's "Space Mountain," as it too is a "dark" roller coaster ride. The difference is that Space Mountain hasn't changed in decades, and Revenge of the Mummy is fresh, hi-tech, thrilling, and a great run! Highly recommended. IMHOTEP! IMHOTEP!!
Since I didn't spend all day waiting in line at Revenge of the Mummy, I decided to see what else was new since I was at Universal Studios last. About the only thing left was "Shrek 4-D" which is a film that bridges the gap between Shrek and Shrek 2 rather nicely. Problem is... A) I had to wait in line for TWO HOURS AND TWENTY MINUTES!! which was excruciating (Universal is over-selling their "express pass" and "priority club ticket" badly). B) I am not a Shrek fan... the humor is dated very quickly, the animation is crap compared to Pixar, and I've had more than enough of Mike Meyer's ridiculous Scottish accent. And, C) The reality effects consist of spraying water in your face and moving the seats... and neither one of these are done as effectively as their amazing "Back to the Future" ride. On the other hand, the 3-D effects were pretty top-notch...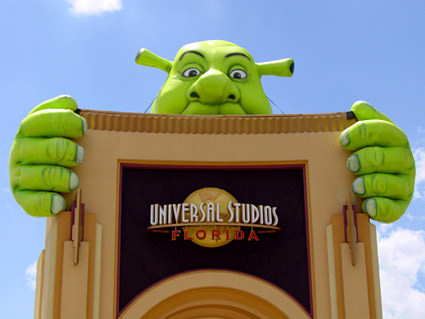 After blowing nearly 3 hours on Shrek, I decided that anything else I waited for had better be worth it! Unfortunately, nothing at Universal Studios really did it for me. The good news is that I could upgrade my ticket for $20 so I could be admitted to "Islands of Adventure" where I could ride my most favorite roller coaster ever, THE INCREDIBLE HULK...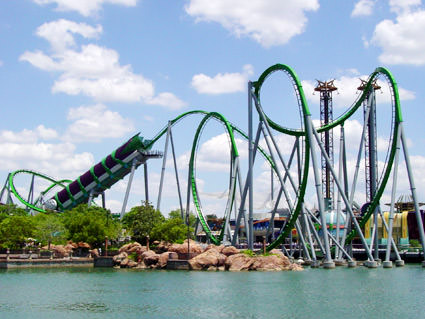 Again, thanks to the Single Rider Line, I was able to ride twice in under 25 minutes! Man, I love that coaster! I've been on dozens, and this is the one that gets my blood pumping the most. Something about the way they shoot you up that Gamma Chamber provides a sphincter-puckering moment that's hard to beat when you drop off the other side. Nothing at Disney even comes close to touching it.
And, of course, the most excessive Hard Rock Cafe Orlando is just outside the gate...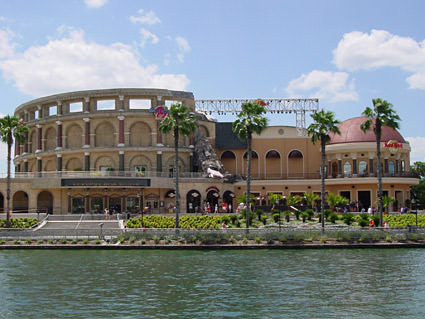 This has been a really expensive day. Only three rides and it cost me nearly $100.