I did not set my expectations very high for The Hard Rock Hotel Palm Springs. Even though it was a HR Corporate project, the website gave it the feel of a crappy quick-and-dirty "conversion property" like Tulsa and Albuquerque. Those lazy hotels where they just slap a few pieces of rock memorabilia on the walls, change a few door-handles to be guitar-shaped, hang a logo above the door, and call it a Hard Rock...
Nope, despite outside appearances, the Palm Springs hotel was actually really well done. Much more than just a coat of paint and some superficial decorations. The lobby was beautifully themed with rock instrument sculptures, a lot of music-themed details, and a surprising amount of memorabilia. The design is beautifully eclectic and authentic Hard Rock, featuring a full lobby bar, a restaurant, and a merch shop... all really well done.
The reception desk...
The very nice bar in the lobby area...
Lobby staircase and FUN...
Speaker sculpture...
Sessions restaurant...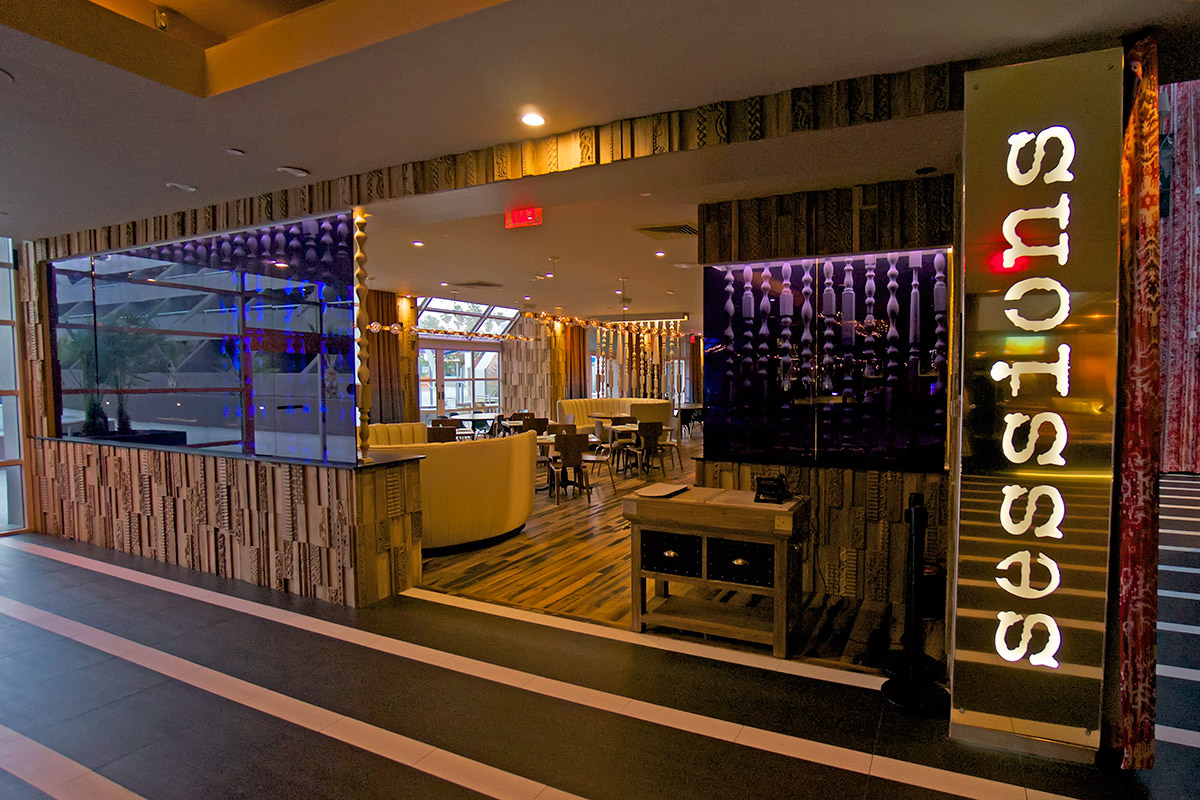 Memorabilia case at the entrance...
But the biggest surprise? They actually put some effort into theming the rooms! Many times they don't even bother with a hotel conversion, but it looks as thought they gutted everything and made it be Hard Rock style...
The only disappointment in the conversion was the pool area. Not only is the pool tiny, there was no effort to make it look very Hard Rock. They half-heartedly spray-painted a few Banksy-inspired murals on a couple walls and that's about it...

Overall a pleasant surprise. This is a great hotel... and a great addition to the Hard Rock family. The staff was terrific. Everything is clean and impeccably-maintained. The location is fantastic, just one block off Palm Canyon Drive downtown. Even the pricing seems comparable with similarly-equipped hotels in the area (i.e. a bit expensive). I enjoyed my stay very much.
Except...
In keeping with the growing trend of screwing your guests, of course there's a fucking "resort fee" you have to pay at checkout. The Hard Rock Palm Springs charges $30 per day, which is definitely on the high-side. It includes the usual... local calls nobody will ever make because they have fucking mobile phones and don't know anybody local... access to the gym which nobody will bother with because they're on vacation... access to the pool, which you've been getting free at every hotel since the dawn of time... internet access, which should be included in the room cost anyway... basically, bullshit amenities that are valued a hell of a lot less the $30 a day. I'd give you a complete breakdown of what it includes but, of course, a complete breakdown cannot be found on the hotel website because they want to camouflage this fucking bullshit charge as much as possible. I dunno. Maybe it also includes parking, which helps justify the cost IF you have a car... but $30 a day still seems fucking insane.
I only stayed for one day and didn't have a car, but I did get a ride to the airport and use the internet, so I'm trying not to be sore about paying $30 for nothing (seriously, if you still charge for internet, you're a fucking nickel-and-diming douchebag of a hotel). I could not stay here longer than two days without feeling as though I were being seriously ripped off. I would not.
But this is how it works now. Hotels want to grab people with cheap-ass room rates on the discount sites, but don't actually want to give their customers a discount. Hence the "resort fee" bullshit.
Oh well.
If you're looking for a nice place to stay and don't mind being violated with a mandatory fee for shit you won't use, by all means give the Hard Rock Hotel Palm Springs a look.