And so I am in Hamburg now.
Though I have been to Germany many times, this is my first trip to the northern part of the country. I was actually supposed to go to Bremen, but there's not a shiny new Hard Rock Cafe in Bremen, so I decided on a detour. This ended up being quite a nice excursion, because Hamburg is a lovely city... if a bit hostile to the non-German-speaking traveler. Unlike Cologne, Berlin, Munich, there's not a lot of signage or help available in English. I'm guessing that this is due to Hamburg not being a big foreign tourist destination, but it's puzzling that the touristy advertisements and touristy spots don't have at least something in English.
As an example, here's a poster ad in one of the most touristed train station in the city (Landungsbrüken) for a very popular attraction: "The Hamburg Dungeon." ...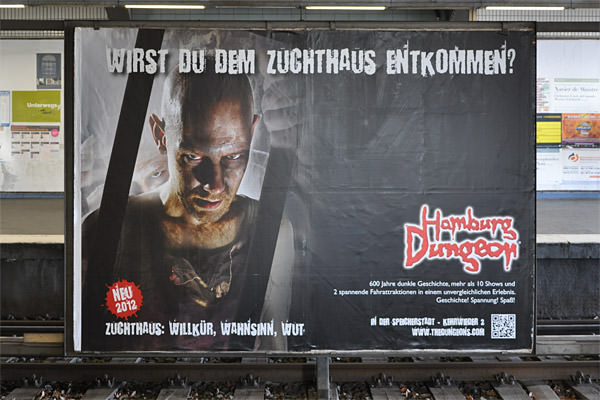 All that space, and they couldn't bother to put even a line of English to help a brother out? NEIN!
But I wasn't here to play tourist so, after my work was through at 11:00, I headed directly to the Hard Rock Cafe. Do not pass GO. Do not collect $200...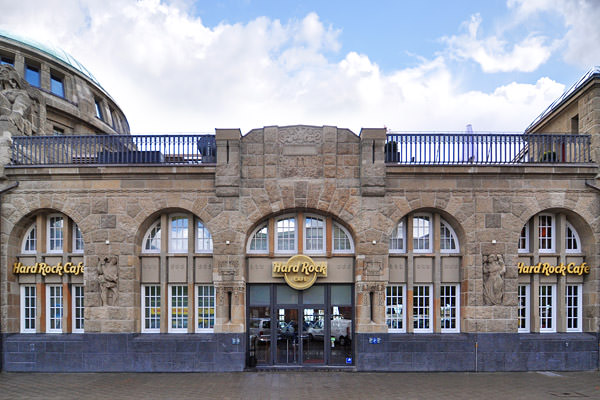 For being one of the "new style" cafes, I was surprised to find that they actually did a decent job of packing in the memorabilia. Far from being the sparse rock museum wasteland we've been getting, there was a nice and varied assortment. This is not to say that there are not oddities, however. Marc warned me about the mirror-finish of the bathroom urinals, but it's not something you can truly appreciate until you have actually pissed in it...
Having an entire audience watching you pee from a photograph is borderline-traumatic. But, sure enough, my junk was clearly reflected for all of Hamburg to see. On a busy Saturday night, I can only guess that somebody walking into the urinal would be greeted by a giant wall of dicks. I'm not exactly shy, but THAT'S traumatic!
On my list of things to see was St. Michael's St. Nicholas' Cathedral... which has been destroyed and rebuilt multiple times, only to finally be destroyed for good during WWI and WWII. You can buy an elevator ticket to the top of the one remaining tower, but my fear of heights coupled with my FEAR OF BEING ON TOP OF A BOMBED OUT TOWER WHEN IT COLLAPSES meant that wasn't going to happen...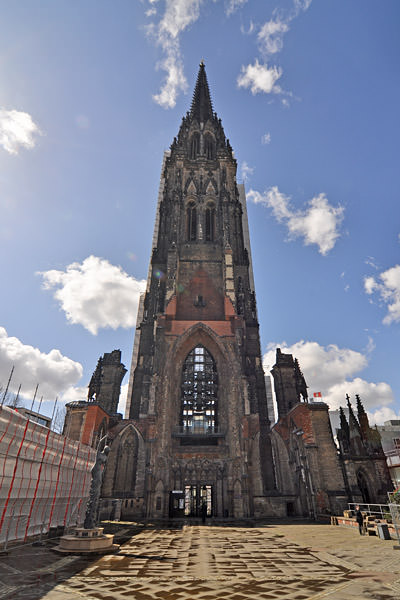 From there I walked to City Hall, which is a really beautiful building...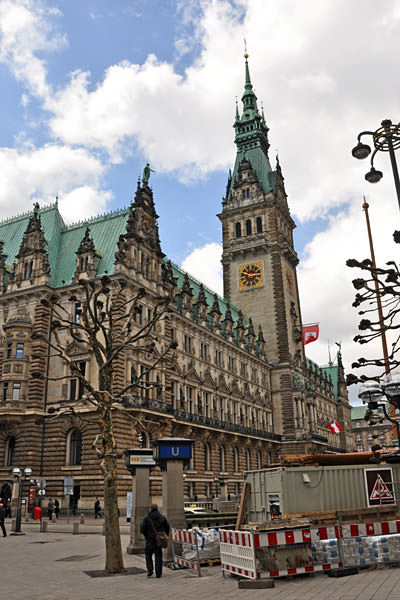 I then went to a man-made lake area called "Aster." It has a really beautiful view but, as if that weren't enough, it also has an Apple Store...
From there it was time to visit the ONE "must-see" attraction on my list... MINIATUR WUNDERLAND! It appeared on a Travel Chanel show a while back and really appealed to the model-train lover in me. Of course, the trains are only a small part of the experience. There a multiple dioramas created from famous places in the world that are painstakingly detailed...
And the closer you get, the more details you see...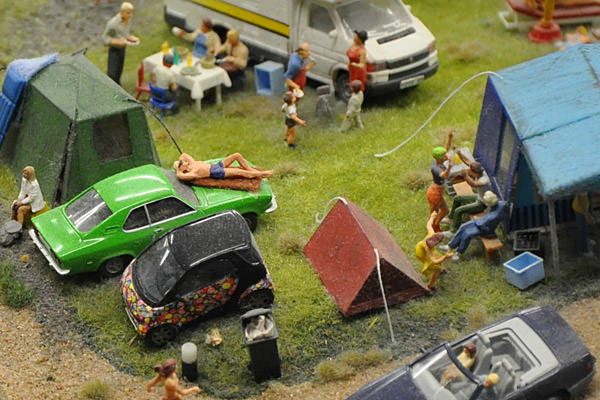 And the details are not just in the models. It seems that every scene is telling a story. You might see emergency vehicles lit up in one area... only to turn a corner and see that they're headed to a house fire or something...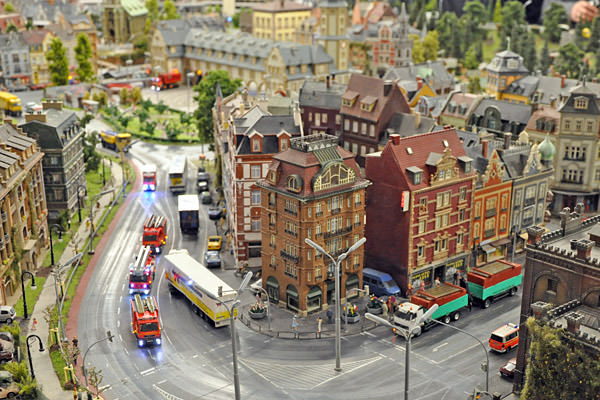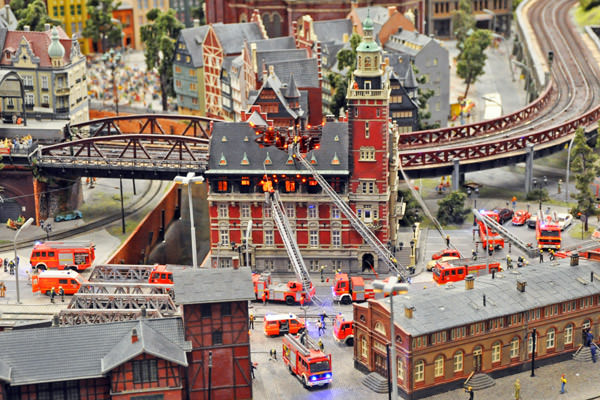 They sneak in little jokes and pop culture references sometimes as well. As I was examining model cars involved in some kind of countryside race, I found Herbie the Love Bug in the lead, having to stop for some sheep...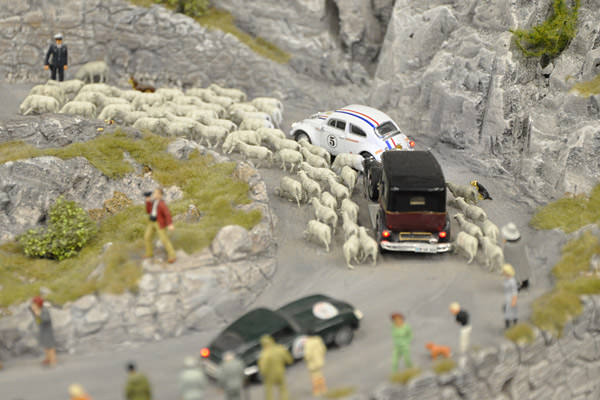 Another interesting bit is that all the dioramas cycle from daylight to dusk to night to dawn and back to daylight... with computer-controlled lights providing the appropriate sunlight simulation and the lighting in the buildings, cars, trucks, and such. Here's the airport, going from evening to dawn as I walked around it...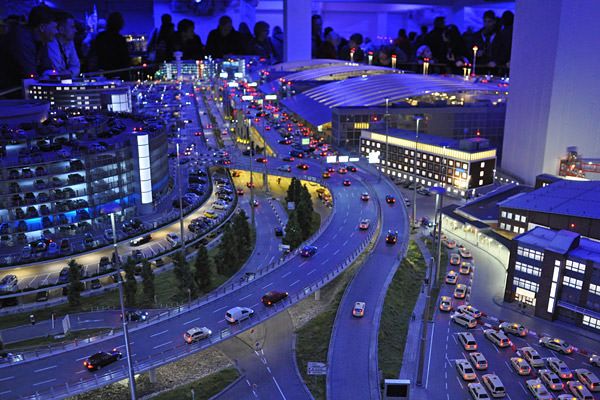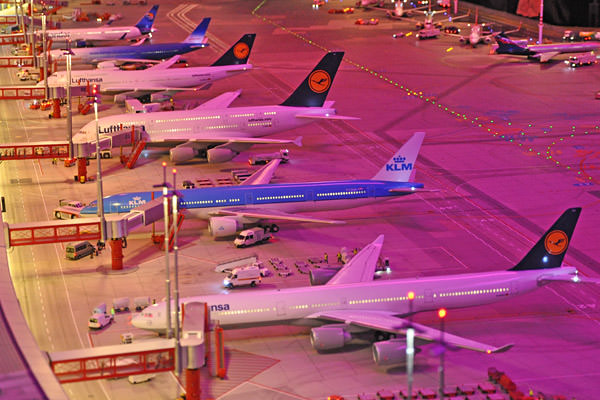 As the airport is one of the newest additions to Miniatur Wunderland, it's fairly complex. The planes move around and everything. Even better, they give you an underground view to the U-Bahn (subway) station...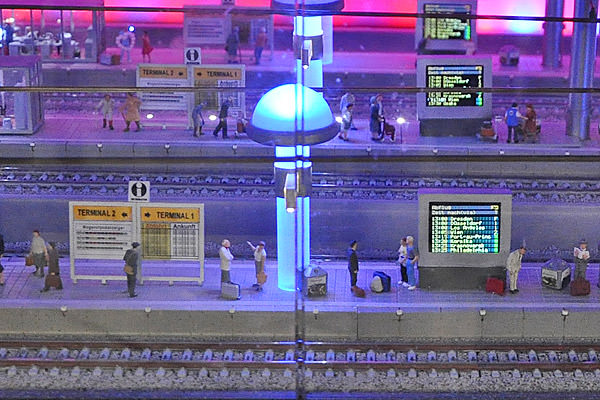 One of my favorite sections was the rock concert diorama, complete with performers, working video screens, and a massive audience...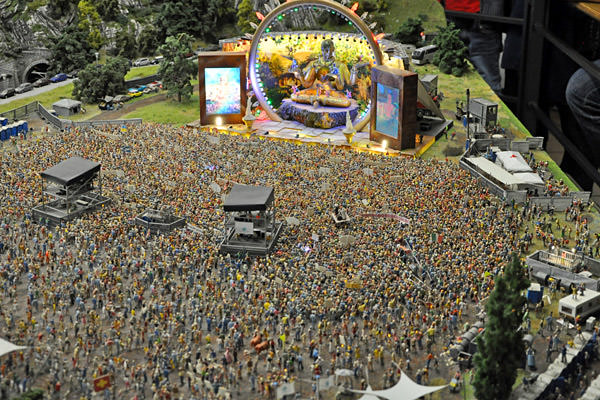 No detail is spared... right down to the portable toilets...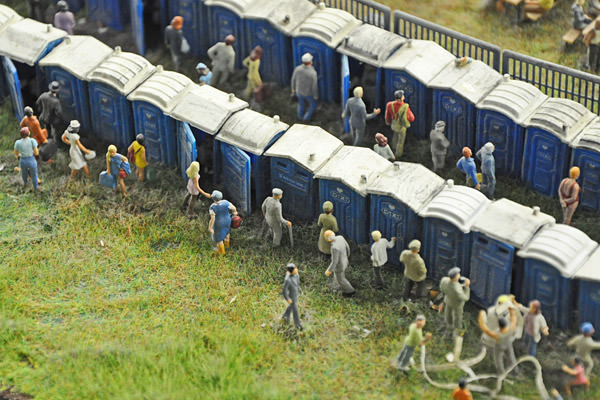 The USA is represented, but it's been boiled down to Las Vegas and some kind of red rocks diorama that looks more like Disneyland than the American Southwest, but it's still pretty cool...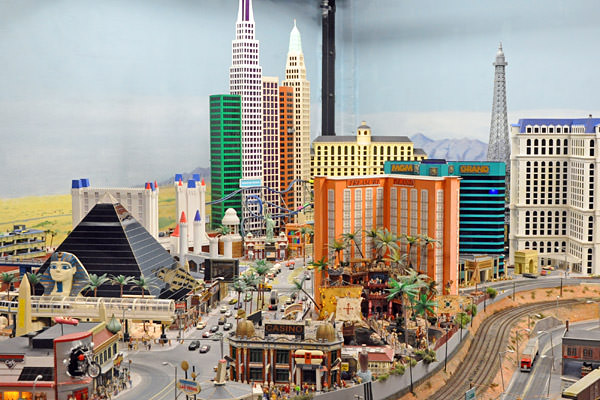 Miniatur Wunderland is also kind of educational. In the diorama for Hamburg, the building where the new Hard Rock is now located was apparently home to a skating rink on the roof at one time...
From there I headed to the central part of the city so I could visit the famous Hamburger Kunsthalle Art Museum but, alas it was closed on Mondays. I can only guess that tourists in Hamburg don't go out on Mondays? Oh... no... when I was there I saw other tourists leaving in disappointment too. Not the smartest move on the museum's part, but it's their money to lose, I suppose.
And speaking of the Hard Rock...
When I mentioned a while back that I was sad I wouldn't be reaching my goal of 150 Hard Rock property visits this year, I got a comment from Katharina telling me I should come to her city of Hamburg where they have a new cafe.
Little did she know...
"I WILL BE THERE IN TWELVE DAYS!" I replied.
And she was kind enough to meet me for dinner tonight! Which is why I will have a hard time ever giving up Blogography no matter how passé blogging becomes. Because of blogging, I really have made friends all over the world. No matter where I end up, there's always somebody I can hang out with.
And now I'm back at my hotel packing my backpack for the journey back to the Netherlands tomorrow morning.
Good bye, Hamburg.