For an art museum whore like myself, Madrid is a dream come true.
There are several major museums within the city, and a dozen more minor ones that are brilliant in their own right. With this in mind, I have long wanted to visit Madrid, and it was on the top of my list of places to escape to after my work was finished in Cologne. Fortunately, the city is served by the ever-cheap and wonderful GermanWings airline, so off I went...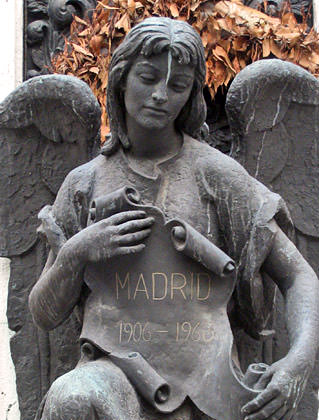 "Could somebody wipe this bird crap off my forehead?"
Anybody wanting to tag along for a very busy day of goofing around in Madrid can read about it in an extended entry...
Arriving at 7:00 last night, my airport shuttle battled its way though horrendous traffic to deposit me in the middle of the city at my hotel. Dumping off my luggage, I went on a circuit of tapas bars in the area and ate far more than I should have. I finally waddled back to my room around 9:00pm and passed out.
Now, as any tourist knows, time is the enemy while traveling.
There never seems to be enough time to do all the things you want to do. With this in mind, I had created a very dense schedule to maximize my one full day here. This master plan was quickly shot to hell upon arriving at the world-famous Prado Museum...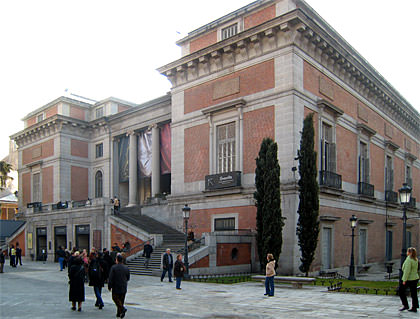 The Prado wins my FOAD Thursday award!
This is a terrific museum filled with a brilliant assortment of classic art that simply cannot be missed. Unfortunately, it's run my complete and total dumbasses. I arrived at 9:30 (a half-hour after opening) so I can skip the opening crowds and get started. Unfortunately, the woman at the ticket window is doing some f#@%ed-up tour package paperwork shit AND MAKES US STAND THERE TWENTY F#@%ING MINUTES BEFORE SHE TAKES OUR MONEY AND LETS US IN!! I was so livid that I probably would have slapped the shit out of her if there wasn't a glass partition between us. Why the bloody f#@% can't that crap be handled at a group ticket office instead of making us wait TWENTY F#@%ING MINUTES?
I don't care how amazing the collection at The Prado is (and it IS amazing) I wouldn't go back to this f#@%ed up piece of shit museum if Depeche Mode were playing while Elizabeth Hurley gave personal tours of every Monet in existence. This is officially my worst experience at a museum yet... which says a lot considering I've been to hundreds of them.
Bottling my rage at losing 20 precious minutes, I continue down the street to the Thyssen-Bornemisza Museum. To call their collection "eclectic" would be doing a real disservice to the brilliant diversity of the works they have in their possession. It's an all-around wonderful museum that almost made me forget the train-wreck that is The Prado.
Now that lunchtime has arrived, I continue up the street to Madrid's Hard Rock Cafe. They opened up 15 minutes late (more time down the drain), but the service and food were pretty darn good...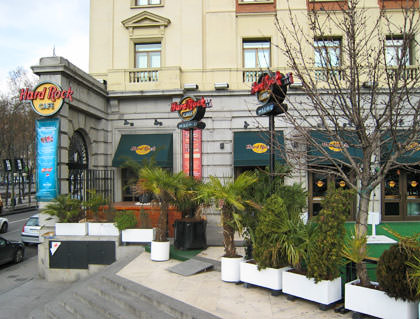 Just in case you forget where you are, they helpfully show about 50 HRC logos out front.
Turning back down the Paseo de Recoletos, I decide to take the subway to my next destination. I head to the nearest station "Colón" but it is closed (strike one). I head across the street to enter there, only to find that the ticket machine won't accept my money. There is a booth staffed by two people, but when I approach they ignore me. I finally ask if I can buy a ticket, and they point to a sign that apparently says "F#@% Off." Thinking they must be closed, I ask IN SPANISH where I can buy a ticket. They wave me off (strike two). WHAT THE F#@%?!? I walk six blocks to the next station "Banco de Españna" but, after entering just 10 feet, my eyes are watering so bad from the smell of urine and heaven-only-knows what else that I have to turn and run out again (strike three). Holy crap! Why aren't Madrid locals demanding better of their public transportation? The only good news here is that the Plaza de Cibeles in the area is beautiful...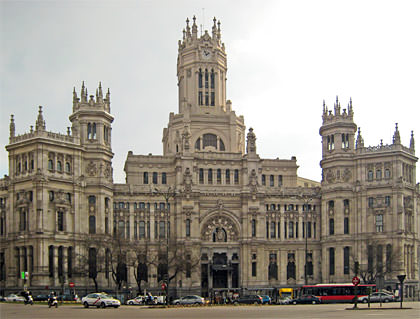 I've decided this is how I want my pool house to look..
Left with no other choice, I have to walk to the Plaza Mayor which is the heart of Old Madrid. Unfortunately, there's crap blocking some of the amazing architecture which is a bummer...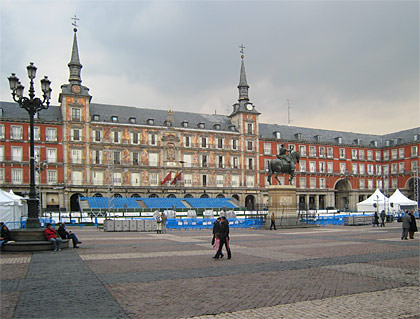 "This building is too pretty... let's stack tents and shit in front of it to ugly it up a bit!"
But the good news is that I could get an authentic Chicago Hot-dog if I wanted one...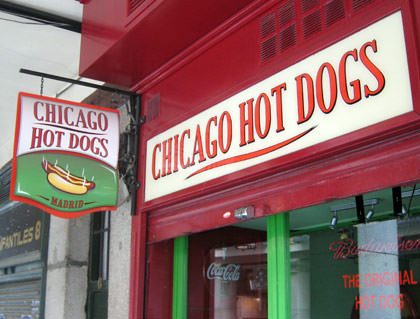 My wiener has a first name, it's O-S-C-A-R...
Can anybody tell me why I keep seeing guys wearing these funky plastic hats?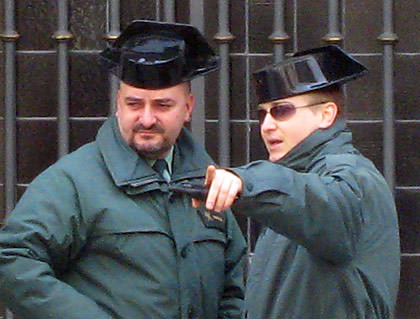 "Hey, there was a guy across the street there laughing at our hats! Lets find him and beat the crap out of him!"
But eventually I made it to the spiffy-keen Royal Palace...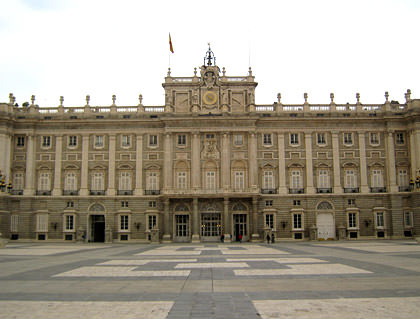 And yet there's only one bathroom in the entire building.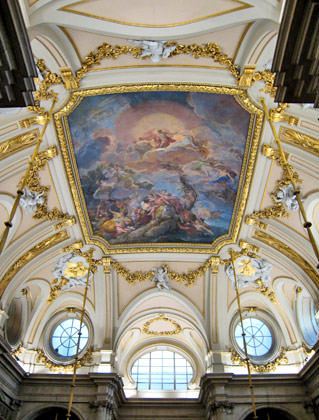 A tip of my funky plastic hat to the decorator...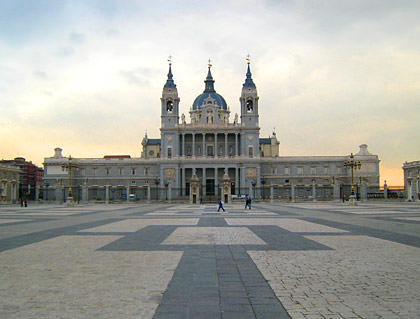 The Catedral de la Almudena in the parking lot of the Royal Palace.
On the way to my final tourist destination of the day, I start to notice all the beautiful street signs that Madrid has plastered on the buildings. They're pretty sweet, and each one is a miniature work of art...

What, would it kill them to have a street with a monkey on it??
Quickly running out of energy after having crisscrossed the city on foot, I arrive at the Centro de Arte Reina Sofia (thankfully they're open until 9:00pm). It's a fairly decent modern art museum, but I'm too exhausted to enjoy it properly. Sensing that the pain in my feet and legs is reaching critical mass, I buy a Coke so I can take a Special Pill and be able to walk back to my hotel for dinner.
Unfortunately, it's then time to pack my suitcase so I can be ready to fly off to another exotic location tomorrow morning. With much sadness I bid farewell to one of my favorite shirts, which has become tattered and torn after years of faithful service...

Goodbye my faithful travel companion! You will be missed.
With my luggage packed, I set out to grab a few tapas before bedtime.
And now, after a few too many "papas bravas," I've finished blogging for the day and am ready to call it a night at 10:00pm. Sadly, in my battle with time, my ass has been pretty thoroughly kicked today. There's at least a half-dozen things I'd like to be able to do before I leave this city.
Who knows what adventures tomorrow will bring?