This was destined to be a very long day, as I had two appointments at entirely opposite ends of the map. Of course, the distance is made even worse by the phenomenally bad traffic here (still better than Seattle though!). But at least the natives know how to drive in traffic... all you have to watch out for are the tourists, which is a nightmare in itself. Indeed, driving in Los Angeles is not for the faint of heart.
My day started with a drive to my first appointment in Santa Ana which is just 30 miles away, but takes around an hour to drive. After I finish up, I've got just a quick 10 minute drive to Newport Beach and my first Hard Rock of the day...
On the way to my next appointment up near Hollywood, I make a detour to my second Hard Rock of the day. Interesting to note that though the cafe is billed as "Los Angeles," it is actually located in Beverly Hills. They've made a few changes since I was last here, including changing the paint to black and adding these bizarre "flames" which I don't think looks as classy as it used to (and what's with the two dead palm trees up there?)...
After my last appointment, I head up the 101 to Universal Studios for the "Hollywood" Hard Rock (which is actually located in Universal City). This is the journey I debated whether or not to take, because you must spend $8.00 for parking whether you actually visit the theme park or not! And you had better have the $8.00 in cash, because they don't accept credit cards and will refuse you entry if the money is not in your hand as you drive up (this happened to me once before... who doesn't take credit cards anymore?!?). I finally decide to bite the bullet and pay the insane parking fee, since I'm just a few minutes away...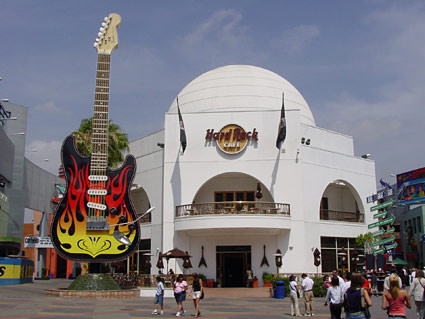 Naturally, it's 5:15 when I leave Universal Studios, meaning that I'm in the height of rush-hour traffic as I head back to the car rental place. Oh well, I suppose it's worth it to say that I managed to get in all three L.A. area Hard Rocks in a single day.