Posted on Saturday, January 27th, 2007

Because I have friends in the city, I've been to Köln (Cologne) here in Germany many times. This has its benefits. I know where everything is, I know how to get around, that kind of thing. But, like with any city I visit that I am already familiar with, I try to find new things to see and do to keep things fresh.
Naturally, I've been to the Kölner Dom (Cologne Cathedral) on previous visits. It's a major landmark for the city and pretty impressive. But I've seen it all before. I've studied the architecture, gaped at the stunning artworks, and marveled at the tiled floor with all those cool mosaics...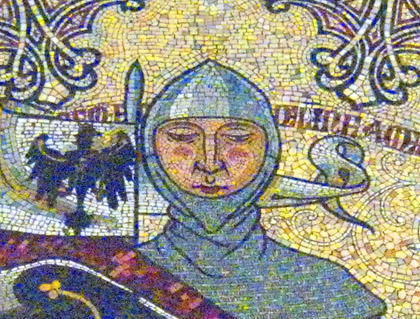 Herr Knight Sweetcheeks.
But what I haven't done is climb the spire. There are numerous reasons for this, but I'll narrow it down to the top five...
I am terrified of heights.
I am terrified of being in confined spaces with tourists.
I am terrified of Germans in high places*
I am terrified of old buildings that might collapse from age.
I am terrified of being so out of shape that I'll collapse on the way up.
But every time I pass on the opportunity, I always regret it on the way home. So this time I decided to throw caution to the wind and just do it. Finally I'll be able to say "I climbed this bitch!" when I see a picture of the cathedral or accost hapless tourists on the streets of Cologne.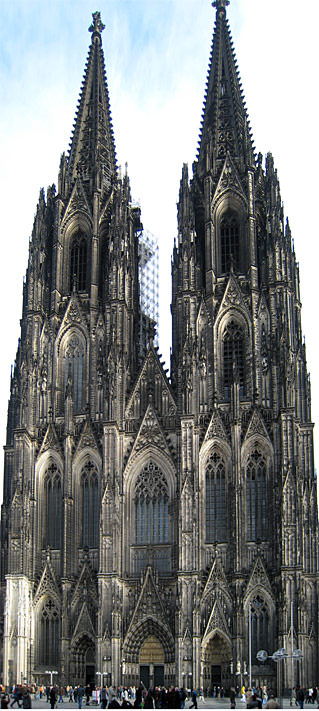 525 feet (160 meters) of sheer terror!
Yeah, well, I climbed this bitch, but I was stupid, stupid, stupid to do it. Not only was the climb completely terrifying, but I think I am dead. The good news is that my legs are so pumped now that I could probably jump over the cathedral in a single bound. The view from the top is pretty spectacular though (once you stop crying for your mommy long enough to take a look around)...

Oooh, look! Tiny people in that other tower! I'll have to climb that one next time (not).
After I managed to keep from vomiting on the way down, I decided to torture myself at the Hard Rock Cafe. For some reason, German HRCs have terrible service... but I can never figure out why. The staff is always friendly and running around, so it's not like they sit on their asses. Maybe they're just really over-extended? On the up-side, Cologne is better than Berlin, which has given me the worst service of any Hard Rock world-wide (I was seriously considering lighting myself on fire there once after waiting 45 minutes to get my check... all in the hopes that the flames would finally get somebody's attention).

Alles klar, Herr Kommissar?
Sure enough, it took a half hour to get an order of potato skins (no bacon) and 20 minutes to get a Pepsi refill. When I handed over my credit card, I fully expected that I wouldn't see my server for another 20 minutes. I was thrown into shock when she returned after only 10. Total time for an appetizer order and two glasses of Pepsi... 1 hour, 17 minutes. I timed it. Only about 10 minutes of which was spent eating.
I could have ordered dessert at the Hard Rock, but I didn't have another hour to kill because I wanted to hit a few museums. So instead I stopped off to have a SNACK WAFFLE!!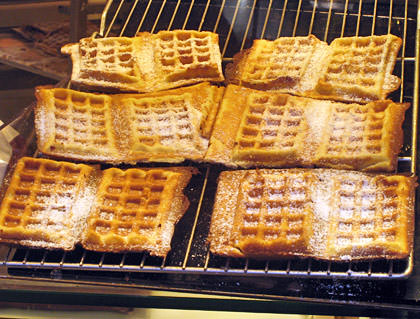 Not as good as the waffles at the Eiffel Tower, but still delicious!
After lunch, it was museum-time. I first went to the brilliant Wallraf-Richartz Museum to see if they had a special event showing but, sadly, the answer was NEIN! That's okay though, because the third floor alone is always worth the price of admission. They have some sweet impressionist and post-impressionist works I love, including a Monet that's terrific. In the paintings I've seen where Monet is capturing fog or snow, he uses pastels for shading instead of gray. The effect is quite beautiful, and looks different depending on how close you are to this foggy scene...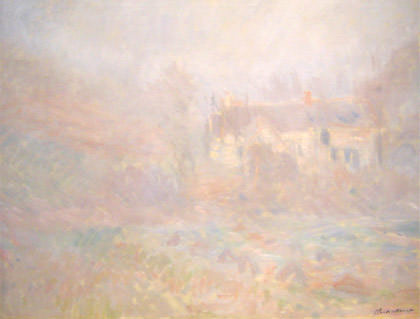 A similarly-styled painting that Monet painted of snow in Giverny hangs in New Orleans.
Then I was off to one of the best modern art museums on the planet... The Ludwig Museum... which was amazing, as always. This time was really cool though, because they had a mind-blowing Paul Klee event, filled with bunches of his pencil drawings and pre-painting study sketches. After looking at really cool art crap for two hours, I exited the museum and saw a group of people walk by dressed as pirates. That's when I remembered there was a Lego store over on Hohe Straße, so I thought I might check to see if they had any pirate Lego in stock. No pirates, but they did have viking Lego, which is pretty sweet.
By now it was approaching 6:00 and was starting to rain so I decided to call it a day (8 hours of constant walking and climbing on no sleep is pretty harsh). Oh yeah... I have to be up for work early in the morning too, so I figure I had best take my exhausted ass back to the hotel for an aspirin and sleep.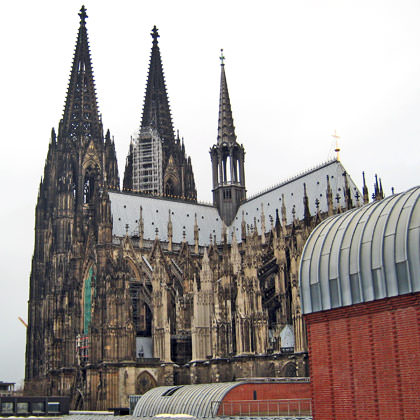 Looking back at Kölner Dom from the roof of the Ludwig Museum... I climbed this bitch!
Holy crap do my legs hurt. I hope I can get out of bed in the morning.
* Remind me to tell the story of nearly being pushed into The Grand Canyon because of a group of eager German tourists. These people are totally fearless when it comes to heights so, naturally, they scare the crap out of me.
Posted on Wednesday, January 31st, 2007

For an art museum whore like myself, Madrid is a dream come true.
There are several major museums within the city, and a dozen more minor ones that are brilliant in their own right. With this in mind, I have long wanted to visit Madrid, and it was on the top of my list of places to escape to after my work was finished in Cologne. Fortunately, the city is served by the ever-cheap and wonderful GermanWings airline, so off I went...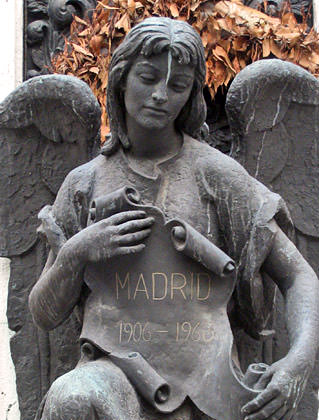 "Could somebody wipe this bird crap off my forehead?"
Anybody wanting to tag along for a very busy day of goofing around in Madrid can read about it in an extended entry...
→ Click here to continue reading this entry...
Posted on Thursday, February 1st, 2007

I had set a wake-up call for 6:00am with the intention of getting up with the sunrise and seeing a bit more of Madrid at dawn. Yesterday I had noticed that the light was really nice in the morning, and intended to take advantage of it.
Yeah, like that was going to happen. I was so totally dead from miles of walking yesterday that I barely made it out the door for my 10:00 shuttle to the airport.
After an uneventful 1-hour plane ride (assuming sitting behind a smelly, smelly man during the flight and then having to wait 50 minutes for my luggage counts as "uneventful"), here I am in Lisbon, another city I've never been to before. Since it was lunchtime when I got to my hotel, I tossed my luggage in the closet and headed out to the Hard Rock Cafe...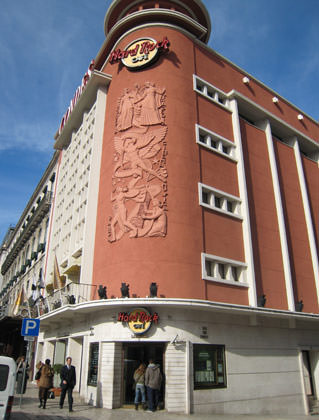 Turns out this is a fantastic dual-level property with really interesting architecture and an incredible amount of memorabilia stacked from floor to ceiling...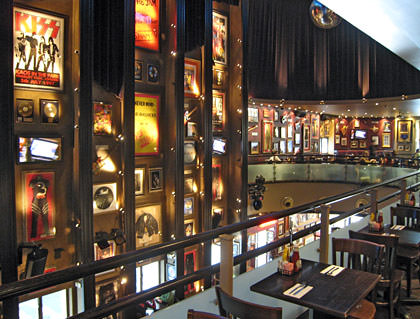 In recognition for their awesomeness in winning "World-Wide Cafe of the Month" back in November, Lisbon has the honor of getting to display an original Jimi Hendrix guitar from his appearance on the Dick Cavett Show in 1969 (previous months were won by Buenos Aires, Lake Tahoe, Dublin, Houston, and Kowloon cafes)...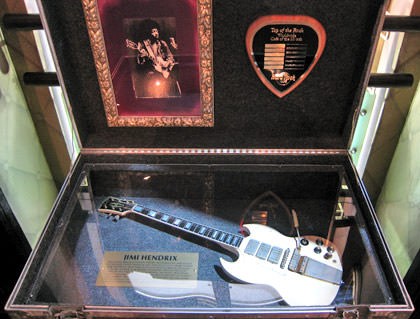 With plenty of daylight left, I decided to take a walk down to the Tagus River and see the sights. One thing you tend to notice quite quickly is that the sidewalks here in Lisbon are made from beautiful stone mosaic patterns, some of which are quite ornate. I guess when you live here, it's easy to take the sidewalks for granted, but I found myself looking down just as often as up...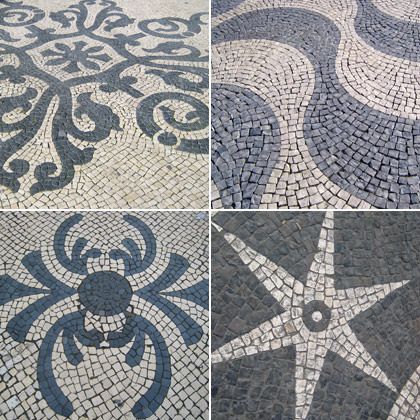 The city of Lisbon itself is quite nice. It has a very different "feel" to it from other European cities. Almost Caribbean or something... it's very strange, but in a good way. About the only thing that wasn't pleasant is being pestered every fifteen minutes to buy some sunglasses (Armani! Very beautiful!) or other imitation crap. But that wasn't nearly as exciting as being offered some hash every ten minutes (Hashish! Good hash!). Though all of that pales when compared to some guy who came up to me with a Canon EOS camera in a paper sack...
GUY: Want to buy camera? Very good price!

DAVE: Uhhhh... nope, I'm good.

GUY: Are you sure?

DAVE: Sure I don't want to buy an obviously stolen camera? Yes, I'm quite sure.

GUY: But I give you very good price!
Oddly enough, I was just thinking about how I wish I had my own Canon EOS Rebel with me. I left it back home because I had loads of crap to haul over for work and didn't want to bother with it. Still, my little pocket camera takes some pretty good shots...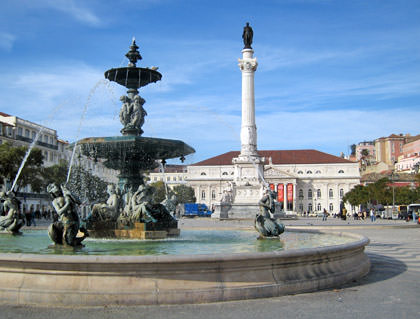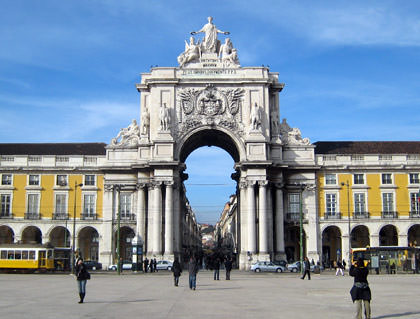 PHONE CALL!
Living the jet-set lifestyle like I do (ha!) can make for some strange interactions with people back home. Mostly because nobody is ever really sure of where you are or what you are doing. Like Bad Robert, who just called me as I was writing this entry...
DAVE: (answering phone) Hello?

ROBERT: Dude, I need to get my car to the shop. Can you bring me back home so I don't have to sit there all day?

DAVE: Dude, I'm in Lisbon.

ROBERT: Can you drop by after you're done?

DAVE: I'm in PORTUGAL... I won't be back until Sunday.

ROBERT: (dramatic pause) Oh. I thought you meant like the restaurant.

DAVE: Huh?

ROBERT: So how are things in Lisbon.

DAVE: Pretty good so far. I've only been here for four hours.

ROBERT: Ah. Hey... do you wanna know what Ben did to his car?

DAVE: Is it worth the dollar-a-minute this phone call is costing me to find out?

ROBERT: Uh... probably not. Oooh! Call me when you get back! I need to tell you about my new air horn!
And so it goes...
I haven't a clue what I'm going to be doing tonight. About the only things I can be sure I WON'T be doing is this...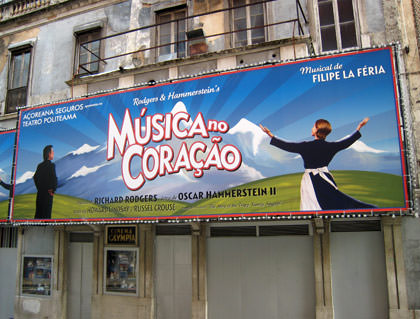 Because the only way I could sit through The Sound of Music would be if I was doped up on hash.
Hey! Wait a minute... I might just have plans for tonight after all...
Posted on Sunday, March 18th, 2007

It's Bullet Sunday with the lights out! Problems with the electrical power have wrecked havoc with my work plans today, so here I am blogging on my laptop where it's safe.
As a side-note, I should mention that I am aware that Blogography has been having problems recently. My web hosting company, Media Temple, has been having serious issues with their new "Grid Server," and being able to access my site or comment on entries has been hit-or-miss as of late. Media Temple is supposedly working on the problem, but these issues have been going on for months now, so I'm not sure how much faith I can put in that. All I can say is "sorry" and please come back later if you're having problems.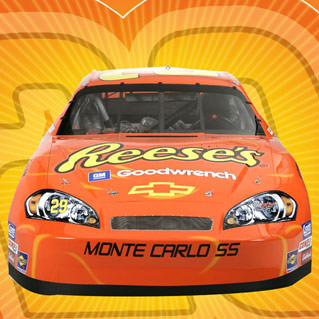 • Disappointment! There's a dilemma I like to call "The Reese's Gambit." It hinges on the mysterious Russian-Roulette game you play every time you buy a Reese's Peanut Butter Cup candy bar. Will the peanut butter in the center be deliciously moist and tasty... or will it be all dried-up, powdery, and disgusting? There's no way of knowing, so you just have to buy one and find out what you get. When the center is good, there's very few candy bars I like better than a Reese's. When it's BAD, however, it usually pisses me off so much that I will go months without eating one again. Today, after a suitable three-month mourning period following a crappy Reese's experience, I tried again and got a good one. Yay me. Thinking I'd hit the jackpot, I went running back to the mini-mart to buy more... and was horrified to find that all of them had gross dried-out centers. So now I'm thinking it will be a while before I'm willing to play the Reese's Gambit again. I guess I'll just have to live off the memory of that yummy first Reese's for a while, and that sucks ass.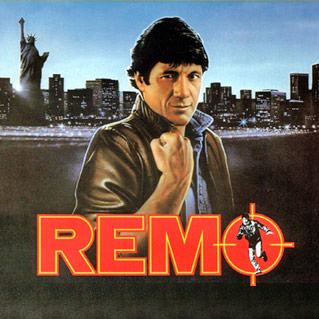 • Destroyer! I watched Remo Williams: The Adventure Begins on DVD for the hundredth time last night, and wondered for the thousandth time why somebody hasn't made any more movies based on the series of excellent Destroyer books. Sure the original film (starring Fred Ward and Joel Grey) wasn't much of a financial success, and Destroyer fans disliked it because the story didn't follow the books closely enough... but I loved the movie. I still love it. And now that Tor Books is reviving the book line again with a series of "New Destroyer" novels in May, isn't it about time somebody step up and revive the movie franchise as well? The series really has it all... action, drama, intrigue, humor, and some of the most brilliant characters ever written. With the right director and cast, a Destroyer film would kick ass.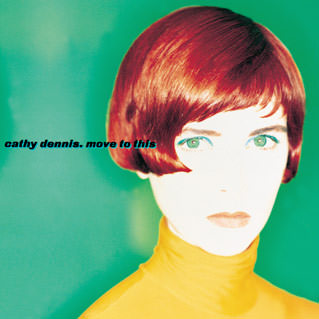 • Deception! Back in 1994 there was a radio hit called Touch Me (All Night Long) by Cathy Dennis. The vocals were quite good, Cathy was suitably hot, and it had a sweet Europop electro-beat I liked. After a couple of listens I decided to run down to Hastings so I could buy the CD, which was titled Move to This (I was going on a road trip, and wanted something new to listen to). Imagine my surprise when I found out that the Touch Me song they were playing on the radio was not the same song on the CD. Instead of that kicky Europop beat driving the song, the CD track was all boring and shitty. I have a running joke with my friends about kicking the crap out of Cathy Dennis if I ever see her for betraying me this way. It may have been a dozen years past, but I just can't let it go. And then this morning I check my email to find that my friend Meagan had gifted the crappy song to me on iTunes... presumably as a joke. Well ha ha, the joke's on her because, as I was claiming the song, I noticed that iTunes had the REAL version of the song for sale off of a compilation called 100% Pure Dance. It's a mix that runs a little long, but it has the proper beat and I've been rocking out to it all morning. I think that I am finally... finally able to release my rabid hatred of Cathy Dennis now.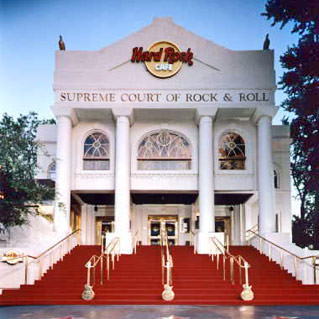 Photo swiped from Virgil LaFerney's EXCELLENT Hard Rock Dallas Page.
• Dallas! I've been meaning to write about the sad closing of the Hard Rock Cafe Dallas since it happened two weeks ago, but just couldn't bring myself to do it. The pet project of Hard Rock co-founder Isaac Tigrett, the Dallas cafe was a special property indeed. Originally a Baptist Church, 13 million dollars was spent renovating the building and creating the cafe, which finally opened on November, 1986 (the fourth Hard Rock in the US and ninth world-wide). There were many features that made this cafe unique in the chain, and the property quickly became one of my favorites when I first visited in July, 2001. Hearing about the closing was painful, and I feel terrible that I didn't manage to get back once I heard they were shutting their doors for good. It's things like this that really have me questioning why I care about the Hard Rock anymore. If the owners can't appreciate the chain's history, why should I? Oh well, at least I got to visit this one before they dumped it... nothing is more frustrating than having a cafe close before I have a chance to visit.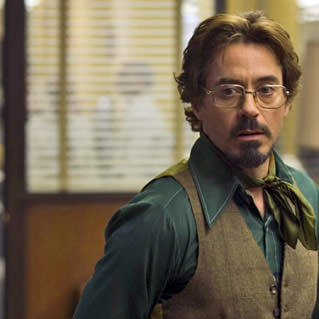 • Downey! How is it that Robert Downey Jr. can steal every movie he's in... even if it is a relatively minor role? Sure Jake Gyllenhaal and Mark Ruffalo were excellent as the driving force behind David Fincher's latest film, Zodiac, but it's Downey who makes the film truly interesting to me. Playing seriously flawed reporter Paul Avery, he just blows everybody else off the screen. Suddenly a film that seems more like a crime reenactment than a cohesive story comes alive because Robert Downey Jr. just sucks you into his character. My only real criticism of this beautifully-shot movie is that it didn't have enough Downey in it. Well, that and the really bad toupee that Anthony Edwards was forced to wear throughout the film. Holy crap did it ever look like a ferret died on his head. Why why why couldn't they have just left his character bald so as not to distract the audience and embarrass the actor?
Oooh... the power is back on again! Guess I'll save my remaining bullets for next Sunday, because it's back to work for me...
Posted on Tuesday, April 10th, 2007

Yeesh. Another night of writing my entry just as midnight approaches. I guess that's what happens when you are slaving away morning noon and night to get caught up with work.
I suppose there are lots of things I could write about, but it's late, so I think I'll just grab that movie meme that's been floating around. Kevin has done is now, so I guess I pretty much have to...
Name a movie that you have seen more than 10 times. Wow. Many, many of my favorite films have been seen at least 10 times. Here's a few from memory... Aliens, Back to the Future 1 & 2, Bedazzled, Beverly Hills Cop, The Birdcage, Buckaroo Banzai, Chasing Amy, Clerks, Coming to America, Commando, The Day The Earth Stood Still, Field of Dreams, The Fifth Element, Groundhog Day, The Matrix, Office Space, Real Genius, Remo Williams, Sneakers, South Park: Bigger-Longer-Uncut, Star Trek II & IV, Star Wars, Star Wars: Empire Strikes Back, The Terminator, Terminator 2, This is Spinal Tap, True Lies, and Undercover Blues.
Name a movie that you've seen multiple times in the theater. Recently that would be Clerks 2 and Casino Royale. My personal record would probably be The Matrix, which I believe I've seen in a theater 6 times.
Name an actor that would make you more inclined to see a movie. Elizabeth Hurley.
Name an actor that would make you less likely to see a movie. David Caruso.
Name a movie that you can and do quote from. So many. I'm pretty good with Buckaroo Banzai quotes.
Name a movie musical that you know all of the lyrics to all of the songs. I don't do musicals. Though I liked the soundtrack from Xanadu back in the day, so maybe that one. Or Grease maybe?
Name a movie that you have been known to sing along with. Uh. None that I know of.
Name a movie that you would recommend everyone see. Undercover Blues, which is one of my favorite movies that people are always overlooking.
Name a movie that you own. I own many, many films.
Name an actor that launched his/her entertainment career in another medium but who has surprised you with his/her acting chops. Elizabeth Hurley is an obvious choice.
Have you ever seen a movie in a drive-in? If so, what? When I was a kid, this was a popular summer pass-time, so I'm sure there are many. I do remember seeing the original Star Wars for the third time at the drive-in.
Ever made out in a movie? Sure.
Name a movie that you keep meaning to see but just haven't yet gotten around to it.
Talladega Nights.
Ever walked out of a movie? Born American, which made me embarrassed to be American. It's the worst movie I've ever seen in a theater (though I very nearly walked out on Spanglish, which was almost as bad).
Name a movie that made you cry in the theater. Dirty Dancing, but only because I was drunk and had gotten some really bad news earlier in the evening.
What's the last movie you saw in the theater? The most excellent Blades of Glory.
What's your favorite/preferred genre of movie? Action/Adventure is probably at the top.
What's the first movie you remember seeing in the theater?
Herbie the Love Bug.
What movie do you wish you had never seen? Recently? The horrendously bad National Lampoon's Gold Diggers. Wretched, awful stuff.
What is the weirdest movie you enjoyed? Being John Malkovich is probably an easy pick for this one.
What is the scariest movie you've seen? Movies don't scare me much like they used to... back in the day, I was terrified from watching the original Alien.
What is the funniest movie you've seen? Gee, have no idea... Basketball, Stripes, or The Birdcage maybe? Eurotrip always makes me laugh.
Oog. Time for bed. But before I go, I was pleased to see that the plans for the first "Hard Rock Park" in Myrtle Beach have finally been released. It's looking pretty sweet, and bigger than I had thought it would be...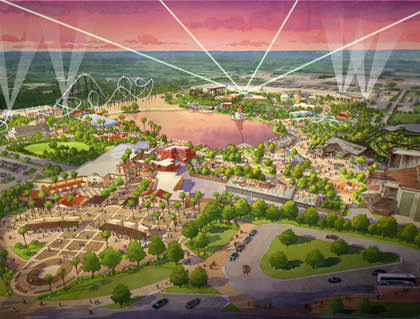 The juicy details can be found at Myrtle Beach Online (which is where I snagged these photos). I guess that will be one more property to add to my list when it opens in 2008.
Posted on Saturday, May 5th, 2007

Oh look, I'm in Greece!
My vacation kind of snuck up on me, because I've been working like a maniac for the past four weeks trying to get all my work caught up before I go. I had a vague notion that the trip was somewhere on the horizon but, until I packed my suitcase for the drive over to Seattle, it wasn't really "real" to me. But after an hour at SeaTac International, a 3-1/2 hour flight to Chicago, a 1-1/2 hour layover, a 9-hour flight to Munich, a 1-hour layover, and a 2-hour flight to Athens, it started getting pretty real, and here I am 18 hours later...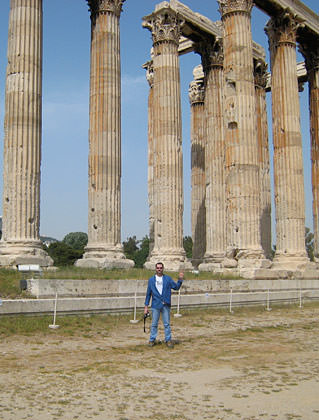 Hello from Athens, Greece, y'all!
I've never been to Greece before, so this is kind of a nifty trip for me. I was heavy into Greek mythology as a kid, so finally being able to walk the grounds where it all started is pretty special.
This first day I was pretty wiped out, so I didn't have any ambitious plans. Just wanted to wander down to Syntagma Square to see the changing of the guard at The Tomb of the Unknown Soldier, and take a look at the Temple of Olympian Zeus, which must have been a massive, massive structure back in the day...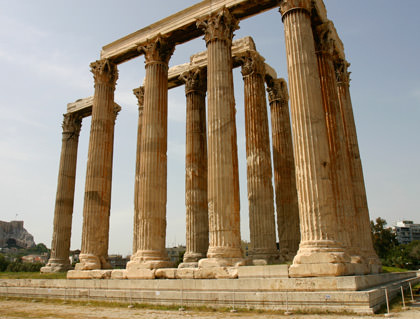 The Temple of Zeus could use some spackle and a coat of paint.
After meandering through some shops on Ermou Street, I decided to call it a day and walk back to my hotel. Along the way, I ran across a billboard ad that I'm guessing is for the local news or something. I don't know about your TV news team, but I dare say that Athens pretty much has them beat on the total hotness scale...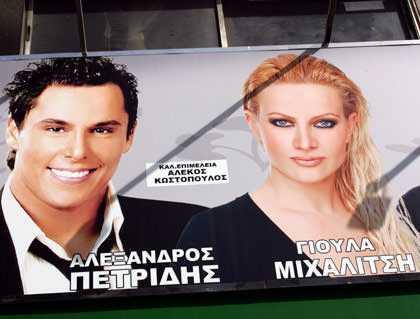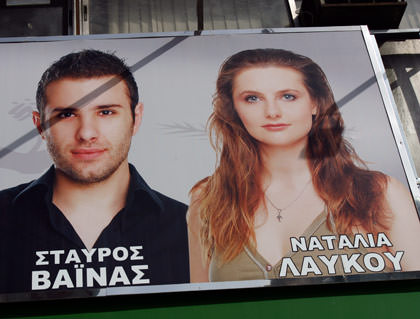 We'll be back with more hotness at eleven...
All in all, a pretty good day! About the only downer was the local Hard Rock Cafe where I went for lunch...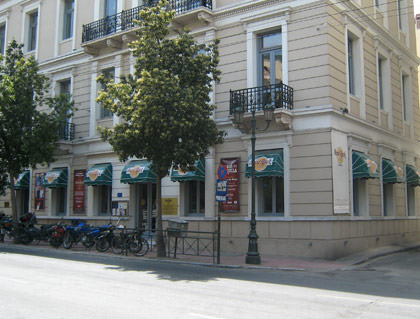 Uhhhh... yeah, not the most exciting Hard Rock I've been to...
It saddens me very much to say that this was about the worst Hard Rock experience I've ever had. And it WASN'T for the following reasons:
The property is kind of boring.
The service is kind of slow.
They got my very simple food order wrong, twice.
They have a cover charge of €1.50 per person.
The atmosphere was pretty dead.
No, the thing that made this the worst HRC experience of the 113 Hard Rock properties I've visited is that THEY DIDN'T HAVE ANY PINS!! NO FUCKING COLLECTOR PINS!! What the bloody fuck? How can you call yourself a Hard Rock Cafe if you aren't selling any pins? This is about the most stupid thing I've ever seen at an HRC. Their famous collector pins are massively high-profit items that sell like mad. Most cafes have too many pins, because selling them is almost like being able to print your own money. I can only guess that the Athens location must not be interested in making money? Maybe they're just too profitable? Nothing quite like traveling 8,410 miles to have lunch at a Hard Rock and walking away empty-handed from the souvenir shop.
Ooog. I haven't slept in two days, so I had probably better at least take a nap or something before playing tourist all day tomorrow.
Posted on Friday, May 11th, 2007

I don't know whether to feel lucky or unlucky... but the weather here in Cairo is cool and overcast. This could be considered lucky when the alternative would be scorching 100-degree temperatures... but kind of strange that this rare weather event should happen while I'm in town. Oh well, here I am in Egypt. A visit to the pyramids is set for tomorrow, and the weather could do anything before then.
The ship actually makes port in the city of Alexandria, so there's a 3-hour bus drive across the West Desert before reaching Cairo. Our first stop in the city was to the Alabaster Mosque, otherwise known as the Mosque of Muhammad Ali (who is regarded as the founder of modern Egypt). The building itself is quite beautiful with its alabaster forecourt, even when overrun with tourists...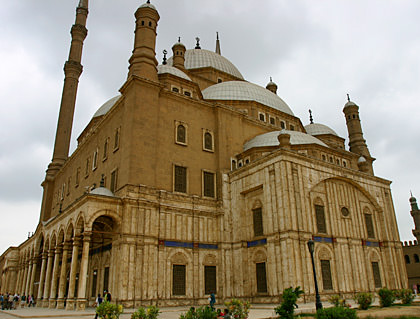 The Ottoman architecture is pretty sweet, and meticulously maintained...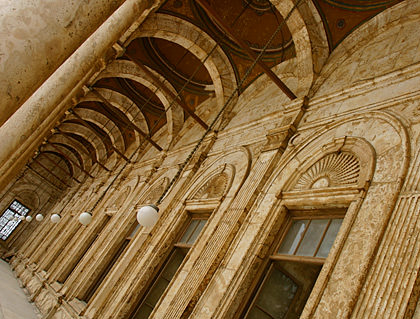 Islamic mosques are built solely for prayer, are devoid of any clutter, and have no statues or imagery (both of which are forbidden). This way the worshiper may concentrate on their prayers without distraction. This is not to say that the interior is boring... far from it... the walls are adorned with cool geometric designs, and the ceiling is as beautiful and ornate as any church...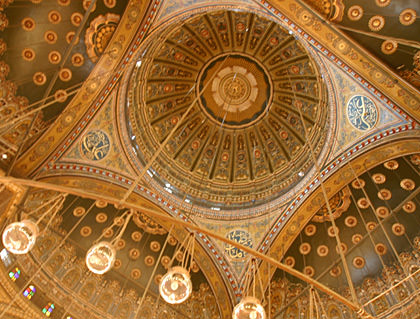 After we left the Mosque of Muhammad Ali, it was onward to the Egypt Museum...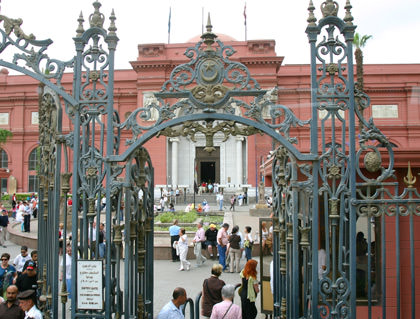 I have seen Tutankhamen exhibits many times over the years (the latest was just five months ago in Chicago), but the one time I saw the famous death mask in the 1970's, I was too young to remember it. And, since the Egyptian government has forbidden the mask to leave the country since the early 80's, the only way I was ever going to see it was to visit it here in Cairo. Unfortunately, you can't take pictures in the museum, but finally seeing the mask in person after having seen it a million times in photos pretty much made the entire trip worthwhile.
The tour group was then given free time to freshen up and relax but, knowing there was a Hard Rock Cafe in the city, there was no way I was going to waste time relaxing! The cafe itself is in the lower level arcade of the Grand Hyatt hotel, located on the banks of the Nile. From the outside, it's nothing really special...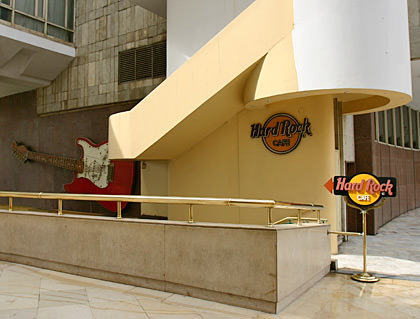 But the inside is fantastic, with high energy, lots of memorabilia, and an enthusiastic staff (who were all on stage dancing when I visited the dining room). The highlight of the property for me was this incredible mosaic artwork behind the bar featuring landmarks from around the globe...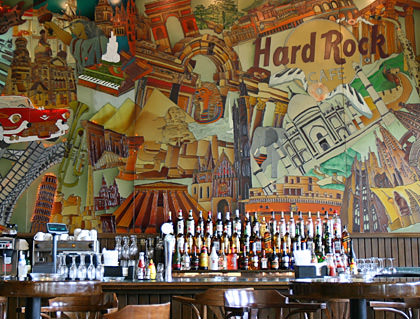 Alas, there wasn't time to eat a veggie burger and have a chocolate shake, but I DID manage to get a really nice Hard Rock pin set (at last!) and a T-shirt.
And now as I sit here on my hotel balcony overlooking the city, with the Great Pyramids off in the distance, I must sign off because it's time for a dinner cruise on the Nile with 340 of my closest friends...