Unleash the haggis... because Bullet Sunday starts... now...

• Prayers. Truly horrible news from back home... a massive mudslide has devastated a residential area east of Arlington in my home state of Washington. All my hopes go out to friends who have family amongst the 18 people still missing... along with everybody else affected by this tragic event.

• Air Yet another excellent flight on KLM Royal Dutch Airlines... this time from Amsterdam to Glasgow. My only disappointment was that they didn't hand out landing cards for non-EU citizens during the quick 1-1/2 hour trip, which meant I had to fill one out at the airport. But that's hardly worth complaining about. Oh, a bit of advice... when offered a choice between "sweet snack and savory snack," go for the savory snack, it's a packet of incredible Gouda cheese biscuits.

• Immigration. When you arrive at passport control there's a big sign telling you that tougher border control laws in the UK will cause a longer wait. Since I was at the front of the plane I didn't have many people ahead of me... but the sign wasn't lying. I've been to the UK many times, but on this trip I really got the third degree. They wanted to know absolutely everything about me, my job, my past travels, and the purpose of my visit. Usually I just say "tourist" but, given the level of detail they were drilling for, I literally said "I am a Hard Rock Cafe collector and I am here to visit the new Hard Rock Cafe Glasgow." Then I had to explain what I collected and what else I would be doing while in the UK. And then... then... because I am such a shifty-looking character, I had to go through it all over again with a police inspector. Despite the hassle, everybody was friendly and welcoming, so I guess there's that.

• Cash. I never bother getting local currency for my destination ahead of time, because I usually get a better exchange rate by using a cash machine when I land. The only problem being that Glasgow's airport only has a pitiful four ATMs, all of which have insanely long lines. Since I had to have cash for bus fare into town, I was forced to wait. So lesson learned. I'll be going home with a few quid in my pocket for my next trip to the UK, as it would seem cash machines are a rare and elusive creature in these lands.

• No. 153. And, now, the reason for my visit... The Hard Rock Glasgow. Like many of the UK properties (both current and past), the cafe is located in a beautiful old building. This particular cafe is in a great location, directly across from the Queen's Street train station on Buchanan Street, a popular shopping district in the city. It's not at all flashy, and would be easy to miss if you weren't looking for it...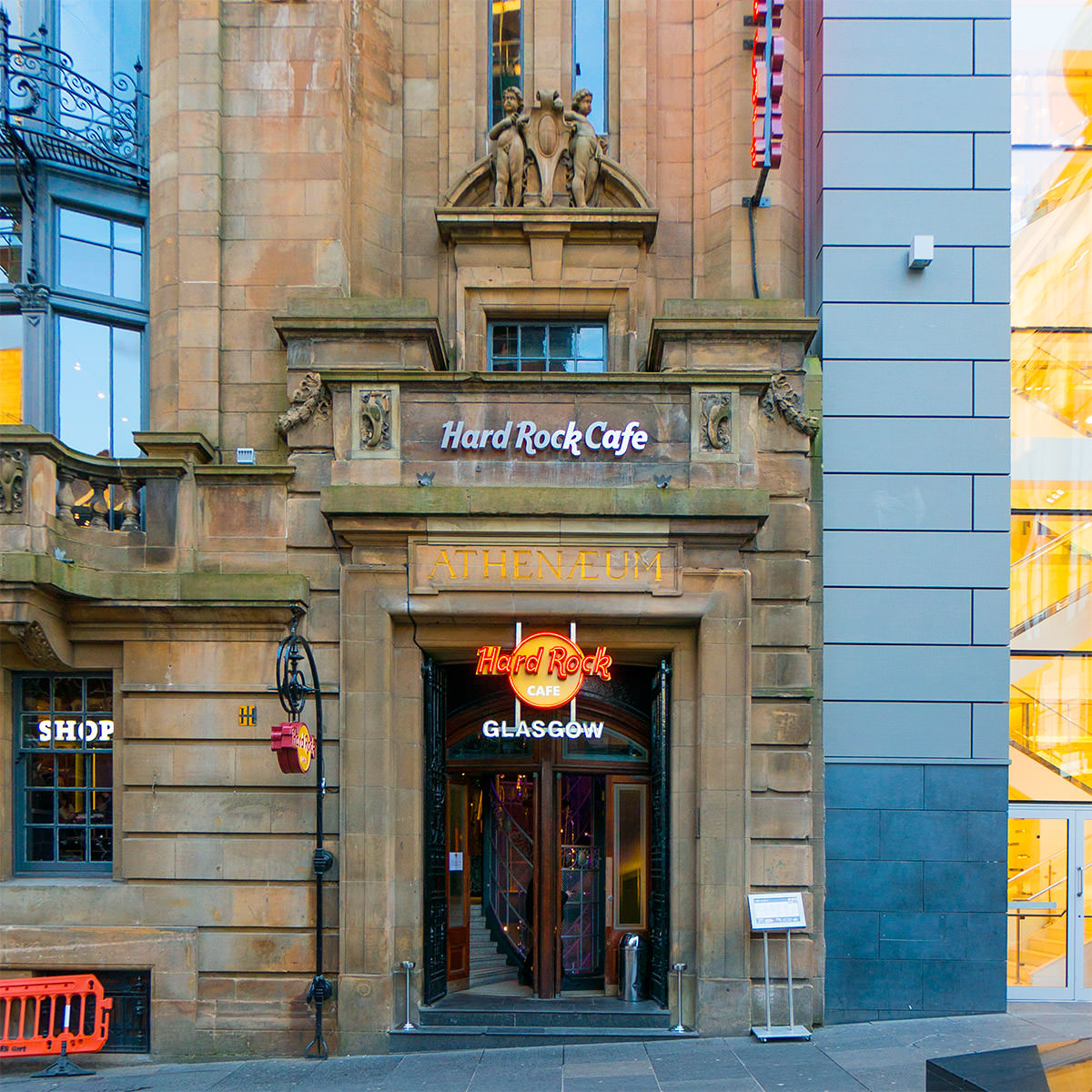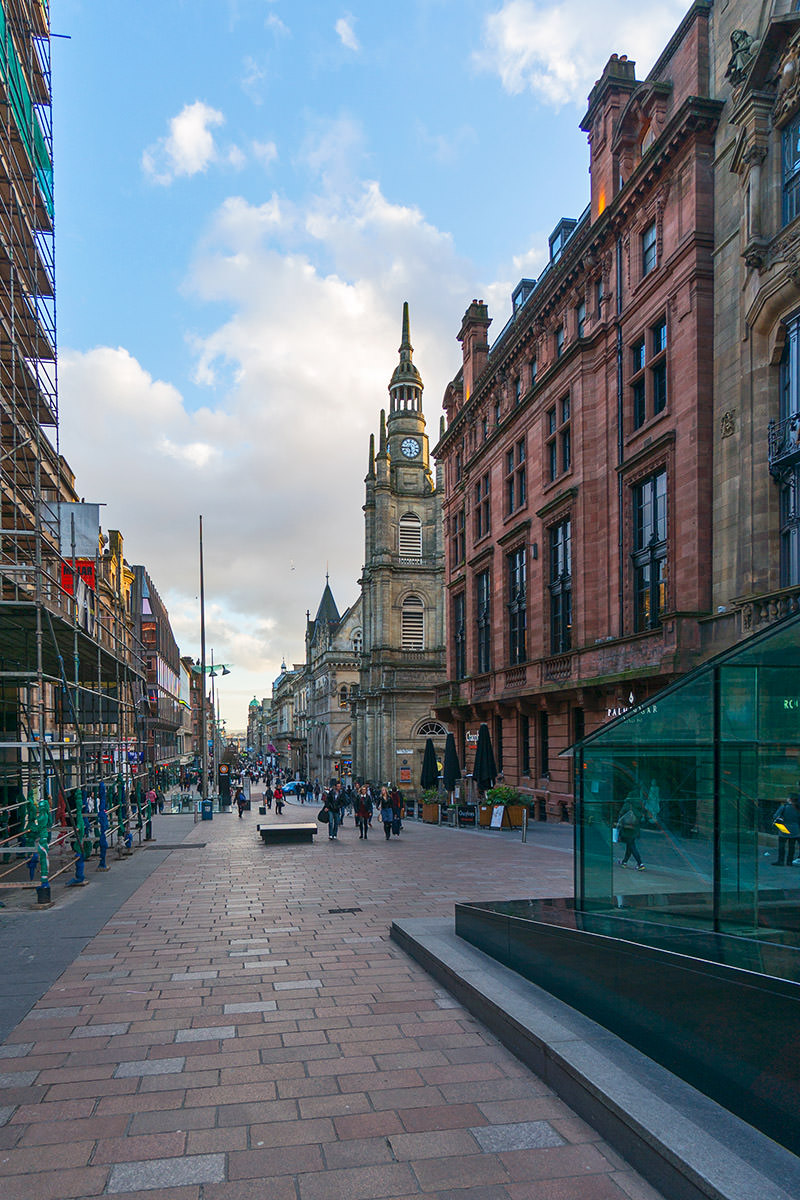 The interior is truly bizarre... in the best possible way. It's equal parts classical architecture and starship Enterprise...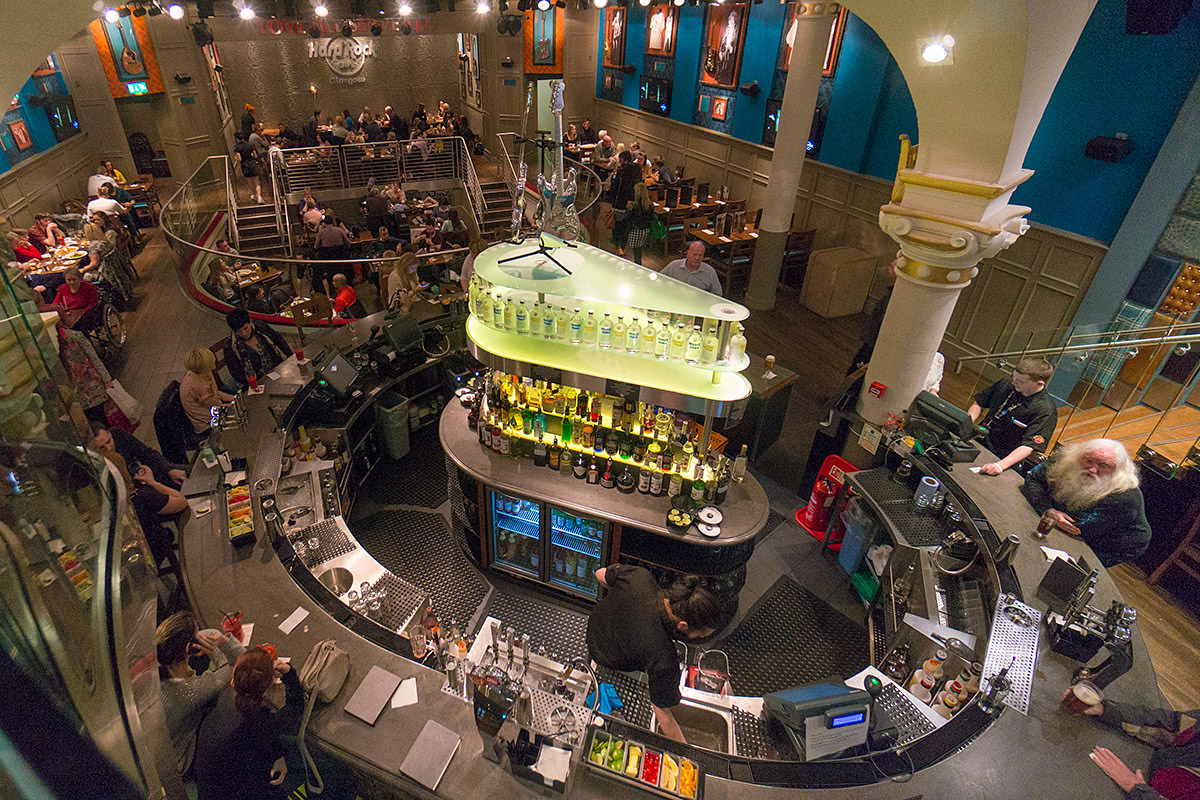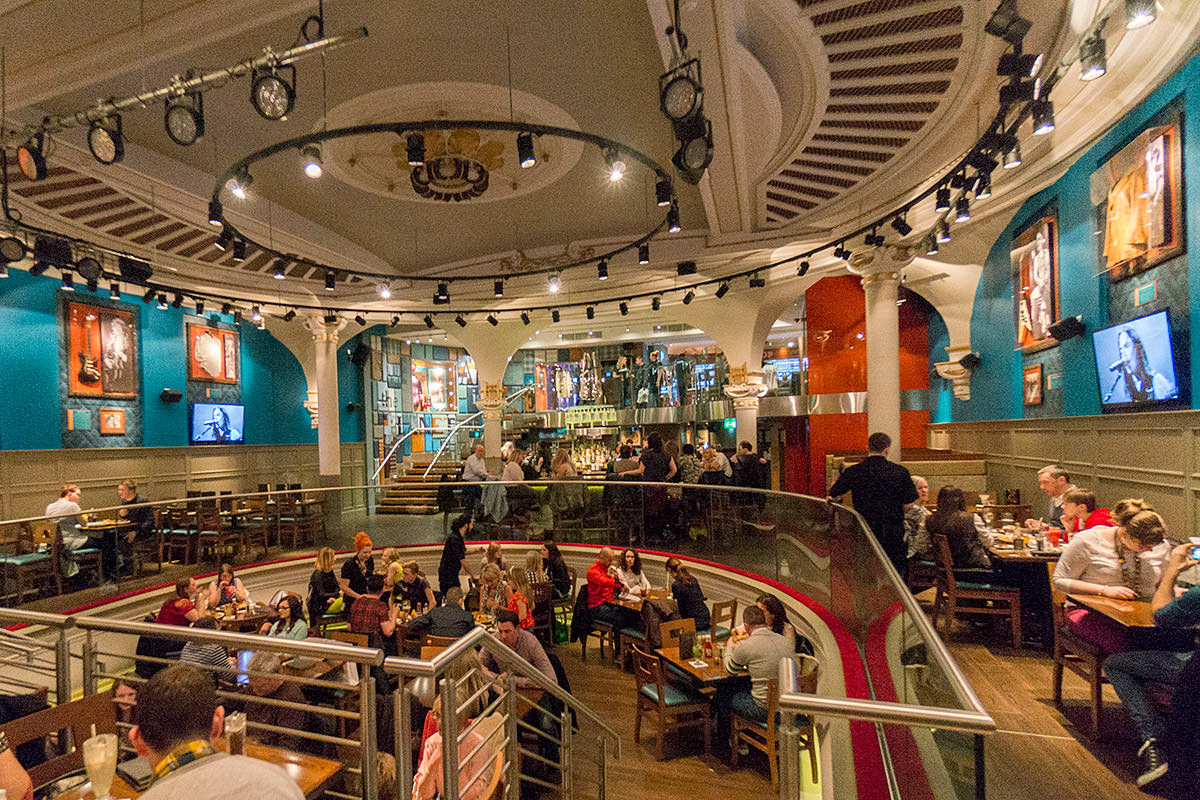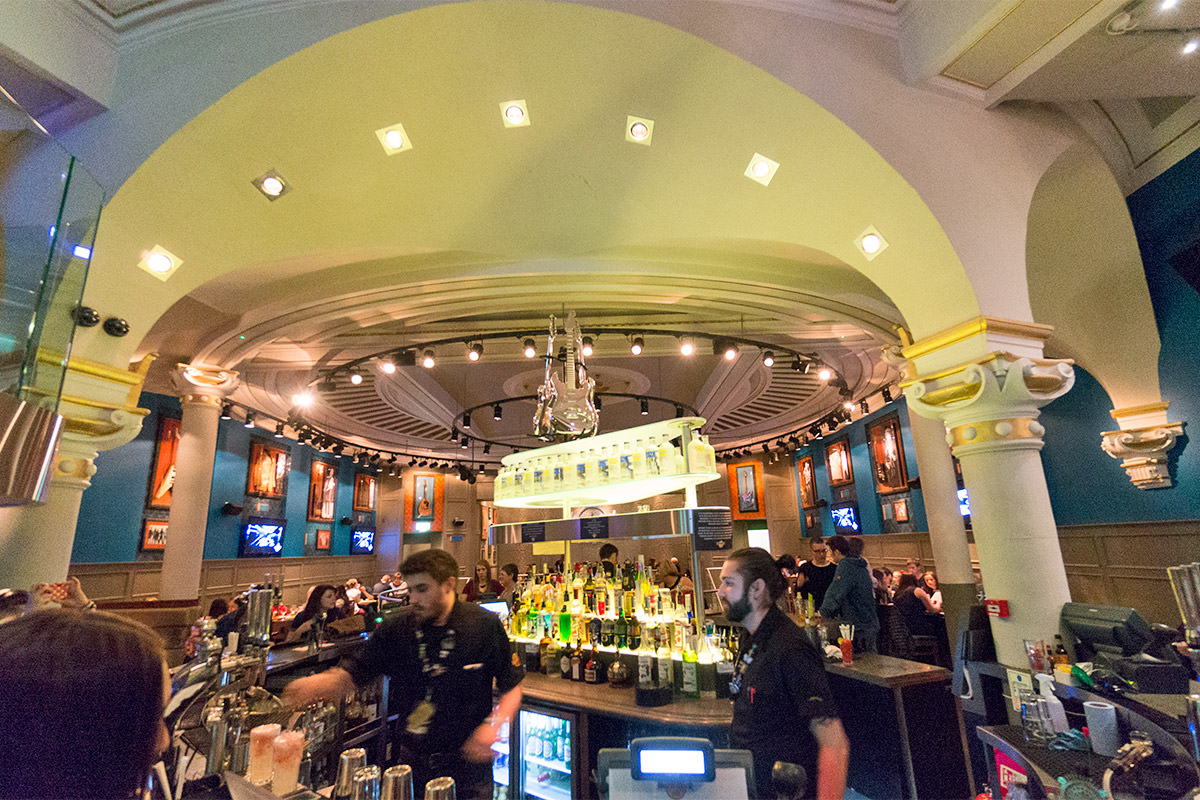 The bathrooms are located off a spiral staircase that's filled with silver guitar sculptures...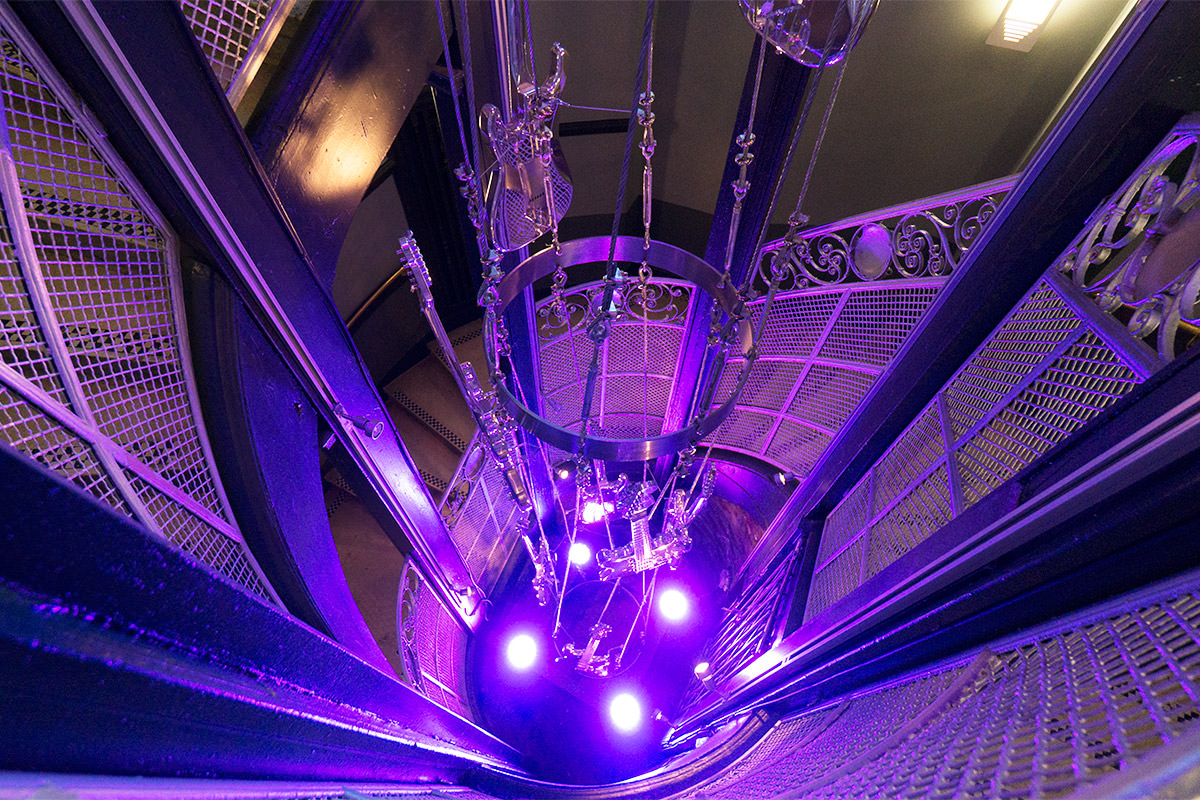 The surprisingly-spacious Rock Shop is at the front of the building, and you pass right by it coming and going...
All in all, a terrific property. Alas, sadly, the rock memorabilia adheres to the new "hipster lounge" aesthetic so it's badly displayed and there's not much of it, but at least the building is interesting. Oh... and if you're not a vegetarian like myself, you'll be happy to know that the specialty burger for this Hard Rock is a hamburger smothered in haggis with cheese on top!

• In A World... I was saddened to learn that one of the most famous voices on the planet, Hal Douglas, passed away. If you've ever seen a US movie trailer, odds are you know who he is... even if you didn't know his name...
One of kind. You will be missed, sir.

And now I must say cheerio, as I am falling asleep as I type this.