I can see Russia from my hotel room... because Bullet Sunday from the great state of Alaska starts... now...

• Double Daylight! "In Anchorage, visitors from more southerly latitudes are often surprised to see the sun set at 11:41 p.m. on the summer solstice, but the actual 'solar time' is 9:41 p.m. This is because at 150° W, Anchorage is a full solar hour behind the legal time zone and observes daylight saving time as well. Some local residents refer to this phenomenon as "double daylight time." — Wikipedia.
Which explains my panic when I awoke after dozing off thinking it was 9:30am instead of 9:30pm and I had slept through two alarms. As I write this now at 10:45pm, there's still daylight out there...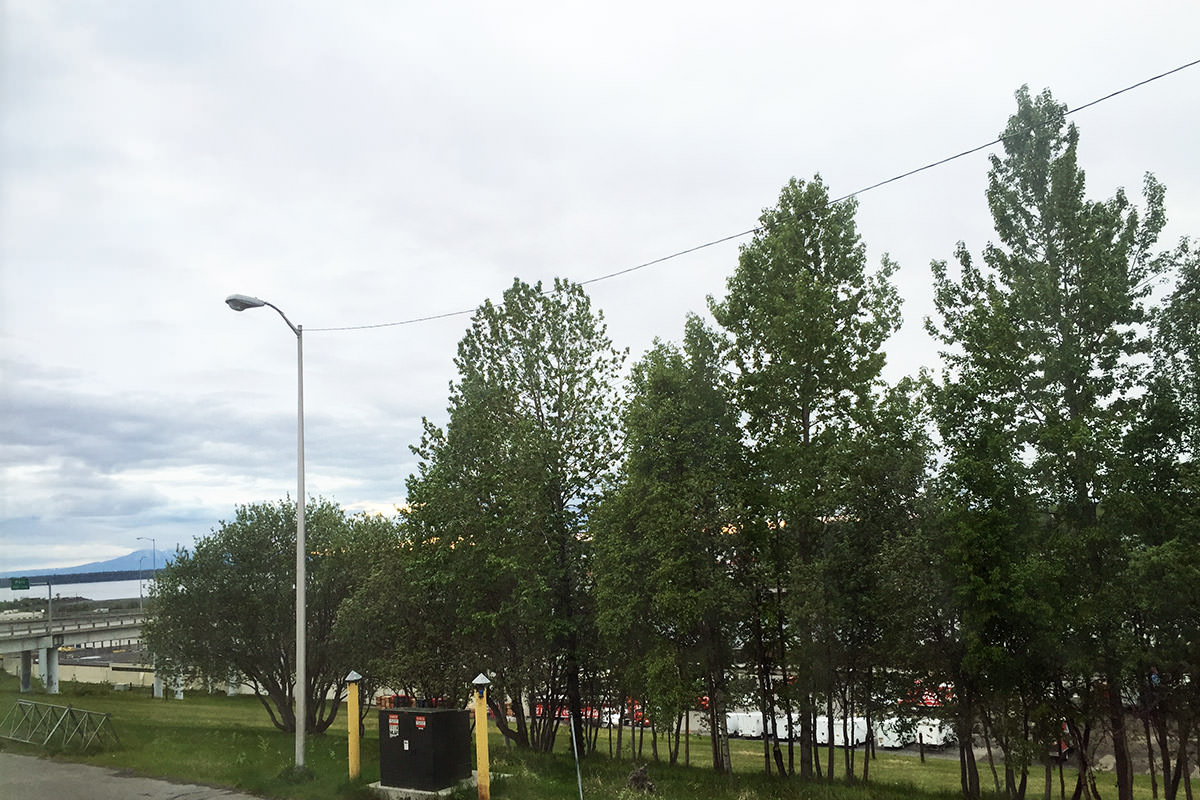 I can't fathom how insane it must be to visit Nome, which is still in the Alaskan time zone with Anchorage, but technically two hours in actual time zones further back. Their sunset is after midnight!

• Rock! The purpose for my Memorial Day weekend excursion is, of course, to visit the new Hard Rock Cafe that opened up last year here in Anchorage. This is Hard Rock No. 166 for me, and (finally) gets me caught up with all the North American properties again...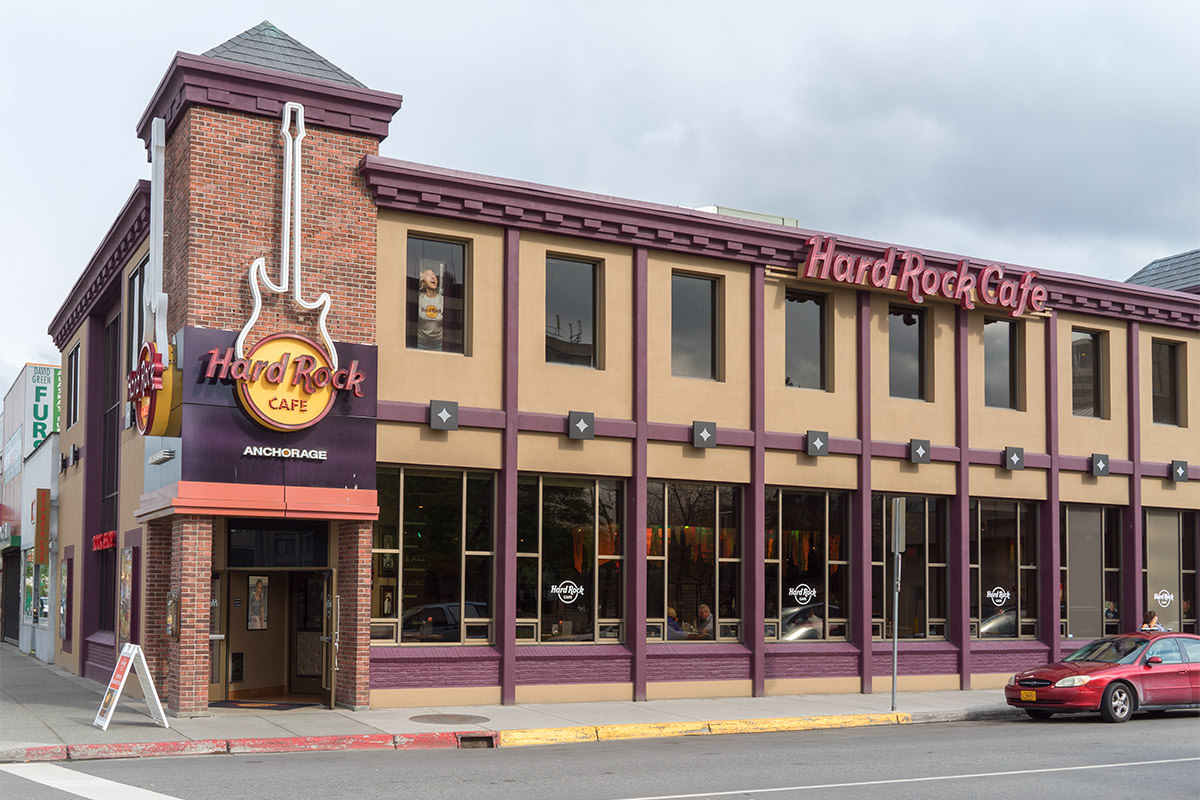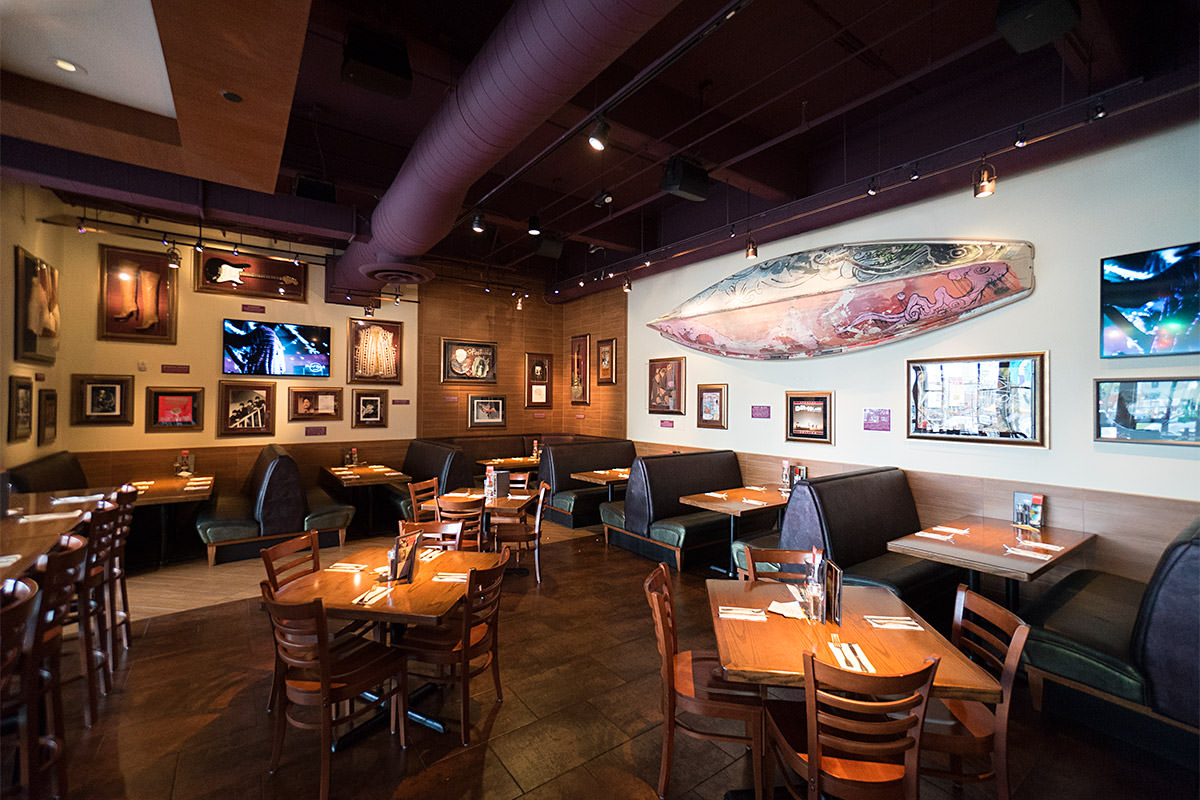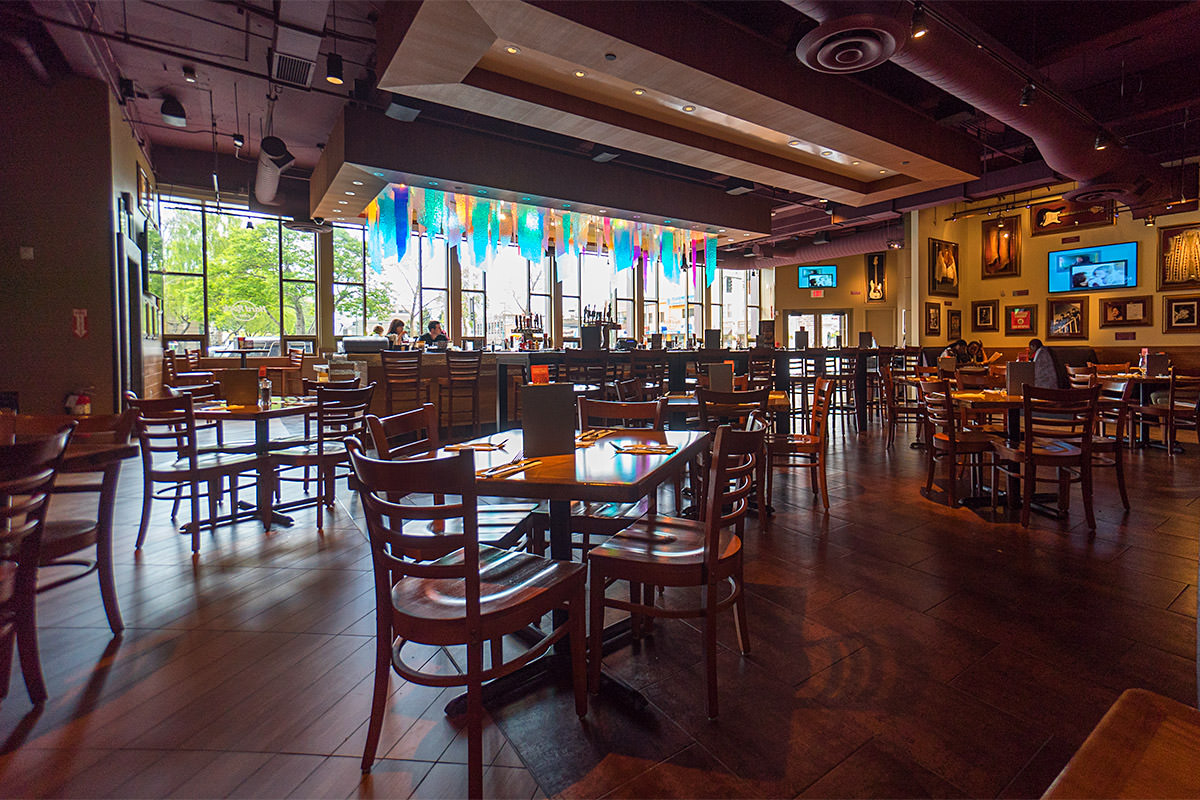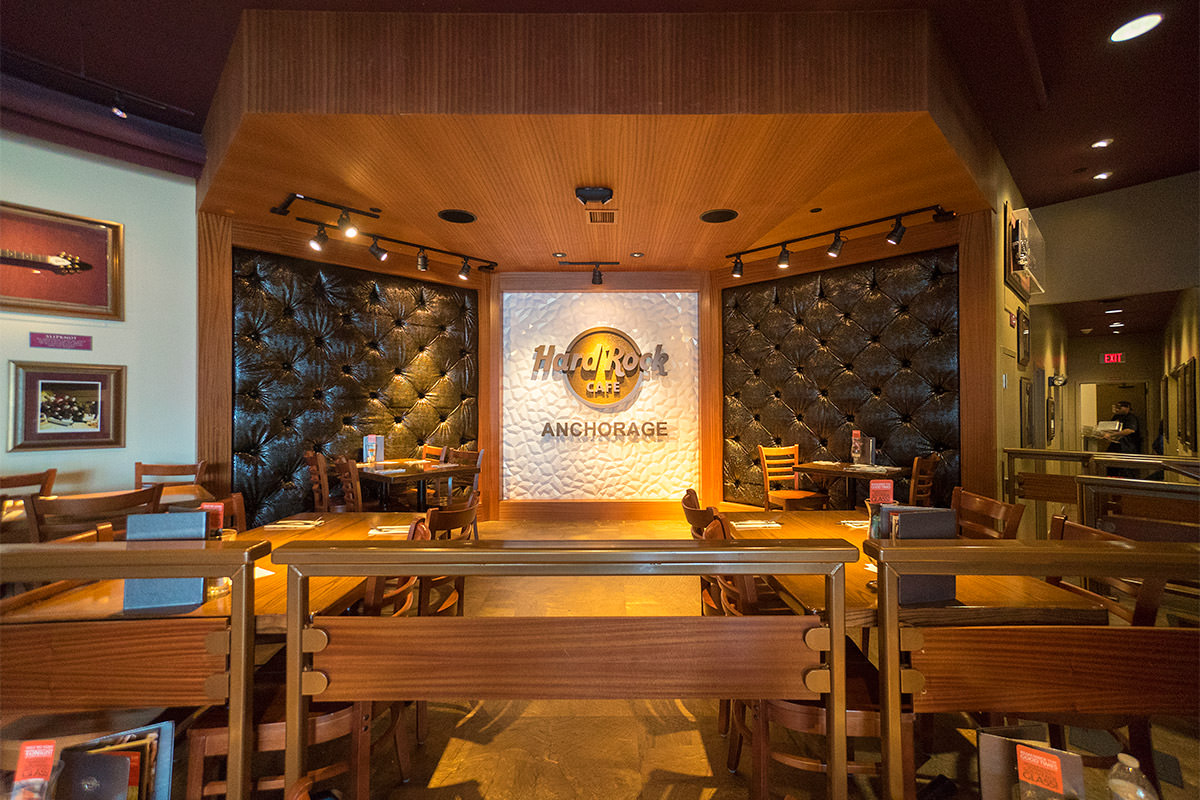 There's an upstairs with a second stage and bar...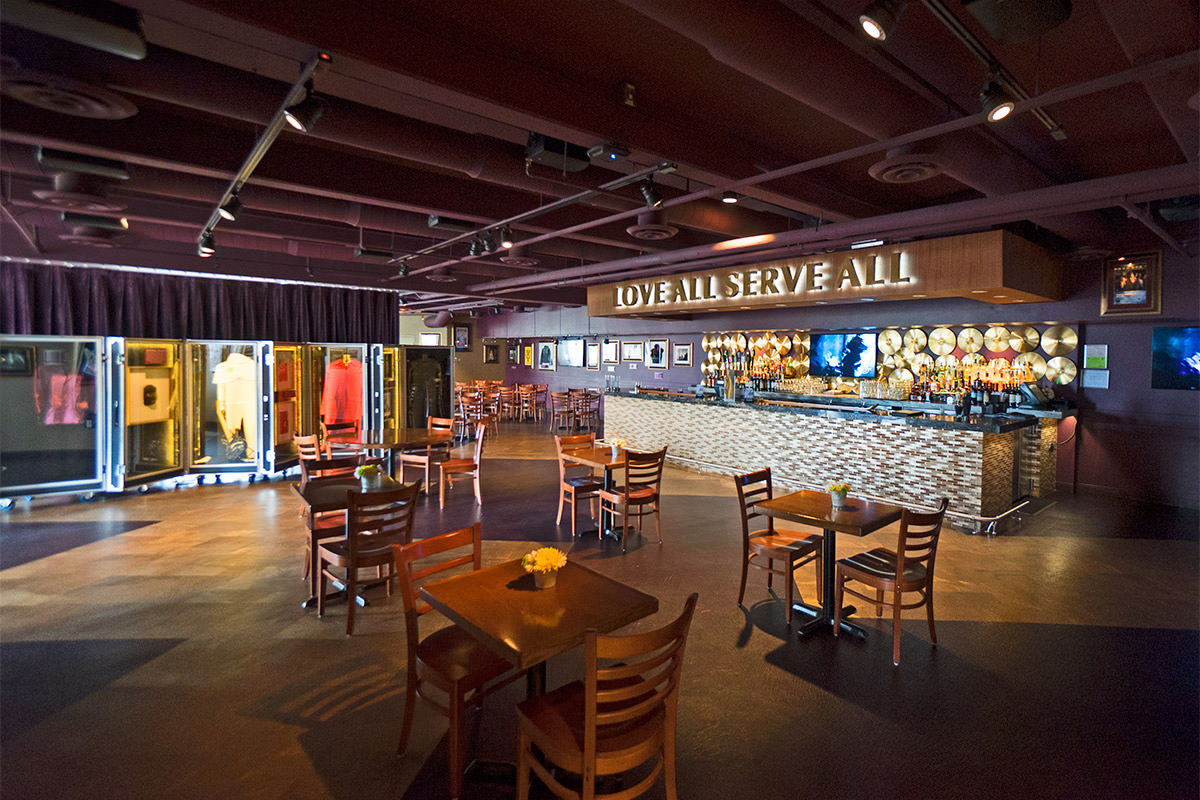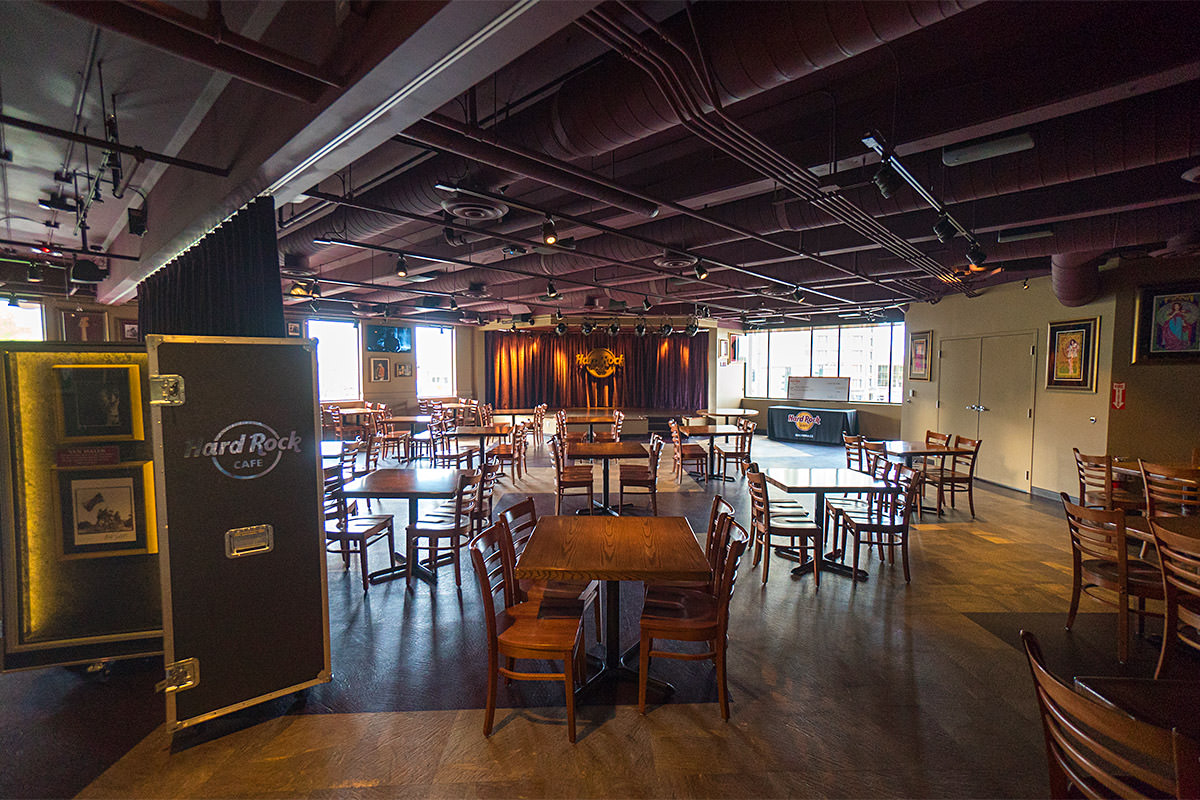 Overall it's a nice property with a great staff and a terrific location... right in the touristy section of town... but the decor is lacking. Memorabilia is stretched a bit thin throughout, and there's a Rock Shop and massive stairwell that's devoid of any artifacts at all...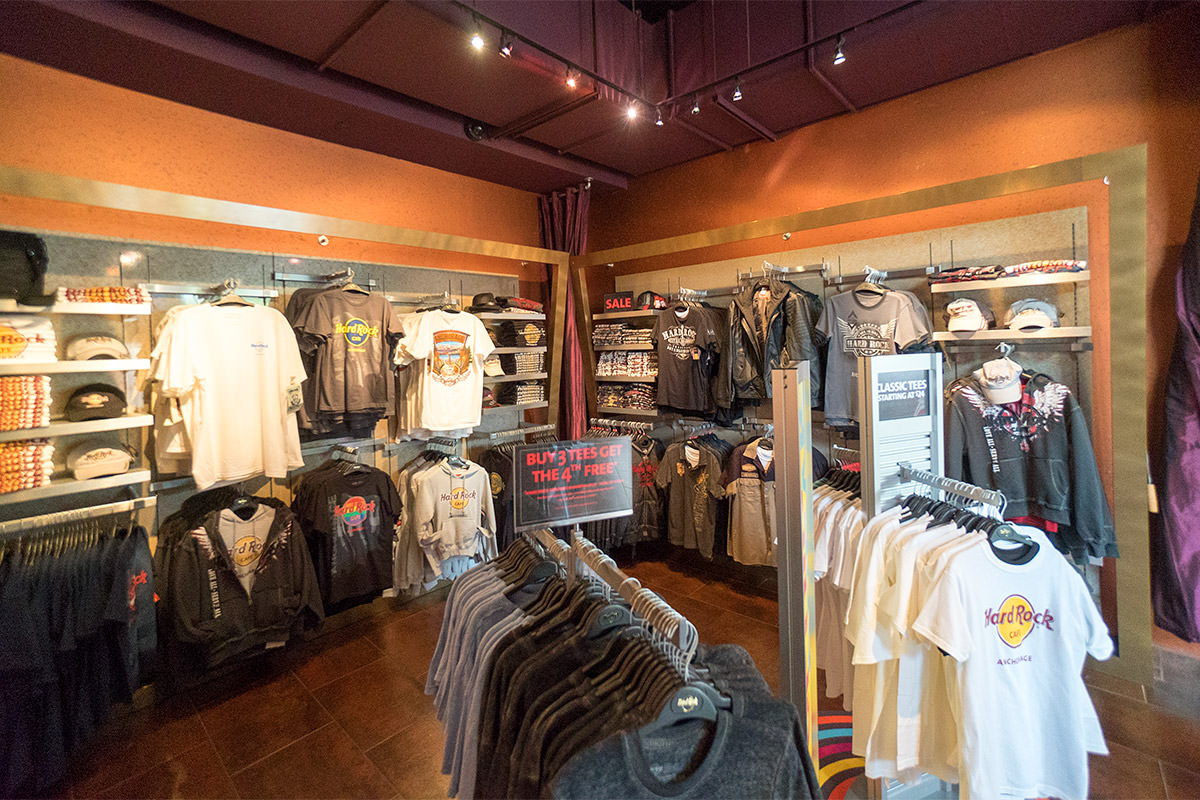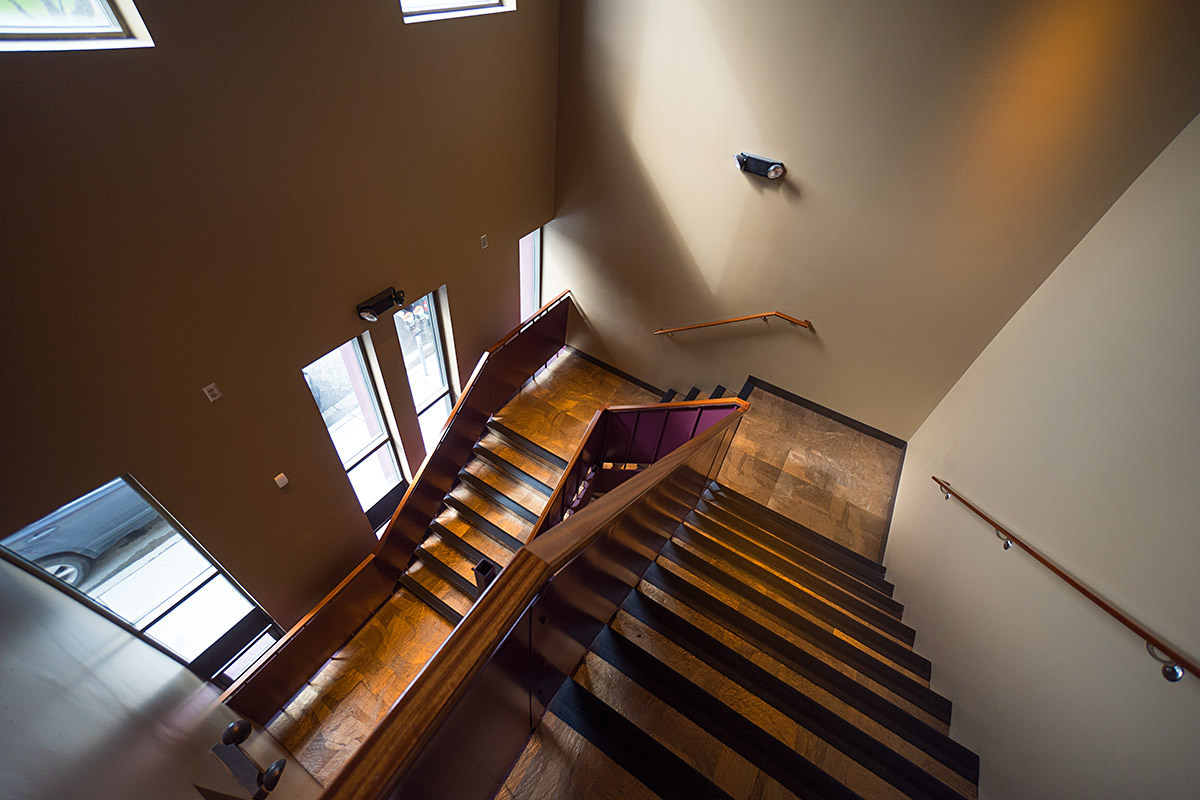 This is a massive oversight which is unimaginable to longtime Hard Rock fans who remember when the cafes used to be packed with so much stuff that you could spend hours looking around and keep coming back to see stuff you missed. I mean, holy crap... look at this shot of the old Salt Lake City cafe where you can barely see the walls...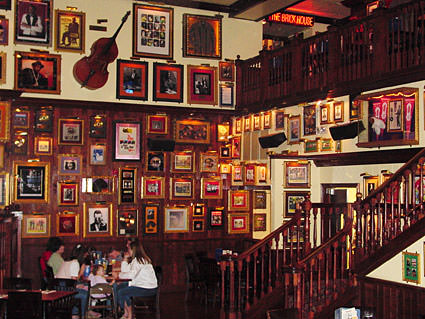 That's what a Hard Rock is supposed to look like, and Anchorage falls way short. Putting in the effort to visit a new property is supposed to be an overwhelming experience... but more and more I find myself saying "I traveled all that way... for this?!? I dunno. Maybe they'll eventually add more cool stuff to give Anchorage the Hard Rock it deserves, but right now it's hardly destination-worthy.

• Burger Me! On the plus side, the food was pretty good...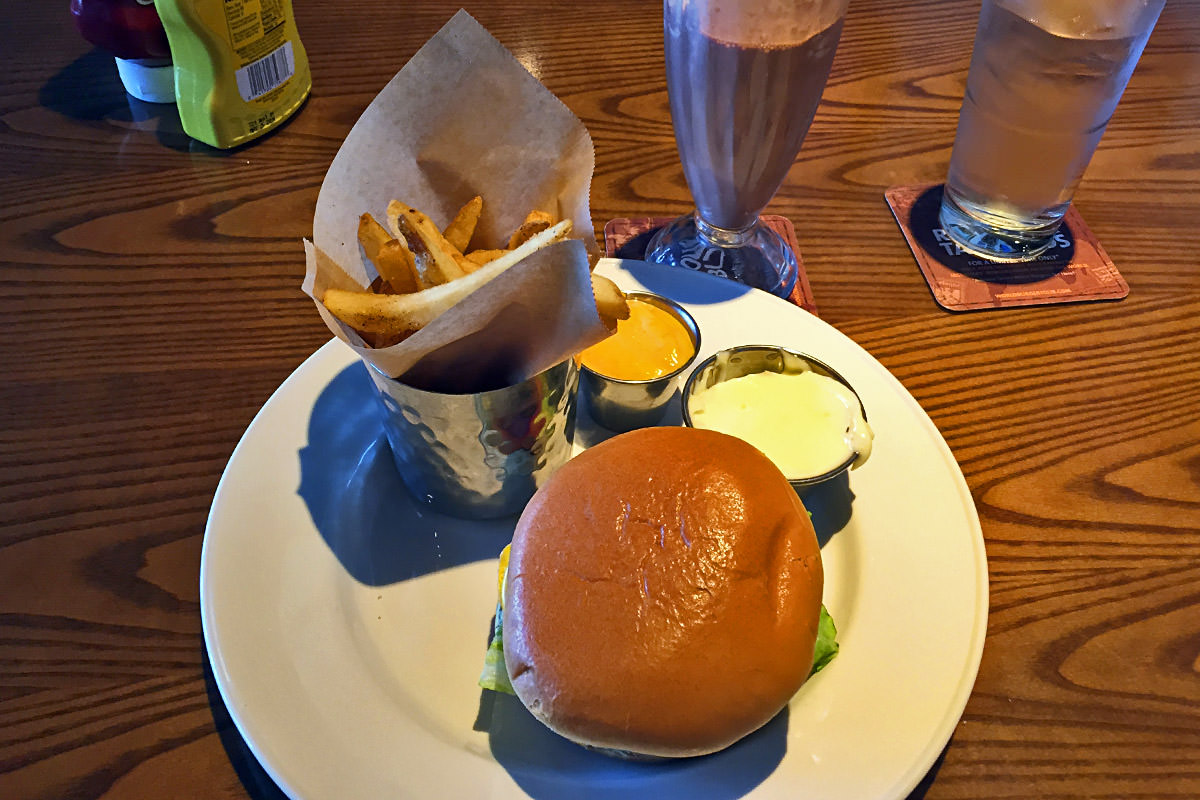 Even if I had to build my own to avoid all the crazy shit that the Hard Rock usually puts on their veggie burgers.

• Market? I was told by my airport shuttle driver that the Anchorage Summer Weekend Market was going on and I should take a look if I had a chance. It was supposed to be open until 6:00, but most everything was torn down by 5:20...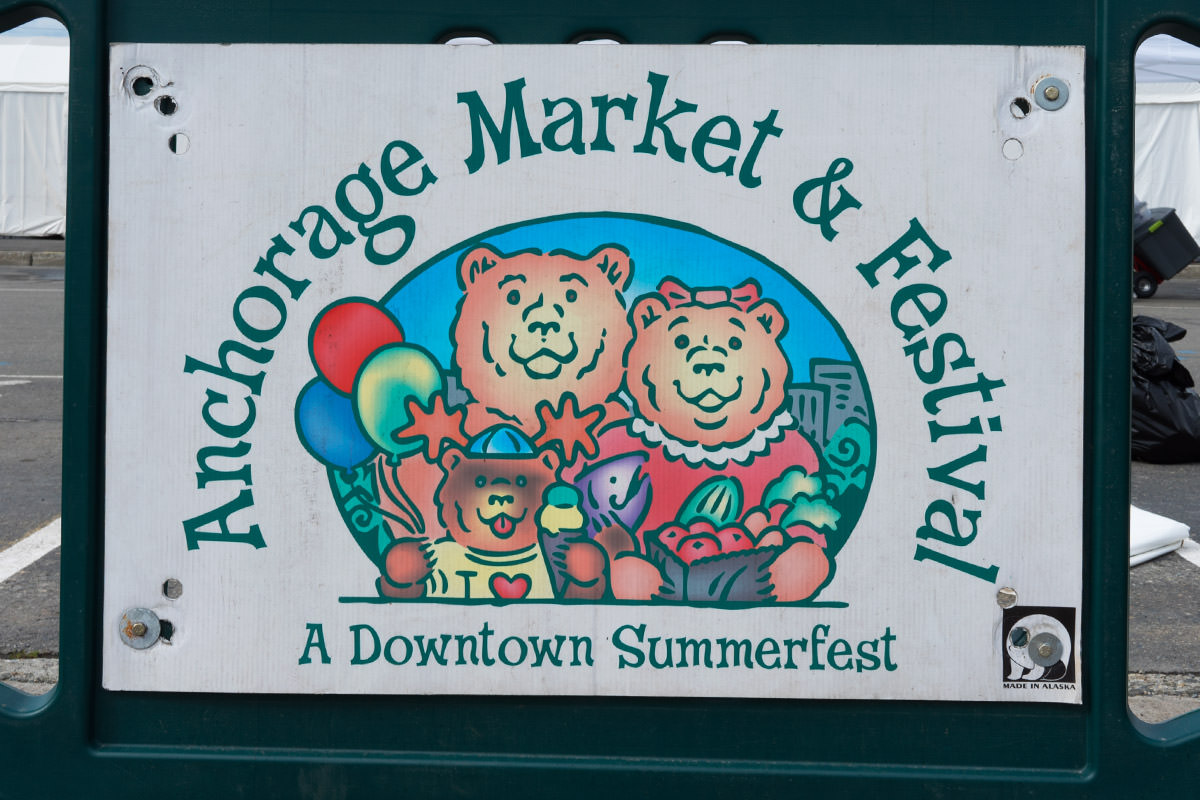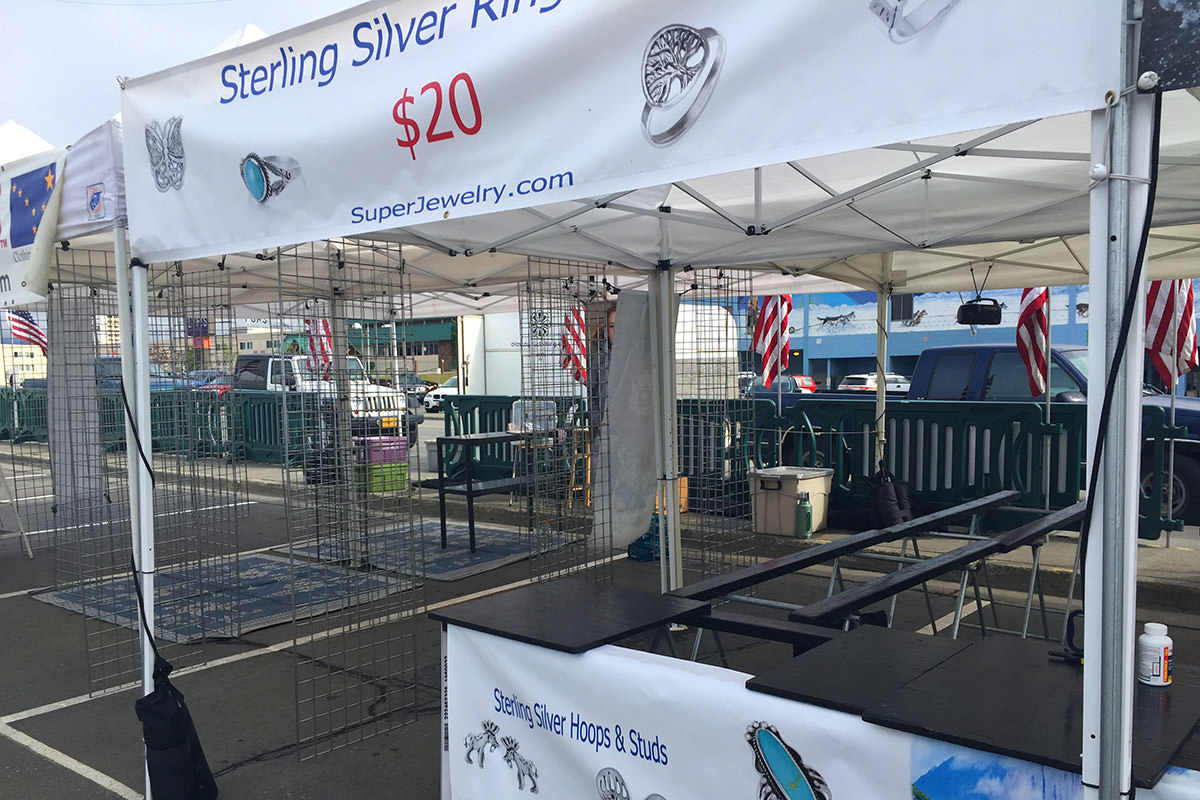 Bummer, I guess.

• Murder! Much like Starbucks locations in Seattle, fur shops in Anchorage are on every street corner...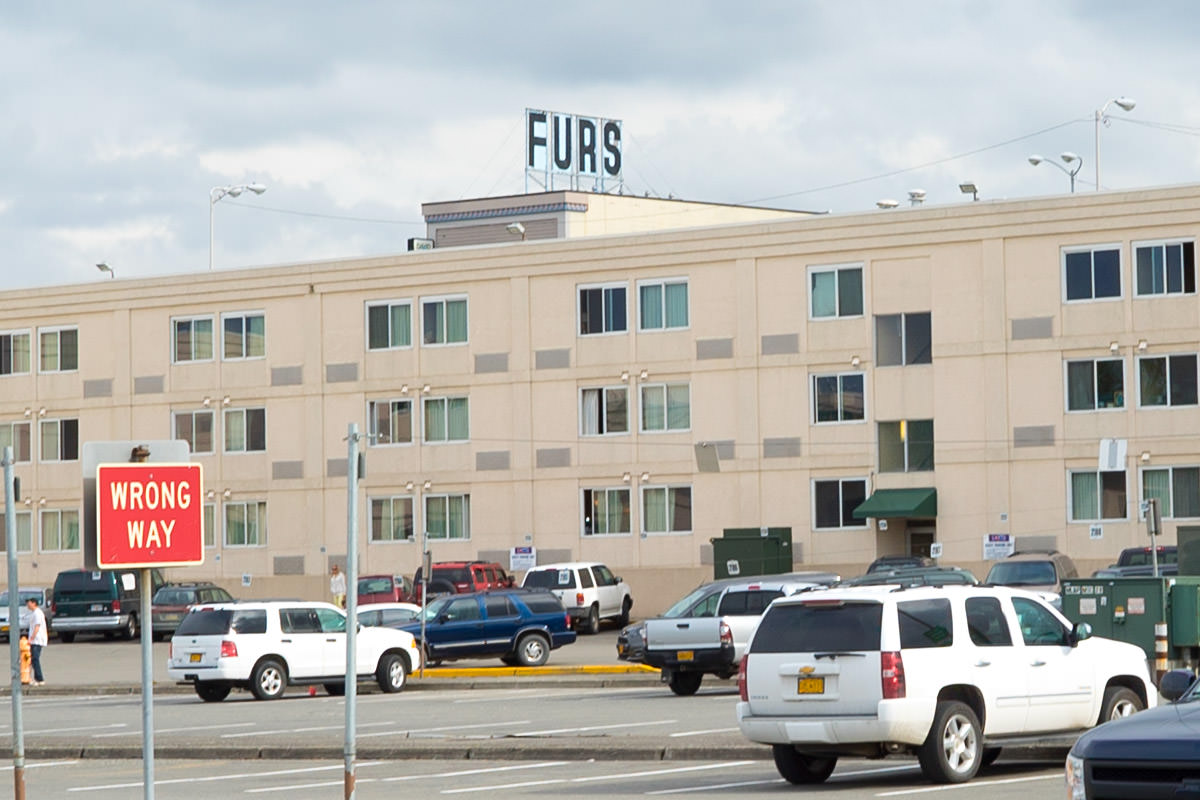 I'm vehemently anti-fur, but might change my mind if I could walk in a shop and pick up something that was personally slaughtered by Sarah Palin. Like I'm guessing this poor bear was...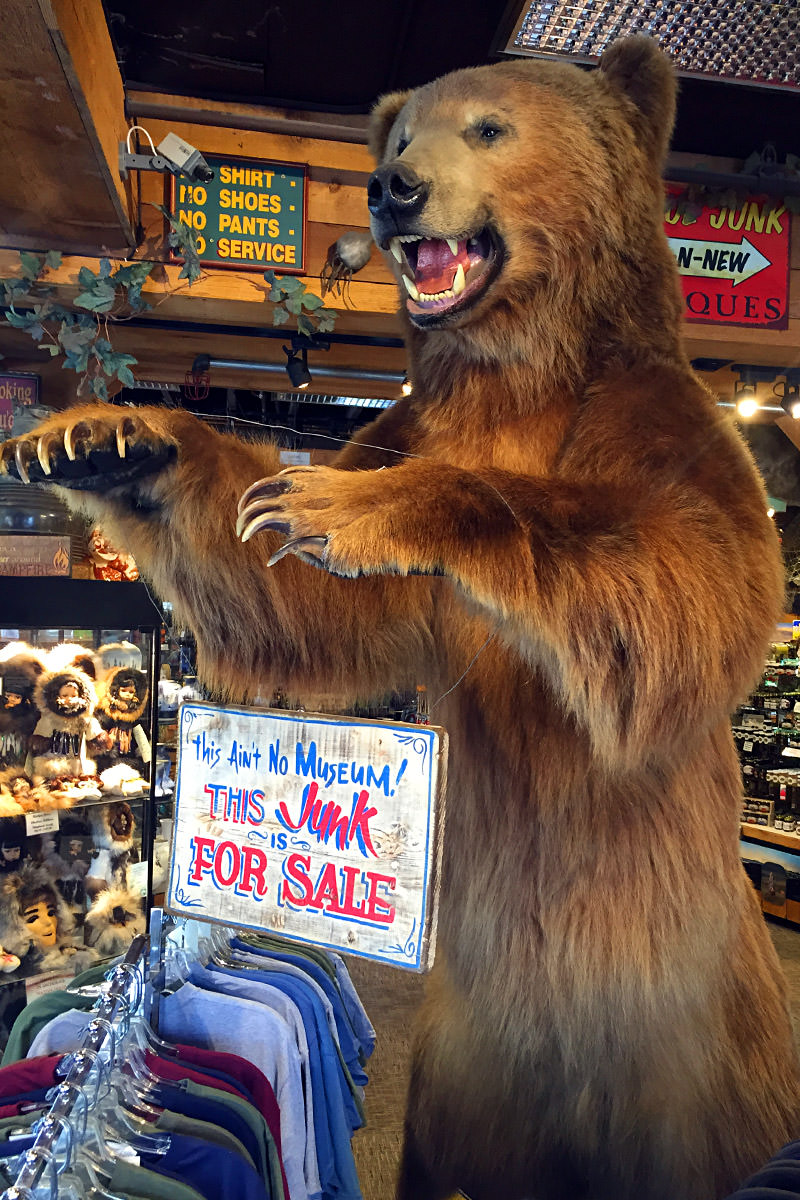 By Grabthar's Hammer I will avenge you, bear!

• Drop! Holy shitballs do I wish Apple would get off their fucking asses and get crap fixed that's been broken for ages. Like AirDrop, their miraculous file-sharing technology that's been a steaming pile since day one. When I sent the first photo looking out my hotel window from my iPhone to my Mac, it was no problem. AirDrop found my MacBook immediately. But when I tried to send the next shot (below) 45 minutes later? I just spent 10 minutes trying to get my iPhone to see my Mac, but it absolutely won't do it. And yet... my Mac can see my iPhone just fine? WHAT THE FUCK, APPLE?!?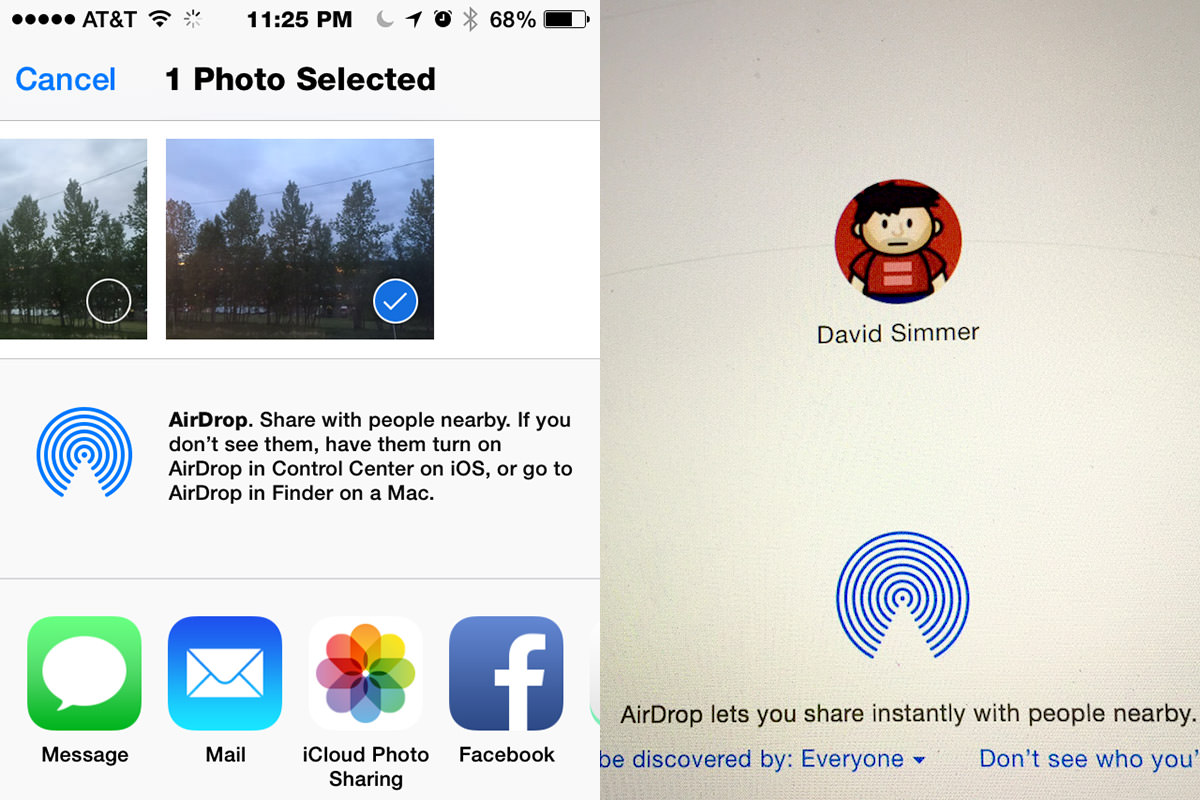 Why don't you use some of the BILLIONS OF FUCKING DOLLARS that people have paid you because of the promise of things like AirDrop TO FIX ALL THE CRAP THAT DOESN'T FUCKING WORK?! Every time I turn around now-a-days I'm having to deal with Apple's busted shit and I'm just sick of it.

Annnnd... I suppose I should get some sleep seeing as how it's now 11:30pm and the sun is finally going down and all...