Posted on Wednesday, January 11th, 2017

President Elect Trump's first press conference since being elected was everything I dreamed it would be.
And everything I feared.
This, my fellow US citizens, is how the end begins.
You may not like the media. You may not agree with how they cover events of the day. You may even consider any journalistic endeavor that doesn't fully support our elected leaders as treasonous. But it doesn't really matter what you think, because the guarantee of a free press is a fundamental building block of this country. Our founders designed it that way.
And while those who have lead this country may not like all aspects of the media, they have tolerated it... even supported it against all rational thought... because they know that's part of the job. They know it's important.
Well, at least they did.
Until now.
Don't think for a second that President Obama wouldn't have liked to tell the asshole brigade at FOX "News" to go fuck themselves ten times a day... any sane person would. But he was a bigger man (and better president) than that, and so he rose above. I may not have always agreed with his politics, but I respect how he put up with the non-stop parade of shit reigned down upon him by the media... yet continued to play the game in the name of Freedom of the Press.
But our President Elect? Not so much.
What a tiny, tiny penis Donald Trump must have to resort to this. At least I'm assuming that's the case. He's got a minuscule little dick, and this is how he wields power to compensate for it. The free press of the United States of America can piss off because our new president has a cocktail wiener for a cock.
CNN reported on the story of an unverified piece claiming the Russians have footage of Trump involved with some fancy piss-play with two hookers. They did not publish the actual unverified document, nor did they publish any details from it which talked about Donald Trump liking golden showers. They merely did their job as journalists and presented current events as they were happening. I may loathe CNN (in general) and Wolf Blitzer (specifically), but they did not publish "fake news" (though I will agree that their organization is terrible).
But President Pussy-Grabber doesn't care about any of that. He apparently feels that the only thing that CNN should ever do in such circumstances is condemn any criticism of Donald Trump. Anything less means that you don't get to ask questions. This is essentially "If you don't kiss my ass, condemn my critics, and support everything I do... I'm dismissing you, restricting your ability to question me, and discrediting your voice."
Which is ironic considering that Trump just compared intelligence agencies releasing "fake news" to Nazi Germany.
Apparently he is unaware of the fact that a big part of how the Nazi's got into power was to control and censor the media. By squeezing out those voices who did not support the Nazi Party and allowing only positive reporting of their actions, it was easier to convince citizens that they were righteous in their acts. Or at least those acts they allowed to be reported on.
And with the Trump presidency, we're half-way there!
Which is kind of embarrassing for a country that won't shut up about their superiority THANKS TO AMERICAN FREEDOM, BABY!
But only half as embarrassing as the fact that we have a president who feels the need to constantly lash out at the press... even when they did nothing wrong... as compensation for his tiny, tiny dick.
Which is nothing to be ashamed of, sir! Plenty of big men have wielded power wisely and respectfully despite their tiny member! No need to go starting World War III over it!
Now, if you'll excuse me, it's nearing midnight and me and my massive penis* need to get some sleep.

*I'll provide proof when Donald Trump releases his taxes.
Posted on Monday, February 20th, 2017

...or something. The reason I know this is that there was nobody at work when I showed up.
Oh well. Seems as good as time as any to say don't forget to wipe.
Posted on Wednesday, April 19th, 2017

Photography is a hobby I absolutely love... but rarely have time to pursue.
Indeed, it seems the only time I get to delve into serious photography is when I'm on vacation. The rest of the time I'm shooting stuff with my iPhone because it's always on me and oh so handy. The iPhone also produces fairly good images, which makes it infinitely more appealing for snapshots than having to drag the Sony a7S Mark II out of my camera bag.
I mean, seriously... this was shot years ago with my iPhone 4...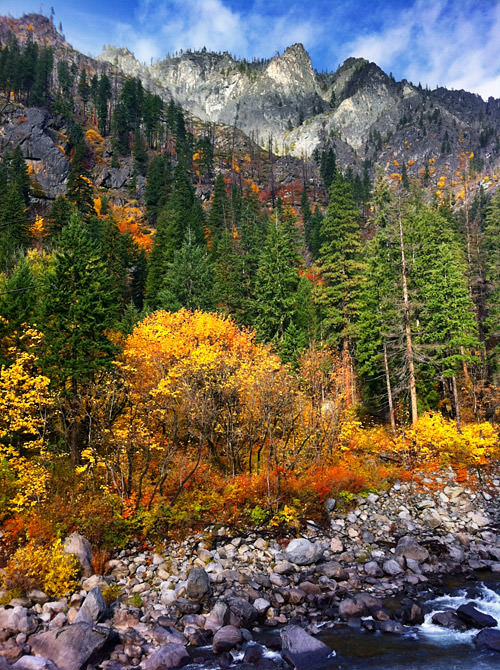 Yes, you read that right... an iPhone 4. Which can't even touch what images you can get out of the iPhone 7s that's out right now.
And, yet... I'm not going to get shots like this from an iPhone...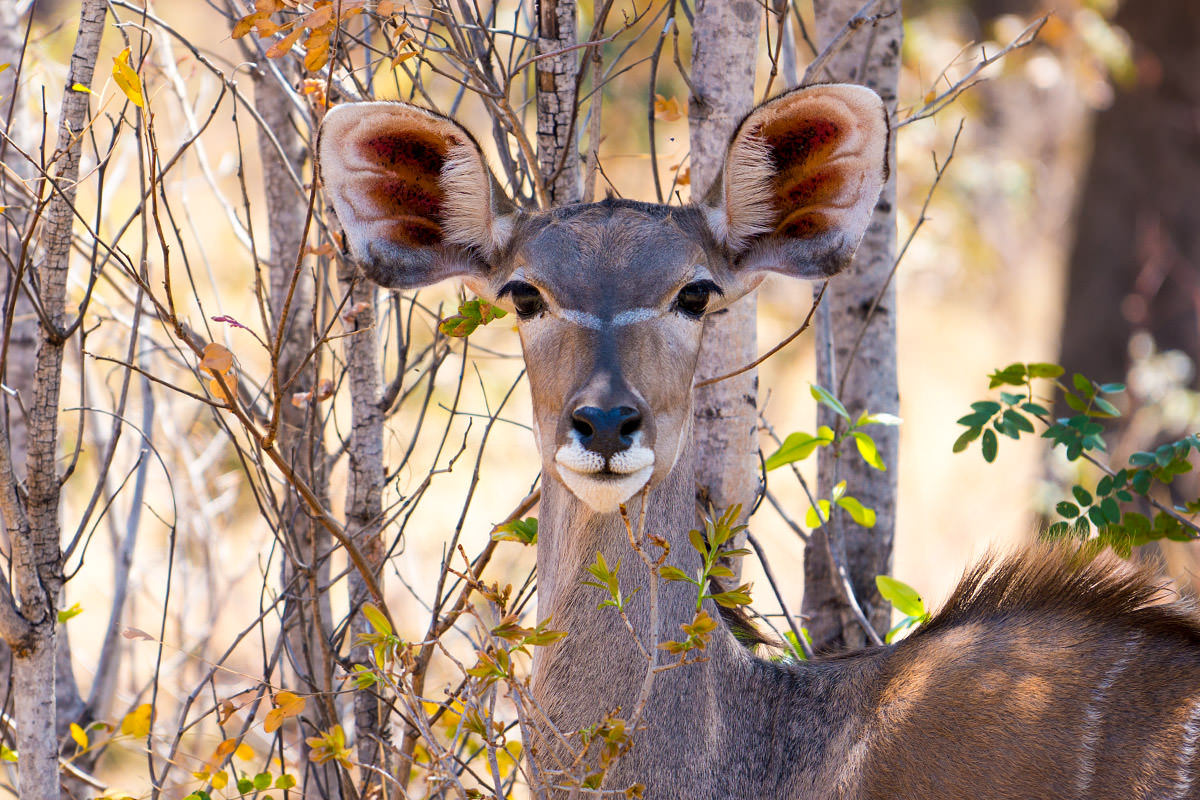 Which is why I continue to invest in camera gear. Sure it sits in my closet most of the year, but those times I actually get to shoot with it? Magic.
Because I mostly only shoot on vacation, it's my travels that drive my photography purchases. I know I'm going to be shooting scenery in Vietnam, so I buy a new lens for that. I know I'm going to be going on safari night-drives in Zimbabwe, so I buy a new camera body for that. And so on. And so on.
Photography is an expensive hobby to have.
And today Sony announced the next evolution in their professional mirrorless camera line... the a9...
Needless to say, I'm in love.
Not only does the a9 have some astounding new features that I'll actually use... it also addresses some of the shortcomings of the a7 models that were so frustrating. Like dual media slots. And touch-screen operation. And a LAN port with FTP. And a battery that's worth a shit.
And while I rarely shoot video, the 4K footage (down sampled from 6K!) is pretty amazing...
It's pretty much a dream camera... though I'm sure they'll be coming out with an a9S sometime down the line that will add even more honey to the pot.
There are two problems, however.
First of all, Sony's lack of longer lenses makes the sport and wildlife features kind of moot. Yes, they're going to release a G-series 100-400mm for $2,500 in July... and that will definitely help... but that's all there is. That's the most reach you'll get out of Sony. Sure you can add a $550 extender to double that, but it's a less than ideal scenario for serious sport and wildlife shooters. Not a deal-breaker from my shooting perspective, but until the big glass arrives, the market for the true potential of the a9's capabilities is waiting.
A far bigger problem for me, however is the price.
All $4,500 of it.
Now, don't get me wrong, the specs on this beast of a camera are better than what you can get out of cameras from Canon and Nikon that are far more expensive. I absolutely acknowledge that. But $4,500 for something I'm not going to use very often is a tough thing to justify.
And yet...
I think back to many of the trips I've taken, and I would have killed for this camera. I think forward to the Antarctica trip I'm going to be taking in December, and I know the a9 coupled with the 100-400mm lens would be put to very good use. Heck, in many ways, it's the best possible camera I could take. And given all the money I've had to scrimp and save to even get to Antarctica, isn't that worth the investment?
I dunno.
Maybe I rent one. Or buy the camera and rent the lens. And then sell the camera when I get back if I find I'm not using it as much as I'd like. There are options. All of them expensive.
But maybe.
I guess we'll see how broke I am by the time I've finished paying for my upcoming vacation.
Posted on Wednesday, October 11th, 2017

This will all make sense tomorrow.
Maybe.

Okay... probably not. But still... it's a random cow. That's pretty cool, right?
Posted on Thursday, October 12th, 2017

Thanks to some unexpected cash that came into my life last couple months, I was able to pay off a bill, buy new socks, up my monthly donation to Doctors Without Borders, make some donations for animal rescue efforts in hurricane-ravaged Houston... and pay for another batch of old photos to be scanned. The last time I could afford to do this was five years ago, so it was a nice to be able to treat myself to something senselessly expensive and cool like this.
All of the photos I have left for scanning are photo negatives, so I don't really review anything. I just send them in and hope for the best.
This batch ended up being pretty special.
There were photos of my parent's wedding I hadn't seen before. Amazing photos of my mom when she was very young. Fascinating photos of my grandparent's life from a bygone era. And, of course, lots of photos of me and my brother growing up.
Also interesting? A trip to San Francisco by my mom's parents to visit my parents, assumably just before I was born in 1965(?)...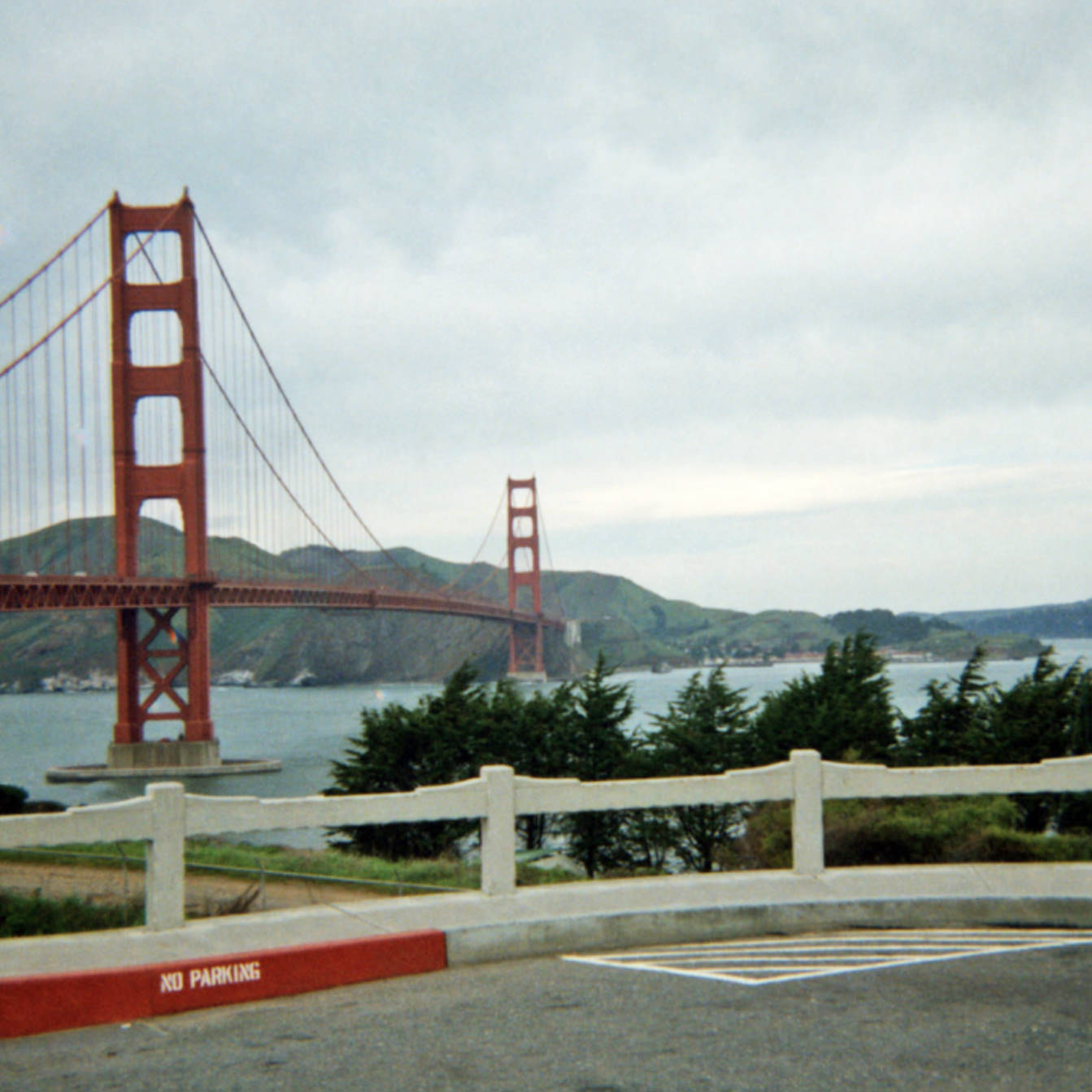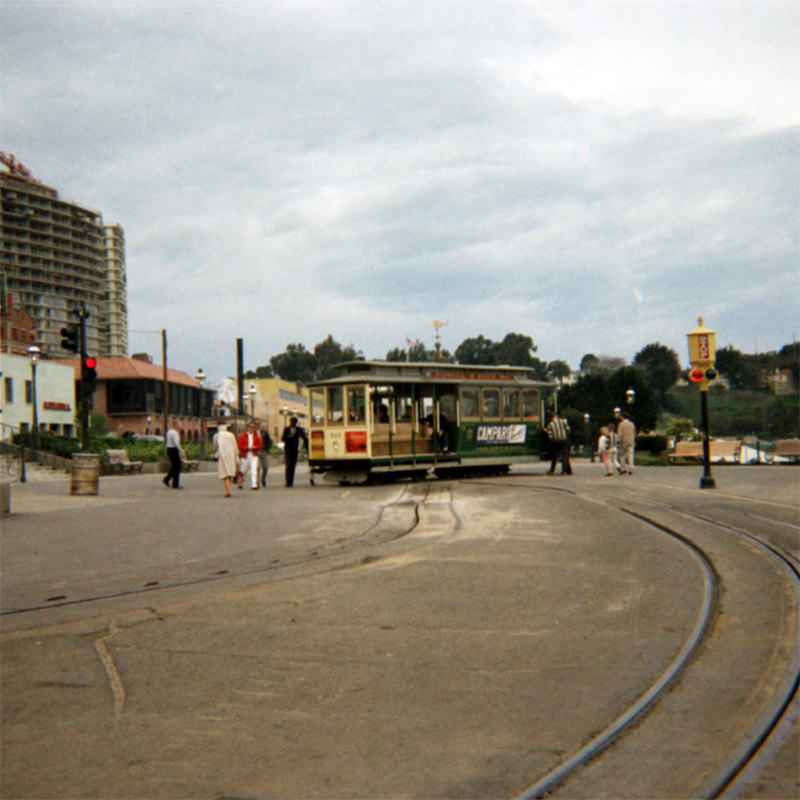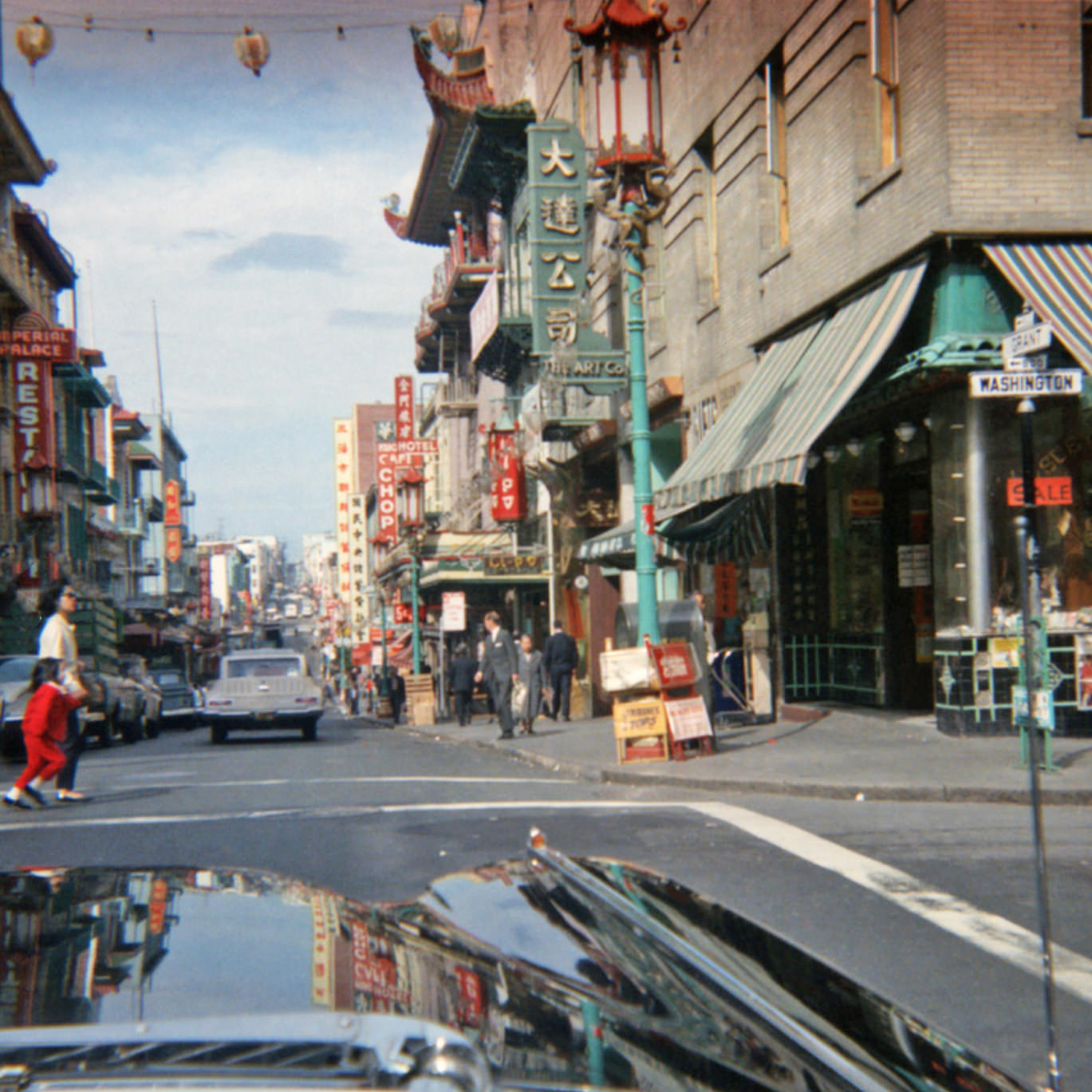 One trend I noticed was oodles and oodles of plaid. My brother and I were drenched in it for half a decade...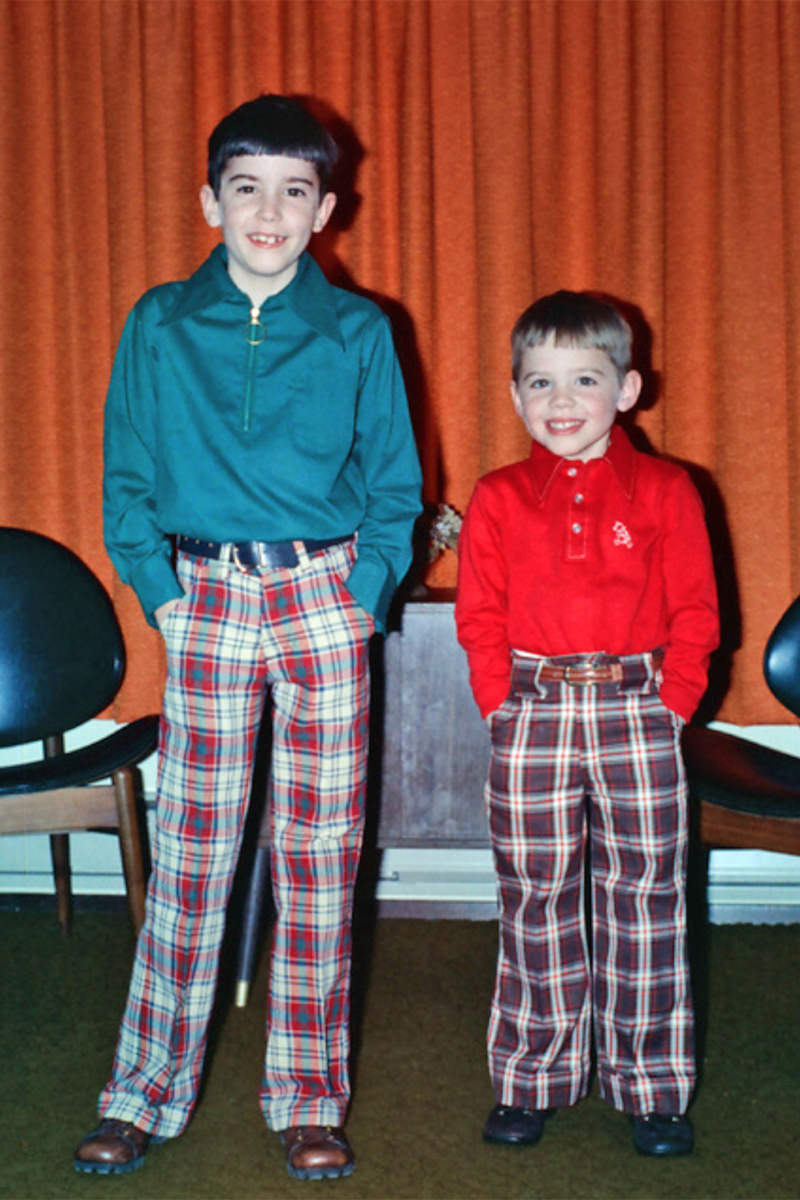 Another photo trend was me on vehicles.
How many people can say that their first car WAS A FIRE TRUCK?!? ME! I CAN TOTALLY SAY THAT! Just look at me! All chill as fuck while cruising down the sidewalk in my sweet ride! Acting like I don't care and all the world is my bitch. SO BAD-ASS!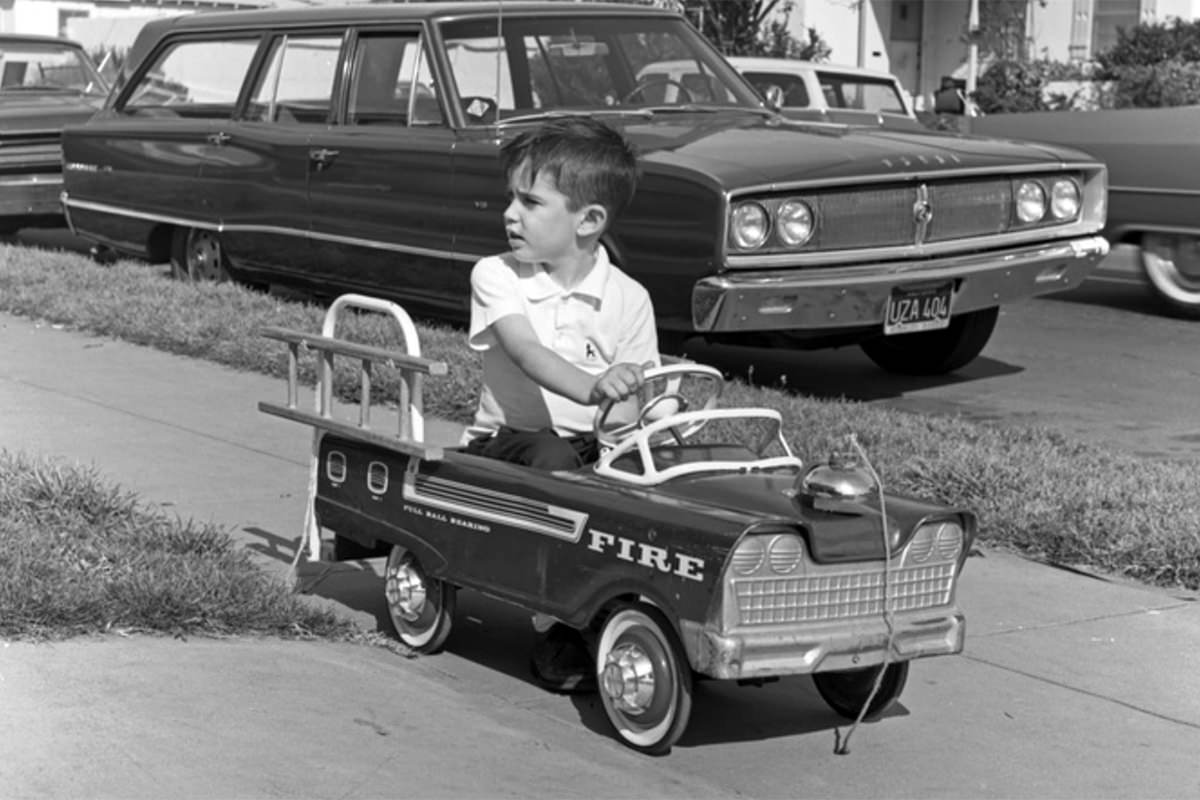 Holy shit! My second car was a Corvette... WITH WORKING HORN!
Here's where things started going downhill. Apparently my third car was a wagon...
There are hundreds more photos waiting for me to look through them, so I'm sure "Throwback Thursday" will be a trend for a while here. Or not. Guess it depends how boring my life is next week.
Posted on Tuesday, October 17th, 2017

On Saturday I went in to work and was amazed at how beautiful the leaves were as I made my way down the street. I was so enchanted that I pulled over to take a photo... only to find out that my phone was dead. The next day I forgot my phone. Then yesterday I didn't go into the office.
Today I finally remembered... even though it's not nearly as pretty now that half the leaves have fallen off...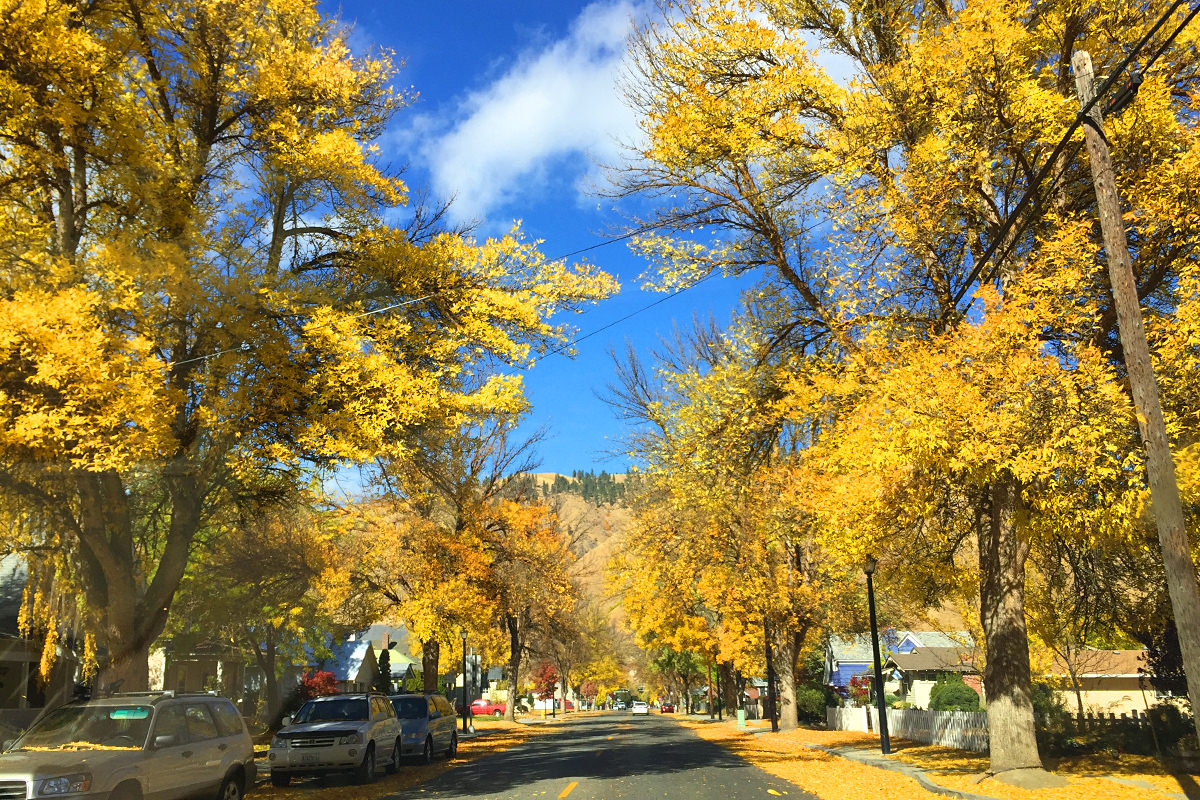 Now I am bummed that I didn't charge my phone a bit then immediately go back for a photo on Saturday. A beautiful moment that now only exists in my memories.
Speaking of memories... soon enough, THIS is what the same street will look like...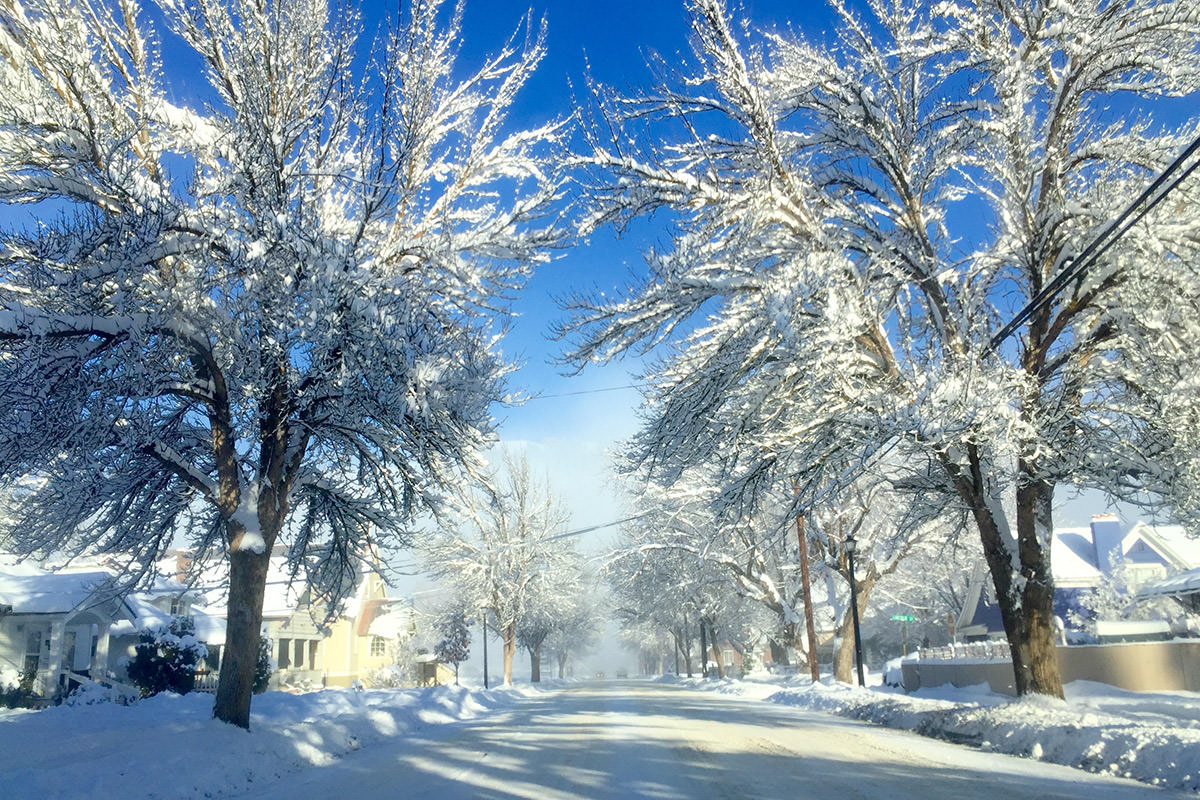 =shudder=