Welcome to Technology Week at Blogography, where I will be reviewing tech purchases I've made over the last month or so.
UPDATE: This router is expensive garbage. It has almost NO configurable features you need to keep your network safe. Doesn't even have a simple IP blacklist. No way to configure the built-in firewall (assuming one even exists). No Teleport VPN software for Mac or Windows... it's mobile only. The longer I have this router the more I wish I had bought ANYTHING else. You can't even view the log files! I've owned $49 routers that had a better feature set than this pile of $380 shit. Ubiquiti's response is always "This is a consumer product and does not have professional features." SO HOME USERS DON'T NEED TO KEEP THEIR NETWORK SAFE?!? Outrageous. And also keep in mind that if you want a mesh access point added, your only choice is to spend another $380 for a second unit. Trash.
Since I'm doing a lot more working from home these past months, I finally bit the bullet and upgraded my fiber internet speed. I'm now at a full 1000mbs download / 100mbs upload. Problem is that I wasn't getting much better results than the 100/10 I had previously. Which meant the extra $24 a month I'm spending was wasted. I could downgrade back to where I was, but I'd have to pay yet another change fee to do that.
So I did that thing I loathe to do... call tech support at my ISP.
I don't know why I dread it. The tech agents taking calls are always friendly and always seem knowledgeable. Perhaps I just don't like asking for help?
After running through a bunch of stuff, the tech support guy ultimately thought the problem was my Google Wifi mesh router system. It just couldn't get me the full bandwidth I was paying for. My reaction to this was "Sure, Jan"... because isn't that what tech support always does? Blame somebody else? But then I decided that they could be right since my Google WiFi setup was the first generation model. I was wanting to purchase a new router anyway (I've been frustrated with the lackluster feature set Google has)... but I wanted to wait until Black Friday so I could (hopefully) get a good deal.
But... $24 out the window each month means I'd blow through $120 before the end of November with nothing to show for it.
And so I Googled to find the fastest possible WiFi 6 compatible router. I kept seeing Ubiquiti's Amplifi Alien pop up, so I searched through my YouTube reviewers to see what they had to say. Chris Majestic really liked it (see video below), so I cleared out my Black Friday fund and ponied up the THREE HUNDRED AND EIGHTY DOLLARS it costs. Three days later... the Alien has landed...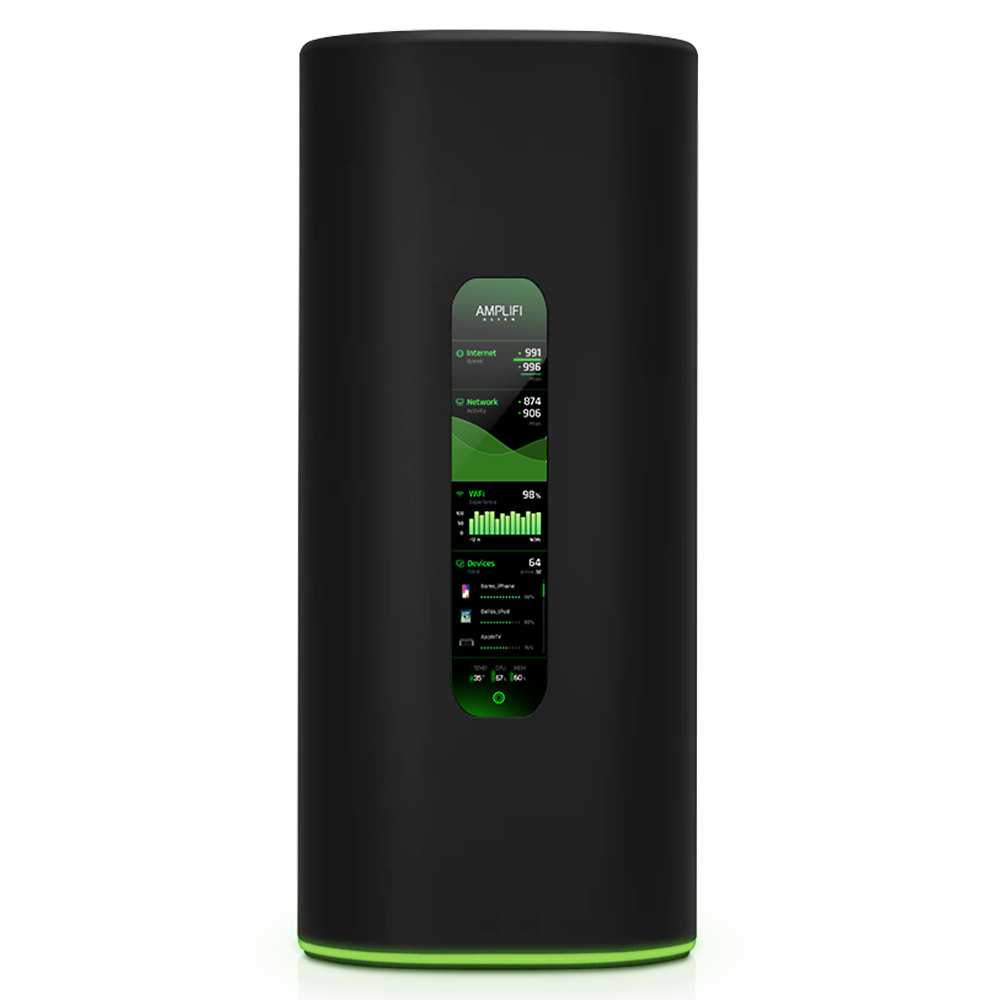 Introducing the Alien
Ubiquiti's router is a large-ish black cylinder with a thin vertical touch-display on the front. It's cool-looking, even though I haven't found the touch-display to be particularly useful. I'm not about to get up off my comfy couch and walk across the room to see any stats when I can pick up my iPhone and use the Amplifi app to get even more information. There's a cool green glow around the bottom which is distracting to me, so I turned it off. The size seems like overkill, but given the number of WiFi radios that are packed inside, I guess it's not unreasonable. The case doesn't seem to have very good ventilation (just a small series of holes in the back), and I'm pretty sure there's a fan inside to compensate. When I put my hand behind it I can feel the hot air being forced out. This gives me serious concerns as to the operating temperature killing the product's longevity, but I guess we'll see. There are four ethernet ports on the back, but since the router maxes out at 1Gbps connections, its useless for anybody running a multi-gig network (absurd for a router costing THREE HUNDRED AND EIGHTY DOLLARS... future-proofing be damned!).
Alien Setup
Amplifi claims you will be up-and-running within minutes. That was not the case for me. On top of having to call my ISP and have them register my MAC address, I also ran into issues where the Alien was dropping all connections every five minutes or so. This was hugely frustrating, and resulted in my upgrading the firmware then resetting the unit four times before it would function reliably. I have no idea what that was all about, but it was closer to 30 minutes than a few minutes. I did use the same network name and password as my old router so I didn't have to go update all my devices, so at least that went smoothly.
Alien WiFI 6
The latest and greatest WiFi standard is WiFi 6. It promises better speed, more reliable connectivity, and far better support for having numerous wireless-connected devices. Since my home is a "smart home," that last point was important for me... even though none of my smart devices or cameras support WiFi 6. One day, when I upgrade everything, they likely will and I don't want to have to buy yet another router so they can use it. In the meanwhile my iPhone and my iPad do support it, so that's a start I suppose.
Alien Speed
Thanks to the quad-core 2.2GHz CPU, the Alien is more than able to blaze through tasks with no bottleneck. It easily handles the full speed of my fiber internet, which is all I could hope for...

Not sure if these results include the devices which are connected.
Alien App
My biggest problem with the Google WiFi app was that it was woefully underpowered, lacking many capabilities I wish it had. I was disappointed to find that the Amplifi app wasn't much better (indeed, in some ways it's worse). Sure it has great features... like being able to create a static IP address for a device with just a click... but so many things I expected from a THREE HUNDRED AND EIGHTY DOLLAR ROUTER are missing. I guess that's because Alien is considered a "consumer" product, but holy shit... is it too much to ask that I be able to see a device's MAC address in the main device list instead of having to click through to a second screen to get to it? This is amateur hour bullshit, and it makes trying to track down and name all your devices a total nightmare. THEY DON'T EVEN DISPLAY THE IP ADDRESS! So of course you can't sort by IP address... or anything else (like bandwidth usage, which is an important thing to be able to sort out when you have a bandwidth-hogging device on your network). The ONLY list sort you get is alphabetical, which is handy for looking up a device when you remember what you named it, but useless as a pile of dog shit for actual practical information you might need...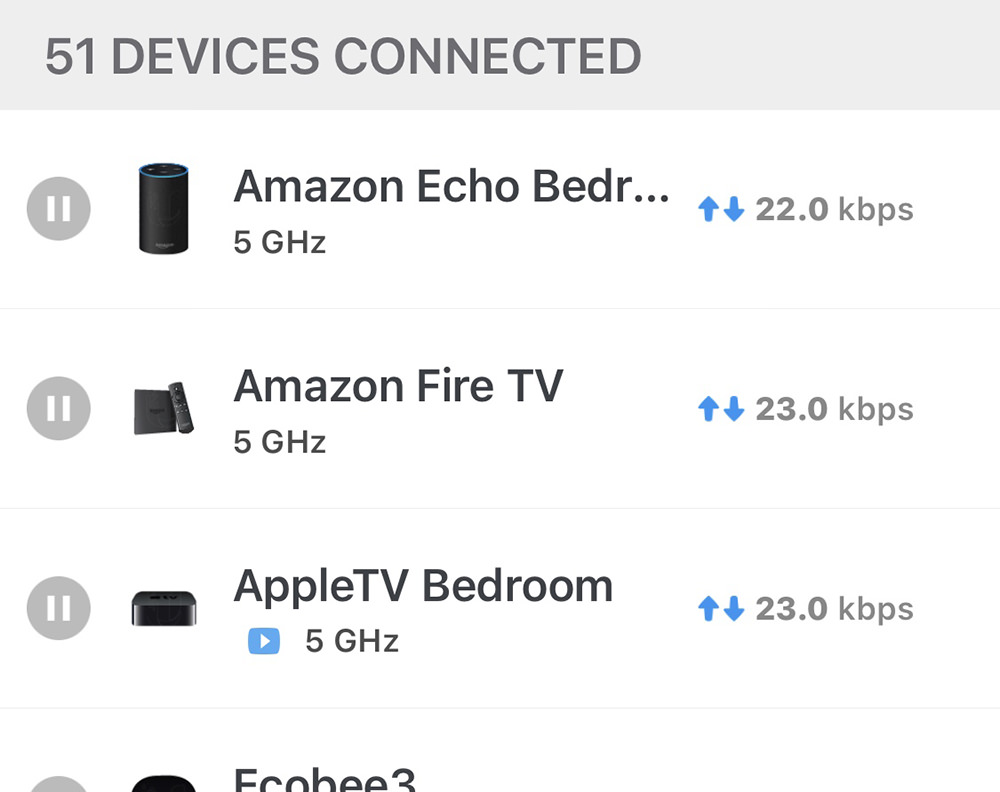 NO sort options. NO way to display IP or MAC addresses.
This kind of underpowered idiocy is rampant in the app. Information is sparse or requires additional clicks to get to. A lot of settings are dumbed down to a shocking degree, and there's no "pro mode" to fix that. Devices can have "Normal Priority, Streaming Priority, or Video Game Priority" but I have no idea what in the hell any of that means in actual numbers. Streaming Priority is likely higher than Normal Priority, but is Video Game Priority higher than that? Who the fuck knows? And where is Low Priority? That would be handy for devices that I don't give a crap about when my bandwidth load is high! But it doesn't exist because Ubiquiti apparently thinks dumbing everything down is what people what from a THREE HUNDRED AND EIGHTY DOLLAR ROUTER. Insanity. The Amplifi app is also where you can create and configure a guest network with a time limit (nice!) or access Amplifi's "Teleport" service which allows you to tunnel back to your router as if you were back at home (very nice, but iPhone only?!?). I seriously hope that either Amplifi gets off their asses with this bullshit and comes up with a "pro mode" for their app, or some third party company comes up with a new app which fixes this.
Alien Web Interface
Even worse and more incomplete than the app. The device list sort order is apparently completely random this time, which had me glad that at least with the app I have them listed alphabetical. Why did they even bother?
Alien Mesh Network
A smart feature of the Amplifi Alien router is that you can add another Amplifi Alien router to your network and create a mesh network. This is nice, but absurdly expensive at THREE HUNDRED AND EIGHTY DOLLARS a pop. You'd think that Ubiquiti would have far less expensive mesh nodes you can purchase since this is hella overkill, but that's not the case. At least not yet. But here's where things really start to suck. There is no dedicated mesh backhaul band. None. Nada. Zip. Zero. This means when you create a mesh network, you're cutting into the total network bandwidth, at least as I understand it. And if I am understanding correctly, this is just bonkers. Mesh routers costing far less than THREE HUNDRED AND EIGHTY DOLLARS each have dedicated 160MHz backhaul channels for exactly this, but for reasons I simply cannot fathom, Ubiquiti didn't include it. You can partition out your various WiFi bands and use the WiFi 6 band as a dedicated backhaul, but then you apparently lose being able to have a WiFi 6 network? Doesn't that like... oh... I dunno... DEFEAT THE ENTIRE PURPOSE OF HAVING A WIFI 6 ROUTER?!? Right now I only need the one router, because Alien does a darn good job of saturating my home with decent bandwidth, but the fact that a so-called mesh router is not good for mesh networking is pretty inexcusable. If I am misunderstanding this and somebody wants to set me straight, please do so in the comments. If you are needing a mesh network, I would absolutely look elsewhere.
Alien Band Partitioning
As mentioned above, you can partition out the three bands on the Alien and give them each their own unique SSID, or leave them combined on the same SSID (which is what I did). The three bands are 2.4GHz and 5GHz WiFi 6 bands plus a 5GHz WiFi 5 band. I had toyed with the idea of separating out a band exclusively for my security cameras, but it ultimately wasn't necessary, as everything works just fine as it came out of the box.
Alien and My Conclusions
In the end I have to say that I'm lukewarm on the Amplif Alien. The shitty, under-powered app was enough to sour me all on its own... but the lack of a dedicated mesh backhaul and total lack of future-proofing just added to my dissatisfaction. I struggled with whether or not I wanted to return it or keep it for a couple weeks... but ultimately kept it because it fit my current and near-future needs just fine and I didn't want to be bothered. If I were starting all over, I would probably seriously look at the Netgear Orbi 6, which seems a bit more powerful and far more future-proof... but I think you have to buy them as a mesh pair, and that's $700 I don't have. If you aren't looking for pro features, don't care about future-proofing, and just want a WiFi 6 router with good coverage and great speeds... and have THREE HUNDRED AND EIGHTY DOLLARS burning a hole in your pocket, then perhaps the Alien Amplifi by Ubiquiti is for you.