Posted on October 2nd, 2022

I may be mired in wildfire smoke and barely able to breathe, but have no fear... because an all new Bullet Sunday starts... now...

• Behind! If you're old like me, get a colonoscopy, y'all...
The fact that Ryan and Rob are willing to use their celebrity for important stuff like this is why I love Ryan and Rob.

• Ch-Ch-Ch-Changes! Just an FYI that Changeland, one of my favorite films of 2019 is now streaming on Amazon Prime. As if the fact that it's gorgeously shot in Thailand isn't enough, the closing credits features Thai cats! It's a bit deeper movie than this trailer lets on, but it's fun too...
I own the film, so I can watch it any time I want... but I will be giving it more than a couple views on Amazon just to give it some love for studio execs who need to be making more films like this.

• Diego! Well, crap. Now I love Diego Luna even more than I already did...
If you're not watching him being brilliant in Andor, which is the best Star Wars since Rogue One, then you should get on that.

• Play On! Explain to me again how Lizzo playing a fucking flute is somehow controversial. SHE IS A CLASSICALLY-TRAINED FLAUTIST FOR FUCK'S SAKE! Just listen to this...
IT'S NOT LIKE THEY HANDED IT OVER TO SOMEBODY WHO DOESN'T KNOW WHICH END TO BLOW INTO! IT'S NOT LIKE THEY GAVE IT TO PETE TOWNSEND WHO SMASHED IT ON STAGE! IT'S NOT LIKE LIZZO SHOVED IT UP HER ASS AND SHIT IT OUT ON THE CONSTITUTION WHILE KICKING A PUPPY. AND TELL ME THAT BEN SHAPIRO EVEN KNEW ABOUT THE FUCKING FLUTE BEFORE LIZZO PLAYED IT. THE WAY THIS PIECE OF SHIT TRIES TO CREATE FAUX OUTRAGE TO CATER TO PEOPLE WHO JUST WANT TO BE MAD ABOUT EVERYTHING ALL THE TIME IS THE ACTUAL FACE TATTOO PHENOMENON AT WORK...
But that's not all... how the fuck is Lizzo twerking with a slave-owner's crystal flute more disrespectful than it's past-owner James Madison LITERALLY ENSLAVING PEOPLE? I will never in a million years be able to wrap my head around the faux outrage and blatant hypocrisy of these assholes...
Good on Lizzo. I hope she keeps pissing people off for a very long time.

• Expired! Petco rewards points used to expire after 90 days. Then it was 45 days. Now it's 30 days. They really, really don't want you to be able to cash in your points. I look forward to the email telling me that they expire in 24 hours. Guess the only thing I'm buying there now will be their bulk kitty litter... and it's probably cheaper and more convenient to get it from Chewy anyway, so maybe not even that. In adjacent news... look forward to your local Petco announcing that they will be closing soon.

• Avalon! I have only ever been a casual fan of Brian Ferry and Roxy Music. That being said, I played there Street Life: 20 Greatest Hits album to death, and still fire it up from time to time...
Most of my favorite tracks from Roxy Music is from their masterpiece album Avalon. Which is why this look at the album and its recording is so cool to see...
And... now I'll be listening to Street Life on repeat for the rest of the evening.

Until next Sunday then. Here's hoping your air is smoke-free.
Tags:
Assholes
,
Bullet Sunday
,
Fucking Assholes
,
Hipocrisy
,
Movies
,
Music
,
News
,
Television
,
Worthless Pieces of Shit
,
YouTube
Categories:
Bullet Sunday 2022
,
Movies 2022
,
Music 2022
,
News – Politics 2022
,
Television 2022
—
Click To It:
Permalink
—
2 Comments: Click To Add Yours!
Posted on October 15th, 2021

"Well, shit, I'm alive. The COVID booster didn't kill me. So I guess I have to go into to work."
Zero side-effects from the third Pfizer shot. Which worries me a little bit... how do I know that it did anything if there's no side-effects from my immune system getting charged up with COVID-fighting instructions? Though I didn't have side-effects the second time either (only the first, where I had a fever for three hours and soreness in my arm for three days).
In my county here in Central Washington, there's been 102 COVID deaths out of 10,912 total cases since tracking of the pandemic began. Right now they say that 638 people have tested positive in the first half of October. When I check the CDC site, it says that the eligible population here in my county is 73.6% vaccinated and 34 new people have been admitted into the hospital. If it's accurate, that's really good news. Given the number of anti-maskers out and about, I really expected us to be under 50% vaccinated. Some counties east of me in Idaho and Montana are 40-some-odd-percent, which is pretty scary. But not as scary as those counties sitting at 20% once you head over to the Dakotas. Holy shit. It's like a COVID incubater in some parts!
Which is how we end up with COVID variants like Delta, Beta, Gamma, Lambda, Mu, and the variants of those variants. It's all pretty crazy when you consider that the virus will only become more communicable and deadly as it changes to survive.
But that's nothing compared to the heinous level of idiocy coming out of the mouths of pieces of shit like Marjorie Taylor Greens, who is just the worst...
God she's awful. There's really no level to which this horrific excuse for a human being will stoop. I am disgusted to my core.
I'd say that I can't wait for her to get COVID, but you just know that she's been vaccinated. Pandering to her base with this hipocritical bullshit is how she stays in office.
Tags:
Assholes
,
Bat-Shit Insane
,
Bullshit
,
COVID Deniers
,
COVID-19
,
Fuck This Shit
,
Fucking Assholes
,
Fucking Scumbags
,
News
,
Pandemic
,
Pig-Fucking Assholes
,
Politics
,
Stupidity
,
Truly Stupid People
,
Vaccination
,
Worthless Pieces of Shit
Categories:
News – Politics 2021
—
Click To It:
Permalink
—
2 Comments: Click To Add Yours!
Posted on December 22nd, 2019

The holidays are nigh but there's still something to be happy about, because an all new Bullet Sunday starts... now...

• Movies? Does anybody at Apple actually use their shit? Because not a damn day goes by that I don't find bugs or serious problems. Just now it's trying to find a movie in the TV app. But everything is so fucked up that you really can't. Even worse? When you try to browse for it by selecting "movies," they show you a bunch of shit THAT ARE NOT EVEN FUCKING MOVIES...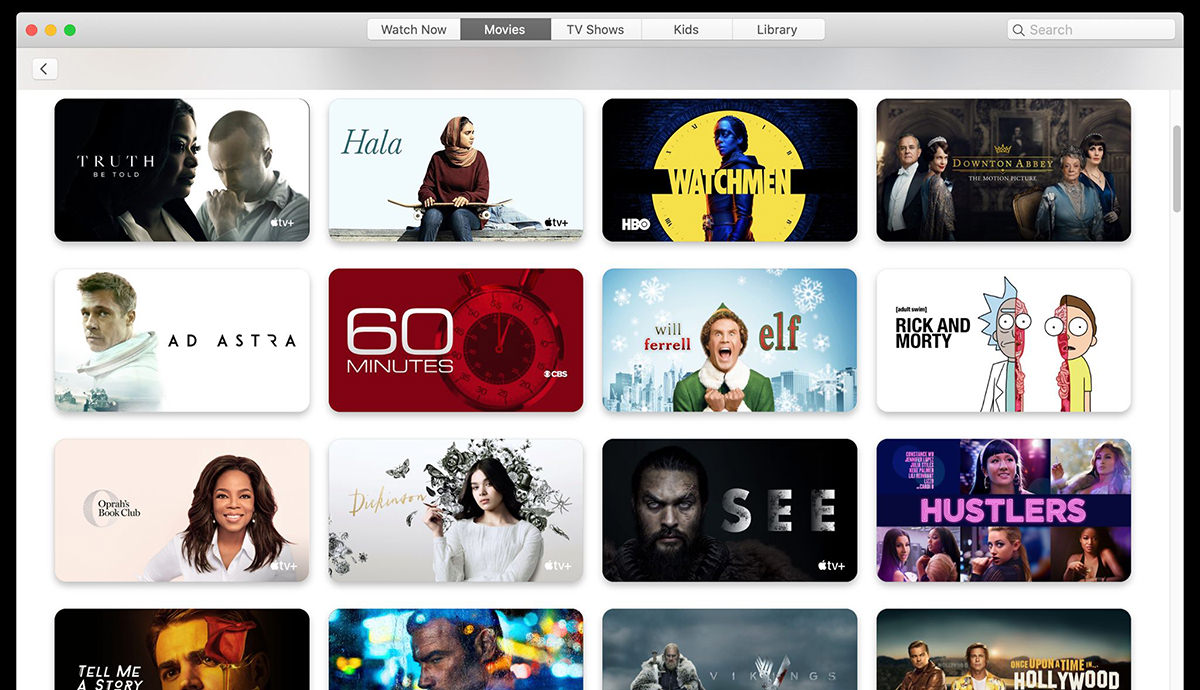 Such a waste of time. iTunes may have sucked, but at least it wasn't a useless pile of shit.

• Remember. It's weird watching this and knowing EXACTLY what's happening. Not remembering, but not wanting to admit you don't remember. Not understanding, but being polite and pretending anyway. Not having any clarity of who, what, when, and where, but dismissing your confusion. Then an occasional moment where the dots connect and there's a spark of... something... in their eyes...
Hardest days of my life.

• a-ha! No, it's not as refined as the version that came after... but it's still a brilliant, beautiful, haunting song here...
It's so sad to me that a-ha is considered a one-hit wonder when they had so many remarkable songs following Take on Me. That first album is brilliant. But so are the ones which followed.

• Cuteness. I could spend hours watching raccoon videos on YouTube. I'm trying to cut down, but... man... BABY raccoons...
Nature is so amazing that it hurts.

• Retirement? Reality is a harsh mistress...
The future is scary, yo.

• Transcript? I'm just... it's just... I mean...
WHAT. THE. ACTUAL. FUCK?!? The transcript LITERALLY PROVES THAT PRESIDENT TRUMP IS GUILTY. If everybody willing to testify says he is guilty... and everybody who says he's innocent refuses to testify... doesn't that say ANYTHING about what's happening here? Does the truth even matter? Talk about reality being a harsh mistress. The future is terrifying, yo.

• Mystery. How Wrabel manages to keep churning out such beautiful work song after song after song is a mystery. This is a Christmas song for heaven's sake!
Happy Christmas, if that's your thing!

Have a great holiday...
Posted on August 8th, 2009

When you turn on your television and see Spencer Pratt and Heidi Montag staring back at you, do you wonder "Why in the hell are these dumbasses on television?"
When you pick up a magazine and see Spencer and Heidi on the cover, does your mind boggle as you try to understand why anybody should care about these two brain-dead morons, let alone give a crap about their stupid antics?
When you go to a movie premiere and see Spencer and Heidi show up so that Spencer can promote his wife's Christian values in a porno mag, do you puzzle over how two such worthless pieces of shit got to be famous?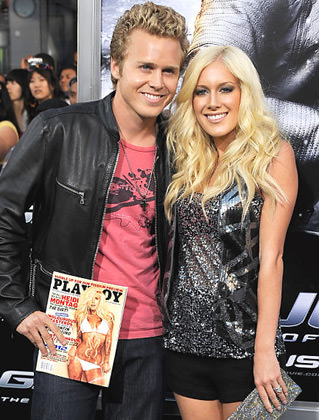 Well wonder no more!
Now you too can set aside shame, decency, and personal values to become a media whore of your own, thanks to my new book...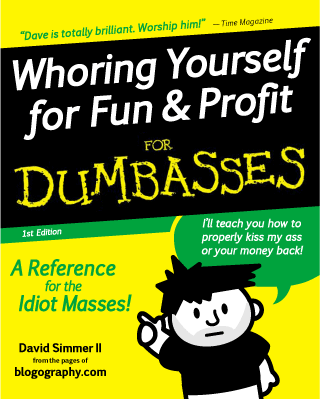 With the advice found inside, you too can become a media sensation with absolutely no talent or brains at all. Just follow the simple instructions, and you'll be whoring your way into the spotlight in no time!
So what are you waiting for? Turn your useless life into cash by ordering your copy of Whoring Yourself for Fun & Profit for Dumbasses today! What have you got to lose?*
*Except your dignity, pride, and self-respect, of course.