Posted on November 12th, 2017

Put on that winter jacket, because winter is here along with an all new Bullet Sunday, which starts... now...

• Save It! I hate, hate, HATE the messing with the clocks twice a year. Daylight Saving Time ended a week ago, but my cats still haven't fully adjusted. Hell, I haven't fully adjusted yet either. At some point somebody has to end this madness.

• Canes! Back when I was traveling to L.A. twice a year, I decided to take an early run to Disneyland to get a handmade candy cane at Christmastime. It was insanity. The line to get one was crazy-long (now I guess they just hand out wristbands or something?) and they are really expensive ($10 when I bought one... probably $15 now!). And yet... a freshly made candy cane during the holiday season? Magic! Worth every penny! I'd buy one again... though the standing in line to get a wrist band is kinda a waste of Disney-Time! And speaking of raising canes at Disneyland, I just found this cool video...
I wonder how tough it is to make your own candy canes at home?

• Reveal! After watching a show on the beautiful restoration of Michelangelo's Sistine Chapel, I became more than a little obsessed with the art of restoring art. And why I've been captivated with art dealer Philip Mould's Twitter feed where he's been sharing some restoration photos like this one...
Amazing. I need to see if I can track down a blog where they keep track of stuff like this.

• No Wonder! This is incredibly fucked up.

• It's a Wonder! This, on the other hand, is incredible.

• Dance! This is the best thing I've seen on the internet this week, even though it's four years old...
Except bats eating grapes. It doesn't get cuter than bats eating grapes...
There. I can face another week now.

Time for a hot chocolate, I think. See you next week... I'll be the one bringing the bullets.
Posted on October 29th, 2017

Don't fear the reaper, because an all new Bullet Sunday starts... now...

• Benson! Robert Guillaume passed away this last week and it got me to thinking about the various roles he's played in his long acting career. Primary of which, was "Benson" on Soap (and the subsequent spin-off), where his sarcastic wit was showcased to hilarious effect. My personal favorite role was Isaac Jaffe on Sports Night, a role which is surprisingly relevant today...
You, sir, will be sorely missed.

• Think! Cost to renew my nine Nest security camera "Nest Aware" subscriptions annually? $500. Cost to renew Amazon's new Cloud Cam security camera subscription plan annually for triple the storage time and up to ten cameras? $200. This means I could essentially buy three new Amazon cameras every year PLUS get a superior subscription service for the cost of my Nest subscription alone. Gee... let me think real hard about what I should do. What to do? What to do? It's a quandary, that's for sure...

• Balls! I made falafel for the first time!
My balls were totally delicious.

• Mickey Hotel! Disney just announced that Disneyland will be getting a brand new 700-room hotel which will open in 2021...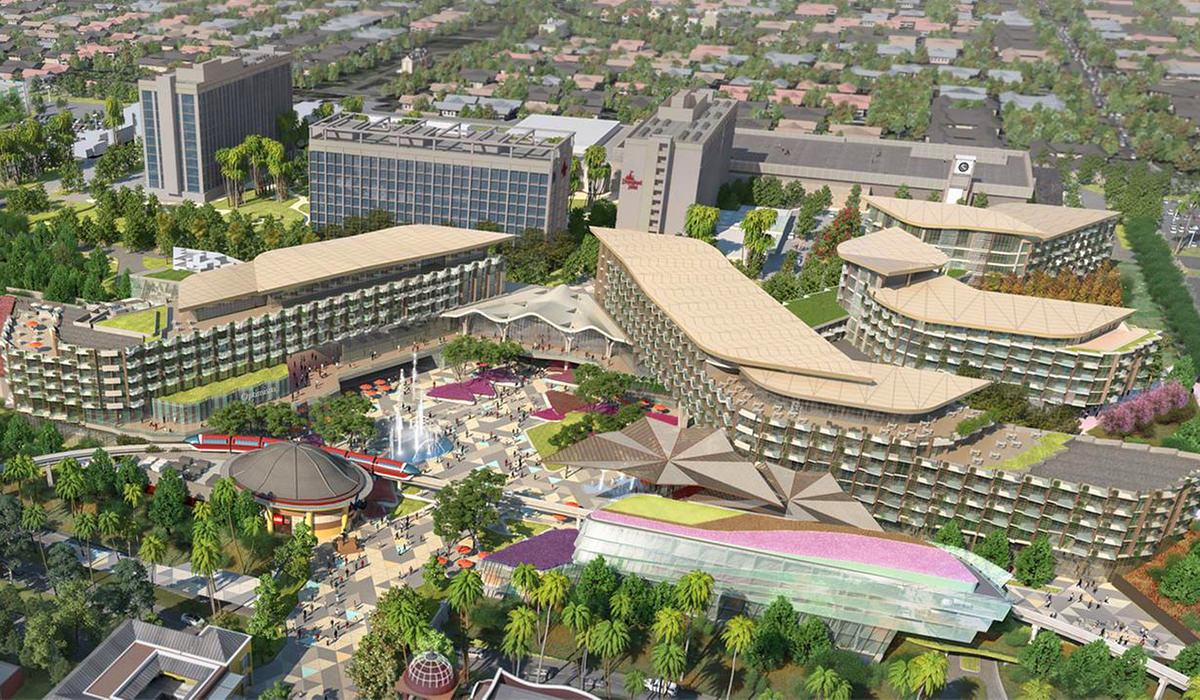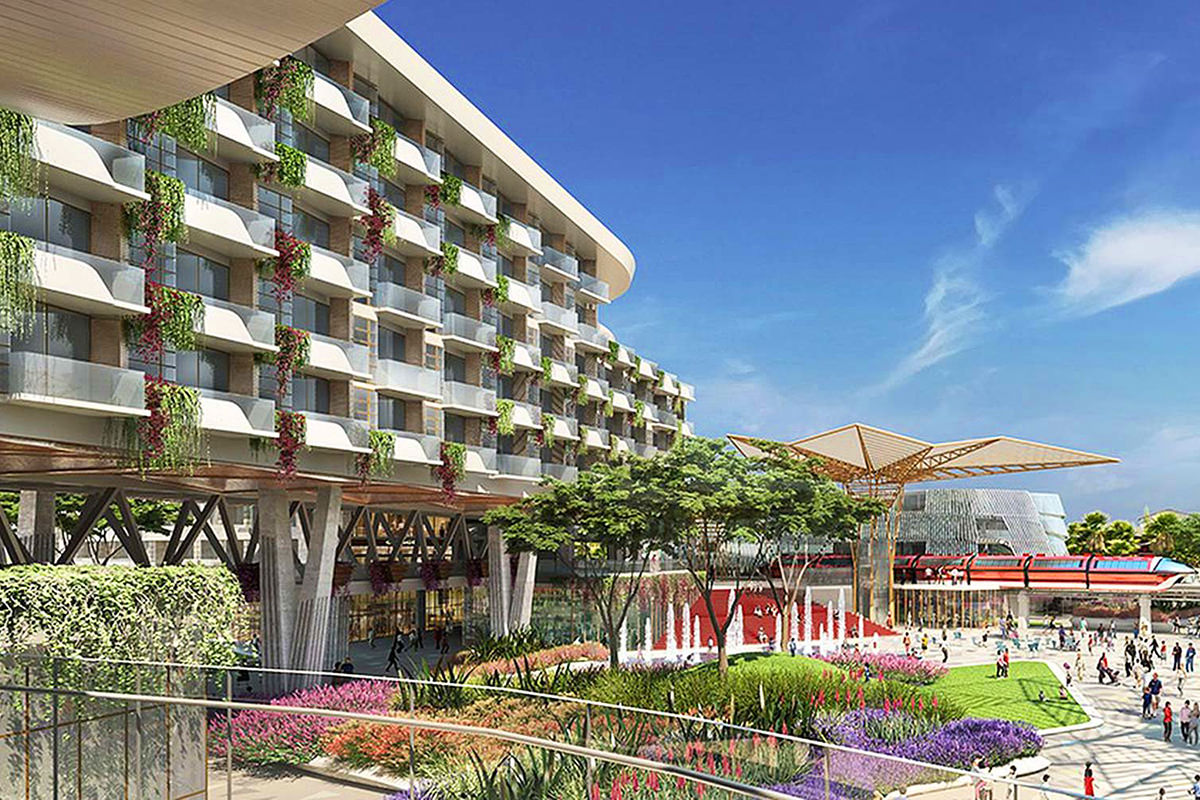 Compared to the amazing Grand Californian hotel across the way, it's kind of boring-looking. Not very "Disney-Special" to me.
The most interesting bit of information in the press release is not the hotel itself, but its location. In order to build the thing, Disney will be ripping out the West end of Downtown Disney. Which is currently occupied by ESPN Sports Zone, the AMC 12 theater, a Starbucks, The Rainforest Cafe and, ZOMFG... EARL OF SANDWICH! The LEGO Store is spared though...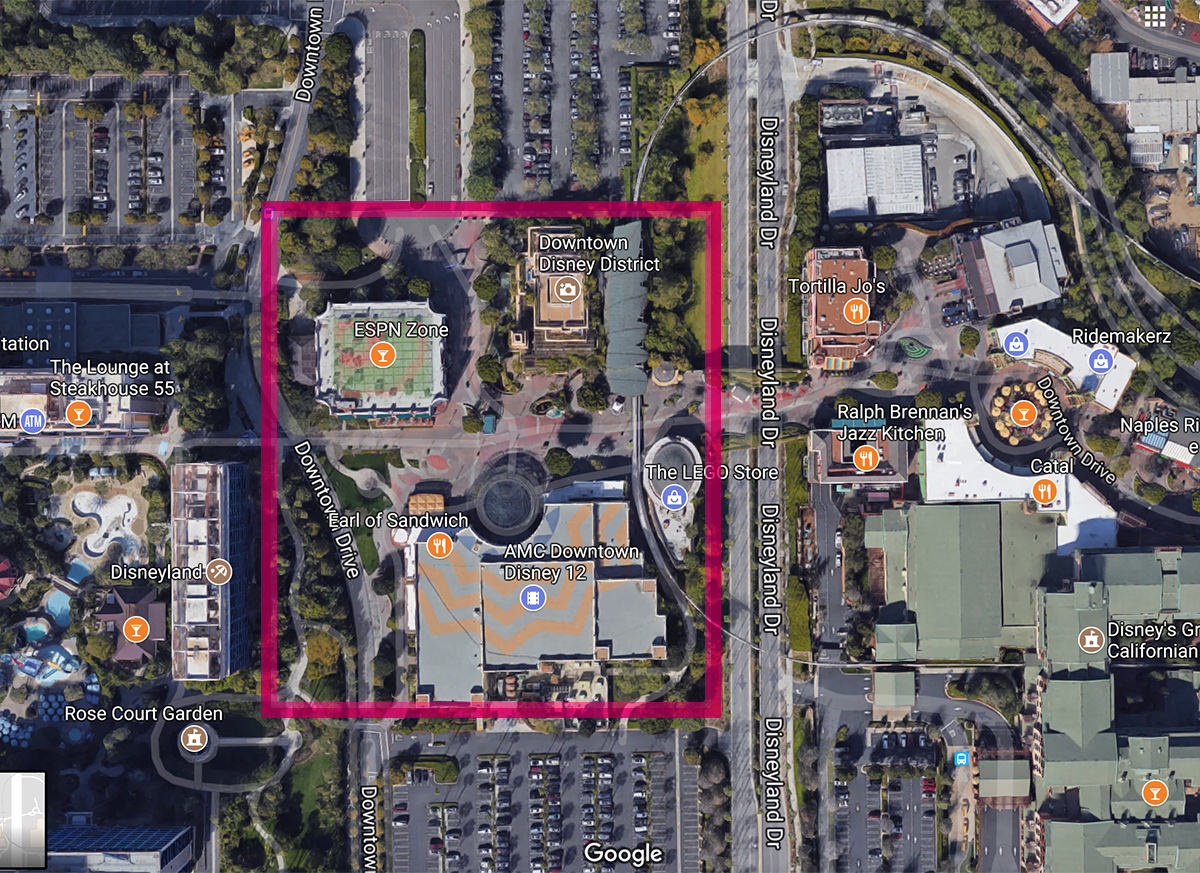 The money that a hotel generates is probably huge compared to the royalties from everything it's replacing. With this in mind, I don't know why A) They are only putting in 700 rooms when there looks like there's room for more, and B) they haven't expanded The Grand Californian (the "Redwood Creek Challenge Trail," cool as it may be, is hardly a critical part of California Adventure, so it seems a natural to rip it out and put in another 150 rooms).

• Payola! HEALDINE: Senate votes to kill new rule allowing class-action lawsuits against banks; Pence casts deciding vote. — FUCKING PIECES OF SHIT!!! No recourse now... NONE... when big banks fuck you over. You are forced to accept binding arbitration or small court settlements instead of having your day in court. And, of course, data breaches due to shitty bank security are now basically a crime without meaningful punishment. All because the fucking Trump Administration and their Republican lackeys have their mouths so deep on Big Finance cock for cash that they don't give a shit who it hurts... so long as the big paychecks keep coming their way. And OF COURSE they are re-framing this act of utter submission to bank payola as a "good move" for consumers because "frivolous lawsuit costs get passed on to consumers." All 100% bullshit of course. We STILL end up paying... just in a different way. Meanwhile, any and all protections are now ALL THEIRS. Looks like we've got ourselves a government by the wealthy, for the wealthy.

• Harrassment! Everywhere you look, it's the same damn thing. I do not know Robert Scoble personally. All I know is that he worked at Microsoft then got famous for conducting crappy "WHO ARE YOU?!?" videos with happening tech industry people. I also know that he went into rehab a couple years ago because he was accused of shitty and harassing behavior towards women when he was drunk and high.
I also know one of these women.
Now it's coming out that he didn't stop with his shitty harassment of women AFTER he was supposedly "cured" of the things he blamed his behavior on. Typical of these types of situations, people are defending him because he's married and supposedly a "good guy." Meanwhile... there's the women whom he's sexually harassed who are having to deal with the fallout of HIS crap.
I believe them. Scoble may be married with kids and be known as a "good guy" in certain circles, but obviously that does NOT exclude him from being a habitual sexual harasser.
On his Facebook profile, Scoble has the douchey description of himself as "Authority on what is next," even though he just talks about what OTHER PEOPLE are doing. I hope "what is next" for him is somebody pressing charges. The more times that shit like this results in public shaming and even more public punishment, the more these reprehensible fuckers will think twice before being assholes to their fellow human beings.

All our times have come, see you for more bullets next Sunday!
Tags:
Assholes
,
Bullet Sunday
,
Disney
,
Disneyland
,
Falafel
,
Food
,
Fucking Assholes
,
News
,
Politicians
,
Politics
,
Television
Categories:
Food 2017
,
News – Politics 2017
,
Television 2017
—
Click To It:
Permalink
—
0 Comments: Click To Add Yours!
Posted on July 20th, 2017

I generally fast-forward through commercials because most of them are total shit and not worth watching. This is easy to do because I watch almost all television from my DVR. The only time I let commercials play is when I'm watching TV live... or if I'm working (or otherwise distracted) and can't be bothered.
Like tonight.
There I was, working away with the television playing in the background when...
... a sound plays.
A familiar sound.
The sound of the announcement tone for Disney's Star Tours!
What the heck?
Turns out it's a commercial advertising the Main Street Electrical Parade, where a Disney cast member is walking through a giant warehouse filled with relics of Disneyland past. I must have freeze-framed a dozen times on my DVR trying to figure out what everything I was seeing could be. Reviewing it all was a nostalgia-laden walk down memory lane.
The commercial has been around for months, but this was my first time seeing it.
When I was Googling to see if Disney had posted it to YouTube, I found that there were a couple of videos calling out all the "Easter Eggs." Like these...
Now THIS is a cool commercial that is actually worth your time to watch!
Assuming you're as big a Disney geek as I am, that is.
Posted on March 5th, 2017

Pull out your Mickey Mouse ears, because a Very Special Disney-centric Bullet Sunday starts... now...

• I'm Going to Disneyland. Now that Disneyland has no "off-season" and is hellishly busy all-year-long, there's really only one piece of advice I can offer: Don't make your Disney vacation all about standing in lines. Stay multiple days... divide up the attractions you want to see so you're only standing in line for them part of every day... then get the hell out of the parks to have an actual vacation. Go see what else L.A. has to offer (which is a lot)... or just hang around the pool at your hotel. Spending the whole day in a massive crowd at Disneyland is just guaranteeing that you'll need a vacation from your vacation.

• Princess Vader. I honestly can't decide whether this is the coolest thing ever, or just pain wrong...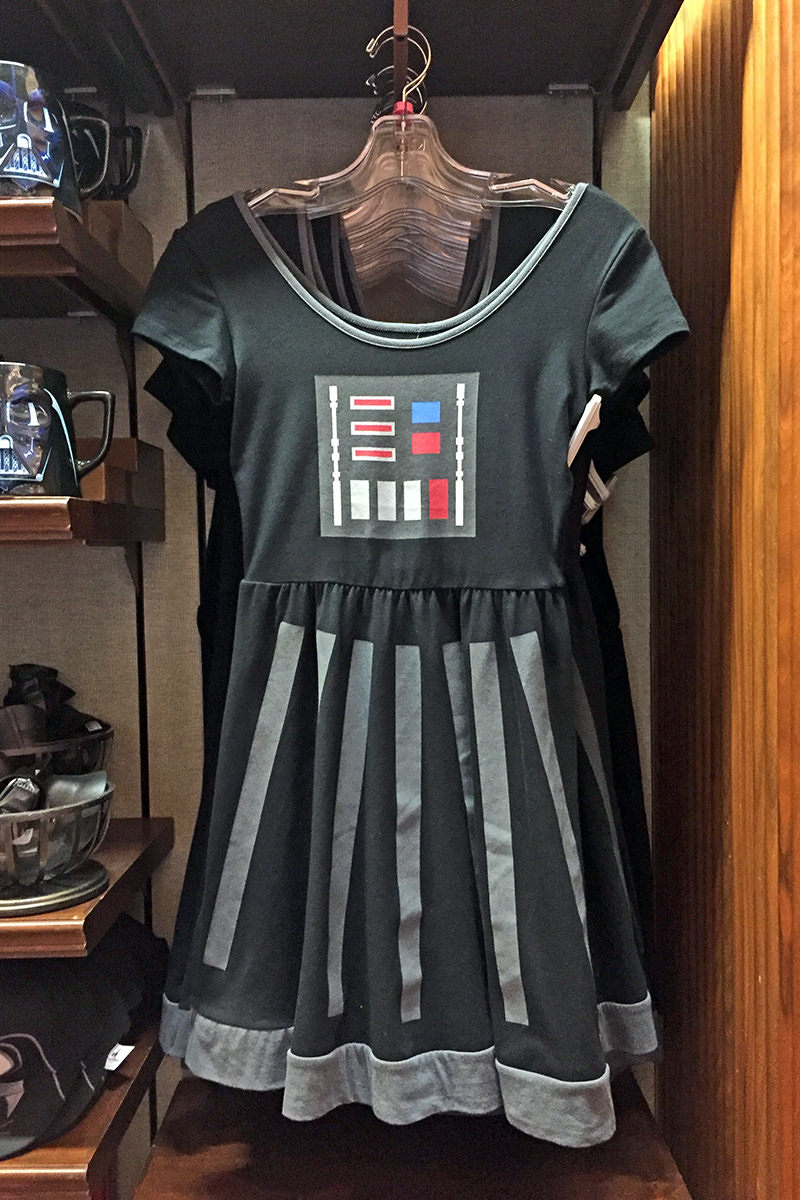 All I know is that Disney's marketing of Star Wars is way off the charts.

• Reimagineering. Earlier this week I brought up the new Star Wars Land additions coming to both Disney parks. This is on top of Disney World getting a Pandora: The World of AVATAR "land" in Animal Kingdom. New stuff at the Disney parks is always great... but I can't help but wonder when rides like Jungle Cruise and Haunted Mansion will get an upgrade. Surely there's a way of remaining true to the original concept while enhancing the attractions with today's technology? Otherwise I have to wonder how much longer they can last. The parks (particularly at Disneyland) do not have infinite space to expand, so the worry is that even "E-Ticket" attractions will eventually be eliminated in favor of something fresh to keep the crowds coming.

• Grey Stuff. Yesterday I mentioned that I checked-off one of my life goals at Disneyland... eating Grey Stuff Gâteau (which they spell "Gateâu") and Gaston's Brew. Nobody seems to know what that meant. Well... "Grey Stuff" is something served to Belle in Beauty and the Beast...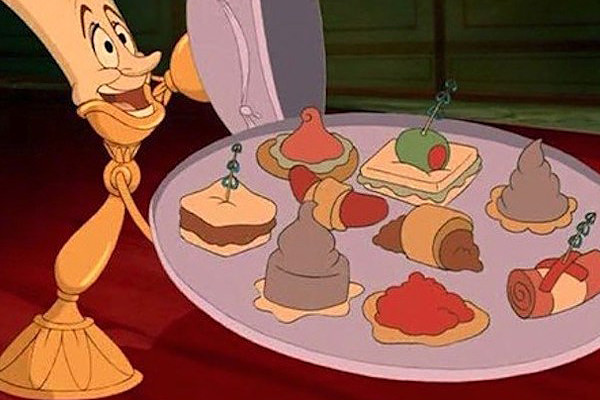 This is what the real-life version looks like from The Red Rose Taverne in Disneyland's Fantasyland (a temporary restaurant re-dress in celebration of the live-action Beauty and the Beast movie coming in March...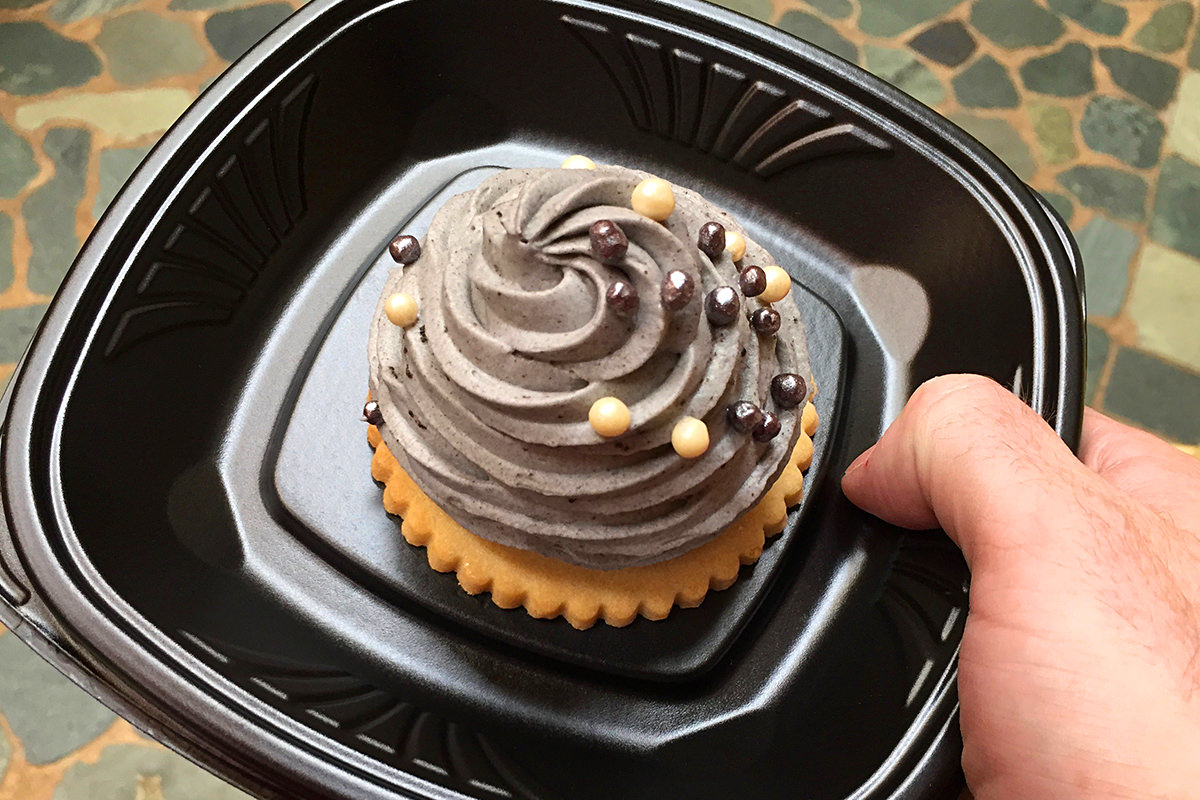 It's a white chocolate mousse that's been tinted grey then heaped on a small red velvet cake that has raspberry in it...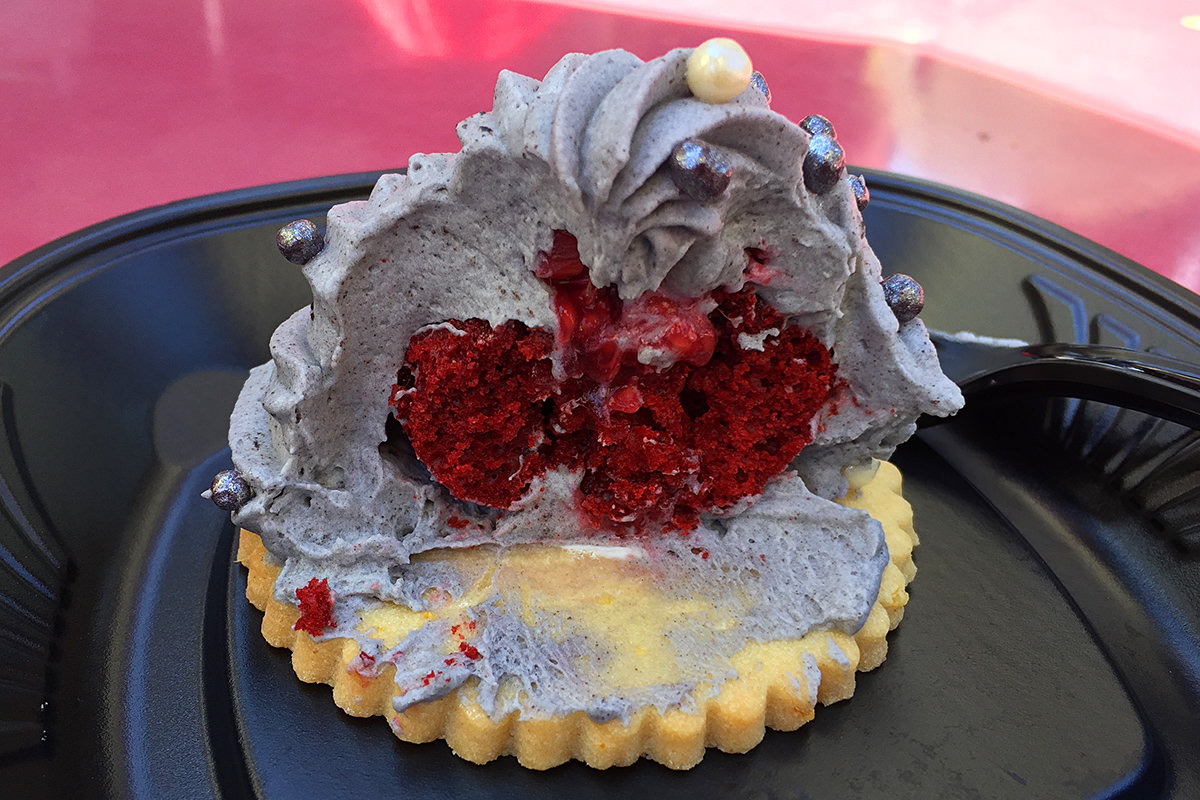 It comes piled on a shortbread cookie that seems to have a rose drawn on it?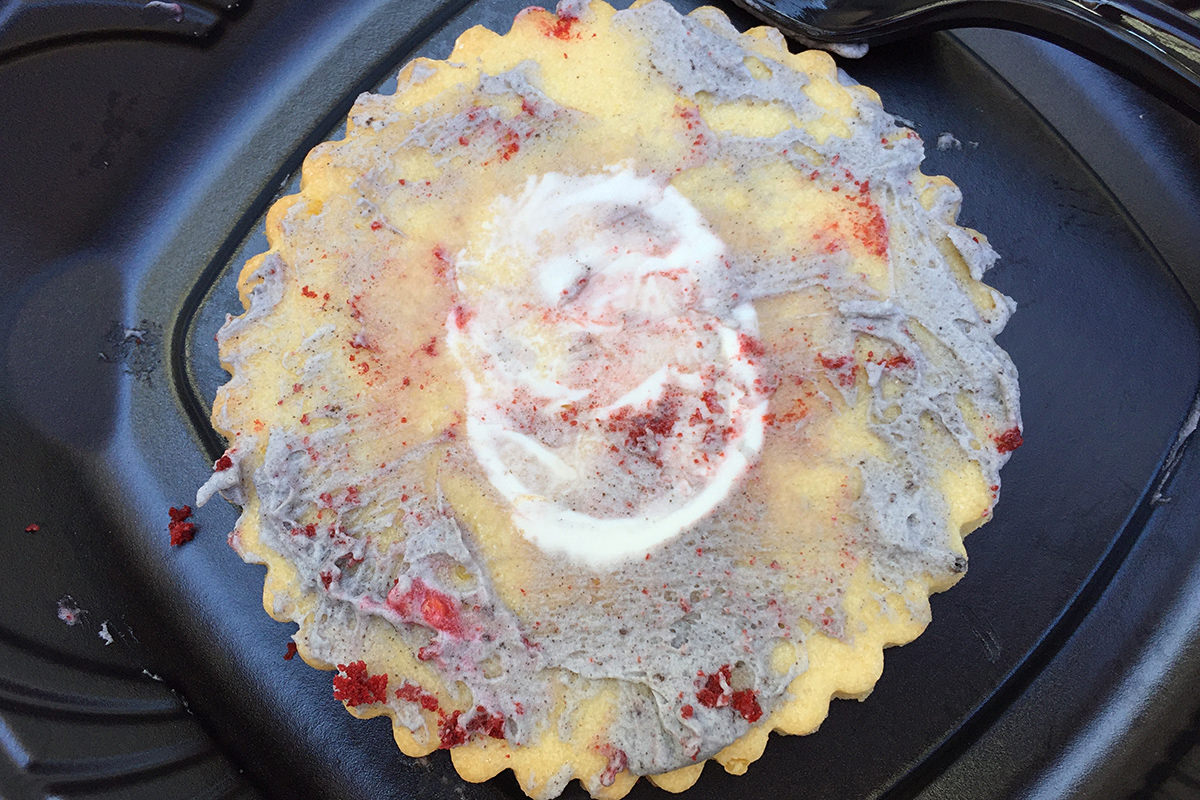 It's not too bad. The cookie is dense and bland rather than buttery and flakey... and the whole ordeal is too sweet for me... but it's totally edible. Gaston's Brew, on the other hand, is excellent. It's apple-mango juice that's topped with a passion fruit foam "head." Something I'm going to have to try and make at home.

• Magical Morning. One of the benefits of buying your ticket to Disneyland online is that you get a free "Magic Morning" on tickets for three days or more. "Magic Morning" means that you get into the park an hour before opening. In my case, that meant 9:00am instead of 10:00am. This used to be available only to registered hotel guests at one of the Disney hotel properties... but now anybody can get it. The problem being that now anybody can get it. Which means the park gets just as crowded just as quickly as it would without magic morning. Sure you might get one or two rides in at a reduced wait time, but it's hardly the deal it used to be. I got to ride Space Mountain in 20 minutes instead of 60... but after that the lines were right back to normal. Bummer. I'd be pretty pissed if I were a hotel guest counting on this perk.

• The Sign. I could spend hours just wandering around Disneyland looking at the beautiful signage that's displayed everywhere. It's not as fun as Big Thunder Mountain Railroad, but it certainly beats standing in lines all day. My favorite signs are in Adventureland. So many beautifully-carved pieces...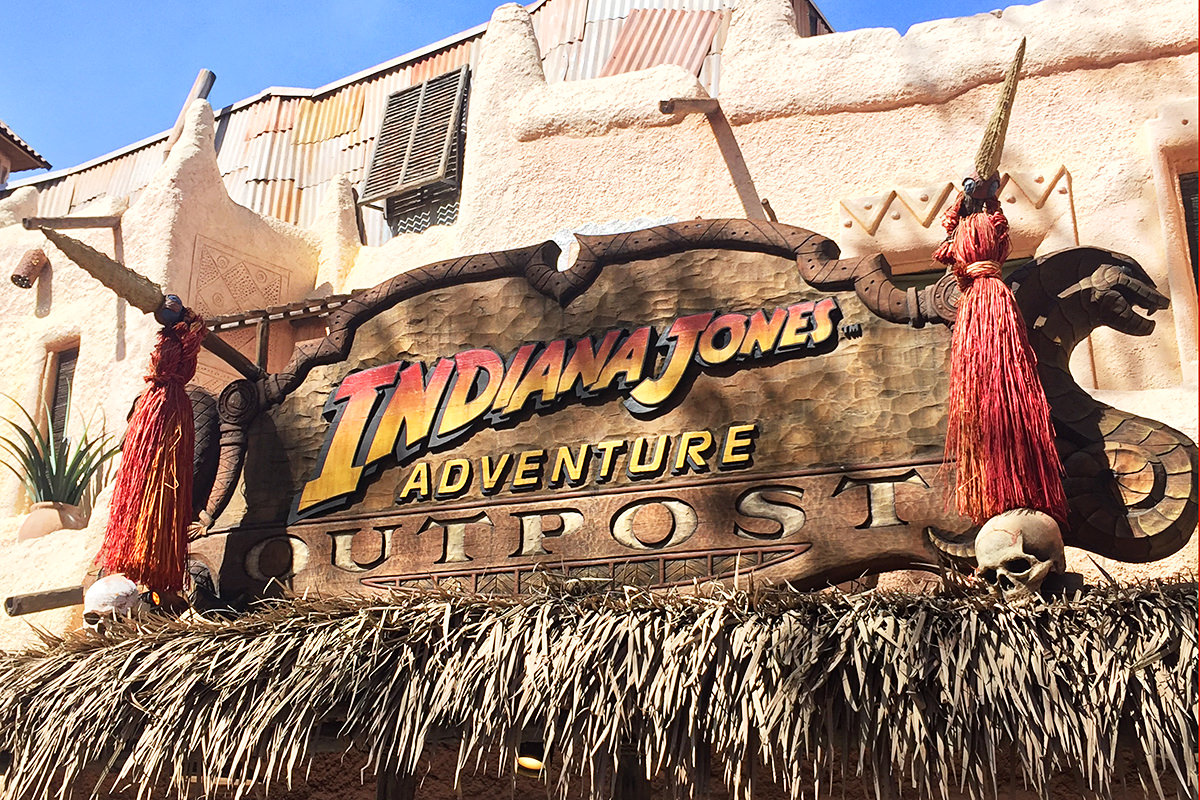 But it's not just the extravagant larger signs that are given such detail. Even small signs... like numbers on a door... are beautifully themed for the area they occupy...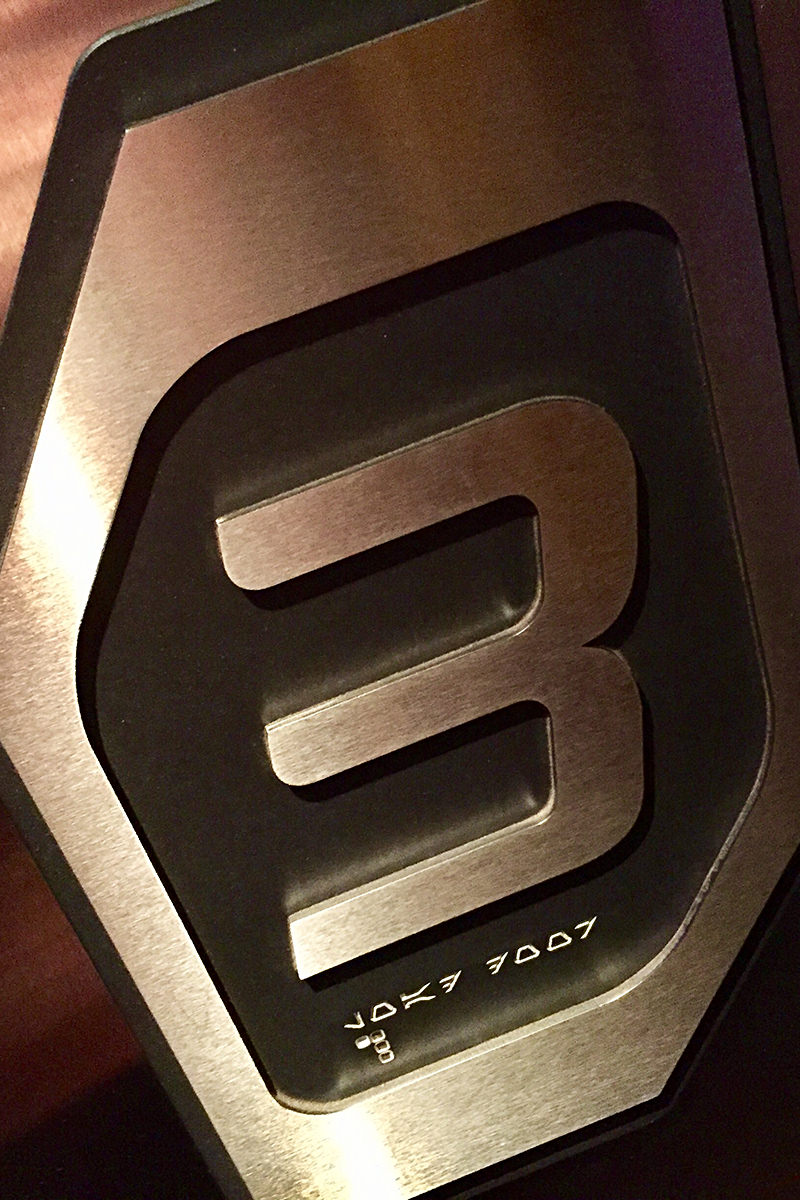 Even throw-away signs from an exit queue are painstakingly designed...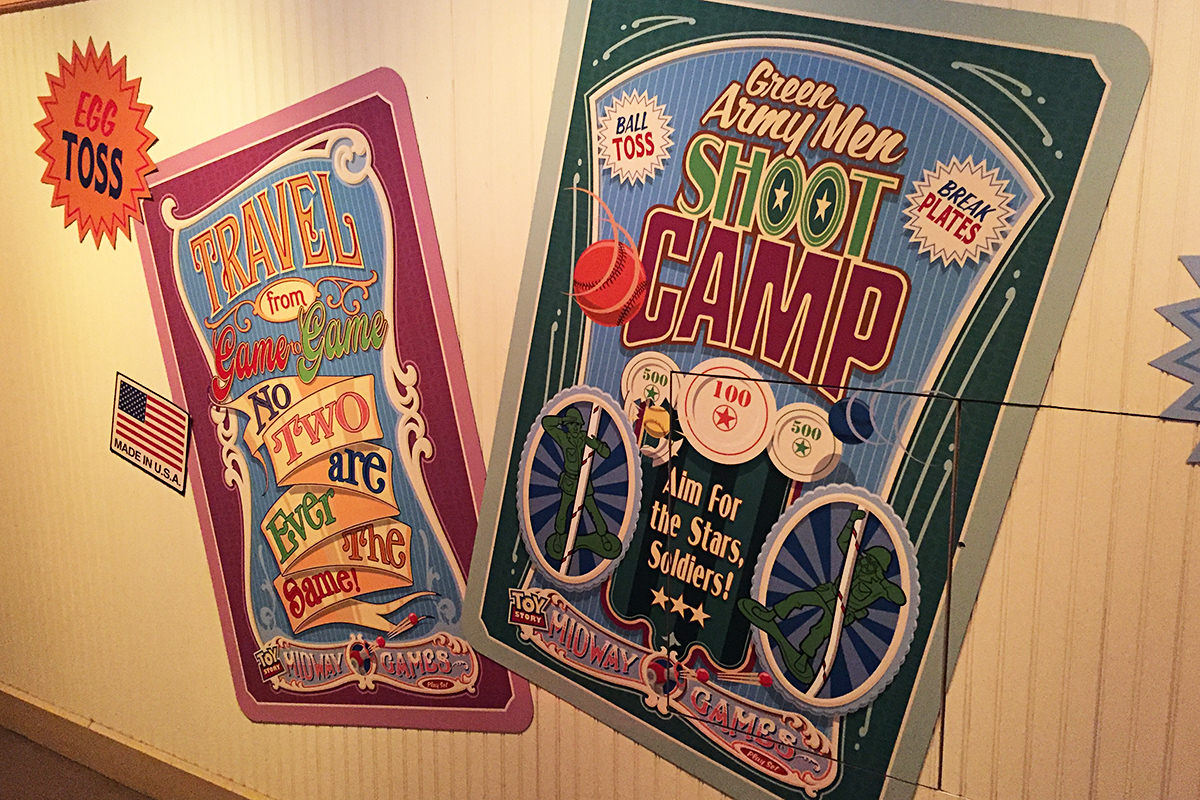 And every exterior sign is beautifully-crafted, of course...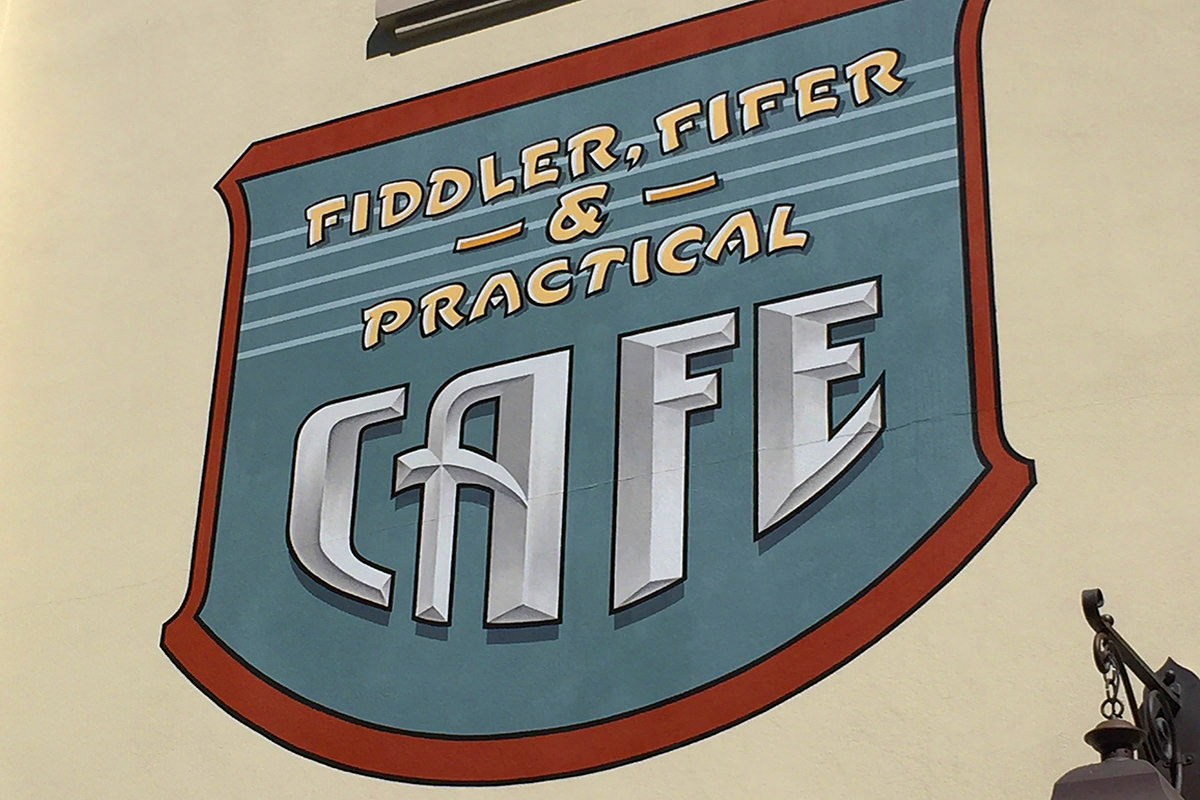 So... next time you're at one of the Disney theme parks, stop for a minute and look for the signs. They're an attraction all on their own.

And now? Heigh ho, heigh ho, it's off to work I go...
Posted on March 3rd, 2017

Last night at a wonderful early birthday dinner with friends, I had told them how proud I was that I finally managed to get Jake and Jenny trained to not jump on the kitchen counters. Yes, Jake still wanders into the kitchen from time to time but, thanks to sticky mats, his days of climbing over my kitchen counters was over.
And then... less than an hour after getting back to the hotel... I get a motion alert on my iPhone that there's movement in the kitchen. A quick check of the security cameras and, sure enough...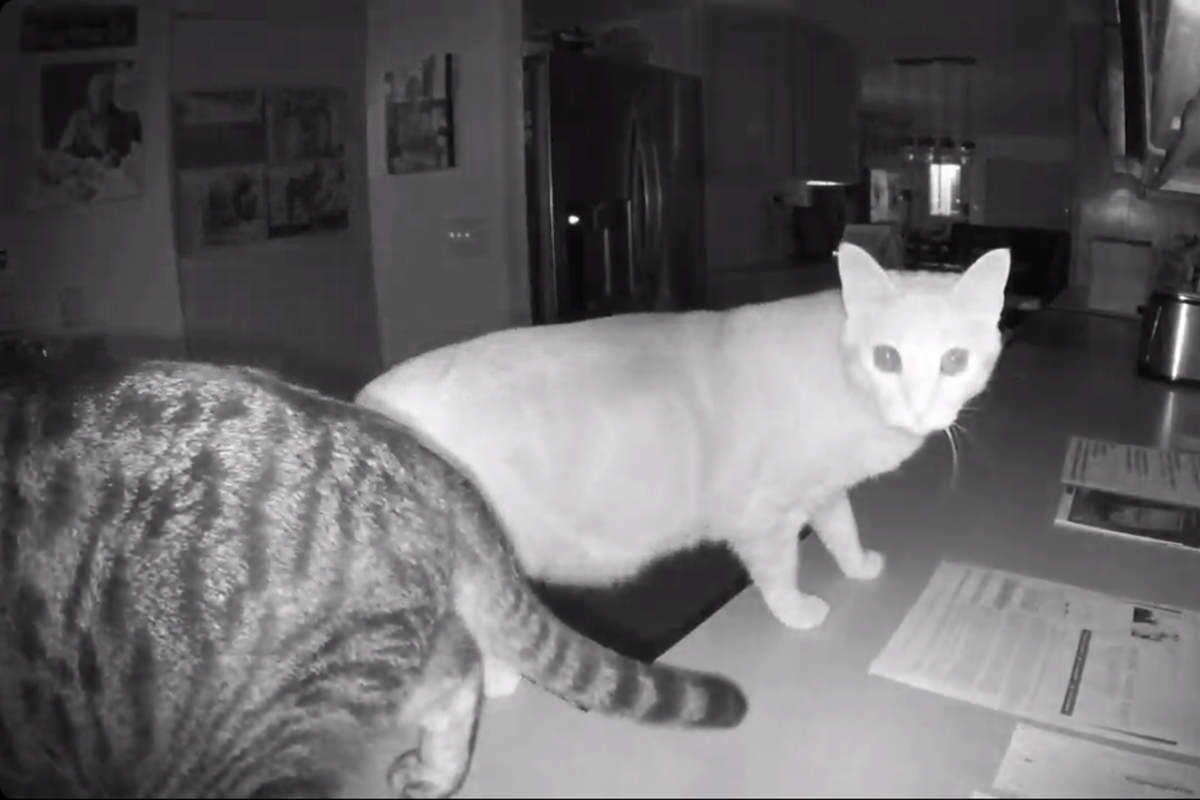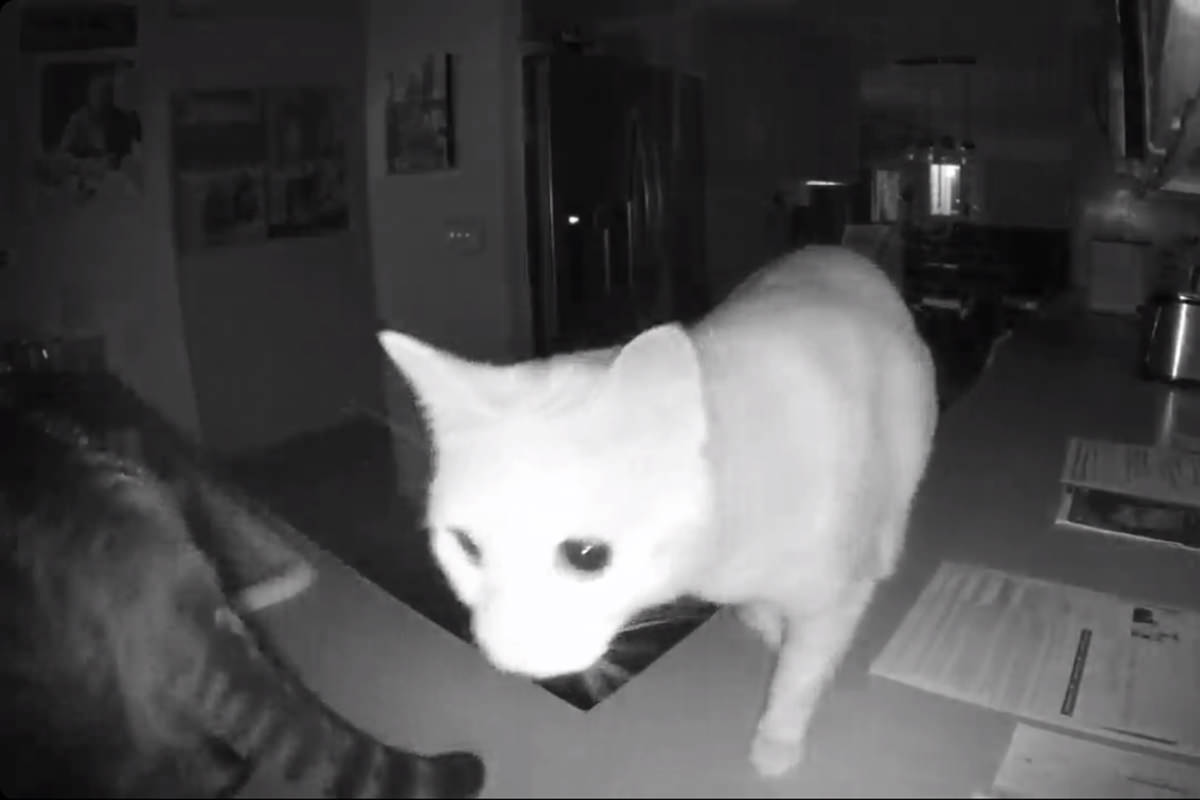 I rewound the footage to see what made Jake suddenly revolt, and was surprised to see that it was actually Jenny who was the instigator. You can see her beady little eyes reflecting in the dark on the refrigerator return before she makes a spectacular leap across to the kitchen counter...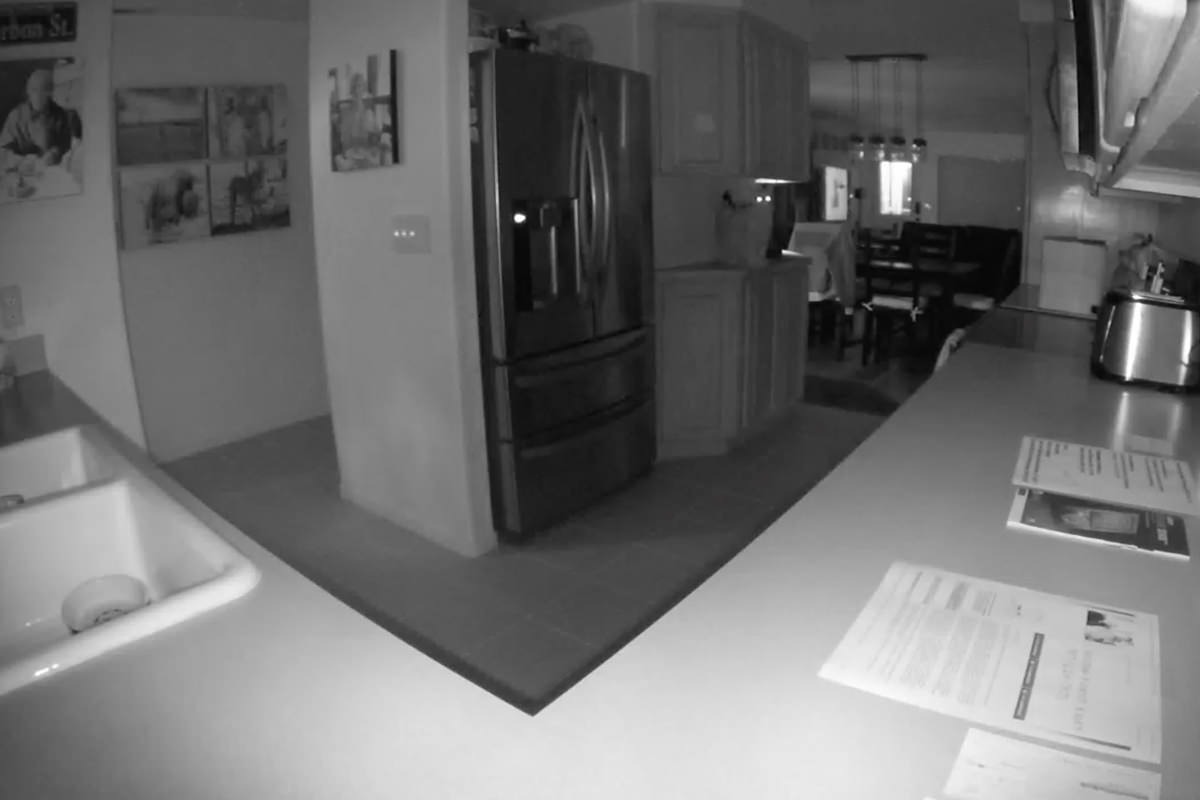 Jake hopped up a minute later...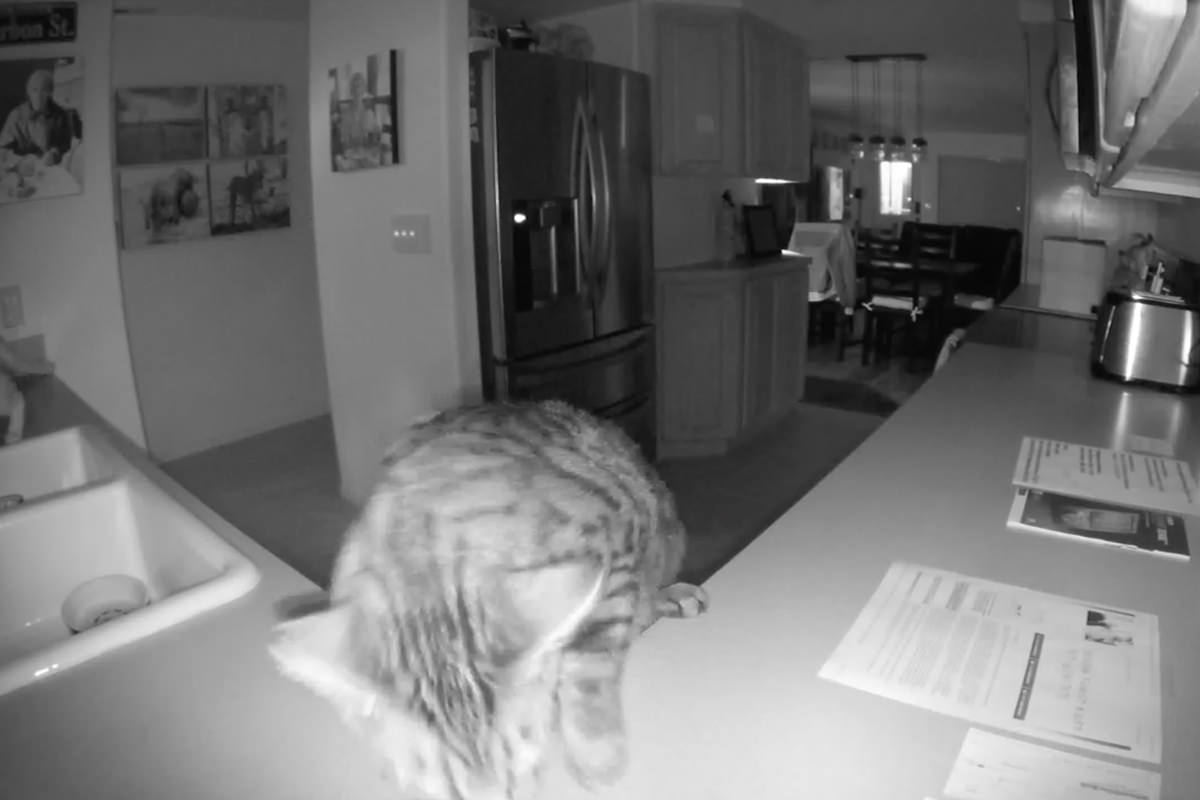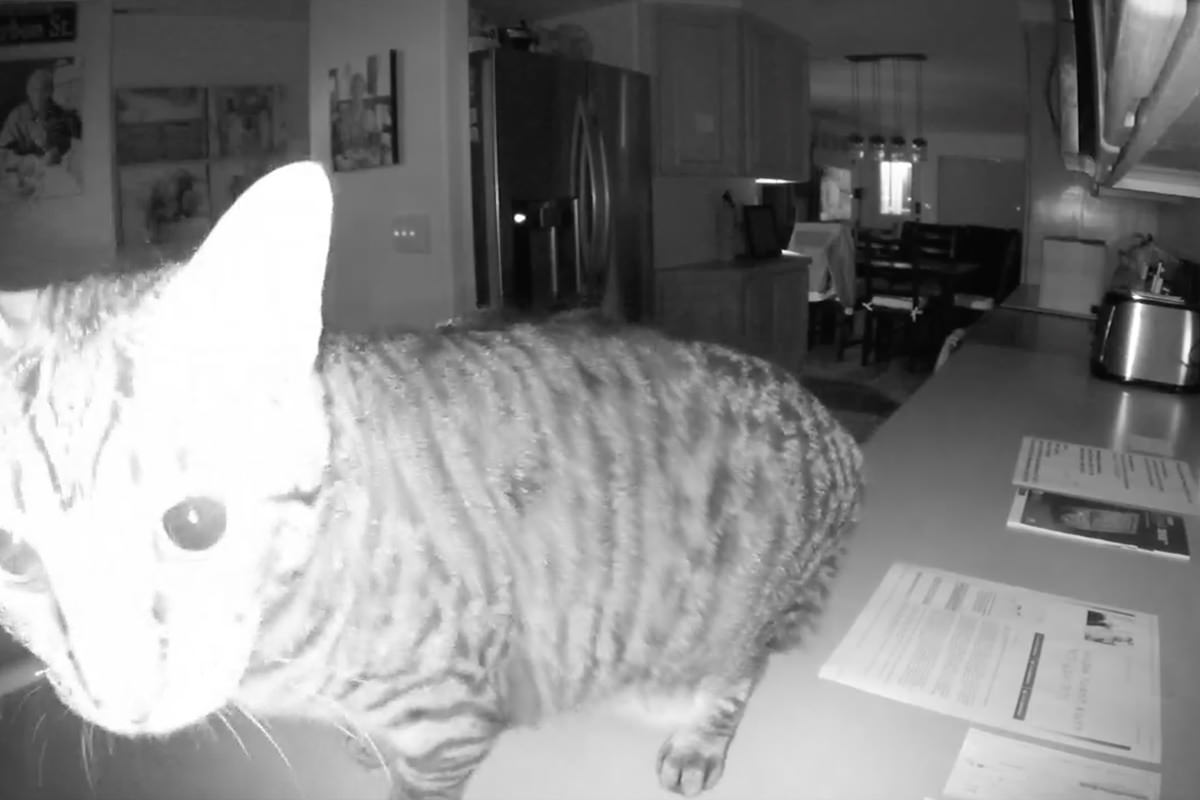 I thought Jenny had hopped back down, but nope... she was over digging in the sink...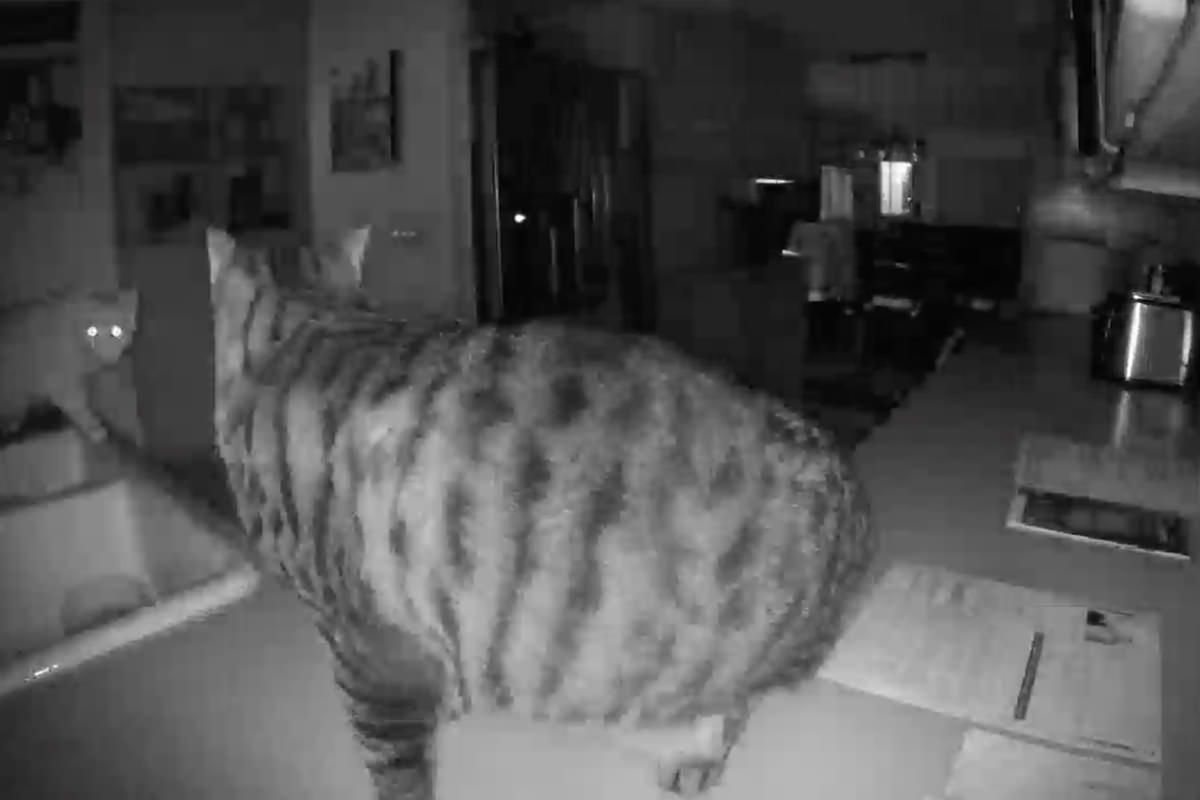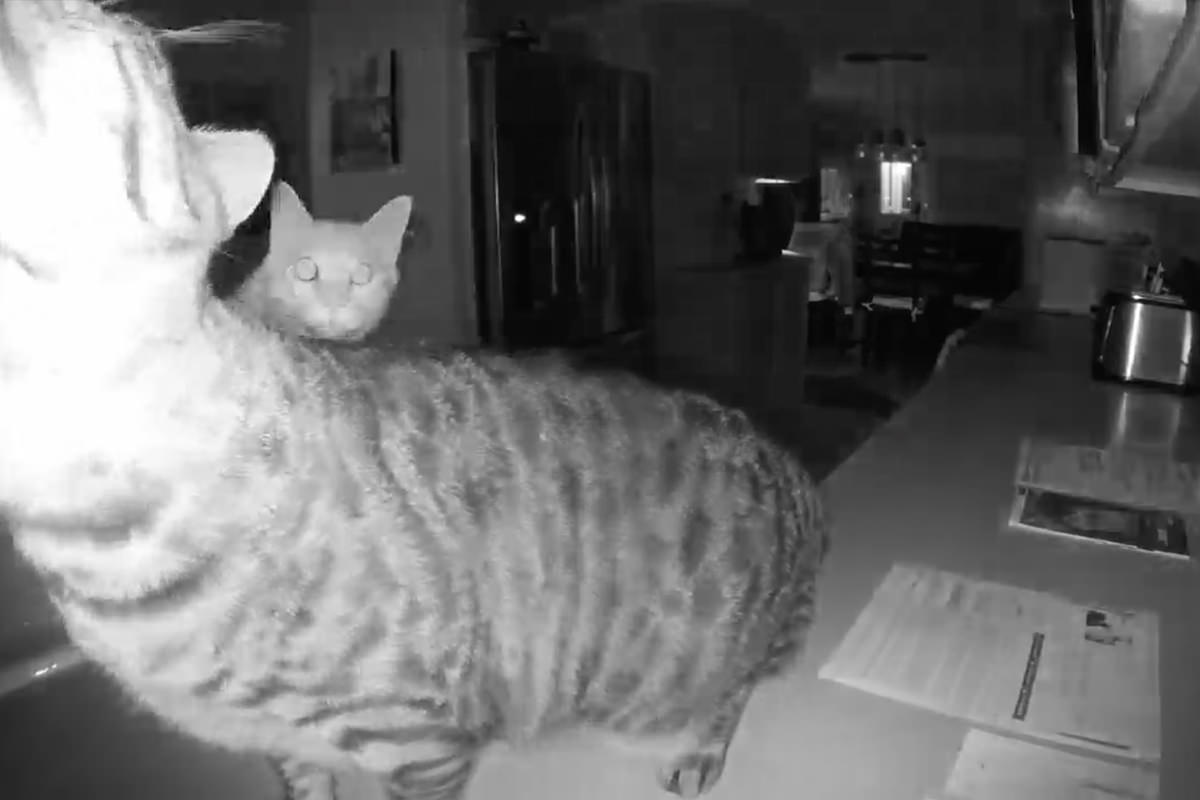 Eventually I started talking to them from the speaker on the security camera, which was all kinds of confusing for them as they started looking around trying to find out where I was. Jake seemed to think I was on the ceiling, but Jenny seemed to figure it out eventually...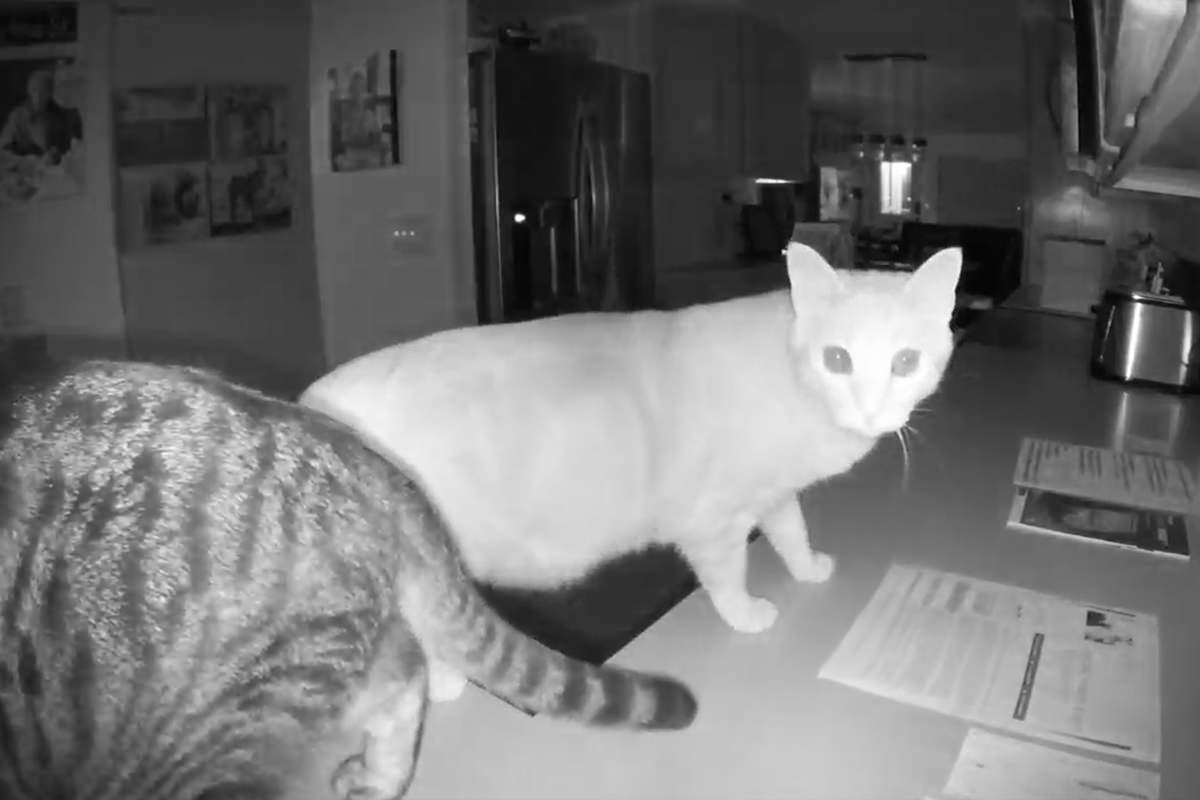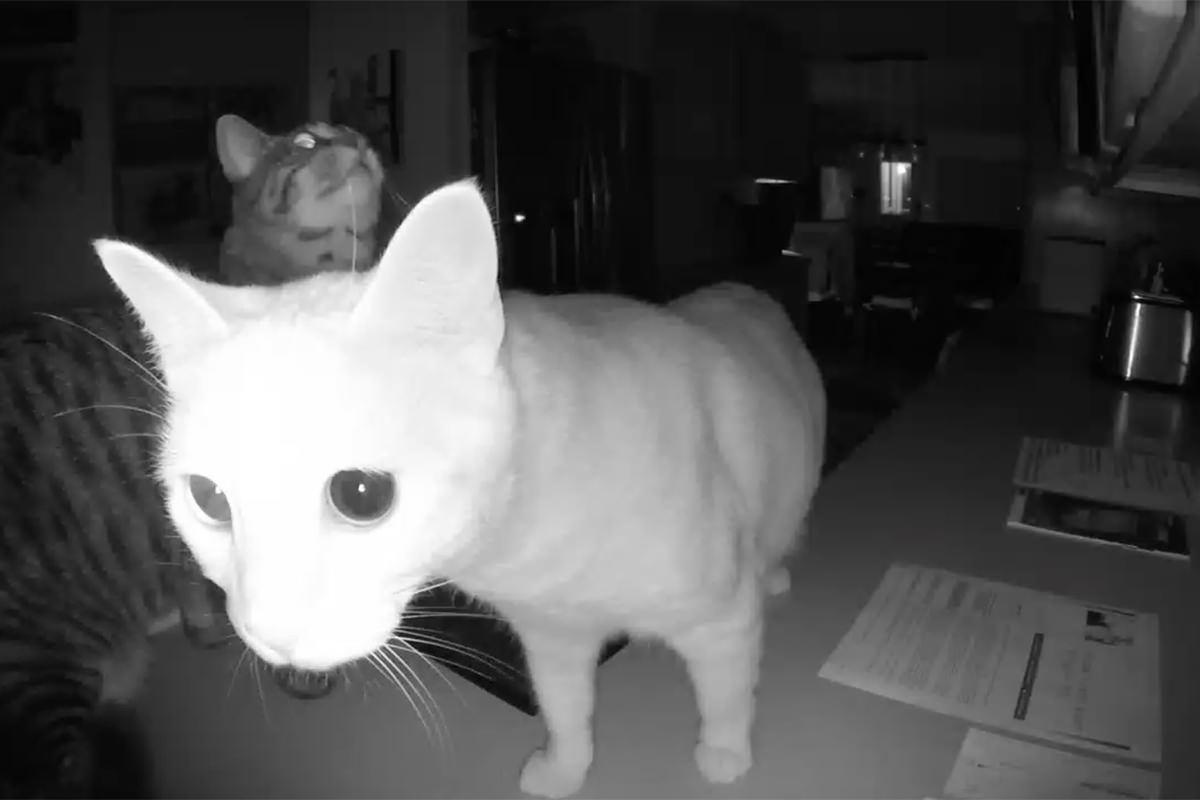 What's weird is that A) The motion alarm did go off, which usually scares them away, so apparently they are immune to that now, and B) My yelling at them to get off the counters through the camera speaker was equally ineffective. Eventually I rang the doorbell, which finally did the trick.
Guess I need to figure out how to tie the motion detectors to the doorbell when I get home.
It also looks like I will be disinfecting my kitchen counters when I get home.
Blargh.

I was pretty much Disney-ed out half-way through yesterday. But the hotel kicks me out in an hour... my ride to the airport isn't here until 3:30... and I have another day left on my park ticket... so I guess I'm going back to Disneyland again today. Oh well. There are certainly worse ways to spend an afternoon.
Still... vacation goals achieved...
Ate lunch at Earl of Sandwich daily. ✓
Ate a Dole Whip Float from the Tiki Juice Bar in Adventureland. ✓
Ate "The Grey Stuff" and Gaston's Brew at The Red Rose Taverne restaurant. ✓
Ate beignets at Jazz Kitchen Express in Downtown Disney. ✓
Didn't kill anybody. ✓
Rode all my favorite attractions (except Pirates and Tower, which were closed). ✓
Until next time, Disneyland.
Posted on March 2nd, 2017

My favorite theme park attraction of all time was Universal Studio's Back to the Future: The Ride. It was absolutely flawless in execution and felt like an essential part of the Back to the Future movie trilogy in a way that other movie tie-ins can only dream of. Alas, it was gutted so as to install a ride for The Simpsons which is only half as good... so if you never got to ride it, you're out of luck.
Many people find it surprising that my favorite didn't come out of Disney, since they are the company that popularized the entire concept of a theme park. No, they weren't first, but they came along and did it bigger and better than anybody else ever had... partly in thanks to having such an established brand with a multitude of characters and properties that translated perfectly into attractions.
That being said, I decided to rank my favorites from both Disneyland and Walt Disney World into a single list. Partly because I want to make sure I don't miss an attraction for my time here... but mostly because I don't feel like working tonight...
Time will tell if this list changes after the new Pandora: The World of AVATAR and Star Wars Land projects debut. I would certainly hope so.
Posted on March 1st, 2017

I was supposed to fly home today since work is done, but I decided to stick around and hang with Mickey Mouse instead. The last time I was in Disneyland was four years ago. A lot has happened since then.
And I don't just mean that The Pirates of the Caribbean ride is closed for repairs... though that is irritating since it's my favorite theme park ride ever, and the Disneyland version is better than the Disney World version by a long shot.
No, what's happening is a shockingly large expansion of the park to include the new "Star Wars Land" that's being built just above Frontierland. You can catch glimpses of it from the top of the Big Thunder Mountain Railroad ride and the Splash Mountain ride, but Nearmap has an aerial view that reveals the true scope of the project...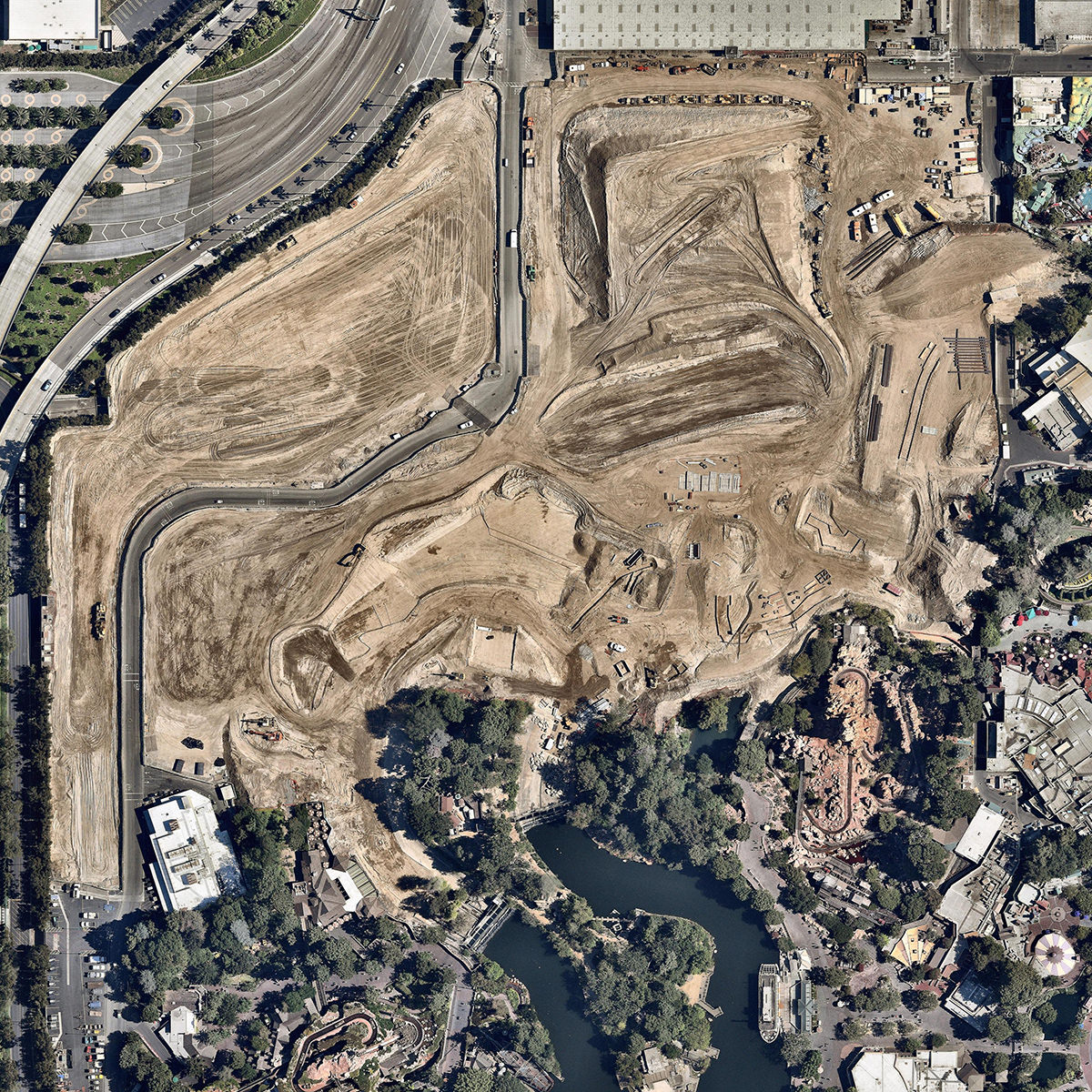 Image copyright NearMap... CLICK HERE FOR FULL RESOLUTION
To give you an idea of just how huge that is, I've draw it on a Google Map of the entire park...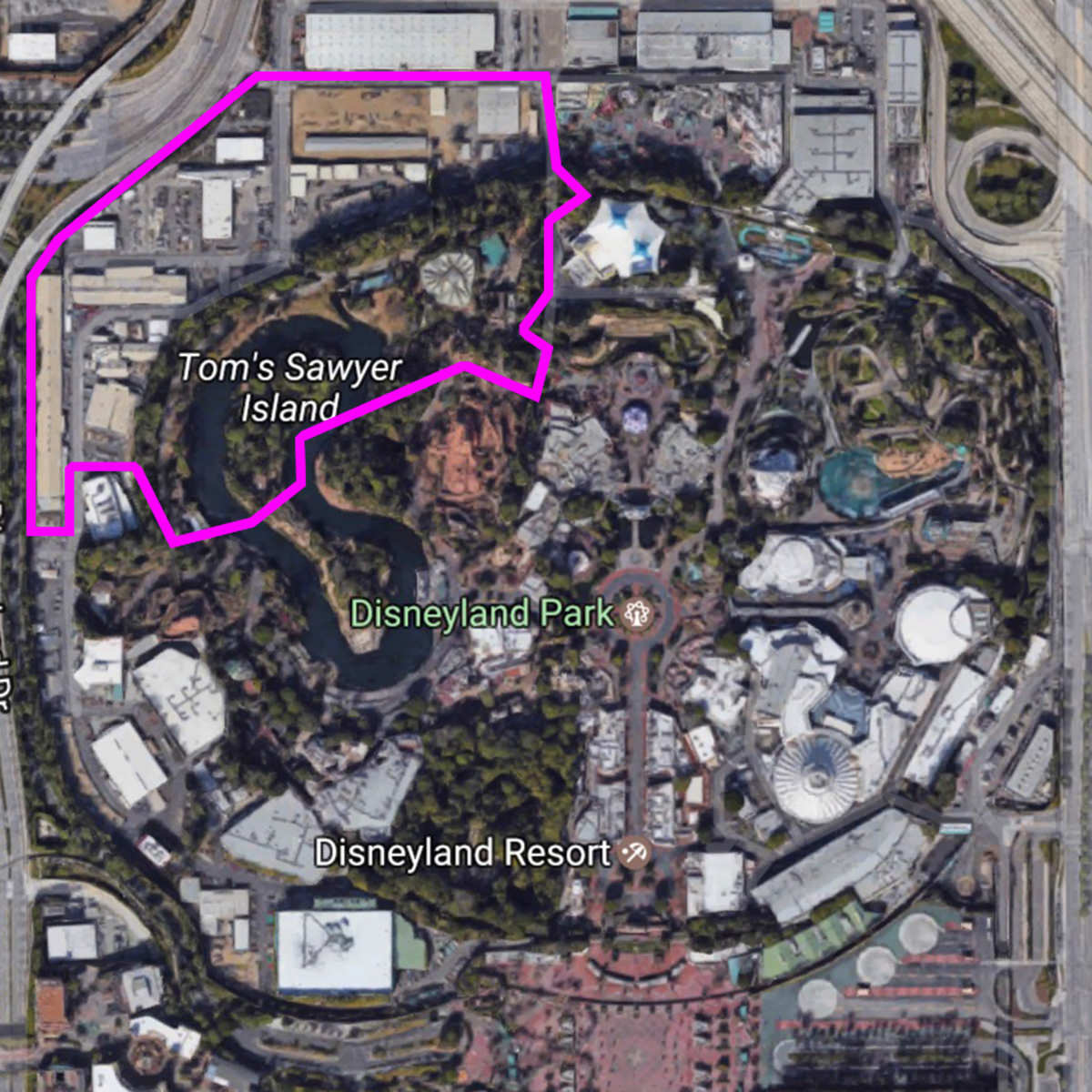 It's a safe bet that eventually "Rivers of America" will be made back into a loop so that the river rides and Tom Sawyer Island will be running again... but they're probably having to make adjustments to keep Star Wars Land separated off from Frontierland so the illusion of being in a "world" won't be spoiled.
Even so, that's a massively huge addition to Disneyland. I figured that since Disney World has so much land available that theirs would be big... but Disneyland? Who knew? The end result is probably going to be double the size of Tomorrowland, and they've still got room for future expansion.
Here's some concept art from Disney showing what Star Wars Land will look like...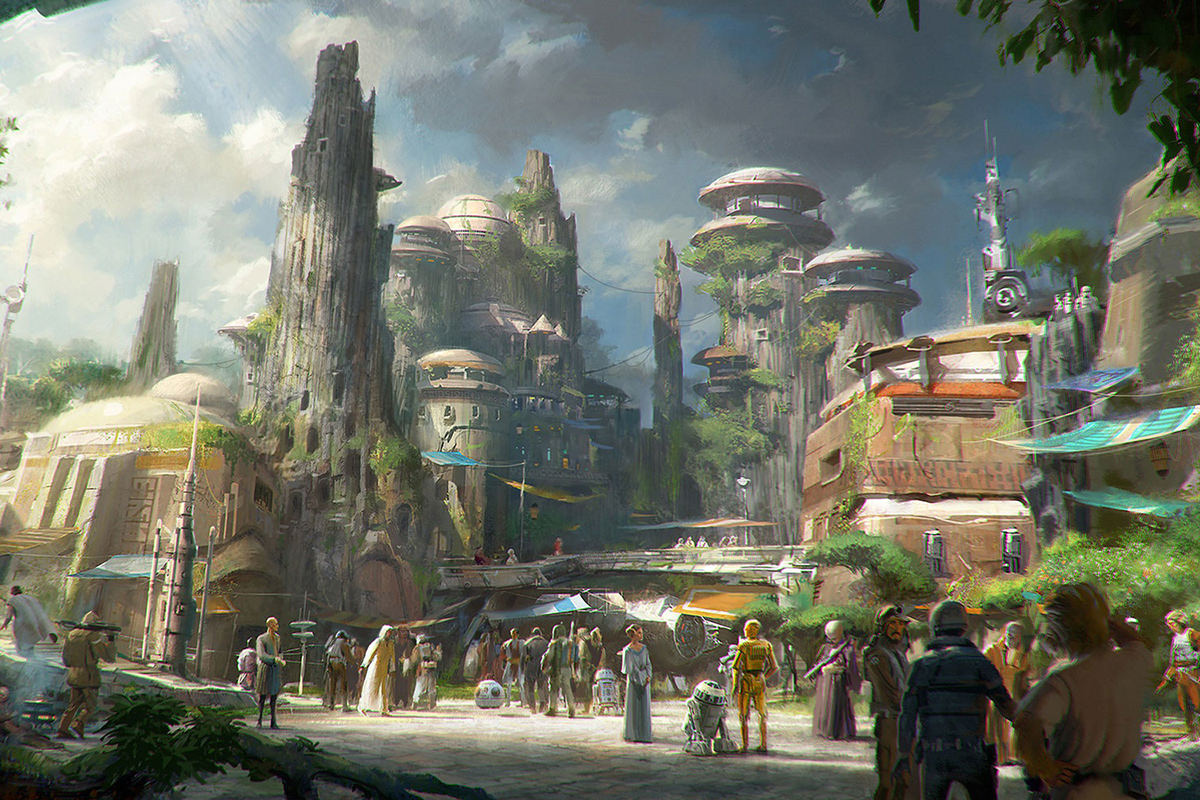 Yeah... definitely returning to take a look at that.
But I first need to get back to Disney World because they've got "Pandora: The World of AVATAR" opening up in May.
In other news... The Disneyland Main Street Electrical Parade is back. As I was leaving the park last night, I heard the music start up. It's the same music they used for the parade when I first visited Disneyland in 1976. The minute I heard it, I was ten years old again. The floats look to be the same as well... but, hey, that was forty years ago, so I could be mistaken. Interestingly enough, the parade doesn't seem dated at all.
Given that this is February, the crowds at the park were surprisingly dense.
I usually stay at Disney's Grand Californian Hotel (one of my favorites, because it reminds me of the Wilderness Lodge at Disney World), but that was booked solid. The Disneyland Hotel was likewise unavailable. I thought I might finally get to stay at Disney's Paradise Pier Hotel, but that was a no-go as well. Why aren't all these kids running around in school?
Pirates of the Caribbean being closed wasn't the only disappointment. Tower of Terror is closed as well because it's being re-themed as a ride for Marvel's Guardians of the Galaxy movies. Prepare yourself for Joe Rohde and his absurdly stupid earring...
On one hand... it's upsetting that Tower of Terror will be no more. It was a great ride that perfectly integrated The Twilight Zone into the narrative. On the other hand, it will be nice to have something new... and it will feature movie characters I love.
Guess there's always Tower of Terror at Disney World... but that ride was never as good, because so many of the cool features of the Disneyland version were abandoned (such as the elevator car leaving the shaft to venture out into the hotel).
One transformation which has already been completed is "Space Mountain" becoming "Hyperspace Mountain" back in 2015. Decked out with all-new Star Wars theming, it is an even more awesome experience than before. I rode it last night and was surprised at just how well it works. They try to make it seem as though you're in a high-speed space battle, and you actually feel it. Sure, the glimpses of Star Wars elements are brief... you're on a roller coaster after all... but they've added laser blasts and other nifty things to really sell it. That alone was worth the price of admission.
And speaking of the price of admission...
Holy crap is Disneyland expensive. Usually I get free tickets from work, but that program ended back in January. I went to buy my own tickets and nearly fell into shock. I was going to get three days for $315, but four days was only $20 more so I thought "What the hell?" and did that. Even two days is a whopping $244 (Park Hopper), so you might as well go full boat. Especially if the park is busy, as you'll spend most of your time standing in line.
And now... time to go out and enjoy the lovely weather they're having here. Though it still gets cold at night, the days are ll sunshine and clear skies. A nice change of pace from the overcast skies and snow back home.