Posted on March 5th, 2017

Pull out your Mickey Mouse ears, because a Very Special Disney-centric Bullet Sunday starts... now...

• I'm Going to Disneyland. Now that Disneyland has no "off-season" and is hellishly busy all-year-long, there's really only one piece of advice I can offer: Don't make your Disney vacation all about standing in lines. Stay multiple days... divide up the attractions you want to see so you're only standing in line for them part of every day... then get the hell out of the parks to have an actual vacation. Go see what else L.A. has to offer (which is a lot)... or just hang around the pool at your hotel. Spending the whole day in a massive crowd at Disneyland is just guaranteeing that you'll need a vacation from your vacation.

• Princess Vader. I honestly can't decide whether this is the coolest thing ever, or just pain wrong...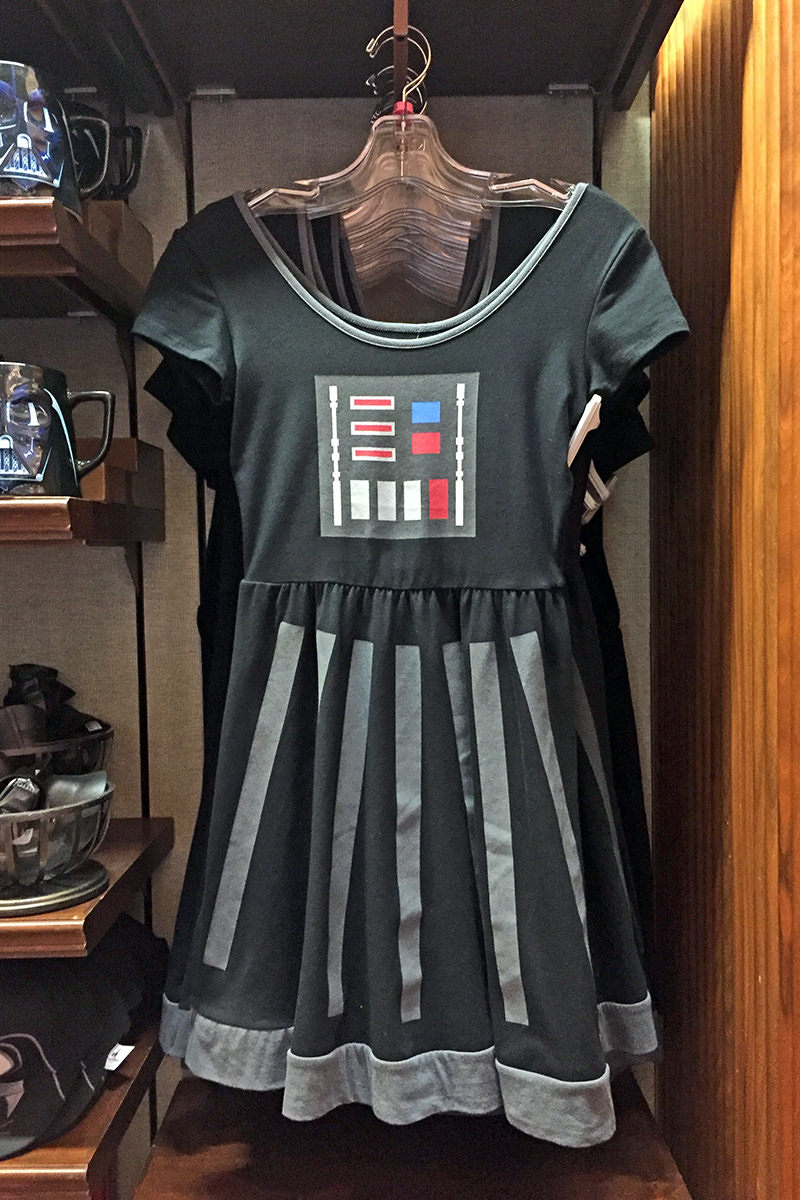 All I know is that Disney's marketing of Star Wars is way off the charts.

• Reimagineering. Earlier this week I brought up the new Star Wars Land additions coming to both Disney parks. This is on top of Disney World getting a Pandora: The World of AVATAR "land" in Animal Kingdom. New stuff at the Disney parks is always great... but I can't help but wonder when rides like Jungle Cruise and Haunted Mansion will get an upgrade. Surely there's a way of remaining true to the original concept while enhancing the attractions with today's technology? Otherwise I have to wonder how much longer they can last. The parks (particularly at Disneyland) do not have infinite space to expand, so the worry is that even "E-Ticket" attractions will eventually be eliminated in favor of something fresh to keep the crowds coming.

• Grey Stuff. Yesterday I mentioned that I checked-off one of my life goals at Disneyland... eating Grey Stuff Gâteau (which they spell "Gateâu") and Gaston's Brew. Nobody seems to know what that meant. Well... "Grey Stuff" is something served to Belle in Beauty and the Beast...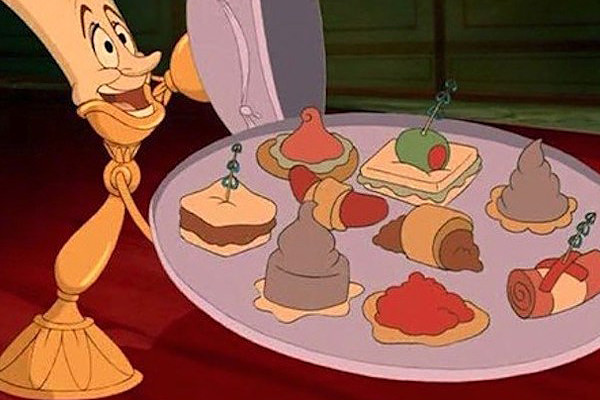 This is what the real-life version looks like from The Red Rose Taverne in Disneyland's Fantasyland (a temporary restaurant re-dress in celebration of the live-action Beauty and the Beast movie coming in March...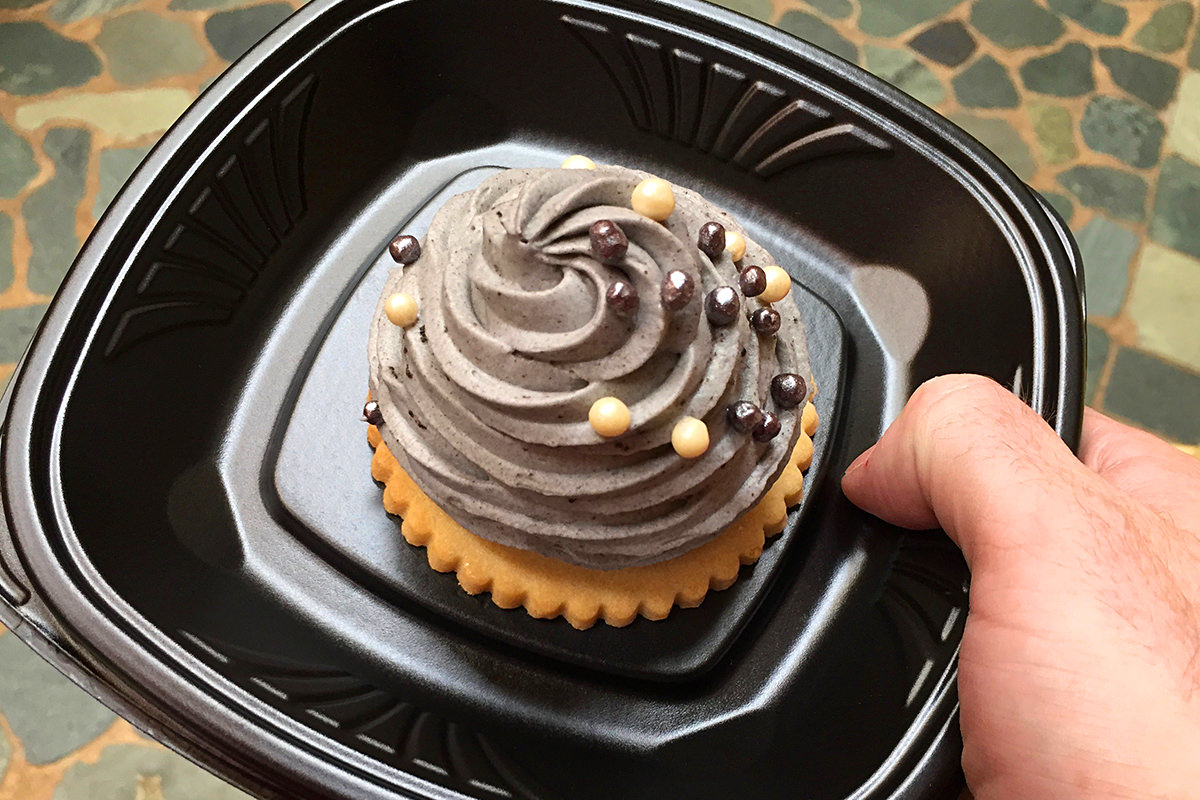 It's a white chocolate mousse that's been tinted grey then heaped on a small red velvet cake that has raspberry in it...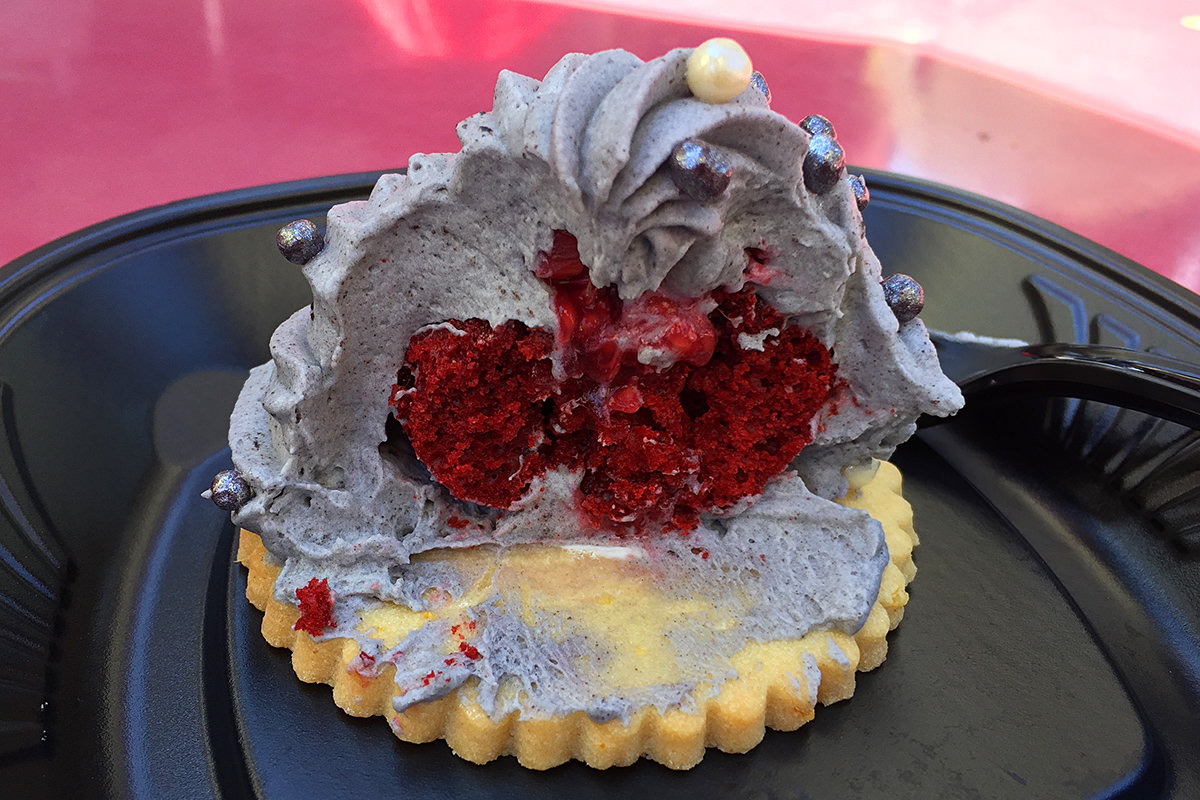 It comes piled on a shortbread cookie that seems to have a rose drawn on it?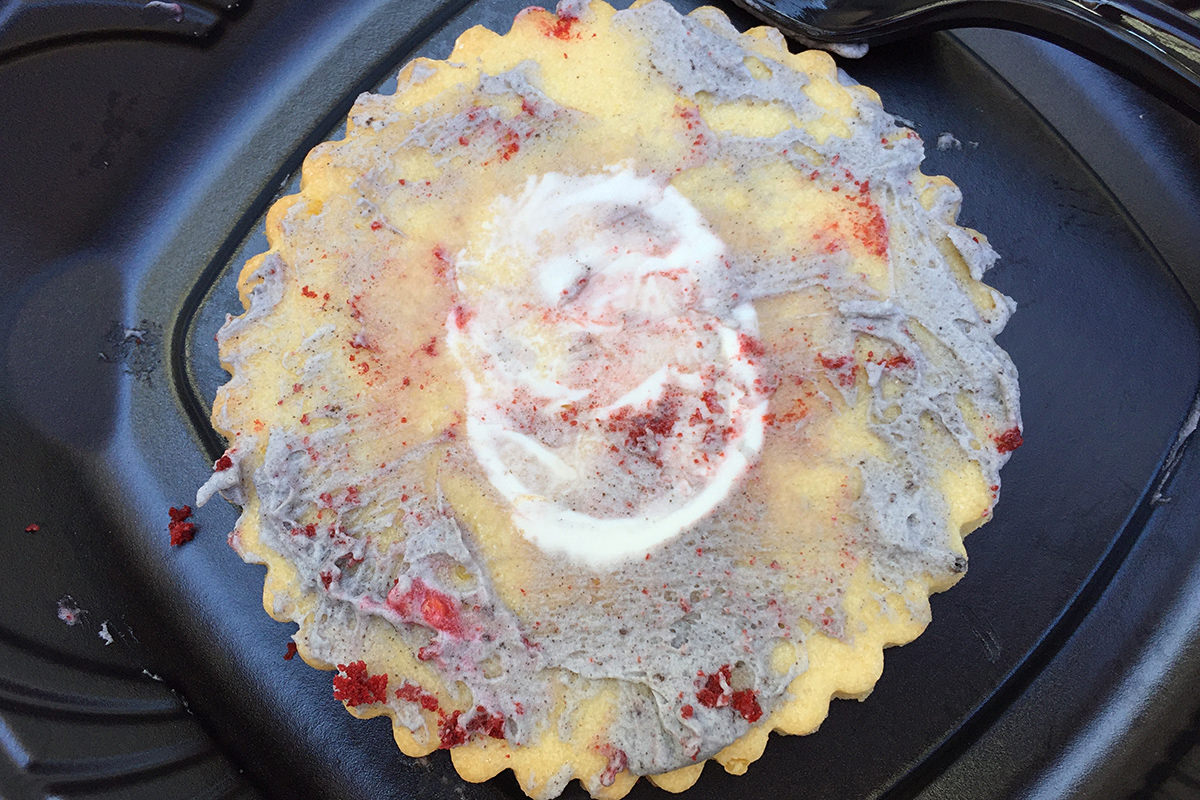 It's not too bad. The cookie is dense and bland rather than buttery and flakey... and the whole ordeal is too sweet for me... but it's totally edible. Gaston's Brew, on the other hand, is excellent. It's apple-mango juice that's topped with a passion fruit foam "head." Something I'm going to have to try and make at home.

• Magical Morning. One of the benefits of buying your ticket to Disneyland online is that you get a free "Magic Morning" on tickets for three days or more. "Magic Morning" means that you get into the park an hour before opening. In my case, that meant 9:00am instead of 10:00am. This used to be available only to registered hotel guests at one of the Disney hotel properties... but now anybody can get it. The problem being that now anybody can get it. Which means the park gets just as crowded just as quickly as it would without magic morning. Sure you might get one or two rides in at a reduced wait time, but it's hardly the deal it used to be. I got to ride Space Mountain in 20 minutes instead of 60... but after that the lines were right back to normal. Bummer. I'd be pretty pissed if I were a hotel guest counting on this perk.

• The Sign. I could spend hours just wandering around Disneyland looking at the beautiful signage that's displayed everywhere. It's not as fun as Big Thunder Mountain Railroad, but it certainly beats standing in lines all day. My favorite signs are in Adventureland. So many beautifully-carved pieces...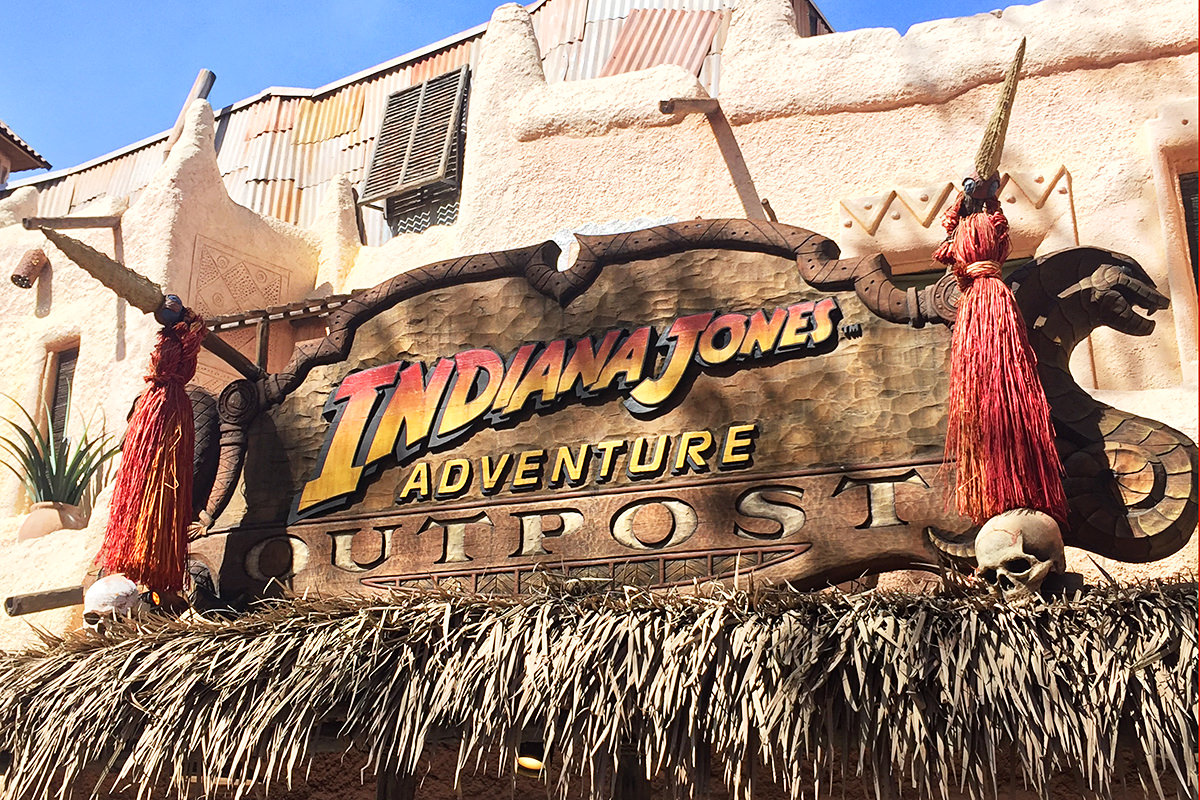 But it's not just the extravagant larger signs that are given such detail. Even small signs... like numbers on a door... are beautifully themed for the area they occupy...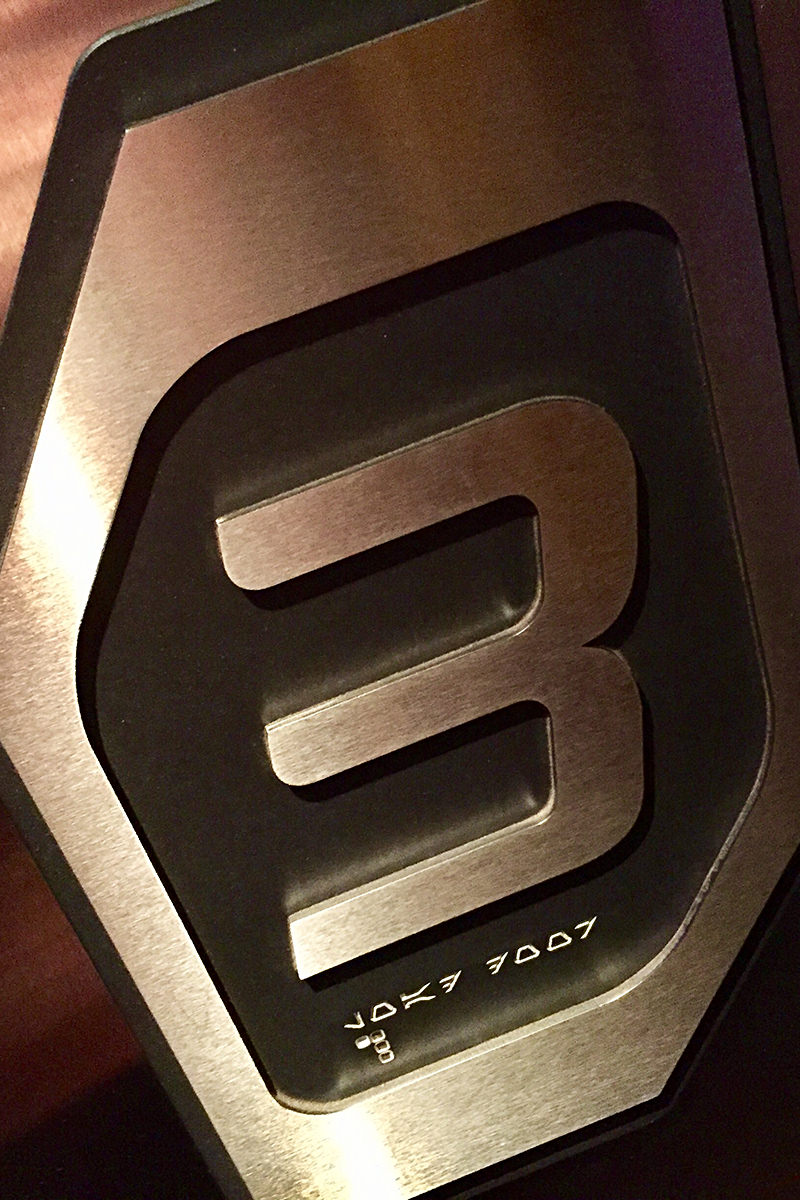 Even throw-away signs from an exit queue are painstakingly designed...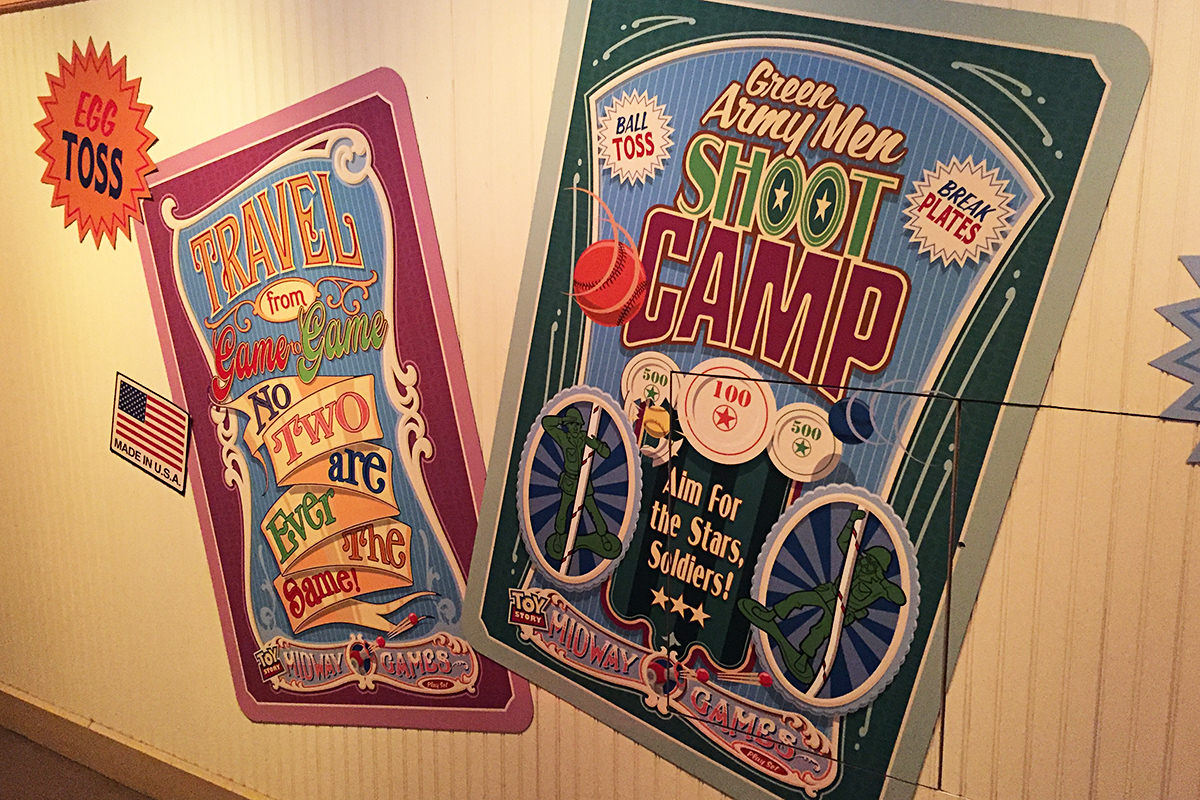 And every exterior sign is beautifully-crafted, of course...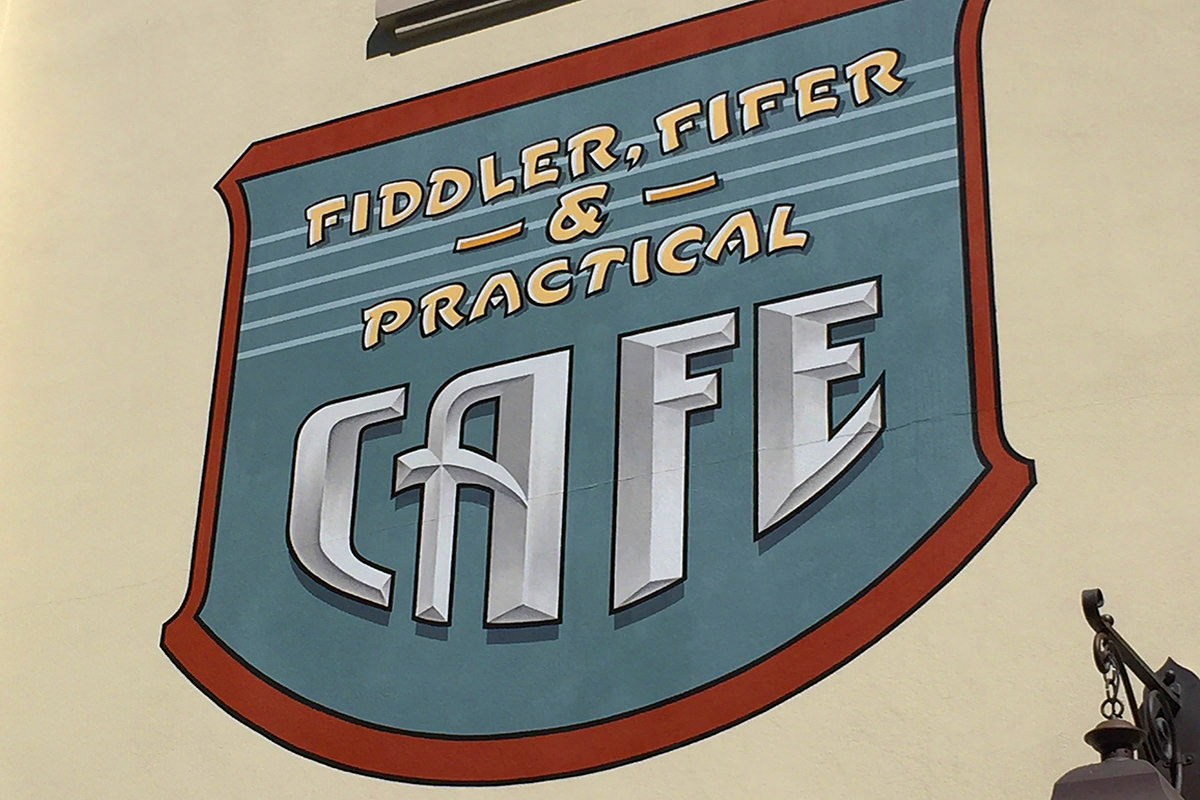 So... next time you're at one of the Disney theme parks, stop for a minute and look for the signs. They're an attraction all on their own.

And now? Heigh ho, heigh ho, it's off to work I go...
Posted on March 3rd, 2017

Last night at a wonderful early birthday dinner with friends, I had told them how proud I was that I finally managed to get Jake and Jenny trained to not jump on the kitchen counters. Yes, Jake still wanders into the kitchen from time to time but, thanks to sticky mats, his days of climbing over my kitchen counters was over.
And then... less than an hour after getting back to the hotel... I get a motion alert on my iPhone that there's movement in the kitchen. A quick check of the security cameras and, sure enough...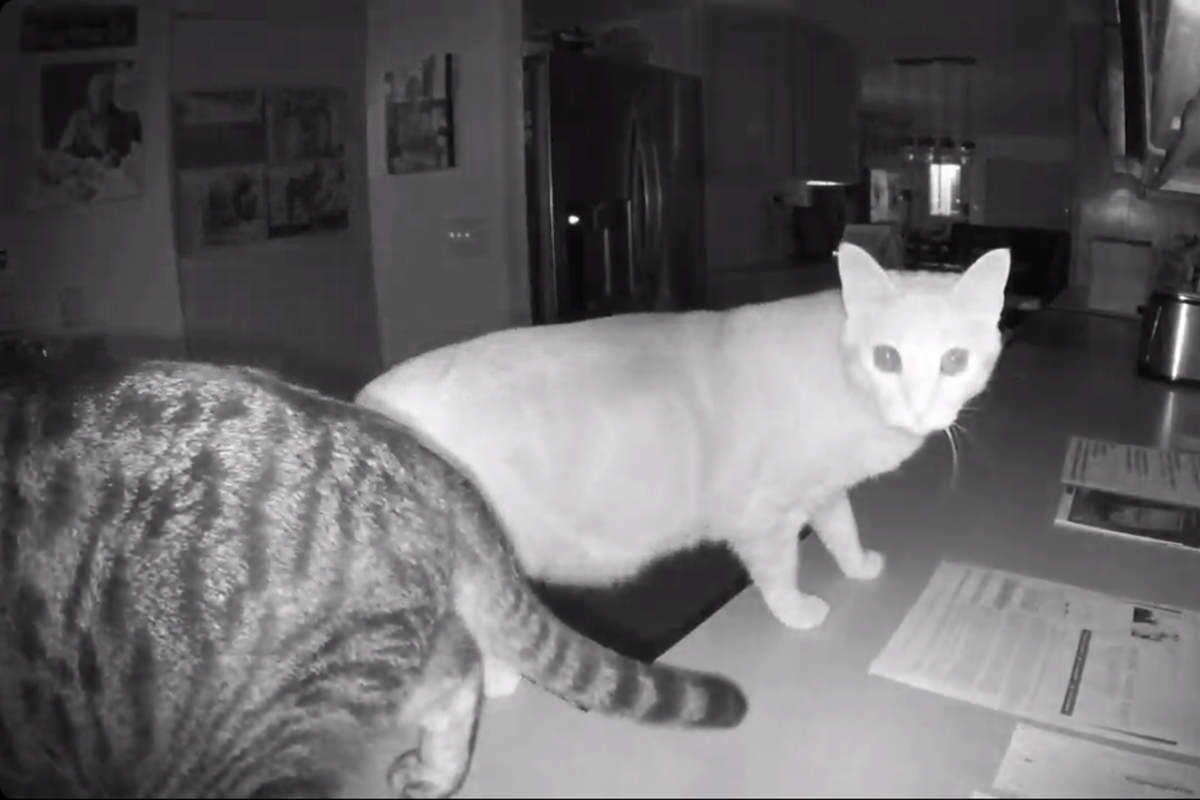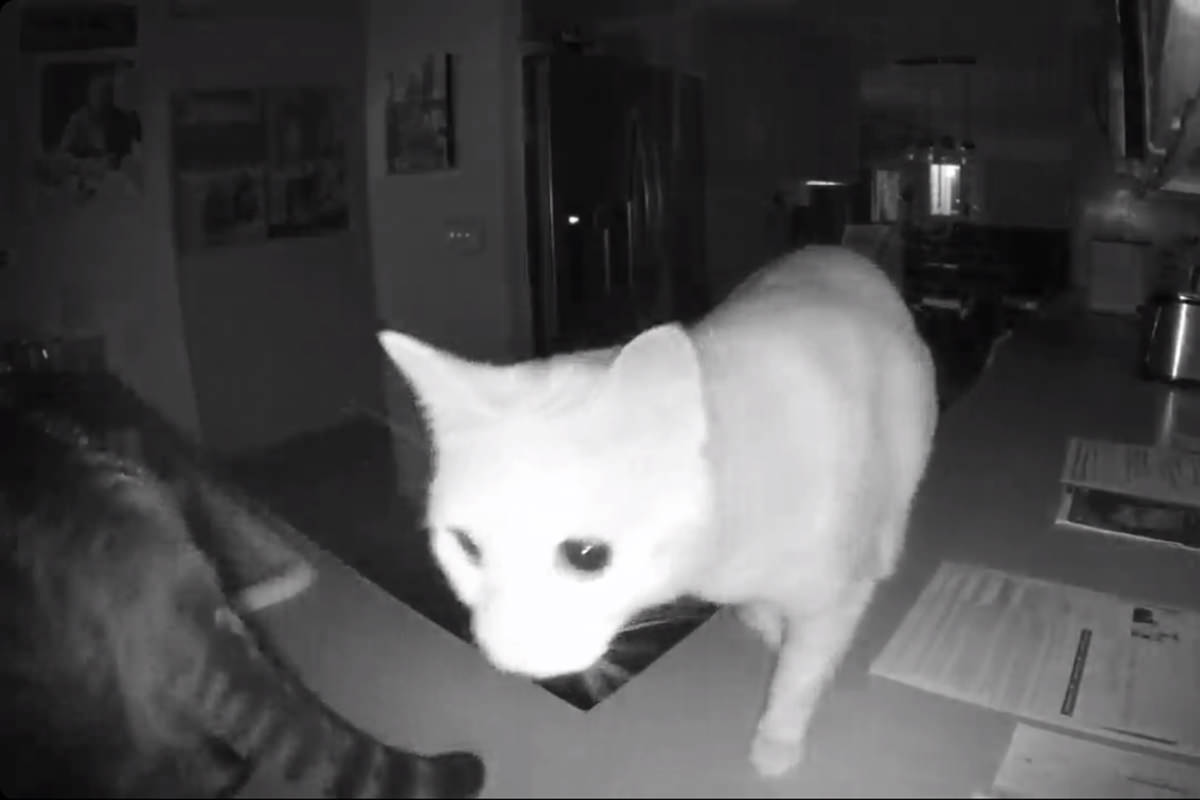 I rewound the footage to see what made Jake suddenly revolt, and was surprised to see that it was actually Jenny who was the instigator. You can see her beady little eyes reflecting in the dark on the refrigerator return before she makes a spectacular leap across to the kitchen counter...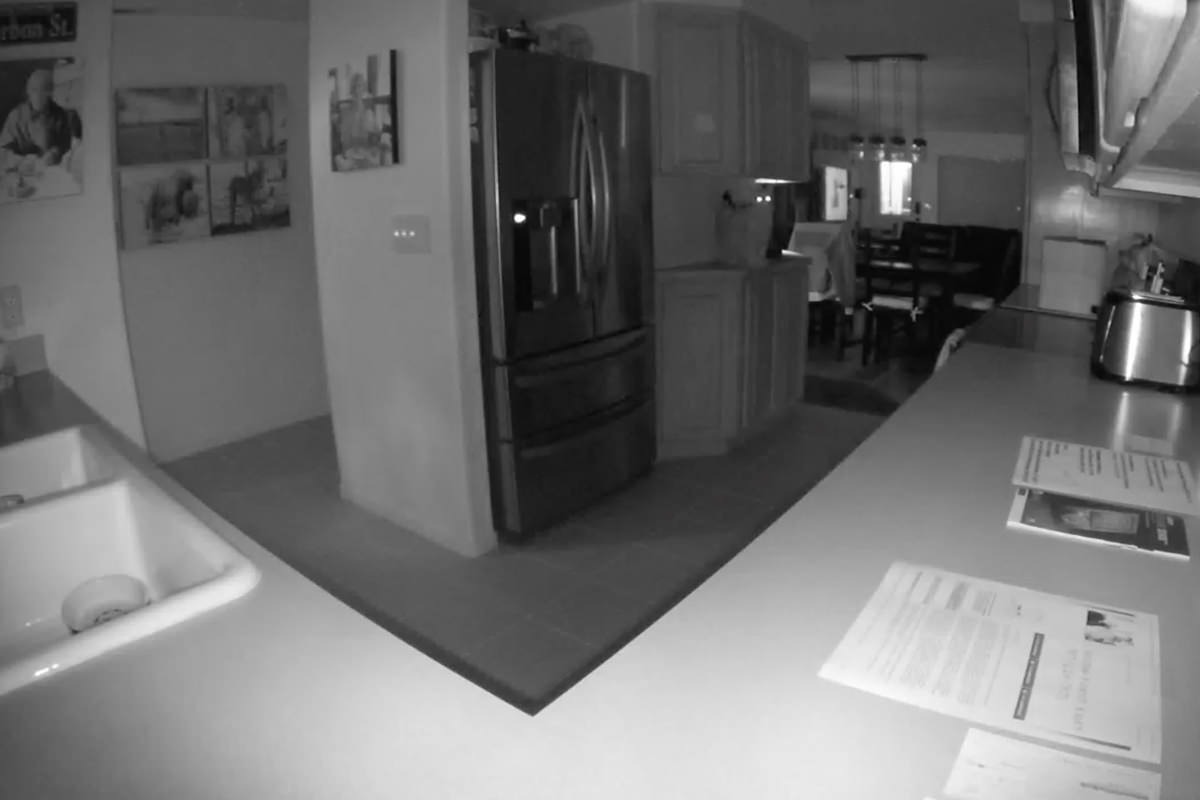 Jake hopped up a minute later...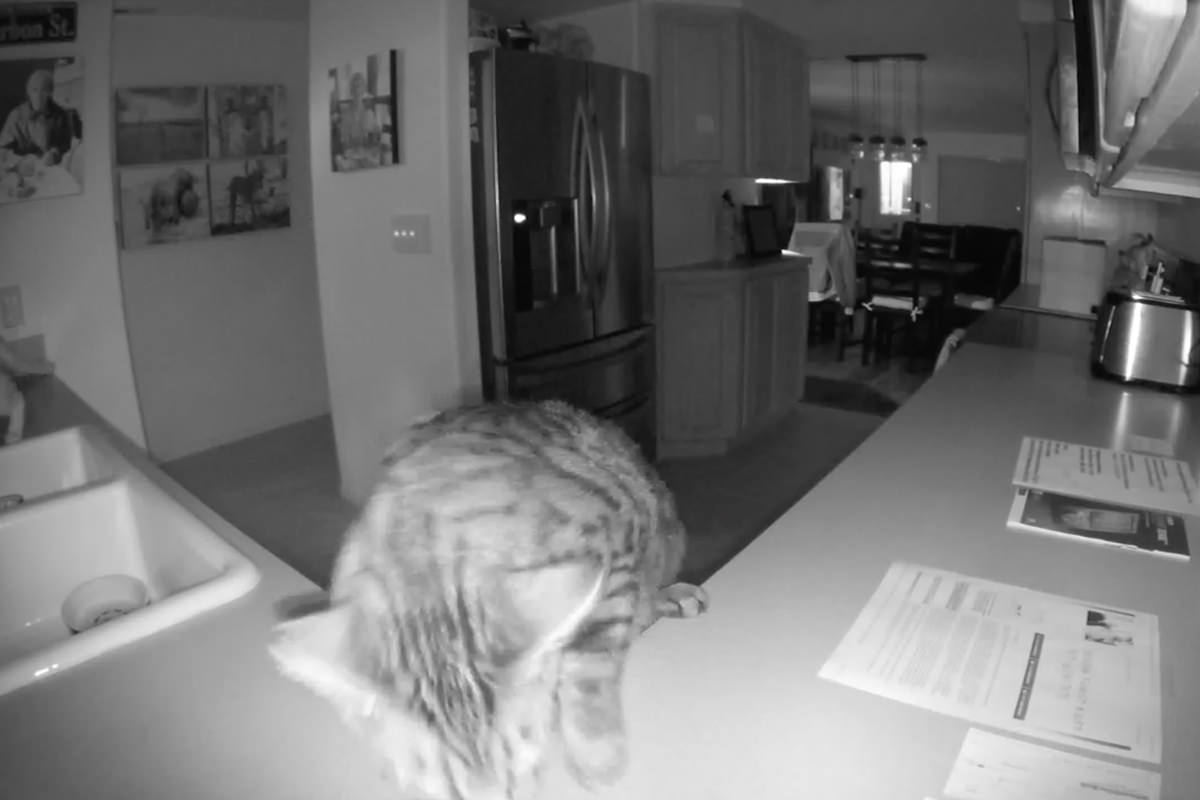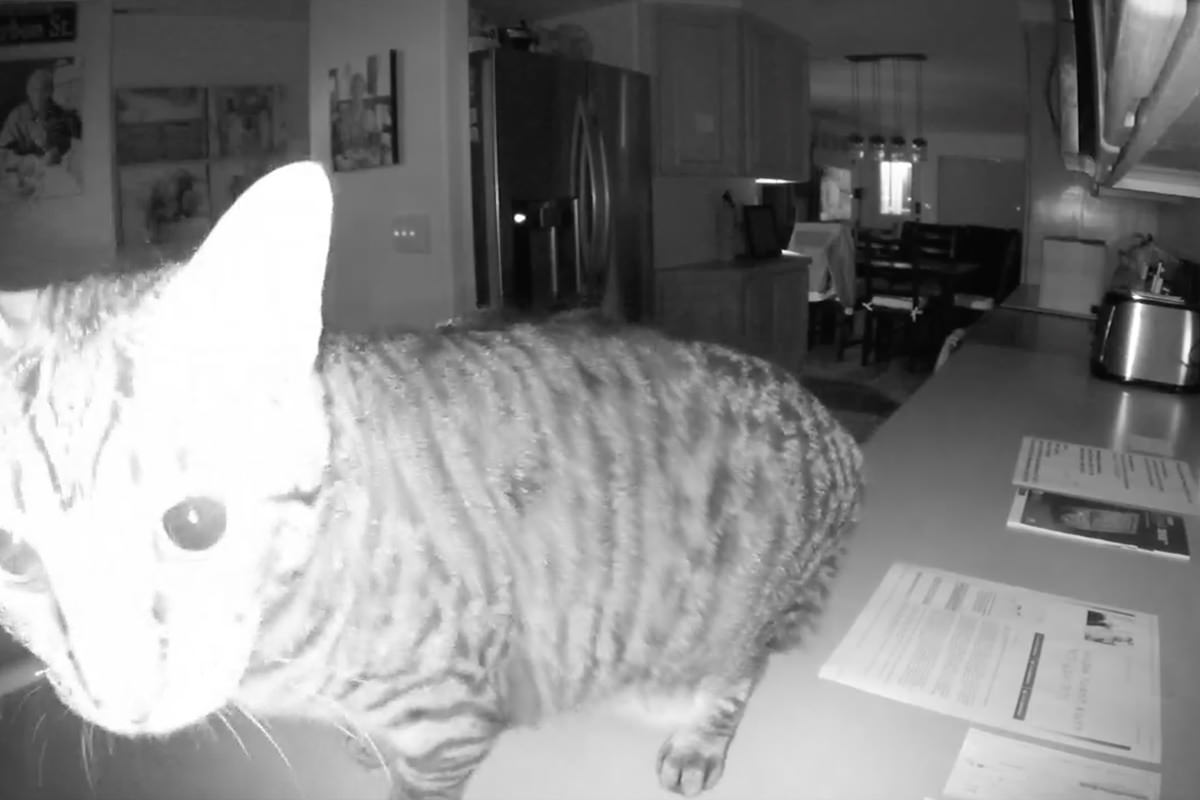 I thought Jenny had hopped back down, but nope... she was over digging in the sink...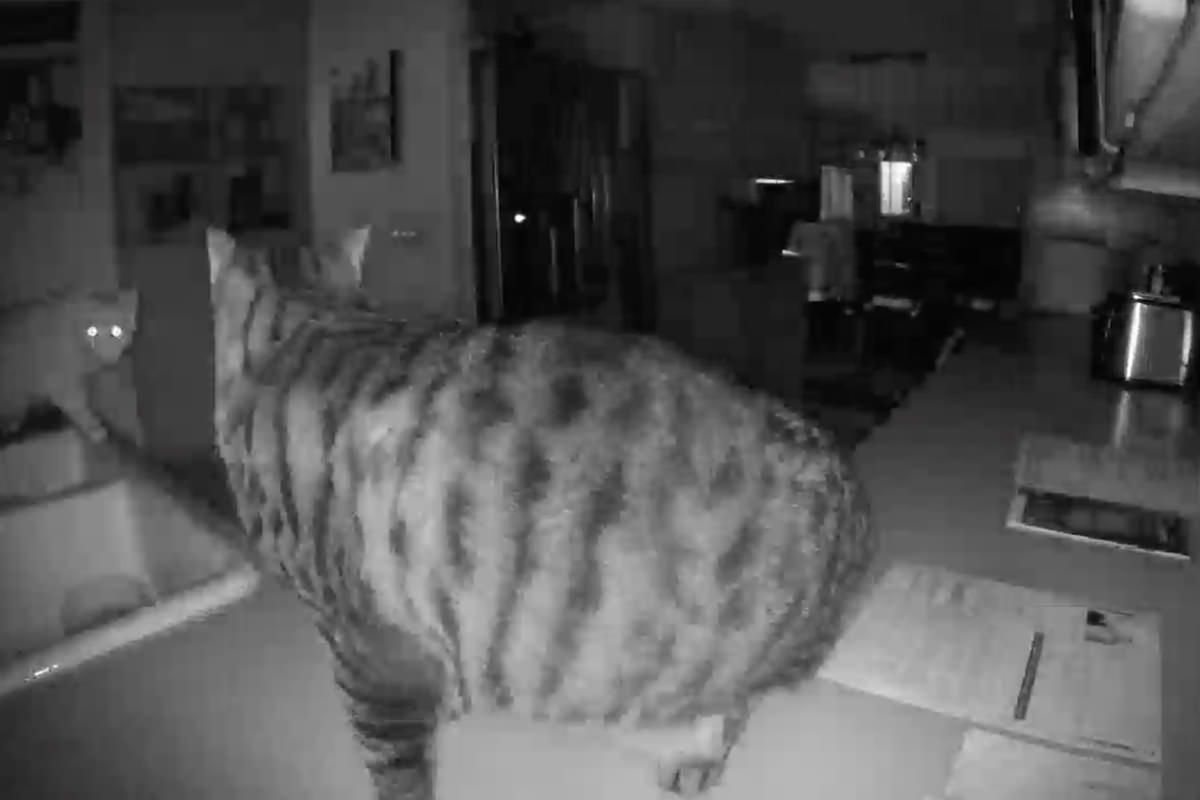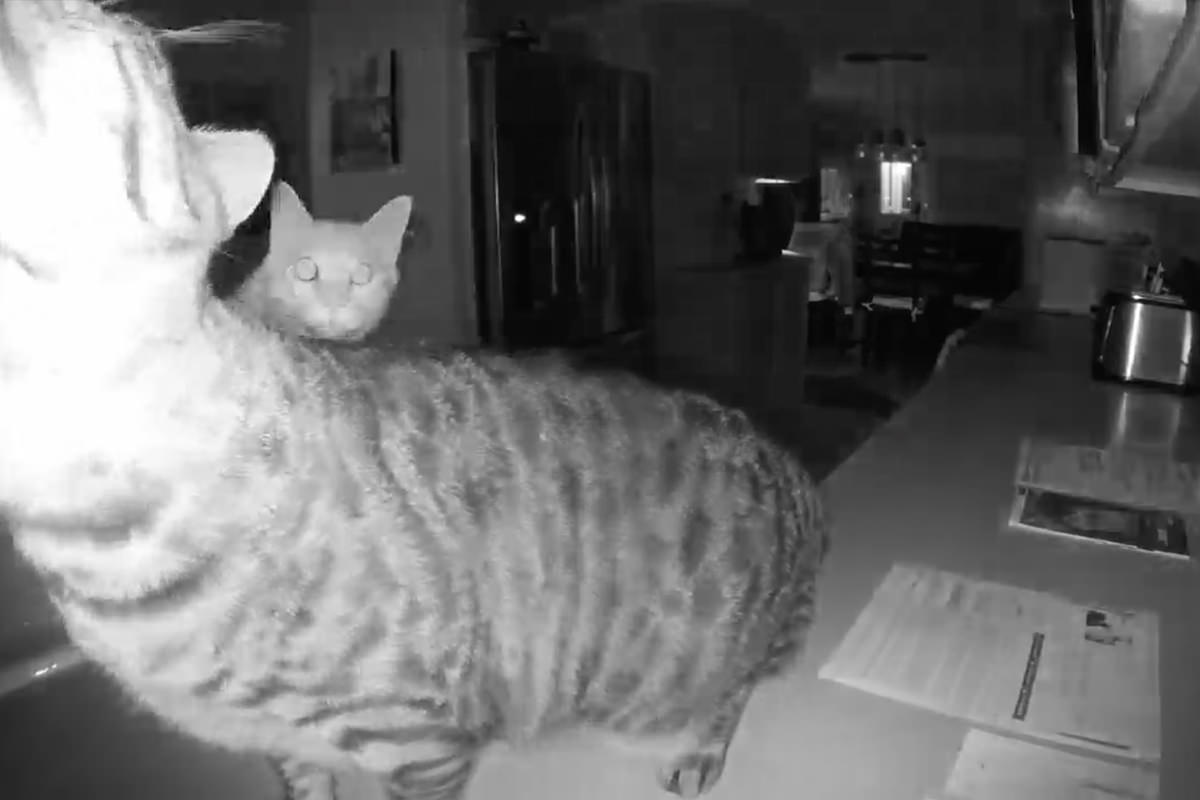 Eventually I started talking to them from the speaker on the security camera, which was all kinds of confusing for them as they started looking around trying to find out where I was. Jake seemed to think I was on the ceiling, but Jenny seemed to figure it out eventually...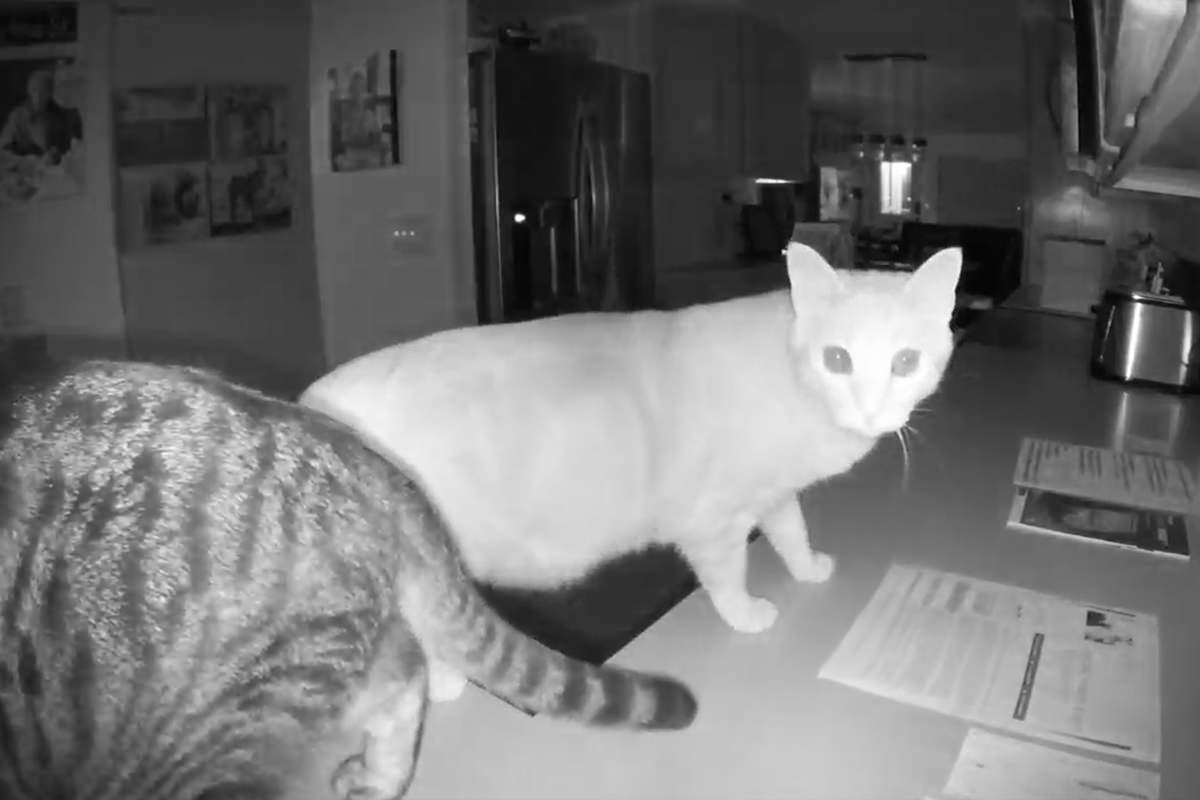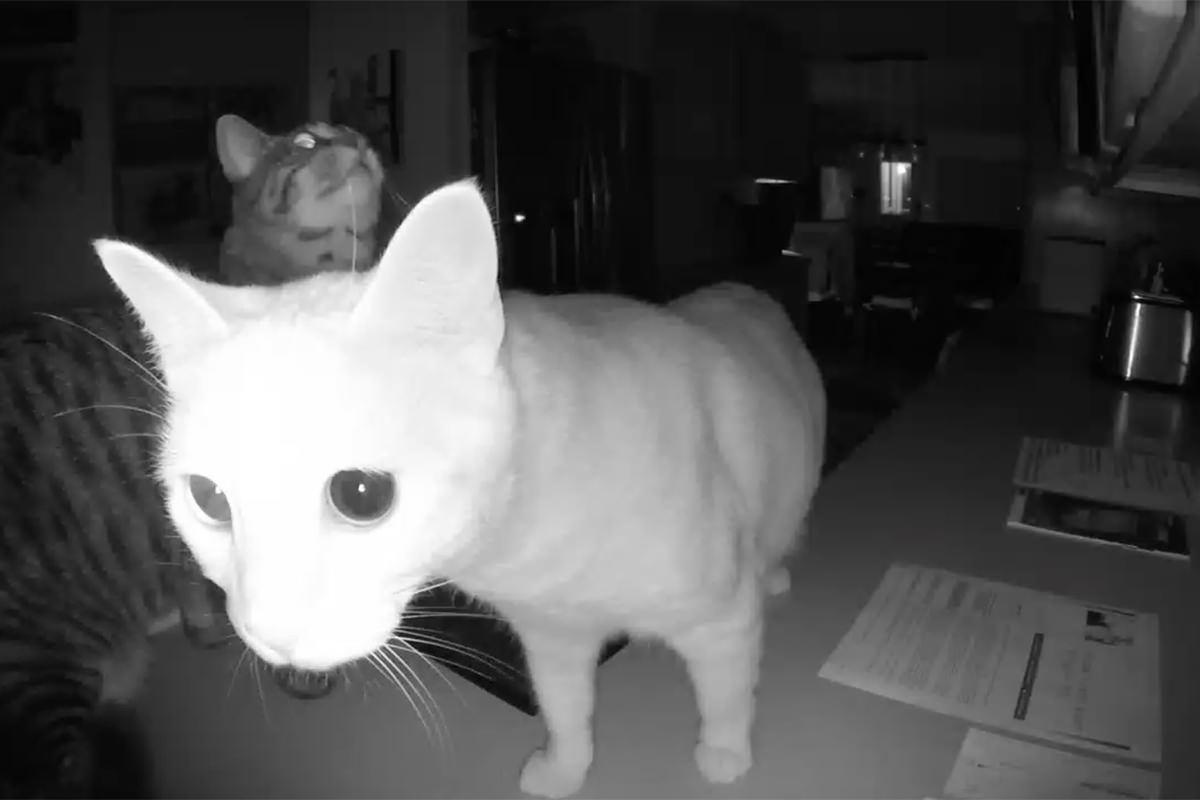 What's weird is that A) The motion alarm did go off, which usually scares them away, so apparently they are immune to that now, and B) My yelling at them to get off the counters through the camera speaker was equally ineffective. Eventually I rang the doorbell, which finally did the trick.
Guess I need to figure out how to tie the motion detectors to the doorbell when I get home.
It also looks like I will be disinfecting my kitchen counters when I get home.
Blargh.

I was pretty much Disney-ed out half-way through yesterday. But the hotel kicks me out in an hour... my ride to the airport isn't here until 3:30... and I have another day left on my park ticket... so I guess I'm going back to Disneyland again today. Oh well. There are certainly worse ways to spend an afternoon.
Still... vacation goals achieved...
Ate lunch at Earl of Sandwich daily. ✓
Ate a Dole Whip Float from the Tiki Juice Bar in Adventureland. ✓
Ate "The Grey Stuff" and Gaston's Brew at The Red Rose Taverne restaurant. ✓
Ate beignets at Jazz Kitchen Express in Downtown Disney. ✓
Didn't kill anybody. ✓
Rode all my favorite attractions (except Pirates and Tower, which were closed). ✓
Until next time, Disneyland.
Posted on March 2nd, 2017

My favorite theme park attraction of all time was Universal Studio's Back to the Future: The Ride. It was absolutely flawless in execution and felt like an essential part of the Back to the Future movie trilogy in a way that other movie tie-ins can only dream of. Alas, it was gutted so as to install a ride for The Simpsons which is only half as good... so if you never got to ride it, you're out of luck.
Many people find it surprising that my favorite didn't come out of Disney, since they are the company that popularized the entire concept of a theme park. No, they weren't first, but they came along and did it bigger and better than anybody else ever had... partly in thanks to having such an established brand with a multitude of characters and properties that translated perfectly into attractions.
That being said, I decided to rank my favorites from both Disneyland and Walt Disney World into a single list. Partly because I want to make sure I don't miss an attraction for my time here... but mostly because I don't feel like working tonight...
Time will tell if this list changes after the new Pandora: The World of AVATAR and Star Wars Land projects debut. I would certainly hope so.
Posted on March 1st, 2017

I was supposed to fly home today since work is done, but I decided to stick around and hang with Mickey Mouse instead. The last time I was in Disneyland was four years ago. A lot has happened since then.
And I don't just mean that The Pirates of the Caribbean ride is closed for repairs... though that is irritating since it's my favorite theme park ride ever, and the Disneyland version is better than the Disney World version by a long shot.
No, what's happening is a shockingly large expansion of the park to include the new "Star Wars Land" that's being built just above Frontierland. You can catch glimpses of it from the top of the Big Thunder Mountain Railroad ride and the Splash Mountain ride, but Nearmap has an aerial view that reveals the true scope of the project...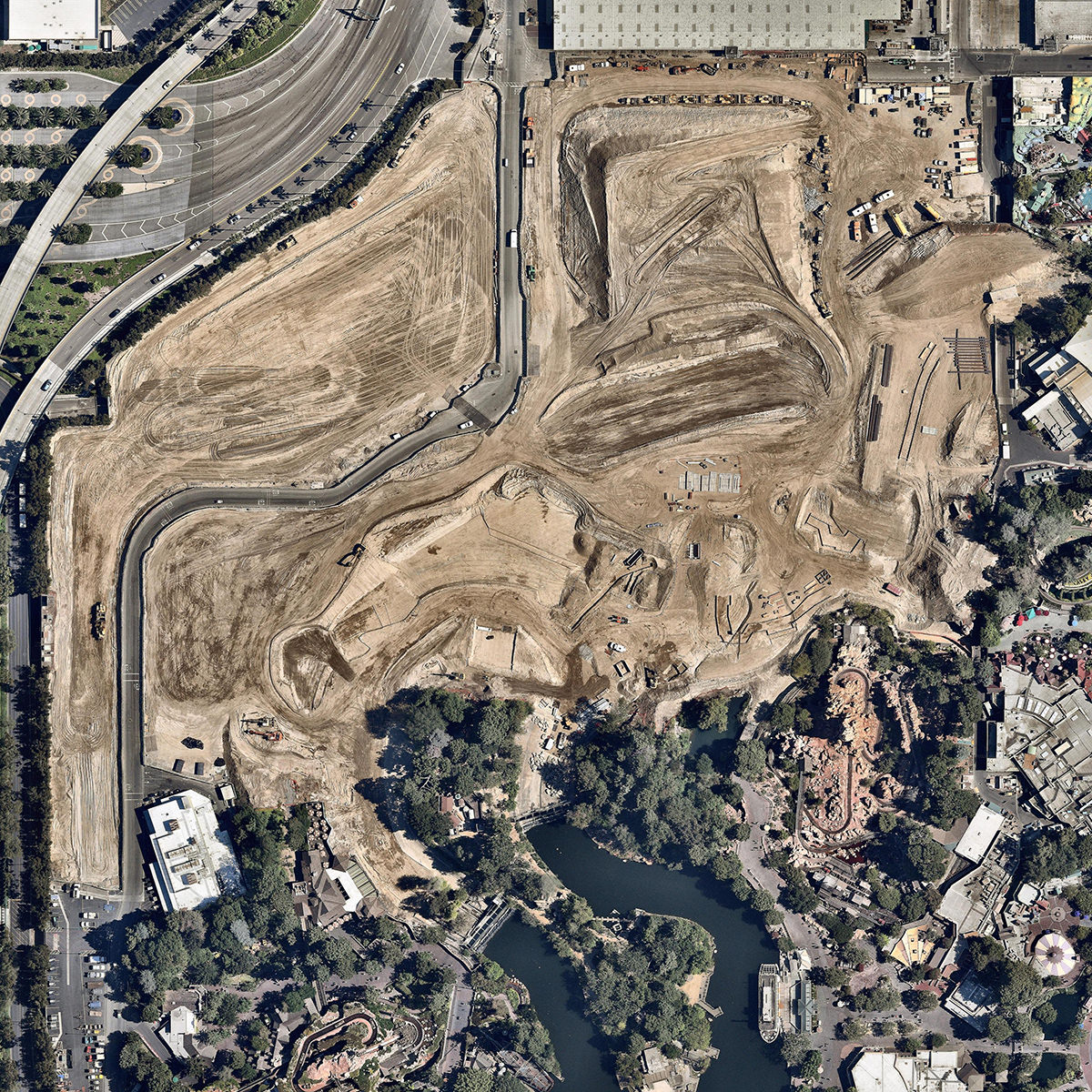 Image copyright NearMap... CLICK HERE FOR FULL RESOLUTION
To give you an idea of just how huge that is, I've draw it on a Google Map of the entire park...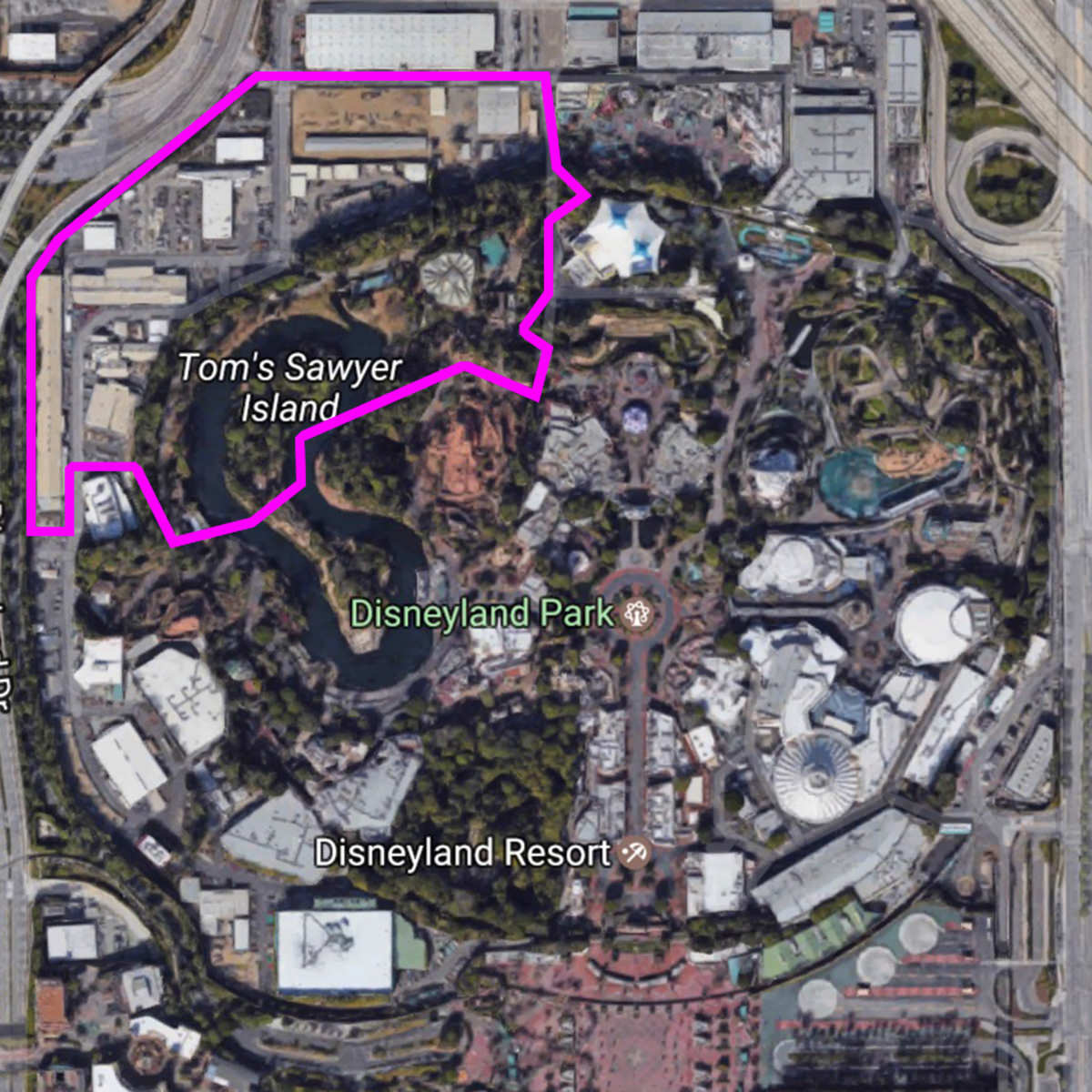 It's a safe bet that eventually "Rivers of America" will be made back into a loop so that the river rides and Tom Sawyer Island will be running again... but they're probably having to make adjustments to keep Star Wars Land separated off from Frontierland so the illusion of being in a "world" won't be spoiled.
Even so, that's a massively huge addition to Disneyland. I figured that since Disney World has so much land available that theirs would be big... but Disneyland? Who knew? The end result is probably going to be double the size of Tomorrowland, and they've still got room for future expansion.
Here's some concept art from Disney showing what Star Wars Land will look like...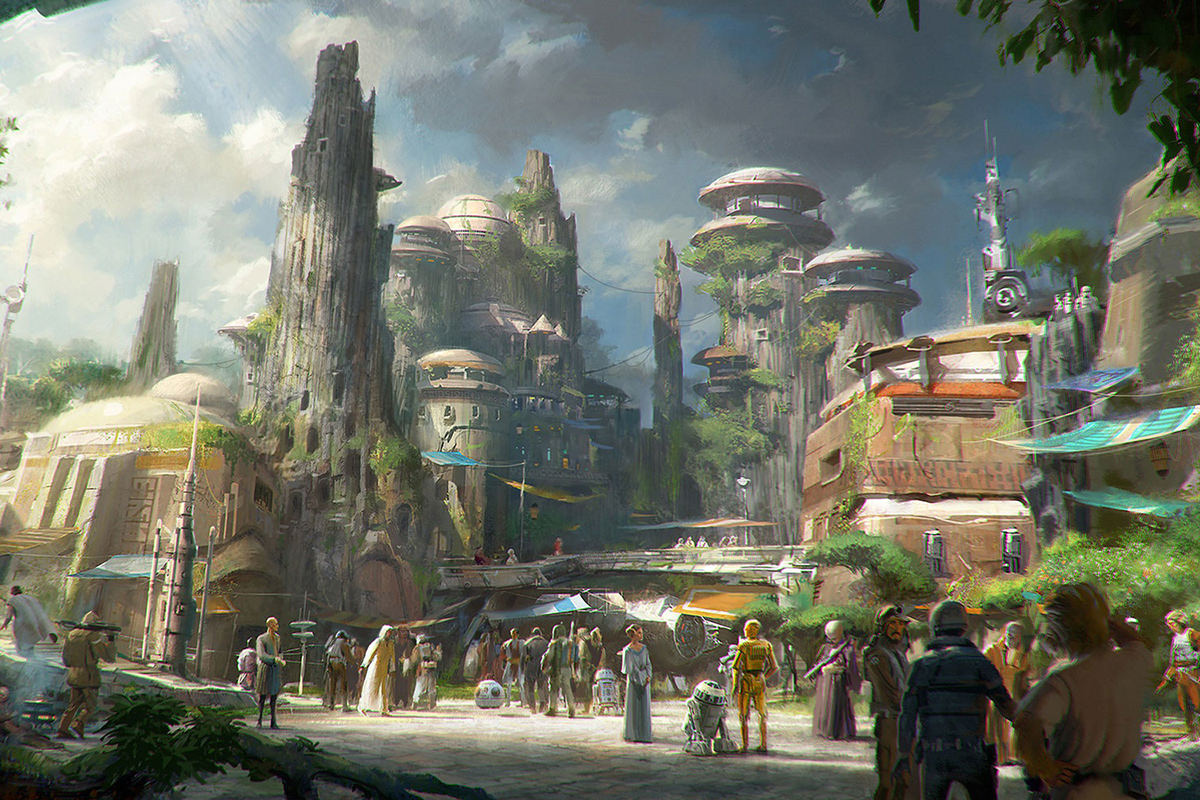 Yeah... definitely returning to take a look at that.
But I first need to get back to Disney World because they've got "Pandora: The World of AVATAR" opening up in May.
In other news... The Disneyland Main Street Electrical Parade is back. As I was leaving the park last night, I heard the music start up. It's the same music they used for the parade when I first visited Disneyland in 1976. The minute I heard it, I was ten years old again. The floats look to be the same as well... but, hey, that was forty years ago, so I could be mistaken. Interestingly enough, the parade doesn't seem dated at all.
Given that this is February, the crowds at the park were surprisingly dense.
I usually stay at Disney's Grand Californian Hotel (one of my favorites, because it reminds me of the Wilderness Lodge at Disney World), but that was booked solid. The Disneyland Hotel was likewise unavailable. I thought I might finally get to stay at Disney's Paradise Pier Hotel, but that was a no-go as well. Why aren't all these kids running around in school?
Pirates of the Caribbean being closed wasn't the only disappointment. Tower of Terror is closed as well because it's being re-themed as a ride for Marvel's Guardians of the Galaxy movies. Prepare yourself for Joe Rohde and his absurdly stupid earring...
On one hand... it's upsetting that Tower of Terror will be no more. It was a great ride that perfectly integrated The Twilight Zone into the narrative. On the other hand, it will be nice to have something new... and it will feature movie characters I love.
Guess there's always Tower of Terror at Disney World... but that ride was never as good, because so many of the cool features of the Disneyland version were abandoned (such as the elevator car leaving the shaft to venture out into the hotel).
One transformation which has already been completed is "Space Mountain" becoming "Hyperspace Mountain" back in 2015. Decked out with all-new Star Wars theming, it is an even more awesome experience than before. I rode it last night and was surprised at just how well it works. They try to make it seem as though you're in a high-speed space battle, and you actually feel it. Sure, the glimpses of Star Wars elements are brief... you're on a roller coaster after all... but they've added laser blasts and other nifty things to really sell it. That alone was worth the price of admission.
And speaking of the price of admission...
Holy crap is Disneyland expensive. Usually I get free tickets from work, but that program ended back in January. I went to buy my own tickets and nearly fell into shock. I was going to get three days for $315, but four days was only $20 more so I thought "What the hell?" and did that. Even two days is a whopping $244 (Park Hopper), so you might as well go full boat. Especially if the park is busy, as you'll spend most of your time standing in line.
And now... time to go out and enjoy the lovely weather they're having here. Though it still gets cold at night, the days are ll sunshine and clear skies. A nice change of pace from the overcast skies and snow back home.
Posted on August 17th, 2015

Originally I had two business meet-ups and a dinner meeting peppered throughout my trip to Los Angeles... plus a birthday party (happy 95th, grandpa!). After landing I ended up with another meeting, which meant I'd be working every day I'm in the city. This was a major bummer, so I arranged to push all my work to Monday (today!) so I could enjoy time with family and friends over the weekend.
Which was a fantastic idea.
Until I woke up this morning and realized I would be dragging my ass from one end of L.A. to the other. Which pretty much means an entire day stuck in traffic between meetings.
But there were bright spots along the way.
I had time to stop at Pink's for a Patt Morrison Baja Vegan Dog, one of my favorite things...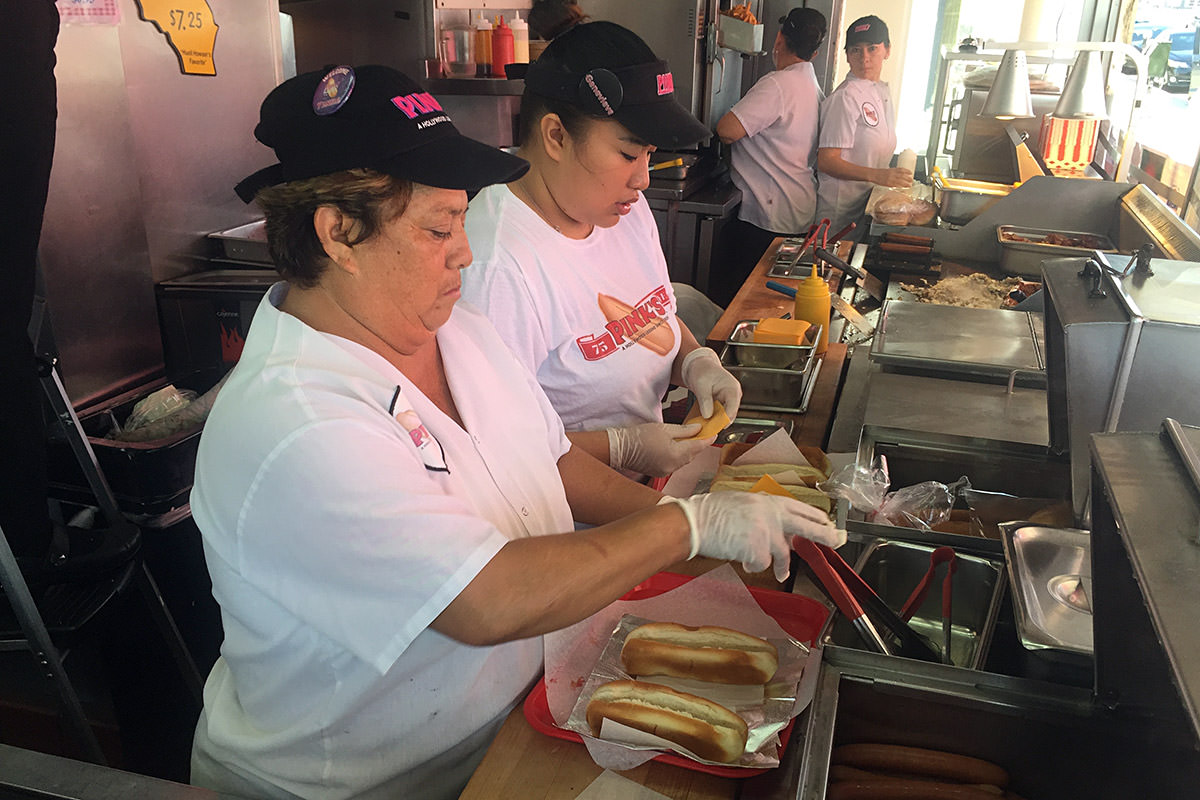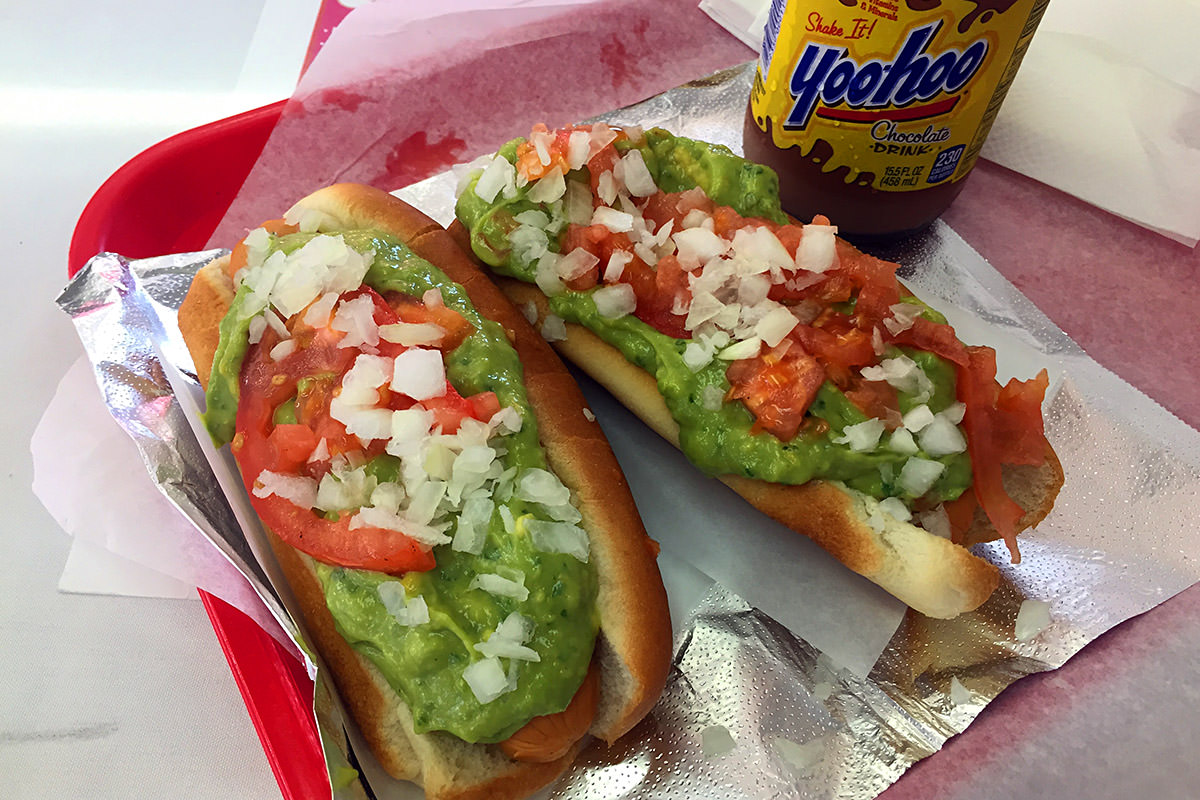 Amazing.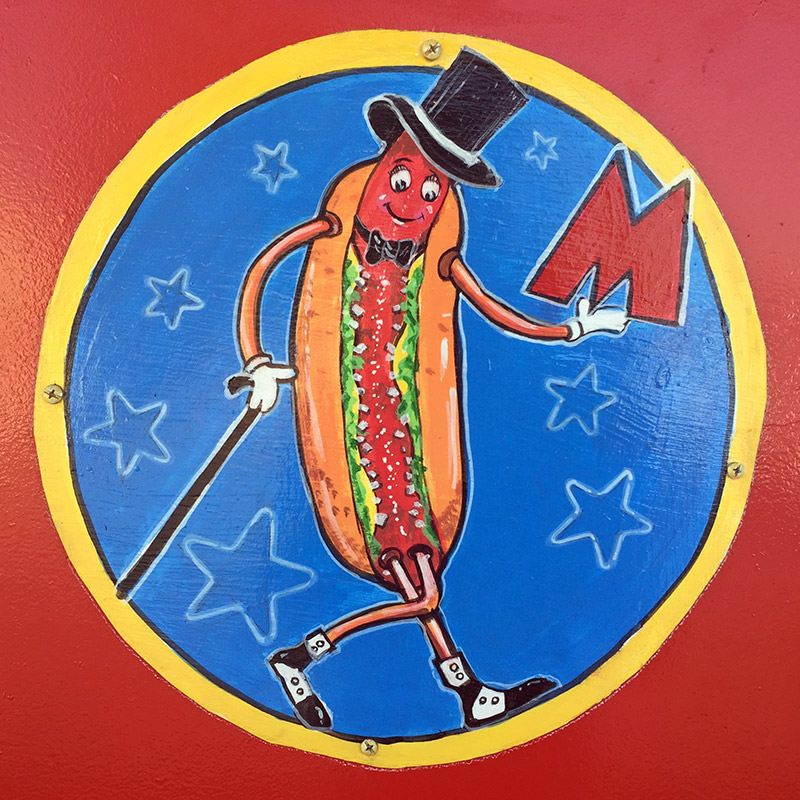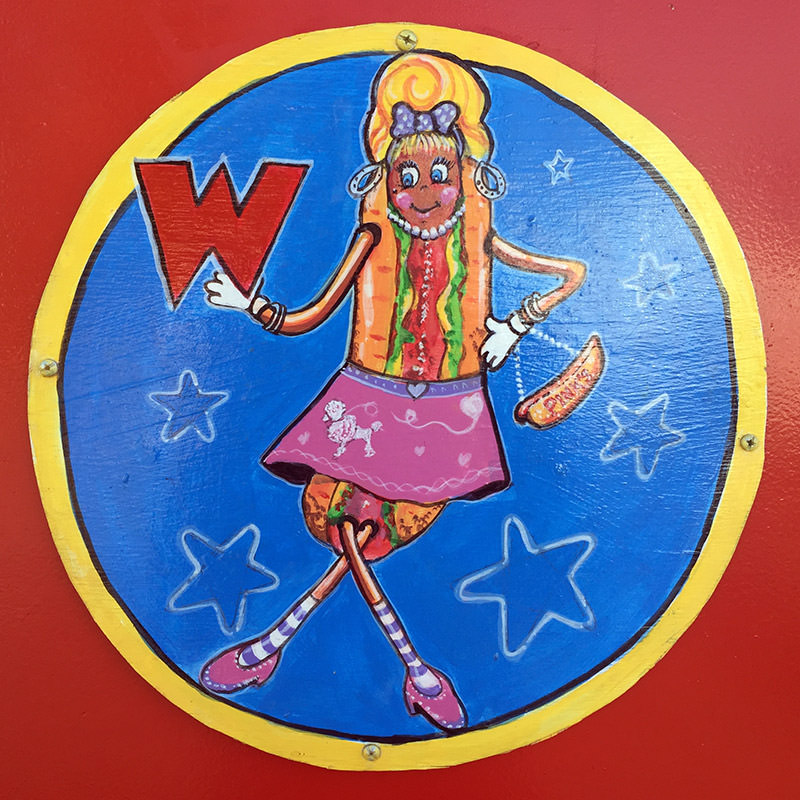 After an unexpected side-quest back to my hotel, I was off to Anaheim for one last meeting and a business dinner.
It was at my final meeting that something amazing happened.
We were discussing our impending dinner when somebody said "I'm surprised we're not going to eat at Earl of Sandwich since Dave's in town." I laughed and then broke the news that I don't eat at Earl of Sandwich anymore because they discontinued their veggie sandwich. A colleague then piped up with "Really? I just had one at Disneyland a couple weeks ago."
Uhhhh... come again?
So I look at their online menu and, sure enough, their veggie sandwich is listed. Thinking it surely has to be an outdated menu, I am nevertheless intrigued. This is my favorite sandwich on earth. For years I obsessed over Earl or Sandwich and moved heaven and earth to eat at their restaurants.
With no choice in the matter, I hop in my car and rush to Downtown Disney so I can check it out. As I walk up to the restaurant, I'm starting to hyperventilate...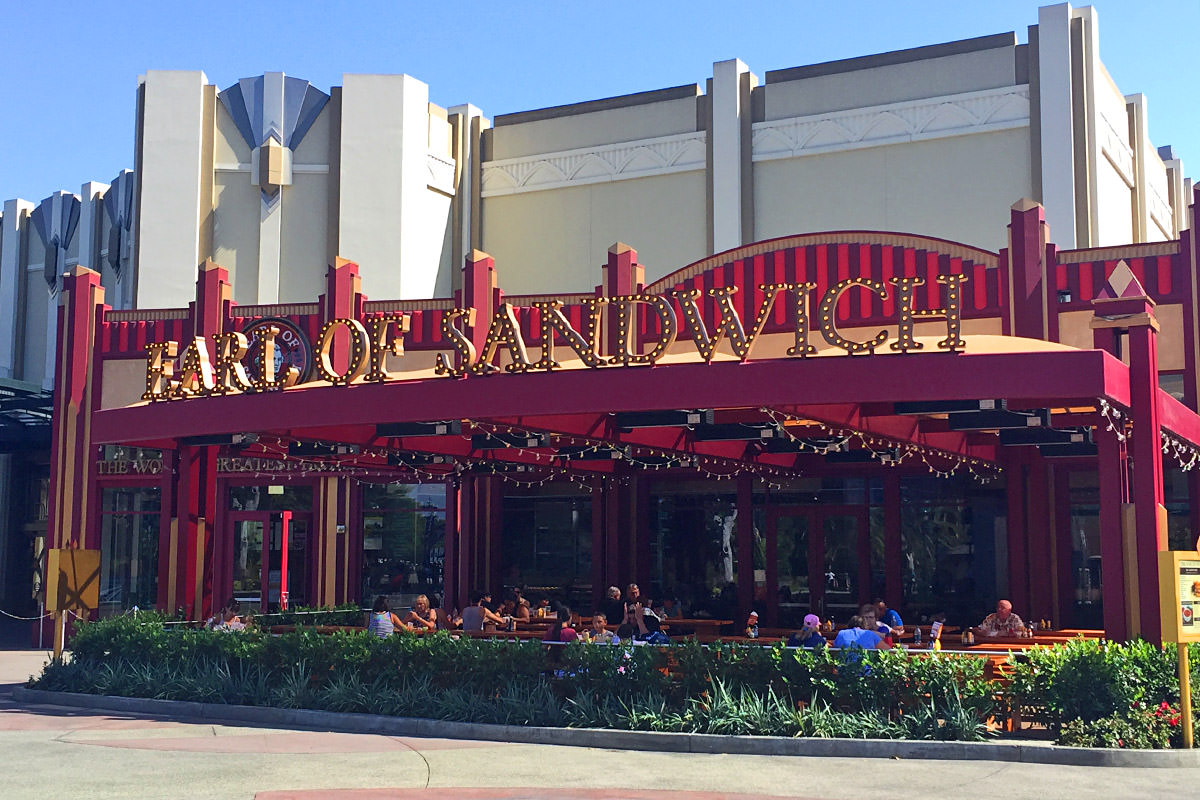 Sure enough, their veggie sandwich IS back...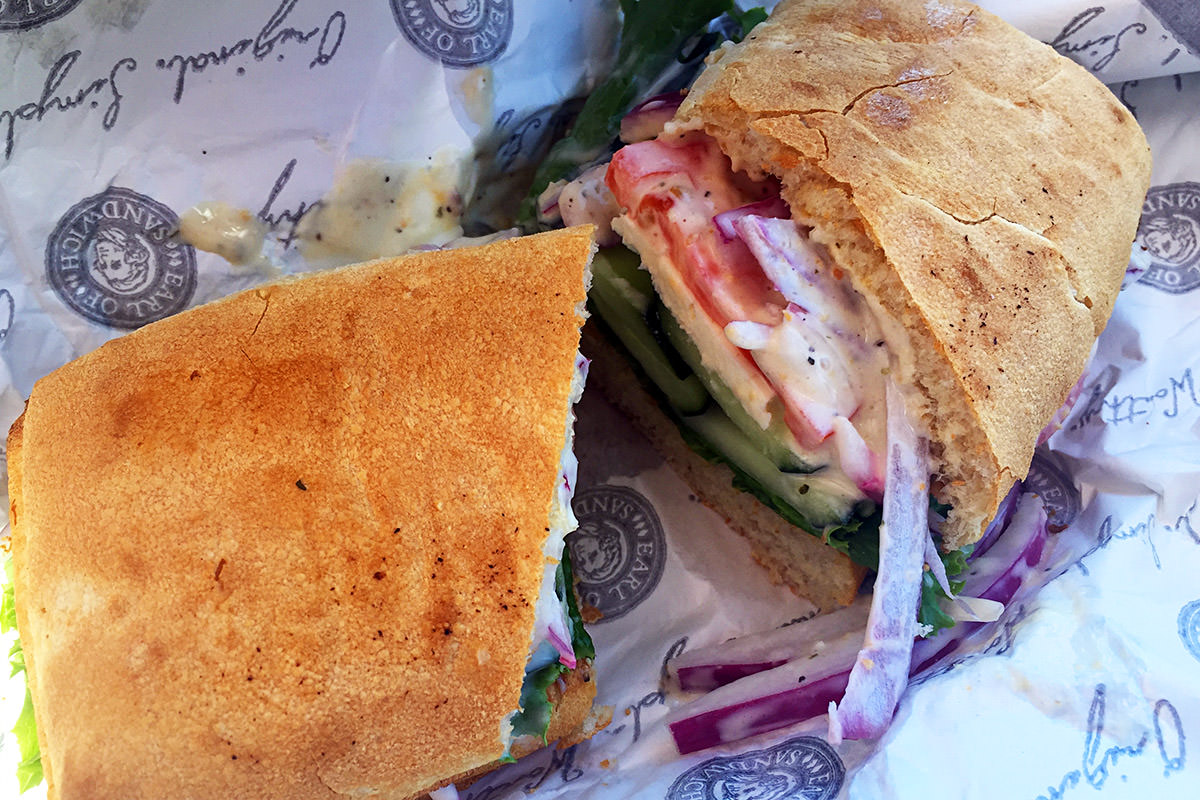 And it is just a glorious as it ever was.
So, even though it spoiled my dinner, a tremendous THANK YOU to Earl of Sandwich for bringing back one of my most favorite things to eat. Amazing. Delicious.
Since I was at Downtown Disney, I decided to use a Disney Dream Dollars gift card that's about to expire. I ended up getting a Disney 60th Anniversary pin and lithograph, which is pretty cool. Also cool? Now that Disney owns Star Wars, they are doing a super-sweet job of integrating their new property into the Disney parks...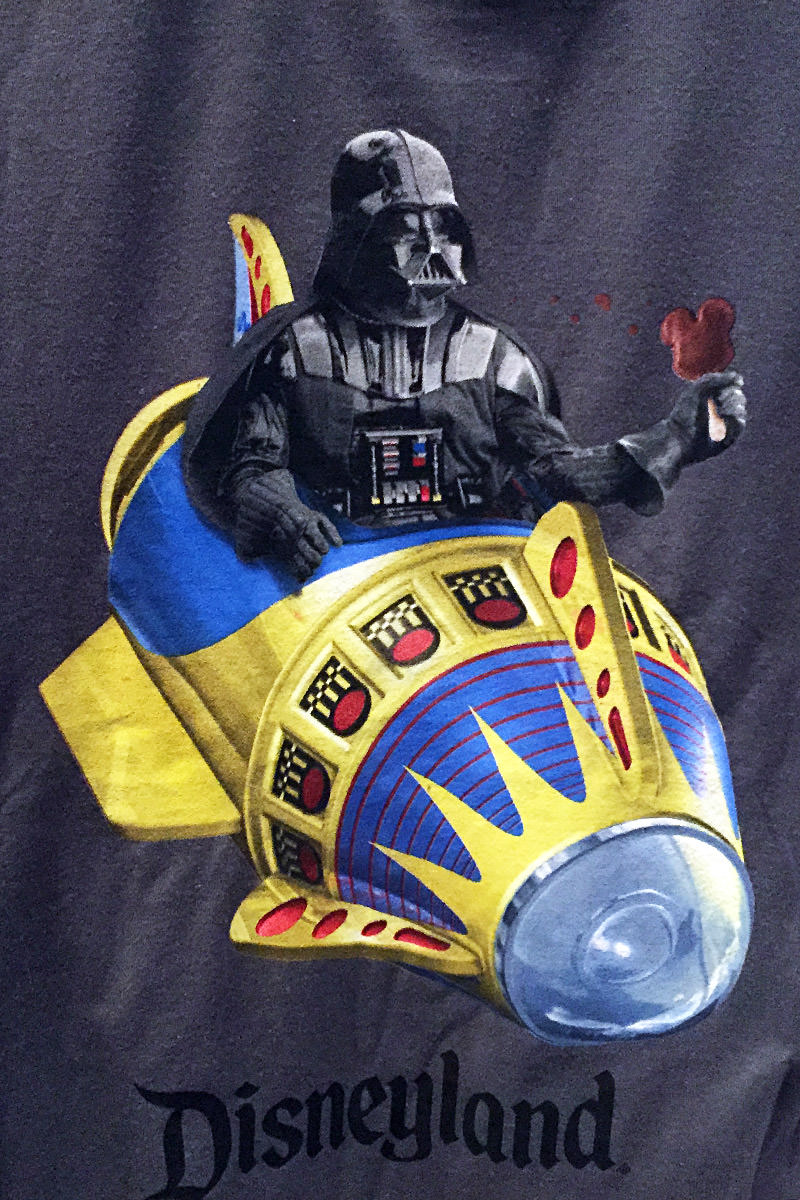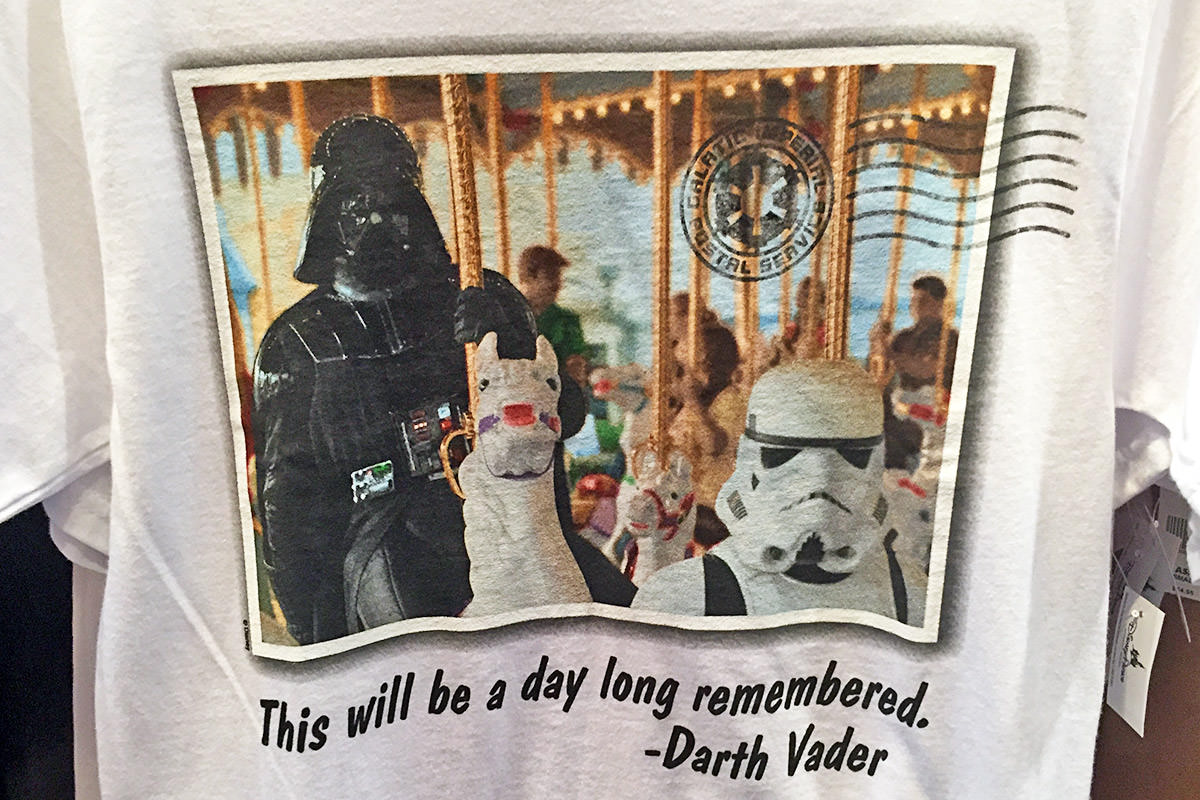 BWAH HA HA HA!
The dinner meeting was short & sweet, and I was on my way back to my hotel at 7:00... arriving by 7:30... in bed at 8:00. Not a bad end to a pretty great day... especially food-wise.
Posted on January 22nd, 2014

"I DON"T LIKE SANFRISCO ANY MORE!"
—Kid waiting in line for a cable-car ride this morning.
Much like the side dish made famous as a "San Francisco Treat," I find Sanfrisco delightful. I fall in love with the city all over again every time I'm lucky enough to come here and never pass up on an opportunity to visit... even if it's just for a job.
After breezing though mountains of paperwork and a presentation, I was able to escape for an afternoon of bigtime fun with long-time blogging friend, Jester (right after randomly running into another bloggity friend, Dickie Maxx!).
First it was lunch at Boudin Sourdough (where we both got a slight case of food poisoning?). Then, after neither one of us could think of anything to do, I remembered an ad for "The Walt Disney Family Museum" I had seen yesterday, and away we went.
The museum is a pretty big deal, encompassing three buildings in The Presidio. I never quite figured out what a museum dedicated to the life of Walt Disney is doing in San Francisco, but they couldn't ask for a more beautiful location. The view from the back of the museum's glass panorama wall is great...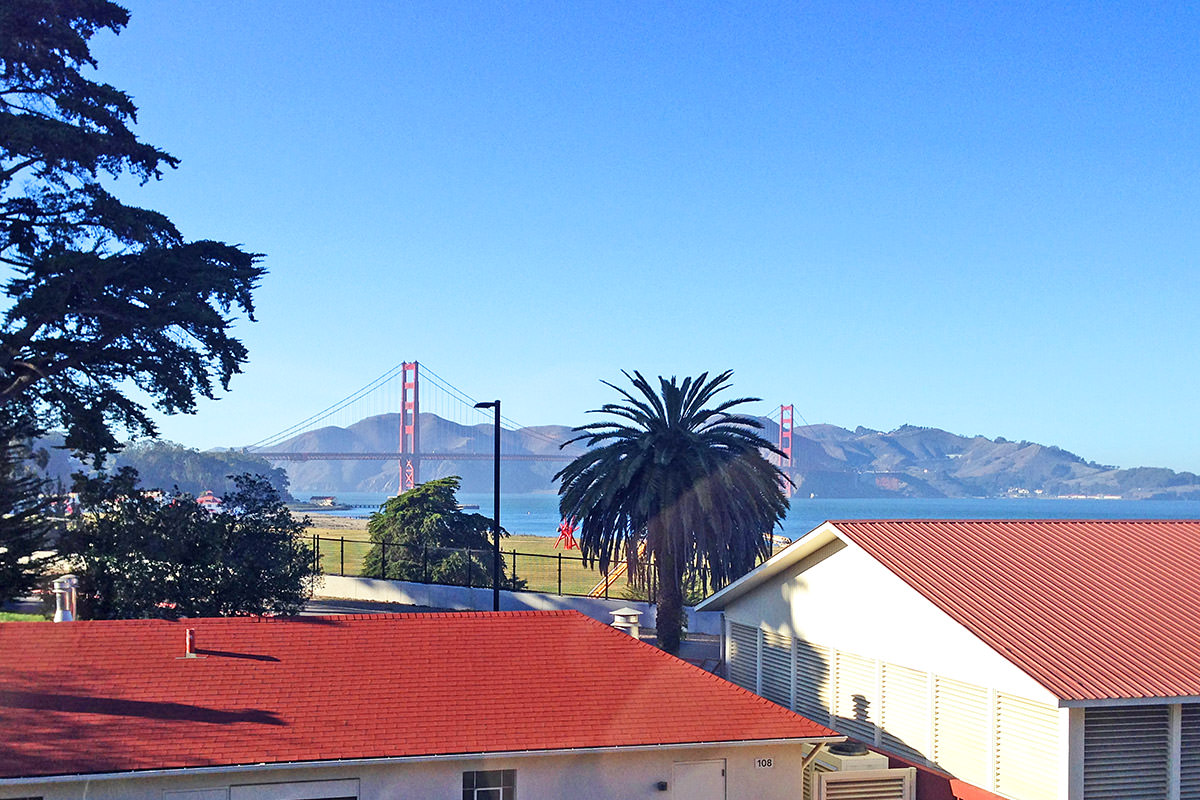 Having nothing to do with the mega-corporation that is The Walt Disney Company, the museum is a non-profit organization dedicated to Disney's life, and was founded by his eldest daughter, Diane (who sadly died last November).
Everything about the museum screams "quality," and the numerous displays all look as thought they could have been designed by Disney Imagineers (and who knows, maybe they were!). The lobby features some of the many awards won by Disney, including his Emmy and numerous Oscars...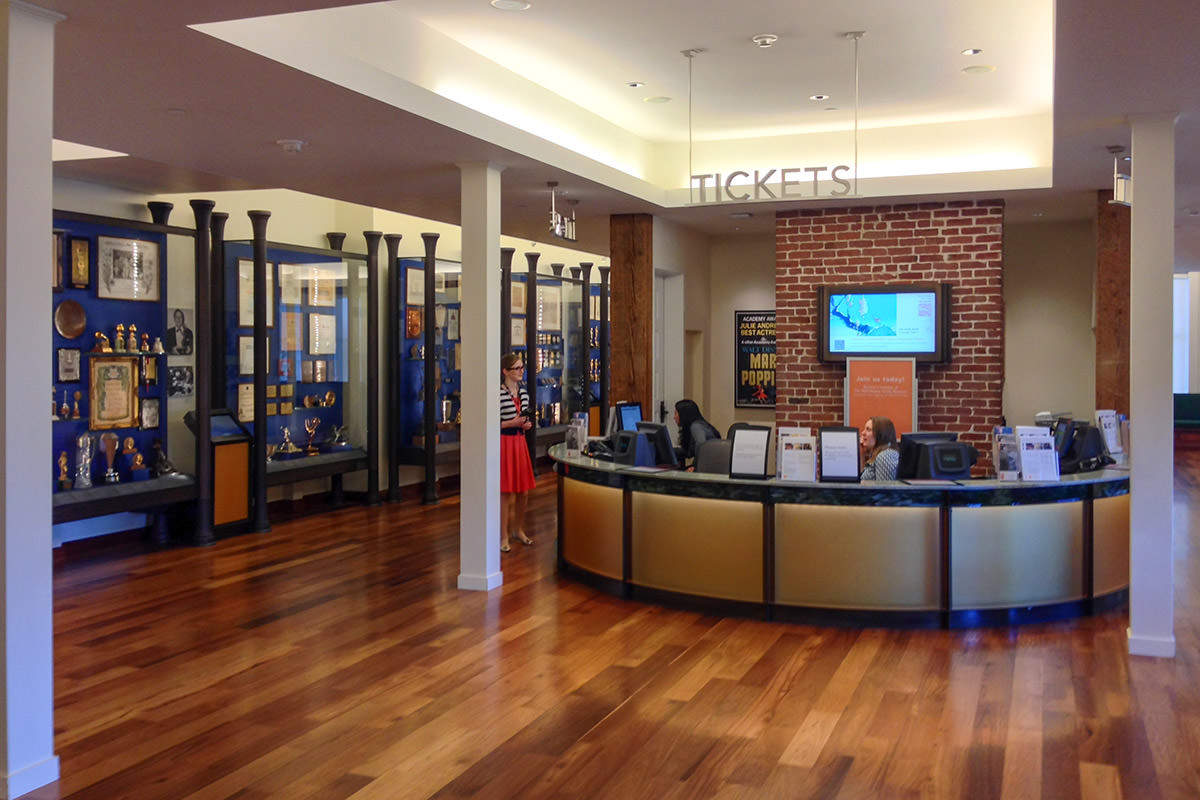 Walt's early days are explored via audio recordings of Disney himself, which are accompanied by fantastic Monty Python-esque animation screens. Throughout the displays are many photos, letters, and other personal effects which are (as with everything in the museum) beautifully exhibited...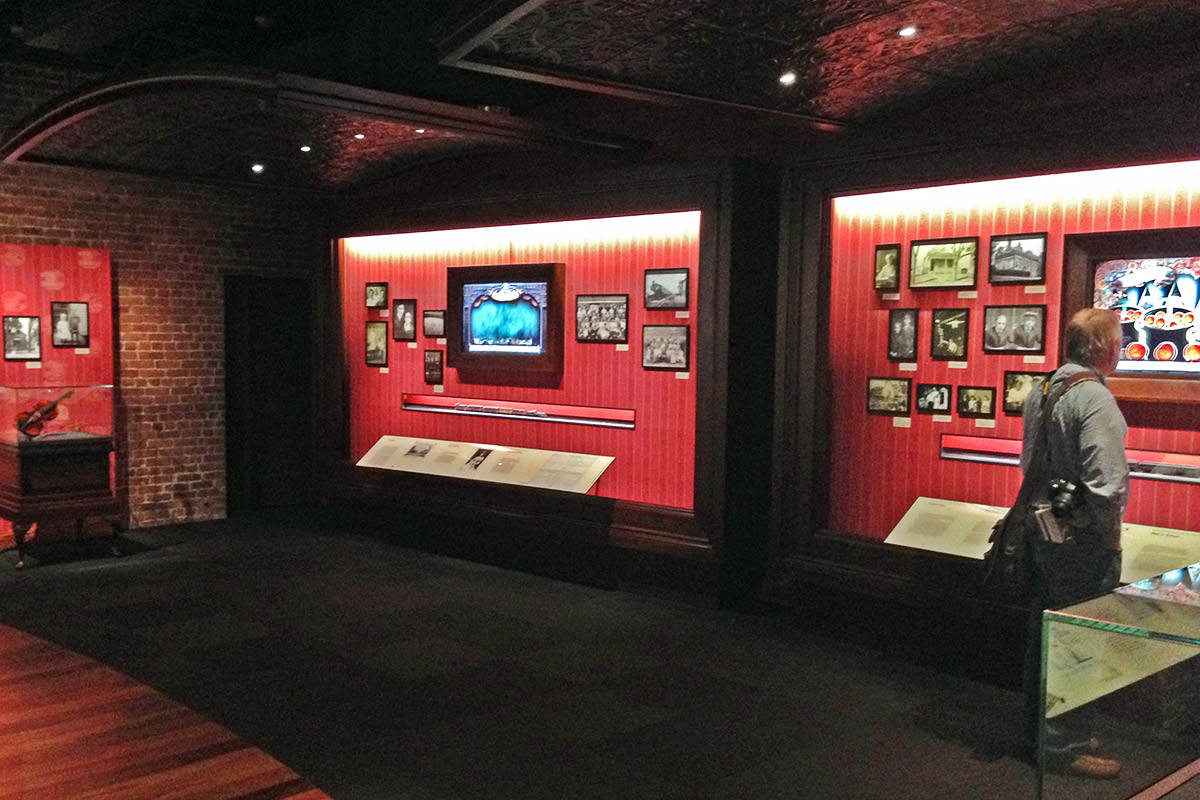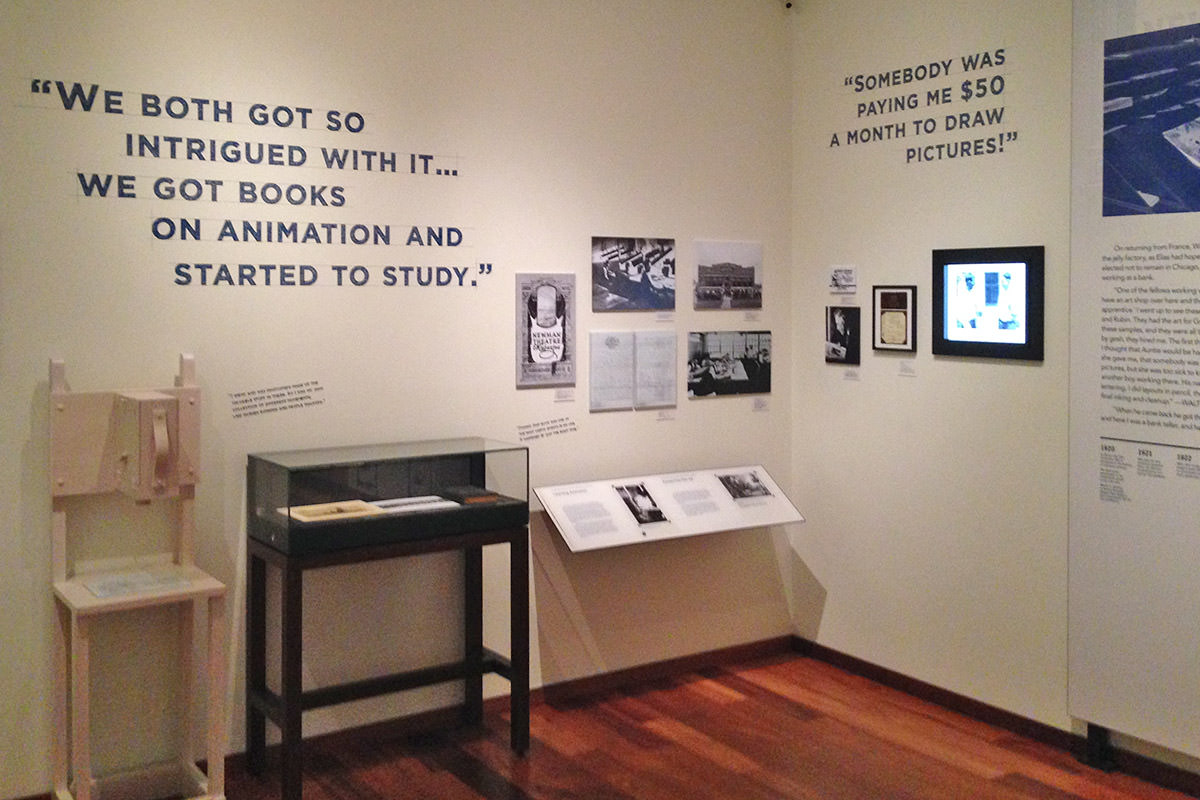 Eventually... inevitably... you get to Mickey Mouse, whose creation is given an entire room. Here begins Disney's many, many innovations when it came to animation, including the way audio was recorded via visual cues. There were no multi-track recorders during those early days, so coming up with the sound for a cartoon was an elaborate affair involving several people working together at the same time. An interactive display shows how it was done...
And, of course there is a nice chunk of Mickey memorabilia...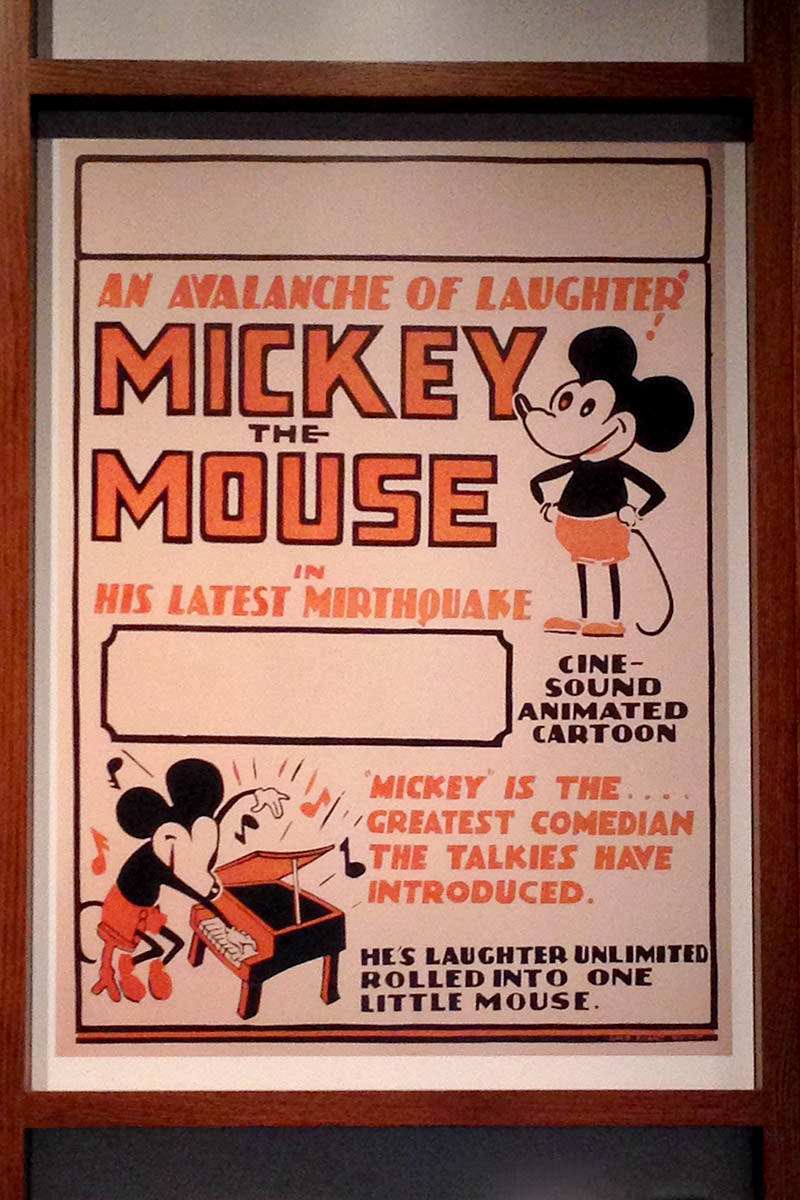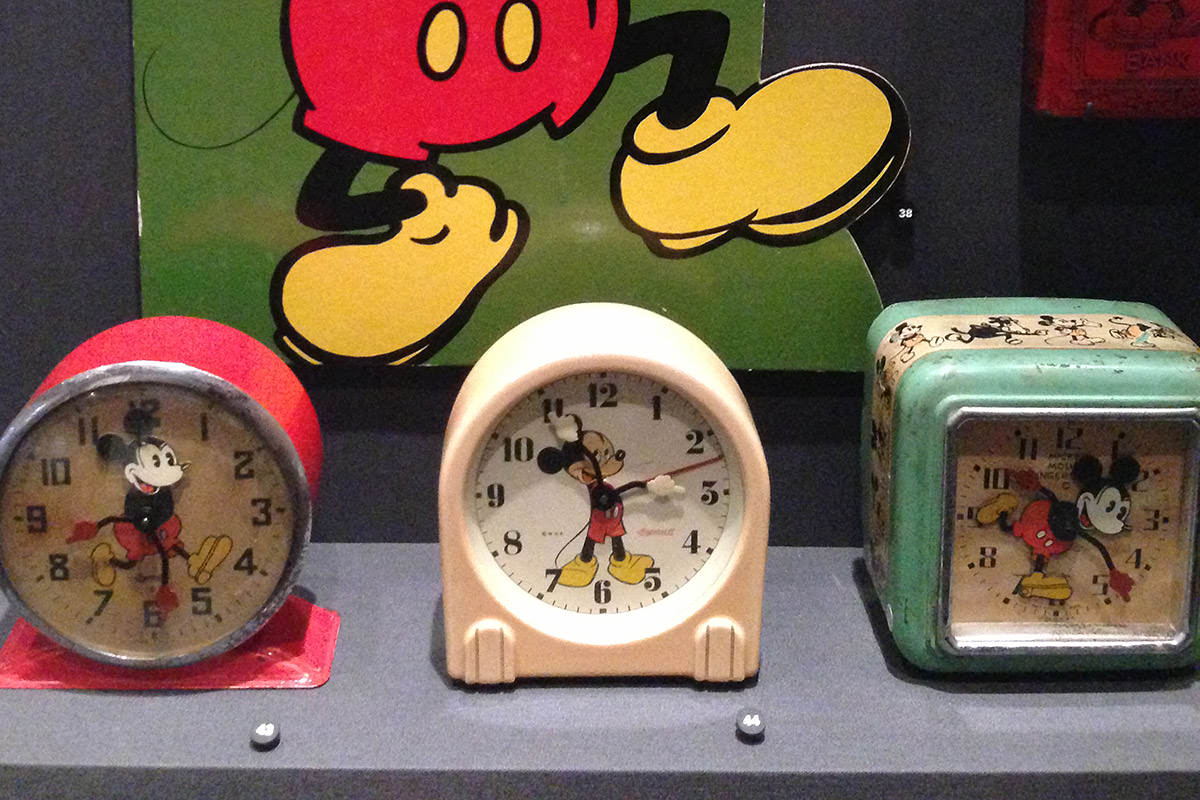 The animation process is explored thoroughly, and displays include many props... including an original Disney animator's desk and the revolutionary multi-plane camera, which added depth and realistic camera panning...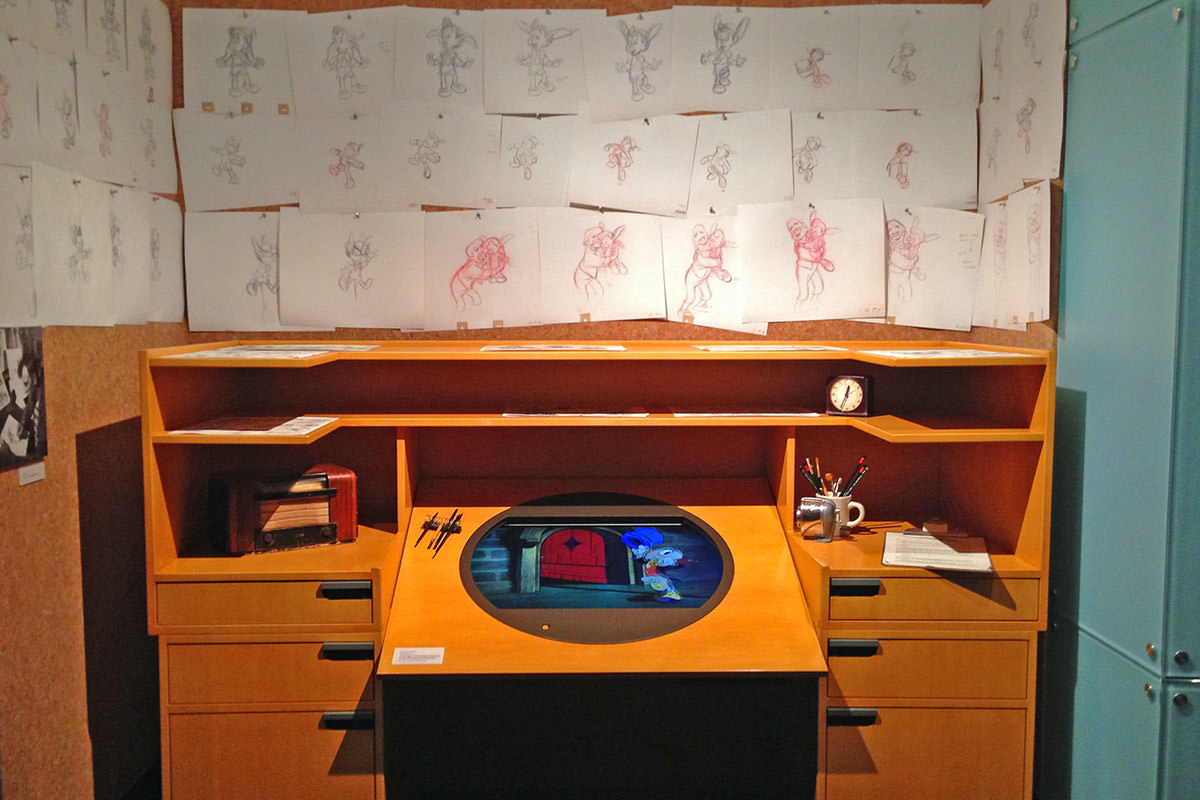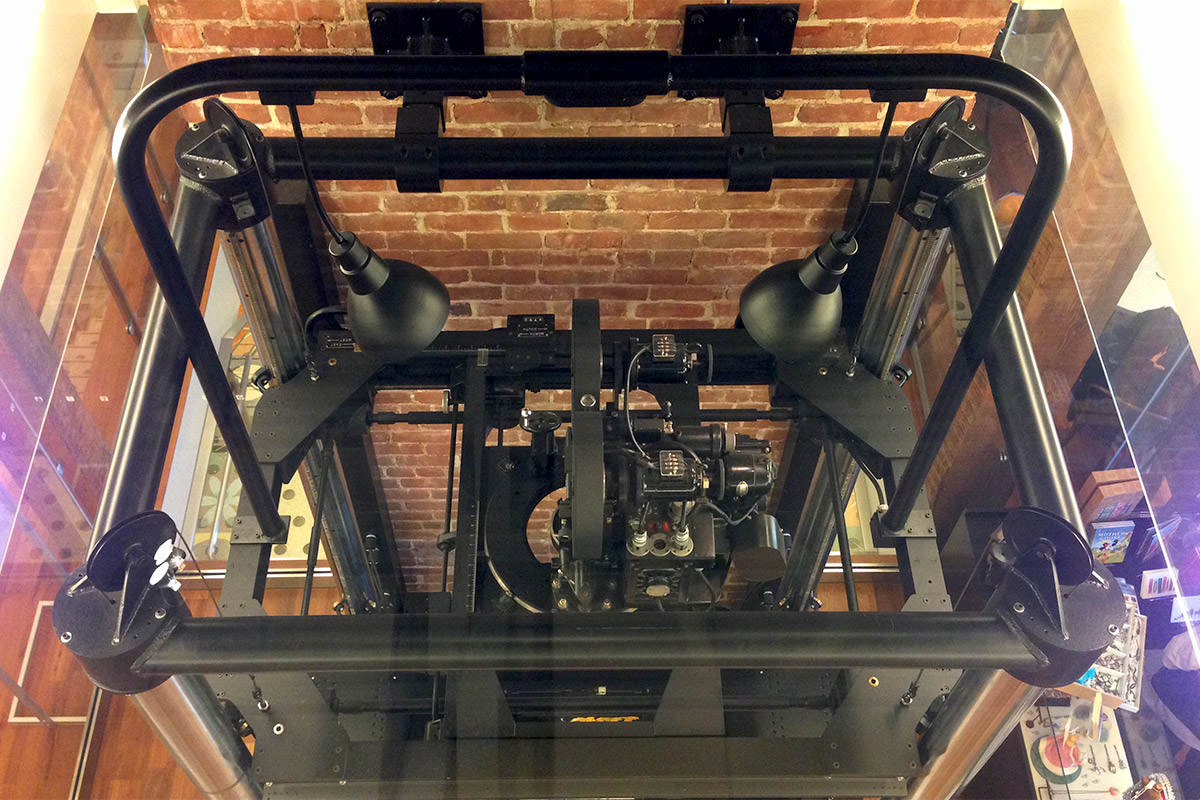 Animation cels, color tests, production drawings... it's all here...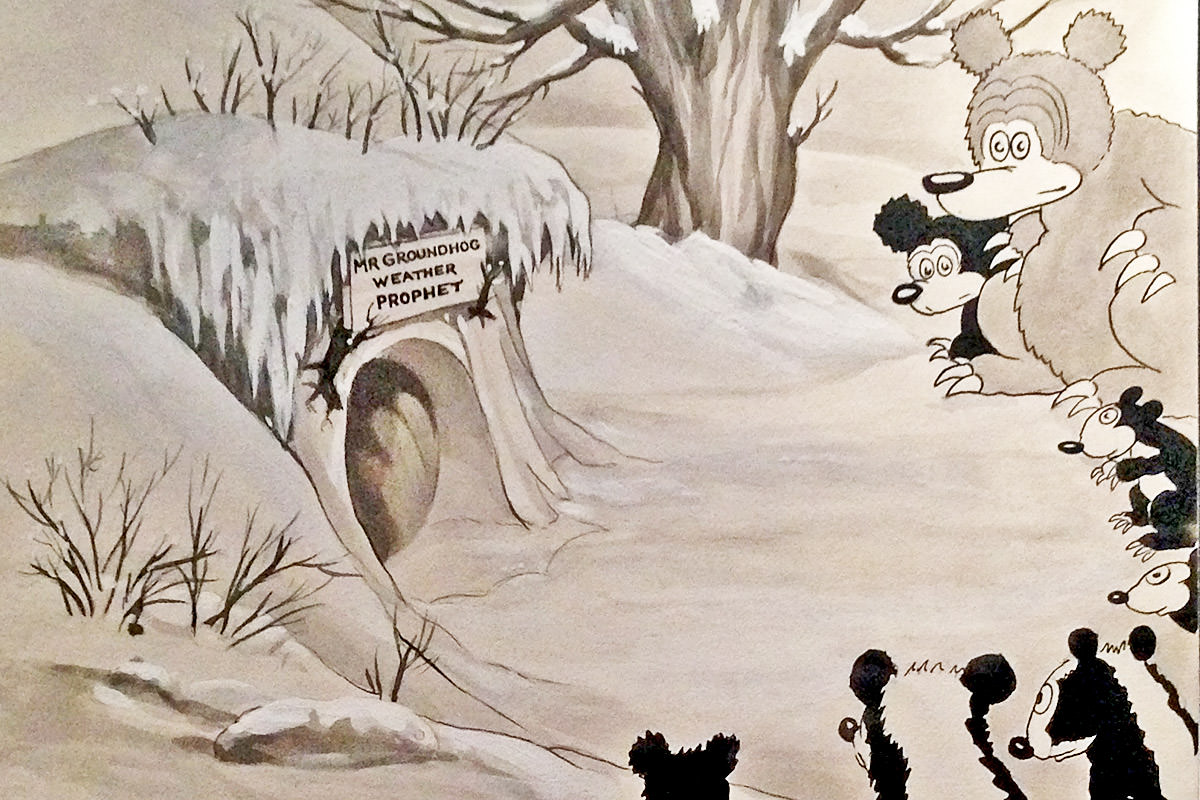 The section on Disney's war-time contributions is interesting. In addition to anti-Nazi propaganda, Disney artists did all kinds of things to support Allied war efforts... including illustrating pin-ups for the troops, which I did not know. Why children were included in the drawings I can't fathom, but there you have it...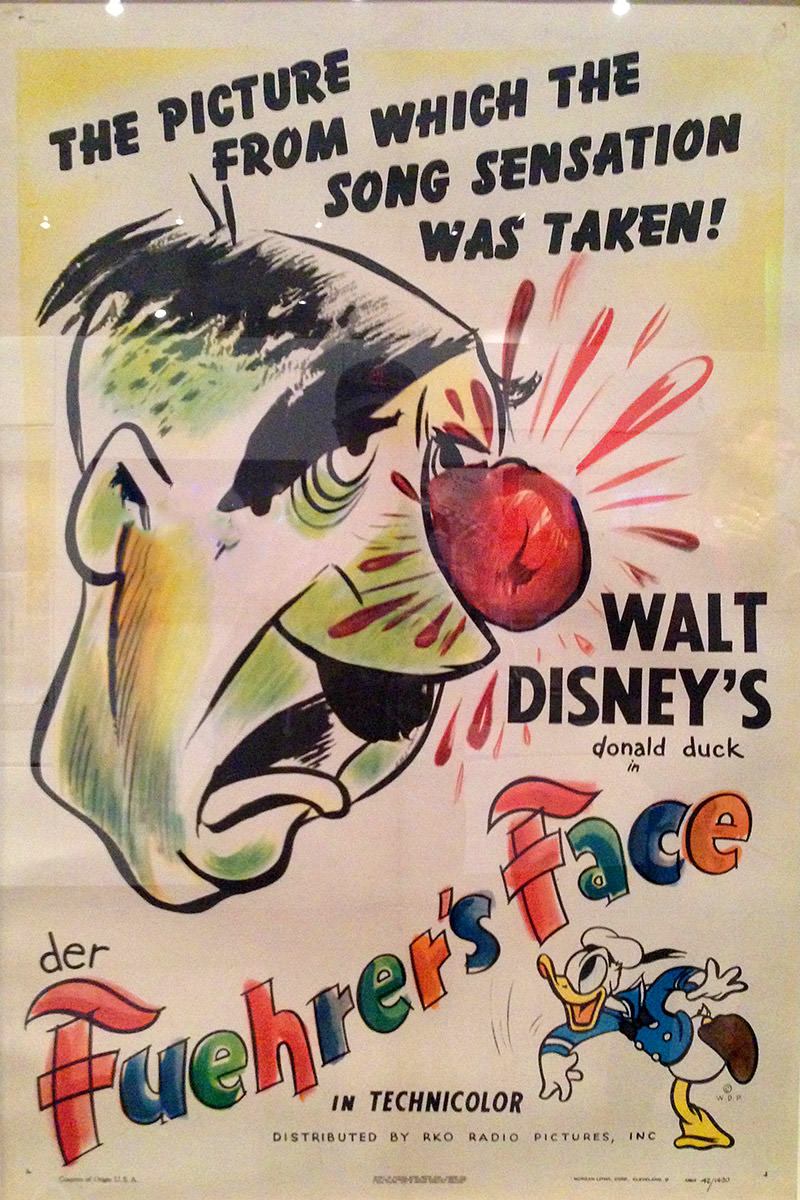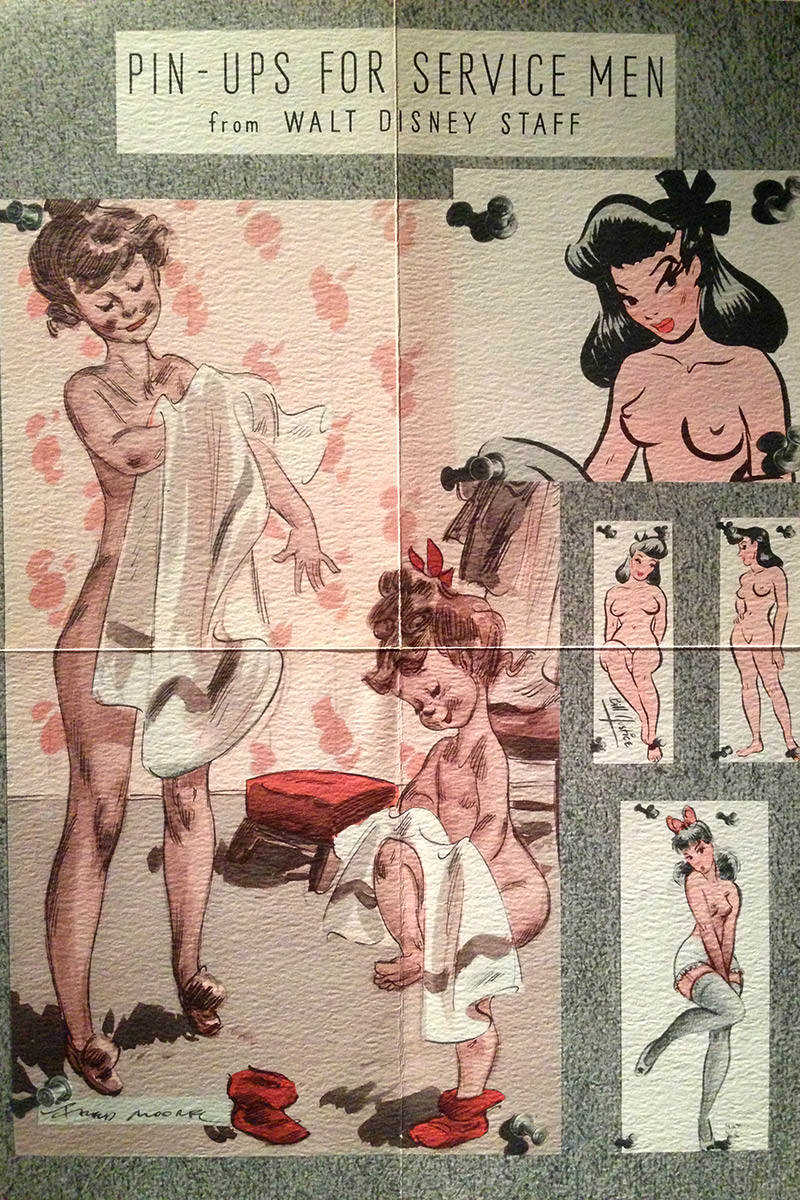 It's not all fun, games, and gratuitous cartoon nudity though... the museum also takes a look at the not-so-nice stuff that Walt went through. Including a cartoonist strike (which Disney attributed to a Communist plot... but wasn't everything back then?)...
And then things get really interesting because... DISNEYLAND!!! Here the museum pulls out all the stops, and leads you through all the planning that went into making the park...

Click photo to embiggen in a new window.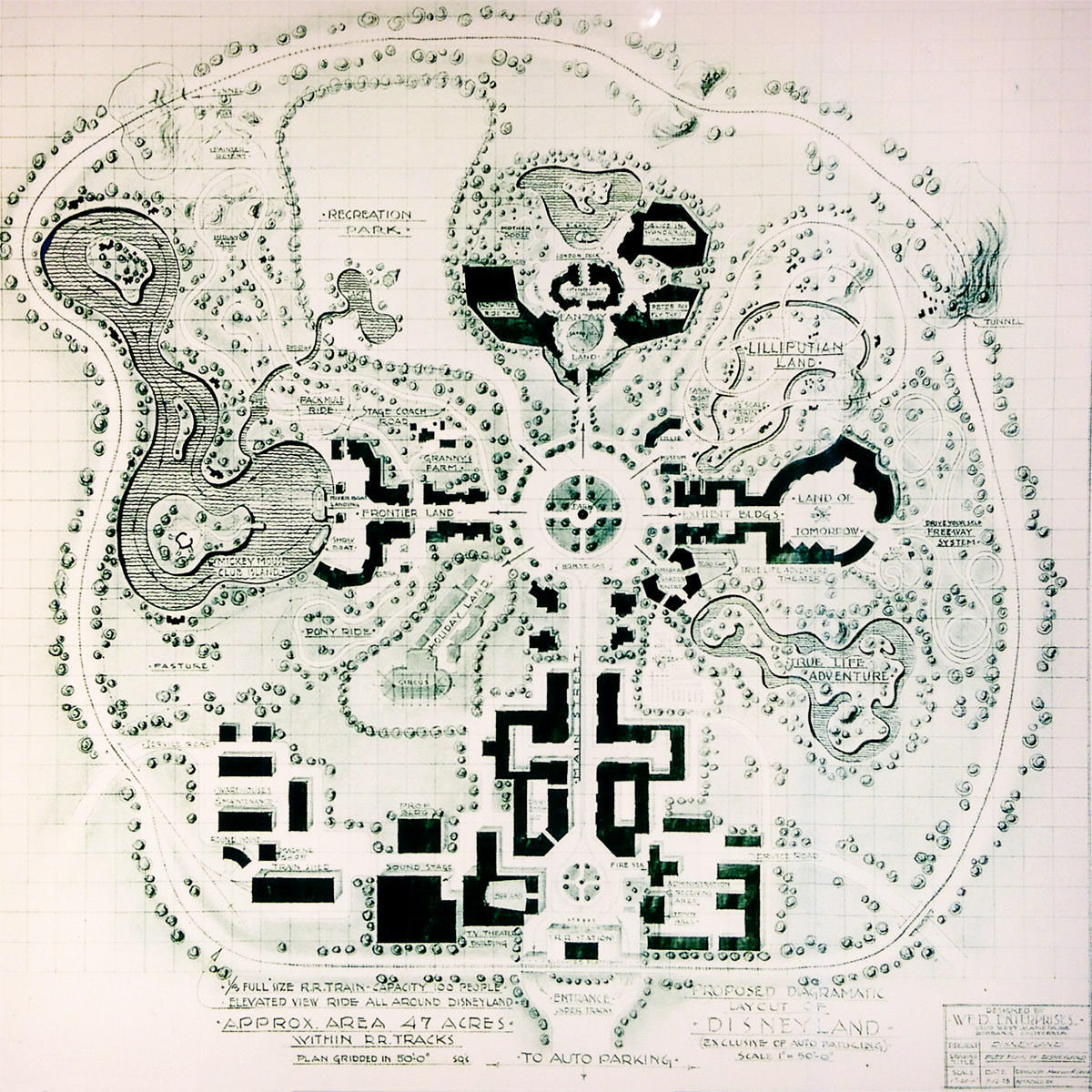 My favorite part of the museum is a relief map of Disneyland... not as it exists, but as Walt Disney had dreamed it would one day be. So much of it is the same as what we ended up with, but very different at the same time. Space Mountain, for example, had the roller coaster on the outside of the structure instead of being a dark ride inside of it. Thunder Mountain Railroad was not the high-speed thrill-ride it turned out to be, but a scenic ride through the American Southwest (and included a ride under a waterfall). It's all just so fascinating. If you're a Disney parks whore like me, you could stare at it for hours...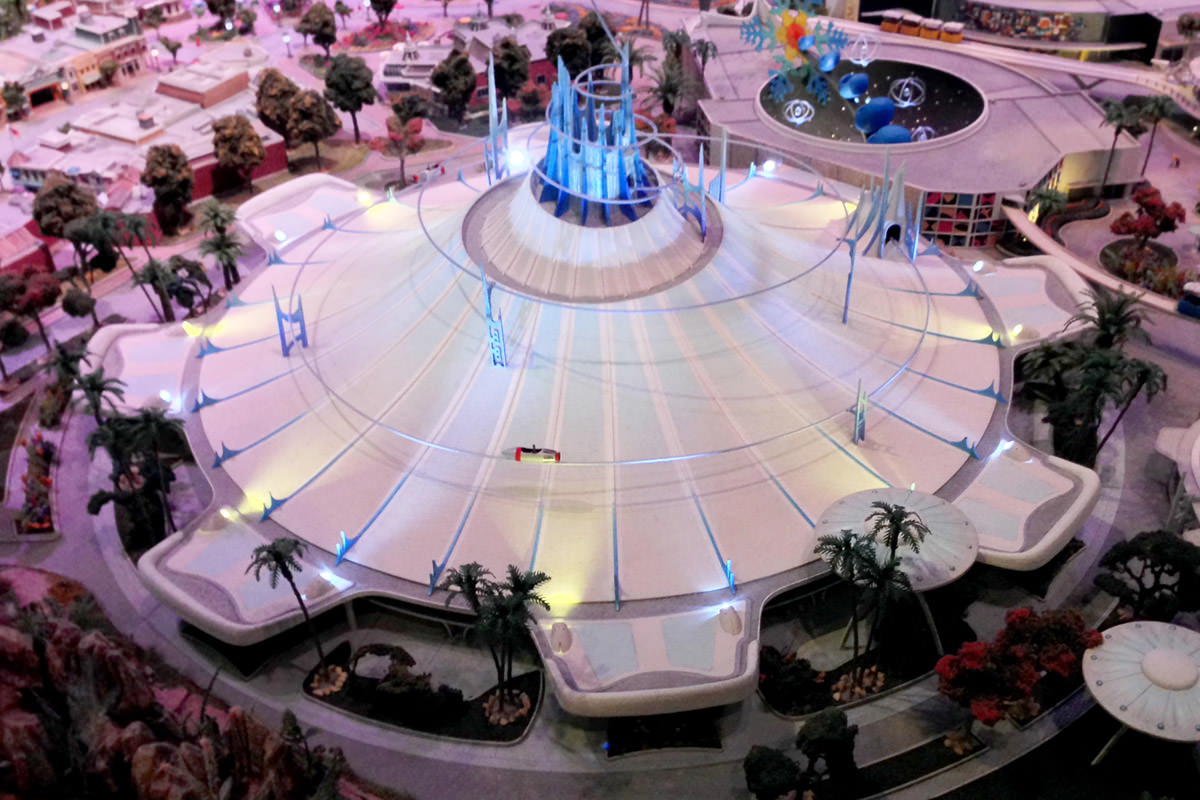 The museum is a cradle-to-grave experience, and includes a nice video montage retrospective of his life as you exit...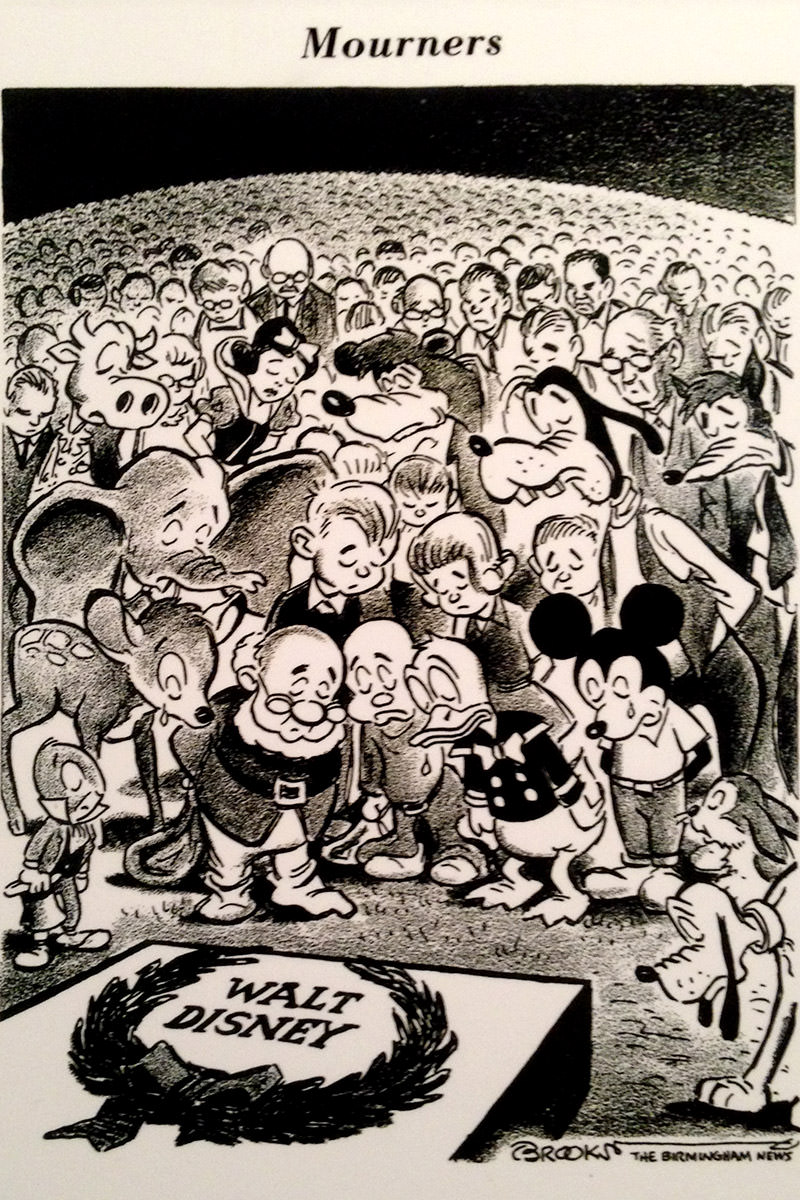 And, no, you don't get to see Walt Disney's cryogenically-preserved body at the end. You do get to see a very nice tribute to one of Walt Disney's favorite artists, the incomparable Mary Blair, if you go down to the restroom level though...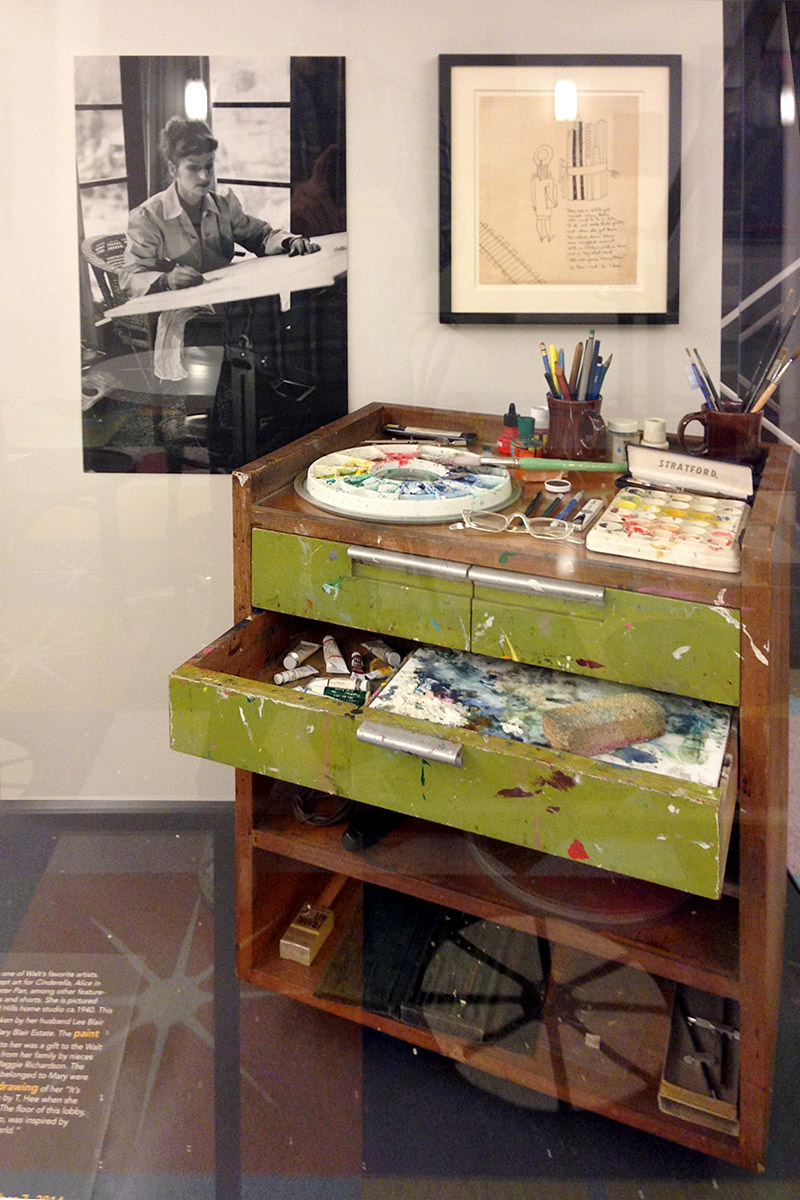 All in all... the museum is worth your valuable time to visit. I had a great time, could have spent the entire day here, and thought it was worth the $20 price of admission because there's just so much... stuff... to see.
Since taxis didn't seem to exist in The Presidio, we decided to try an Uber driver. For those not in the know, "Uber" is an iPhone app that allows you to call a car to your location and have them drive you to your destination. It's pretty cool, because you are given a map with a real-time GPS location of your driver, the driver's name, a car model, license plate number, and an estimated time of arrival. For the budget-conscious, there's an Uber-X service, where you can hire regular people driving their own vehicles to give you a ride. In San Francisco, the price is up to 35% cheaper than hiring a taxi. Needless to say, this is not without controversy. Taxis are regulated... have experienced, knowledgeable drivers... and operate under safety standards dictated by the city. With Uber, you're just getting some dude and their car.
The first diver I tapped was nearby and had an estimated arrival time of four minutes. But, even after calling me, he couldn't figure out how to enter The Presidio and ended up driving all around it trying to find a way to get to us. It was pretty comical watching his GPS location on the map, because he'd drive one way... get frustrated... turn around... drive the other way... get frustrated... turn around... AND EVENTUALLY CANCEL OUR PICK-UP BECAUSE HE COULDN'T FIGURE OUT HOW TO FIND AN ENTRANCE! I was relieved to get the cancelation, because the ETA went from 4 minutes... to 8 minutes... to 12 minutes... and I was going nuts (on the bright side, we got to watch the worst 20-minute parallel parking job EVER).
When I tapped a new driver, he was much more knowledgable on how to get to THIS MAJOR CITY LANDMARK, and picked us up in just five minutes. Nice guy too.
If you want to try Uber for yourself (and live in a city it services) you can get $20 applied to your first ride by using the promo code ba9az (just tap the little "person" icon in the upper-left corner of the FREE Uber App and go to the PROMOTIONS link).

Anyway... Jester and I goofed around the Mission District for a while, and eventually decided to find a tapas bar for dinner. Yelp suggested a tiny little place called Lolo, and off we went...
...to a fantastic meal. Seriously delicious food. The guacamole was flavorful and amazing... the chips super-crispy... the corn with crema was so tasty and sweet it was like candy... the quesadillas unique and mouthwatering... the flaming cauldron of melted cheese was creamy and dangerous*... the berries and mascarpone with honey crumbles was mind-blowing... everything was great, and the service excellent as well. Highest recommendation for Lolo!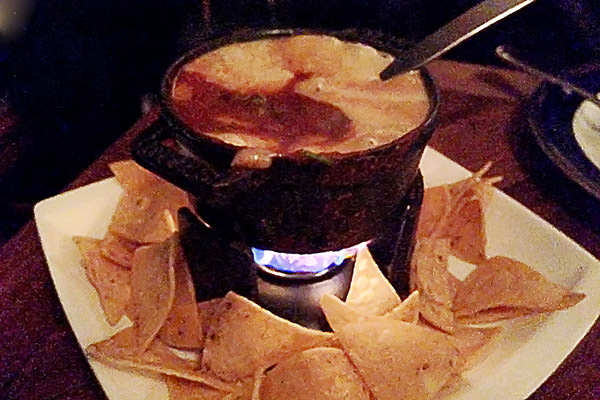 *Dangerous because the cheese is kept melted under an open flame and, if you're not careful (like me), you can set your chips on fire!

Thus ends my first day of adventure in Sanfrisco, and how great was that? The kid complaining about the city this morning obviously didn't spend time with Jester, Mickey Mouse, and a flaming cauldron of cheese.
Posted on April 19th, 2013

The best piece of advice I give when people ask about visiting Disney World in Orlando is to stay on-site in a Disney hotel. It's part of the experience, it has all kinds of benefits, and even the cheapest Disney property assures you of a clean, comfortable, convenient place to stay. If I had the option of going to Disney World today and staying off-site... or saving my money for an additional six months so I could stay on-site... I'd wait the six months.
Disneyland is a little different, because the off-site hotels are often just as close and convenient as The Disneyland Hotel and Disney's Paradise Pier Hotel... even though you don't get the "Magic Mornings" early-entry and other benefits. The exception would be Disney's Grand Californian Hotel and Spa, which sits inside California Adventure...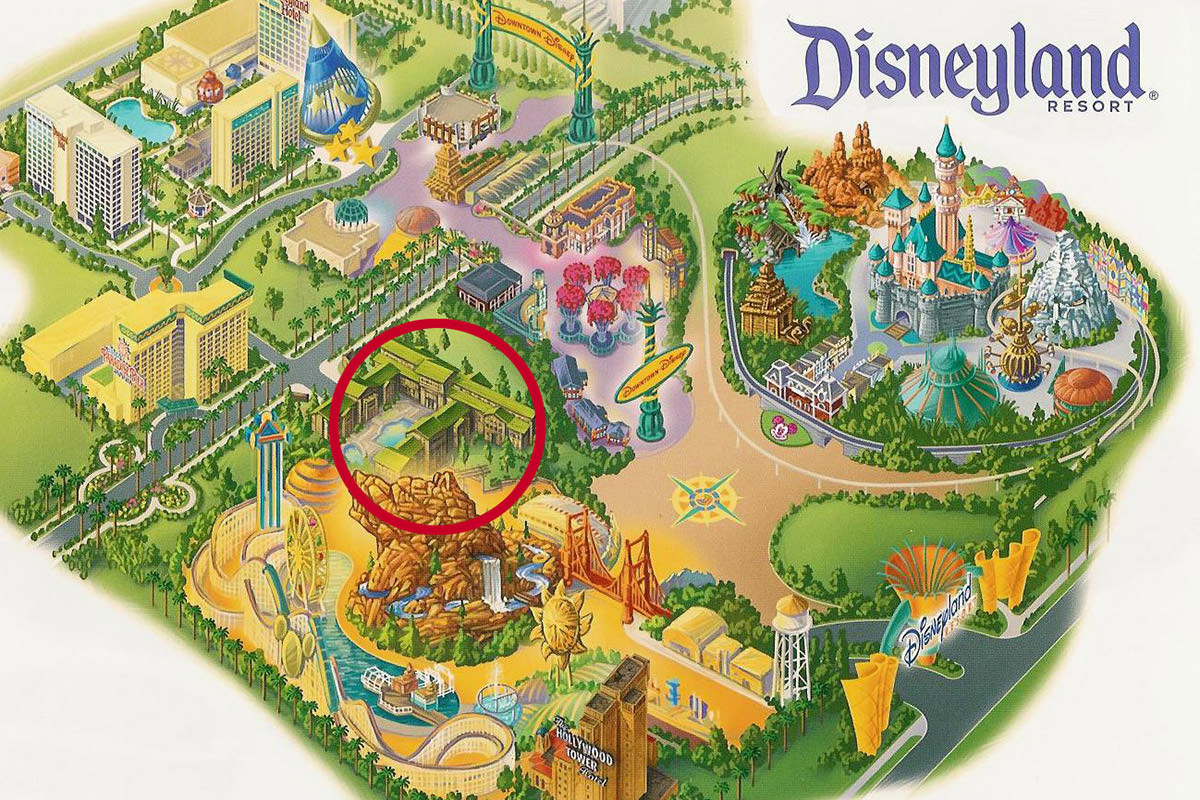 The hotel has its own private entrance to both California Adventure and Downtown Disney, which is pretty special.
But the biggest draw for me is that it's yet another architectural triumph from Peter Dominick, who designed Disney World's awesome Animal Kingdom Lodge and Wilderness Lodge. Sadly, he died back in 2009, so I guess this is the last Disney hotel we'll be seeing from him. Staying at his hotels is an experience every bit as awesome as visiting Disney World or Disneyland...

The "Downtown Disney" private entrance to The Grand Californian.
Even the frickin' front doors are magnificent...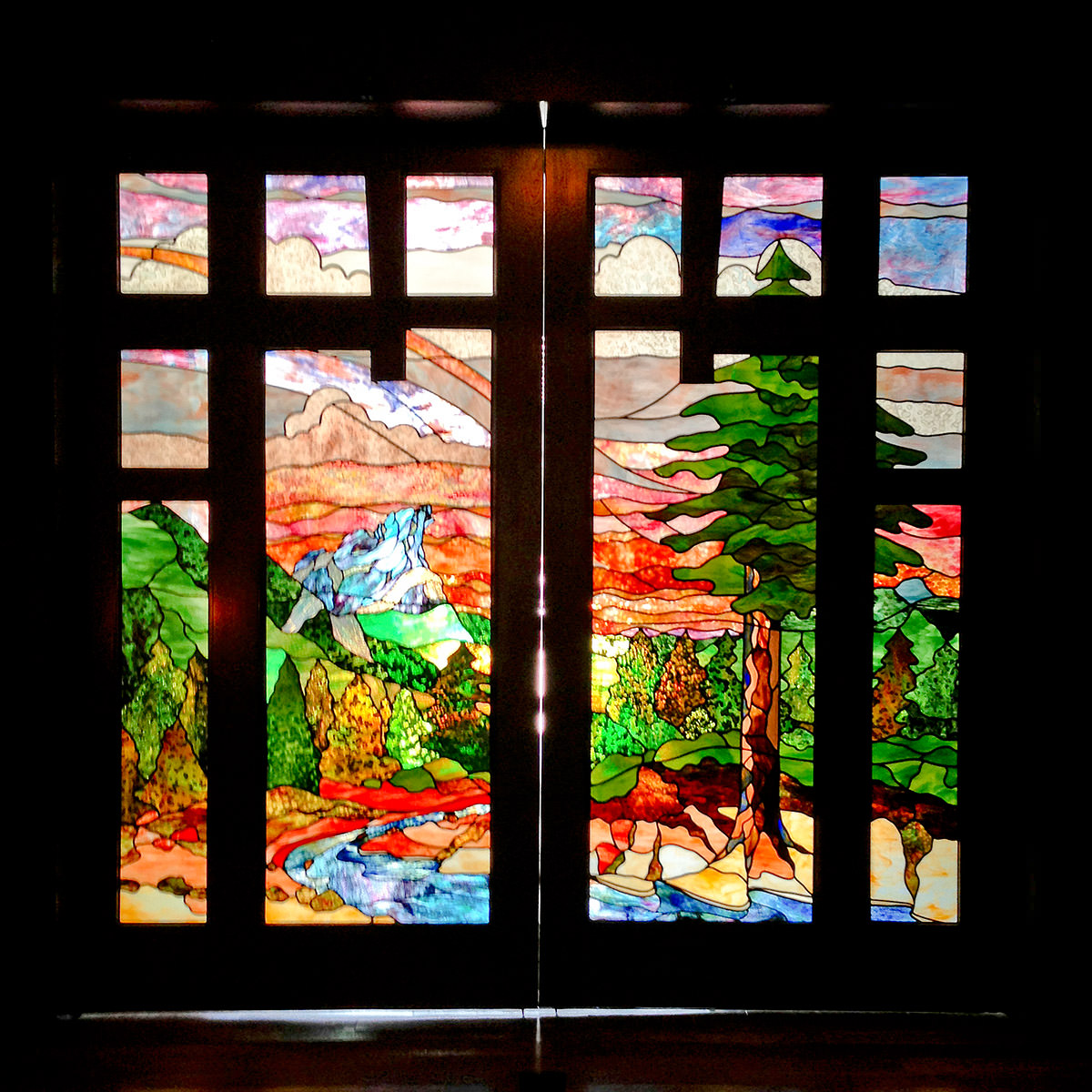 No joke... just walking up to those big main doors with the sun shining through is an amazing experience.
The rooms are quite nice, and everything reminds me very much of staying at Disney's Wilderness Lodge...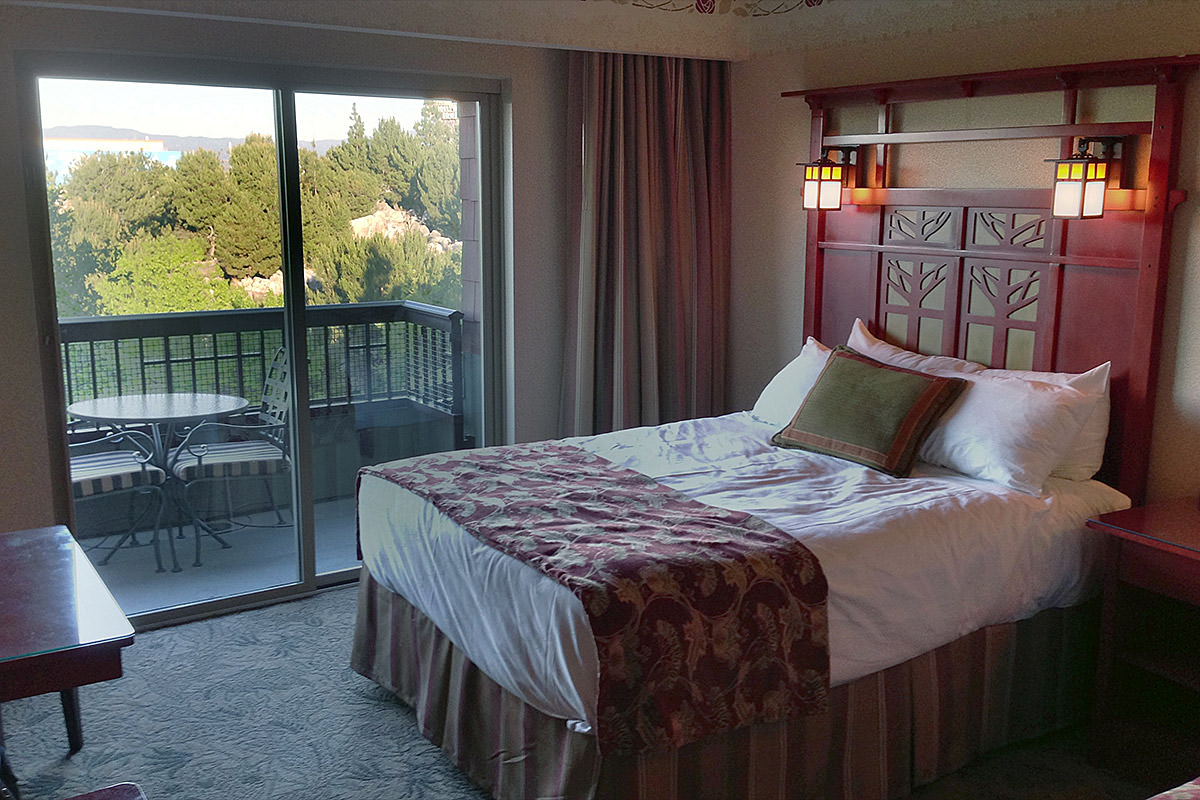 And now... a word about the view.
Since I was already paying the huge expense of staying at The Grand Californian, I felt I might as well go all the way and get a "Premium View" room... which either faces Downtown Disney, the parks, or the pool courtyard. Downtown Disney is noisy, and I've seen many noisy pools, so I picked the "Premium Parks View."
Only to find that my third floor room had no view of the parks. All I could see was trees. And the snout of Grizzly Mountain... if I went to the extreme edge of my balcony and leaned out.
So I went back down to the lobby and complained. There it was explained to me that the trees have grown over the 13 years the hotel has been open, so the lower floors don't have the view they used to. This was kind of upsetting, because they still sell them as Premium Park View Rooms! If they KNOW that there's no view, why do they still sell them as such? Well, money. And "technically" it still is a "parks view" since the parks are in that direction... you just can't see them.
In any event, I got moved up to the fifth floor, which was better... but still not the sweeping view of the parks I had imagined. Mostly just trees...

You can see a little Space Mountain and Soarin' Over California easy enough to the left. And if you squint you can see Tower of Terror and Cars Land. And there's Grizzly Peak hiding behind a tree there. So, yeah... it's a parks view. Just not much of one.
So, if you stay at The Grand Californian, skip paying extra for a "Premium View" that's not very premium. If you must have a "Premium View" room, I'd probably go with the "pool courtyard" view. Sure you've got kids screaming at the pool all day long... but at least there's something interesting to look at.
Anyway...
I didn't have any camera except the one in my iPhone, so I don't have any photos of this amazing hotel.
Well, okay, I have two I took one night...
Overall, I give Disney's Grand Californian Hotel and Spa my highest recommendation if you're visiting Disneyland. Yes, it's expensive. Very expensive. But it will enhance your Disney experience, and is likely worth the money (though I'd probably skip the "premium view" expense). I had a terrific stay, and would absolutely stay here again.