I have work in Spokane early tomorrow morning, so I'm heading across the basin today rather than have to leave at some ungodly hour tomorrow. I really, really don't want to be away from Jake while he's sick, even for just one night, but duty calls (disappointing though that may be).
This was far from the only disappointment today.
Things went off the rails early this morning because my cats are not thrilled about Daylight Saving Time ending. As in seriously not thrilled. They were anxious at 6:00am (their 7:00am feeding time, as far as they know). Concerned at 6:10am. Upset at 6:20am. And absolutely livid by the time I went to feed them at 6:30 (I am slowly adjusting them to the hour time difference, whatever good that does). Jenny was pacing the room and meowing her head off. Jake was pawing at my face while squawking. It's exactly how you want to start a Monday.
And then...
I pulled their "Feed-and-Go" automated internet feeders out of storage so I could get them set up and filled. Except... I couldn't get them set up. The company that makes them went out of business last month. Bad enough that they had to close and shut down their cloud servers, rendering their $200 feeders useless. But it's reprehensible that they didn't bother to notify their customers... or keep their website up with a message to warn their customers... or push out an app update which warns their customers. Because otherwise there is NO WAY TO KNOW that the cloud service has been shuttered. The blue network light on the units still glows blue! Luckily I test the units every time I haul them out, otherwise my cats wouldn't have been fed. And had I been gone longer? They wouldn't have been fed FOR THREE DAYS. With the Feed-and-Go website down, I had to find out the news via a cached Google search...
Feed and Go is sad to say, it's closed it's doors.
We're extremely sad and sorry to say that Feed and Go has closed its doors. We had an amazing time helping thousands of pets eat healthier and on schedule. The time has unfortunately come to close the operation of our web app, and mobile app services. This will mean that unfortunately your Feed and Go's will no longer work as an automated feeder, and will not connect to our servers. We want to take this opportunity to thank you for being a part of our mission and wish you and your pet many happy moments ahead.
What a bunch of pig-fucking monsters. They are perfectly content to LET YOUR PET STARVE rather than contact you so you know that their product no longer works. I can only hope that whomever responsible will be roasting in hell soon. I also hope that some genius electronics expert out there will come up with a circuit board replacement that will allow the feeder to be programmed directly, instead of relying on a cloud service that's not there any more.
I had a couple other automated feeders from back when I was feeding Spanky, but they needed D batteries and I didn't have time to go get some. So instead I filled bowls with way too much food so Jake and Jenny can graze 'til their hearts' content. And hopefully not over-eat and puke everywhere.
And then...
I noticed that the motor on the drinking fountain had burned out. It's less that a year old. Guess I'm putting out a bowl of water next to the heaping bowls of food...
And then...
Since I was coming to Spokane, I decided to get the passenger airbag replaced in my car. Toyota has been sending dozens of notices telling me that there was a recall, but I would rather die than go to the asshole who owns the local Toyota dealership. Since Spokane was where it was purchased, it made sense to go there.
After dropping off the car, I decided to get a falafel wrap at The Pita Pit. Only to find that they had gone out of business, just like Feed-and-Go...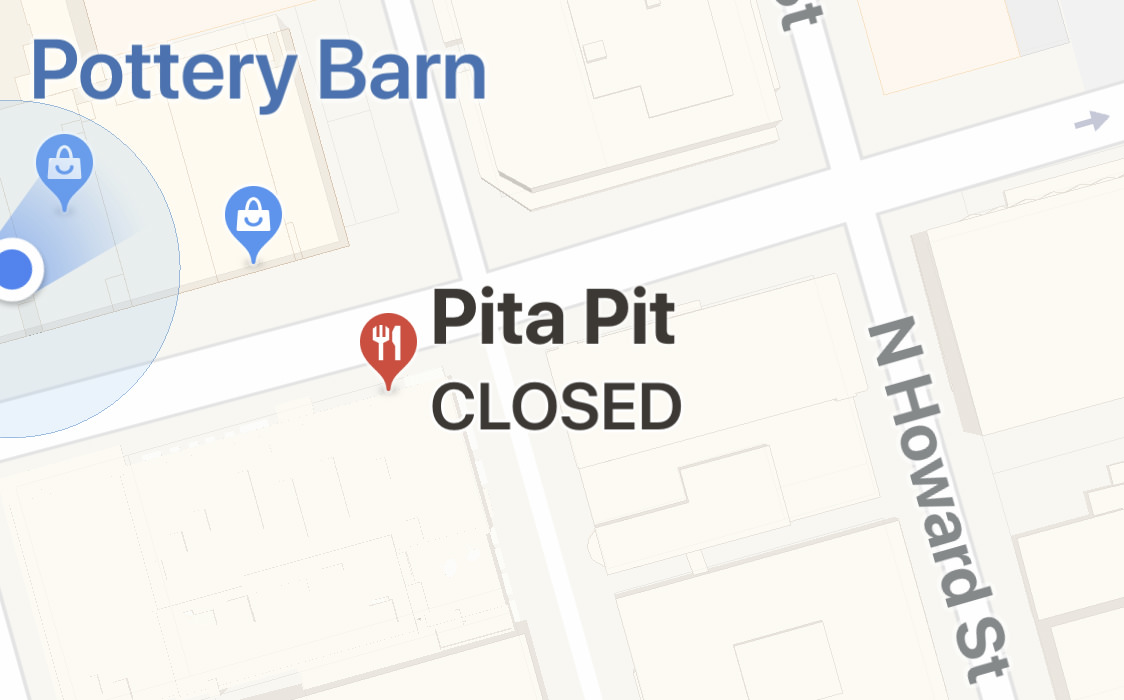 No problem, I walked a couple blocks to a cafe with good sandwiches... only to find out they closed at 10:00 this morning for "maintenance."
And then...
Rather than wander around aimlessly, I decided to just go to Red Robin. They no longer have Boca Burgers (inexplicably replacing them with a veggie burger that's so gag-inducing awful I'd rather eat meat). I ended up eating their guacamole, salsa and chips, which wouldn't have been bad except the chips were stale. For dessert I wanted some of their cinnamon sugar mini donuts with caramel sauce. Except they came plain with no cinnamon sugar and instead of caramel, I got raspberry sauce. As if that wasn't enough, the donuts were overcooked.
And then...
The Apple iPhone Upgrade Program I've got allows me to replace my iPhone with the newest model every year. Since my replace-date is coming up, I thought I would drop by the Apple Store and take a look. I also wanted to look at the newest MacBook Pro models, as I'm sure I'll have to be replacing my 2012 model sometime soon. When I asked the Apple sales guy if there was a MacBook Pro that had an SD card slot and a USB and Thunderbolt port... you know, LIKE ACTUAL FUCKING PRO MACHINES WOULD HAVE... I was told no. "Everything has moved to USB-C, because that's the new industry standard." Alrighty then. We're back to Apple being clueless fucking assholes as to knowing what professionals need, but whatevs. So I moved on to the iPhone XS. I thought to ask if the charging cable that came with it had USB-C so I could charge it from the new MacBook Pro. The sales guy told me "No, it comes with the older USB-A and I would have to buy a $20 dongle." And so... I guess USB-C is not quite the "industry standard" I was just told it was since Apple itself isn't using it on their most popular product (by far).
Which begs the question... "Does Tim Cook, Jonathan Ivy, or absolutely anybody at all at Apple know what the fuck they are doing?" Because it honestly doesn't seem that way.
In the past their products were overpriced, but at least I knew I'd be getting something that provided value for the money and would be cutting edge when it came to features. But now? That's not even close to being the truth. Less features with less power and with less flexibility... all while being grotesquely overpriced. It's as if Apple has been working overtime to become the cliché they've always been painted as.
And then...
As I was leaving The Apple Store, I was very nearly run down by a group of amish(?!?) women on motorized scooters. They were driving on a busy sidewalk way too fast and seemed as if they were barely in control of the things. At least I think they were amish because they had those little hair covers on their heads and were wearing dresses. But I thought the amish didn't use technology... and since you have to have a mobile phone app to rent the things, maybe they weren't amish after all?
In any event, these stupid fucking scooters are littering the sidewalks everywhere downtown, so apparently the latest episode of South Park isn't just hype...
At the very least, they should be illegal to drive on the sidewalk. Given how fast they travel, somebody could get seriously hurt. And if somebody ever runs into me with one of them, I'm going to pick up the scooter and beat them to death with it.
And then...
After walking eight blocks in surprisingly cold weather, I picked up my car and headed to my hotel. They asked if I had a room preference, so I told them top floor and as far away from the elevator as possible so it would be less noisy and I could get some sleep. They put me on the top floor... but right across from the elevator. And next to a room with a woman coughing her head off. Which makes me even more thrilled that I wasn't able to stay home tonight.
And then...
If there's a bright side to having to drive three hours to Spokane, it's that some of my favorite pizza on earth is here... David's Pizza. Their DaVinci pizza (with tomato, pesto, and feta) is seriously delicious...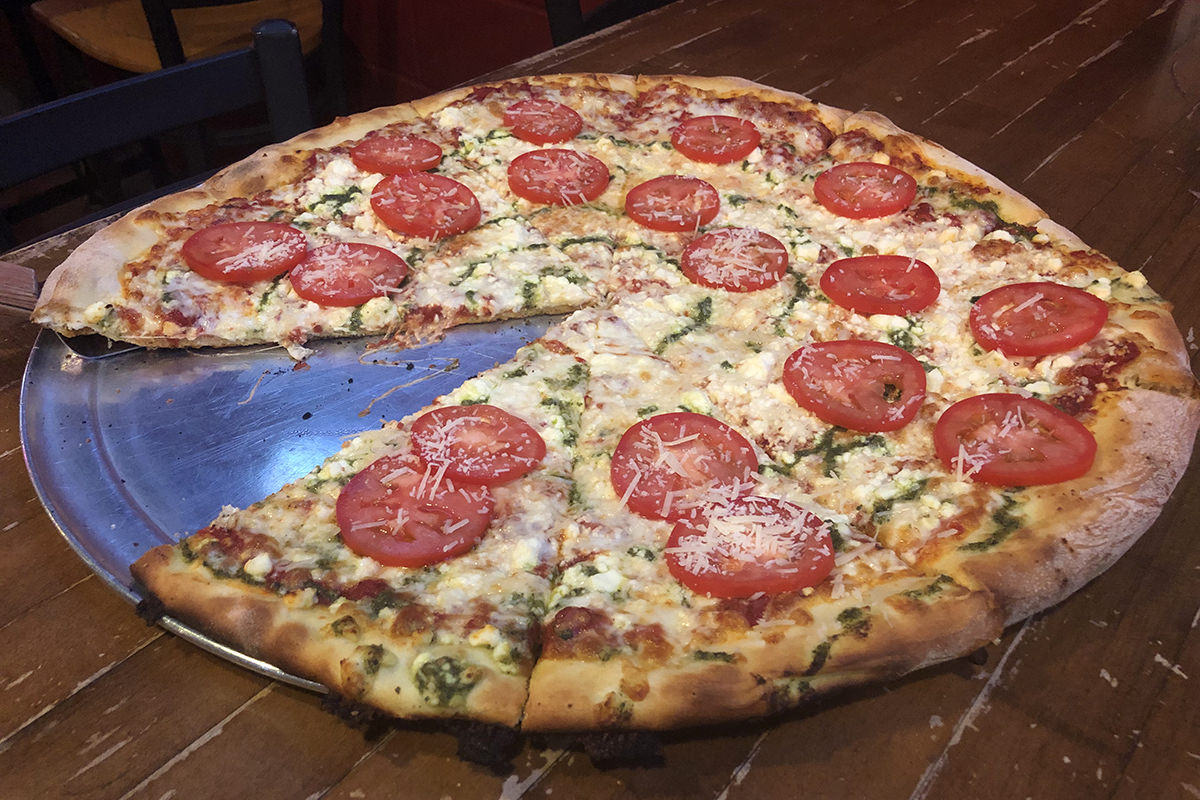 Unfortunately I had the grave misfortune to arrive on "Let Your Screaming Kids Run Apeshit Through The Restaurant Night." A whole team of the little fuckers were running around screaming and screaming and screaming and screaming... while the parents were in some kind of group meeting in the next room not giving a fuck that people were trying to eat in peace. By the time I left I had such a splitting headache that any enjoyment I got from my pizza was destroyed.
And then...
I decided to end this entry at 8:00pm tonight because I'm worried that continuing on any longer is just inviting more disappointment. Hopefully work will go smoothly so I can head home as soon as possible in the morning and be done with all this nonsense.
Until the next time, of course.
UPDATE: There it is! MobiLinc (the internet connect platform I use to control a good chunk of my home automation, has gone down...
It's been up and running 24/7 perfectly for months... so of course it goes down when I'm away from home and really need it. No idea what's wrong, as the cameras, alarms, and all the non-MobiLic devices are connected to the internet just fine. Perhaps it's time for me to go to bed and turn off the world.