Posted on April 4th, 2018

I've come to the conclusion that he internet is an incredibly useful thing... in addition to being a blight on all humanity from time to time, of course.
Like when you hear a song you really like and have no idea what it is, so you Shazam it and, as if by magic, the name and artist appears on your phone. That is the kind of thing that makes having the internet totally worth the crap you have to suffer through.
As an example, I kept hearing a Culligan Water commercial called "Drinks" that has a fantastic track thumping in the background...
Mere seconds after rewinding the DVR and calling up Shazam, I learn that the song is Pumper by Mai Lan...
And then... then there are the times where Shazam comes up empty.
Like when I was watching a video on using Plex with Alexa and this cool track pops up that I've never heard. I totally dig it, so I Shazam and get a completely different song (Across the Universe by Akira?).
I tried searching for the artist and song said in the video, but I couldn't understand it fully, so Google wasn't helping. I then tried Googling lyrics, but that also failed. So I kept hammering away with different variations of what I was hearing and finally arrived at this...
Castaway by Dunez. There we go! That's it!
Except when I go to buy the song from iTunes, it's not there. When I go to play it from Amazon Music Unlimited, it's not there. The only place it exists is on SoundCloud.
With no way of buying it, I finally rip the song and make a note of yet another track I need to buy in order to keep my music collection legal.
Which begs the question... how can a band exist... create a track... and there be no trace of it or them? I found their Facebook page, but the last thing they mention about any music is a promise for "new tunes coming soon" on August 13th, 2015.
Tunes that never came. At least from what I can tell.
And so I'm left hanging... wondering whatever happened to Dunez, if I'll ever be able to buy their song, and if we'll ever get anything new out of them. Because, from the sound of it, this is a band I'd really like.
The internet... sometimes creating more mysteries than it solves.
In addition to being a blight on all humanity from time to time, of course.
Posted on July 12th, 2017

Today is Net Neutrality Day. Which you'd think would be redundant since we have it, but apparently that may not be for long.
Pig fucker assholes like Chairman of the FCC Ajit Pai are once gain trying kill net neutrality so that big business can control the internet. Never mind that they have to tell lie after lie after lie to sell it to the American people... the money involved is massive, the people involved are all-powerful, and telling lies is not something they really give a fuck about.
I have written about how crucial net neutrality is to a free and open internet many, many times (like here, for example).
And I'm just one voice of many, because the American people have backed net neutrality many, many times.
But it never seems to matter, because the people trying to kill it have an endless supply of money to throw at the pig-fucking assholes who keep assaulting it.
It's at times like this that I sincerely feel we should burn this fucking shithole of a corrupt piece of shit country to the ground and fucking start over. What The United States of America is supposed to be all about is lost when its citizens no longer have a say. People with money are ultimately the only ones allowed to have a voice now. Because they are the only ones with the means of buying off the politicians who make the decisions for all of us...
If Pai and his bought-and-paid-for pig-fucking asshole confederates actually manage to kill net neutrality, I might as well take down Blogography. Because it's only a matter of time before Very Important People decide they don't like me calling them pig-fucking assholes and shut it down for me.
The pig-fucking assholes.
Visit the FCC and tell them that you support Net Neutrality.
UPDATE: And... Mr. Trae Crowder, everybody...
Holy shit what a cluster-fuck.
Posted on July 11th, 2017

The plan was simple.
Work until around 1:00am, then hash out a blistering post in support of Net Neutrality Day, then get some much-needed sleep...
Except my internet went down as I was in the middle of work. Everything went to shit. And now I'm not only unable to finish my work, I also can't do much blogging.
So... pretty much a metaphor for the internet without net neutrality, ironically enough.
I am so tired of this bullshit. And yet here we go again...
Posted on January 19th, 2017

I've been online since... well... before the internet was a thing, really. Back when it was all bulletin boards and CompuServe and modem-to-modem and stuff like that. In oh so many ways, things have changed radically from those early days. But not everything. Some things haven't changed one damn bit.
Here is how online forums have worked since the dawn of time...
Poster: I am a bit confused about something and would appreciate people's experiences and opinions on this matter.

Me: Here is my opinion and my experience from having this opinion.

Commenter: YOU ARE WRONG! YOU HAVE BAD INFORMATION! GO FUCK YOURSELF!
For a goodly chunk of people, it's never about presenting their own opinions and experiences... it's all about attacking people who have opinions and experiences that differ from theirs.
Responding to some topics is more likely to invite an attack than others... like... say... "What's the best brand of mobile phone, iPhone or Android?"
Another example? As I found out last night, coming out against declawing cats is a topic that invites all kinds of attacks...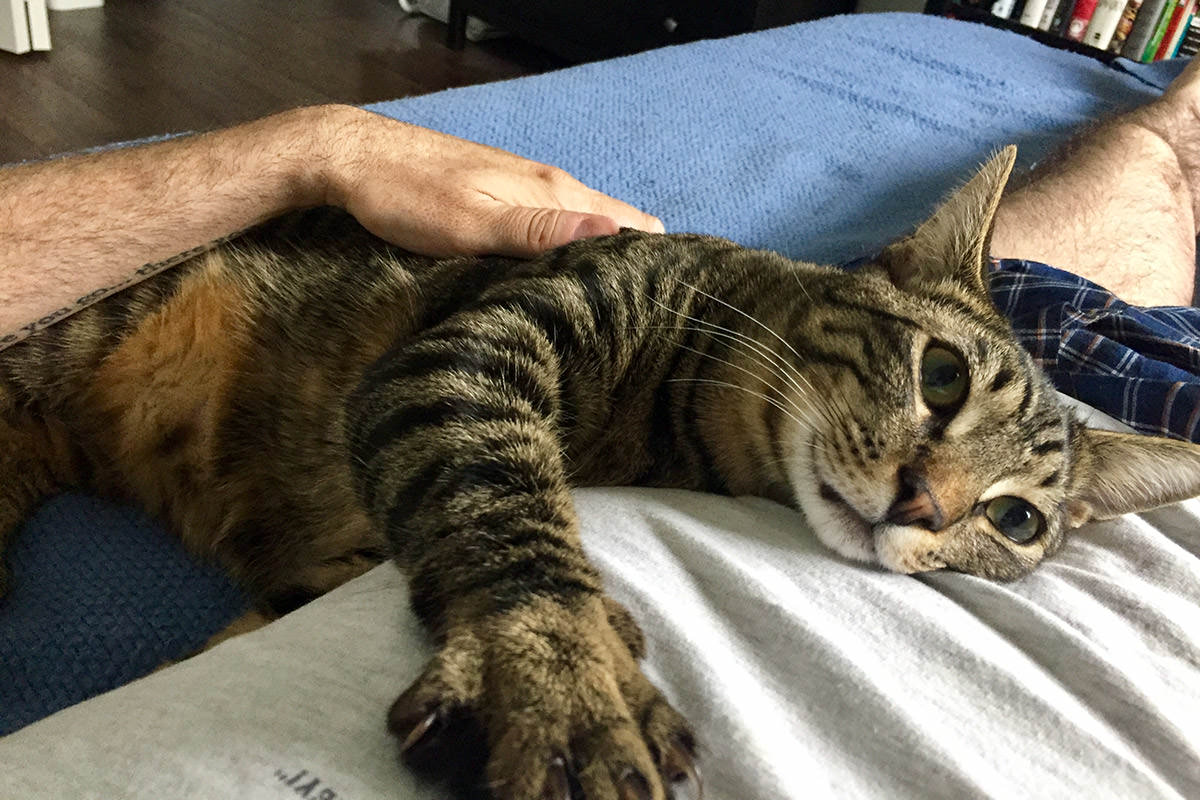 My opinion on declawing cats is pretty cut and dry... you just don't fucking do it. It's not like cutting your nails, it's like removing the entire tip of your finger down to the first knuckle. And if you're okay with doing that to a kitten, then you probably shouldn't have a cat. I would let my cats scratch the shit out of everything I own and still never consider maiming them like that.
Or...
I'd buy a shitload of scratching posts and cardboard scratchers, put them next to everyplace that my cats want to scratch so they have a more pleasing alternative, cover them with catnip to make them more attractive, put sheets of double-stick shelf-paper on things I want scratch-free to make them less attractive, then slowly remove half of the scratching alternatives once I figure out the ones they prefer.
Time consuming and expensive? Yes.
But it worked. My cats have their claws and me and my furniture are still in one piece.
Though some of my IKEA is sporting scratch marks from the training period. Oh well. Small price to pay.
Of course, there are people who have different opinions. And they are not afraid to attack you because of it. They call you names. They tell you that you're attributing human feelings to an animal. Provide "evidence" that declawing is not inhumane. Berate you for trying to make everybody hate them because they support declawing. Etc. Etc. Etc.
But whatevs.
All I did was provide my opinion and relate my experience, as requested. I don't really give a shit if people want to attack me for it. That's the risk you take.
I'm used to it. I have a blog.
Posted on May 1st, 2014

Today it reached 84° F
Tomorrow it's supposed to hit 86° F
And so I'm guessing this means Spring is over. Which is upsetting since it never really started until three weeks ago. So much for my favorite season.
As if that weren't horrible enough, THIS pretty much sums up my day...
The good news is that not all the links I needed were broken.
Most of them were just linking to the wrong page.
I'm not sure whether this is the case of us spending too many tax dollars... or too little. But it would be nice if Secretary of State John Kerry could get his shit fixed.
Posted on April 8th, 2014

This morning I needed to dig out a software manual from storage (remember when software came with printed manuals?) and had a small blue pressboard binder fall on my head. It looked familiar, but I didn't know why.
Remember when I was lamenting that I couldn't remember my CompuServe ID Number? Well, yeah, the small blue pressboard binder had all my CompuServe stuff in it... including my ID...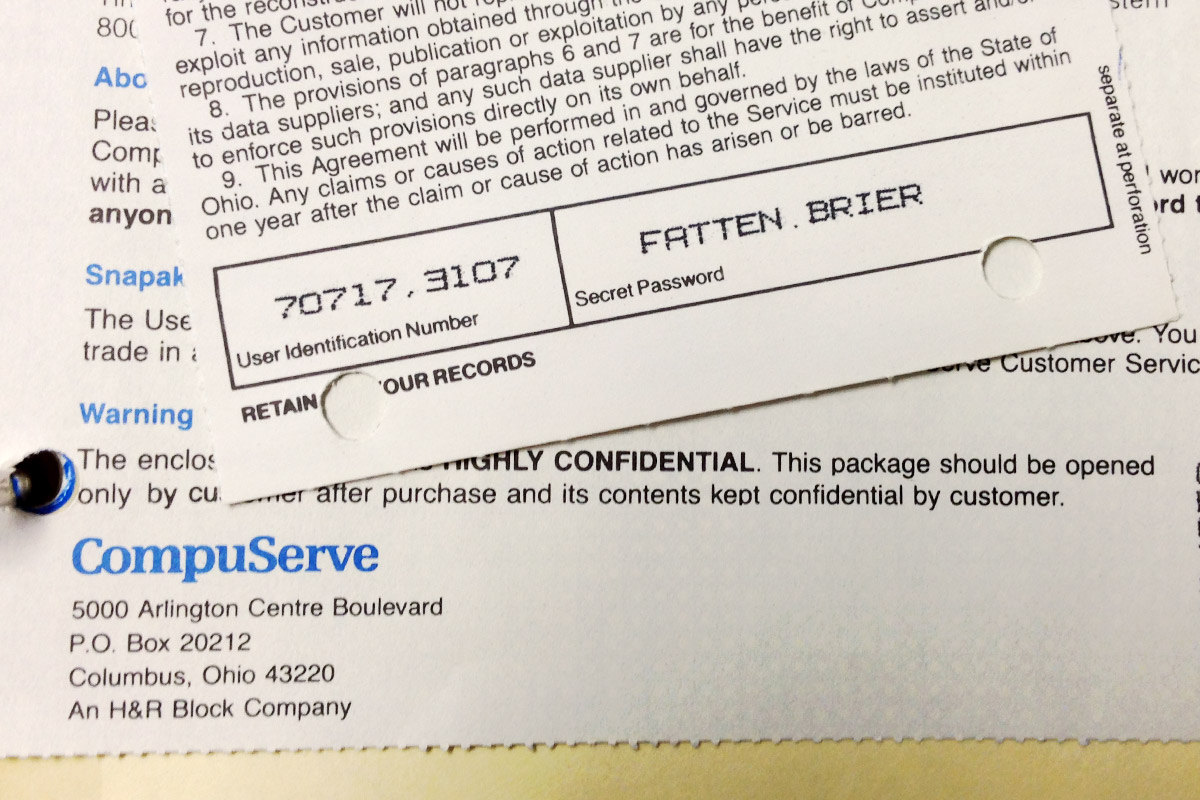 Now that I see it... 70717,3107... I can't imagine how I ever forgot it. Those digits flow through my mind like my own name, because it was my name for a number of years. When I typed it just then, I didn't even need to take a second look, my fingers automatically keyed it in. Just like old times.
Somehow, I feel more complete than I did yesterday.
ALSO in the small blue pressboard binder... COMPUSERVE INFORMATION SERVICE RATES: 1984!"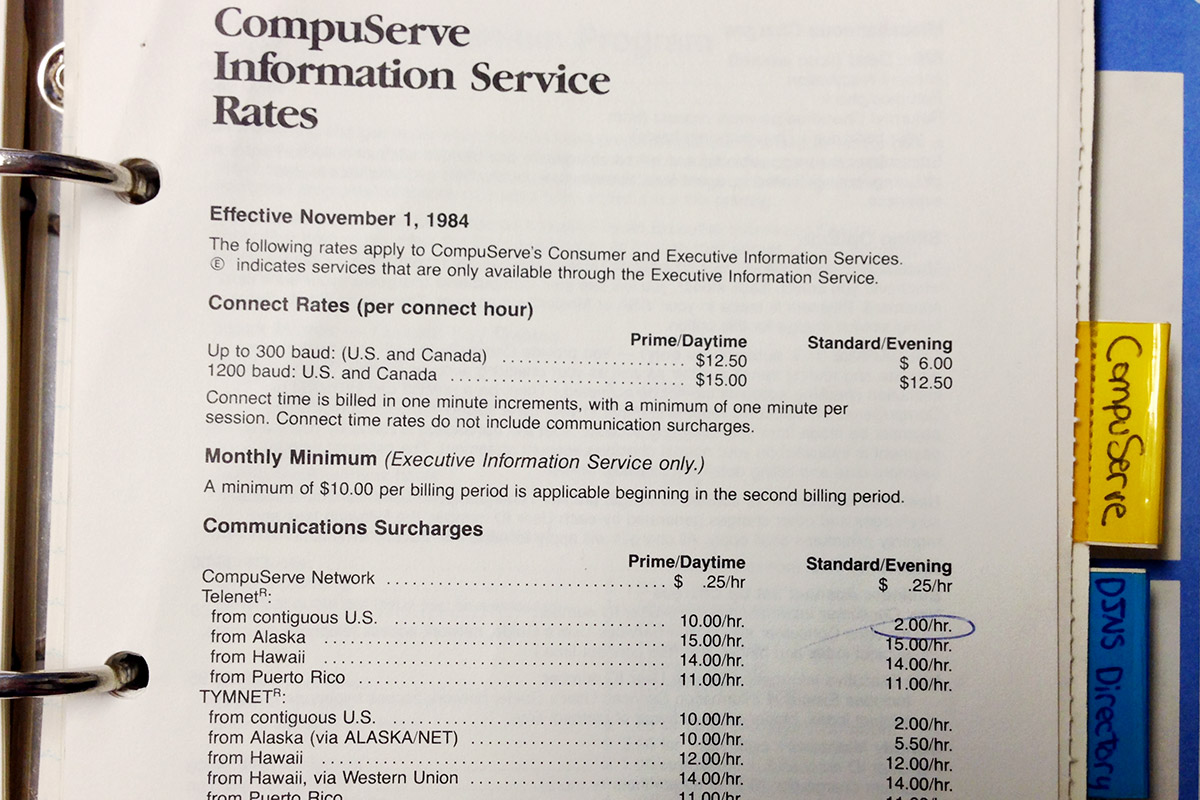 A few things...
$2.00 per hour evening rates in 1984 is $4.52 per hour in 2014.
$10.00 per hour daytime rates in 1984 is $22.60 per hour in 2014.
Can you imagine paying $4.52 per hour for internet? $22.60 an hour in the daytime?
If you lived in Alaska, Compu$serve was $33.90 per hour... $31.64 per hour in Hawaii.
In 1984 I would have been a senior in High School working 18 hours a week (evenings and weekends) at a local shop... at $3.85 an hour, or $69.30 a week before taxes. Adjusted for inflation, that's $156.60 per week before taxes.
And I think CompuServe charged extra to access the internet through their gateway.
My access speed at the time was probably 1,200 baud. Just to put that in perspective, a typical 2.2 MB photo would take me 4 hours and 15 minutes to download. Not that digital imagery at the time was anywhere near that for consumer photography.
You can probably guess where every cent I had in disposable income went in 1984.
Wow.
All told, I'm currently on the internet for one thing or another at least 5 hours a day. That's minimum 35 hours a week... probably much more. Putting two hours of that in the daytime and three hours of that in the evening, in 2014 dollars I'd be spending $58.76 per day... $411.32 per week... just to get online.
And "being online" then sure ain't what it is now.
How in the hell did we ever make it out of the dark ages of technology?
Posted on January 17th, 2014

My "not-my-day-job" job requires a lot of patience, perseverance, humility, dedication and, above all... flexibility. Most every appointment I make involves my being "squeezed in" to somebody's calnedar, and things often change with only a moment's notice. Most times I will fly into a city a day early and leave two days late because I just don't know when I can get in the door. Often times, the trip itself happens without warning because an opportunity arises. Once I got a call as I was driving home from the airport telling me I had to turn around, go back to the airport, and be on the next flight to Orlando (which left in 90 minutes). Good thing I had a clean pair of underwear left over.
Needless to say, making personal plans while on the job is not easy. Often times it's impossible. Not that this stops me from trying. Fortunately, most of my friends in far away places are very understanding and forgiving when it comes to my having to change or cancel plans. They know it's not my choice that I can't make it to dinner or show up for a movie... it's just part of the game.
But it's not something everybody can handle.
Next week I have to be in San Francisco. Last time I was in the city for work, it was very last-minute, but my appointments were pretty well nailed-down to the daytime. So I made plans to get a tattoo and attend a farewell party during my free evenings... knowing full well that either could be canceled without notice. Lucky for me they weren't, and everything worked out fine. Until I got an email from a friend who was upset that I didn't contact them for a meet-up while I was there. I explained that the trip was a last-minute thing and all my time was booked, but promised I'd let them know the next time I was in San Francisco.
Except when I went to message them on Facebook once my schedule had been tightened up, I found out that I had been unfriended.
Like I said, my wildly erratic work and travel schedule is not something everybody can handle.
Which makes me really appreciate those friends who can put up with me.
Because sometimes it's all I can do to put up with myself.