Posted on Sunday, January 10th, 2021

Free speech has consequences, which is nothing new to bloggers like me... because an all new Bullet Sunday starts... now...

• Colosseo! My mom's favorite landmark is the Roman Colosseum. She asked to visit it every trip we made to Rome which, I believe, was four times (it was a cruise stop twice and a trip stop twice). I'd ask her why she loved it so much and she'd say "I don't know... I just do." When I told her that maybe she was a gladiator in a previous life, she thought that was funny and started telling people that when showing this photo...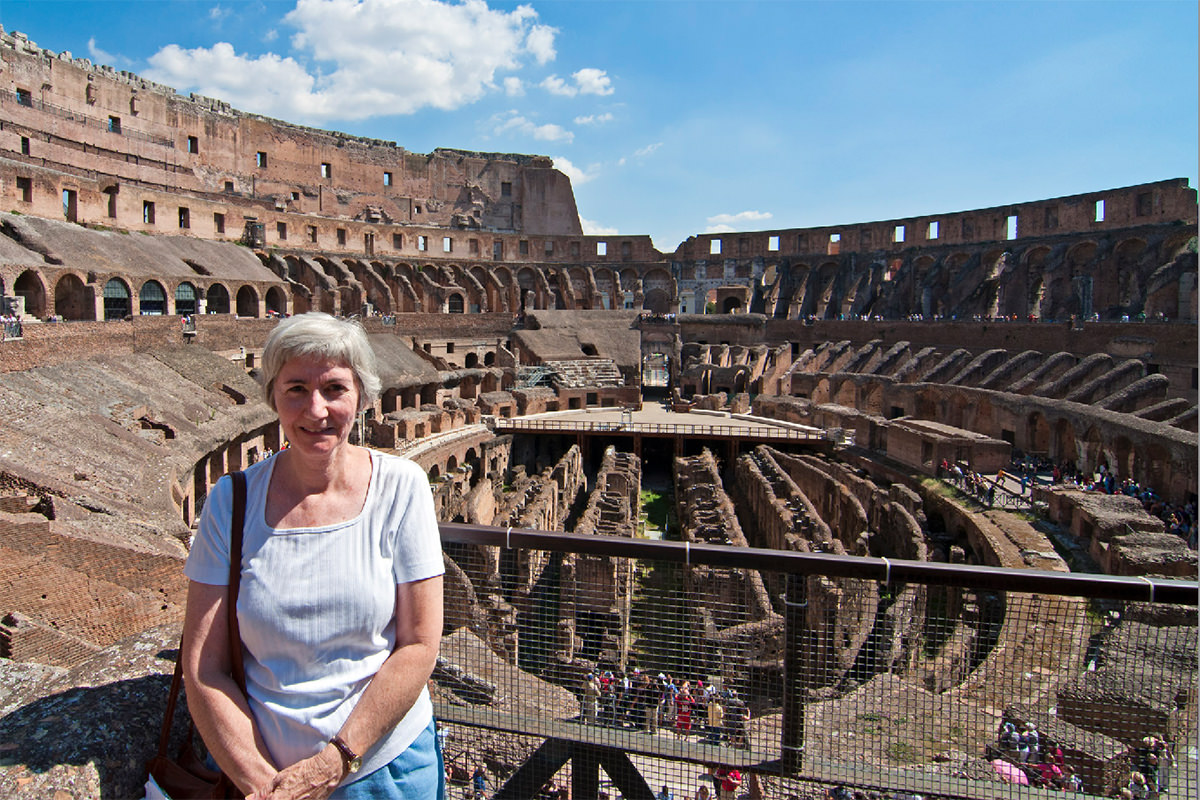 Because of this, I very much wish she was still alive, because Rome is renovating the Colosseum, and I think the idea of being able to stand on the floor of the Colosseum arena would be so thrilling to her that we would have definitely made a fifth trip once it was completed. This is really, really cool, and I'd love to be able to visit again. But it won't be the same without my mom there to share it.

• LEGO! I have to say... whomever works in LEGO advertising which came up with this ad for a "Make Your Own MiniFig" game apparently doesn't have the same filthy mind that I do, because, well...
Is that a hotdog in your pants, madam, or are you just happy to see me?

• PERFECT! I've watched this TikTok more times that I'd ever admit. It's hilarious because it's true...
Though I'd argue the point that this is how girls make coffee, because I see plenty of guys doing essentially this. And given my distaste for coffee, this would absolutely be me as well.

• Cute Gay Shit! TikTok is so much more than funny coffee memes. There is some genuinely touching stuff on there that gives me hope for all humanity...
And just KNOW that this gentleman gets lumped in with people he's condemning because of how he looks and talks. You know it. God bless you, sir.

• NEWSFLASH! FORBES: Close To A Worst-Case Scenario—Former CDC Director Issues 'Horrifying' Outlook For New Covid Strain. If your balls don't shrivel up after reading this, then you probably don't have balls. But you are alive if you're reading this, balls or no balls, which means you should be horrified that there are still people not taking this shit seriously. Protect yourself. Protect others. This has catastrophe written all over it.

• Specs? Apple is the most ridiculous fucking company. They want to make their products as simple to use as possible by taking all the "tech" out of everything. Which is fine. EXCEPT YOU CAN NEVER MANAGE TO GET ANY FUCKING SPECS FOR ANYTHING THEY SELL. Will this cable work for charging? I dunno. What is the maximum transfer rate for this cable? I dunno. Can I quick-charge with this cable? I dunno. What about the charger? I dunno. Can you at least tell me if it is USB-PD compliant? I dunno. They literally tell you NOTHING in their support docs or on anything in their entire store. — If you want to shield your customers from scary tech-speak, fine. But at least have the fucking information SOMEWHERE for the people who need to know this shit. Their solution for everything is to say "Well, if it doesn't work, you can always return it." Which is an astound attitude to take considering that it wastes my time and their resources, and I'm getting seriously tired of it.

• Apolitical! My existence right now:
REPUBLICANS: You're just a Democrat shill.
DEMOCRATS: You're just a Republican shill.
ME: I AM NEITHER A DEMOCRAT NOR A REPUBLICAN! I DON'T UNDERSTAND THE NEED TO WORSHIP POLITICIANS AND FALL IN LINE WITH A POLITICAL PARTY RUN BY WEALTHY ASSHOLES THAT ARE PROPPED UP BY WEALTHY CORPORATIONS WHO DON'T GIVE A SHIT ABOUT US! WHY CAN'T I JUST BE A NON-PARTY SHILL?! WHY DOES MY SHILLNESS HAVE TO BE ATTACKED LIKE THIS? I AM A SHILL FOR ALL HUMANITY! AND A SHILL FOR CATS! TOWANDAAAAAAA!!!
Because, like, how could you not be a shill for floofy bellies like dis?

Stay frosty out there, my friends.
Tags:
Apple
,
Bullet Sunday
,
Bullshit
,
Cats
,
COVID-19
,
LEGO
,
News
,
Pandemic
,
Politics
,
Rome
,
TikTok
,
Travel
Categories:
Apple Stuff 2021
,
Bullet Sunday 2021
,
Cats 2021
,
LEGO
,
News – Politics 2021
,
Travel 2021
—
Click To It:
Permalink
—
2 Comments: Click To Add Yours!
Posted on Sunday, January 31st, 2021

I don't mean to alarm anybody, but this is the last Bullet Sunday of the 600's... because an all new Bullet Sunday starts... now...

• Good News, Everyone! After a shitty year of all bad news, it's nice to know that there's a best-case scenario happening right now... People Who've Gotten Both Shots Simply Aren't Getting COVID. And when they do get COVID because it's a mutant strain or whatever... they aren't requiring hospitalization and don't suffer such damaging effects. Nice! Much love to the scientists and researchers who have been working overtime to get us a vaccine.

• Residential! Alan Tudyk is one of my favorite actors, and I was pretty stoked when I randomly happened across his new series... Resident Alien. This is a comic book series I've glanced at, and I had no idea it was being adapted for television. As you'd expect, Tudyk is flawless at playing a quirky alien trapped on earth in disguise as a doctor, and I really loved the first episode...
The premise is pretty darn good, and it will be interesting to see how they play this one out.

• TikTok On The Clock! AMAZING tip for getting more coverage when painting! Thanks, TikTok!
Oh yeah. That's a painting trick I can use!

• Reelection Matters! Still no comment by Patty Murray or Maria Cantwell on Wall Street trying to protect wealthy hedge funds over average Americans? I may die of unshock. Can't upset their wealthy owners who bankroll their campaigns! Stock manipulation is fine... when rich people do it. Markets are free... until rich people lose money. Wall Street makes the rules to exploit the American people to benefit our wealthiest citizens. And the minute it doesn't, they change the rules. And Murray and Cantwell are still fighting for that status quo, apparently.
Say... here's an idea! We know Republicans can't win against our senators in Blue-Blue Washington State, but what about another Democrat? A Democrat not content to have Washington State sit on the sidelines or take a wait-and-see attitude when it comes to stuff going on Right Now?? A Democrat who doesn't check with their owners before acting? A Democrat that charges into battle for Washingtonians AS SHIT IS HAPPENING. Because hand-wringing after the fact is getting SO tiring. Alexandria Ocasio-Cortez was going on interviews, posting to social media, and had a live Twitch feed yesterday to address Wall Street protecting wealthy hedge funds over the American people. Where were our Senators? Planning their re-election campaigns, probably.

• Change! This right here is what I love about TikTok in a nutshell...
Cute story and a SpongeBob Squarepants reference? Yeah... sign me up.

• Flyover! Last night my Apple TV went to screen saver while I cleaned up my filthy kitchen (I swear, that onion/poblano Quesadilla filling is lethal). As I was sitting down I saw that the screen saver was flying over Buckingham Palace which is pretty easy to recognize. Then they keep flying over London and I see that so many of these old buildings have amazing car parks inside! I had no clue when I visited the Churchill War Rooms museum that they had this gorgeous rotunda car park within their walls...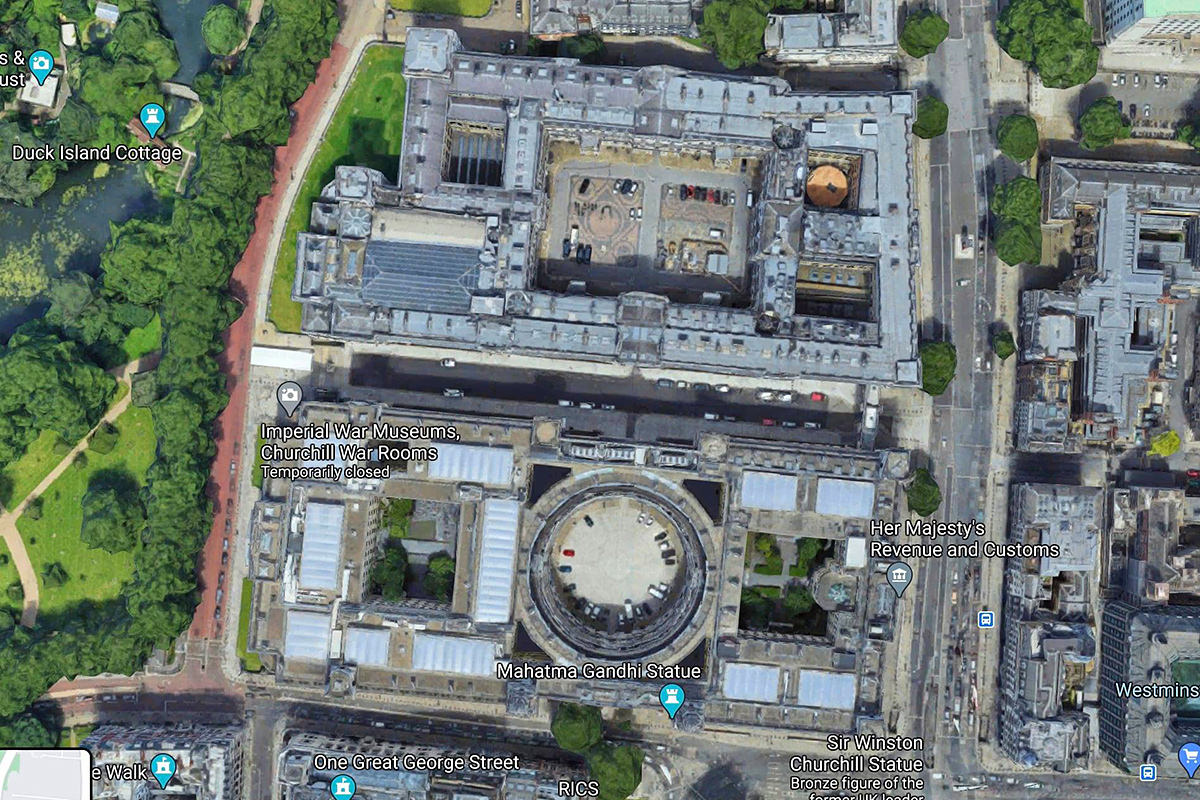 Image taken from Google® Maps Satellite View
Isn't this amazing? And the more I explored, the more interior car parks I found. That's pretty cool. I've seen some of these in person, but never knew how prevalent they are.

And that's a wrap on Bullet Sunday No. 699.
Tags:
AppleTV
,
Bullet Sunday
,
COVID-19
,
Maps
,
News
,
Pandemic
,
Politics
,
Television
,
TikTok
Categories:
Apple Stuff 2021
,
Bullet Sunday 2021
,
News – Politics 2021
,
Television 2021
—
Click To It:
Permalink
—
0 Comments: Click To Add Yours!
Posted on Monday, February 15th, 2021

Today is technically a holiday at work, but I'm going in anyway to clean up a bunch of little things that have been piling up. I have decided to wear sweats to the office for the first time ever because nobody should be there to notice. Except you just know that somebody will end up being there and notice. Oh well. I barely have the energy to go into work... let alone change pants. So sweat pants are a step above no pants, I suppose.
And just as I resigned myself to heading into the office a little early, this happens...
And of course she rubs all over me before planting herself, so now I'm covered in cat hari...
Then, before you know it, she's fast asleep... trapping my arm in the process...
I promised myself that I'd be in the office by 10:00am, so eventually I say "Do you want a treat? Is it treat time? Let's go get a treat!" At which time she's flying off of my and dashing downstairs at top speed.
Now, usually when I have to go into work on a holiday, I treat myself to a snack-run at the mini mart. I buy all the junk foods I normally try to avoid. But the idea of having to deal with anti-mask idiocy and "election fraud" rants was too much to bear, so I microwaved a veggie burger instead. Sometimes the snacks just aren't worth it.
Despite icy roads and nearly getting rear-ended, I made it to my desk at 9:58am. So way to go me, I guess...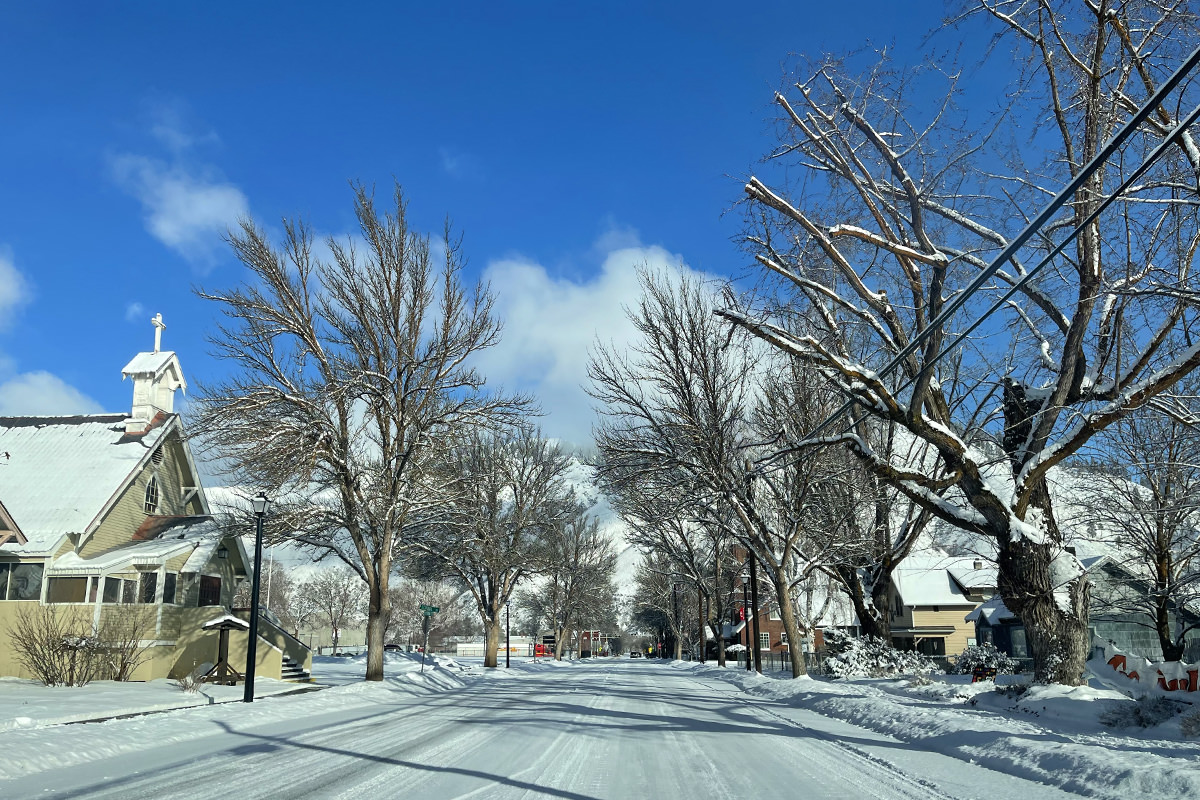 What followed was a furious three-hour burst of productivity that stunned me so hard that I didn't end up working an entire half-day. Instead I ditched a half-hour early and came home to veg out in front of the television. My free trial to Apple Arcade hasn't been touched yet and will expire any day now, so I should at least take a look at that.
Posted on Thursday, February 25th, 2021

Last night I finally took some sleeping pills to knock my ass out so I could catch up on some of the sleep I haven't been getting.
I went to bed at 10:00pm, fell asleep by 10:30pm, then woke up ten minutes before the cat breakfast alarm went off at 7:00am. According to my Apple Watch app AutoSleep, that resulted in 8 hours and 18 minutes of beddy-bye sleepy-time...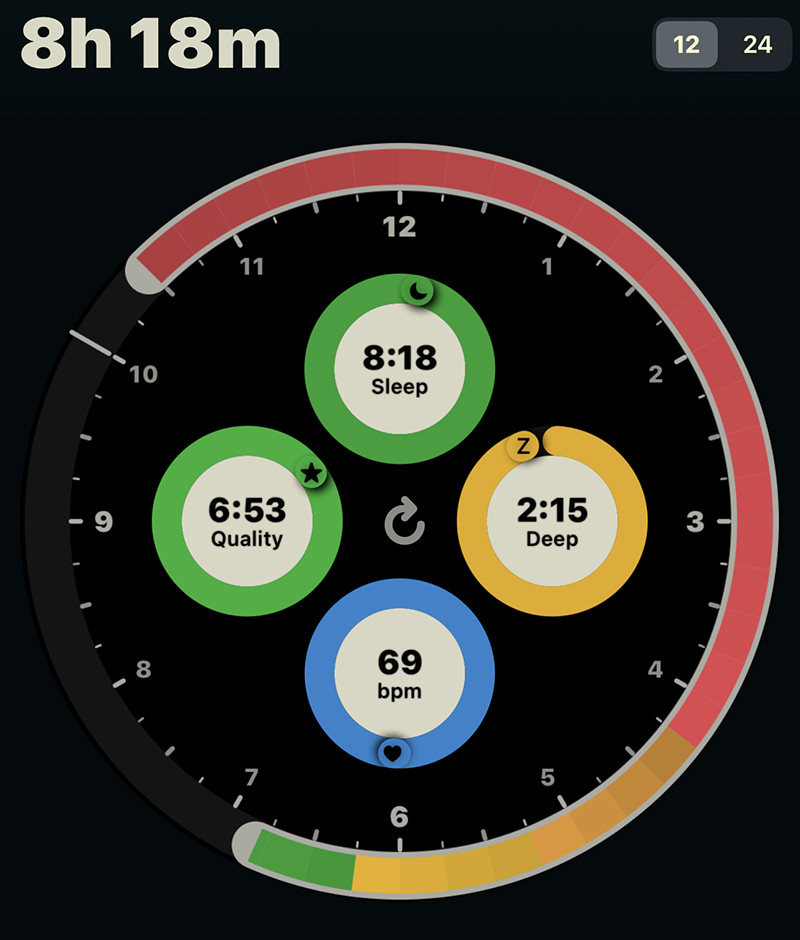 And it was a huge mistake, because I felt drugged up this entire day. Still managed to get my work done, but was mired in a mental fog that made it tougher to function that days when I'm only getting 4 hours of sleep.
Thanks to Apple Watch, I think I understand why. It used to be that I looked at the "Quality Sleep" metric... which in this case is 6 hours and 53 minutes. That sounds great. It sounds like a lot. Where I need to be looking is at the "Deep Sleep" metric, because it's on days where I get more deep sleep that I'm feeling my best. Though I slept for over 8 hours, I only got 2-1/4 hours of deep sleep.
That's less deep sleep than I get on a "regular" night where I'm sleeping half as much.
Apparently the drugs are good at knocking myself out, but the sleep I get is restless. I looked back to other nights and see a pattern. 5 hours 42 minutes sleep, 3 hours 6 minutes deep sleep... 4 hours 12 minutes sleep, 2 hours 48 minutes deep sleep... 3 hours 45 minutes sleep, 2 hours deep sleep. Shorter periods of sleep are actually far more productive for me "Deep Sleep-wise," as crazy as that might sound.
And so now I'm going to see what I can do to get better, longer deep sleep.
My guess is that exercise will have something to do with it. Which is fine because the snow is melting so I can start walking to work again. Correlating how much deep sleep I get with how much exercise I get will prove interesting, I'm sure.
In the meanwhile, I guess I'll be happy with 4 hours of sleep knowing that a good chunk of that will be the sleep I need to function properly.
Posted on Sunday, February 28th, 2021

I may be really, really tied of Winter right now, but I'm happy to hold out for Spring... because an all new Bullet Sunday starts... now...

• Boys! I'm just going to start this out with the best thing I've seen all week... and it's why I love TikTok reason #2371 — John Stamos showing Beach Boy Mike Love a young band playing a beautiful rendition of Wouldn't It Be Nice, a song he co-wrote...
How unbelievably awesome is this?

• Plus! In advance of "CBS All Access" transforming to " Paramount+" there's an awesome deal where you can get a year of commercial-free streaming for half-price (just select an annual plan and use PARAMOUNTPLUS in the coupon code box at check-out). 90% of network shows I watch are on CBS and I love avoiding commercials, so this was an offer I can't refuse. LOVING IT. I love, love, love Queen Latifah at The Equalizer, and revisiting Young Sheldon has been fun. Of course there's also Magnum P.I., one of the best shows on television. Some older shows are not streaming properly yet (I'm guessing that will be fixed after the transition come March 4th) but new shows are working fine. I wanted to try out Clarice but Siri keeps typing "Clarisse" so I had to hand-type it into AppleTV manually... WHY, LORD? WHY DOES LIFE HAVE TO BE THIS HARD? — On the other hand, I am liking Clarice very much. How does CBS do it? Other networks just don't have the track record for great television like this! If you love TV, then check out this amazing 50% off deal before it disappears on March 3rd!

• YAS QWEEN! I get irrationally invested in the lives of people on TikTok. This guy hasn't updated in two days and I'm probably going to lose sleep wondering if he got the job...
He has exactly two videos posted. This one was enough to get me totally invested. I guess that's what happens when the pandemic hasn't left you with much of a life of your own to live? Best of luck to you, sir, in finding a new job.

• Super New! Ta-Nehisi Coates writing a Superman movie? YES PLEASE! I mean, how many damn times are we going to have to sit through the same old Superman movie? Christopher Reeve, Brandon Routh, and Henry Cavill all did great jobs, but I'm ready for something truly different. Like maybe Calvin Ellis Superman?!?
Though I wouldn't be mad if Henry Cavill was given another go. He's actually a great Superman, and it's not his fault that he's had to work from shitty, SHITTY scripts. In any event, I am definitely excited at what might come of this.

• EcoBullshit! This video is absolutely fascinating. A lot to unpack when it comes to the "green" direction that the smartphone market is heading... fortunately Arun Maini has done the work for you, and it's well worth a watch...
The hypocrisy of it all is mind-boggling... but oh so expected.

• Retail Therapy! Well darn. Fry's Electronics had some of the coolest retail stores outside of Disney, and they just shuttered all their stores. They were destination-worthy places, and I traveled to several in California when they were at the height of their popularity. From the NASA-themed store in Anaheim and Egypt-themed store in Campbell... to Alice in Wonderland-themed in Woodland Hills and Old-Timey Sci-Fi-themed in Burbank, Fry's sure made shopping fun! Brick-and-mortar shops were having a tough time staying afloat before the pandemic... I have a feeling that because of COVID this is the fate for many of them.

• Without Telling Me... I don't know why I find this so incredibly sweet... but I really do...
And for anybody thinking that she's being an asshole... it's a joke. And he was obviously in on it...


And that's a wrap on bullets, Sparky... bring on Springtime weather.
Tags:
Apple Stuff
,
Bullet Sunday
,
Comic Books
,
iPhone
,
Movies
,
Superman
,
Television
,
TikTok
Categories:
Apple Stuff 2012
,
Apple Stuff 2021
,
Bullet Sunday 2021
,
Movies 2021
,
Television 2021
—
Click To It:
Permalink
—
2 Comments: Click To Add Yours!