Welcome to Technology Week at Blogography, where I will be reviewing tech purchases I've made over the last month or so.
The remote that comes with AppleTV is total shit.
I'm not even kidding. It's absurdly small, easy to fall through the couch cushions and lose, difficult to tell up from down, has a crap "trackpad" for navigation, and is an overall loser for functionality and user experience.
As you might have guessed, I am not a fan.
Before I cut the cord, I had to use an assortment of remotes for my television, satellite box, and AppleTV. I mostly watched satellite TV. and that remote was just fine. But now that I've cut the cord and everything is streaming through apps on AppleTV, this shitty little remote is what I'm using 100% of the time. And I hate it. I hate it. I hate it.
"Surely I'm not the only one who hates this piece of shit! I wonder if there's a third-party remote for AppleTV that has actual buttons and is pleasant to use?"
Turns out there is. The majority of options are programmable remotes, however, and that's overkill for me because I just have the one device now. What I want is a simple remote for AppleTV only.
Enter the Function 101 Button Remote for AppleTV...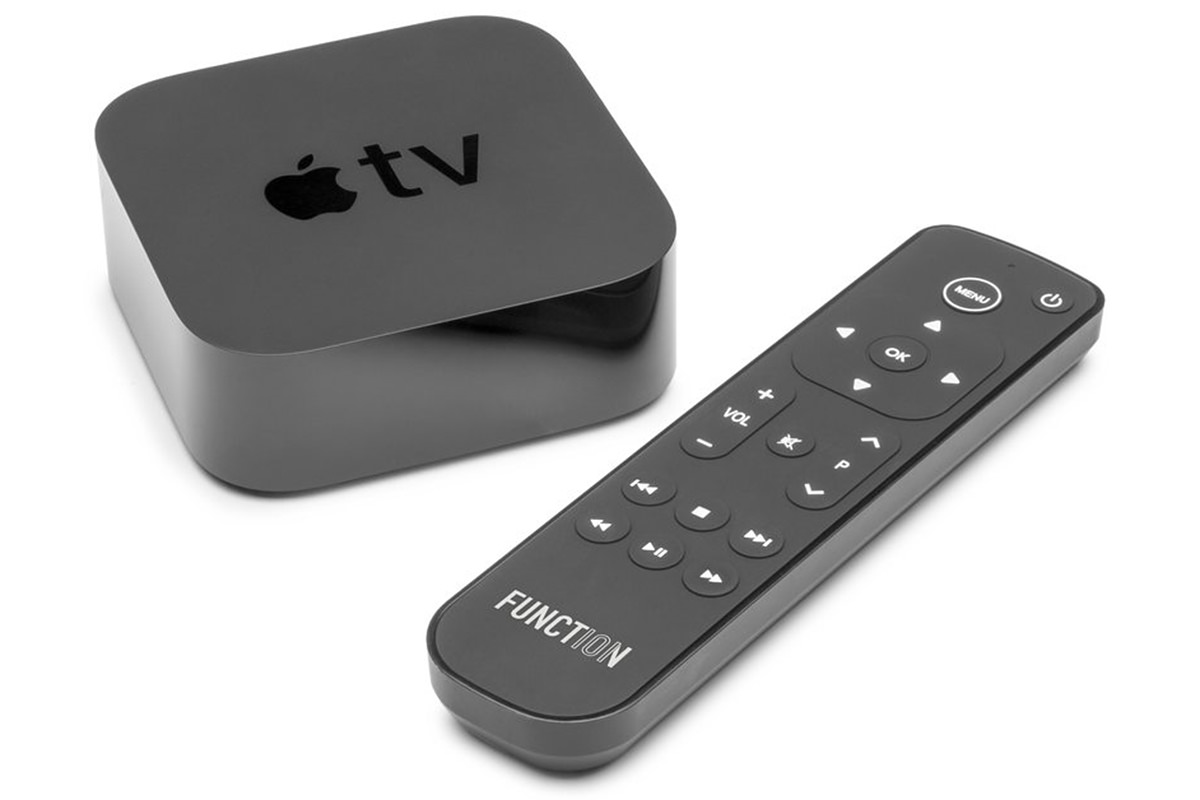 Exactly what I always wanted!
When the remote arrived, I immediately noticed a few great things...
Wonderful soft-touch rubberized surface!
Amazingly responsive and clicky buttons!
Super-comfortable fit in my hand!
Big enough to not slip between my couch cushions!
Alas, it's not all a bed of roses. There are problems to be had.
First of all, there is no "Home" button. I believe this is a technical limitation of AppleTV, because I never had a "Home" button on my Harmony remotes either. Some of the functionality can be had by long-pressing the "Menu" button... but that doesn't work to turn off the AppleTV quickly. Bummer.
Second of all, the button layout is not like the original crappy Apple Remote. This is incredibly frustrating and makes zero sense. I am CONSTANTLY hitting the "Channel Up/Down" instead of volume, which immediately forwards you to the next episode in many apps. This is horrible. If I had been the one to design the remote, I would have laid it out exactly like the Apple remote so you can easily switch between them and have the buttons where you expect them to be...
Third of all, this is an IR-only remote. Which means you must have clear sight of the AppleTV and be pointing the remote directly at it in order for signal to be received.
And Lastly, It did not work with my AppleTV 4K right away. Every time I pressed a button I would get three rapid flashes on the AppleTV, but nothing would happen. It took days of back-and-forth with Function Tech Support (who were very responsive) and it still wouldn't work. Through a lot of Googling, I tried the following suggestions...
Restart AppleTV — Doesn't work.
Unplug/Plug In AppleTV — Doesn't work.
Reset Remote Pairing — Doesn't work.
Reset AppleTV — Doesn't work.
Ultimately it was a suggestion from a friend who's an Apple Store "Genius Bar" employee to Reset & Update AppleTV that got things working. This is a terrible last-ditch effort because you have to sign back into all your apps again. You'd think this would be a simple matter since Apple added a unified AppleTV subscription provider login, but none of the apps seem to use it properly. You tell the app to use your provider login, then still have to jump through hoops to get signed in. Incredibly frustrating.
Ultimately the Function 101 remote is a mixed bag. It's so much better than the crappy Apple remote in form, function, and feel... but the button arrangement is incredibly problematic because it's different from the Apple original which means you're pressing the wrong buttons all the time. This is a shame. If they were to fix this, it would be a seriously good buy at $29.95.
UPDATE: I revised this to reflect that I eventually got the remote working.