Earlier in the week the Pfizer mRNA vaccine received full FDA approval... and a stupid as hell new name "Comirnaty." Boy would I have liked to have been a fly on the wall of that marketing discussion. Because I'm sure if there was an actual marketing professional in the room, they would have objected strongly to branding that sucks this hard. The idea is that the name is a mash-up of "COVID-19, mRNA, Community, and Immunity." Well, yeah... it sounds like a mash-up of too many things trying to do too much. Effective branding is simple and memorable... not a random assortment of letters from different words that sounds like something I would say after drinking a bottle of Jägermeister. This drug is helping to SAVE LIVES and they've shit all over it with idiocy that rivals the whole "New Coke" fiasco.
AND SPEAKING OF NEW COKE...
Coca-Cola Company has taken a dump on my favorite sugar-free beverage... Coke Zero. They've gone and "new and improved it" which is to say that they learned nothing from past mistakes and "New Coked" it...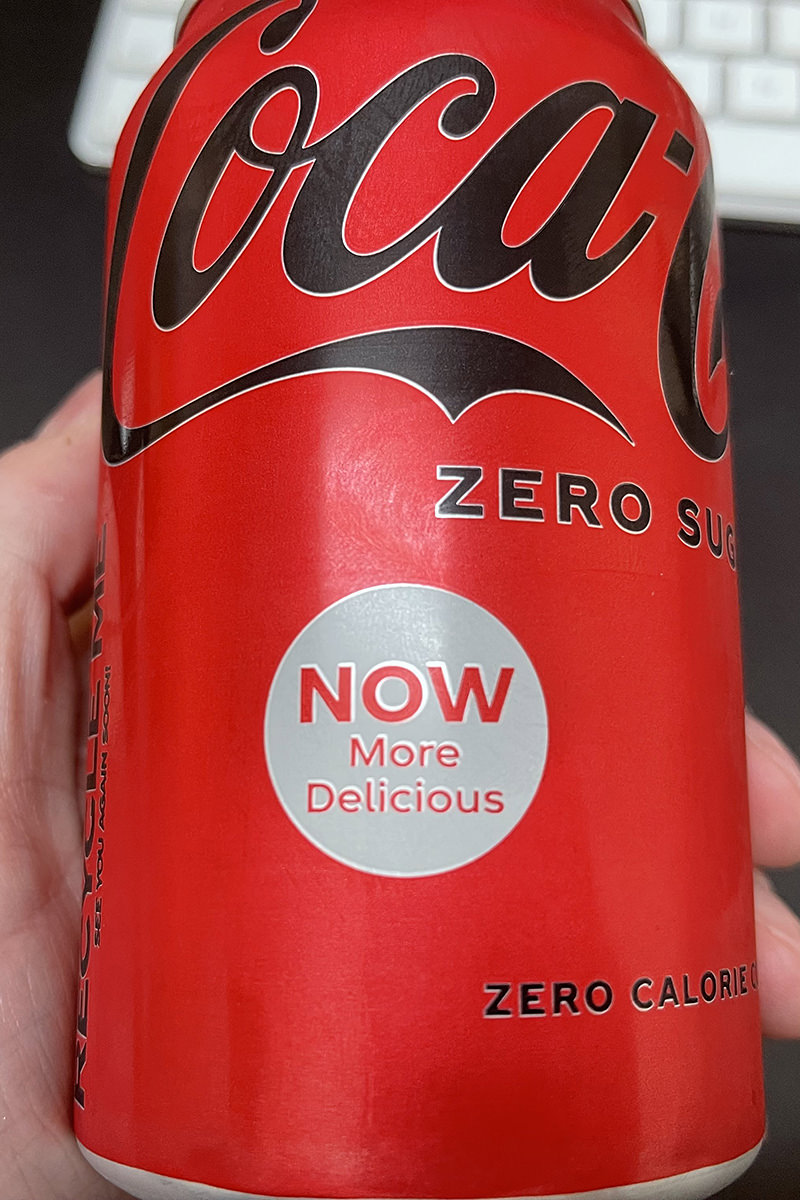 "More delicious?" Are you fucking kidding me? It tastes like shit. It's syrupy, the sweetness is way off, and I'm left with a taste in my mouth that's not at all pleasant. I can't even drink it without food because I don't want to be left with that lingering weirdness on my tongue. But I don't want to drink it with food either. It's an all-around crap product that I hope fails spectacularly. Fuck you Coca-Cola Company, you dumbass pieces of shit. If this is so fucking delicious, then why didn't you change your top-selling "Diet Coke" and leave "Coke Zero" alone?
And the worst part? The can design has changed... but they still have the old 12-pack carton design. Which means I bought 4 cartons of these things without even knowing it. Had they clearly marked the cartons, I would have been more cautious.
Apparently Coca-Cola Company's goal was to create a diet soda that tastes more like regular Coke. Why? If people want the taste of regular Coke, they can just buy regular Coke! Sure it has sugar in it, but it's probably better for you than the chemical sweeteners in diet shit.
Needless to say I am fucking livid, if you couldn't tell.
But back to "Comirnaty"...
I can't help but wonder if the people who didn't get vaccinated because the vaccines were "rushed to release without FDA approval" will now get the vaccine because it's FDA-approved. Probably not. It was just an excuse. They'll find another. It doesn't matter that nothing was actually rushed... that vaccines for coronaviruses have been in research for over eight years... that mRNA vaccine research has been in development for even longer... that all safety protocols were observed and passed in one of the largest human trials ever... and that mRNA vaccines are actually safer that old-style vaccines because all they do is give your body instructions on how to fight COVID by itself, contains no actual viruses, and then fucking disappears... the misinformation campaign has been drummed into people, and that's the end of it. Facts don't matter. Science doesn't matter. Nothing matters except some fucking idiot on YouTube with conspiracy theories that have all been disproven.
We're living in a world where people won't take a safe, FDA-approved vaccine... but will instead wait to get deathly ill from COVID-19 and take horse de-wormer to try and cure themselves. Horse dewormer. Made for horses.
Oh well. According to the dumbasses, everybody who took the vaccine is going to die in three months... in six months... in nine months... any day now... so maybe I'll be lucky and die before drowning in stupid.
And by "drowning in stupid" I mean we get stuck in a perpetual pandemic so the virus just continues to mutate until it kills us all.
And we deserve it.
Well, not me specifically... I got my fuckiing "Comirnaty" vaccinations and wear a mask... but humanity in general deserves it.
God gave us science and discovery so we could understand His miracle of life better... but half of us choose pestilence and death. More often than not in His name. That's an irony that cuts pretty deep.