Posted on September 19th, 2019

I get it. Most of my readers don't even bother to look at other sites. Blogography gives you everything you need to survive, so it's pointless to go anywhere else. Which is why I feel it's important for me to review stuff that may be an essential piece to your well-being. Like the latest food monstrosity from Pizza Hut... CHEEZ-IT Pizza!
And I have to admit... I was looking forward to this experience. I love pizza. I love CHEEZ-ITs. And Pizza Hut is okay in my book.
So I dropped by to pick up an order of the cheese-stuffed version (they also have pepperoni) just to see if combining some of my favorite stuff was magic... or tragedy.
My first impression was good. The box is a beautiful flaming red. I spent a minute holding it up to the light just so you can get an idea how pretty it is...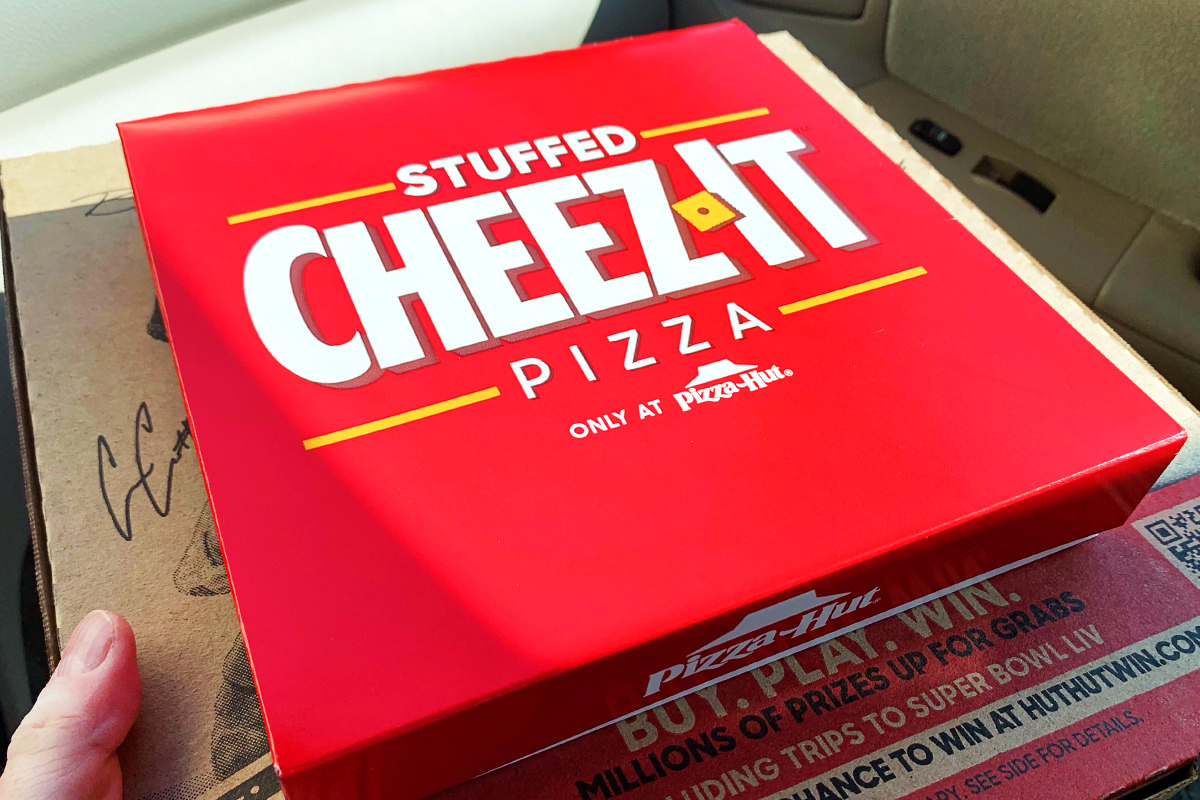 Inside you get four massive squares that look somewhat like inflated CHEEZ-ITs. You also get a tub of Pizza Hut marinara sauce...
Now... here's where things start going terribly wrong. I was anticipating that these would be crunchy like a CHEEZ-IT cracker. They most definitely are not. They are more like a pastry than a cracker. Kinda flakey... but not necessarily in a good way because the texture becomes a bit gummy when you chew it. Like flour paste...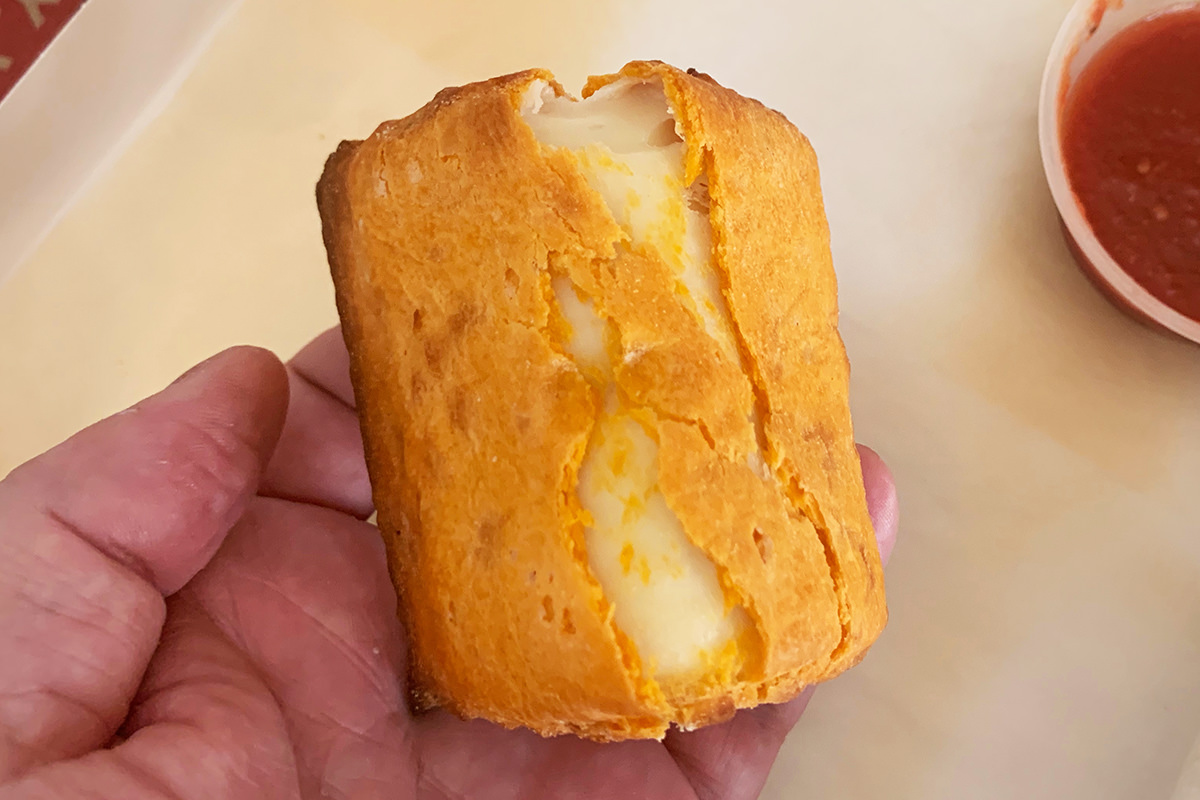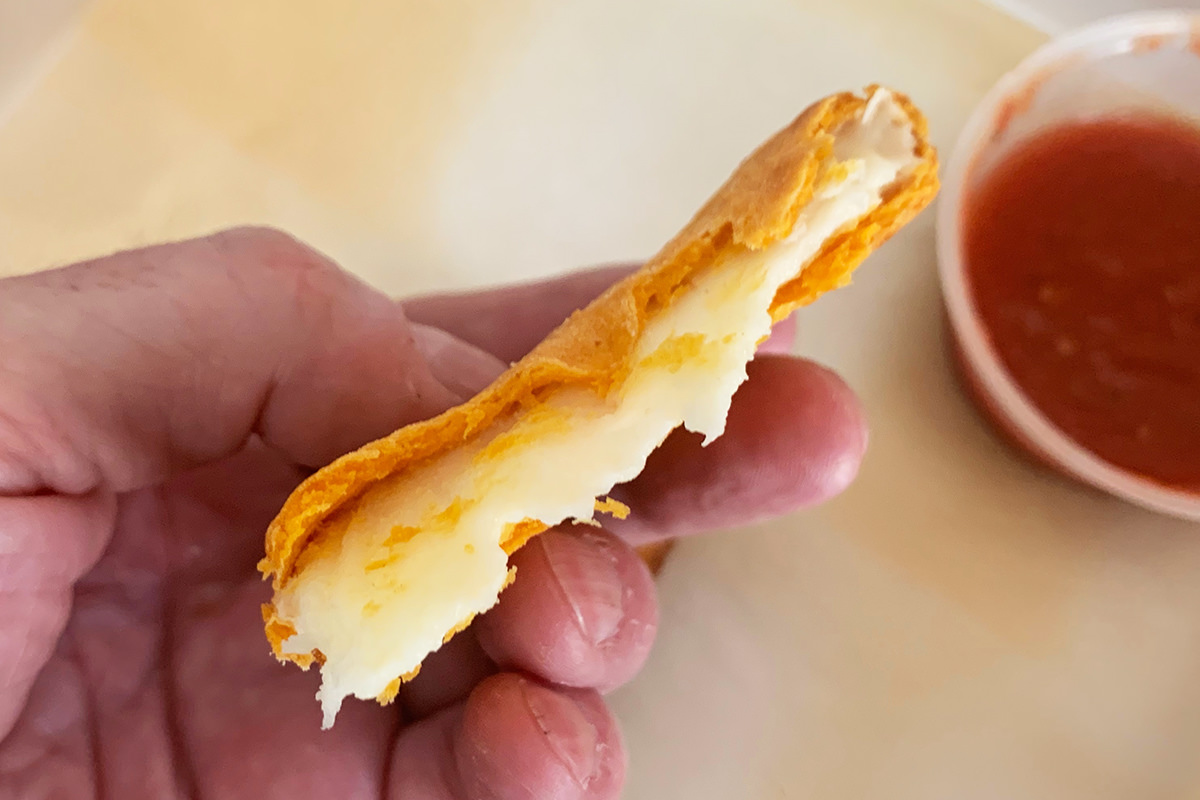 A few thoughts...
The CHEEZ-IT "cracker" is supposed to be a sharp cheddar. I wasn't getting that at all. There was a vague cheddar flavor, but mostly it tasted like flour.
The cheese inside is greasy. No real flavor... just greasy.
Eaten hot out of the box, they at least have a pleasant ooze to them. The second they start to cool, however, they are just a congealed mass.
Didn't Pizza Hut used to warm their marinara sauce? I thought I remember them ladling it out of a crock-pot like warmer. The stuff I got was cold. Not cool, but cold. Makes a bad experience even worse.
The price of $7.50 is outrageously expensive for how cheap these things are.
Overall I found Pizza Hut CHEEZ-IT Pizza to be a bit gross. I'd certainly never buy them again.
If I'm being honest, this was a bit shocking to me. After the amazing Cinnabon product launch they had, I was expecting something at least passably good. But this was a complete misfire on all fronts, and it has me questioning why Pizza Hut would risk serving up something like this. I was expecting another Doritos Locos Taco mashup that Taco Bell gave us... instead I got something that shouldn't have ever been sold in the first place.
Dave2 rating for CHEEZ-IT Pizza —







(7 bombs out of 5 stars)
If you want my advice, just go buy a brick of decent-quality sharp cheddar and a box of giant CHEEZ-IT crackers. It'll cost you less while giving you a much better eating experience.
Posted on June 4th, 2018

Happy National Cheese Day, everybody! I don't know about you, but I have been celebrating all day.
Cheese has been one of my favorite foods since I could eat solid foods. My most-loved cheeses are cheddar, parmesan, feta, American, and pepper-jack. My favorite time to eat cheese is "always." My favorite things made with cheese are sandwiches, pizza, and pasta.
I blog a lot about cheese, as you can tell when you Google Search my blog for it...
My menu for the day has been...
BREAKFAST: Cheddar Cheese Cubes, Scrambled Eggs and Cheese on Toast.
SNACK: Cream Cheese Bagel.
LUNCH: Veggie Cheeseburger, Colby-Pepper-Jack Cheese Stick.
SNACK: Grilled Cheese with Veggie Bacon Sandwich.
DINNER: Cheese Enchiladas with Yogurt Crème Fraiche, Nacho Cheese Bread.

It don't get much better than that.
Enjoy the celebration, y'all.
Posted on June 23rd, 2014

ZOMFG! IT'S TACO NIGHT!
And here's my recipe...
You. Are. Welcome.
Posted on March 31st, 2014

Don't go checking your calendar just yet... because Bullet Sunday on Monday starts... now...

• Skuttle. The plan was to head into Amsterdam today... the reality is that I'm laying around on a big red couch trying to rest up my aching rib cage for a ten-hour flight home tomorrow morning. I tried feeling sad about it, but this has been such a great vacation that I just can't muster the pity.

• Heart. Did you know that the seven red shapes on the flag of Fryslân are not hearts?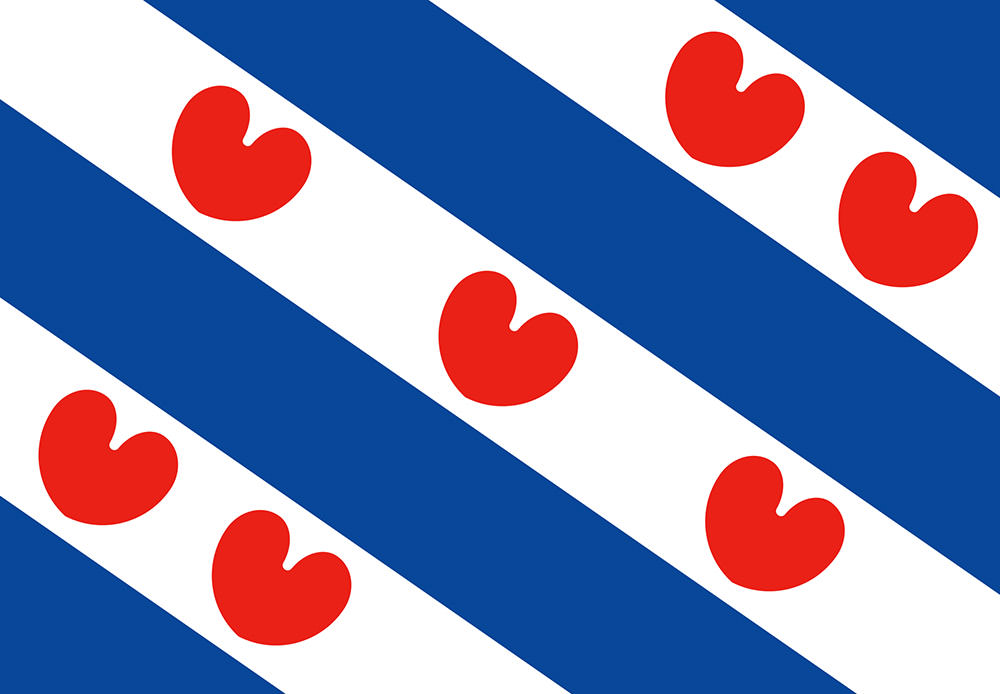 They're pompeblêden... the leaves of yellow water-lily! But in blood red for some reason. Probably because that's more scary to their enemies than if they were yellow-green...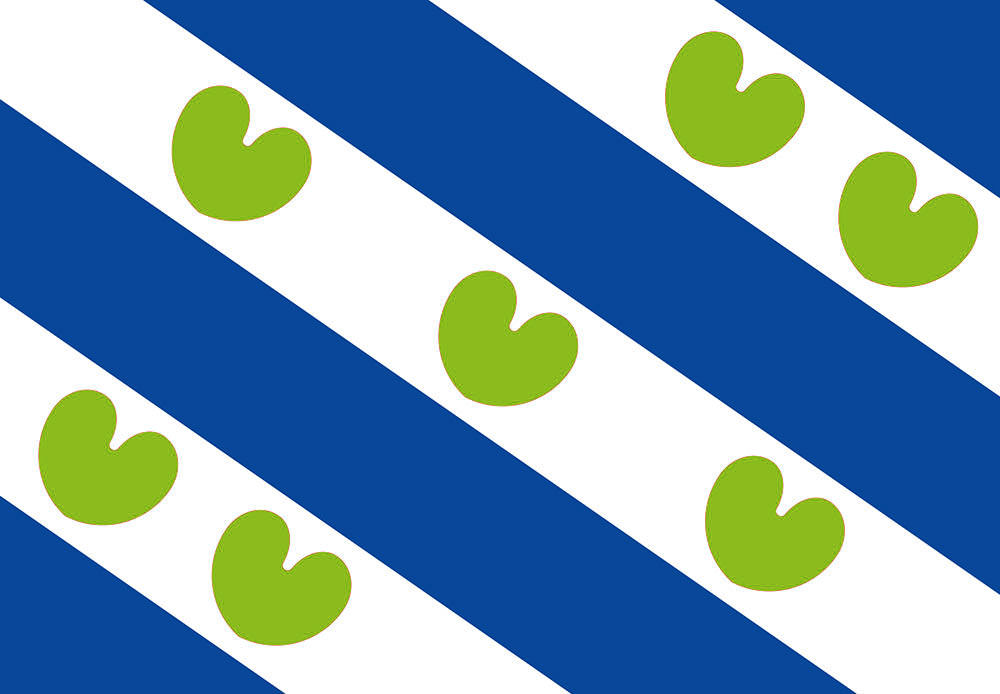 No. Yeah... red is definitely more bad-ass.

• Smurftastic. And so the Netherlands has Smurf-flavored gelato...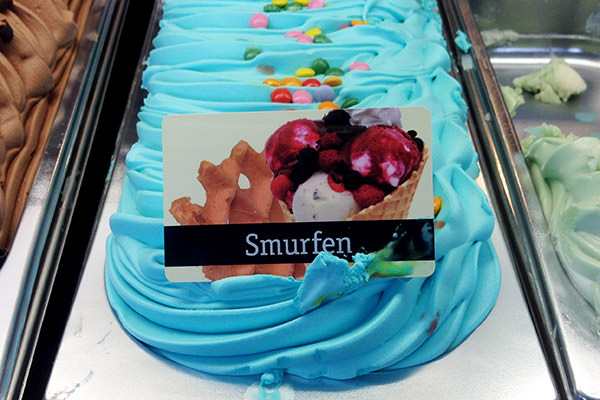 There was no ingredients statement, so I don't know if it's made with real Smurfs or not...

In any event, I'm guessing Gargamel won.

• Tagged. While I don't necessarily condone defacing public or private property, I have to say the graffiti in Leeuwarden was some pretty impressive stuff...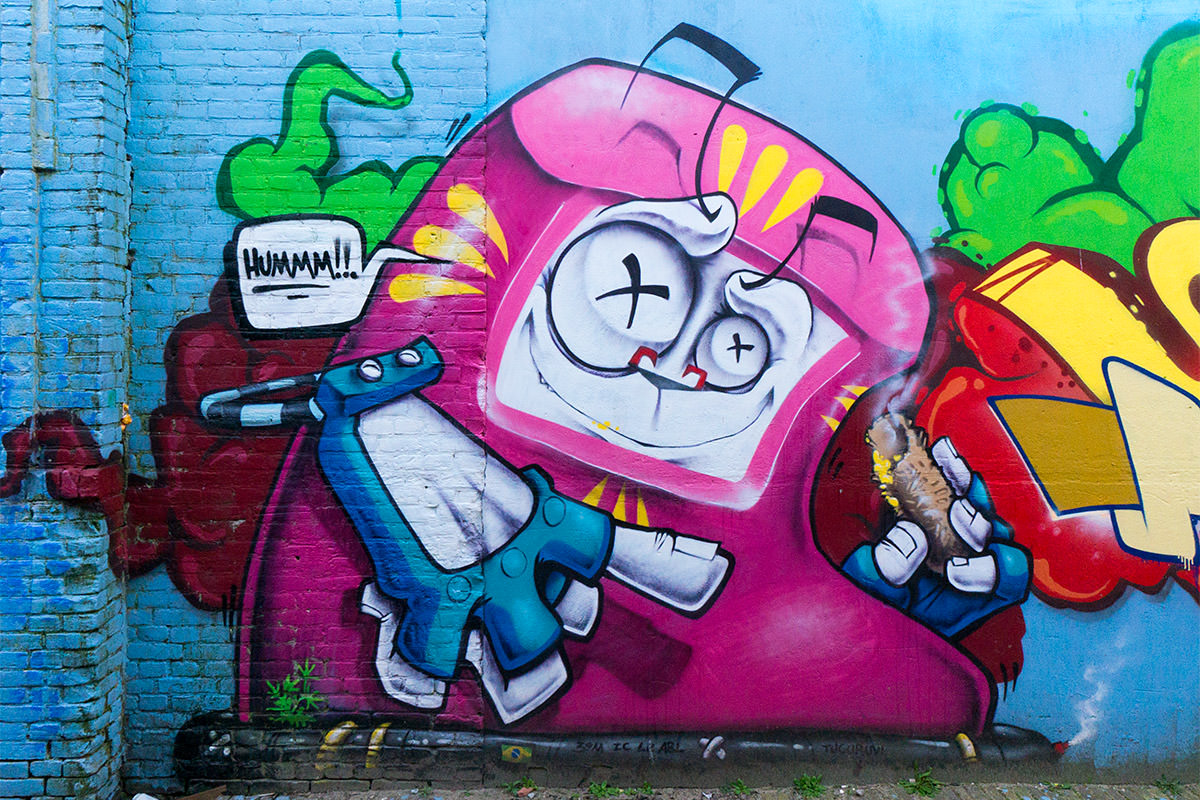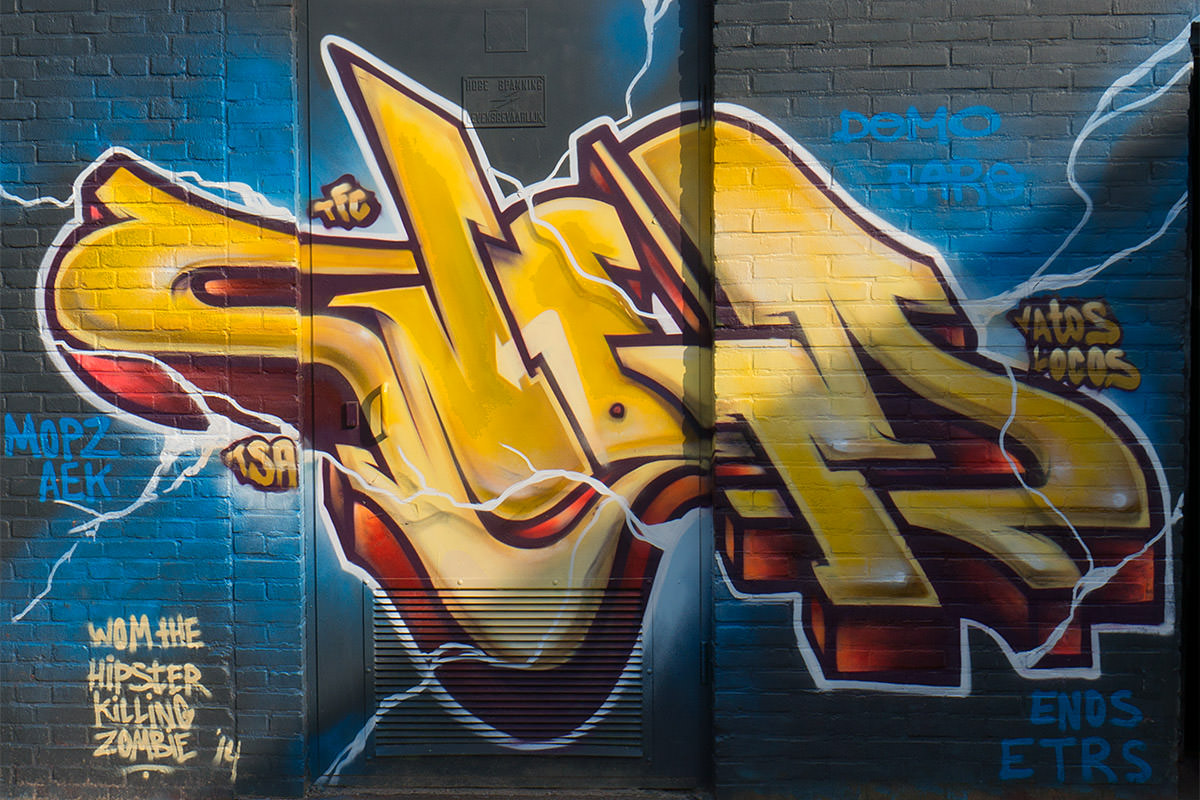 But what would you expect from Wom the Hipster-Killing Zombie?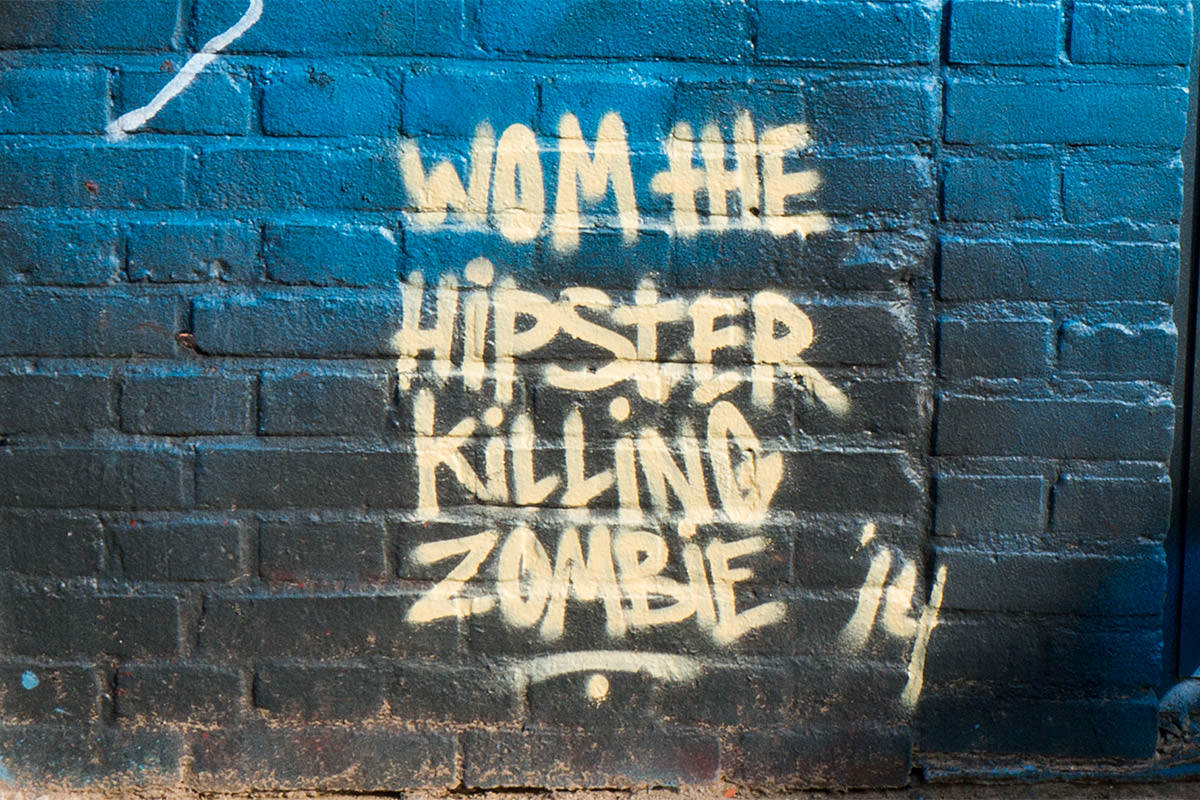 • Chickens. And, just when you think that beautiful hand-painted signage is a lost art, also in Leeuwarden...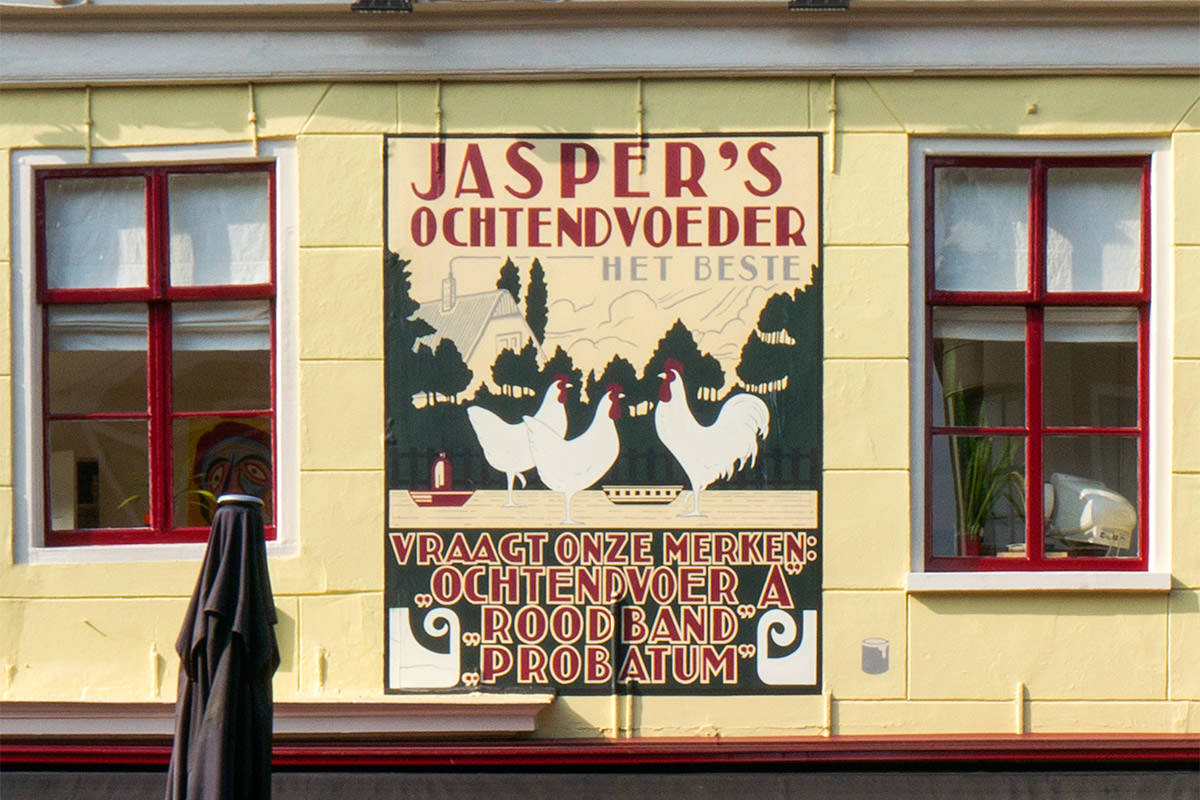 You almost don't notice that the building is crooked and all the windows are jacked up. Perhaps Wom the Hipster-Killing Zombie has a day-job?

• Cheese. My biggest regret in leaving the Netherlands is that I can't bring a big wheel of cheese with me. They had it for sale at The Keukenhof, but it weighs 20-30 pounds and costs around $120-$200 (depending on how aged it is and how much your wheel weighs). You do get to buy it from a wooden cow, however...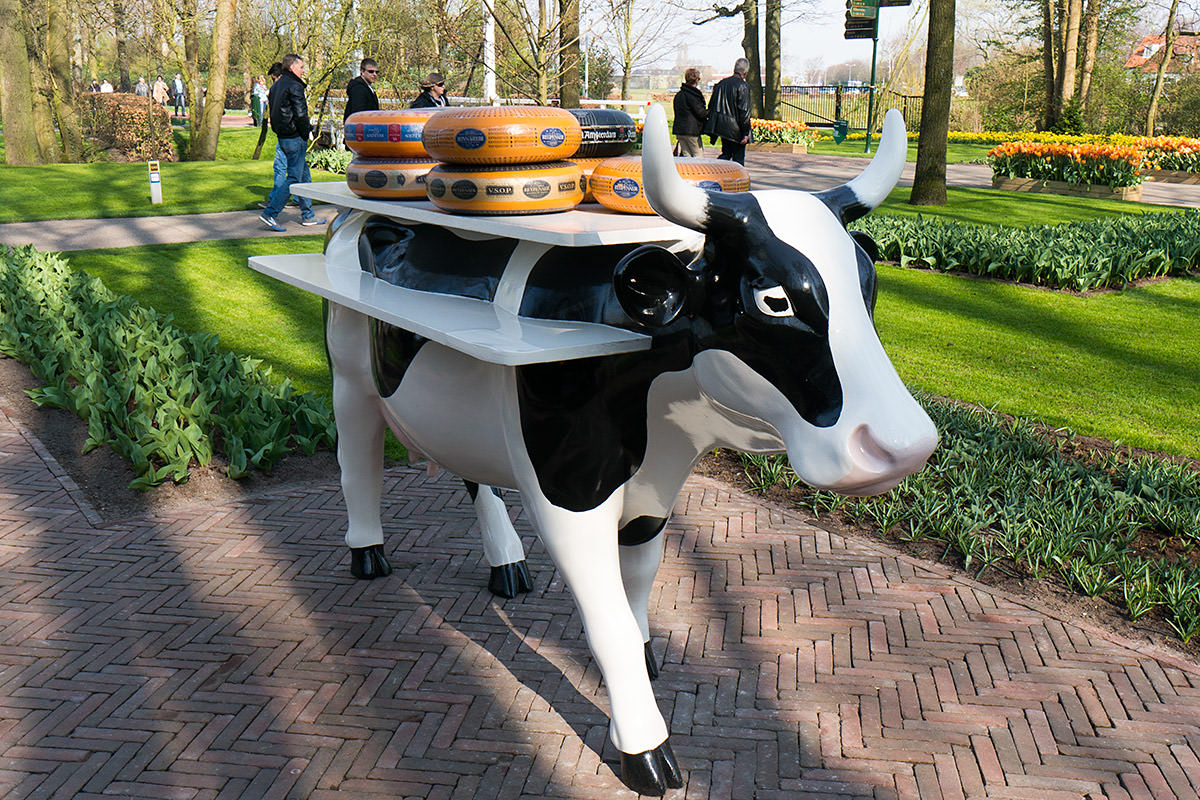 I'm guessing 30 pounds of cheese would last me about a week.

No more bullets. No more vacation.
Posted on August 28th, 2013

On a trip to New York years ago, I decided to to buy a gift for some people back home as a "thank you" for giving me some hotel discount coupons. Back then I had no money for travel, and their generosity was the difference between staying in a nice hotel... or sleeping in a bus station or some grubby hostel.
Finding the perfect gift was difficult because I didn't know them very well. About all I knew was that they hosted fancy dinner parties, liked great wine, and took pity on their daughter's friend who was foolishly flying to New York with little planning and even less budget.
After a couple days of wandering through souvenir shops in-between visits to the Empire State Building, The Statue of Liberty, The World Trade Center, and all the other obvious tourist spots, I was ready to give up. Showing up at their door with an "I ♥ NY" T-shirt or a crappy picture frame would have been worse than showing up with nothing. I figured I would just buy a nice Hallmark thank-you card and that would be the end of it.
Except...
My fancy hotel had a concierge. I had never used one before... but of course I knew what they were for. I watch movies and stuff.
So I sauntered up to the concierge desk and said something like "Hello! I need to buy a hostess gift for a friend. Do you know where I might find something appropriate for a couple who enjoy dinner parties and wine?" The concierge looked at me like I was a grade-A moron and said "Do you have something in mind... like... oh, I don't know... a nice bottle of wine? Turns out that I actually was a grade-A moron, because getting them a bottle of wine had never occurred to me. "Well of course, wine!" I snapped, "I am asking you where I can get it!" Hey, I can be an asshole too, asshole.
And so I was directed to some ridiculously pretentious wine shop.
Where I was told that a cheese and crackers gift basket would be the better gift to travel home with. Which was a nice way of saying "yeah, you can't afford a 'great' bottle of wine in this joint, fella." They had a basket that had been opened because they took something out of it, and the nice lady assisting me offered to re-work it at a discount so nobody would ever know a part was missing. Fifty precious dollars later, I had a nice-looking gift of very expensive cheese with a box of watercress crackers. In a basket. With straw. I took care to keep it cool, and it survived my trip home the following day. I ran it to my friend's parents the next morning. Her mother was thrilled and thanked me profusely for the unexpected cheese windfall. Mission accomplished.
The following week I asked my friend if her parents had a chance to eat the cheese basket I gave them. Turns out they had. I sat waiting for her to beguile me with a magical tale of how the cheese was served with a $500 bottle of wine at an exclusive party attended by movie stars and dignitaries. Instead she told me that they had shredded the stuff and sprinkled it on a casserole or nachos or something.
I must say, I managed to keep my composure quite well.
But how ungrateful! That precious gift of $50 cheese was WASTED! I might as well have given them a box of Ritz crackers and a brick of cheddar! Didn't they know that it was a special cheese that was meant to be savored with a fine wine? I might as well have take a $50 bill and burned it! Of all the nerve!
And then...
The Buddhist philosophies I had been studying started to surface.
I gave them the gift freely. They accepted it with gratitude after doing me a favor. They liked it. They were happy I had been so thoughtful. Who am I to tell them how to enjoy their cheese? So they shredded it on a casserole... good for them! I'll bet it was the best damn casserole they had ever eaten! How nice that I got to be a part of such an amazing dining experience!
Discovering that you don't have to be angry all the time... and realizing that what other people choose to do with their cheese is their business... it's a liberating thing.
Which brings me to yesterday when I was told that "tattoos are disrespectful to the bodies that God has given us" and I was so close to saying "Then don't get a fucking tattoo, bitch!" but actually ended up saying "Why do you care what I do with my cheese?" which was confusing to everybody involved, so I shrugged my shoulders and walked away.
But not before I noticed she had pierced ears and color highlights in her hair.
Posted on July 13th, 2013

In order to save money on airfare, I flew into Atlanta a day early. Sure it meant getting up at 4:00am this morning, but the cost of flying is getting to be so outrageous that you do what you gotta do. The up-side was that I ended up getting into town at 2:00, which left me time to meet up with some Atlanta peeps for dinner.
And what a dinner it was...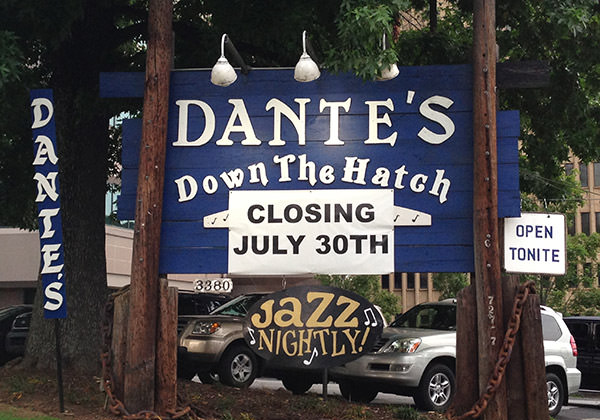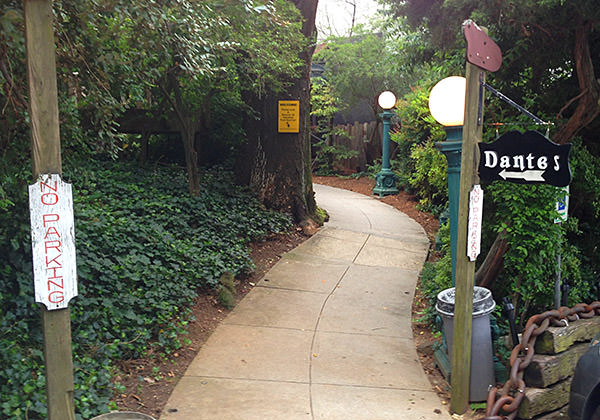 Dante's Down the Hatch "Jazz and Fondue Restaurant and Club" has been an Atlanta institution for 43 years that I've never heard of. Which is odd, because it's fairly famous. It's a themed restaurant built around a "sailing ship" that's surrounded by live crocodiles. Kind of like dining in the middle of the Pirates of the Caribbean ride at Disneyland, but without the animatronic pirates and stuff...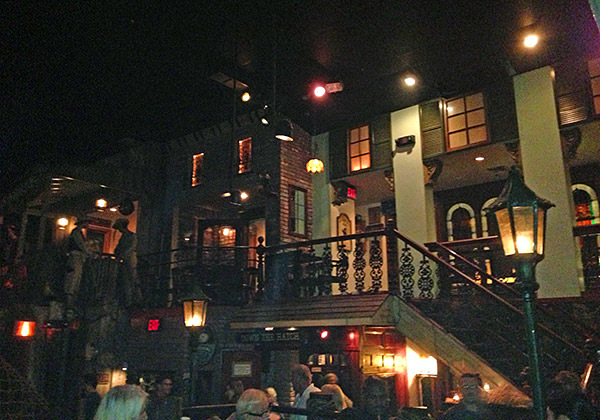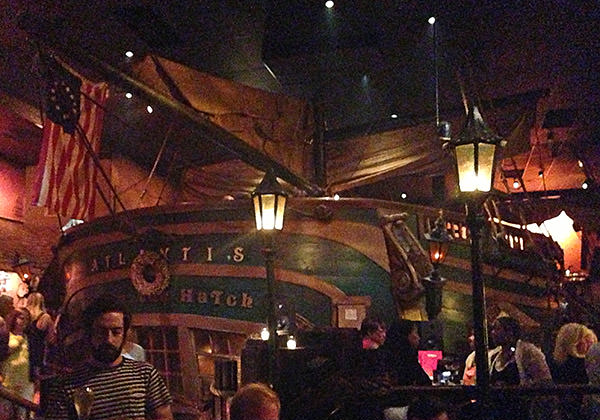 All this plus CHEESES OF THE WORLD!!!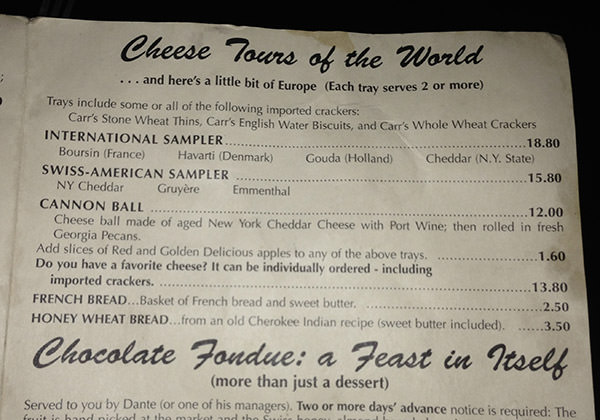 The menu is a bit confusing. I thought I was ordering vegetable fondue, but it ended up being vegetables and a pot of boiling oil. But that didn't stop me from unintentionally stealing some of somebody else's cheese, which was delicious (Houston, I owe you dinner next time I'm in town!)...
The jazz was good. Really good. And since our table was inside the ship, we had a front-row seat!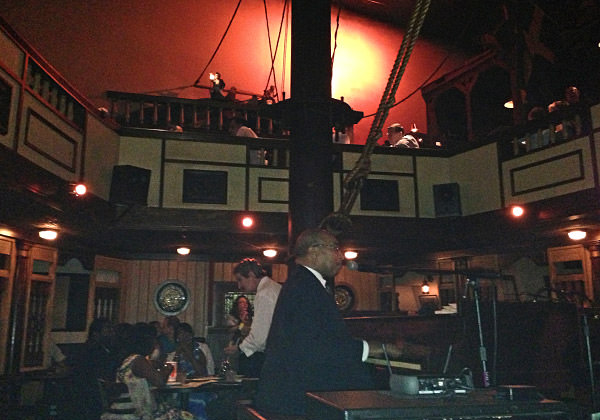 All in all an awesome way to spend an evening. I'm sad that the place is closing at the end of the month, as I would have absolutely come here again.
Many thanks to blogger buddies (et al) The Muskrat, Whipstitch, Coal Miner's Granddaughter, Copasetic Beth, and Houston's Problem for strawberry daiquiri-infused dinner fun!
Posted on October 26th, 2012

Yes. I just flew 9 hours for an old cheese sandwich and PATATJES MET!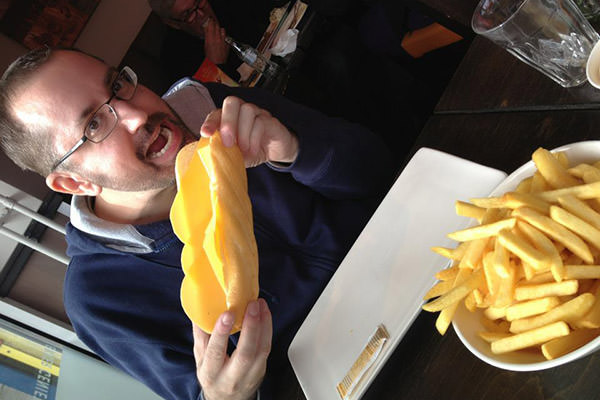 And now it is time for a nap.
Posted on September 3rd, 2012

Several years ago a chef at an upscale restaurant asked me what kind of cheese I wanted on my fancy sandwich. I said "Oh, I dunno... American is fine."
I got yelled at. "AMERICAN IS NOT A REAL CHEESE! IT CAN BARELY EVEN BE CONSIDERED A FOOD!"
Which was confusing, because the American cheese I always buy says "cheese food" right on the label.
But even so, I was embarrassed for having been so classless and ignorant as to have asked for "American cheese" on a sandwich, so I stopped eating the stuff. Instead I started buying cheddar cheese at home and always asked for cheddar, swiss, or whatever "real" cheese was available when eating out.
Because I'm classy and smart like that.
But then the recession happened and I started buying groceries not based on what I wanted, but what was on sale. If it isn't on sale (or I don't have a coupon), I don't buy it unless I absolutely have to.
And last week it was Kraft brand American cheese food that was on sale...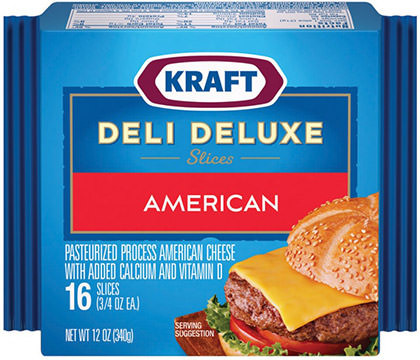 I had forgotten how much I absolutely love the stuff. I don't care if it's chunks of cheese that's been blended with fat, milk, and artificial chemicals and crap... it's creamy, delicious, and melts over a veggie burger like a dream. So now I'm undergoing a kind of "American Cheese Renaissance." I'm eating it for breakfast, lunch, and dinner. And snacks. I can't help myself.
And now I'm keeping an eye out for a sale on White American...
I'm not trying to sound racist here, but I'm thinking that White American is probably better to eat than "regular" American because it won't have any stuff in it to make my insides turn orange. Unless... you don't think that they add bleach to American to make it turn into White American? That wouldn't be a good thing at all.
And now a piece of sad news concerning a black American... Michael Clarke Duncan, a wonderful actor I came to love in his role as Leo Knox in The Finder, passed away this morning at the age of 54...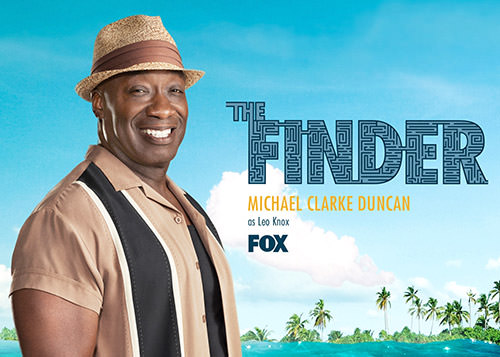 Such a horrible loss. Michael Clarke Duncan was a truly amazing talent who could steal any scene with one flash of his million-dollar smile... or one word from his wonderful voice... which means that he stole every scene he was ever in. And I can't overstate my love of his character on The Finder. Leo Knox was achingly real while still being endlessly entertaining. I always hoped that the cliffhangers left when The Finder was cancelled would be wrapped up in an episode of Bones, where the show originated. But that will probably never happen now. How could they possibly wrap up anything without Leo? I'm just crushed. Rest in peace, Mr. Duncan, your work made me very happy at times I needed a little happiness, and I will miss you.
Posted on December 8th, 2011

Unlike most every other day, I didn't bring any work home with me tonight. I'm dangerously close to a major case of burn-out, and just needed one night... one night... away from work. And so I took it!
And then spent all night worrying about the work that I'm not getting done. I knew I should have picked up a fifth of Jägermeister on the way home.
Last night on the way home, I went to Costco and bought cheese. There's not a lot of foods I eat enough of to buy in bulk. Cheese and chocolate pudding are about it. Though, thanks to Costco contributing 22 million dollars to the campaign to privatize alcohol sales in Washington State, it looks like I'll be able to buy Jägermeister in bulk come March 1st...
I think we can all look forward to that.
In the meanwhile, I think I'll eat some cheese.
Posted on June 19th, 2011

It's a busy busy Bullet Sunday!
If I were smart, I'd blow off blogging today so I could get caught up with work. Oh well. Blogging is a tough habit to break. Even when it's bad for you. Especially when it's bad for you.

• Holiday. Happy Father's Day to all the dads out there! Including mine...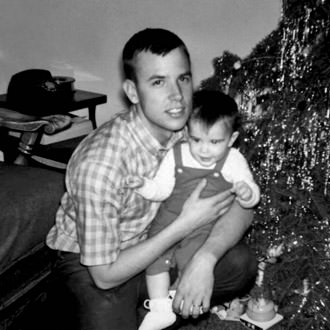 • Cheesy. I think it aught to be a law that companies who make low-fat and fat-free cheese products should be REQUIRED UNDER PENALTY OF DEATH to label their products with giant warning labels like they put on cigarettes...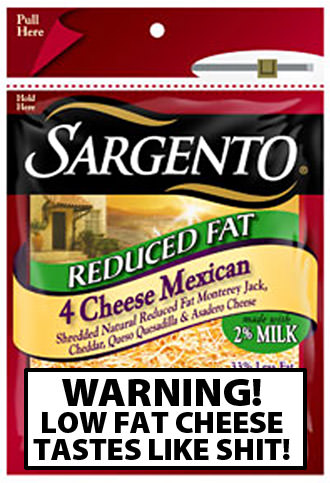 I am tired of accidentally buying the wrong cheese at the store because I'm in a hurry and don't notice the beautifully-integrated low-fat declaration. If there were an offensively large warning label requirement, I'd be less likely to mistakenly purchase this crap.

• Batmobile. Batman is my favorite comic book hero. By far. He doesn't have any super powers, so the stakes are always higher for him than say.... Superman. How Batman compensates for being merely human is those wonderful toys he uses to fight crime. The most famous of which would have to be the Batmobile. As Batman's vehicle of choice, it's taken a lot of different forms over the years. Some good. Some bad. Some meh. Kind of like the latest Batmobile designed by Gordon Murray(!) for the new Batman Live touring show. In the right light, it's kind of sexy...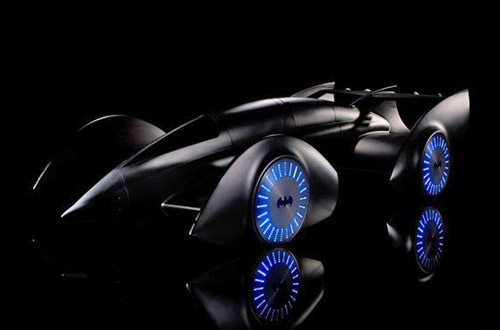 But in the wrong light... such as, say... DAYLIGHT... it looks kind of boring and lame...
Still, it is a step above the massive tank-like "Batmobile Tumbler" from the current Batman films, I guess. I mostly didn't care for the theatrical and goofy nature of the Tim Burton movies, but I think he had the best Batmobile on the big screen so far.

• Flush. I am sick of all these commercials touting "Flash" as an awesome "feature" on the Android Tablets. Flash sucks. It's battery-draining, crash-happy, annoying bullshit and I hate it. Apple choosing to dump the buggy shit from its iPhone, iPod, and iPad was one of the best things to happen to the internet, because it's forcing web developers to stop using Flash and turn to modern HTML 5 elements instead. I am reminded of just how smart Apple is every time I visit a Flash site on my MacBook and it either crashes or sucks my battery dry.
My favorite thing to do is fill out crash reports whenever Flash crashes (which is a lot)...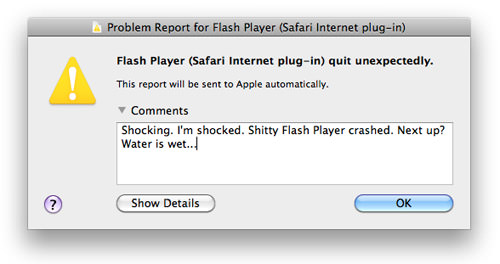 Not that it's any news to Apple... hell, they're trying their best to kill Flash. But I'm easily frustrated and a total smartass.

• Cloudy. Speaking of Apple competitor suckage... why is buying music from Amazon such a frikin' joke? It's an awful, awful experience. It's so mind-boggling horrible that I'd rather pay $1.29 for a song from Apple than to suffer through buying the same song for 69¢ from Amazon. And now that they force you to go through their "Cloud Drive" for everything, a bad situation is even worse. Partly because their "Cloud Drive Player" is shit and stutters and stalls every time I try to listen to a song. But mostly because you can't just download your music when you want. You still have to use Amazon's unbelievably crappy downloader utility, which is just fucking stupid. Apple's iCloud service won't be ready until July (Mac) and September (iOS), but it's bound to be worth waiting for given Amazon's terrible solution. Guess I'm in no danger of turning in my Certified Apple Whore credentials any time soon.

And now I think I'll eat cookies and watch episodes of The West Wing. After all these years, it remains some of the best television ever aired.