Posted on July 6th, 2015

Just goes to show... you can't have a debate over the Confederate Flag without dragging marriage equality into the mix!
Any bets on how long it'll be until this asshole is caught with an underage male prostitute in some seedy airport hotel?
Yeah. Definitely overcompensating for something.
Probably hates they idea of gay marriage because it's just so damn tempting to him.
Meanwhile, the rest of the world is waking up to the novel concept that UNLESS YOU'RE IN A SAME-SEX RELATIONSHIP, SAME-SEX MARRIAGE DOESN'T FUCKING AFFECT YOU.
Unless, of course, you want to be happy for all your friends, co-workers, and family who can finally get married the same way every other tax-paying American can.
Posted on June 29th, 2015

No, your calendar doesn't deceive you... because Bullet Sunday on Monday starts... now...

• Heat! On top of the fires that have been raging here in Central Washington, we've got this crazy heat wave assaulting us like a blast furnace. The outdoors are practically inhospitable at 110°, but at least this bear has found a way to beat the heat...
That's one happy bear.

• Beard! As I am not swimming in a box of women, clearly my beard is entirely inadequate. But a solution is at hand...
Of course, compared to this guy, ALL BEARDS ARE INADEQUATE, even with god-like beard oil in them, so I guess I shouldn't feel too bad.

• Station Agent! A moment of silence for Tama-chan...

Photo by Toru Yamanaka/AFP/Getty Images
One of many feel-good cat stories... you will be missed, Tama!

• CANADA! "UGH! GAY MARRIAGE IS LEGAL NOW? I'M MOVING TO CANADA!" — If that's you, there's probably something you should know...

• WAAAH!!! And, speaking of sour grapes... Mike Huckabee Set the Bar Really High for the Worst Reaction to the Same-Sex Marriage Ruling. What an asshole.

• Travel! I updated my travel map and was happy to learn that I've finally reached my goal of seeing 25% of the countries on this planet...
At one time I thought I'd strive for 50%, but it took over half my life just to get this far. so unless somebody has a couple million dollars for me so I can quit work and travel the world... I guess this will have to do.

And... back to this unrelenting heat wave...
Posted on June 27th, 2015

So... marriage equality nation-wide then.
The decision handed down from the Supreme Court was both surprising (there is so much crazy sitting on that bench) and unsurprising at the same time. Unsurprising because marriage is not a religious institution in this country. You can get married by a Justice of the Peace in a completely non-religious ceremony if you want, so government has no fucking business banning it for two consenting adults with the same genitals just because some churches don't like that. Marriage predates Christianity and only has religious connotations if you want it to, so all religious-based arguments are invalid. Which means keeping marriage from an entire class of tax-paying citizens is discrimination plain and simple.
But, make no mistake, if it hadn't been for ever-escalating public support, the SCOTUS decision probably would have gone the other way. The people actually running this country do love the status quo, after all.
So how did we get here?
A couple years ago while I was working in Anaheim, the answer became abundantly clear to me. During a dinner break, one of my co-workers was talking about how she attended a conference where she noticed the elderly man working the coat-check line was wearing a button with the newly-minted Human Rights Campaign's marriage equality symbol on it. After she told him that she liked his button, someone behind her asked "Do you even know what that button means?" — as if they just liked it for the color or something. Before she could answer, the gentleman replied "It means that maybe one day my grandson can get married."
End of story.
Despite spending his formative years in a society conditioned to revile all things gay and growing up in a time where the very idea of same-sex marriage was taboo... perhaps even dangerous... this man loves and supports his grandson.
And that's the ticket, isn't it? Now-a-days most everybody has somebody they care about who's gay. And if you care about someone, you want them to have the same rights as everybody else. That means your family... your neighbors... your co-workers... your friends.
Which is why I have never shied away from voicing my support for marriage equality loudly and often, both here on Blogography and in Real Life. I couldn't look my friends in the face if I didn't. And after realizing how much society's acceptance can mean to kids who are struggling with their sexuality, I couldn't look myself in the face if I didn't.
And I'm not unique that way. In surprisingly short order, the majority of people in this country have come to support marriage equality. The majority of The Supreme Court among them.
So love wins.
As it should.
One big step in the right direction.
With many more left to follow.
Posted on June 26th, 2015

To my many friends who have waited so long... I look forward to your fabulous weddings...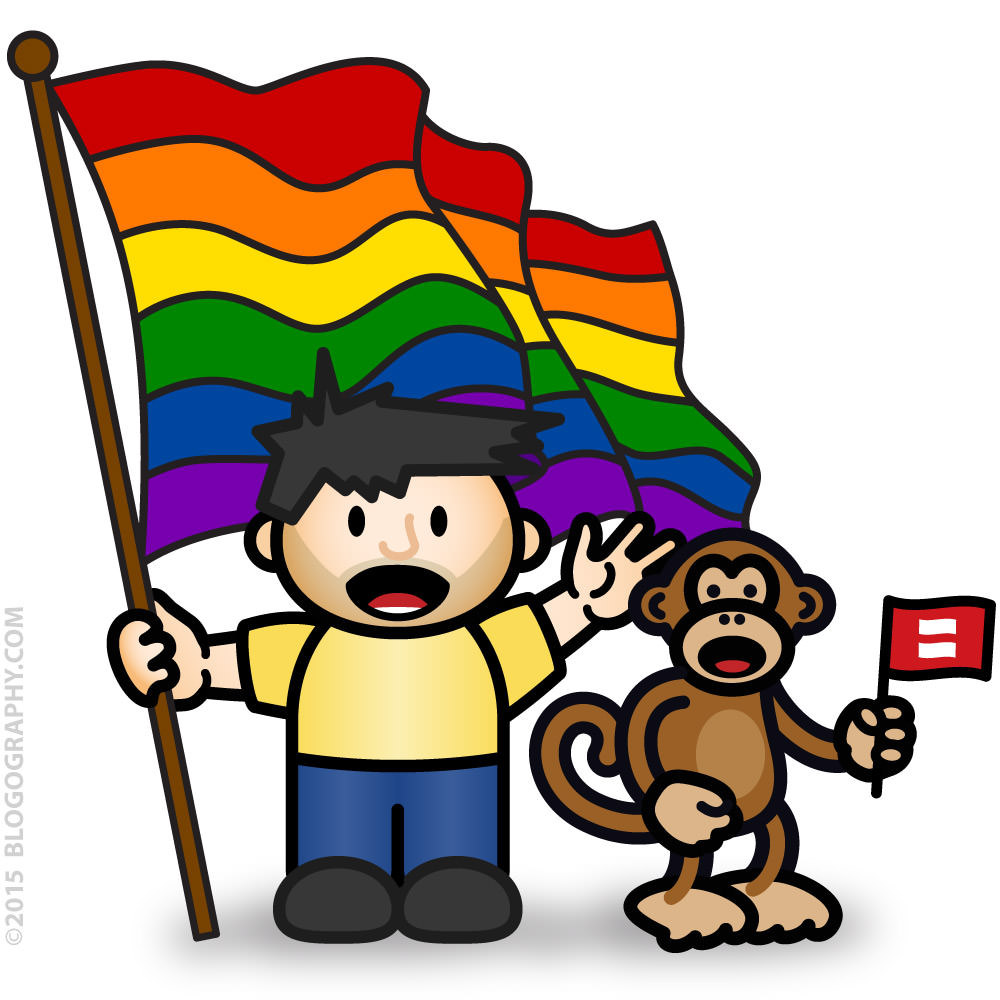 Posted on June 25th, 2015

Tomorrow maybe...
Posted on June 24th, 2015

Any day now...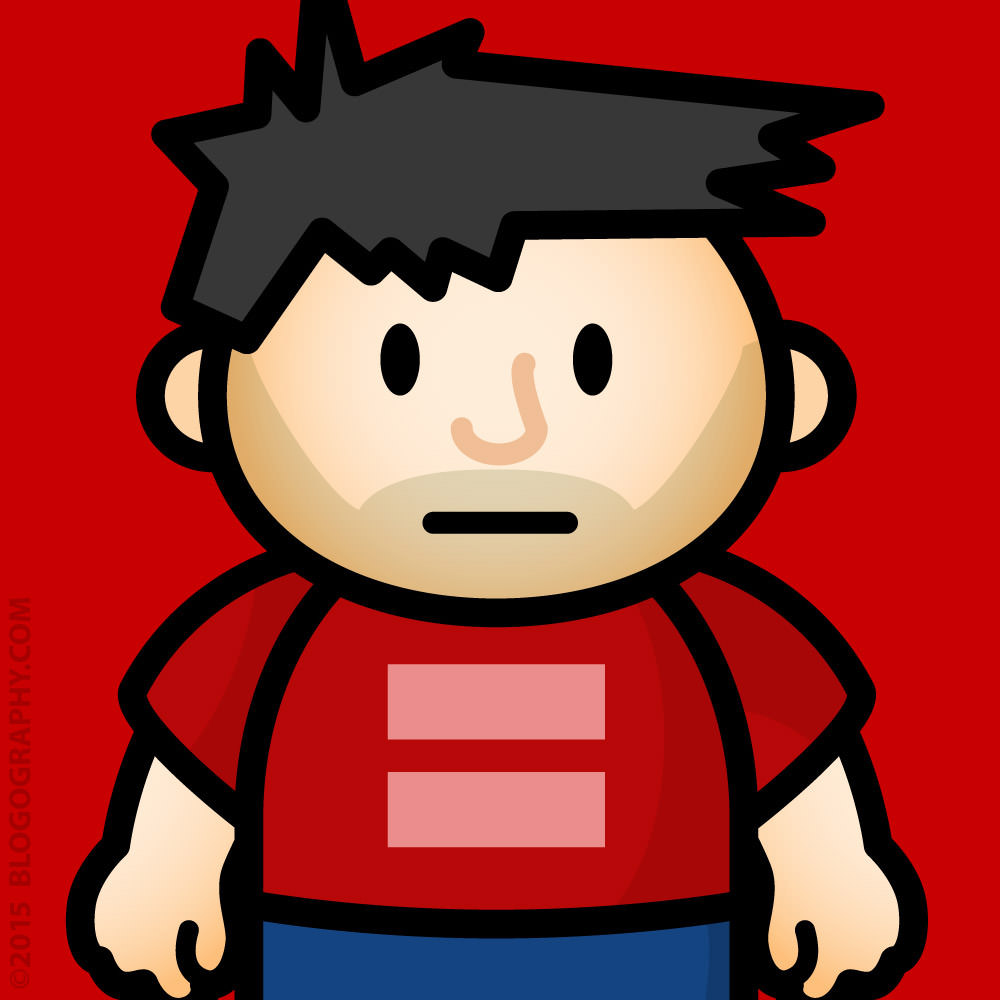 Posted on April 30th, 2015

Just do it already.
From a historical perspective, we already look ridiculous...

No sense continuing to cater to the ever-increasing backwards fringe elements of society when most everybody else has moved on...

Oh well. At least the anti-equality brigade is keeping things entertaining as they go down in flames.