The weather may be hitting hard here in these United States of America, but I will not be deterred... because an all new Bullet Sunday starts... now...

• Ingenuity! I am still in awe of NASA's latest mission to Mars. I have spent hours upon hours pouring over the NASA documentation, briefs, reports, and news about it. One of the things that blows my mind even more than the fact that we can land something on the surface of Mars is how they actually do it. It's actually a sky crane which gently lowers the Perseverance rover to the surface like so...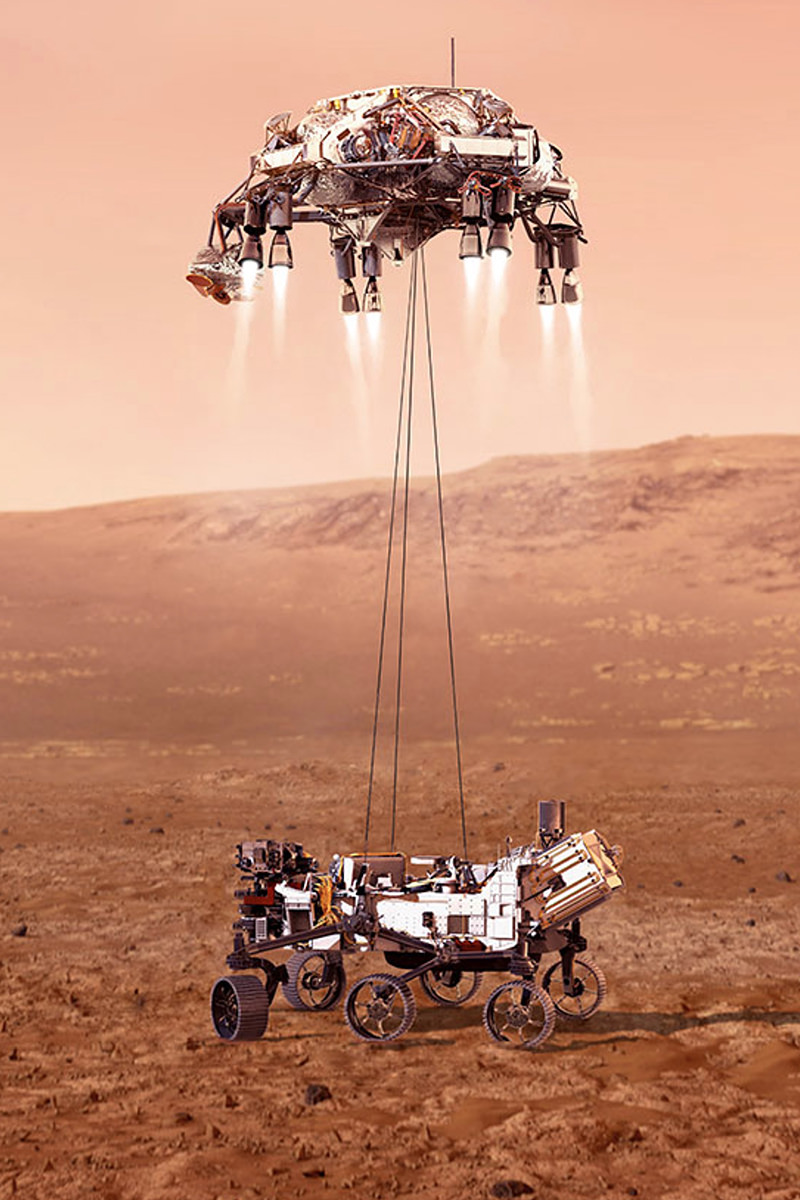 Artist rendering from NASA/JPL - Caltech
The landing modules that did the heavy lifting... er, landing... sent back a photo of it actually happening...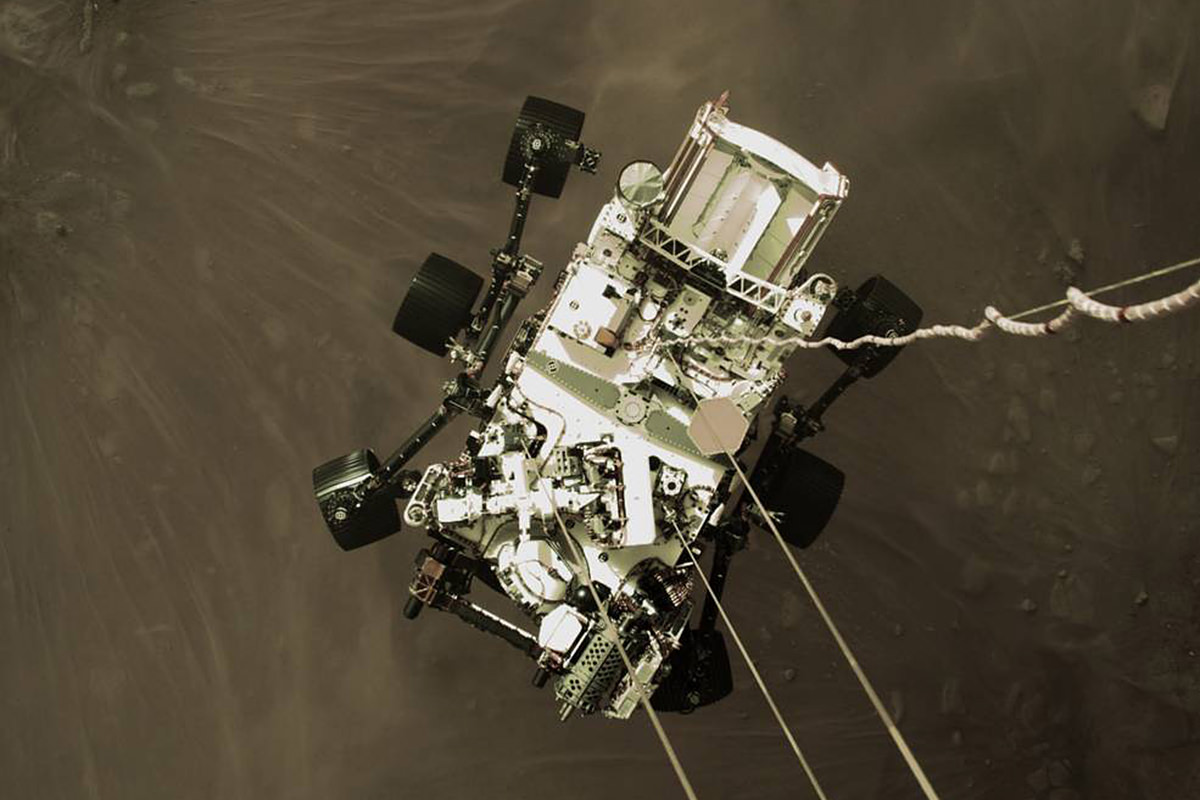 Photo from NASA/JPL - Caltech
NASA even managed to get an orbital view of it happening...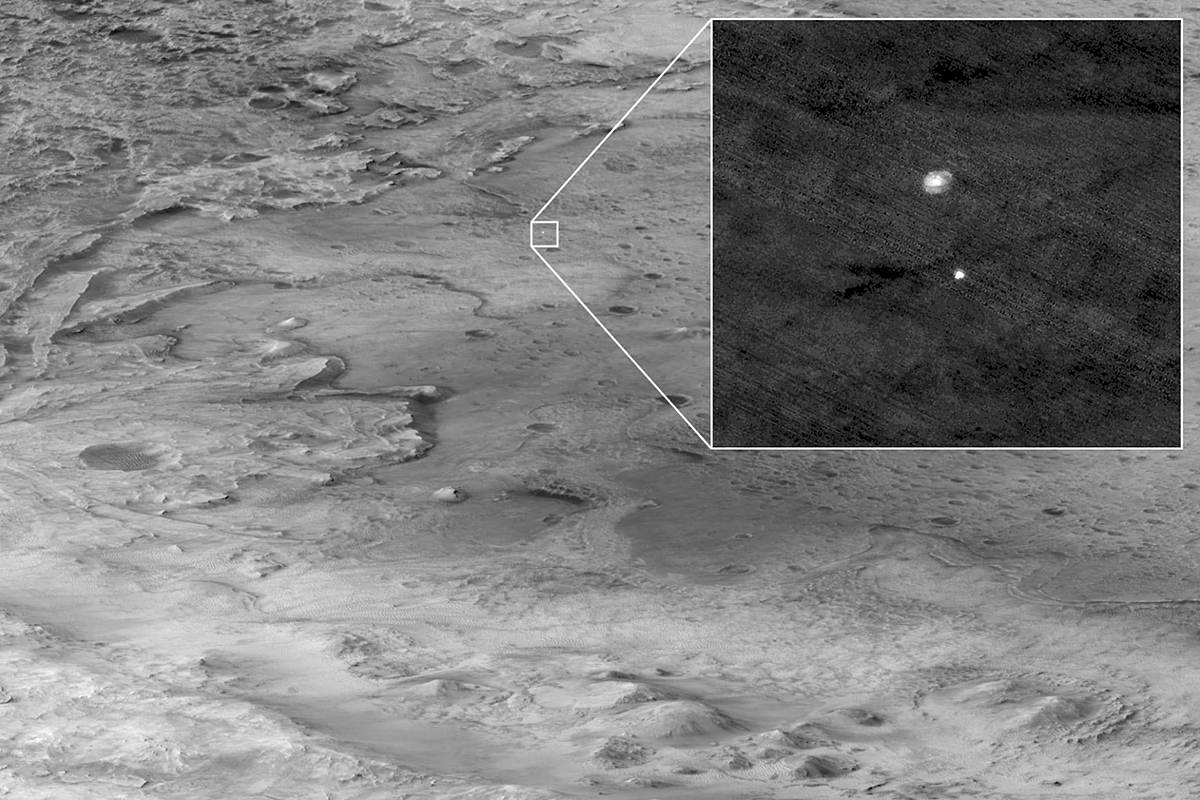 Photo from NASA/JPL - Caltech
But the big surprise here is that Perseverance didn't land alone. He brought a little buddy with him... the Ingenuity test copter drone!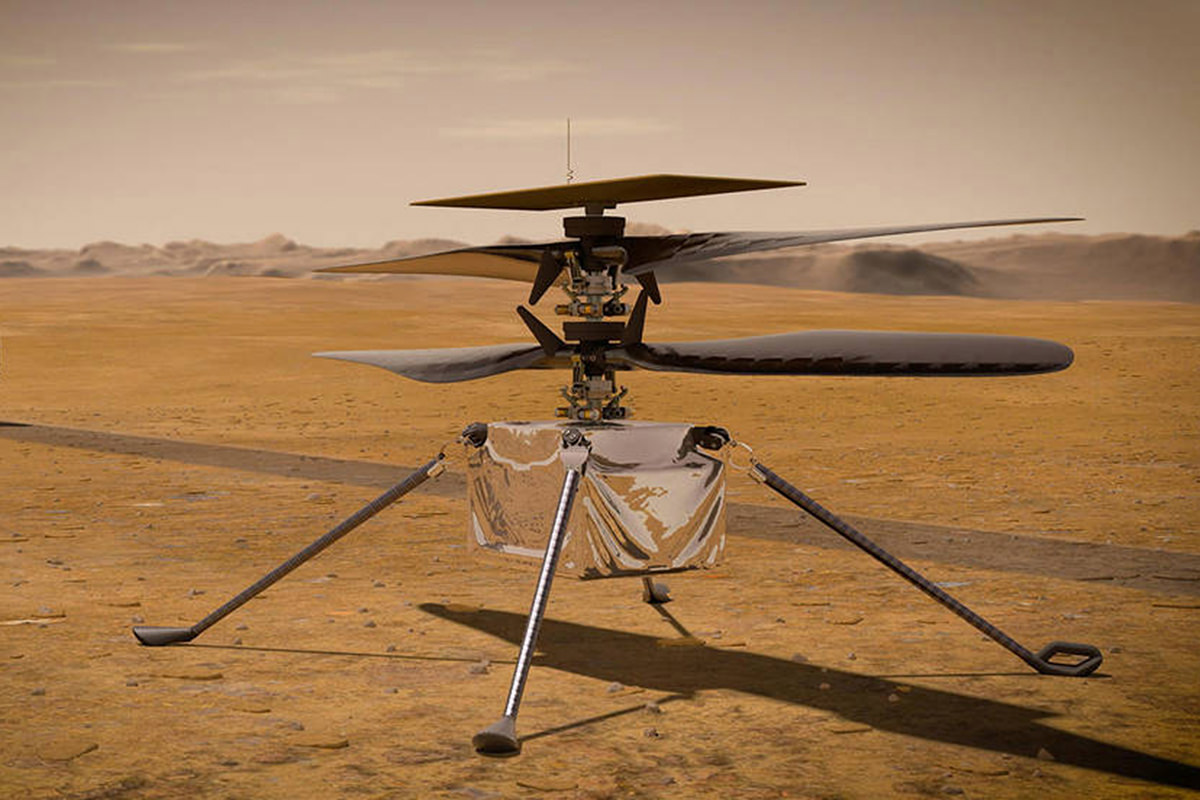 Photo from NASA/JPL - Caltech
This little helicopter bot is just a test project. It's not really on Mars to do anything except experiment with the concept of using helicopters on the red planet. Not the most mind-boggling thing to happen on this mission, but every journey begins with a single step. What IS a bit mind-boggling is how Ingenuity hitched a ride to the planet's surface. It's snuggled underneath the Perseverance and will be popped off, rotated right-side-up, then placed on the ground as the rover drives away. NASA tested it here on earth, as you can see from this cool video...
The engineering required to make all this happen... and happen under Mars' brutal temperatures and a much thinner atmosphere... is truly a testament to human ingenuity. Oh... wait a second... is that why the little helicopter bot was named Ingenuity? NASA will be holding another press briefing at 2pm P.S.T. tomorrow, and you can bet I'll be watching!

• Help! So much attention is (rightfully) being directed towards the human crisis happening in Texas, and my heart aches for all those who are suffering. But what keeps me up at night are the animals who are caught up in the cold weather danger as well. They are mostly overlooked, and it's gut-wrenching to see the reports coming out of the Lone Star State. A friend has been sharing links where people can donate, and I've done what I can, starting with these three organizations...
Austin Pets Alive! — Trying to keep up with the influx of animals as a result of the storms.
Primarily Primates — Rescue primates organization in need of funds to keep doing the work they do.
Sea Turtle, Inc. — Images of rescued sea turtles being stacked in cars in an attempt to save them is just the start... organizations charged with housing them are in desperate need.
Anything you can donate... no matter how small... will be much appreciated.

• Social Media Reporting! United Airlines Flight 328 suffered catastrophic engine failure and was forced to land. And the way I found out about this major news story? It appeared on TikTok as a trending video...
What's even more amazing was the footage of the blown engine from within the cabin...
Planes can fly on one engine and are built to accomodate a blown engine. However... this flight was on its way to Hawaii from Denver. This would have been a very different story if they were 1,000 miles over the Pacific Ocean. I'm just happy it happened so soon after takeoff and that nobody was hurt. The interior video above was shot by Bretty Guy who, ironically ennough, posted this back in 2013...

After having his video viewed millions of times and being picked up by every possible news organization, he probably gets it now. Social media is how we communicate. It's how information (and, disinformation, natch) gets seen.

• NEWSFLASH! Womans Wants Apology After Tom Brady Trophy Toss — Apology? Are you shitting me?!? Because your feelings were hurt over an object you don't own? It wasn't even fucking damaged! It got tossed by somebody WHO TOSSES SHIT FOR A LIVING...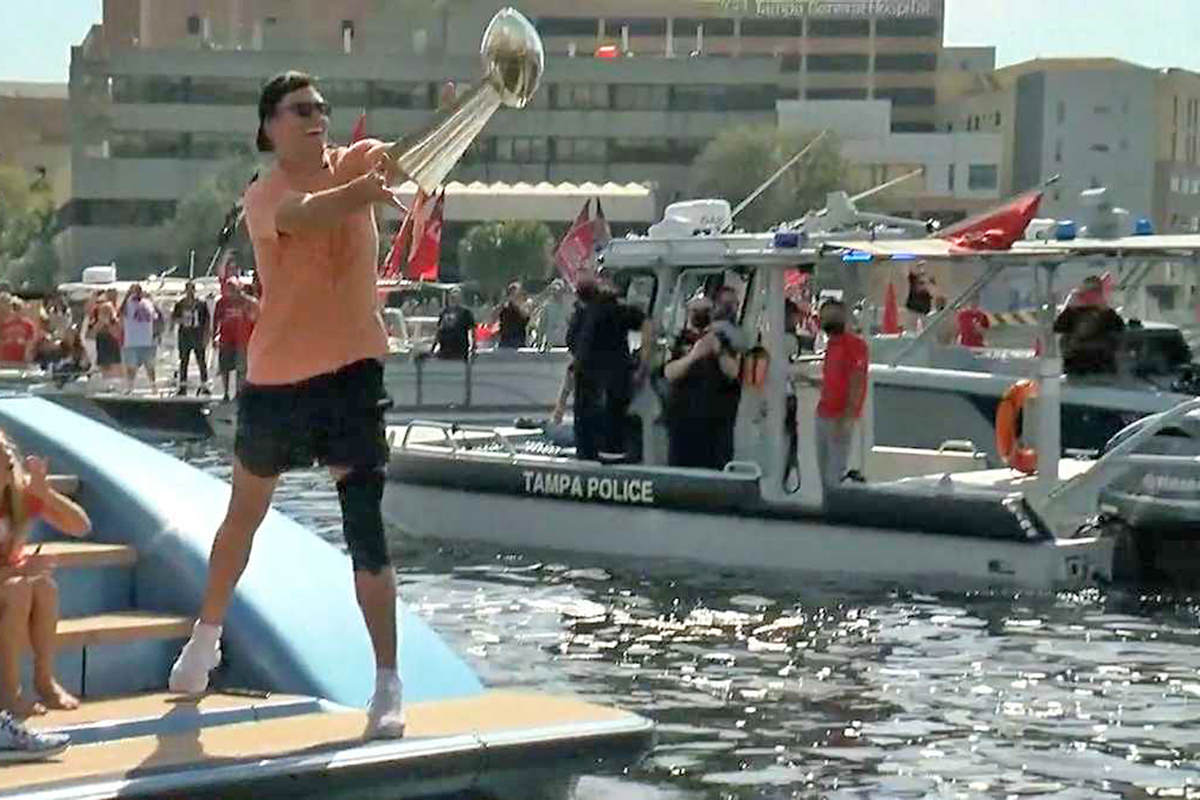 Photo captured from video by WFTS via WCVB.
Good Lord. Nobody... absolutely NOBODY... gives a shit about your stupid-ass feelings over the fucking Lombardi trophy, and absolutely NOBODY owes you shit. Your dad got paid to do a job and he did it. Your ownership... or rather any ownership by your your father... ended the minute the trophy left left Tiffany & Co. — If I bought a Tiffany baby rattle that your dad made and shoved it up my ass, would you be acting this stupid? Oh probably. Because self-important pieces of shit ALWAYS act just this stupid. I am getting so damn tired of the entitlement people feel when it comes to nonsensical bullshit like this. Save your outrage for something that matters... like the current flavor of the month ice cream at Baskin-Robbins or which kitten video is trending on YouTube or some shit like that. If anybody should be dishing out apologies, it should be your pathetic ass for acting like Tom Brady melted the fucker down and took a shit on it while you were holding it. I mean, there's a pandemic going on that's killing people... but Tom Brady tossed a trophy to somebody, so let's all shed tears over that. Jesus Christ.

• Loser! This appeared in my Facebook feed. One of those few times I don't mind seeing an ad because this is hilarious...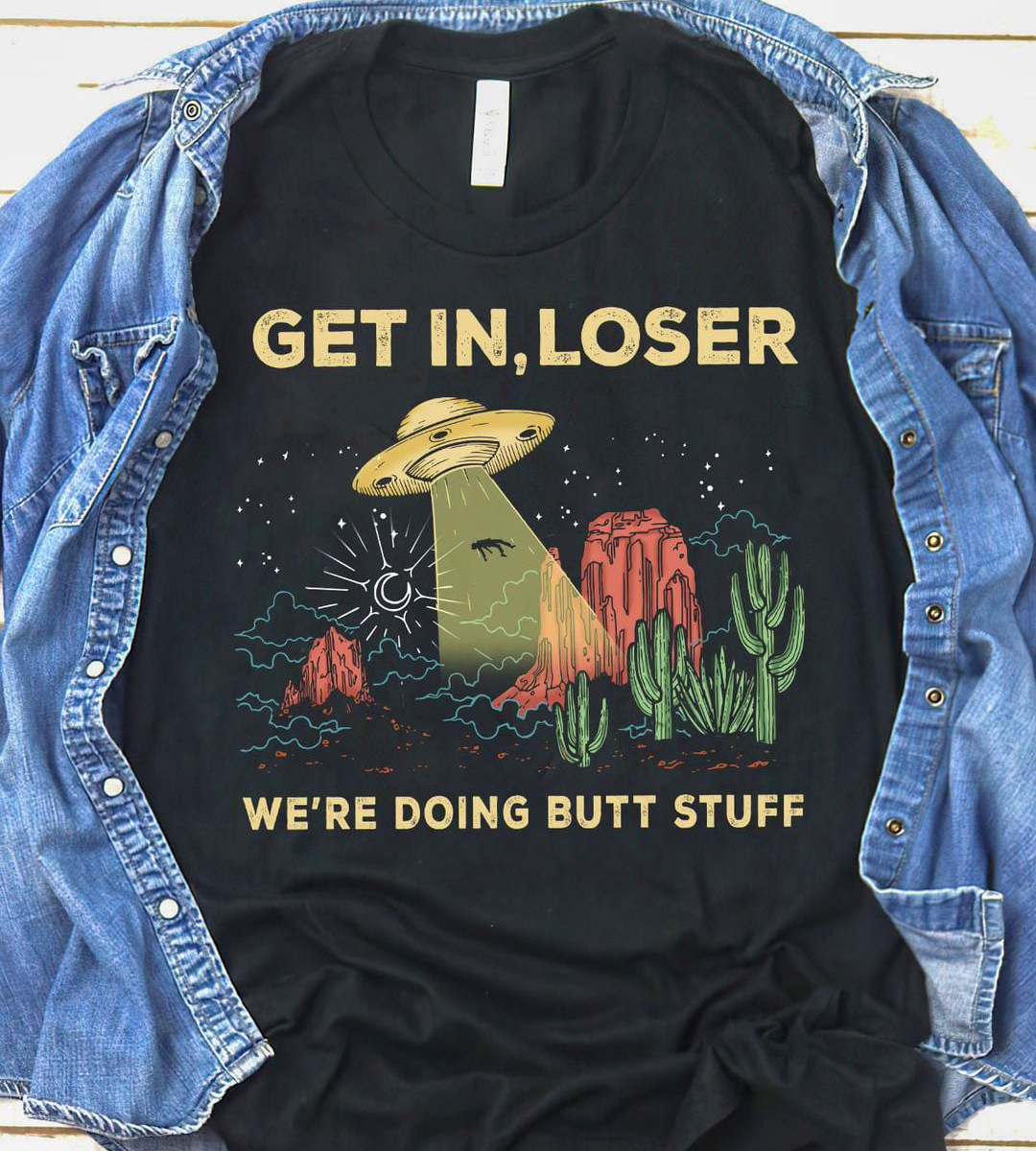 If only there was an apropriate place I could wear such a thing. If you do, you can pick one up (in several designs) right here at TeePublic.

• Cheese! There's a meme going around TikTok which originated with a man going to his refrigerator and asking "Doesn't everybody have a drawer in their fridge that's completely dedicated to cheese?" The joke being that he has DVDs stored in his refrigerator...
Since then people have been making their own version of the meme where they have increasingly weird stuff being stored in their refrigerator. — And this whole time I'm like "BOTH DRAWERS IN MY FRIDGE ARE DEVOTED TO CHEESE!!!" And also a third draw which has my snack cheeses in it. My refrigerator is all cheese all the time and it's no laughing matter!

• Va Va Voom! There are two sides to TikTok that I absolutely love and would rather watch than most television shows or movies... Black TikTok and Gay TikTok. Both can be entertaining as hell, and I laugh out loud more often than I'd ever admit. I also end up learning more than I'll ever admit. And while there's some overlap from time to time, they are two very different entities. UNTIL TODAY, THAT IS. I've run into the song Va Va Voom by Nicki Minaj on both sides. It's a song that I've never heard of before. And it ended up being 100% my jam for the weekend...
Banger! Thanks TikTok!

Enjoy the rest of your Sunday, bullet fans...