I've been (mostly) awake from 4:00am last Friday. As the hours all blend together, I'm finding it hard to wrap my head around what day it is. Or where I'm at.
This morning I drove from Maine to Boston so that I can fly out tomorrow morning. Early. The plan is to try and get some sleep, but first... falafel lunch and a movie.
Because you just cannot resist Charlize Theron...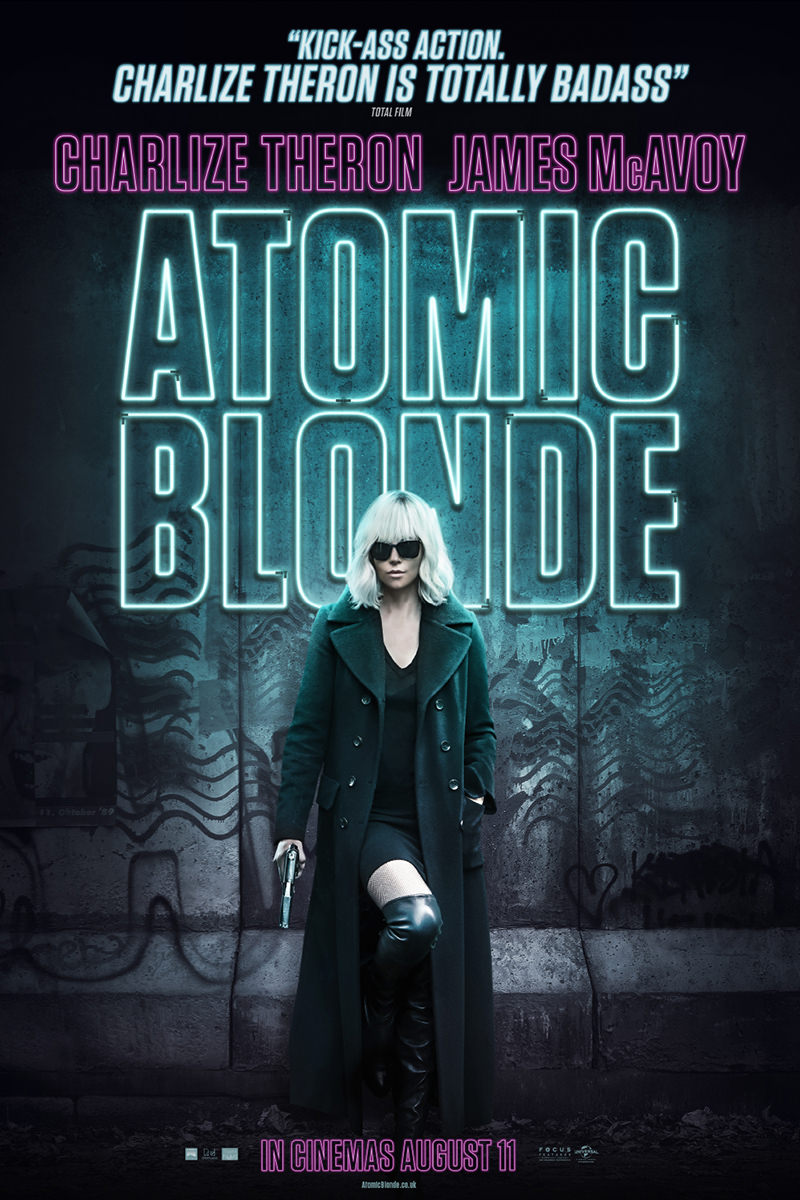 Before I even get to Atomic Blonde... the soundtrack is frickin' amazing (seriously amazing, and the story behind the soundtrack is interesting as well).
The movie is a spy-thriller that takes place during the fall of the Berlin Wall in 1989, and here's (most of) the German-infused/inspired-pop tracks from that era that they picked...
David Bowie - Cat People (Putting Out the Fire)
Peter Schilling - Major Tom (Völlig Losgelöst)
HEALTH - Blue Monday
Tyler Bates - C*Cks*Cker
Nena - 99 Luftballons
George Michael - Father Figure
After the Fire - Der Commissar
Siouxsie and the Banshees - Cities in Dust
Re-Flex - the Politics of Dancing
Marilyn Manson & Tyler Bates - Stigmata
Tyler Bates - Demonstration
A Flock of Seagulls - I Ran (So Far Away)
Kaleida - 99 Luftballons
Til Tuesday - Voices Carry
The Clash - London Calling
Tyler Bates - Finding the Uhf Device
Since I have bought almost all of those songs already, I don't even need to buy the soundtrack... I just need to make a playlist! One song I just had to have was HEALTH's cover of Blue Monday, which wasn't better than the New Order original, but it had a different "feel" I really liked.
Anyway...
As I mentioned, this is a spy-thriller set in Berlin in November 1989 just as the Berlin Wall is about to fall. An MI6 agent is killed by a rogue KGB operative who steals "The List" off him which contains all allied field agents operating in The Soviet Union and Europe. Charlize Theron plays Lorraine Broughton, one of MI6's top spies, who is being interrogated about her actions in Berlin to recover "The List"... meaning that the bulk of the movie is being told in flashbacks.
TEN DAYS EARLIER: Lorraine's contact in Berlin is MI6's top operative there, David Percival (played by James McAvoy). Working together (and even against each other), the movie is a cat-and-mouse game against the Soviets to find "The List" and identify "Satchel," a double agent for the Soviets who betrayed the MI6 agent that was killed. Along the way there are some nice twists and turns that kept me interested... but I have to admit the penultimate "twists" could be seen coming from miles away. The final "twist" was not something I anticipated, but it didn't really have any effect on the story, so it honestly didn't matter much. The film, while pretty great, could have been SO much better had they only made it so that the final moments were an interesting payoff for everything that came before. It wasn't.
That being said, I still recommend Atomic Blonde because the action sequences and soundtrack are just too perfect. And Charlize Theron is beyond kick-ass in every way possible. I would not mind at all seeing a sequel if it gets me more Lorraine Broughton!
If I had a negative, it would be that director David Leitch, who handled most of the movie with such brilliant ease, showed himself to be a fucking hack of the lowest order when he injected a Wilhelm Scream into the action. When are directors going to learn that the gig is up on this bullshit? Everybody knows what to listen for and, when they finally hear it, the sound effect immediately takes them out of the movie. Criminally stupid, and yet directors are still being idiots about using it. I wish studios would forbid Wilhelm Screams until the end of time.
And that was that.
Using the awesome Boston Silver Line, I headed back the the airport and my hotel for an epic nap experience. I would have loved to have gone to the Red Sox game at 7:00, but lack of sleep would have made that impossible.
Oh well. Next time, Boston. Next time.