Posted on Saturday, January 2nd, 2021

When I got my cats, they were inseparable. They would hide together, play together, sleep under the couch together, sneak out to eat together... there was not a single minute that they spent apart. Part of this came from them being rescues that were scared shitless of anything and everything. Over a long period of time I was eventually able to gain their trust, but I was so worried at the beginning that I actually planned for them never wanting to be apart.
One of the first purchases I bought was a dog bed. I figured that when they eventually grew up that they would outgrown sleeping in the cat bed together. Eventually they were able to spend time apart without problem, and the dog bed sat empty. Jenny occasionally slept in it, but it went largely ignored.
Until this past month.
Jenny started sleeping in it all the time. And, of course, once Jake saw that his sister had something she was enjoying, he just had to have it as well.
So now they take turns crashing in it. Or, if you're Jake, crashing out of it...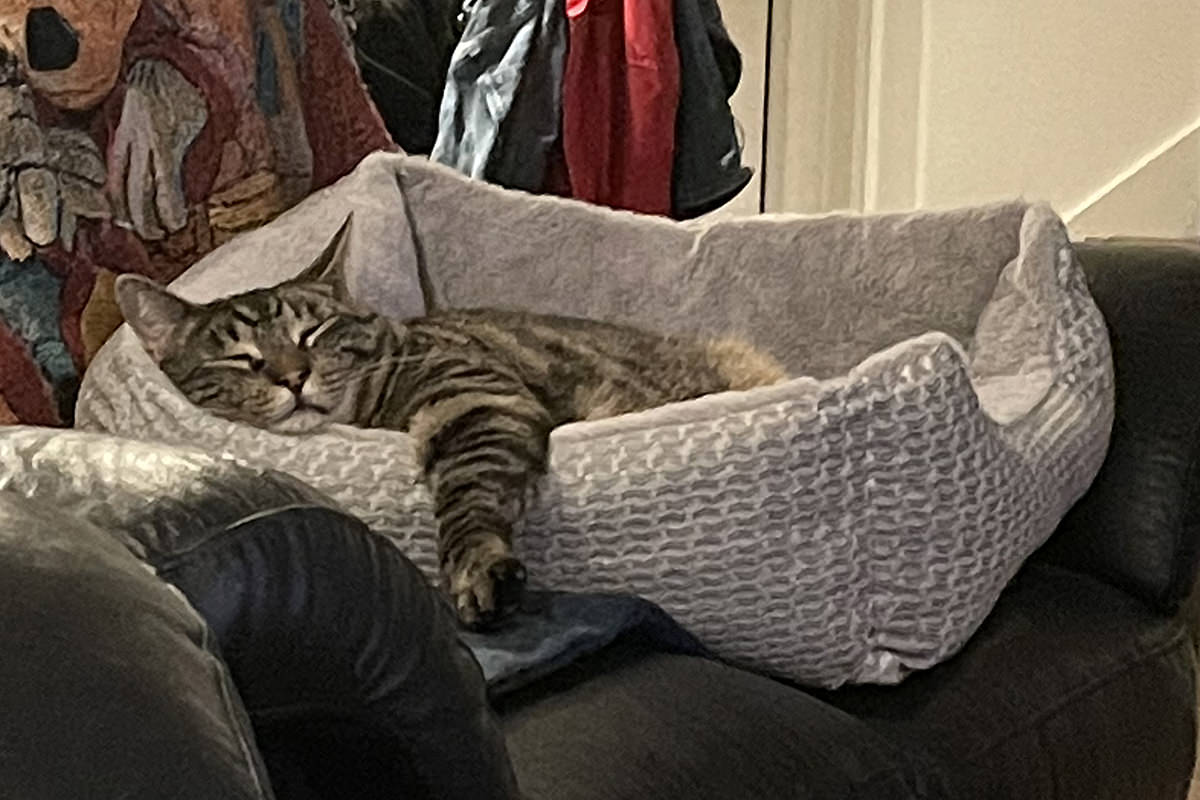 Not that Jenny's immune. For some strange reason, she's started sleeping in the thing riiiiiiiiight on the edge of the couch...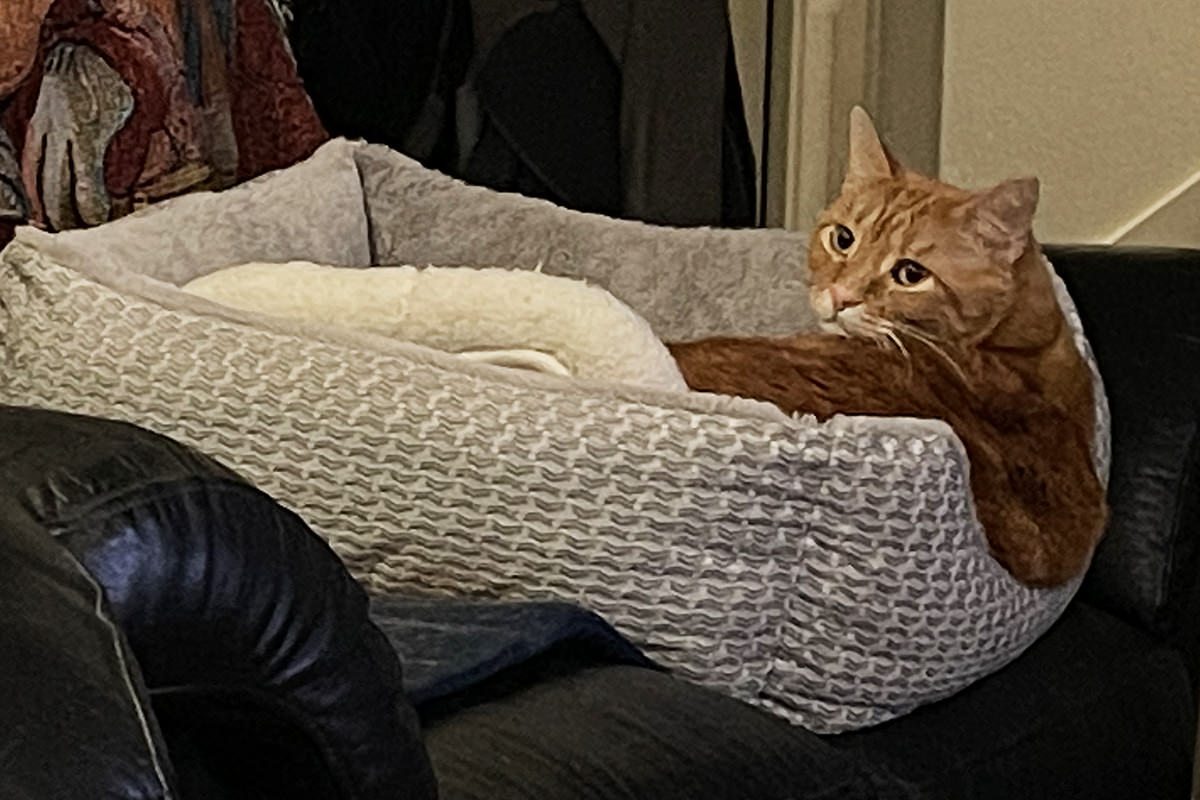 AND THEN... I looked up a couple evenings ago and saw this...
Now, finding them sleeping together is not impossible. I was treated to this sight just a couple weeks ago...
But I had never seen them together in the doggy bed. Needless to say I had to get up and investigate further...
So sweet!
Tonight Jake has laid claim to it all by his lonesome again, however. He's watching television with me all comfy-like...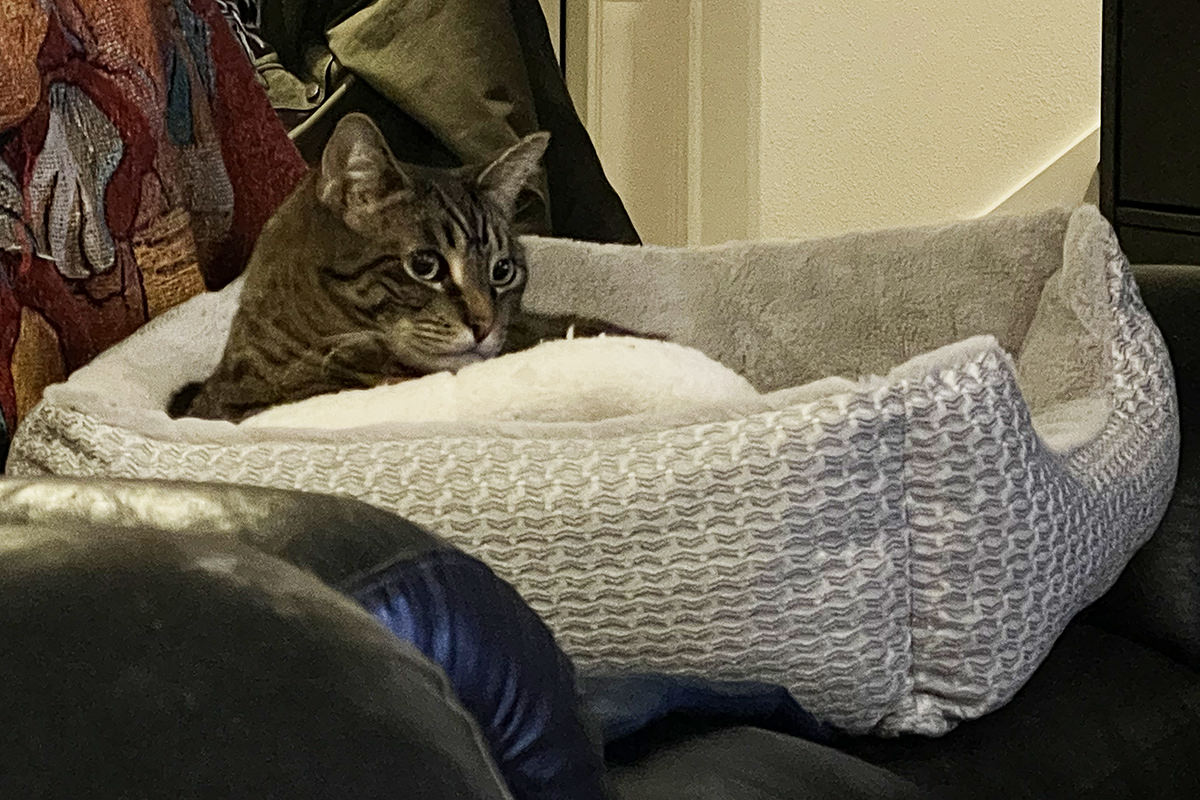 I was a part of a holiday gift exchange. As what has become a tradition, my cats end up getting gifts as well. This year it was these adorable "Baby Yoda" (Grogu) ornaments filled with catnip...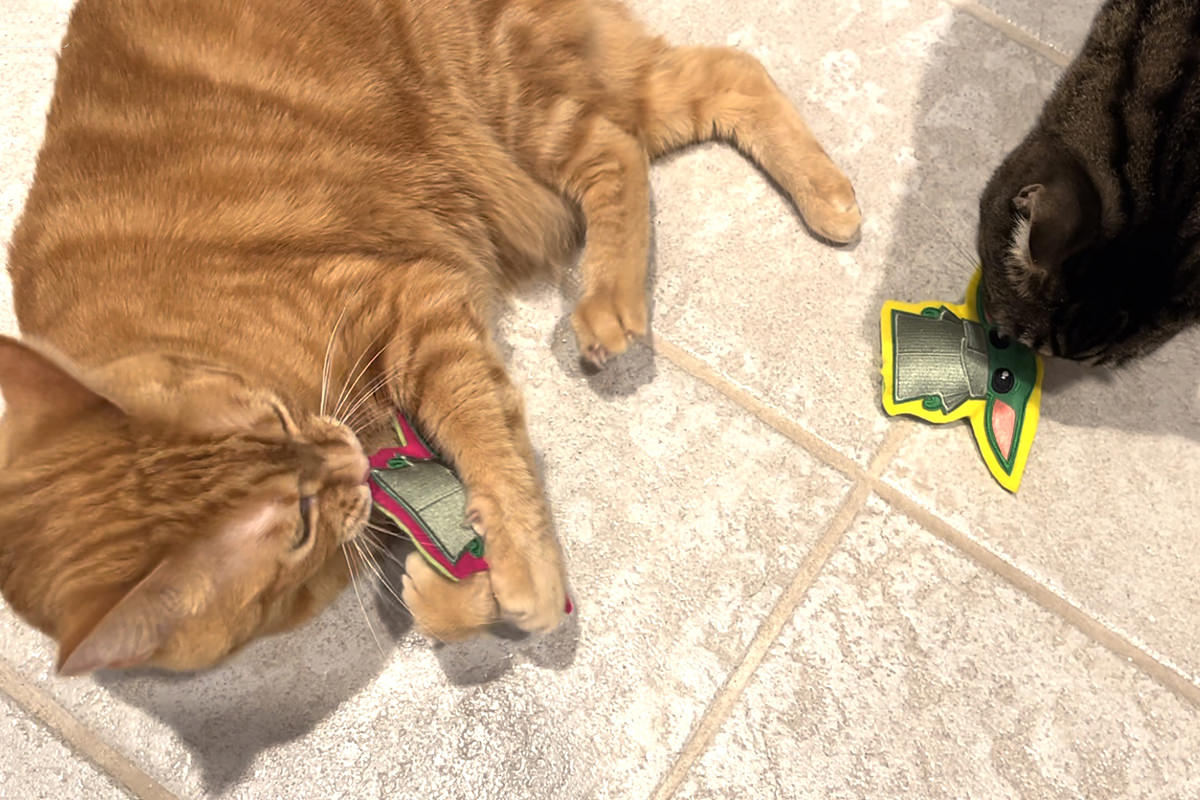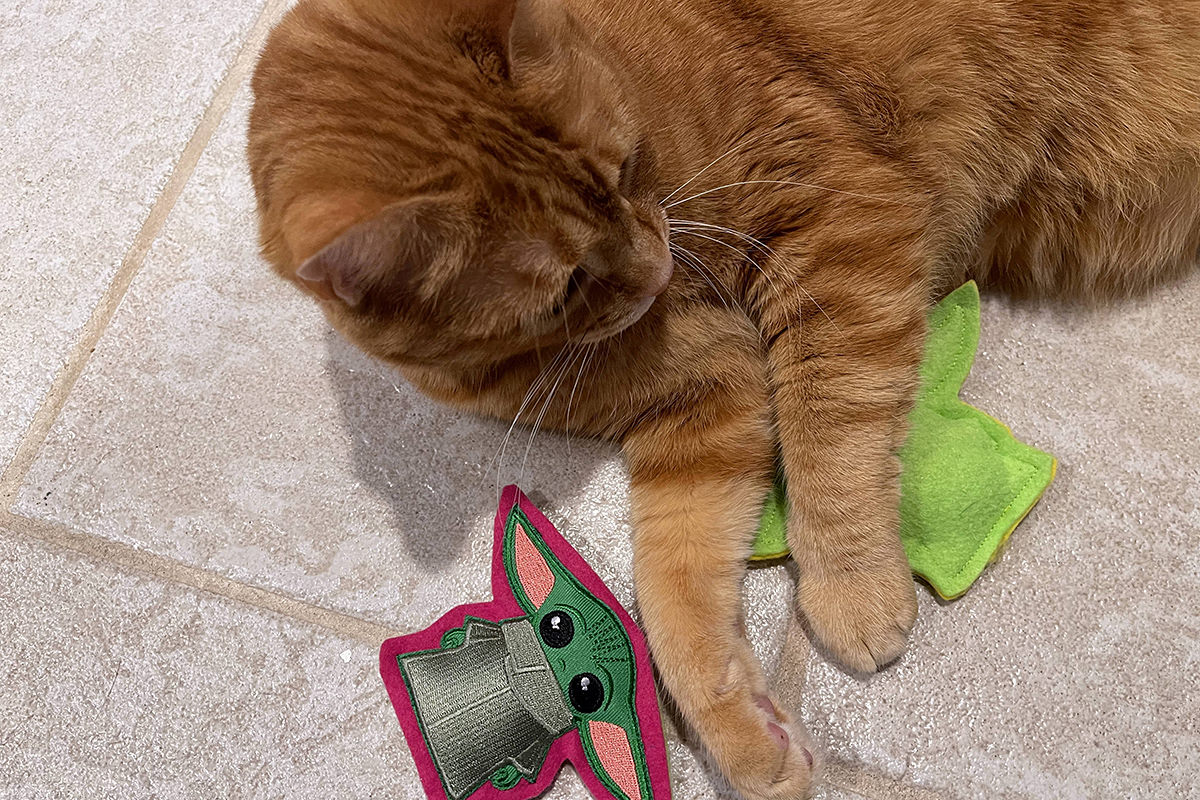 Jenny really goes nuts over the things...
Not surprisingly... Jake, of course, still only has eyes for Mufasa. Other toys come and go, but his stuffed lion is always the favorite.
Posted on Saturday, January 9th, 2021

The holidays being over aren't all that sad for me... I don't celebrate any of them... but I kinda feel bad for my cats. Always something new and exciting for them. Lights hanging outside the windows... Christmas cards they can chew on (which is appropriate considering 5 out of the 8 I received were addressed to them)... and all kinds of other stuff that's new and different...
One thing that I wasn't anticipating was Jake and Jenny shedding like it's the middle of Summer when there are some weeks of Winter left to be had. The fur is literally flying everywhere, and petting them results in handfuls coming off in my hand...
And apparently all that shedding is itchy, because my cats will not leave me alone. They want to be petted and scratched and scrubbed...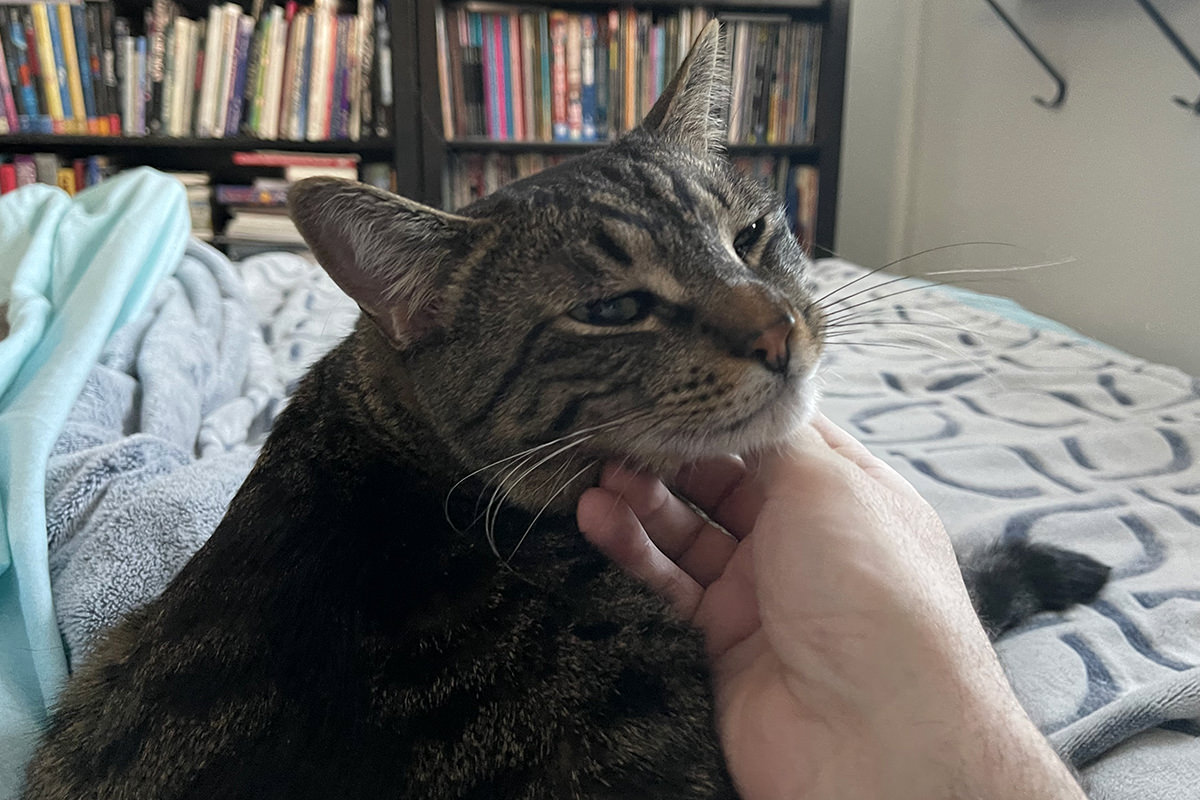 From the minute I get home until the minute I fall asleep, they are wanting never-ending scratches.
I'd write more exciting details about my needy cats but, well, my cats are being needy.
Posted on Sunday, January 10th, 2021

Free speech has consequences, which is nothing new to bloggers like me... because an all new Bullet Sunday starts... now...

• Colosseo! My mom's favorite landmark is the Roman Colosseum. She asked to visit it every trip we made to Rome which, I believe, was four times (it was a cruise stop twice and a trip stop twice). I'd ask her why she loved it so much and she'd say "I don't know... I just do." When I told her that maybe she was a gladiator in a previous life, she thought that was funny and started telling people that when showing this photo...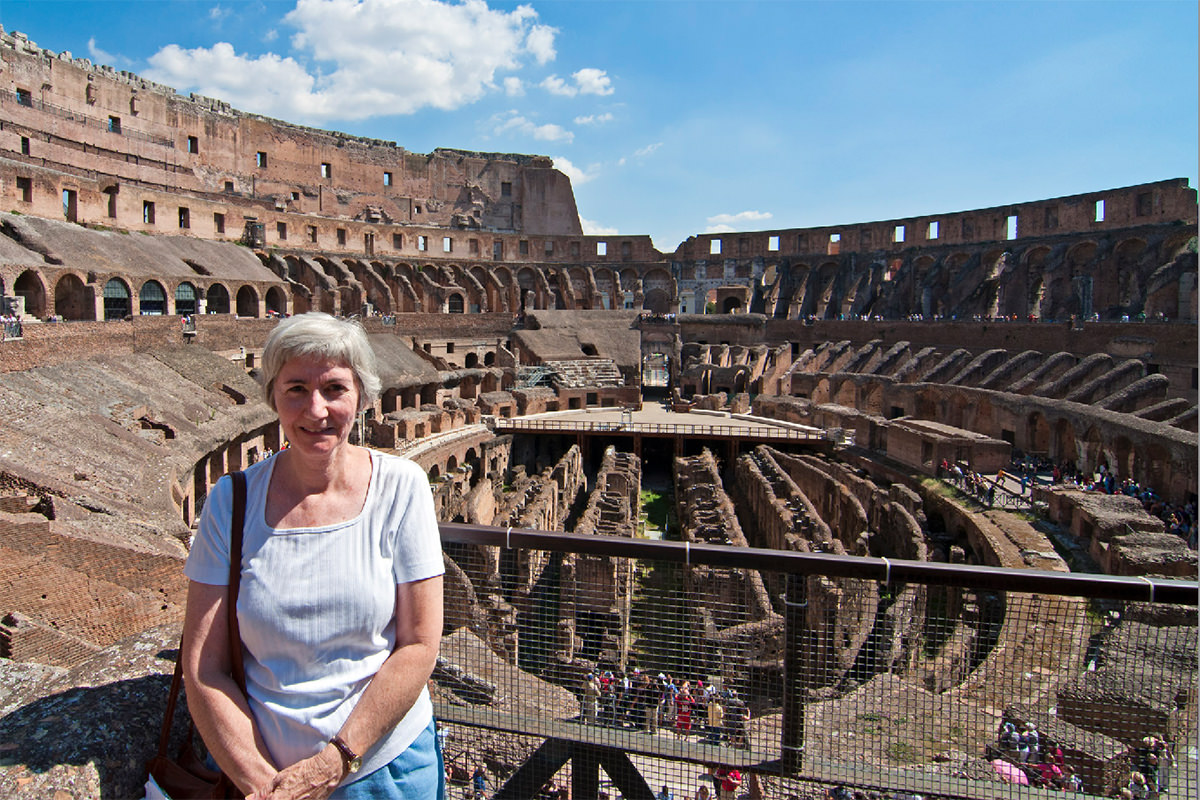 Because of this, I very much wish she was still alive, because Rome is renovating the Colosseum, and I think the idea of being able to stand on the floor of the Colosseum arena would be so thrilling to her that we would have definitely made a fifth trip once it was completed. This is really, really cool, and I'd love to be able to visit again. But it won't be the same without my mom there to share it.

• LEGO! I have to say... whomever works in LEGO advertising which came up with this ad for a "Make Your Own MiniFig" game apparently doesn't have the same filthy mind that I do, because, well...
Is that a hotdog in your pants, madam, or are you just happy to see me?

• PERFECT! I've watched this TikTok more times that I'd ever admit. It's hilarious because it's true...
Though I'd argue the point that this is how girls make coffee, because I see plenty of guys doing essentially this. And given my distaste for coffee, this would absolutely be me as well.

• Cute Gay Shit! TikTok is so much more than funny coffee memes. There is some genuinely touching stuff on there that gives me hope for all humanity...
And just KNOW that this gentleman gets lumped in with people he's condemning because of how he looks and talks. You know it. God bless you, sir.

• NEWSFLASH! FORBES: Close To A Worst-Case Scenario—Former CDC Director Issues 'Horrifying' Outlook For New Covid Strain. If your balls don't shrivel up after reading this, then you probably don't have balls. But you are alive if you're reading this, balls or no balls, which means you should be horrified that there are still people not taking this shit seriously. Protect yourself. Protect others. This has catastrophe written all over it.

• Specs? Apple is the most ridiculous fucking company. They want to make their products as simple to use as possible by taking all the "tech" out of everything. Which is fine. EXCEPT YOU CAN NEVER MANAGE TO GET ANY FUCKING SPECS FOR ANYTHING THEY SELL. Will this cable work for charging? I dunno. What is the maximum transfer rate for this cable? I dunno. Can I quick-charge with this cable? I dunno. What about the charger? I dunno. Can you at least tell me if it is USB-PD compliant? I dunno. They literally tell you NOTHING in their support docs or on anything in their entire store. — If you want to shield your customers from scary tech-speak, fine. But at least have the fucking information SOMEWHERE for the people who need to know this shit. Their solution for everything is to say "Well, if it doesn't work, you can always return it." Which is an astound attitude to take considering that it wastes my time and their resources, and I'm getting seriously tired of it.

• Apolitical! My existence right now:
REPUBLICANS: You're just a Democrat shill.
DEMOCRATS: You're just a Republican shill.
ME: I AM NEITHER A DEMOCRAT NOR A REPUBLICAN! I DON'T UNDERSTAND THE NEED TO WORSHIP POLITICIANS AND FALL IN LINE WITH A POLITICAL PARTY RUN BY WEALTHY ASSHOLES THAT ARE PROPPED UP BY WEALTHY CORPORATIONS WHO DON'T GIVE A SHIT ABOUT US! WHY CAN'T I JUST BE A NON-PARTY SHILL?! WHY DOES MY SHILLNESS HAVE TO BE ATTACKED LIKE THIS? I AM A SHILL FOR ALL HUMANITY! AND A SHILL FOR CATS! TOWANDAAAAAAA!!!
Because, like, how could you not be a shill for floofy bellies like dis?

Stay frosty out there, my friends.
Tags:
Apple
,
Bullet Sunday
,
Bullshit
,
Cats
,
COVID-19
,
LEGO
,
News
,
Pandemic
,
Politics
,
Rome
,
TikTok
,
Travel
Categories:
Apple Stuff 2021
,
Bullet Sunday 2021
,
Cats 2021
,
LEGO
,
News – Politics 2021
,
Travel 2021
—
Click To It:
Permalink
—
2 Comments: Click To Add Yours!
Posted on Saturday, January 16th, 2021

When I first got Jake and Jenny, it was recommended I get a Feliway diffuser which releases pheromones that calm nervous cats. I kept using them even after they had acclimated, because I felt it probably helped when I was away traveling as well. The other night I noticed that the diffuser had ran out, which helped to explain why my cats had been curiously cautious lately. Like when I come home and they book up the stairs and won't come down right away when I call them...
So I replaced it. The next day they were all over each other. When I came home they didn't even come greet me. They were too busy giving each other a bath and couldn't be bothered...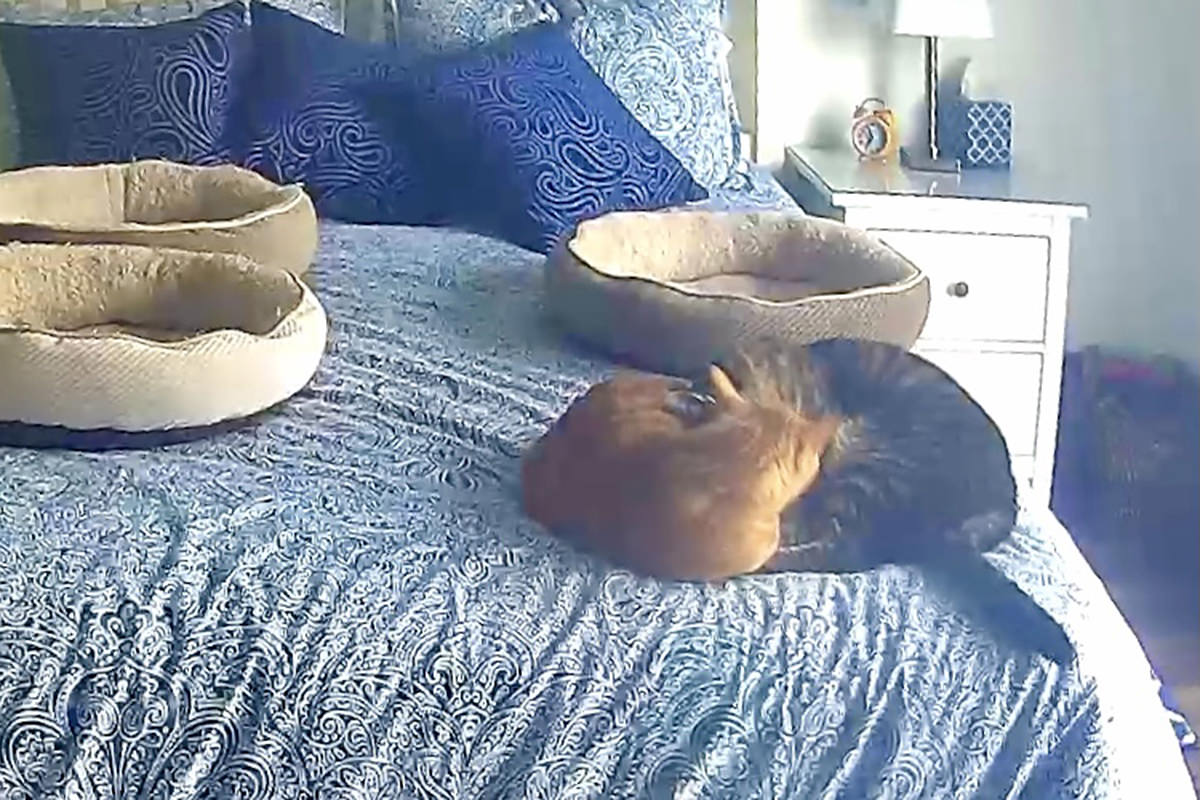 When I looked at the security camera footage I saw they were being sweet to each other all night as well...
In other cat news... Jake came in crying one morning while I was working in bed. I assumed that he couldn't find Mufasa, so I went to look (otherwise I wouldn't be able to get back to work). Mufasa was on top of a pile of toys that Jenny was building, so I grabbed him and went to give him to Jake. He turned his head and would not even look at his favorite toy...
I thought they were friends again when Jake dragged him in the next morning...
But then throughout the day, Mufasa was left on my bed...
I went to bed at midnight, but Jenny woke me up at 2am crying her head off. I had no idea why, so it was back to the security camera footage. Turns out that Jenny was sleeping when Jake came up and woke her up. This made her so upset that she decided to wake ME up. And that's when I noticed that Mufasa was still where Jake had left him...
So is the honeymoon between Jake and Mufasa over?
Keep tuning in to find out!
Posted on Saturday, January 23rd, 2021

This biggest news to come out of this past week? I made a major discovery about Jenny, and I have no idea how I failed to realize it before now.
As I've mentioned a couple times, there are nights that Jenny refuses to eat her wet food. It's the same stuff she always gets... mixed with water and mooshed up so she can lick it up... and yet she is 100% uninterested. It drives me crazy, because it's NOT because she's not hungry. That cat is always hungry. So why? Why does she take one sniff and walk away until the dry food is dispensed? Why?
I'll tell you why... odds are I cooked with yellow onions.
There I was having just cooked the filling for some bean and onion flautas. The Alexa alarm rings for dinner time and Jake and Jenny are incredibly excited about it because I'm already in the kitchen. So I dish up the food, mix Jenny's up, microwave for 6 seconds to take the chill off, then set it down. Jake starts wolfing it down immediately. Jenny walks away.
The next evening she's back to normal and laps it right up.
The evening after I am frying up the rest of the onion to use in a tomato sauce. The Alexa alarm rings. I put the food out. And... nothing.
It was as if a light switch turned on in my head.
So I tested my theory three nights later... and yep, there it is. Onion stank is the reason. Apparently if the house has that smell in it she can't smell the wet food enough to think it's "safe to eat" and takes a big ol' pass.
And so I guess any time I am cooking onions I need to start after the cats have been fed and make a late dinner of it. Problem solved.
In other food-related news... last night I had baked potatoes for dinner. Right after taking them out of the oven and getting them dresssed up for consumption, Jake was all over me. He followed me from the kitchen into the living room and stared at me the entire time I was eating...
Look at those owl ears!
I tried multiple times to explain that this was my dinner and he had finished his dinner just ten minutes ago, but he was having none of it.
And in other Jake news... When I came home earlier this week, he didn't come running to the door to meet me like he usually does. When this happens it's 95% likely that the heat is running. And if the heat is running, he climbs the cat tree so it will blow down on him. He loves that. So I take a look and, sure enough, he's up in the cat tree with the heat on. And that's when I notice that this is not the only thing that has happened.
Apparently his lunch did not agree with him, because he projectile vomited it onto the window where it slid down and piled on the window sill...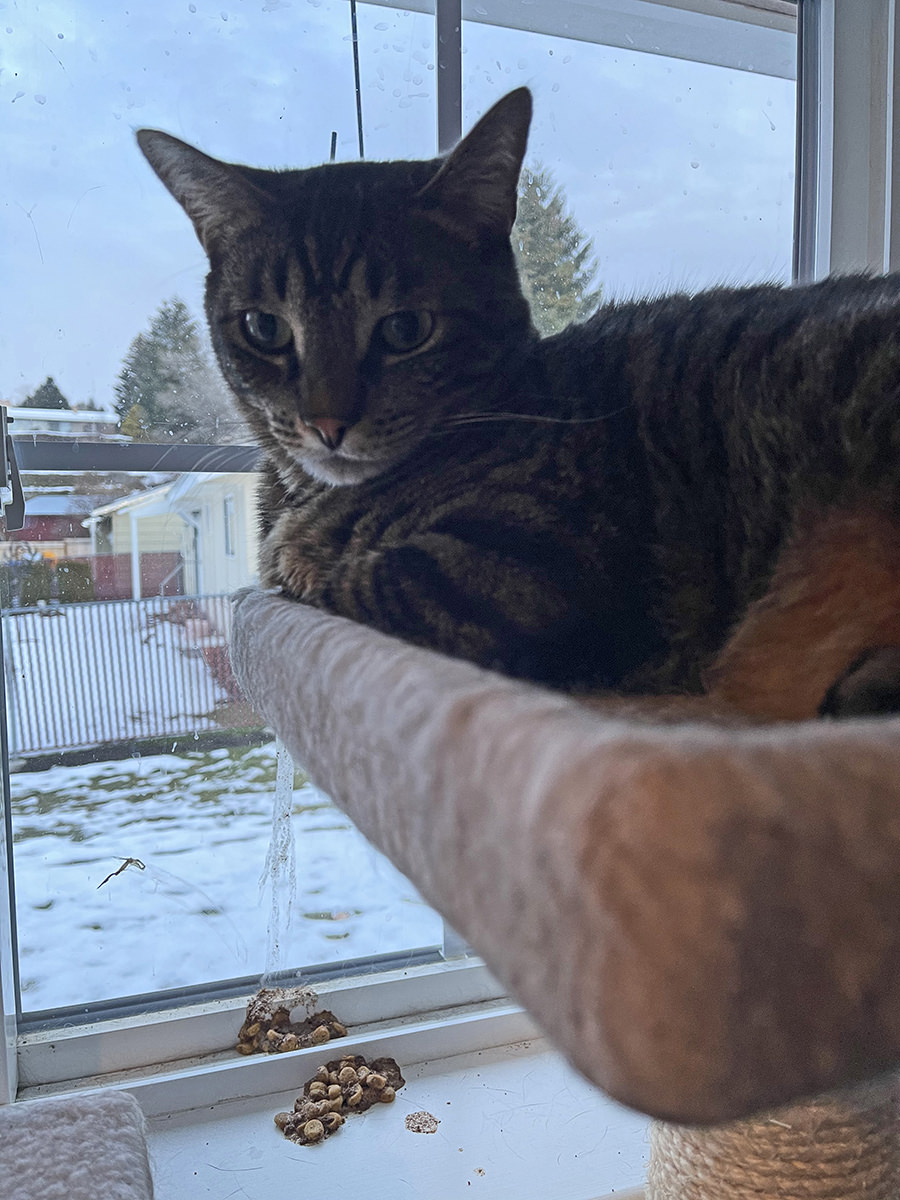 Lovely.
Since he pukes so rarely, I guess I really don't have cause to complain. It's just that he really knows how to pick his moments, doesn't he?
Oh well. It could always be worse. He could have puked on my bed.
Posted on Sunday, January 24th, 2021

A new era may be dawning, but some things will never change... because an all new Q&A Edition of Bullet Sunday starts... now...

• Does the stair shelf you built for your cats work?
Yep! No falls since I installed it! Jenny has never been a banister girl, so she just walks along it on occasion. But Jake still lays up there all the time. Especially in the Summer when the sun shines on it. Since the catwalk I built adds a couple inches to the width, he's a lot more comfortable laying on it, and like to prop his head on the ledge to watch me and Jenny on the stairs. This, along with the catio, are two of the best things I've made to keep my cats safe and healthy.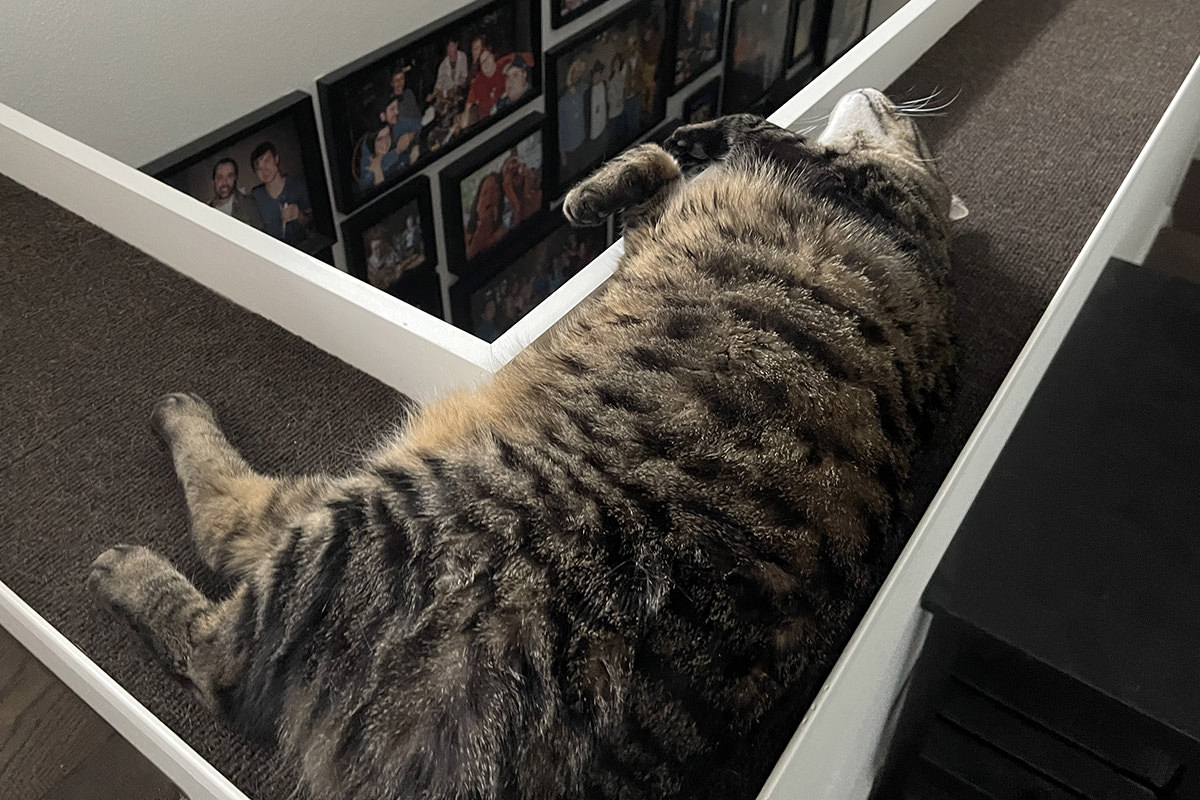 • Which meal service do you like best?
Are you talking between Martha Stewart & Marley Spoon and "Hello Fresh," the two I am currently using? That's actually a very good question! Both of them allow you to skip weeks (which I do often because they are expensive) so when I do order, I have been bouncing back and forth. Comparing them in a face-off is actually a good idea for a post. I'll do that sometime in the coming week!

• Japanese knives RUST... they are NOT stainless steel!
Yes. When I reading up on knives, this was brought up many, many times. I made my purchase with my eyes wide open. I expected for rust to appear. But it was still the best knife for what I would be cooking, and I just made a mental note to be sure and wash the blade after every use. And I've never seen rust. Until one day I did! I went into a Google panic, found out the easiest way to deal with it was a Rust Eraser, ordered one, and then found out it wasn't actually rust before the eraser ever arrived. It was a piece of food that I didn't get wiped off and only looked like rust. Since I first got it a year ago, I've never seen a speck of rust and my Rust Eraser hasn't even been taken out of the wrapper. My MAC Chef's Knife and Bread Knife are from their "Professional" series which is "rust resistant" but will still rust if you don't wash and dry them immediately after use. I also have some "Original" series knives which are supposed to rust more easily but, as I said, I've never seen any rust on them because I keep them clean and dry.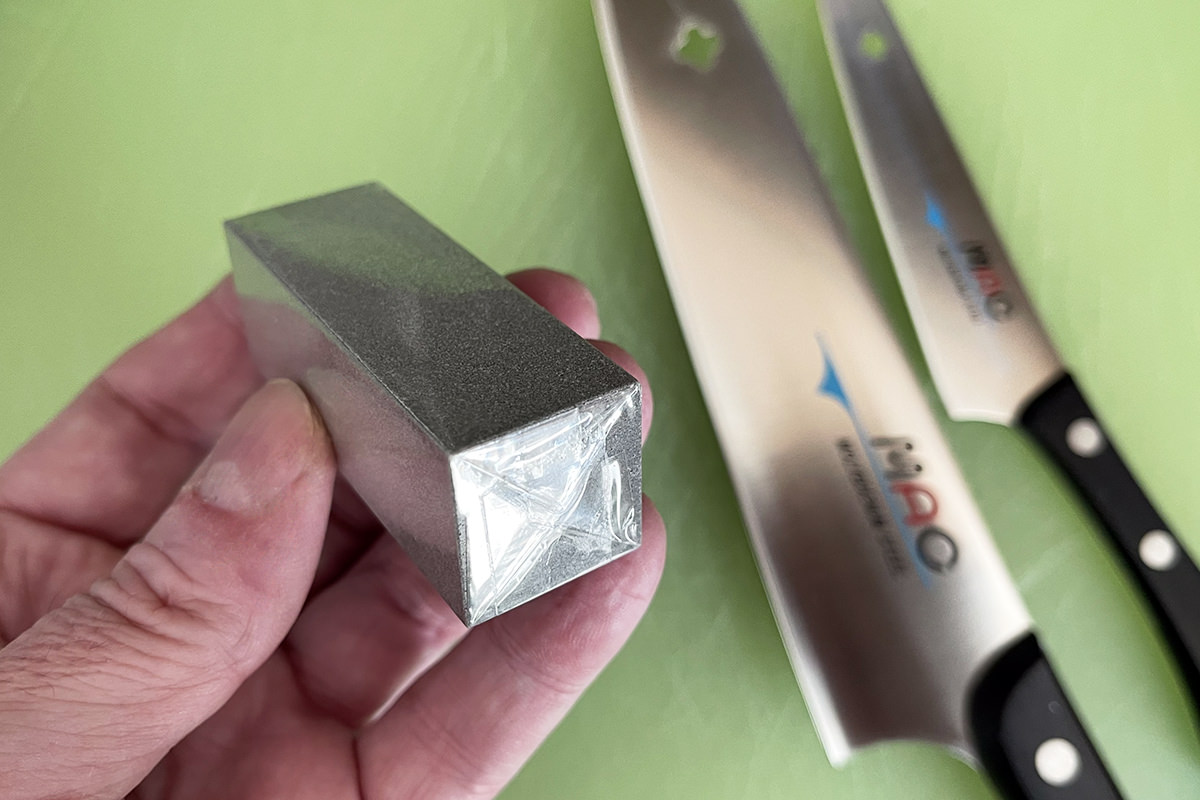 • Are you still playing Animal Crossing?
Sadly, no. I haven't had time. And I'm scared to look and see how many weeds I'll have to pull in order to get my island back. It's a great game and helped a lot when we were first under quarantine, but I was spending 2+ hours a day playing it and had stop because there were other things I need to do with my time. Might pick it back up one day and just force a time limit so it's not consuming me like it was. Now I've got TikTok for that!

• Where's your Bernie meme?
Ummm... right here!
My house is kept fairly cool in the winter in order to save on heating costs, so Bernie judging me for the temperature... along with Jenny (and Jake, who has clearly turned his back on me)... seems appropriate.

• Are you finally happy now that Biden is president?
No. No I am not. As I have said quite a few times now, Biden was never my guy so I'm not "finally happy" that he's president. I am, however, elated that Trump is no longer president. So there's a big difference there. I won't be truly "happy" until all the career politicians and other assholes who exploit their office for personal gain at the expense of the American people are out of office. I will also be happy once all the pieces of shit who have so severely divided this country are out of office. Alas, what this would take is the American people WAKING THE FUCK UP and realizing that they are being majorly played. But that takes thinking for themselves, and we all know that this is not something we seem to be very good at right now. So... here we are.

• Where's the first place you'll go once you can travel again?
Well, odds are I won't be traveling for work or for volunteering again... at least not any time soon... so it will likely be a personal trip. My guess is it will be one I've been planning for over a year with friends to Maui. We have unfinished business there that we need to take care of. Otherwise? Not entirely sure. It will take a while for the world to get back to normal and I have no idea where my life will be by then.

And that's the last of my answers to questions I've been asked.