Posted on February 23rd, 2021

In my middle school science class one winter, our teacher had one of us run out and fill a beaker full of snow. Once my fellow student returned with the snow, the teacher started up a flame, crafted a snowball, and asked us what would happen to the snowball if he put it in the flame. Somebody raised their hand and said "IT WILL MELT!" at which point the teacher asked to see a show of hands of how many of us thought that was correct. We all raised our hands.
But the snowball didn't melt.
It did start to slowly disappear though. The science teacher then explained that this was due to SUBLIMATION... where something transitions from a solid directly to a gas. We all thought that was pretty cool.
Fast forward to this week where people in Texas are claiming that the unprecidented snowfall is fake and man-made to... well, I dunno... punish Texans for some bizarre reason...
>
Now, my first instinct was to think "Well, since they normally don't get snow in Texas like this, their science teacher wasn't able to provide the same demonstration that I had as a kid, so I guess this is understandable. They just don't know how snow works." I chalked it up to ignorance, and felt bad for them that concepts like "sublimation" and "soot" were absent in their thinking.
And then I actually watched the video.
"Thank you Bill Gates for trying to fucking trick us that this is real snow. You'll see it's not melting, and it's going to burn. Snow don't burn. Snow fucking melts. No water no dripping no nothing. If I put this shit in the microwave it's going to start sparking because there's metal mixed in it."
I went from feeling sorry that this woman was lacking basic science principles I learned in middle school... to feeling absolute rage.
I will never forgive Bill Gates for saddling us with the shitty Microsoft Windows computer operating system... but he is one of those rare billionaires WHO ARE ACTUALLY USING THEIR MONEY TO ACTIVELY MAKE THE WORLD A BETTER PLACE, and I am sick and fucking tired of people making him out to be some kind of evil comic book super-villain because they are idiots who don't possess critical thinking skills.
Bill Gates once said that one the biggest barriers towards having good health care in developing nations was the lack of medical records. And he's right. Because people often get displaced by famine or violence, any records that might have been kept on their medical history are often lost. And how can a doctor provide adequate care without a proper medical history? Gates suggested that perhaps medical records could be put on a tiny chip that could be placed under the skin so that these people would be able to have their critical medical information on them at all times. It was a genius solution by a smart man to solve a very real problem.
Next thing you know this simple concept which can be easily verified via a Google search becomes this sinister plot to microchip everybody so Bill Gates can track your movements. Like he would even give a shit about your boring-ass life. And never mind that everybody has credit cards and mobile phones which make tracking you a piece of cake already, the conspiracy theory bullshit is somehow what people want to believe?
Bill Gates has been using his massive wealth to invest in medical research, medical solutions, and vaccination programs in countries where vaccinations are tough to get. He does all this because he's a genuinely decent human being who wants to leave this world better than he entered it. VACCINES. SAVE. LIVES. PERIOD. and Bill Gates doesn't think that the poorest of humanity should have to go without.
Next thing you know, somebody on the internet decides that vaccines are bad despite history being replete with evidence to the contrary, the anti-vax idiocy movement is started, and Bill Gates is once again painted as a villain who somehow wants to vaccinate everybody so he can get rich or whatever. Never mind that he has so much money that he couldn't spend it in ten lifetimes... never mind that he's done his best to make sure vaccines can be had for free... the conspiracy theory bullshit is somehow what people want to believe?
Bill Gates has been an advocate for combatting climate change. A threat so serious that it is already affecting every living creature on the planet and may one day be our doom. Wanting to divest his investments from contributing factors like fossil fuels, Gates took his money out of oil companies (or whatever) and sunk it into emerging green energy development. He does this because he gives a shit about the world that his kids will be living in.
Next thing you know, somebody who doesn't understand basic fucking science can't melt a snowball with a cigarette lighter, and Bill Gates is trying to control the weather. Ironically, figuring out how to control the weather might be our only option for dealing with climate change if we've reached a tipping point where there's no fixing things. But hey... the conspiracy theory bullshit is somehow what people want to believe?
Being ignorant or uneducated is one thing.
Buying into bullshit anti-science conspiracy theories to vililfy a guy who has invested huge sums of time, effort, and money into helping people live healtheir lives on a healthier planet is another thing entirely.
I am quickly coming to understand how reeducating these people with evidence, facts, research, and logic is a losing battle. They don't give a shit about any of that. They only care about what fits their idiotic narrative regardless of how stupid and absurd. So what to do? If you can't make them see facts or reason, what's left? Tell them to go fuck themselves and move on? Maybe. But too many people are being too stupid for this to be a long-term solution. We've got people who think the earth is flat, for Christ's sake.
In chemistry, SUBLIMATION is the process by which solids (like snow) are converted to a vapor via heat. The vapor can be liquified via condensation, then turned back into a solid via cold.
Outside of chemistry, SUBLIMATION is the act of refining or purifying something to achieve a better, higher state.
I am convinced that Bill Gates has been sublimating into a higher version of humanity due to his amazing generosity and investment into planet earth and the life which inhabits it. He is what wealthy people should aspire to be.
Though why anybody would want to be Bill Gates when some willfully ignorant whack-job who doesn't know how snow works is cursing your name is beyond me. Far easier to just sit on your massive wealth and buy gold-plated toilets for your private jet collection. Sure this just keeps humanity moving ever-closer to its destruction, but at least people don't think you team up with The Joker and Catwoman to battle Batman as you try to loot Gotham City.
Posted on August 5th, 2018

This Sunday is 17% more lethal than usual... because an all new Bullet Sunday starts now...

• Vote! Voting in the August Primary was fairly easy for me. If you're a Republican, I Google to see how hard you've worked to disavow President Trump and his entire cesspool of an Administration. If you haven't... or, heaven forbid, you support the assholes... you get no vote from me. I then look at all the Democrats and research who is in a best position to defeat the Trump-enabling Republican running. Because right now? That's all I give a shit about. Making sure that every last fucking Republican who isn't whole-heartedly disavowing Trump goes down in fucking flames. I don't want Republicans to LOSE in the upcoming election... I want them to be UTTERLY DECIMATED AND DESTROYED. I used to vote with no regard to party affiliation and ended up with both Republicans and Democrats on my ballot. Not any more. After Trump, Republican politicians don't deserve air to breathe, let alone my fucking vote...

Has there ever been so petty a piece of shit president in this country? LeBron has done more for education by opening up ONE SCHOOL than Trump, DeVos, and their entire administration has ever done.

• Shit! Late-night television is really something else. SexToys followed by Larry King? Seems about right...
And after that? More shit, along with some other program before it...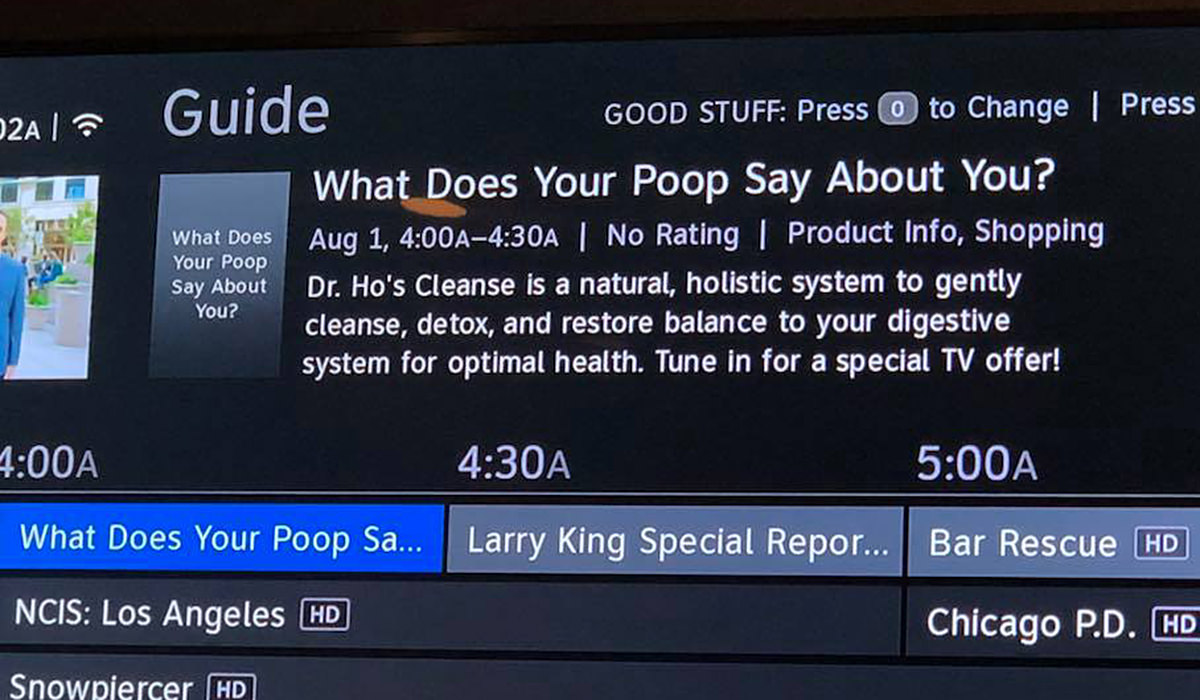 Larry King is one of those people who I can't for the life of me understand how they got famous. He has to be one of the worst interviewers of all time. He has no fucking clue what he's talking about and always seems woefully unprepared and completely ignorant as to the person he's interviewing. At least now he's putting is "talent" to appropriate use by hawking senseless shit in infomercials.

• Cool! This week I took the "What I have in my refrigerator" challenge...
Coke Zero, Sprite Zero, original Coke (for guests).
Various sugar-free sodas (which I don't like).
Leftover Vitamin Water (from the plane).
Atkins shakes (for high blood sugar days).
Pickles.
Emergency water jug.
Six kinds of cheese.
Sugar-free jellies (strawberry & blackberry).
Ketchup, mustard, pizza sauce.
Spreadable butter.
Trader Joe's slivered almonds.
Four kinds of mayo.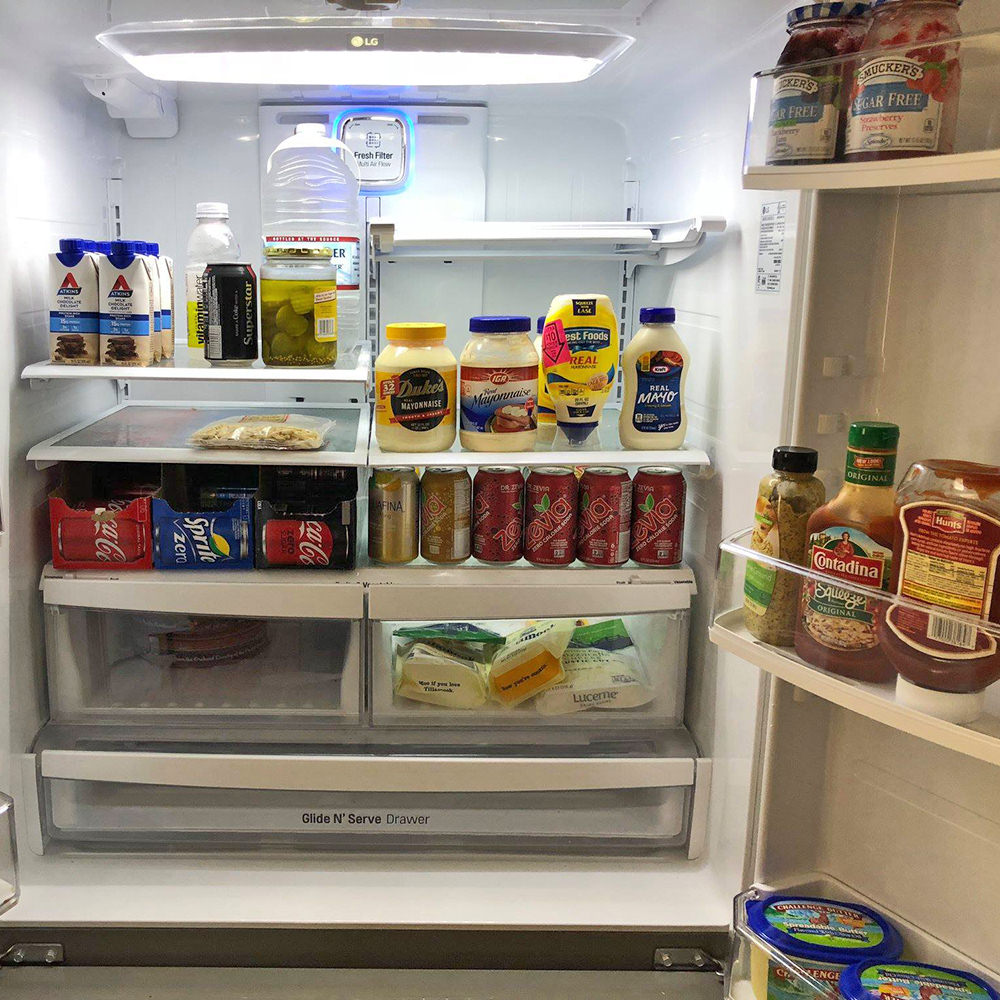 YES! FOUR KINDS OF MAYO!!! I use the cheap stuff for salads, Best Foods for burgers, Kraft for egg salad, and Dukes for fries (I use it when I'm out of Dutch mayo, like now). If I had to give them all up, I'd eat only Dutch mayo.

• Big Gunn Two! Another take on where we are now...
Twitter... memories that never really go away...

• Failure to Launch! Johnny Rockets, where I first discovered Boca Burger patties years ago in Santa Monica, has now replaced them with a Black bean patty. Which is stupid as fucking hell. People go to Johnny Rockets for a BURGER. Even vegetarians go there for a BURGER. They just don't want to kill a cow to get one. And what's really stupid? THEY'RE ALL FUCKING FROZEN! They could have had both of they wanted a black bean burger so badly. And so... after decades of visiting Johnny Rockets around the globe... no more Rockets, bitches. No more Rockets for me.

• Liberty! And, lastly, here it is for those eating paste right from the jar...

NEWS: Attorney General Jeff Sessions announces "Religious Liberty Task Force."
This is the most insane, fucked-up bullshit yet. We now need a task force to protect Christianity?!? Because it should be painfully obvious that they are NOT doing this to protect Muslims, Buddhists, Jews, Hindus, Sikhs, or any other NON-CHRISTIAN religions. Since when are Christians a minority in need of protection? Last time I checked, they weren't fucking BURNING CHRISTIANS IN THE STREETS. Last time I checked, you could still go in a fucking UNITED STATES GOVERNMENT POST OFFICE AND BUY NATIVITY STAMPS FOR CHRISTMAS. Last time I checked, CHRISTIANITY WAS THE LARGEST RELIGIOUS GROUP IN THE COUNTRY. Make no mistake... NO MISTAKE... this is nothing more than a full-on attack on gay, lesbian, and transgender persons... and any other American who doesn't fit into the mold that these fucked-up assholes feel is acceptable. Disgusting. Task force? Horse shit. Nothing like your own government spreading fear and persecution to keep their power. I wonder if they'll be required to wear uniforms? Brown shirts, perhaps? No... probably more like white hoods...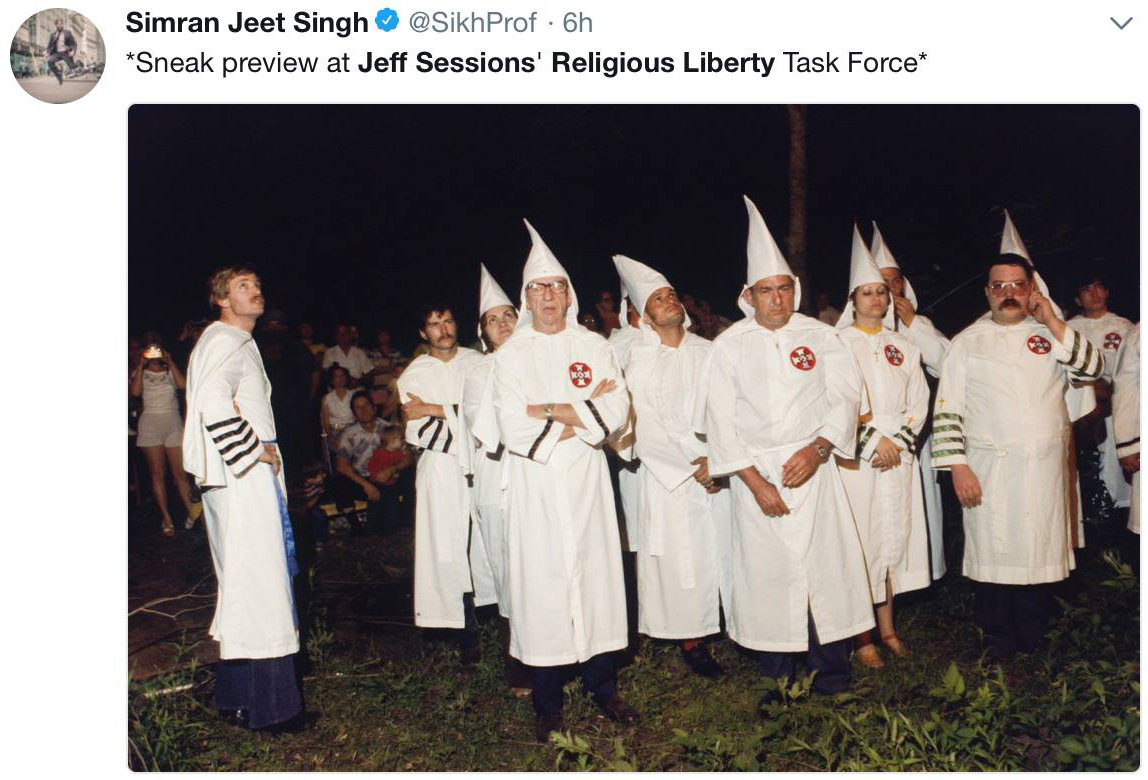 Until next Sunday then...
---
Continuing on with my revisiting of every Marvel Studios movie...
MARVEL STUDIOS MOVIE OF THE DAY, No. 4: Thor
Original Grade: B+ • Today's Grade: B+
I was never a huge fan of the Thor comic books. Sure I read them off-and-on... sure I loved what Walt Simonson did with the character in his run... but he never got to the level of Doctor Strange or Black Panther or Fantastic Four or Iron Man for me. But then this movie dropped and I became a pretty huge Thor fan. Partly because the movie was done so well... but mostly because I could see just how Thor would work as another piece of the Marvel Cinematic Universe. A lot of the credit can be given to Kenneth Branagh for bringing a majesty to the character and to Asgard that the film needed to sell the story. Asgard was epic in scope and beautifully designed. Silly concepts like Bifröst, a "rainbow bridge," were given perfectly believable representations that worked. And though his full potential wouldn't be seen until Ragnarok, how frickin' perfect is Chris Hemsworth in the role? Not anybody else was a slouch in the acting department. Anthony Hopkins is about the best possible Odin we could have hoped for. Tom Hiddleston brought so much energy to playing Loki that the character has been as much a lynchpin for the MCU as its heroes. Idris Elba, Natalie Portman, Renee Russo, Stellan Skarsgård, Kat Dennings... anybody and everybody was so wonderfully, thoughtfully cast. And a standing ovation to Patrick Doyle for the score. Soaring and beautiful, it was a tangible presence throughout the film. Overall, Thor was a crucial step on the road to Avengers that could have been a disaster. Instead it's a worthy addition that totally holds up.

SCENE TO BEAT: The frost giant battle puts a pin in what makes Thor be Thor.

COULD HAVE BEEN BETTER: There are two problems with this film that I have a tough time getting past. 1) The entire span of the film happens over like... what... two... three days? Yes I love the movie, but if you stop a minute and think about how insane the timetable is, things get a little ridiculous. 2) They bleached Hemsworth's eyebrows and it looks crazy distracting. Thankfully they gave up on this absurdity in future movies.

SIDENOTE: When they decided to do away with the whole secret identity nonsense in Iron Man, I honestly thought that would be the end of it. But then along comes Thor, and Dr. Donald Blake was brought up, then dropped like a hot potato. It was a fantastic decision which has been carried forward (more or less) with each new movie. So smart. Given the rather short runtime of a major motion picture, there's just not time to waste on the whole idea, so why bother? It was cute in the original Superman movies, got tired in the Batman films, and is downright silly now. Sure special effects are so economical and amazing that we can show Superman doing all kinds of crazy awesome stuff... but let's blow precious screen-time having Clark Kent investigate a story. And while Hawkeye is the butt of a lot of jokes when it comes to the Marvel Studios films, I have to say they gave him a really good cameo here as we ramped up for Avengers.
Tags:
Bullet Sunday
,
Dumbasses
,
Dumbfuckery
,
Idiots
,
Marvel Studios
,
Movies
,
News
,
Politcs
,
President Trump
,
Thor
Categories:
Bullet Sunday 2018
,
Food 2018
,
News – Politics 2018
,
Television 2018
—
Click To It:
Permalink
—
1 Comment: Click To Add Yours!
Posted on June 22nd, 2014

It must be Sunday... because Bullet Sunday starts... now...

• Paws. It won't be easy to watch... but if you care about our furry feline friends, you'll want to see The Paws Project, now available to stream on Netflix. It documents the horrifying effect of declawing cats, which is far worse than taking off a nail on a human. It's more like taking off the finger-tips down to the first knuckle on a human...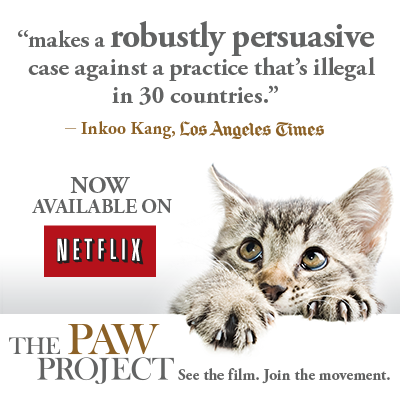 Declawing is just awful. And yet there are still veterinary hospitals that promote it because it's profitable... even though there are far more humane alternatives. Hopefully this barbaric practice will be outlawed nation-wide if enough people start speaking up about it.

• Pledge. I have no idea where this photo comes from. But it's genius, and every time I run across it I love it even more. Because: 'MURICA!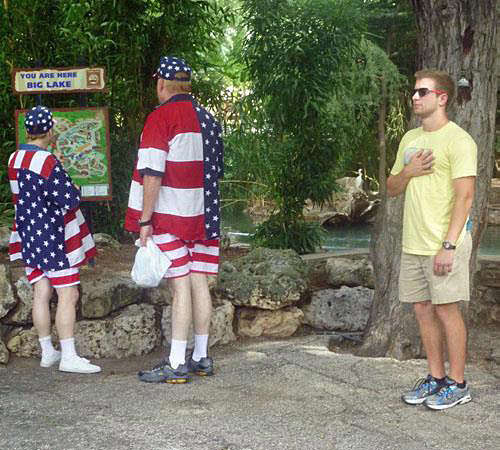 I've finally decided to blog it so I can look it up easily every time I need a laugh.

• Silence! As if this video wasn't already freaky as hell with the sound...
Of course, anything featuring Jagger and Bowie is bound to be freaky as hell.

• Kare! As a huge, huge, mega-huge fan of Susan Kare's work, I was thrilled when Foodiddy sent me this link...
I wish she would have had time to go a bit deeper into her creative process, but this is a must-watch video for anybody interested in graphic design.

• Cozy My Ass. Of all the "Hitler Dubs" floating around out there, THIS is by far my favorite: Hitler tries to rent an apartment in San Francisco...
Oh, Hitler!

• Perry! I've grown so accustomed to Texas Governor Rick Perry being a raging douche that the insane shit he says doesn't phase me any more. Comparing homosexuality to alcoholism... while repugnant, ignorant an fucking stupid... is a relatively mild offense for him. I'd argue his pathetic attempt to write that off as a mistake after doubling down on it is even more ridiculous. Regardless, Funny or Die has a brilliant commentary on this particular bit of Rick Perry idiocy...
Can you believe the piece of shit is probably going to run for president again in 2016?

And... that clicking sound you here is me out of bullets in my blog-based six-shooter. Until next week...
Posted on May 3rd, 2014

"Master, are you a god?" "No," he replied. "Are you a reincarnation of god?" "No," he replied."Are you a wizard, then?" "No." "Well, are you a man?" "No." "So what are you?" The priest asked. Buddha simply replied: "I am awake." — A very loose translation from the Dona Sutta.
For the most part, Saturdays are nothing for me to get excited about. They haven't been for a very long time. Which is okay. Really it is. I don't mind having to work hard every day of the week, because that's how I afford to go on vacation twice a year. And,
despite getting cracked ribs on my Springtime vacation
, I am totally looking forward to my Fall vacation. Whatever that's going to be.
And yet, regardless of how much work I have to get through, Saturdays at least feel like they should somehow be special. This is probably a remnant of my childhood where I didn't have to go to school and didn't have to worry about going to school the next morning (as with Sunday).
With that in mind, anything that puts a wrench in my Saturday deals double damage. Or rather, I get doubly upset about crap when it happens on a Saturday.
And today it's because of this ignorant piece of shit, Roy Moore of the Alabama Supreme Court...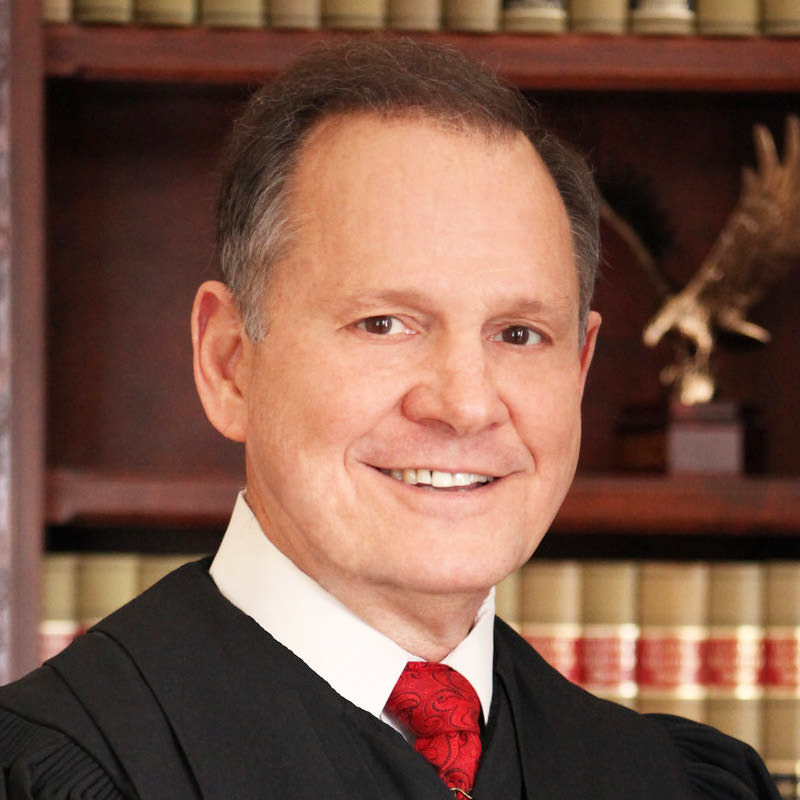 And the story of his reprehensible behavior here: Alabama's Chief Justice: Buddha didn't create us so First Amendment only protects Christians.
I don't give a flying fuck if somebody wants to be a repugnant religious bigot and say stupid shit... zero fucks do I give... that's freedom of speech, even for dumbass Roy Moore. But if you're going to be an intolerant piece of shit, is it really too much to ask that you at least not be so grossly uninformed? You're a Chief Justice, for Christ's sake.
Buddha never claimed to "make" anybody. Nobody who practices Buddhism believes that Buddha "made" anybody. The Buddha was a teacher. A highly respected and revered teacher, but a teacher.
So when some redneck fringe Christian dumbfuck like Chief Justice Moore elevates Buddha to God, it's painfully obvious he has no fucking clue what he's talking about. Which obviously extends to his knowledge of The Bible, Christianity, The Constitution of the United States of America, US Law, State Law, the Treaty of Tripoli, and US History as a whole.
Yet at one point he was considering a run for the US Presidency.
And why not? People were stupid enough to elect this ignorant asshole into a State Supreme Court judge.
As with most positions of power in this country, smarts ain't required, yo.
I am so ready for Saturday to be over now.
Posted on June 1st, 2009

Given my genius-level intelligence, it should come as no surprise that I like the mental workout provided by the game show Jeopardy. The questions are always fairly tough at the higher dollar amounts, and I only manage to answer Final Jeopardy correctly half the time. This kind of challenge is what makes the show so much fun.
It is my understanding that every contestant on the show has been tested for a good knowledge of trivia and overall smarts. This is wise, because the competition wouldn't be much fun if the contestants were all idiots.
Unfortunately, the "smarts" they test for must not include basic math skills.
I am beginning to lose track of the number of times I've watched an otherwise smart person fuck up and lose everything during their Final Jeopardy wager because they couldn't add properly. They'll write down the wrong number for some dumb reason, answer the question correctly, LOSE, and then poor Alex Trebek has to explain to them that they're a moron.
Even worse are the "Daily Double" questions, where a contestant can double their wager if they answer correctly. You regularly see people who bet some pathetic amount when they are in last place, even though they should have risked it all so they could stay in the game.
It's sad, really.
If it were ME running Jeopardy, and some dumbass decided to wager $100 when they're so far behind that their only chance is to wager everything they have... well, my reaction would be a lot different from Alex Trebek's kindly smile and condescending banter...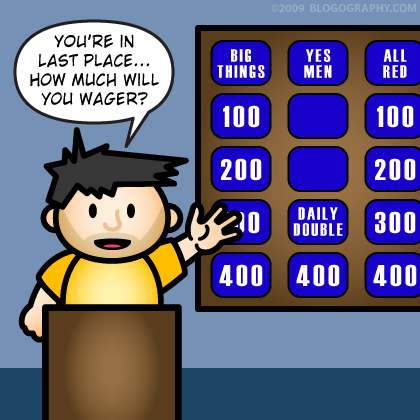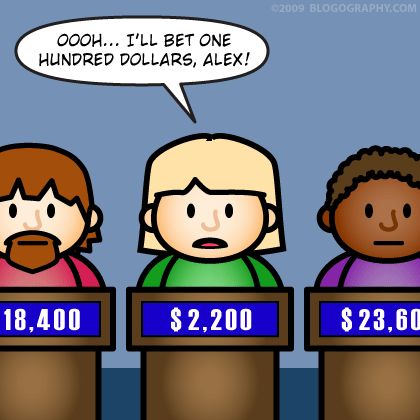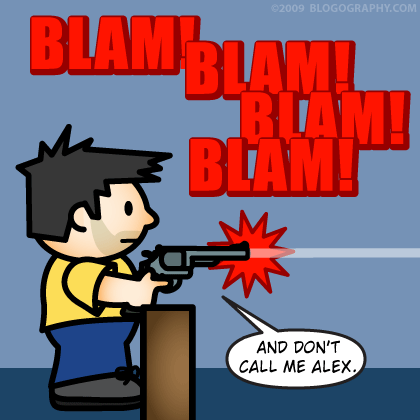 Because, seriously, nobody that frackin' stupid deserves to be on Jeopardy... they spoil it for everybody.
And by "everybody" I mean "me."
Oh well. New episodes of Burn Notice start tomorrow! So very soon now I won't have to rely on game shows to see something new on TV.
I can't wait.
Posted on May 25th, 2009

I've written, erased, rewritten, edited, restored, revised, and held this entry for entirely too long now.
This is abnormal for me, because I usually just hammer out an entry, post it, then forget it. It's my blog voicing my opinion and point of view, so I don't worry about the consequences of what I post. Most of the time, that's not a big deal because the stuff I do here is hardly incendiary. It's silly. It's fluff. It's useless crap. It's cartoons with monkeys in them. That doesn't stop people from finding something to bitch about, but there's simply nothing here that's worth getting that upset over.
But every once in a while an entry like this comes up where I actually have something to say.
These times require that I be very careful, because there's a real possibility that I'll write something in a way that can be misinterpreted or unintentionally inflammatory. I mean, let's face it, I'm a terrible writer who is barely able to construct a coherent sentence. That's why I use photos and cartoons to communicate most of the time.
So when I say that Paul Marx, professor of English emeritus at the University of New Haven can go fuck himself... you'll know that I really put some thought into it.
Because seriously? Fuck you, Paul Marx. Fuck you sideways you ignorant piece of shit.
To understand why I would verbally abuse a dumbass like the retired professor here, you have to know three things...
I am for peace, and truly believe that resorting to violence is a complete failure on the part of humanity.
I am a longtime supporter of POW/MIA issues, and have a site dedicated to the POW/MIA soldier whose name has been worn on my wrist and remembered by me every single day for over 13 years.
Paul Marx is the moron who wrote this idiotic piece of op/ed bullshit at the Baltimore Sun for Memorial Day.
Now, there are many, many things about the "Viewpoint" article for me to get upset about. The author is writing out of ignorance and stupidity when it comes to POW/MIA issues, and has no grasp whatsoever when it comes to explaining what the POW/MIA flag means to people like me, or why we continue to fly it. Even worse, he presumes to speak for us with no attempt at perspective, and presents his personal opinions and interpretations as absolutes. My initial reaction as I read the piece was one of disbelief (I was NINE YEARS OLD when the war ended... his premise doesn't even make sense for somebody like me!). But, rather than going into a profanity-laden tirade, I was going to take a pass... partly out of respect for those who gave their lives for their country on this day set aside to remember them, but mostly because it's senseless to get too upset over somebody who can't grasp simple concepts (like friends and families of soldiers still missing wanting to know what happened to their loved ones).
But then I kept reading and got to a part which sent me into meltdown...
"It (the POW/MIA flag) continues to be flown mostly out of ignorance or indifference. But those who want it up see it as a protest against the outcome of the war. To them, the flag states that the war should have been fought until the North Vietnamese surrendered. If it took a nuclear bomb to attain that goal, that would've been OK."
This guy is a professor of English emeritus so I can only guess that, unlike myself, he knows how to construct a sentence in a way to get his meaning across. That his meaning is so detached from reality is unfortunate. That his meaning is presented as a statement of fact is what makes the guy such a fucking douchebag.
First of all, I do not promote POW/MIA causes or fly the flag out of ignorance. On the contrary, unlike Paul Marx, I have spent untold hours researching POW/MIA issues so that I can better help raise awareness of the plight of our missing soldiers and those seeking answers as to what happened to them. But, even more importantly, my eyes are wide open when it comes to working towards a full accounting of our servicemen and servicewomen who go missing in future conflicts. I mean, holy shit... don't they at least deserve that much? Are human beings so expendable and inconsequential to Marx that writing them off as victims of a "mistake" is what passes for "reason?" Perhaps if citizens show they are relentless about knowing what happens to our soldiers, governments will be more cautious in deploying them. George Santayana once said "Those who cannot remember the past are condemned to repeat it." Part of the importance of flying the POW/MIA flag is so that WE NEVER FORGET! This can not be overstated... this issue is far bigger than a war fought 34 years ago in Vietnam. It is an issue that continues to be of critical importance today... and tomorrow.
Second of all, to imply that the POW/MIA flag is being flown out of "indifference" is a statement of sublime irony. People are indifferent because they haven't been educated. How can people be educated if we're just supposed to sweep something under the rug because some people (including our own government) find it inconvenient or unpleasant? It was Jesus who is recorded as saying "and the truth shall make you free"... but we don't know the truth. And when it comes to our POW/MIA's, we're never going to be free of the Vietnam War until there is a full accounting. Those of us who remember them will make sure of it for the sake of future generations. The very reason the POW/MIA flag must continue to be flown and promoted is precisely because of uneducated persons like Paul Marx.
And, lastly, saying that those who want the flag up (me) would be thrilled if the United States of America had nuked North Vietnam... well, that's where I lost it. It was at that point in the article where I could no longer contain myself, and dashed out four versions of this entry where I tore Paul Marx to pieces for being such a stupid fucking asshole. That I am still doing so after five progressively calmer entries just goes to show how bad of a writer I truly am.
But, whatever, the point is this...
Showing support for people who sign up to defend this country's citizens and freedoms with their lives does not automatically make me a warmongering psychopath that relishes the idea of unleashing a nuclear bomb on the population of an entire country.
Paul Marx truly is a raging fucktard if he cannot understand something so elementary, and there's really nothing more to say.
It's tough to know how to end something like this when you're all worked up and there's really nowhere to go but down, so I guess I'll just stop.
Or not.
Because truly, honestly, and sincerely from the bottom of my heart... go fuck yourself Paul Marx. You say the POW/MIA flag is "a statement in favor of not caring about the other side's point of view, never acknowledging that there are human beings on the other side," but you seem to be forgetting that there are human beings on THIS side as well. That you so readily discount them undermines your entire argument, and has me seriously questioning your ability to form an educated opinion on anything (which, given your credentials, is more than a little disappointing).
Oh yeah... and fuck the Baltimore Sun for publishing such a piece of ignorant, disrespectful, and all-around screwed up piece of garbage on Memorial Day.
Posted on May 20th, 2009

When you are following a car that's weaving down the middle of the road while going 10 miles under the speed limit... don't you owe it to society to run them off the road, rip off the car door, bitch-slap the driver really hard, then take a flamethrower to the whole mess?
If you agree, then would you please move into Chelan County right away? When my eventual trial comes up, it would be nice to have a jury of my peers who understand justifiable road rage. IF YOU OR YOUR VEHICLE IS INCAPABLE OF DRIVING THE SPEED LIMIT, THEN STAY OFF THE FUCKING ROAD!! All these people do is make things more dangerous for people who know how to drive.
Speaking of flame-throwers, I maintain that they are the solution to many of our problems, including PCs running Microsoft Windows Vista...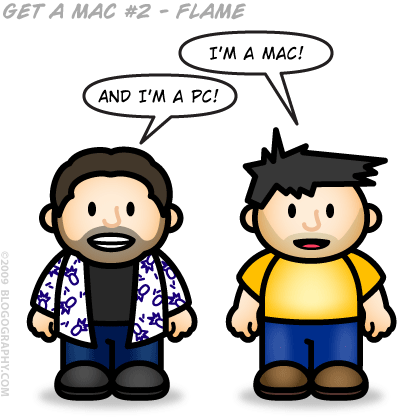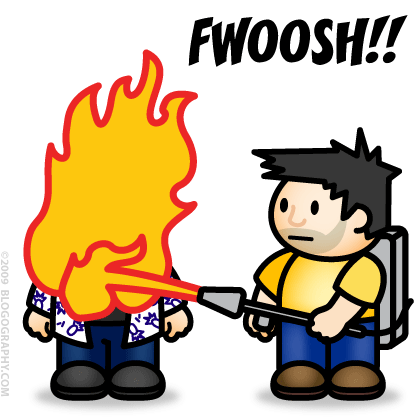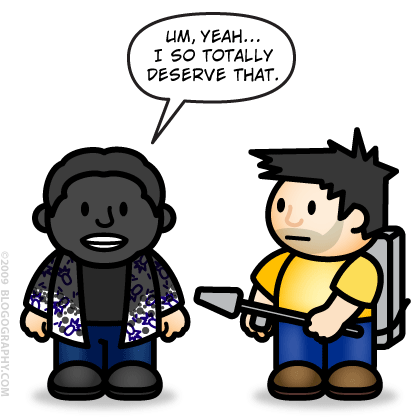 And now I think I will be going to bed extra early so I can attempt to forget this terrible day.
To see all of the Lil' Dave Mac vs. Lil' Wayne PC ads, click here!