And it's time once again for my annual wrap-up of movies that came out this year.
Or, more accurately, a "wrap-up of movies I saw that came out this year." As always, there's a bunch of movies I never saw that would have probably ended up on my list (we'll get to that later). And here we go...
THE TWELVE BEST...
These are my favorite movies from this year that I actually saw.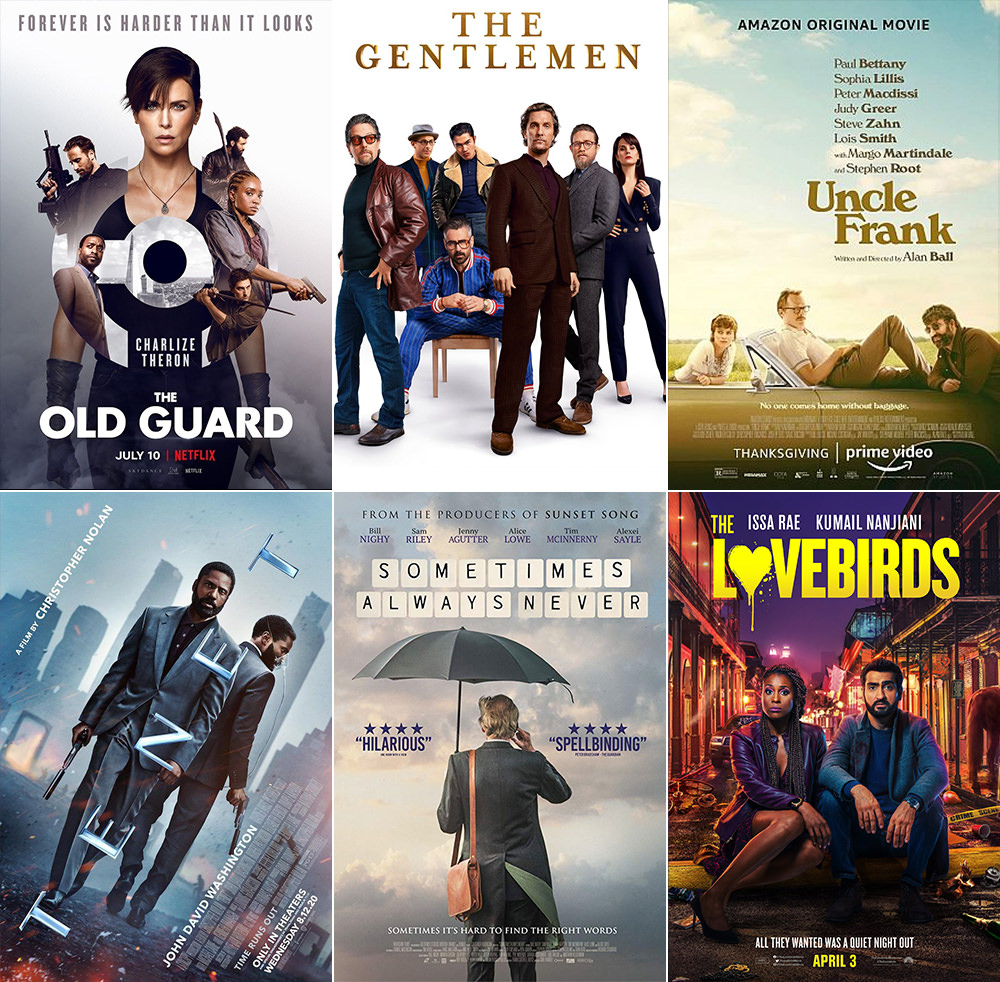 #1 The Old Guard (Netflix)
In a year where Marvel Studios and Disney pushed their entire slate of features into 2021, the saving grace for movies this year was thanks to streaming services like Netflix. And it's there we got the best super-hero movie of the year by a massively huge margin. Adapted from a terrific comic book series, The Old Guard is about a group of immortal warriors who have to be increasingly careful in a world where surveillance and social media can expose them. And when that happens? Hoo boy. I was bummed that Charlize Theron hasn't filmed a sequel to Atomic Blonde yet, but if she keeps churning out brilliant alternatives like this epic movie, I guess I can be okay with it. But of course now I want a sequel to The Old Guard, so I have twice as many things to be disappointed about. Would this have been my #1 if Black Widow or Shang-Chi or The Eternals came out in 2020? I don't know. But I would have loved to have found out.
#2 The Gentlemen
Guy Ritchie has an impressive number of films I enjoy... but that's never guaranteed (I didn't care for his previous two efforts Aladdin and King Arthur: Legend of the Sword at all). This one had me worried because I could not figure Matthew McConaughey in a Guy Ritchie film. But then he's got Colin Farell, Hugh Grant, and Henry Golding in the mix and I'm like "Maybe?" Then Hugh Grant completely steals the movie, Charlie Hunnam pops up with the best performance of his entire career, and I was totally okay with it. American Michael Pearson is a massive marijuana dealer throughout London and becomes a very wealthy man. Tired of the game, he decides to sell his drug empire for $400 million and retire, which sets the wheels in motion for all kinds of new games. And watching it all unfold is a cinematic treat that is the best kind of Guy Ritchie film... possibly his best since Snatch. If you're a fan of his work, this is what you're likely a fan of.
#3 Uncle Frank (Amazon Prime)
I'm not exactly sure how I ever stumbled across this movie. I think that it was recommended while I was on Amazon Prime Video. In any event, it's about all you can ask for in a film. Paul Bettany unleashes an award-winning performance as a gay man in 1973 who travels back home with his niece to attend his abusive father's funeral. But when they are unexpectedly joined by his lover along the way, the past will catch up with him in a way he can't escape. This is a wholly wonderful film that's made even more wonderful when you understand how important it is. Showing acceptance 50 years ago just makes un-acceptance now seem all the more backwards and stupid. I ended up liking the movie so much that I wanted to know more about it and was shocked that it was written and directed by Alan Ball, which means I must have missed the credits. This made perfect sense, given his magical touch on so many amazing television shows (including Oh Grow Up! which I am still begging somebody to release on DVD or digital). Of all the movies on my list, this is probably the most important.
#4 Tenet
The first time I saw Tenet, I genuinely hated it right up until the end where a few things slammed home for me. Thinking a second viewing would have me appreciating it more, I jumped in again the next day. Feeling I had a better handle on it all, I went ahead and watched it a third time a few days later. Finally the more subtle elements started making sense to me and I felt that I was able to appreciate it in a way I missed completely the first two times. And that's the thing... sure there are special effects sequences in this time-bending rollercoaster ride which would be great to see in a movie theater... but I think experiencing it that way only sets you up for disappointment. With all due respect to Christopher Nolan, home video is what this film was made for. All the things that make it a good movie will completely blow by you until you have a chance to see it at least one more time.
#5 Sometimes Always Never
This is a beautiful character piece that entirely relies on the performances of Bill Nighy and Sam Riley to work, and they do not fail. I have yet to see Bill Nighy in a single role where I wasn't completely absorbed in his character, and this was one of his best yet. He plays a father who has been desperately searching for his missing son who walked out in the middle of a game of Scrabble... while ignoring the son who stayed. While playing online games of Scrabble, he becomes convinced that it's his missing son who's been playing games with him. He sets out with his son to find the truth. Heartbreaking but funny in all the right ways, this is a wonderful (albeit slow) film that I can't recommend highly enough.
#6 The Lovebirds (Netflix)
In all honesty, I did not give this movie a snowball's chance in hell of being as good as it ended up being. But I tuned in because I love both Kumail Nanjiani and Issa Ray, so a movie starring both of them immediately moved to my "Must Watch List." In The Lovebirds they are a married couple who have grown bored with each other and their marriage and have been going through the motions for a while. Then, just as they decide to divorce and go their separate ways, a chance accident happens which changes everything... and sends them on an adventure that's bigger than the film's concept might otherwise imply. I loved this film and have told Netflix to play it more times than I'll ever admit. Because in addition to the stellar performances from two fantastic actors, we get fantastic New Orleans locations, fantastic cinematography, a fantastic story, and some genuine humor that was... well... fantastic. I will be the first to admit that it takes a particular mindset to truly appreciate this gem for what it is. Lucky me, it's precisely the mindset I often find myself in.
#7 Palm Springs (Hulu)
A new take on Groundhog Day is nothing very new at all, as they seem to pop up every couple of years. This version, however, it really well done and adds a few twists to the formula that make it worth visiting. While attending a wedding, the maid-of-honor gets trapped in a never-ending cycle of never-ending days along with a slacker living his best life over and over again (played by Andy Samberg). Things are complicated as new facts behind the wedding are revealed, the maid-of-honor wants out, and an enemy set on revenge gets trapped with them. The humor is ever-present, but doesn't overwhelm the story being told... getting the balance just right.
#8 The Invisible Man
This was a smart take on the classic tale, combining genuine thrills with horror beats that land surprisingly well. And then there's the special effects which elevate it all to new levels. This new version of the story has a woman trapped in a controlling relationship from which she succeeds in escaping. Then, much to her relief, her now-ex-boyfriend comits suicide and leaves her $5 million. Unable to enjoy her new-found wealth because she feels she is being haunted by her ex, she is forced to try and find answers. What she finds out is far scarier than a ghost, and the ensuing battle is an edge-of-your-seat affair that is exciting to the very end. Although it's not exactly the end because a sequel is in the works.
#9 Da 5 Bloods (Netflix)
It's a Spike Lee Joint, so you know you're in for something interesting... if not outright genius. This time he's telling the story of four Black Vietnam vets who return to find the remains of their squad leader... and also recover some gold they buried. And while the cast is fantastic, I die inside a little when I heard that it was originally to star Denzel Washington, Samuel L. Jackson, Giancarlo Esposito, and John David Washington. What a movie that would have been (though, to be honest, the remarkable Delroy Lindo deserved this movie and has more than paid his dues to get it). Ultimately this is a darn good film that suffers from being wildly off-balanced, trying to be a commentary on the Vietnam War, a look at Vietnam from the perspective of Black soldiers, a commentary on contemporary America, a comedy, and an action movie... all at the same time. And while it mostly succeeds at most of that, it can also feel a bit disjointed and is long. Regardless, this is a smart, well-crafted, important film that only a director of Spike Lee's caliber could make. As if that wasn't enough, it's got Jean Reno and an appearance by Chadwick Boseman in it.
#10 WolfWalkers (Apple TV+)
Given that The Secret of Kells and Song of the Sea are two of my favorite animated features, it's not shocking that Tomm Moore's third film, WolfWalkers made my list. Featuring his hallmark Celtic art style, this is a gorgeously animated film follows a young girl and her father as they travel to Ireland to eliminate a pack of wolves. As they begin the hunt they encounter magic, danger, and mystery in the forest which opens their eyes, alters their perspective, and changes their lives. This is a masterpiece of art and storytelling which has to be experienced to truly be believed.
#11 Bill & Ted Face the Music
While deep down I think that it would have been better to just let this franchise go, I was happy to dive in once again, hoping to get better closure than what came from Bill & Ted's Bogus Journey 30 years ago. The result is indeed better than the sequel but, thanks to the absence of George Carlin, didn't feel like it was ever complete to me.
#12 Dashing in December (Paramount)
As diversity continues to creep into Christmas rom-com movie offerings, we're getting so much more than the same old rom-com stuff that keeps being remade over and over. This time, it's a gay couple at center stage, and it makes for a really good story because there are added layers to the standard girl meets boy plot we keep seeing. Repeat Hallmark player Peter Porte is a successful Manhattan financial advisor who heads home to his family ranch in Colorado to convince him mom to sell it. But when he arrives he finds that Juan Pablo Di Pace has been employed as a ranch hand and is definitely opposed to selling. After initially butting heads, their relationship becomes something more as they come to understand each other better. What makes this one work so well is the dialogue which feels honest and true in a way that's usually lacking. After talking about their past relationships and how things never seem to work out for either of them while gluing back some wicker reindeer decorations that fell apart, we're treated to this passage: "They still look broken." — "Broken, but happy to have each other." which so beautifully summarizes what they've been through and where they're at now in this moment together. And it's that kind of clever dialogue that makes Dashing in December a cut above other rom-coms... gay or straight. Andie MacDowell is just the icing on the cake.

HONORABLE MENTION...
Birds of Prey and the Fantabulous Emancipation of One Harley Quinn
I'm not a big fan of how DC Comic movies are perverted from the source material, and this is more of the same. Though Margot Robbie's Harley Quinn is as entertaining as ever... and this is certainly one of the better DC adaptations, that's not saying much. I did end up liking it, however. Just not as much as I felt I should have.
A California Christmas (Netflix)
No, this Hallmark imitation film will never be mistaken for high art or even a great film, but I think it did give us a fresh perspective on the tired old stories we keep seeing over and over.
Enola Holmes (Netflix)
Color me 20 shades of shocked. This new take on Sherlock Holmes shakes things up beautifully by focusing on his younger sister Enola, capably played by Millie Bobby Brown. The result is surprisingly good, wonderfully fresh, and made all the better by having Henry Cavill and Sam Claffin appear as her older siblings. I'm hopeful we get new adventures one day soon.
First Cow
Any other year, drama might have played better for me, but in 2020? Not really what I was looking for, though this flick was darn good... and not what I was expecting (which is always a good thing).
Holidate (Netflix)
This movie starts out terribly, trying to have a holiday rom-com sensibility which is mostly annoying and has terrible music choices. But then... things... change? And you get an entertaining flick that manages to break free of the cheese while not losing the cheesiness which makes it a fun movie to watch.
Mank (Netflix)
Featuring some of the sharpest dialogue you're likely to hear all year, this clever, intelligent, and remarkably crafted look behind the scenes of Herman J. Mankiewicz's writing of Citizen Kane also has performances above and beyond.
Midnight at the Magnolia (Netflix)
For the first time ever, I'm recognizing a "Hallmark-style" movie in my Best of 2020... thanks to a decent script and the performances and on-screen chemistry of Natalie Hall and Evan Williams.
My Octopus Teacher (Netflix)
This was a bizarre yet beautiful look at a man's relationship with... an octopus? It's nothing like I expected, and the way it makes you feel about these surprisingly intelligent creatures will last long past the end credits.
On The Rocks (Apple TV+)
As a massive Bill Murray fan, I was anticipating this being one of my favorite films... but it never quite got there because it tends to meander without "going" anywhere. Even so, it has enough entertaining moments to make it worth a watch.
Onward
It's Pixar, so you know it isn't going to suck... but you're pretty much assured to be overwhelmed with sentiment and have an abundance of manipulative heartstring pulling that gets tiring. That this one delved into fantasy (a genre I'm not a fan of) didn't earn it any favors, but didn't sabotage it either.
Save Yourselves!
a comedic take on alien invasion movies that is a great flick if you don't take it too seriously (which likely won't be a problem). What I don't get is the non-ending ending, which kinda sabotages everything that comes before. I'm not saying that a film has to wrap everything up in a big bow for me, but for a film like this? Yeah. Probably.
A Shaun the Sheep Movie: Farmageddon (Disney+)
You would think that after all the Shaun the Sheep movies, specials, shorts, and TV shows I'd be over it already... but this time Aardman Animations took things in a new direction entirely by giving us a clever alien invasion twist that made for one of the most entertaining entries yet. Beautiful to look at and fun from start to finish.
Soul (Disney+)
There's no denying that this is a gorgeously animated feature. My problem is that they get bogged down in the bizarre minutiae of how "souls" and "sparks" work for the first thirty minutes and I had a tougher time getting into the movie than I felt I should have. Once they get down to earth is where the movie actually began for me.

DIDN'T SEE, MIGHT HAVE MADE MY LIST...
Babyteeth
Bad Boys for Life
Extra Ordinary
Freaky
Greenland
Howard
Kid Detective
Ma Rainey's Black Bottom
Sorry We Missed You
Synchronic
The Trial of the Chicago 7

OVERRATED...
Greyhound (Apple TV+)
A World War II submarine thriller starring Tom Hanks? Sign me up! Except... characters are one-dimensional and barely register against the action, which makes for a somewhat thrilling but also quite boring film. But where this one sucked hardest is with the music, which was horrifically bad. Gut-wrenchingly awful. A repugnant auditory assault you will beg to forget.

TOTALLY SHIT THE BED...
Happiest Season (Hulu)
I had been looking forward to the first major lesbian-lead Christmas movie rom-com since I heard about it. Alas they filled it with the shittiest possible people and had some of the most brutally inane and idiotic dialogue I've ever suffered through. What the hell?
Mulan (Disney+)
Take an amazing Disney animated classic, retool it for live action with astounding wardrobe, cinematography, and visuals... then dumb it down to a bucket of stupid with a story that sucks.
The New Mutants
Where do I even start? This movie has languished for years. First because 20th Century Fox apparently didn't know what to do with it... then Disney/Marvel didn't know what to do with it after they bought out the studio. Eventually it was unceremoniously dumped in theaters during a pandemic just to get rid of it because it wasn't a part of the Marvel Cinematic Universe and would be forgotten anyway. Given that it was supposed to be a super-hero horror film but didn't have any horror... and any super-heroics were boring... I've forgotten it already.
Wonder Woman 1984
Good Lord what a shitty fucking film.

Intresting to note just how many of the films on my list are from streaming services. Yes, some of them would have likely dropped out of my Top Twelve if there wasn't a pandemic and studios had released their 2020 slate... but the good movies would have definitely gotten a mention regardless. I think this is very telling about the future of our entertainment. Odds are that theaters will fully open up again in Summer or Fall of 2021 (assuming we achieve some semblance of heard immunity by then and assuming theaters manage to survive), but big-budget movies bankrolled by streamers are likely here to stay. At least if the rising cost of my Netflix sumbscription is any indication.