I don't mean to alarm anybody, but this is the last Bullet Sunday of the 600's... because an all new Bullet Sunday starts... now...

• Good News, Everyone! After a shitty year of all bad news, it's nice to know that there's a best-case scenario happening right now... People Who've Gotten Both Shots Simply Aren't Getting COVID. And when they do get COVID because it's a mutant strain or whatever... they aren't requiring hospitalization and don't suffer such damaging effects. Nice! Much love to the scientists and researchers who have been working overtime to get us a vaccine.

• Residential! Alan Tudyk is one of my favorite actors, and I was pretty stoked when I randomly happened across his new series... Resident Alien. This is a comic book series I've glanced at, and I had no idea it was being adapted for television. As you'd expect, Tudyk is flawless at playing a quirky alien trapped on earth in disguise as a doctor, and I really loved the first episode...
The premise is pretty darn good, and it will be interesting to see how they play this one out.

• TikTok On The Clock! AMAZING tip for getting more coverage when painting! Thanks, TikTok!
Oh yeah. That's a painting trick I can use!

• Reelection Matters! Still no comment by Patty Murray or Maria Cantwell on Wall Street trying to protect wealthy hedge funds over average Americans? I may die of unshock. Can't upset their wealthy owners who bankroll their campaigns! Stock manipulation is fine... when rich people do it. Markets are free... until rich people lose money. Wall Street makes the rules to exploit the American people to benefit our wealthiest citizens. And the minute it doesn't, they change the rules. And Murray and Cantwell are still fighting for that status quo, apparently.
Say... here's an idea! We know Republicans can't win against our senators in Blue-Blue Washington State, but what about another Democrat? A Democrat not content to have Washington State sit on the sidelines or take a wait-and-see attitude when it comes to stuff going on Right Now?? A Democrat who doesn't check with their owners before acting? A Democrat that charges into battle for Washingtonians AS SHIT IS HAPPENING. Because hand-wringing after the fact is getting SO tiring. Alexandria Ocasio-Cortez was going on interviews, posting to social media, and had a live Twitch feed yesterday to address Wall Street protecting wealthy hedge funds over the American people. Where were our Senators? Planning their re-election campaigns, probably.

• Change! This right here is what I love about TikTok in a nutshell...
Cute story and a SpongeBob Squarepants reference? Yeah... sign me up.

• Flyover! Last night my Apple TV went to screen saver while I cleaned up my filthy kitchen (I swear, that onion/poblano Quesadilla filling is lethal). As I was sitting down I saw that the screen saver was flying over Buckingham Palace which is pretty easy to recognize. Then they keep flying over London and I see that so many of these old buildings have amazing car parks inside! I had no clue when I visited the Churchill War Rooms museum that they had this gorgeous rotunda car park within their walls...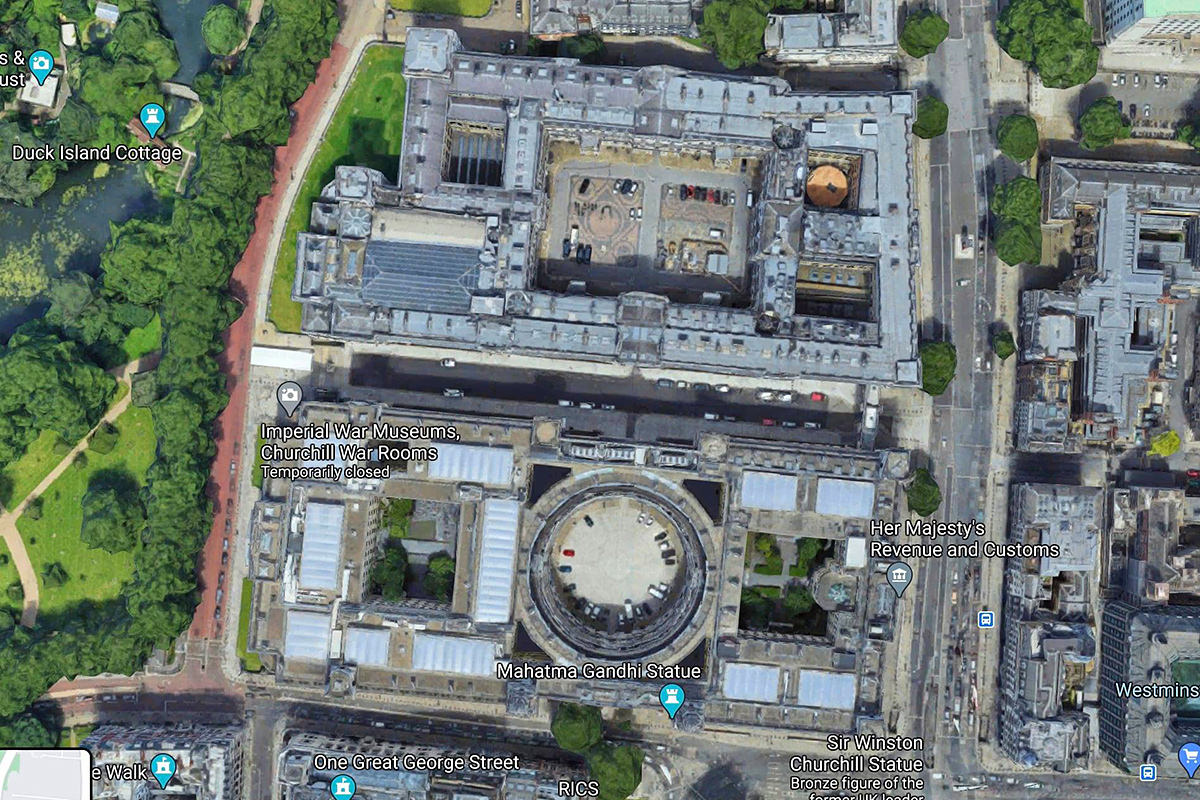 Image taken from Google® Maps Satellite View
Isn't this amazing? And the more I explored, the more interior car parks I found. That's pretty cool. I've seen some of these in person, but never knew how prevalent they are.

And that's a wrap on Bullet Sunday No. 699.