Posted on December 9th, 2019

And so I have a new MacBook Pro. At last.
My joy from the new machine's arrival is tempered by the horrific treatment I've experienced from Apple's "support" lately (more on that long story later), but I've needed a new machine for so long that I'm trying to stay positive here.
There's a lot to love about this laptop. In many ways, it's everything I've been waiting for to replace my aging 15-inch 2012 MacBook Pro (which has been falling apart for years). And it's so sexy in Space Grey color...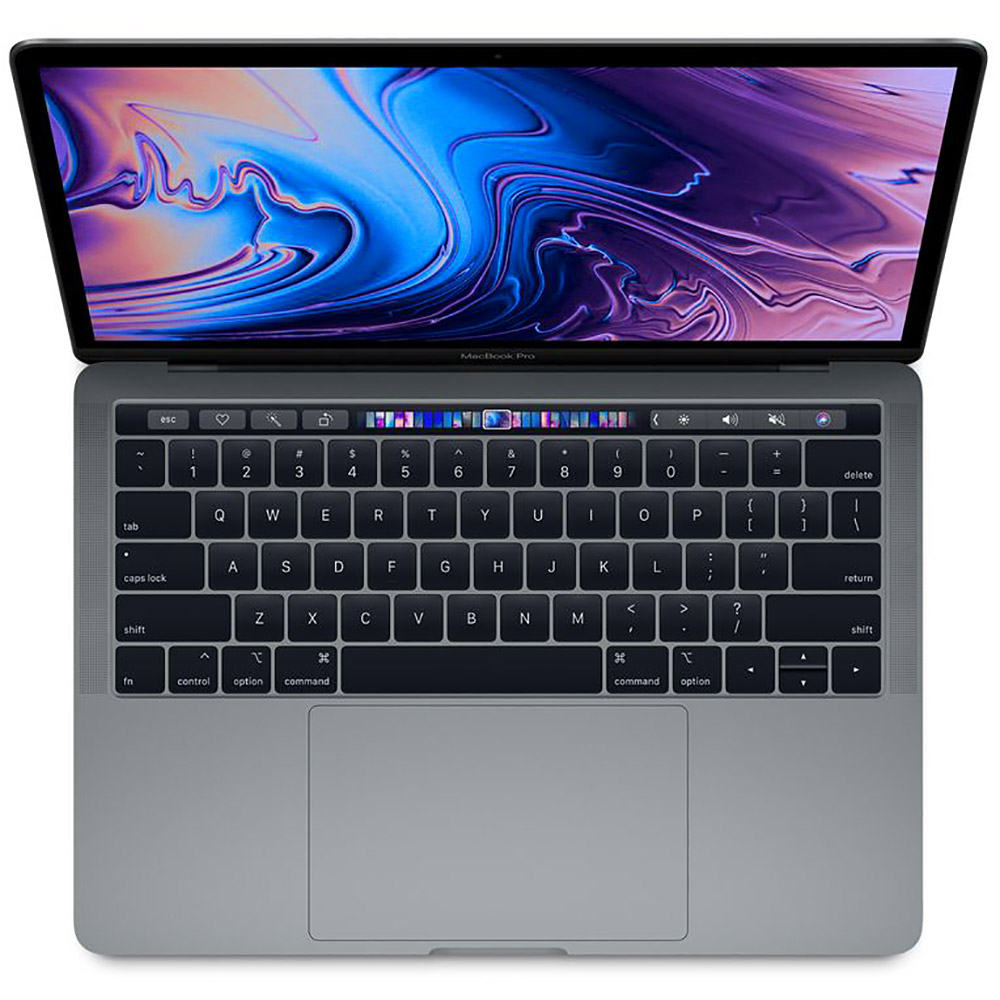 All is not perfect, however.
First of all, there's no MagSafe power adapter. This magnetic plug (which would break away if you tripped over the power cord instead of pulling your MacBook off the table) was such a wonderful and revolutionary feature that Apple ran ads to announce it. Why they couldn't have just one of the four USB-C ports be MagSafe is beyond me. I dread the idea of accidentally tripping over a cord and banging up my laptop so much that I bought a protective case for it. Something I have never done before. As if that wasn't insult enough, the power brick doesn't come with a power cord extension like every other Apple power brick has done. Irritating, but I think I have a few laying around from old power bricks, so no terrible loss. But wait... it gets worse! Not only does a new 96W USB-C power adapter also NOT come with an extension cord ($19 extra) it also DOESN'T EVEN COME WITH A CABLE! ($19 extra). This is categorically absurd, and further proof that Apple is intent on nickel-and-diming their way through your wallet.
Second of all, the laptop doesn't have a "standard" USB-A plug nor does it have an SD card reader. And, of course, no adapter for either. All you get is four USB-C ports and a headphone jack (oh the irony). Period. Which means you're carrying a pocket full of dongles (which Apple is happy to charge you for). Even more nickel-and-diming.
And now that the ugly is over... on with the show...
SPECS.
Much to my surprise, the physical size is identical to my MacBook Pro 15-inch from 2012 (14.35 x 9.82 x 0.6 inches). The weight actually drops from 5.5-lbs. to 4.3-lbs. but, to be honest, it doesn't feel a pound lighter.
PERFORMANCE
The Geekbench benchmark score for my old 2012 MacBook Pro (Intel i7 4-core at 2.7GHz) is 746, my new 2019 MacBook Pro (Intel Core i7 6-core at 2.6GHz) has a Geekbench score of 1033. This seems a disappointing bump after nearly 8 years, but when you consider that I bought the most expensive model available in 2012... and the cheapest model available in 2019... I'm actually quite happy with the increase I got! The RAM and SSD storage are the exact same specs (16GB, 500GB) which I am also happy about. I paid a lot more money for my 2012 MacBook Pro than this one I have now... so the fact that I have the same storage is pretty remarkable! I resisted the urge to max out my new laptop with 64GB RAM and 8TB of SSD storage. It costs over $6,000 (I checked).
KEYBOARD
Unlike the shitty and fragile "butterfly keyboards" that App forced on us for far too long, the new (old?) scissor keyboard is actually typeable. Yes, I wish there was just a touch more "travel" to the keys, but at least I can type at full speed without making more errors than correct words! If I'm being truly honest, I'd prefer the keyboard from my 2012 MacBook Pro. It's just so much more comfortable. But compared to what Apple was using prior to this? World of difference.
TOUCH BAR
The "Touch Bar" is something I've been resistant to. Yes, the more I use it the more I love it, but I would honestly prefer to have my function keys back. That being said, for the apps which use the thing, it is very nice. So handy (Photoshop's Touch Bar is ever so dreamy!). For apps where I need the function keys, I am slowly adjusting to having to hold down the "fn" keys to get them back. Maybe there's a way to make function keys stay showing on an app-by-app basis, but I haven't found that. Maybe there's a 3rd party app for it.
TOUCH ID
Touch ID is something I was looking forward to. I hate, hate, hate typing passwords, so this should be a huge deal for me, right? Well... not really. For some functions, yes, Touch ID pops up and asks me to put my finger on the sensor. But a great deal of the time I am still being asked to type my password. In the past 6 hours of setting up this new machine, I've typed my Apple password dozens of times. So what the f#@& good is Touch ID then? When companies like Apple make a big showing of encouraging security by suggesting complex passwords, but then you have to actually remember and type those passwords, THEN NOBODY IS GOING TO USE COMPLEX PASSWORDS! Such bullshit. I thought Touch ID would be a very cool thing to have. For the most part it hasn't been. This sucks. Once again Apple is saying one thing to appear like they have our interests at heart, but then doing something completely opposite.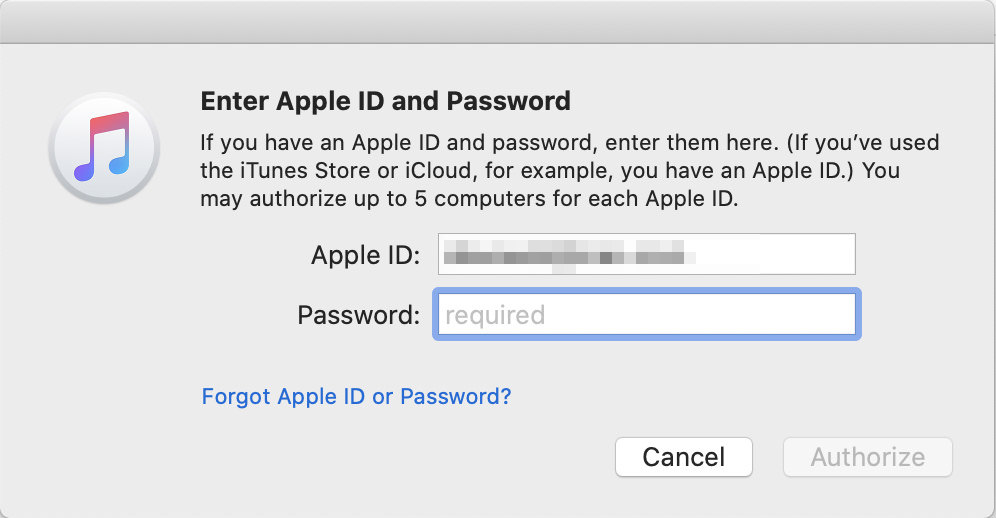 TRACKPAD
Why Apple thinks that a trackpad this huge is necessary is a mystery. I am seeing no benefit to it. The smaller one on my old MacBook Pro was better for me. This big one feels "mushy." Click-dragging (and two-finger tapping), which I can't imagine anybody living without, is still an "Accessibility" feature. It really should be with the rest of the trackpad options (or in both places). Alas, until I get used to the larger size, my hand has been "soft-clicking" for me and it's really annoying... I may have to turn click-dragging off, which would be awful. And, if I can be all nitpicky, natural scrolling is still enabled by default... ugh.
DISPLAY
Display resolution scales nicely... which is critical for people like me with aging eyes! My old MacBook Pro was set to a resolution of 1440 x 900. I have the new one magnified a bit at 1536 x 960. Visually it looks similar to what I was using, I just get a little bit extra real estate thanks to less bezel and more screen. Nice! Not only that, the display is frickin' gorgeous! The best I've ever seen. And it's bright too! This is the first Mac that I don't have to put at full brightness in order to view the display comfortably.
SOUND
The sound on this thing is really sweet in all the right ways. The bass is out of this world for a laptop. The difference in quality from my old MacBook Pro is really noticeable. There's nothing quite like blasting The Sun Always Shines on TV by a-ha and having it fill the room. Interesting to note that there's a "popping sound bug" that Apple has acknowledged. I haven't noticed it, but apparently they are releasing a fix any minute now (or so I've read).
BATTERY
This laptop has a massive 100 watt-hour battery. It is rated 11 hours for regular tasks (ie not running massive Photoshop chores). After installing all my apps, I have been mostly just writing and surfing the internet. It's been about 4 hours. I have about 70% of my battery left, so this is probably accurate.
COOLING
The cooling system is supposed to be robust. That may be the case, but I find the fans are running on high speed often enough to be noticeable. A lot. Like a lot a lot. More than even my 8-year-old MacBook running modern applications! This is a bit surprising. Is the processor really stressed this bad all the time? I mean, sure, some intensive operations in Photoshop I get... but typing an email? I think that all of my files have been indexed by Spotlight, so I'm not getting what's happening. Hopefully it's just some other background process from setup that will eventually calm down.
SETUP
Setup is as easy as it gets. Seriously, if there's one thing that Apple never stops improving on, it's setting up a new Mac. iCloud settings are finally working like they should. Accounts transfer over effortlessly. Settings are all migrated. With the exception of waiting for my apps to download, Dropbox to sync, and email to load into Mail, I was up and running very quickly. So nice. Except... email account settings in Apple Mail don't transfer over the Advanced Server Settings so you can establish a root folder. You have to adjust it yourself. Why? If everything else transfers over, why not this one simple setting? Regardless, I sure wish 3rd party apps would utilize syncing. It's frustrating to have to import my spam database corpus for SpamSieve manually... load my MarsEdit settings manually... etc... etc... etc...
And that's that.
So far, anyway.
Without the noticeable downgrade of the keypad and the trackpad (and, to a lesser extend the upgrade of the display and the sound), this is essentially a repeat of my existing 8-year-old MacBook Pro. And that's the point. That's exactly what I wanted.
How often can you say that now-a-days?
Posted on November 13th, 2019

I have been enjoying Disney+ far more than I thought I would. So many movies from my childhood are just a click away and it's been great. That Darn Cat, Flight of the Navigator, Blackbeard's Ghost, The Cat From Outer Space, and of course the Herbie the Love Bug movies. It's amazing how good these movies were. That Darn Cat is shockingly smart, funny, and entertaining. They just don't make films like this any more.
In other good news... Apple has finally gotten off their asses, listened to the many complaints of their customers, and released a MacBook without their shitty, shitty, SHITTY "butterfly" keyboards. I haven't tried one yet, but the early reports are good.
I sure as hell hope so.
Because, at this point, I don't give a crap about anything but the keyboard. Well... maybe the display. But Apple has always had the most beautiful displays, so whatever. Everything else? Whatever. I don't care how it sounds, or how fast it's gotten, or if it has a stupid "TouchBar," or if it has "Touch ID." ALL I WANT TO DO IS BE ABLE TO WORK AND TO BE ABLE TO WORK I NEED TO BE ABLE TO FUCKING TYPE!
My current laptop is nearly eight years old and I've used it to death. It's constantly in use every day of the week. It has died and been repaired three times. The fan is starting to go and I can't find replacement parts for it. And yet I've kept hanging onto it because of Apple's shitty "butterfly" keyboards are impossible for me to type on. It's plenty fast and capable and I'd gladly keep using it if it weren't constantly dying.
Hopefully now, at long last, I have another option.
Enter the new 16-inch MacBook Pro...
The specs are impressive, as you'd expect.
Since the reviews of the keyboard are so good, I'll definitely take a look. And probably end up ordering one.
Hopefully my current laptop will hang on long enough for it to arrive. As I've been typing this, my fan has been howling again.
Posted on March 20th, 2019

My 7-year-old MacBook Pro is still perfect for my needs. No, it doesn't run as fast as it should considering my crazy workload, but it seems silly to replace it just so I can get things done a little faster. Besides, new MacBook Pros don't have Thunderbolt ports, "regular" USB ports, an HDMI port, or an SD card slot. You know, all those things that "professionals" need in their "pro" laptops to get shit done. New Apple laptops also don't have MagSafe power adapters, which is about as idiotic as it gets considering Apple beat us over the head with what an amazing innovation it was and how it keeps your laptop from being damaged...
Seriously, who the hell is deciding this crap? Tim Cook? Jonathan Ivy? It's as if they think that professional-grade laptops are just big phones with a physical keyboard that should look pretty. Instead of an essential tool that, by its nature, has to be mobile, powerful, and flexible so that it can adapt to work in numerous situation. Like, I dunno, BEING ABLE TO PLUG INTO A PRINTER OR A SCANNER THAT'S MORE THAN TWO YEARS OLD WITHOUT A DAMN ADAPTER!
If I didn't have everything invested in the Apple ecosystem, I would seriously tell them to go fuck themselves and buy a laptop which has the features a professional actually needs to do their job. It's not like MacOS X is vastly superior to Windows any more, so who cares? But, alas...
All that being said, you can understand why it chaps my ass that my old MacBook Pro is failing.
Used to be it would randomly reboot sometimes when I run a demanding app like Photoshop.
In the last couple of months, it's just randomly reboots because it feels like it.
I thought that replacing the hard drive would fix it (hey, it worked for my iMac), but that's not been the case. I think it may actually have something to do with the video memory being bad. Not entirely unexpected for a laptop that's 7-years-old and is worked to death daily, but given that I'm going to have to replace it with a pricey new MacBook Pro that has less features than what I have now (and will likely be of lesser quality*)... I'm more than a little upset.
One more thing to be mad about, I guess.
I just hope that I can get used to the new model and not be plagued with buyer's remorse.
And speaking of buyer's remorse... I read an article on CNN Business this morning: $1.3 trillion and 7,000 finance jobs are leaving Britain because of Brexit. That sounds like a lot. But look at that headline again. Those numbers only cover finance jobs and banking assets. The final tally will be vastly... vastly... higher once all jobs and all industries are considered.
When the measure to leave the E.U. was initially proposed, I thought that there was no way British citizens would ever agree to it. The benefits of staying in far outweighed the negatives. But lying liars duped the populace into voting for something that ended up fucking them over**, and now the consequences will be had. I have no idea what post-Brexit Britain will look like, but it doesn't seem like it's going to be pretty. I sure hope they can recover sooner rather than later, regardless of what ends up happening.
If only everybody would have known what was in store with their "LEAVE" vote. Maybe if they had just watched a video like this one before voting (and, yes, I know the video would have to fall through a time vortex)...
Oh well.
Time waits for no man. Or country. So the world will keep spinning regardless.
---
*Case in point... here's a guy who bought a FIVE THOUSAND DOLLAR iMAC which was broken by an APPLE-BRANDED $80 VESA mount, for which he received abysmal support...
Used to be that Apple provided quality for the money. But anymore? Apple crap is just as shitty as everybody else's crap.
**Sound familiar, my fellow Americans?
Posted on November 5th, 2018

I have work in Spokane early tomorrow morning, so I'm heading across the basin today rather than have to leave at some ungodly hour tomorrow. I really, really don't want to be away from Jake while he's sick, even for just one night, but duty calls (disappointing though that may be).
This was far from the only disappointment today.
Things went off the rails early this morning because my cats are not thrilled about Daylight Saving Time ending. As in seriously not thrilled. They were anxious at 6:00am (their 7:00am feeding time, as far as they know). Concerned at 6:10am. Upset at 6:20am. And absolutely livid by the time I went to feed them at 6:30 (I am slowly adjusting them to the hour time difference, whatever good that does). Jenny was pacing the room and meowing her head off. Jake was pawing at my face while squawking. It's exactly how you want to start a Monday.
And then...
I pulled their "Feed-and-Go" automated internet feeders out of storage so I could get them set up and filled. Except... I couldn't get them set up. The company that makes them went out of business last month. Bad enough that they had to close and shut down their cloud servers, rendering their $200 feeders useless. But it's reprehensible that they didn't bother to notify their customers... or keep their website up with a message to warn their customers... or push out an app update which warns their customers. Because otherwise there is NO WAY TO KNOW that the cloud service has been shuttered. The blue network light on the units still glows blue! Luckily I test the units every time I haul them out, otherwise my cats wouldn't have been fed. And had I been gone longer? They wouldn't have been fed FOR THREE DAYS. With the Feed-and-Go website down, I had to find out the news via a cached Google search...
Feed and Go is sad to say, it's closed it's doors.
We're extremely sad and sorry to say that Feed and Go has closed its doors. We had an amazing time helping thousands of pets eat healthier and on schedule. The time has unfortunately come to close the operation of our web app, and mobile app services. This will mean that unfortunately your Feed and Go's will no longer work as an automated feeder, and will not connect to our servers. We want to take this opportunity to thank you for being a part of our mission and wish you and your pet many happy moments ahead.
What a bunch of pig-fucking monsters. They are perfectly content to LET YOUR PET STARVE rather than contact you so you know that their product no longer works. I can only hope that whomever responsible will be roasting in hell soon. I also hope that some genius electronics expert out there will come up with a circuit board replacement that will allow the feeder to be programmed directly, instead of relying on a cloud service that's not there any more.
I had a couple other automated feeders from back when I was feeding Spanky, but they needed D batteries and I didn't have time to go get some. So instead I filled bowls with way too much food so Jake and Jenny can graze 'til their hearts' content. And hopefully not over-eat and puke everywhere.
And then...
I noticed that the motor on the drinking fountain had burned out. It's less that a year old. Guess I'm putting out a bowl of water next to the heaping bowls of food...
And then...
Since I was coming to Spokane, I decided to get the passenger airbag replaced in my car. Toyota has been sending dozens of notices telling me that there was a recall, but I would rather die than go to the asshole who owns the local Toyota dealership. Since Spokane was where it was purchased, it made sense to go there.
After dropping off the car, I decided to get a falafel wrap at The Pita Pit. Only to find that they had gone out of business, just like Feed-and-Go...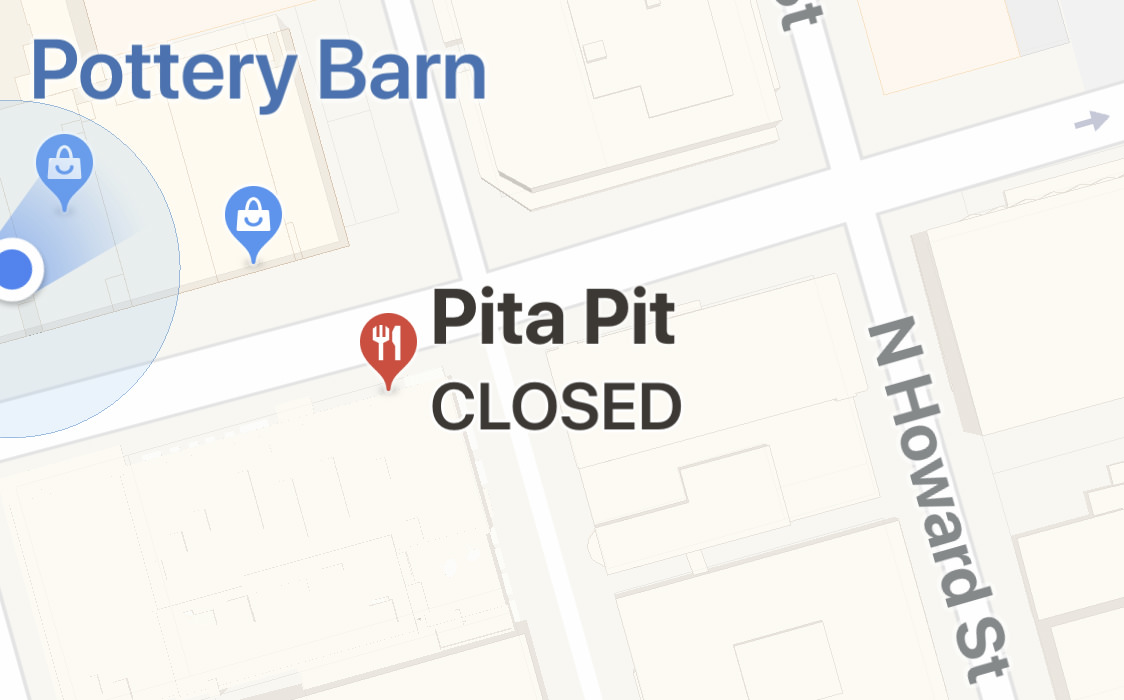 No problem, I walked a couple blocks to a cafe with good sandwiches... only to find out they closed at 10:00 this morning for "maintenance."
And then...
Rather than wander around aimlessly, I decided to just go to Red Robin. They no longer have Boca Burgers (inexplicably replacing them with a veggie burger that's so gag-inducing awful I'd rather eat meat). I ended up eating their guacamole, salsa and chips, which wouldn't have been bad except the chips were stale. For dessert I wanted some of their cinnamon sugar mini donuts with caramel sauce. Except they came plain with no cinnamon sugar and instead of caramel, I got raspberry sauce. As if that wasn't enough, the donuts were overcooked.
And then...
The Apple iPhone Upgrade Program I've got allows me to replace my iPhone with the newest model every year. Since my replace-date is coming up, I thought I would drop by the Apple Store and take a look. I also wanted to look at the newest MacBook Pro models, as I'm sure I'll have to be replacing my 2012 model sometime soon. When I asked the Apple sales guy if there was a MacBook Pro that had an SD card slot and a USB and Thunderbolt port... you know, LIKE ACTUAL FUCKING PRO MACHINES WOULD HAVE... I was told no. "Everything has moved to USB-C, because that's the new industry standard." Alrighty then. We're back to Apple being clueless fucking assholes as to knowing what professionals need, but whatevs. So I moved on to the iPhone XS. I thought to ask if the charging cable that came with it had USB-C so I could charge it from the new MacBook Pro. The sales guy told me "No, it comes with the older USB-A and I would have to buy a $20 dongle." And so... I guess USB-C is not quite the "industry standard" I was just told it was since Apple itself isn't using it on their most popular product (by far).
Which begs the question... "Does Tim Cook, Jonathan Ivy, or absolutely anybody at all at Apple know what the fuck they are doing?" Because it honestly doesn't seem that way.
In the past their products were overpriced, but at least I knew I'd be getting something that provided value for the money and would be cutting edge when it came to features. But now? That's not even close to being the truth. Less features with less power and with less flexibility... all while being grotesquely overpriced. It's as if Apple has been working overtime to become the cliché they've always been painted as.
And then...
As I was leaving The Apple Store, I was very nearly run down by a group of amish(?!?) women on motorized scooters. They were driving on a busy sidewalk way too fast and seemed as if they were barely in control of the things. At least I think they were amish because they had those little hair covers on their heads and were wearing dresses. But I thought the amish didn't use technology... and since you have to have a mobile phone app to rent the things, maybe they weren't amish after all?
In any event, these stupid fucking scooters are littering the sidewalks everywhere downtown, so apparently the latest episode of South Park isn't just hype...
At the very least, they should be illegal to drive on the sidewalk. Given how fast they travel, somebody could get seriously hurt. And if somebody ever runs into me with one of them, I'm going to pick up the scooter and beat them to death with it.
And then...
After walking eight blocks in surprisingly cold weather, I picked up my car and headed to my hotel. They asked if I had a room preference, so I told them top floor and as far away from the elevator as possible so it would be less noisy and I could get some sleep. They put me on the top floor... but right across from the elevator. And next to a room with a woman coughing her head off. Which makes me even more thrilled that I wasn't able to stay home tonight.
And then...
If there's a bright side to having to drive three hours to Spokane, it's that some of my favorite pizza on earth is here... David's Pizza. Their DaVinci pizza (with tomato, pesto, and feta) is seriously delicious...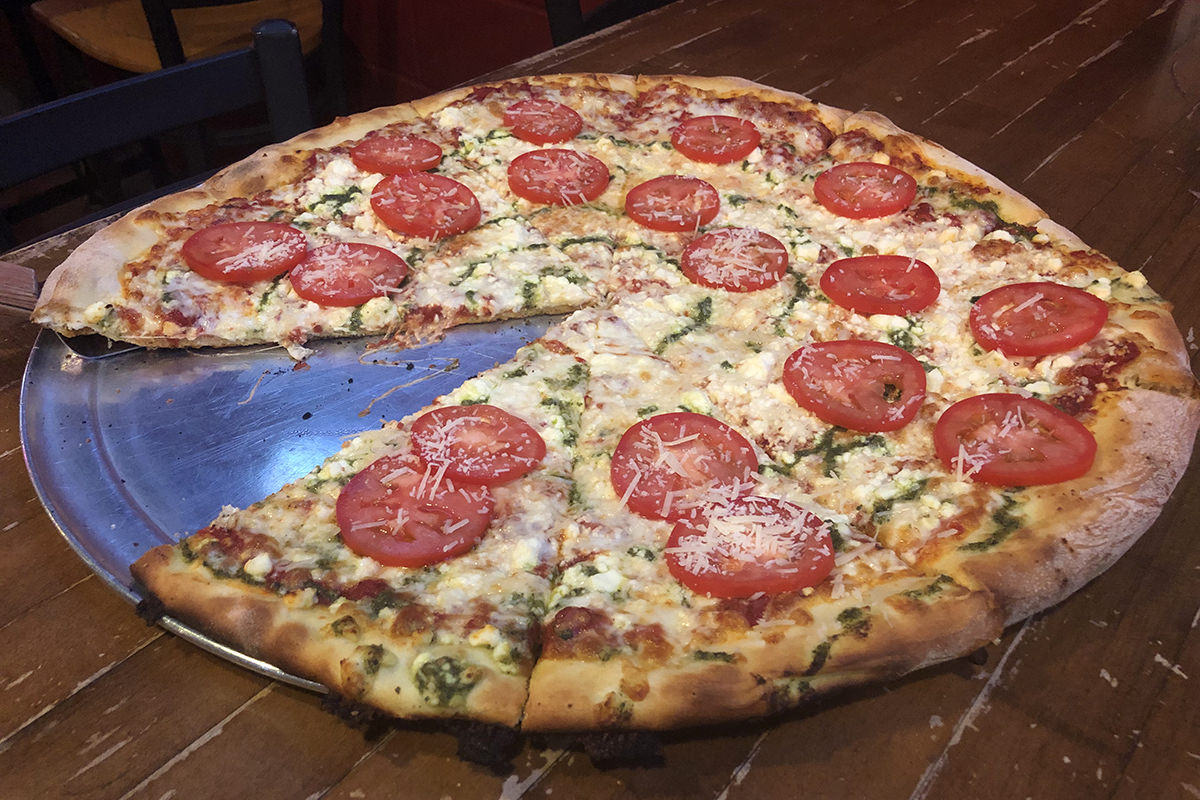 Unfortunately I had the grave misfortune to arrive on "Let Your Screaming Kids Run Apeshit Through The Restaurant Night." A whole team of the little fuckers were running around screaming and screaming and screaming and screaming... while the parents were in some kind of group meeting in the next room not giving a fuck that people were trying to eat in peace. By the time I left I had such a splitting headache that any enjoyment I got from my pizza was destroyed.
And then...
I decided to end this entry at 8:00pm tonight because I'm worried that continuing on any longer is just inviting more disappointment. Hopefully work will go smoothly so I can head home as soon as possible in the morning and be done with all this nonsense.
Until the next time, of course.
UPDATE: There it is! MobiLinc (the internet connect platform I use to control a good chunk of my home automation, has gone down...
It's been up and running 24/7 perfectly for months... so of course it goes down when I'm away from home and really need it. No idea what's wrong, as the cameras, alarms, and all the non-MobiLic devices are connected to the internet just fine. Perhaps it's time for me to go to bed and turn off the world.
Posted on April 3rd, 2017

My Blogography posting has been erratic this past week because my laptop had to be sent in for repairs. After five years, my MacBook Pro's keyboard would randomly refuse to type R, T, Y, U, I, and O. Eventually it went from "randomly" to "constantly," so... game over.
Rather than do a backup and restore, I decided to wipe the drive and start over from scratch. This is an easy thing to do since all my data and files are stored online (mostly on DropBox and iCloud). All I have to do is reinstall the apps I'm actually going to use and my data will magically transfer back to my local drive from The Cloud. The end.
Ain't technology grand?
Posted on March 23rd, 2017

After I got to Vegas this past Sunday, my MacBook Pro with Retina Display (mid-2012 model) had the keyboard crap out. But only for the Y, U, I, and O keys.
It seemed an odd problem, so I started Google Researching It (or "Gggle Researchng" if you're typing on my keyboard) only to find that this is not a unique problem. In fact, there's an article entitled MacBook Pro Keys Suddenly Stopped Working (Y, U, I and O) which would seem to indicate that this is a serious and highly specific problem. Unfortunately, the "fix" that was given didn't work for me. Nor did any of the other fixes (which included continuously mashing the non-functioning keys down together). The keys might come back for a few minutes but, overall, they were dead as dead.
Now, granted, the laptop is five years old and used every single day... but, still, this kind of hardware flaw is a shitty way to kill off an otherwise perfectly good machine.
Which, despite being five years old, is still on-spec with Apple's current offering.
I'm not joking. My five-year-old laptop has a 2.7GHz quad-core Intel Core i7 chip with a 512GB solid-state drive. Here's Apple's specs for their BRAND NEW high-end laptop, released just days ago...

What a fucking joke.
Half the professional designers I know have moved on to Windows machines... specifically, the Microsoft Surface Pro... and I have to wonder if I'll be next. It's not like Apple gives a shit about their pro users anymore. They haven't released actual pro-level equipment for several years. The stuff they label as "pro" is, in fact, not.
Funny how the pro design market was Apple's to lose.
And they didn't just lose it... they actively gave it away.