And so I did something I swore I wasn't going to do... go into debt again.
The only reason I can afford the latest model iPhone is because of Apple's "iPhone Upgrade Program" which charges you a monthly fee and allows you to trade in your phone for a new model every year. To buy the thing outright when it costs over $1000 is money I don't have. Essentially it's leasing with an option to own, and I'm perfectly fine with that.
Alas, there's no such "upgrade program" for my MacBook Pro, which costs over three times what an iPhone does.
Which means I have to put money aside whenever I can and save for a new model, which takes three to five years. And this is fine. MacBooks now-a-days are plenty powerful enough to go that long, so I just accept that this is my only option and move on with life.
But Apple did something financially smart (for them) and financially not-smart (for me). Right after you read all about the new MacBook Pro laptops, they have this...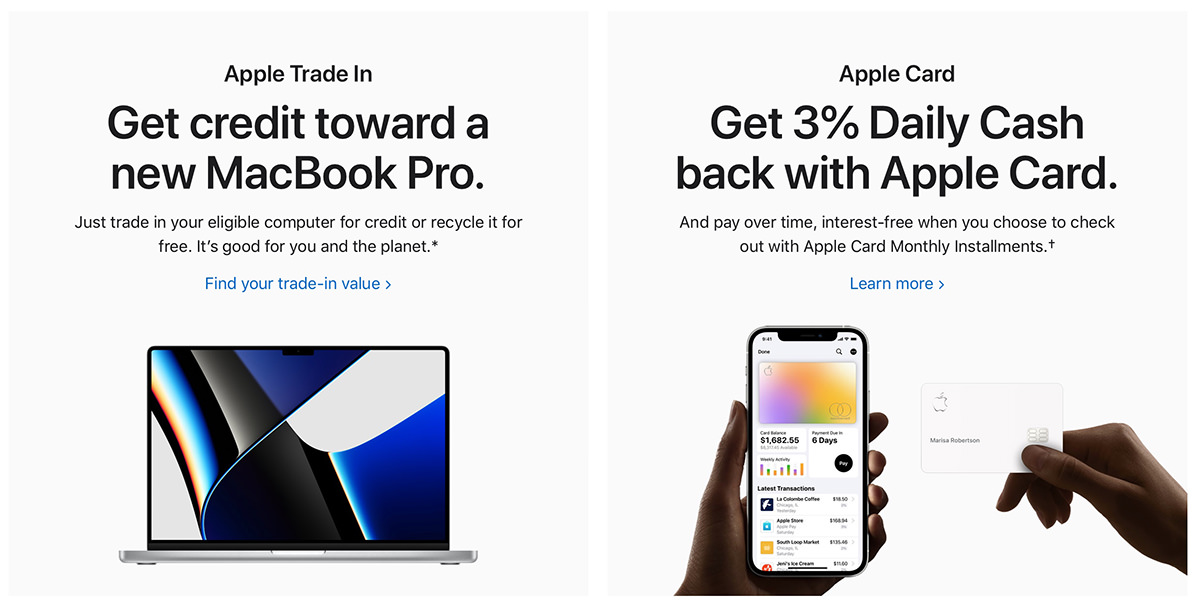 Now, I naturally assumed that my two-year-old MacBook Pro with an antiquated Intel chip would be worth almost nothing... $500 if I were lucky. So I didn't even bother to check. But I did want to take a look at my Apple Card to find out if I got my 3% cash back when I bought my new M1 iMac. Turns out I did. But then I noticed something that I hadn't anticipated. A surprise of the best possible kind... My Apple Cash card is the last card in my Apple Wallet, so I never see it. And it turns out I had Real Money sitting on it... $1312.48
Without realizing it, I had already saved up over 1/3 the amount needed to buy a new MacBook Pro.
So now I was very interested in how much money Apple would give me for my old Intel Apple MacBook Pro. Another surprise of the best possible kind... Apple would give me $1,210.00 for it. Far, far more than I was expecting.
And so here I am sitting on $2,522.48 that I didn't even realize.
So now it was time to crunch the numbers.
My dream MacBook Pro (M1 MAX with 64GB memory and 1TB storage) costs $3,899.00 plus tax plus $400 for three years of AppleCare coverage. $4,299. HA! Yeah, coming up with the additional $1,776.52 needed might as well have been $20,000. But what if I drop down to 32GB of memory, saving $400? That's double what I have now. Doing that means I'm at $1,376.52 needed. That's still a massive heap of cash. But how much for a monthly payment? After trade-in, it's $224 a month (including tax and AppleCare)... but 3% Apple Card cash-back brings it down to $217 a month. Which is to say that my $1,312.48 in Apple Cash covers six months of payments, during with time I can scrape together four more payments. That's ten out of the twelve payments covered. Factoring in my tax refund money for the final two payments... annnnnd... DONE!
I use my MacBook Pro for work whenever I'm home. Several hours a day every day. And if I ever start traveling again, I use it constantly. The benefits of going into debt to get a newer model outweighed my desire to not be saddled with debt...
The far better M1 chip will allow me to work faster, doing more work in the same amount of time.
Annoying problems... like trying to find an SD card dongle to load photos I take for work... are eliminated since there's an SD card slot built-in.
That stupid fucking TouchBar, which I hate to use because I have to stop everything I'm doing and angle my MacBook towards me so I can see what I'm press on the damn thing, is finally gone... replaced with REAL KEYS I can actually memorize.
Also? The thing will take a month to ship, which means another month to save money for the payments, which means those four payments at the end will be less of a burden. I may not end up eating nothing but peanut butter sandwiches and ramen noodles after all!
Worth it.
If, for no other reason, to get rid of that stupid fucking productivity-killing TouchBar.
I'd eat peanut butter sandwiches and ramen noodles for a year just to get rid of that idiotic shit.
And so... here I am. Looking to see if there's a sale on peanut butter and bread. If there is, then maybe I can start saving for those payments early!