Posted on September 3rd, 2021

A while back I introduced everybody to Lemon, my yellow iMac.
Except the yellow that was advertised on Apple's website was absolutely not the yellow I got. What I got was a gold iMac. It's colored shades of gold and urine-stained aluminum. At first I was just going to live with it... despite being more than a little upset that I spent $200 extra just to get yellow in the first place. But... it's not yellow...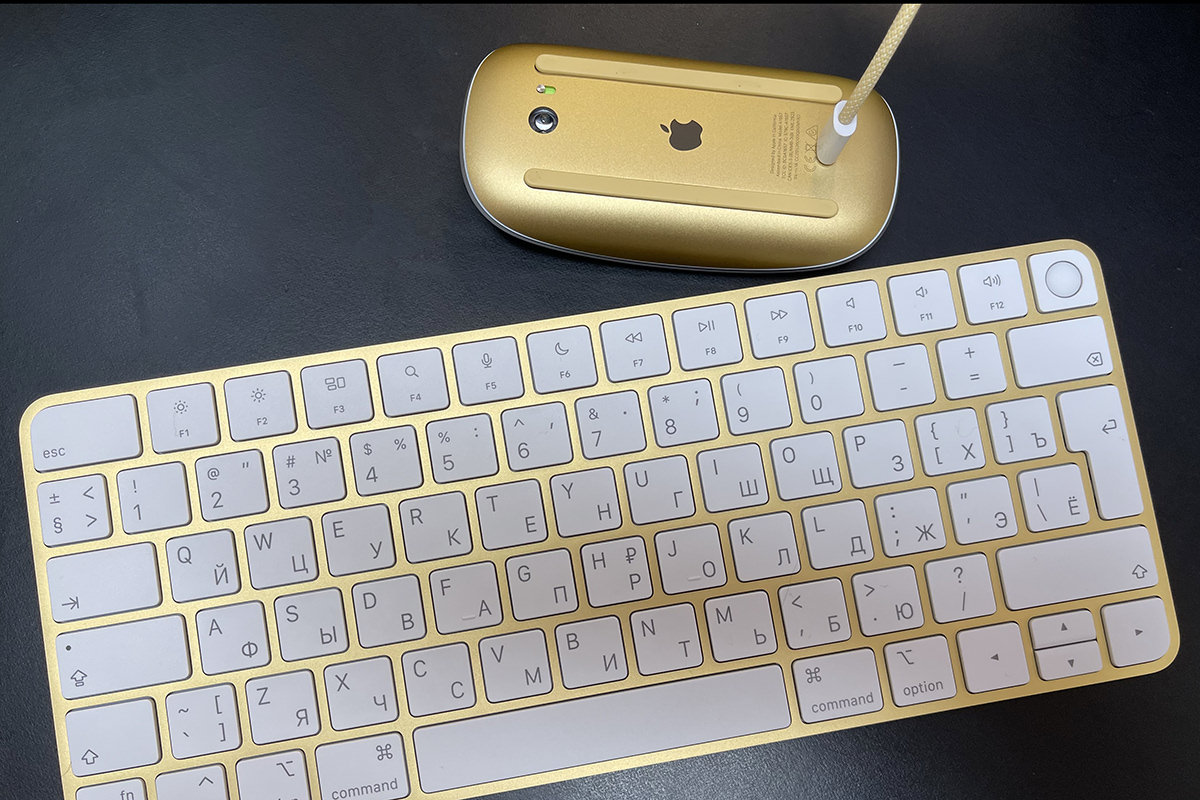 Heck, even the sticker that comes with the thing is very clearly GOLD...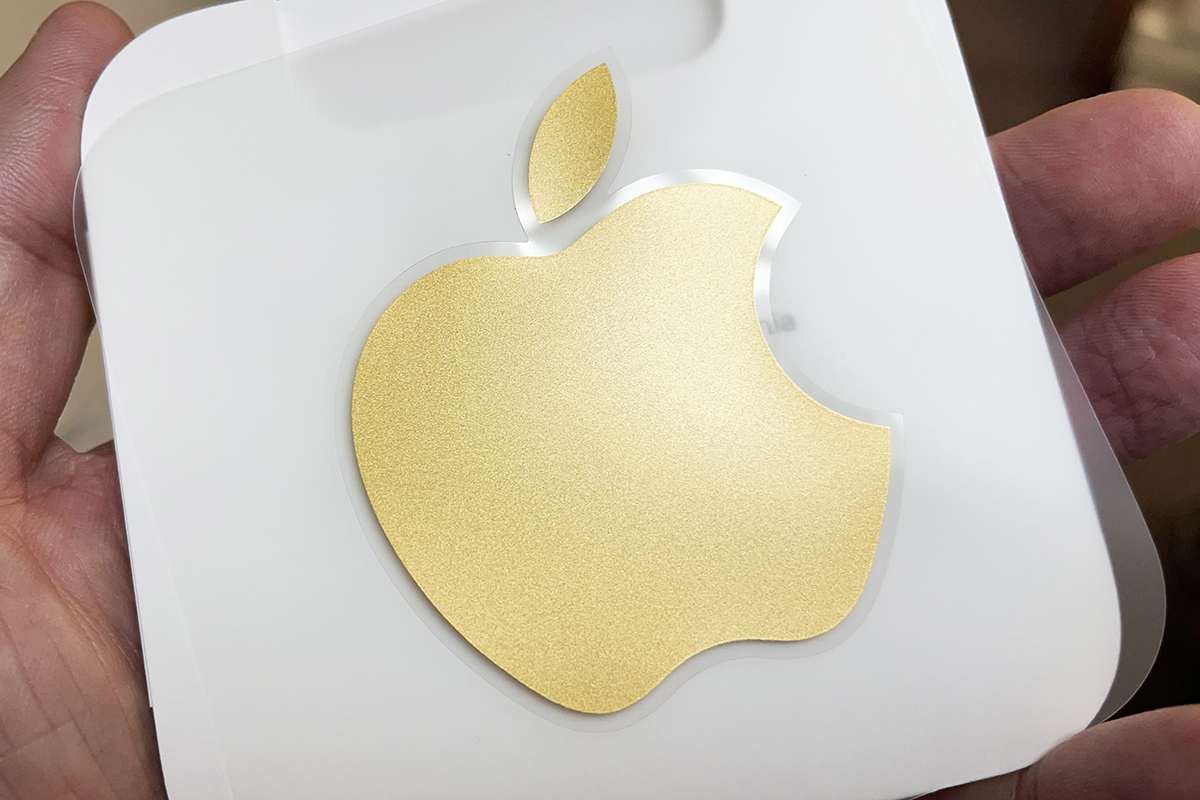 But then...
With each passing day that I sat down at my computer, all I could think about was another tacky gold and urine-stained architectural abomination...
And I wasn't the only one who noticed it. Many people reviewing the "yellow" iMac commented that it was actually gold...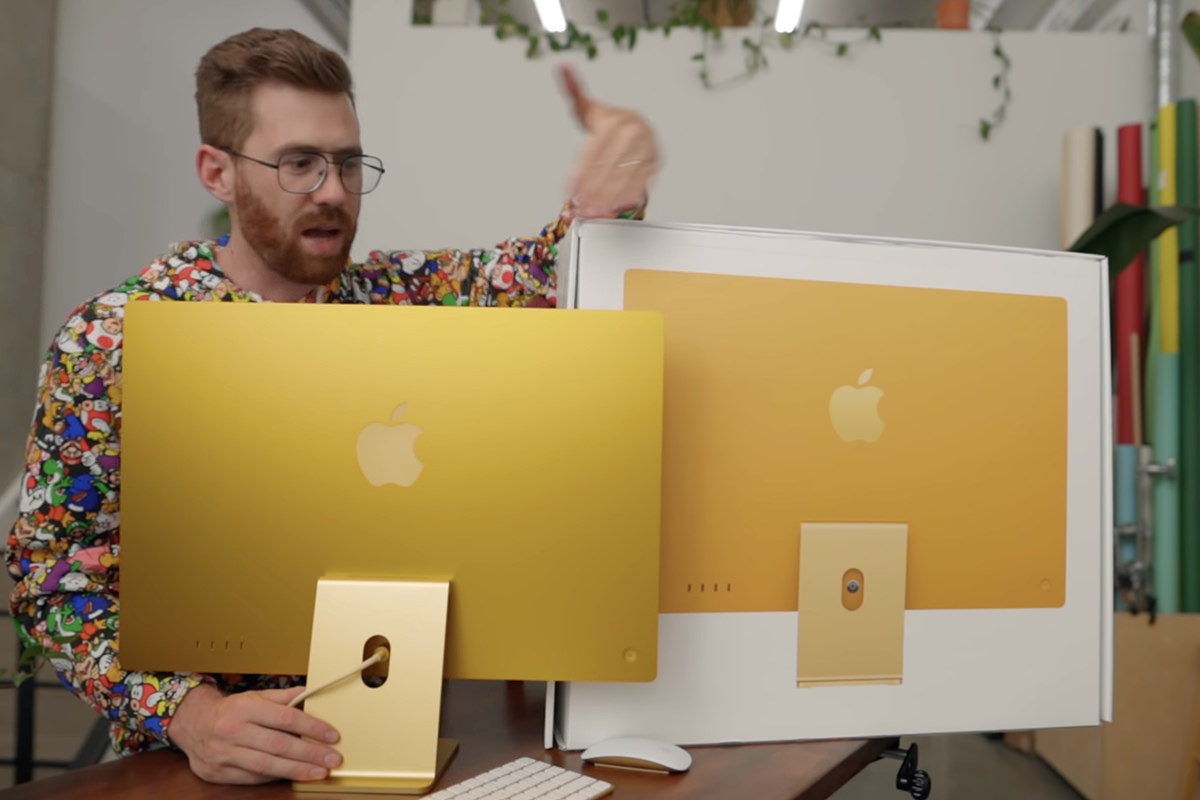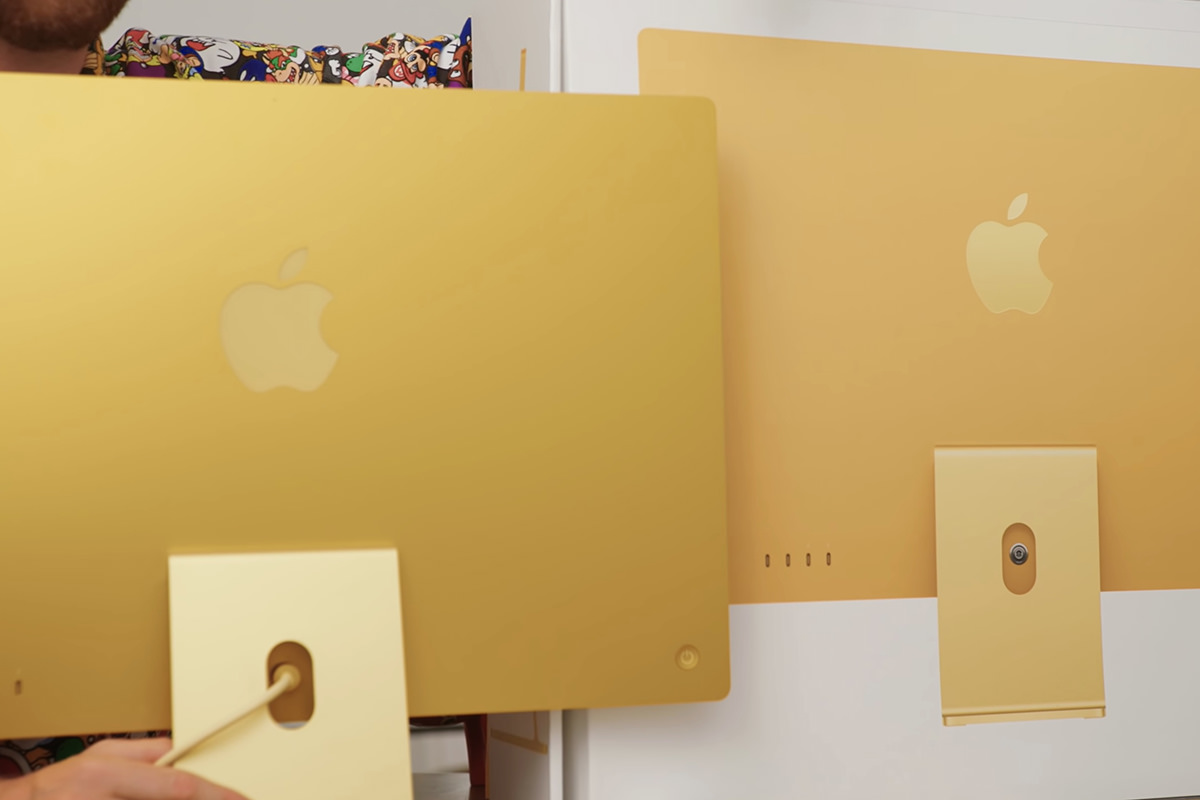 Taken from Tyler Stalman's unboxing and review.
Now, some people may love the gold, and more power to them. But since I don't live in the Trump Tower penthouse, I called Apple to voice my dissatisfaction.
Their solution? "Oh. We'll just exchange it for a different color. What color do you want?"
Apparently when Apple says "Free Shipping & Free Returns," they actually mean it. So... good on them, I guess. But just think how all of this could have been avoided if Apple would use actual photos on their website instead of Photoshopped color-adjusted photos. Because, seriously, the only way I could replicate Apple's "yellow" image is via Photoshop.
This is really dishonest on Apple's part, in my humble opinion.
At least they made it right at no charge to me though.
But anyway...
I replaced Lemon with the same iMac, but in blue. The only difference was that this time I got a matching blue Magic Keyboard with TouchID in American English and ordered an add-on Magic Keyboard in Russian. This way I can have an easier time typing in English... which I do 98% of the time... and just grab the silver Russian keyboard when I need to type in Cyrillic. The upshot being that Apple ended up making an additional $100 of me in the exchange because of it.
The blue iMac is closer to what you see on Apple's website. The lighter blue on the iMac stand (along with the mouse and the keyboard) is a nice steel-blue metallic aluminum color... the back is a gorgeous deep blue color. And the "chin" on the front is not a bright baby blue as I was fearing. It's more of a flat sky blue that has a little grey in it so things don't look ridiculous. So, all in all, it's a far better fit for me than the heinous gold thing was...

They must have been out of blue mouse charging cables, because mine is for the silver iMac... but it looks fine.
My guess is that some crafty companies will make cling-skins for the "chin" which you can pop on in a variety of designs. I will likely be cashing in on one of those if I can find a design I like. I'd be happy with just plain dark blue to match the back, to be honest.
Setup was a piece of cake because I just used a Time Machine backup to copy everything over from the gold iMac. Once I rebooted it, everything was just as I left it. All that was left to do was wipe the old iMac's hard rive, put it back in the box, then call FedEx.
And there you have it. My all-new NEW iMac.
I am still calling him "Lemon" though, even though he is blue. I'm too attached to the name after using it for the past couple weeks to want to change it.
Posted on November 17th, 2020

My biggest iPhone disappointment was the iPhone 6. I bought it direct from AT&T in September of 2014. It was a terrific phone at the start. It had the first "Retina" display and everything on it looked amazing. It was fast. It finally had the ability to shoot 1080p HD video. The photos on it were a clear step up from the iPhone 5 released two years prior. It was a good purchase that I was happy to have made.
But then... right around the time the iPhone 7 was released in September of 2016... everything started turning to shit.
All my apps were slow to launch, sluggish to use, and it didn't make any sense. Apple Support had me reset the phone and reinstall everything. Didn't work. Then sometime in mid-2017 the battery started malfunctioning. I'd charge it up and it wouldn't last me a day of light use. I was traveling somewhere... Salt Lake City maybe?... and made an appointment with the local Apple Store because I just couldn't take it anymore.
The Apple Genius looked at it or hooked it up to something or ran a diagnostic app or whatever. They told me that it was operating normally for its age and maybe I should upgrade if it was a problem. Or I could pay out-of-pocket for the battery to be replaced (my AppleCare had expired).
I absolutely didn't want to buy a new phone since Apple was most certainly releasing a new model in a few months. But because I needed a reliable phone for my work travel, I bought an iPhone 7 off of eBay for cheap, and used that until the iPhone X was unleashed a few months later in November of 2017.
Like I said, it didn't make sense At. The. Time.
But now we know that Apple was intentionally slowing phones down in order to extend battery life. Which would have been fine if I knew what was happening and had a choice to turn this "feature" off and on. But I wasn't told, I didn't have a choice, and Apple's "solution" was to buy a new phone.
That's "Batterygate" in a nutshell.
Today I found out that there was a class-action lawsuit where Apple agreed to pay out million of dollars in compensation to people like me who got burned by "Batterygate." But here's the problem... I never knew about the lawsuit. Never received any communication from Apple about it. Never had a chance to participate before the October 6, 2020 deadline.
And I am pissed.
Even if I were to only get a $25 gift card settlement or some other silly amount that in no way approached the money I had to pay for my second-hand iPhone 7, at least I would get something.
I know that only the lawyers end up getting rich off of these lawsuits and I likely wouldn't get much of anything, but you'd think that since Apple and AT&T had a record of my purchase they would be obligated to contact me.
Oh well. Even more money for the lawyers, I guess.
Posted on September 13th, 2020

The world may be on fire, but don't let that dissuade you from pulling out the marshmallows... because an all new Bullet Sunday starts... now...

• Transplant! I've written a couple times about my favorite show of 2020, the Canadian medical drama Transplant. It's just fantastic television and deserves a look. If you're heere in the US, NBC is airing it on Tuesdays and on their Peacock streaming service. Today I found out that Apple iTunes Store is offering a Season Pass for all 13 episodes for $25. It didn't take me even one second to purchase it, even though I already have Canadian recordings of all the episodes. I support shows I like by purchasing them whenever I possibly can. This was a no-brainer.

• Farmer! In an age where laughs are getting harder to find, this was exactly what I needed...
Almost makes me want to get on TikTok to keep up with him.

• HEADLINE! Face masks could be giving people Covid-19 immunity, researchers suggest. Not that anything wil ever dissuade the dumb-fuck anti-mask brigade, but any news is good news, right?

• Float! Apple sure does know how to create amazing retail spaces. Every store I've visited around the world... even the most basic... is incredible. My favorites are those which take classic old buildings and turns them into jaw-dropping shops. But there's something to be said for their mind-blowing original creations...
Apple Stores are practically destination-worthy. If we were in different times, I'd take a diversion to Singapore to see this marvel.

• New New Order! One of my all-time favorite bands has released new music!
It's different. But as a huge fan of dream-pop, this half-step in that direction is not something I hate. I actually rather like it, even though it's not what I was expecting.

• Lunch! Yesterday I was going to get up at 7am, get some bread started, clean the kitchen, put another coat of paint on the cabinets, then cook up a vegetable bake with dumplings for lunch. But then I took one look out my window as smoke was pouring into the valley and decided I'd sleep until noon. This was lunch...
Now-a-days, you do what you can do and try not to feel like a failure for not doing what you feel you should be doing. Just getting up in the morning to feed my cats was doing good during a pandemic. But while the world is on fire during a pandemic? Vodka Coke and frozen veggie corn dogs is a frickin' miracle.

And now... once more into the breach.
Posted on March 10th, 2015

Few things can sum up Apple better than going to their website so you can watch the March 2015 Special Event Keynote and having to click on a link which says "Experience the keynote." You may watch a keynote with "lesser" companies... but with Apple, you experience a keynote.
The reason this sums up Apple so perfectly is that, in the end, it IS just a keynote... but Apple brands it as some kind of life-changing "experience" so they can inflate the hype around it. Which is exactly the direction they seem to be going with their products, so at least they're consistent.
So, yeah... on with this keynote thingy...

RETAIL
The show opened with a look at the absolutely stunning flagship Apple Store in West Lake, China...
I mean, holy crap... like so many Apple Stores I've visited, you don't need any hype... this jaw-dropping, magnificent, astounding architectural achievement IS something to be experienced. I hate shopping, but I'll go out of my way to visit an Apple Store... especially one that looks like this. ZOMG! THAT SECOND FLOOR IS DEFYING GRAVITY!
I had to laugh when Tim Cook said "This is the way we like to see our stores" while a photo of it completely packed with people pops up behind him. Apple stores are always packed. At least when you compare them to the shop that Microsoft has undoubtedly plopped down across the aisle at the mall, which is undoubtedly mostly empty.
No doubt, Apple's retail presence is impressive. And so very, very smart. People wander in to see what all the buzz is about... have a killer retail experience... get sucked into the Apple Reality Distortion Field... and end up leaving with an armload of Apple products. I still marvel at all the doomsayers that predicted Apple would fall flat on their face. "If Dell can't do it with their numbers, what chance does Apple have?"
A pretty good one, as it turns out. Apple used retail to build their brand and their customer base (120 million visitors last quarter!). And where is Dell? I rarely hear anything about them any more.

APPLE TV
AppleTV is a product I actually like quite well. That being said, it is feeling a bit antiquated compared to the competition. I'm sure Apple is working on that but, in the meanwhile, Apple is lowering the price of the product to $69. Which may sound like a bargain... but you just know it's a precursor to releasing a better/faster/stronger product come the holidays.
The HBO Now announcement was long overdue. Having access to all of their award-winning content whenever you want it pretty special... I just don't know that it's $14.99 special compared to what you get from Netflix. I'll probably subscribe off and on as shows I want to watch arrive... but I can't see paying for it every month.

iPHONE
Never one to pass up an opportunity to plug the money-shot, Tim ran through some impressive numbers, confirming the massive success of iPhone 6 that everybody already suspected. Other than the larger size, which I still struggle with, I'm pretty happy with mine. Apple Pay is frickin' amazing, when you can use it. The camera is mind-boggling for a phone, and I prefer it over the "superior" cameras in their competitor's offering because they just look so much better... but there's still a lot of room for improvement.

CARPLAY/HOMEKIT/HEALTHKIT
All of this is pretty much "meh" until real-world applications I give a crap about start appearing. I love the idea of HomeKit... it's the next step in home automation... but where is it? Where are all the home-kit compatible doohickeys that fulfill the promise of the technology? On it's way, I'm sure. But until I can actually buy it, it means nothing to me.

RESEARCHKIT
Using a device you carry with you every day to contribute to medical research seems like a no-brainer. And heeeeeeeere's Apple with HealthKit. If this truly helps with research, then more power to them. Otherwise, more meh. EXCEPT... if anybody needed proof that Apple is working overtime to find new ways to get integrated into your life, TA DAAAAA! Add this to the rumor of Apple developing a car, and you can see how there's nowhere they won't go to inject themselves into every aspect of everything you do.

THE NEW MACBOOK
It's remarkably small and light. It's stunningly beautiful. It's everything you could want in a travel laptop...
And here's Jony Ive gushing over its every feature as only Jony Ive can...
Now... before I get to the part where I say "ZOMFG! I WANT ONE SO BAD!"... a rant...
FUCK ME SIDEWAYS... YET ANOTHER CONNECTOR I HAVE TO INVEST IN?!?
First it was Firewire, which Apple abandoned after pushing the entire industry to adopt it.
Then it was Thunderbolt, which Apple was all excited about for about two minutes... before, apparently, abandoning it for USB-C... which is the only port on the new MacBook, combining power, display, and peripheral connectors in one tiny connector.
Which means I now have to buy an adapter for my Thunderbolt periphreals, even though I just got them? Dick move, Apple. Dick move.
But, yeah... I want one pretty bad. It takes everything I love about my 11-inch MacBook Air and ups the game exponentially.

APPLE WATCH
A nice idea, really. And Apple did it better than anyone who's tried before But, in the end, TOO THICK! TOO THICK! TOO THICK!
Seriously, it's too damn thick. If it were half as thick, I'd be placing my preorder right now. But having a giant dongle stacked on my arm? I just don't know. Some of the features are there... it's Dick Tracy come to life... but until I try one on, I'm just not convinced. Especially when the price of admission starts at $350.00
And yet... if somebody wants to buy me an Apple Watch Edition in gold, by all means, please drop the $10,000 to $17,000... and do so. I'd absolutely wear it from time to time!
When it comes to the Apple Watch features, I'm impressed/not impressed. Some of the interactivity with the iPhone looks truly helpful and worthwhile... the Apple Pay component is fantastic... but all the tactic crap? The "I'm sending you my heartbeat" and such? Who gives a shit? Being able to send a crappy, crude drawing? Might be fun the first two times you do it... but after that? Why?
Tim Cook made a good presentation for how Apple Watch will integrate into your life in meaningful ways... but is it enough? I'll let you know when I've tried one. Until then I remain skeptical yet optimistic to the possibilities.
And leaning towards the "Sport" edition in Space Gray with a Black Sport Band.
Or waiting for Apple Watch 2.0 which is a damn-sight thinner.
Heh.
Posted on March 18th, 2011

Because I'm traveling on a restricted ticket, I ended up with an extended layover in London. Not that I'm complaining... I love London, and visit every chance I get (which would be a lot more often if the US Dollar wasn't rubbish against the British Pound). It's just that it's tough to be here when I don't have any personal time to hang out with friends that live in the area.
Hopefully next time.
Thanks to a patient taxi driver and London's excellent public transportation system, yesterday I managed to get a big chunk of the city's "Featured Spots" stamps collected from Gowalla. Then today before dinner I finished off the two remaining spots I needed. Some of the fringe locations (such as Wembley Stadium and the Prime Meridian of the World), will have to wait for next time, but I got all the biggies from the city and surrounds (you can click on them to see what they are)...




















I maintain that Gowalla makes for an excellent travel guide when visiting larger cities, because the most popular tourist spots always seem to get "Featured" status. Out of the above stamps, I've been to these places multiple times. I admit it was kind of nice to be visiting them again not as a tourist, but as a collector! Thanks, Gowalla!
One place I haven't been to multiple times is the new Apple Store in Covent Gardens! It's the largest Apple Store on planet earth (at least until the New York Grand Central location is built). It's also incredibly beautiful, as Apple did an amazing job refurbishing the building. What I love most is how, from the outside, you can't really tell its an Apple Store at all...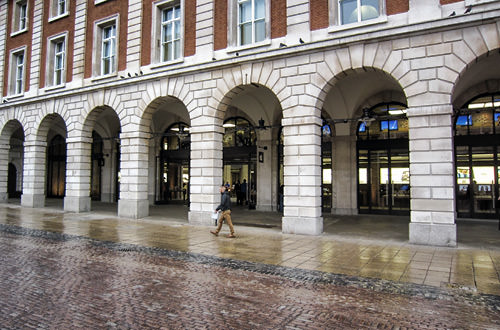 Somebody just bought a new iPod!
No giant sign or anything... not even a glowing Apple logo... just elegance and class through and through. They discourage picture-taking inside, but Apple's official site has some beautiful photos you can look at.
The exact opposite of elegance and class would be the massive outpouring of tacky souvenir crap that's been unleashed in "honor" of the upcoming royal wedding. The stuff is everywhere. Plates, cups, notepads, stickers, cards, books, pencils, platters, postcards... you name it. I would not have been at all surprised if you could buy hemorrhoid cream with Prince William and Kate Middleton printed on the tube...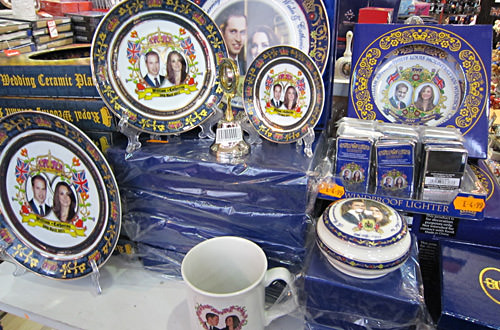 Something tells me this stuff doesn't have Her Majesty The Queen's approval.
I started out my day with the best breakfast in London at Pret...

It's heaven on a baguette!
The Egg & Roasted Tomatoes Baguette is so amazing that I ate a very light dinner last night so I'd be hungry enough to eat two. My biggest fear is that one day I'll come to London and they won't be making them anymore. For lunch I went back so I could have the Carrot & Humous Crunch Baguette. For dinner I went back yet again so I could have a Mozarella & Pesto Toastie. As usual, every single thing I've ever eaten at Pret has been delicious. And I love that they have so many vegetarian-friendly options. I keep hoping that Seattle will get a Pret, but in the USA it's just New York, DC, and Chicago for now.
Every trip to London I rave about how much I love the Johnston typeface which is used on all of the city's public transportation logos and signage. It's highly readable, yet somehow manages to be sublimely beautiful at the same time. Every time I see it, I fall in love all over again...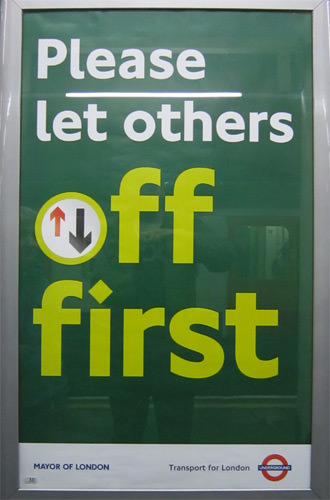 You can read more about ohnston at Wikipedia!
Hands-down my favorite sans-serif font of all time. If I ever redesign my blog, this is the typeface I'll be using.
The weather in London has been pretty much shit. It's been windy, cold, and rainy all day long. Seattle has a reputation for rain, but I've found London to be a much drearier place, weather-wise...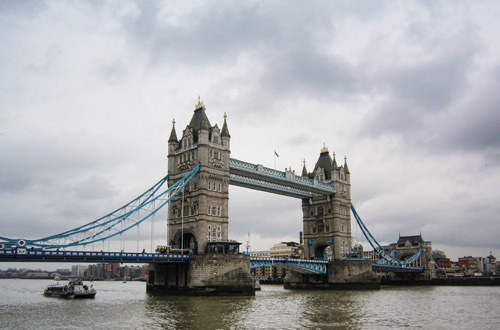 Still surprised when I hear tourists call this "London Bridge"... IT'S TOWER BRIDGE, YOU GITS!
The good thing about this is when the sun comes out in London, it's glorious (just like Seattle). I've had my share of beautiful London sunny days, so the weather hasn't bothered me too much.

Look Left. Look Right. Look Left. Look Right. Look Left!
And that's all she wrote from London. Tomorrow morning early, early, early I head back to the airport for my connecting flight. I'm hoping for better weather at my final destination. If I wanted cold, windy, and wet... I would have stayed at home.
Posted on July 17th, 2009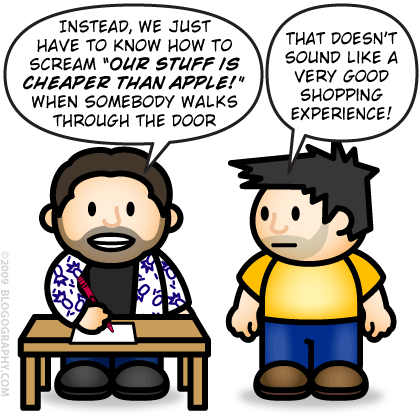 To see all of the Lil' Dave Mac vs. Lil' Wayne PC ads, click here!