Posted on November 13th, 2016

Hold on to your freedoms, fellow Americans, because an all new Bullet Sunday starts... now...
Here's my favorite reaction videos to the US Presidential Election. All of them were chosen carefully and each one is worth your valuable time to watch. But if you just want to go for the jugular, skip down to Jonathan Pie.

• Russell Brand. The title of this video is a bit misleading. This is actually quite insightful and more introspective than reactionary...
Indeed.

• Dave Chappell. God I've missed Chappelle...
I hope this truly is a comeback. We need his voice and his humor in the world... now more than ever.

• Samantha Bee. Still one of my favorite commentators on television...
Anybody who thinks a woman can't be funny... anybody who thinks a woman can't bring it... anybody who thinks a woman shouldn't be given a political soapbox... well, you can shut the fuck up now.

• Jonathan Pie. And then there's this bit of ass-kicking...
So much agreement. If only Democrats had this kind of clarity.

• John Oliver. And the one I've been waiting for...
Which pretty much sums it all up.

• And Because It Can't ALL Be Shitty. This may very well be the closest we ever get to The Fifth Element 2...
Nice! Though, oh man would I love to revisit The Fifth Element universe one more time.

And, speaking of time, mine has run out. See you after the anarchy begins.
Posted on November 9th, 2016

There are people I know who were so invested in the Clinton campaign... so certain of victory... that I am more than a little worried about their reaction to last night's election results. As you might guess, I am not so much upset by a Hillary Clinton loss as I am horrified by a Donald Trump victory. She was never my candidate. I never wanted Hillary Clinton as my president. But I was compelled to vote for her to prevent what's happening from happening.
Alas...
So where do we go from here?
President Elect Trump by word or by deed has painted himself to be a racist, a homophobe, a xenophobe, a misogynist, a bigot, and an all-around asshole.
That's a huge problem.
Electing Donald Trump sends a number of messages that have me fearful for my country. I honestly believe that some dear friends of mine are less safe now than they were yesterday. My gay friends. My Muslim friends. My poor friends. My Black friends. My Hispanic friends. My women friends. I worry about them. Which in turn makes me worry about all my friends, because we are all interconnected in a very real way.
And I'm worried about myself. I'm not a Christian. Is that going to be a problem for me? I have no illusion that the forthcoming legislation supporting "religious freedom" is a Christians-only club. What is that going to mean? I'm not gay but there are people that think I'm gay. Is that going to be a problem for me? The hatred and violence seen in some Trump supporters makes me wonder. This win for Trump has certainly given strength to the more dangerous elements of our society.
And so I worry.
I'm guessing I'll worry a lot over the coming days.
And I'm a straight, white, male!
That's not even the worst of it. For everything that Trump is and as worried as his presidency might make me... it's the fact that Mike Pence is one heartbeat away from The Oval Office that puts me in a full-blown panic. He is scary on a level that I can't even wrap my head around.
Seriously... Google that shit.
If you pray, pray for the health and safety of President Trump while he's in office.
You might also want to pray that President Trump finds the wisdom, the compassion, the patience, and the sanity to govern us well.
That would be great because I'd really like one less thing to worry about.
Posted on November 7th, 2016

Remember... you can always vote fourth party tomorrow...

Now just please let the madness end.
Posted on November 6th, 2016

SUNDAY BEGAT SUNDAY AND SUNDAY IS SUNDAY, because an all new Bullet Sunday starts... now...

• Butter. A friend of a friend closed his restaurant last December. A while back he was asked if he would share some of his favorite recipes and he did. Then somebody asked him how in the heck he made his burgers taste so good. His answer? "Butter and salt." Saturate the buns in butter before grilling them. Just before flipping, salt and pepper the patty (his restaurant had a touch of garlic powder in the mix) then flip and add more salt. Sodium nightmare? Yes. But restaurants don't have to post Nutrition Facts, so that's how he made his burgers taste great. Tonight I gave it a try with my Boca Burger patties. *AMAZING* The abundance of butter and salt totally takes them to the next level. High blood pressure, here I come!

• Voter. Just sayin'...
Why American's aren't rioting in the streets for an end to our fucked-up two-party system I will never know.

• Wierd World. Oh Lord, Really? Pat Robertson's crazy shit is hilarious, yes, but there are people who actually believe the words he's saying! I mean, the gays are going to force me to like bestiality? BUT I DON'T WANT TO FUCK A GOAT!!! THANKS, THE GAYS!!!
This guy is bat-shit crazy. Genuinely certifiable. Scary insane.

• OH IT IS ON! Heinz starts making yellow mustard... SO NOW FRENCH'S IS MAKING KETCHUP! =BOOM!=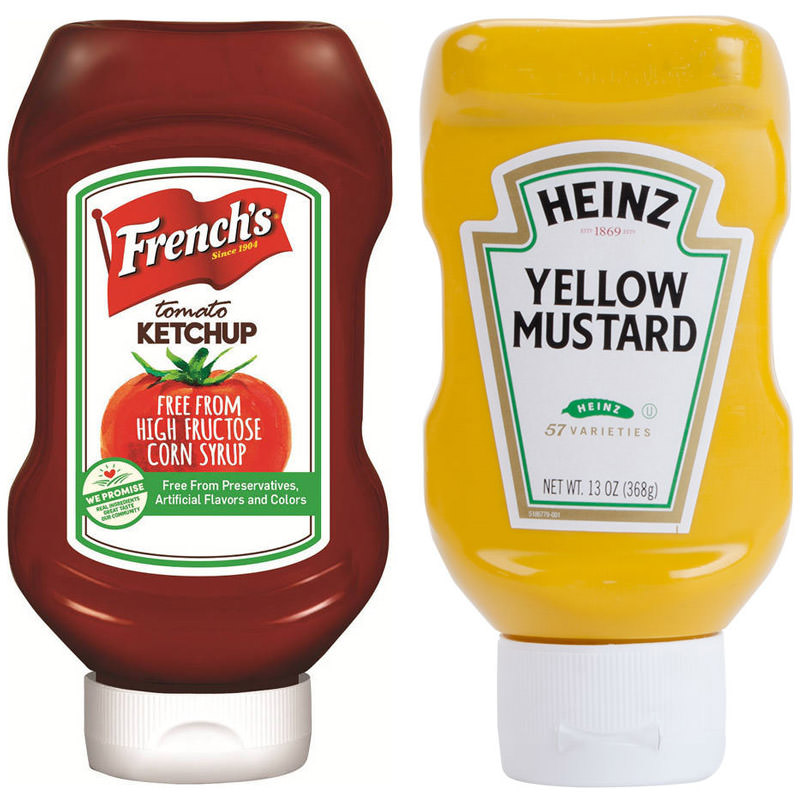 Which one is making mayonnaise next? And will Hellman's start making ketchup and yellow mustard of their own in retalliation?

• Dipshit Pie! Trae Crowder has become one of my favorite vloggers. His unique take on politics is comedy gold, and this was one of my favorites these past months...
Oh noooo.... where are we going to get our meth and pontoon boats?

• DNCE. While I was on sabbatical, I got hooked on DNCE's album Swaay for my "Album of the Summer." Their first video, Cake By The Ocean was catchy as hell and I was instantly addicted...
When they released their next video for Toothbrush, I was baffled by people calling lead singer Joe Jonas "brave" and "progressive" for featuring a plus-size model. IT'S ASHLEY FUCKING GRAHAM!!! She's one of the hottest women on the planet! I mean, seriously, there are guys who would take a look at ASHLEY FUCKING GRAHAM and say "No thank you?" It's not like he put a regular human woman in his video... IT'S ASHLEY FUCKING GRAHAM! Oh how brave of him! He was progressive enough to make out with ASHLEY FUCKING GRAHAM in his video! Give me a break.
The last video was for Body Moves, which was another catchy, high-energy track...
I have no idea if this was just a side-project for Joe Jonas or what. It will be interesting to see if the band stays together for another album. I sure hope so.

And... as good as it feels to be shootin' bullets again, this here Bullet Sunday is at an end.
Posted on November 5th, 2016

I was tempted to resume blogging after Election Day so I wouldn't have to comment on the dumpster fire that is the United States presidential race... but here we are.
I would like to say that my feelings towards the candidates are nuanced, complex, and well-formed, but that's not the case. I loathe all the candidates... I especially loathe the Republican and Democrat candidates... and knowing that either Donald Trump or Hillary Clinton is going to be my president makes me want to vomit until I die.
My disdain of Hillary Clinton has nothing to do with all the idiotic rhetoric over current or past scandals, or her moronic email missteps, or her husband's indiscretions (?), or even Benghazi (of which a Republican-lead committee found no wrongdoing by Clinton). The simple truth is that Republicans have spent millions upon millions of dollars trying to hang her with something, but nothing ever sticks. Probably because Hillary Clinton is no more or less guilty of the crap that usually goes on with our corrupt politicians. So whatevs.
No no... my problems with Clinton have to do with actual stuff she's done as opposed to all the crazy accusations that plague her. And while there's a lot of examples I could provide, I'm going to limit myself to the two that boggle my mind most because they are almost never brought up.
War on Violent Video Games. You think Donald Trump can become unhinged? Turn the clock back to 2005 and the absurd level of hysteria that Hillary Clinton came up with in her quest to ban violent video games (which I'm guessing was an effort pander to Right-leaning voters). At first blush, it was an admirable effort to protect kids from mature material they were too young to process and give parents the tools they need to determine if the games they buy for their kids contained this material. Except her "Family Entertainment Protection Act" was more like a full-out, unconstitutional assault on artistic expression. Instead of ESRB ratings being a guide, they would be retooled to become law, and severe penalties would be levied against anyone who defied them. So, basically, you have a government entity dictating what they deem to be "age-acceptable" material to a private entity, whose findings would then be used by a government entity to enforce the law. What could possibly go wrong? Ultimately everything was so draconian and vague that developers would be discouraged from making "violent" video games just as retailers would be discouraged from selling them. The fact that Clinton is willing to drift into this level of anti-freedom censorship and make it become law (as a pandering measure!) is a deal-breaker for me.
Destabilizing the Middle East. If you consider my concern over video game censorship to be "petty" or even "alarmist" then there's something much bigger on my radar. Hillary Clinton is a total warhawk. Her actions as Secretary of State are reprehensible in this regard... particularly when it comes to Libya, a country her policy has decimated. Rather than retread on an area that was written about better than I could ever do, here's an article I highly recommend: Even critics understate how catastrophically bad the Hillary Clinton-led NATO bombing of Libya was. If you consider my condemnation of this kind of horrific "leadership" to be petty and alarmist, then there's absolutely nothing I can say to caution you against a Hillary Clinton presidency. Cast your vote with confidence.
And then there's this fucking asshole...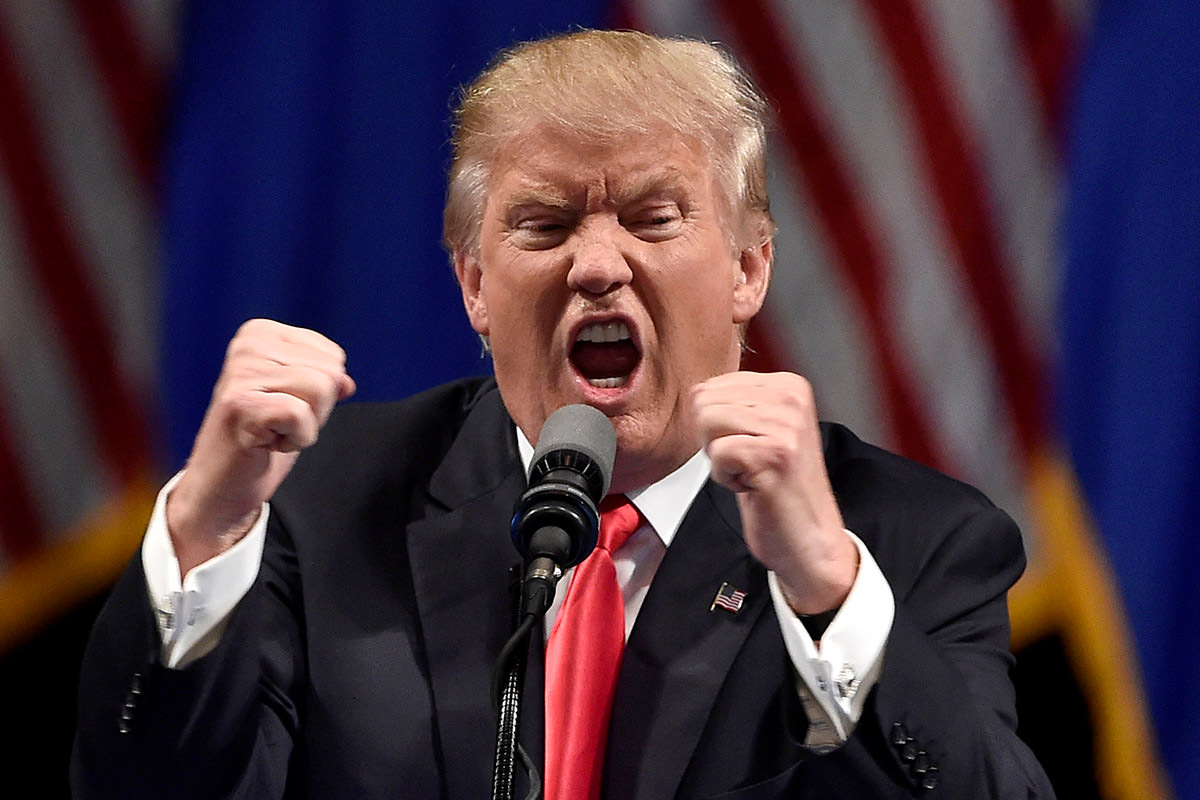 Photo credited to Newsweek/Photographer unknown
If the prospect of a Clinton 2.0 presidency is something that makes my stomach churn... the prospect of a Trump presidency has me borderline-suicidal.
Forget that he is a horrible businessman who regularly cheats hard-working people out of their livelihood to make a buck. Forget that he is a notorious liar whose dishonesty is so massive in scope and count that he makes Hillary Clinton look like a choirboy. Forget that he a vile excuse for a human being who gets off on demeaning others. Forget that he changes his mind on major issues at the drop of a hat and has no real plan for anything he promises (much of which is impractically impossible). Donald Trump is a racist, homophobic, misogynistic, foreigner-bashing, non-Christian-hating, ignorant, unstable, narcissistic, intolerant, bigoted piece of shit. And electing Trump is the equivalent of hanging a giant banner outside the country advertising the fact that we're a nation of racist, homophobic, misogynistic, foreigner-bashing, non-Christian-hating, ignorant, unstable, narcissistic, intolerant, bigoted pieces of shit. And that doesn't even address the embarrassment factor of having this ridiculous buffoon representing Americans on the global stage. You think we were the laughing stock of the planet during the Bush years? Try 1400+ days of Toxic Cheeto Jesus.
"President Trump" is the stuff of nightmares and goes against everything this country was built to be. So when I cast my vote for Hillary Clinton, a person I pretty much despise, it's not because I am "voting for the lesser of two evils"... it's because I am voting against the Ultimate Evil.
The United States of America cannot survive Donald Trump as leader of the free world.
But it may have to. For we are a nation not of the people, but of the Electoral College...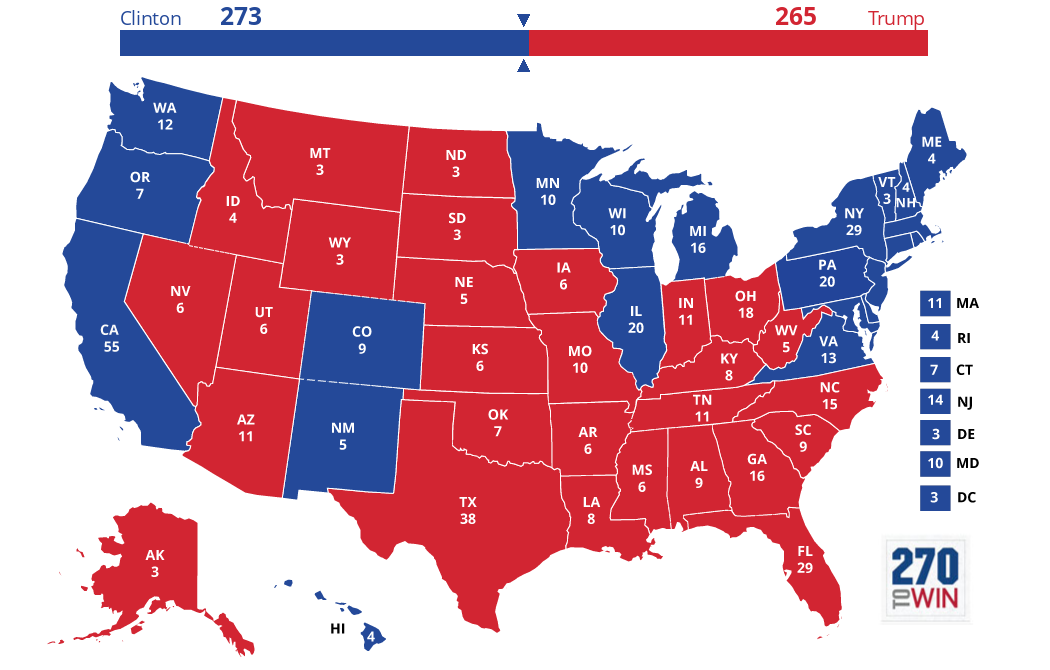 This map is an average of projections showing how each state is expected to vote. Blue States are for Hillary Clinton, Red States are for Fuckface von Clownstick. Note that any flip from blue to red of 5 electoral votes or more spells Trumpageddon. That's not a lot of wiggle-room. New Mexico decides they want fascist America, and that's what we are. One nation under Drumpf.
And so...
Brace yourself. I am of the opinion that no matter who wins, we all lose.
It's just a matter of how big.
Posted on March 18th, 2016

Where is the party of the fiscally conservative, socially liberal American?
Every election is a punch to the gut. This one is going to kill me.
Republicans profess to be "conservative" but are only "conservative" about governmental reach where it suits them. Everything else is draconian overreach into our personal lives at unprecedented levels. Democratic candidates don't fare much better. They may be the heart and soul of this country, but are brain-dead in areas we desperately need some smarts. I thought that the Libertarians would be the answer for me, but they're so grossly naive and unrealistic in global policy as to be laughable.
My vote for President of the United States of America is likely going to have to be "Not Trump." Which means I'm voting for Hillary Clinton or Bernie Sanders? I cannot fucking believe this shit.
I DON'T FUCKING BELIEVE IT!
Guess I've offended everybody now. Move along. Nothing to see here.
Posted on March 14th, 2016

Wait a second.
Our military spending already outpaces Mexico FIFTY TO ONE.
Our military is larger than any other country on earth by a vastly huge margin.
Our stockpile of weapons could destroy this planet a hundred times over. And yet here comes Drumpf saying he needs to "rejuvenate" our military so he can go to war with Mexico... OUR ALLY... if they won't build a wall?
Who the fuck would vote for this dumbass after listening to this absolute lunacy? I'm just beside myself here. I loathe Hillary Clinton with every fiber of my being... but if it comes down to her and this piece of shit? How is this even a contest? Why not just threaten to NUKE Mexico? The result would be the exact same in the international arena. The US would lose every ally we have. A country would have to be fucking insane to ally with us after we strong-arm a current ally possessing a military 2% the size of our own over a fucking wall THAT WON'T EVEN WORK!
A Drumpf presidency would mean the end of us.
The literal end.
There is nowhere to go after that.
Everything we are would be gone. Everything we stand for would be gone. Even worse, we would deserve it. That this asshole can even be considered a candidate is unthinkable. That he's most likely going to be the GOP nominee is unthinkable. But I guess that's how we got here. People refuse to think any more.
Why every nation on earth isn't considering a first-strike scenario against the United States if President Drumpf becomes a reality is beyond me. It wouldn't even be considered an act of war. It would be self-preservation.