Look, I'm just going to say it... if you've got an iPhone X or XS, then the only reason to upgrade to the iPhone 11 Pro is for the camera update, which is significant. Everything else is hardly a revolutionary step up... and, in one case, Apple even takes a step backwards.
And so, I'll just run through everything quickly before getting to the camera, which is why we're all here isn't it?
PRICE
Still $1000 for the 64GB iPhone 11 Pro. It's too much. But that's the price you pay for tech like this. I can barely fill up 2/3 of the smallest memory configuration, so 64GB is plenty for me. If you use tons of apps and store a bunch of movies and stuff in local memory then you'll want more... and pay more. There's the bigger iPhone 11 Pro Max, which wouldn't fit in my pocket (or my budget) so I took a pass. The good news is that my monthly payment in Apple's iPhone upgrade program is unchanged.
PRETTY
Make no mistake, this phone is gorgeous. The new frosted glass back has a nice matte feel (assuming you don't put it in a case) and the overall design is elegant, polished, and feels solid. I went for the new "Forest Green" color, because it's just so pretty. In most light, it looks more grey than green to me, but it picks up the light enough to give a hint of green that looks great. Alas, when paired with my Project (Red) case, the back is covered up, but you can still see a hint of the color in the camera cut-out. Maybe a clear case is a better way to go? But then you lose the matte glass, so I'm good.
STRONG
There's all kinds of videos showing the durability of the iPhone 11 Pro. They are impressively tough. But since I'm on the iPhone Upgrade Program (the only way I can afford these things) and I have to return the phone in pristine condition, I can't risk it. I've got a screen protector and case on at all times.
BATTERY
Apparently I should get (on average) 4 hours more battery life over my old XS. I guess that's awesome, but I barely used much battery on my old phone. Maybe when I travel or use maps for driving, but I'm not going to complain about having more time with my iPhone before charging. And speaking of charging... you get a nice 18 watt charger to fill the battery faster, which is a big improvement over the tiny 5 watt charger we used to get. Alas, Apple is still married to its Lightning connector for charging, but the end of the cable which plugs into the power adapter is USB-C. Go figure. Most of the time I'm using wireless charging so it's not a big issue for me.
DISPLAY
Still has the annoying notch at the top. That being said, the fidelity of the display is stunning. I mean, the old display was beautiful and all, but this is next level stuff. If you download a high quality movie at full resolution, you are in for a treat. The image simply does not fall apart and the color and brightness is phenomenal. Photos look as amazing as you'd think they would. Everything about the display is as good as it gets and worthy of Apple's flagship iPhone.
SOUND
Apparently the iPhone is now rocking Dolby Atmos sound, which is cute when you consider it's still pumping it through two tiny little speakers. To be honest I can't tell much improvement, but I thought the old sound was pretty great for a phone already.
3D TOUCH
Here's the thing about 3D Touch. It's gone. Apple removed it. This is surprising from the standpoint that newer phones should have more features, not less. It's not surprising from the standpoint that Apple rarely promoted or took advantage of the feature. I've read on a few sites that removing 3D Touch helps contribute to better battery life. That (along with the newer, larger battery and more efficient A13 chip) is probably true. But I really, really miss it. I am slowly getting used to Apple's replacement... "Haptic Touch"... which is essentially just a long-pause as opposed to a harder pause... which isn't terrible. But it's not the same. At all.
FASTER
And speaking of that new A13 chip... Apple claims it's up to 20% faster than the previous generation A12. I have no reason to doubt this, but I really don't notice it. My previous phone was plenty fast and day-to-day speed improvements (if they exist) don't really register for me. That being said, the speed boost is undoubtedly crucial to improvements behind the scenes, like the new camera's jaw-dropping abilities. And so... thanks, I guess.
PHOTOGRAPHY
It's not hyperbole to say that the camera in the iPhone 11 Pro is a quantum-leap improvement over the iPhone XS. It's a bit less of an improvement over the camera in the Google Pixel 3 (which I have limited experience with, but really liked) and the camera in the Samsung Galaxy S10 (which I got to use for three months and was underwhelmed with). Regardless, Apple's latest camera in the iPhone 11 Pro is (currently) unmatched. It's an artful symphony of hardware advancements and incredibly smart and clever software which pushes it ahead in (most) all areas. Which is where I'm at now.
PHOTOGRAPHY: CAMERA
While other cameras are pushing 16 megapixels (and higher!), Apple seems content to stick with 12 megapixels. This is understandable on many levels... primary of which is that they take less storage space. But it's also questionable if we really need more than 12 megapixels on a phone. It's plenty of resolution to print a fairly large hardcopy photo, and way more than enough resolution to look at on a phone screen. Where higher resolution comes in handy is when you want to crop into a photo. THEN it's kinda a big deal. And yet... ideally you'd just want a longer (telephoto) lens so I dunno. Would I like more? Sure. Do I need more? Probably not.
PHOTOGRAPHY: CAMERA LENSES
The iPhone 11 Pro has cameras lenses (not including selfie cam), as follows...
They're all good and have great optical quality. And, thanks to Apple's fantastic Camera App, you zoom between them without even realizing it. You just compose your shot and iPhone picks the correct camera/lens as you zoom in or out. The big news here is the Ultra Wide Angle Camera, which adds a lot of image area. So much area that I have to hold my camera in a new way because my fingers are in the frame if I hold it like I used to. Just look at this comparison... starting with the telephoto...
And here's the wide angle...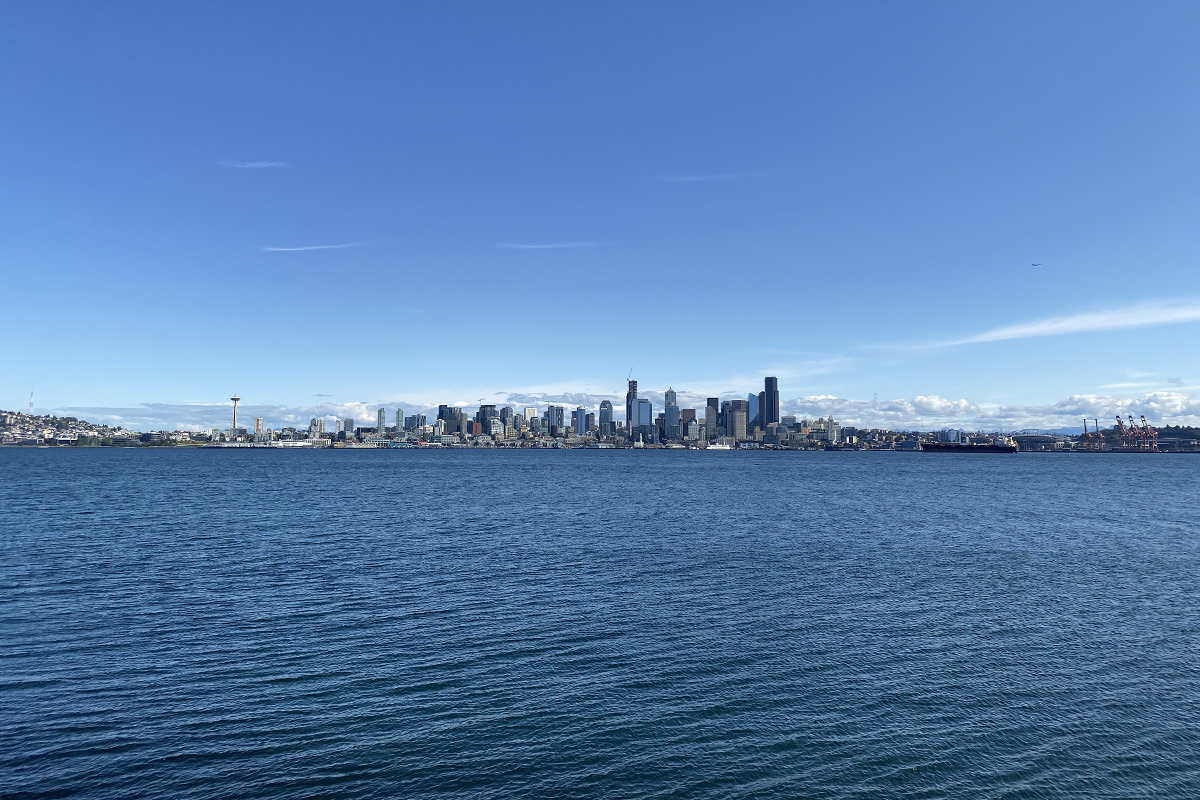 And here's the ultra-wide angle...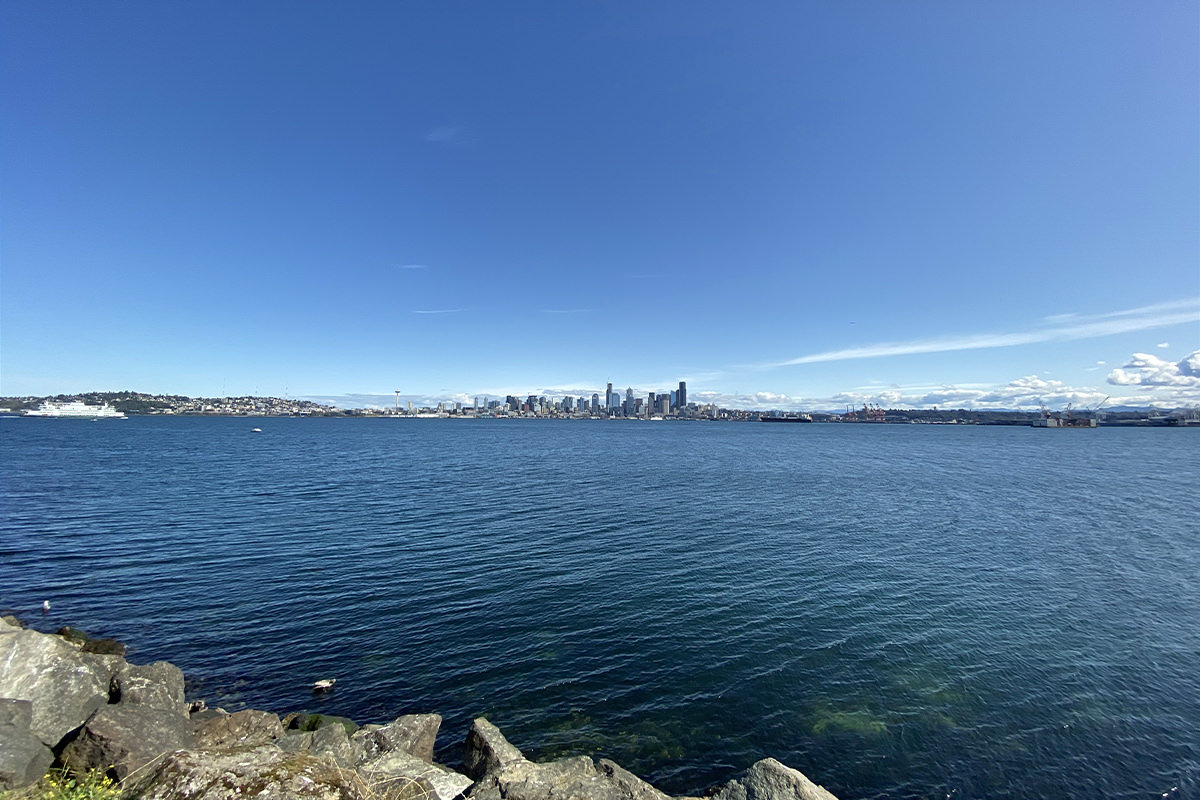 Granted, where you'll most likely be using the ultra-wide is not shooting things that are far away, it's shooting things closer to you...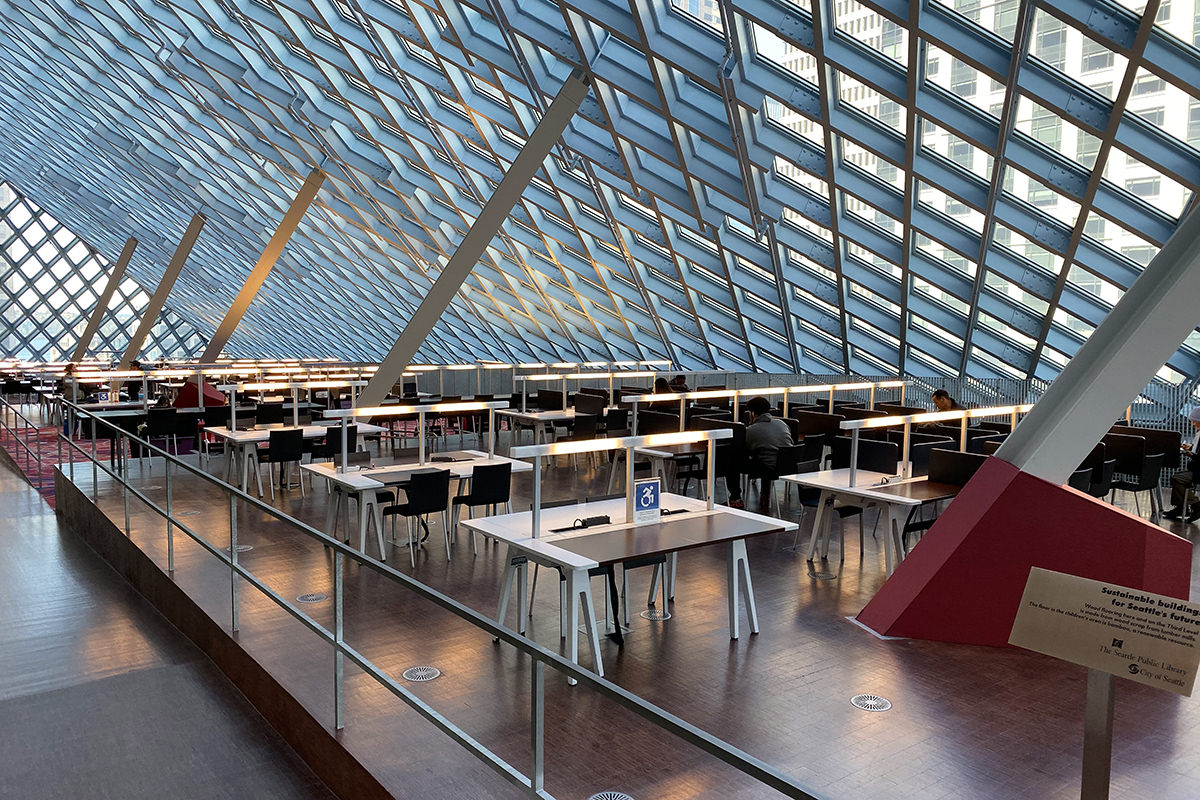 In which case it's a very big deal...
Alas, the Ultra-Wide Angle doesn't have image stabilization and can't use Night Mode (see below), so there are some limitations there, but boy is it a handy thing to have. I find myself using it far more than I thought I would, and quickly realized how critical it is not just for travel, but for everyday use.
PHOTOGRAPHY: CAMERA NIGHT MODE
The iPhone 11 has decent apertures for its three cameras, which allow you to get pretty spectacular shots without any long exposure trickery...
The Ultra-Wide Camera is f/2.4 which is darn good and allows for gorgeous shots as well...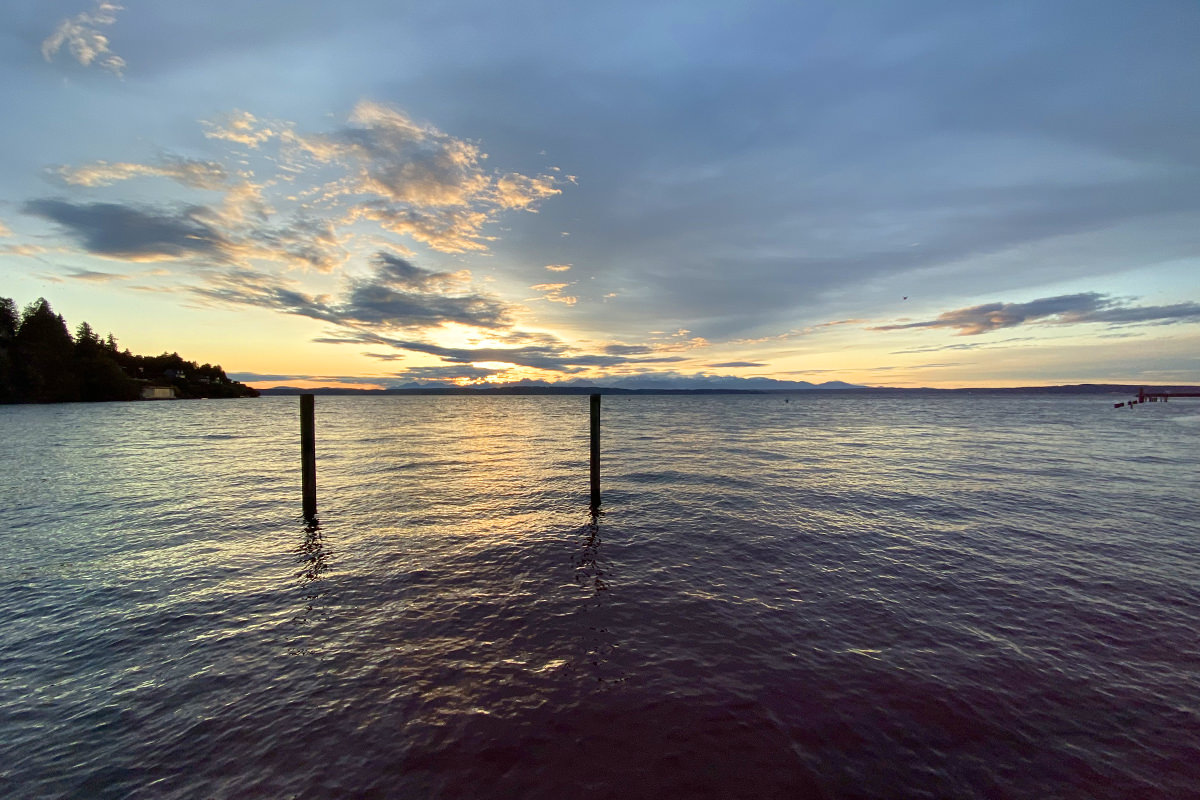 Color fidelity is epic...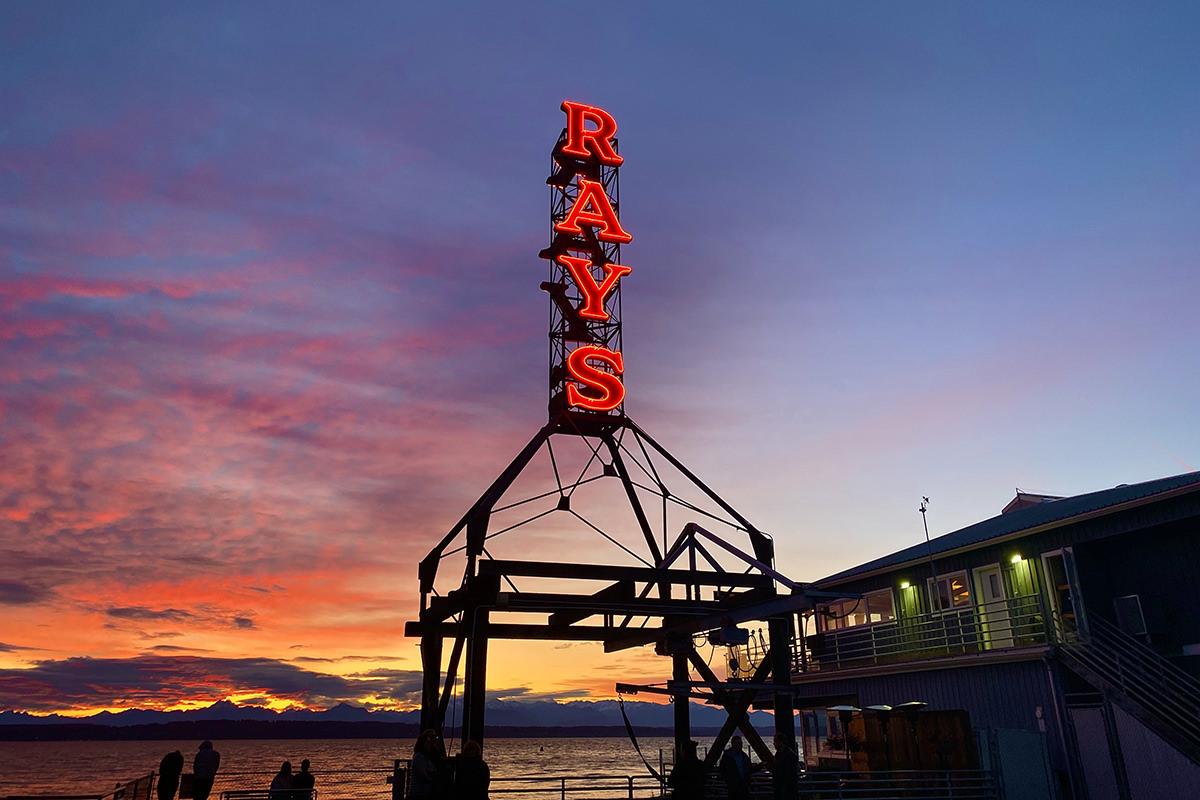 There are limits of course. Once things get too dark, everything can be lost in the shadows. This is nice for artistic purposes, but not what we want most of the time...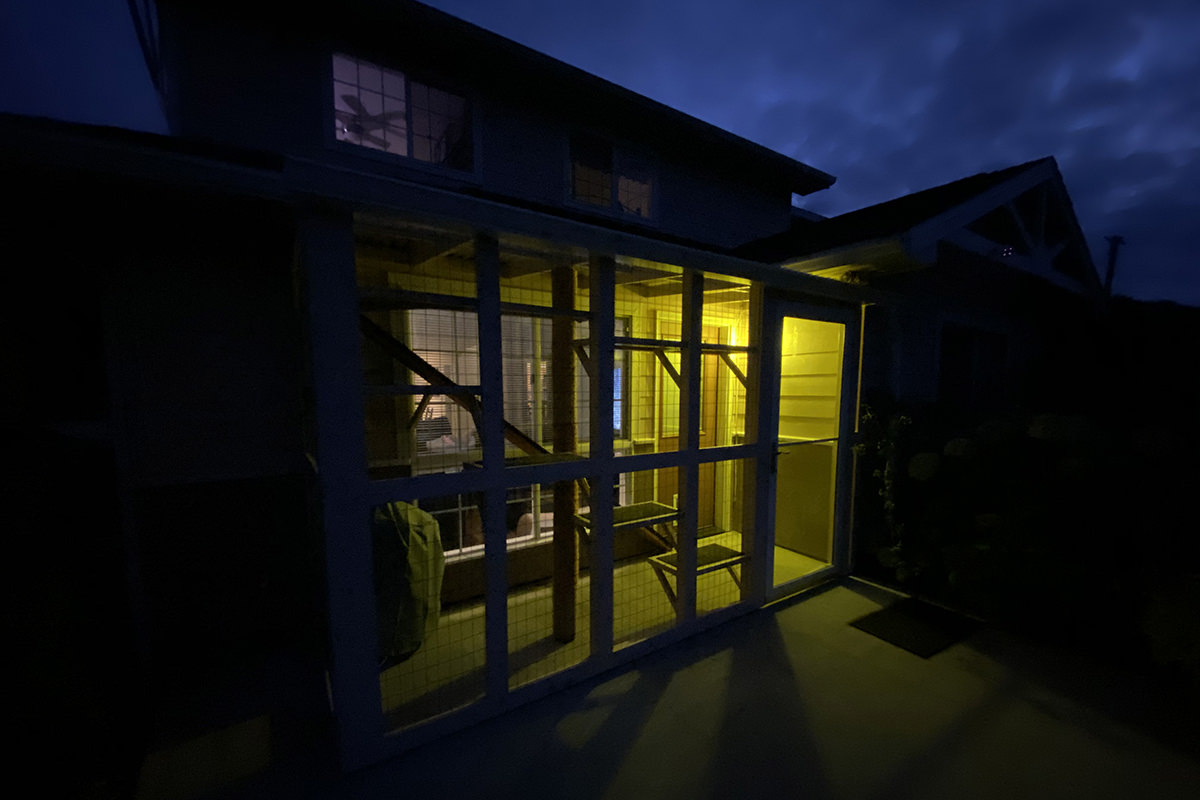 So what happens when there's not enough light for a shot? Glad you asked!
Google's Pixel 3 had a revolutionary "Night Sight" feature which I was extremely jealous of. I was so jealous that I borrowed one from a friend so I could try it out for a day. My iPhone had decent low-light ability, but it was nothing like what I got from the Pixel 3. Night becomes day and it was an incredible thing. Apple being Apple, they've taken the ball and ran with it. iPhone 11 Pro has automatic "Night Mode" which kicks in without you having to do a thing. It's essentially a long exposure which is assisted by image stabilization and some nifty software processing. The results are pretty amazing.
Here's my back yard with Night Mode turned off...
And here it is with Night Mode on automatic which, of course, is activated given that it's pitch black out...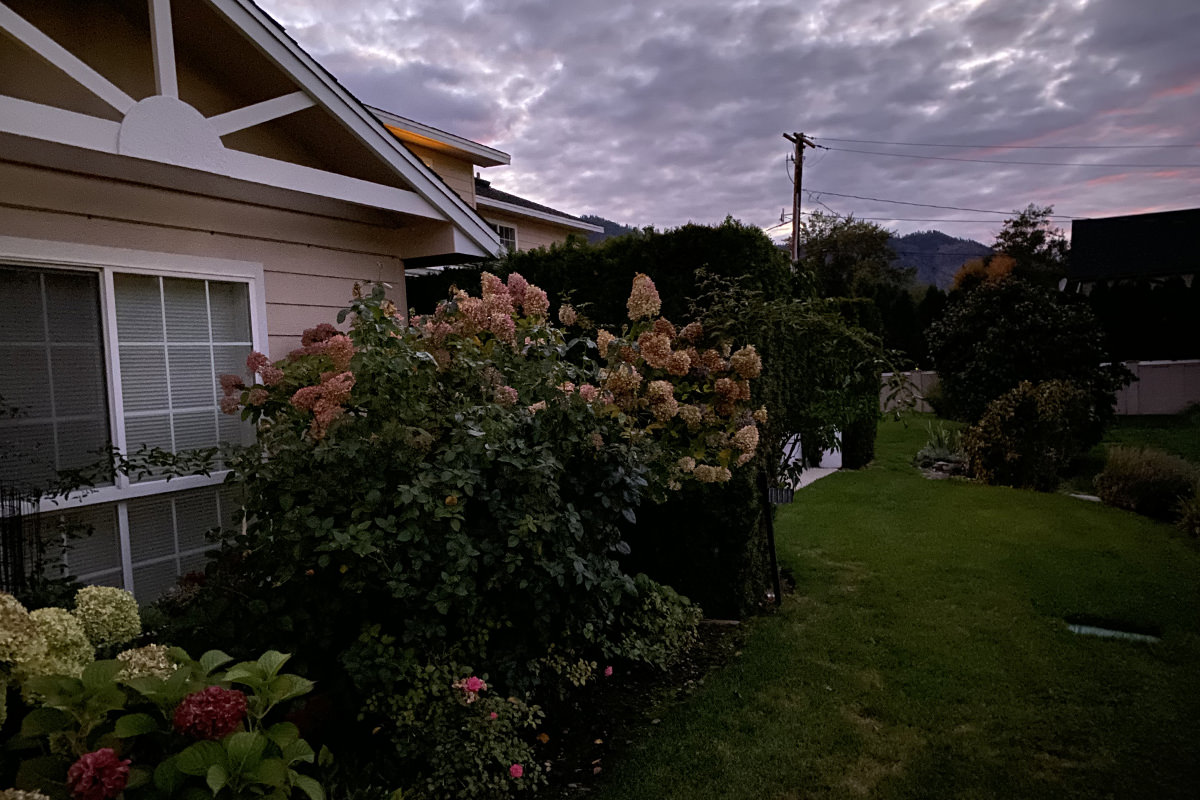 Now, before you think "hey, that's still pretty dark," keep in mind that this is what I got straight out of the camera. I can still go in and make adjustments...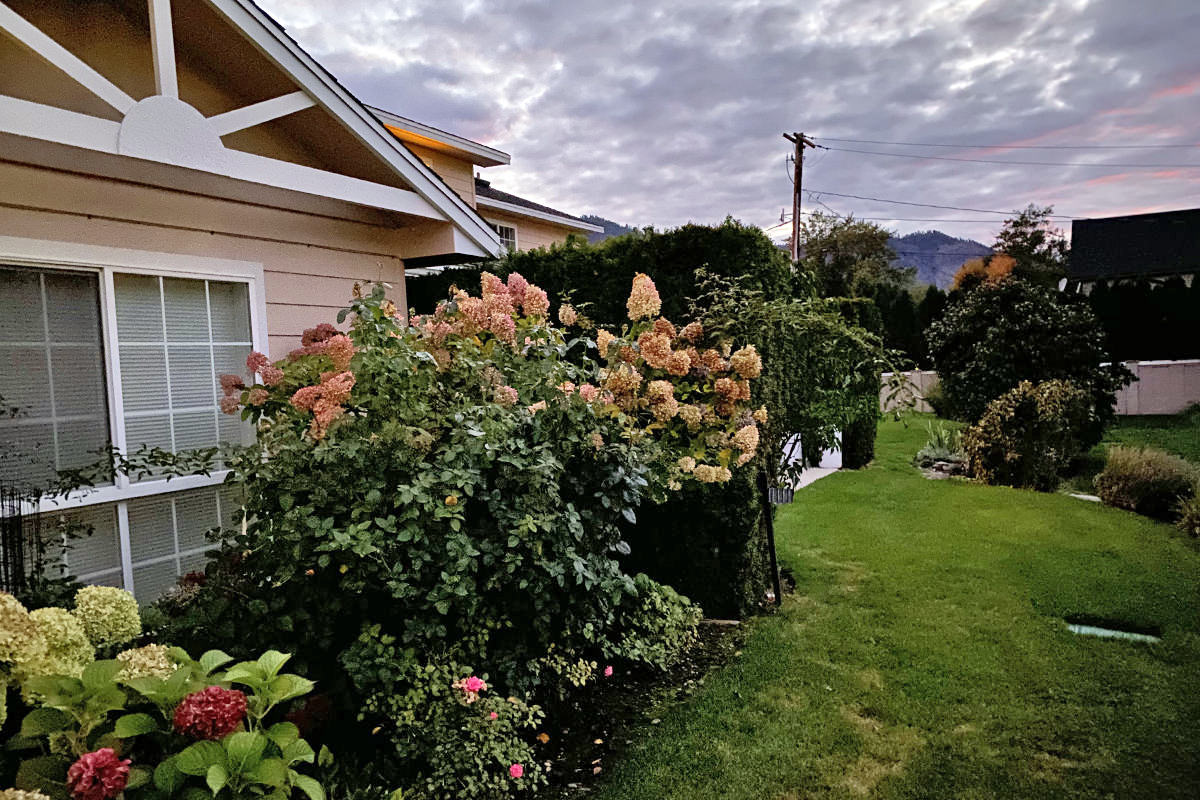 This level of color fidelity and detail would be impossible with any iPhone prior to this one. It looks like early evening instead of the middle of the night! What's surprising is how often Night Mode gets applied. I thought shooting through a bright window in darkness would fail to trigger Night Mode because the subject in the center is illuminated, but it was triggered anyway...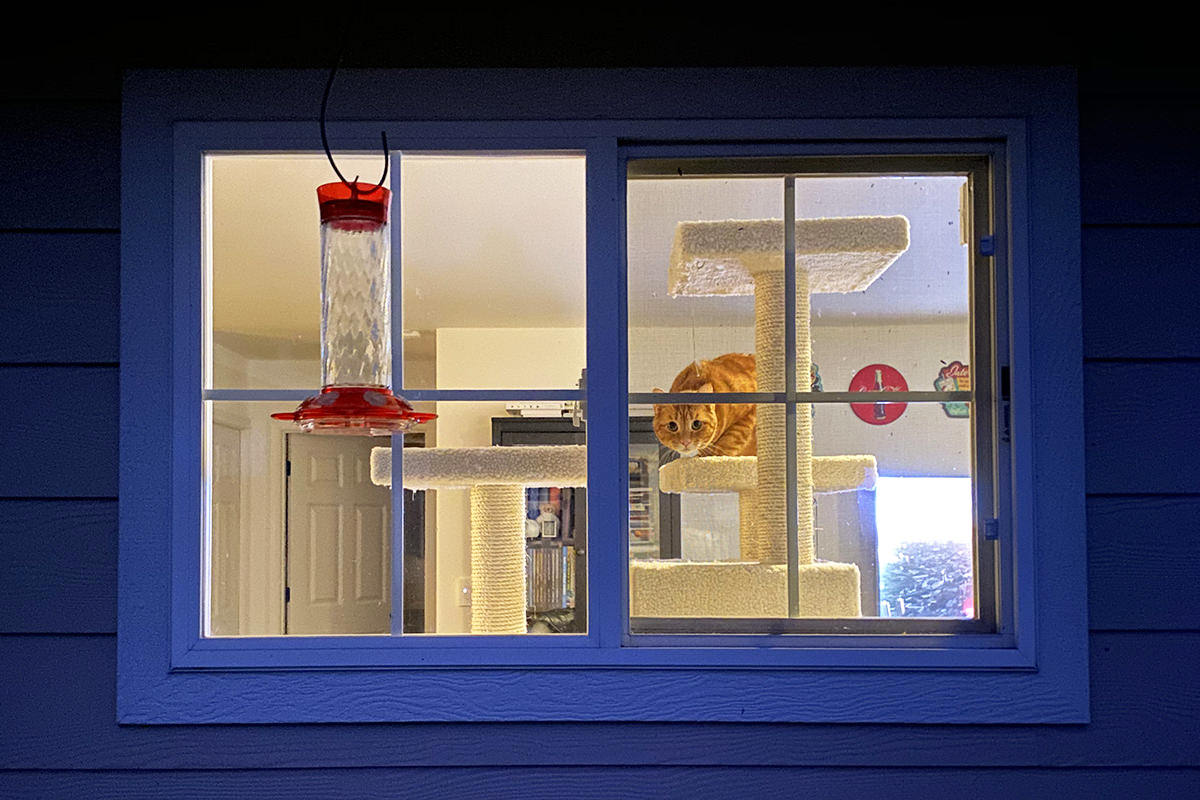 Curious to know why I needed Night Mode for such a shot, I turned it off and shot again...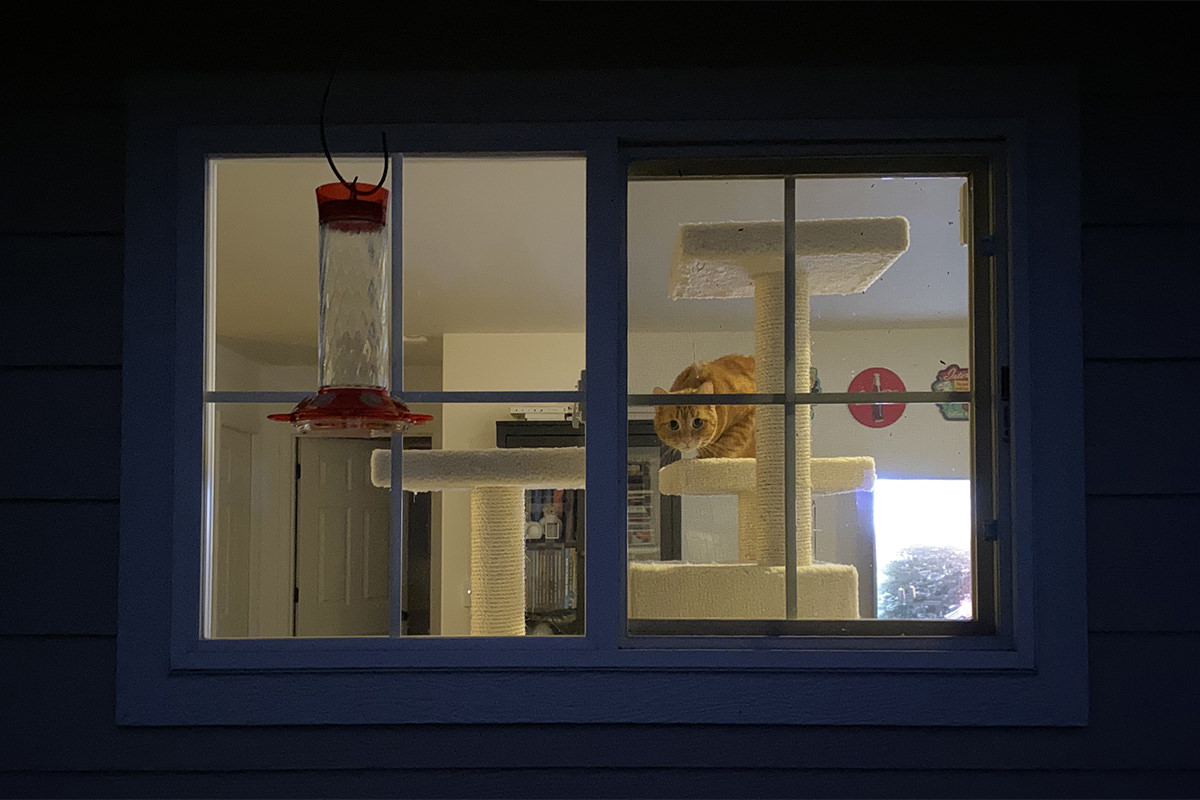 Welp, I guess that's why. I'm getting a much, much better shot with a longer exposure. This is Apple's remarkable "machine learning" at work. Diagnosing shots so you don't have to. I dare say that even the most amateur photographer is going to be able to get pretty amazing shots with the iPhone 11 and iPhone 11 Pro thanks to Apple helping them out behind the scenes.
"Night Mode" is not magic, however. It's a long exposure. And while image stabilization and camera processing will help keep static scenes in focus, you're fresh out of luck if the subject is in motion. A long exposure of motion is just going to make a blur out of it all. And be careful... the telephoto lens does not support night mode. If you zoom in further than 1× the resulting photo will be shot with the standard wide angle camera and be digitally zoomed.
PHOTOGRAPHY: CAMERA APP
Apple's new camera app is pretty great. It's still got an "automatic" mode which will even out the lighting and correct the color tone... usually in a way that's better than what you have without it... but it's the new manual controls they've added to the list which makes the new app so compelling...
Exposure
Brilliance
Highlights
Shadows
Contrast
Brightness
Black Point
Saturation
Vibrance
Warmth
Tint
Sharpness
Definition
Noise Reduction
Vignette
And of course all those tools are "live," so even if you don't know what they mean, you can still play around and see what they do. Sharpness and Noise Reduction have been a long time coming, and I'm particularly impressed with how well Sharpness works. It feels like it's more of an "Unsharp Mask," which provides superior results. The Noise Reduction, however, is pretty basic. It's more of a "LET'S BLUR OUT THE NOISE!" tool than anything else. Here's a shot with no noise reduction applied. It may be tough to see here, but there's quite a bit of noise in this image because I turned Night Mode off. You'll just have to trust me, as you will still see the blurry mess that Noise Reduction makes...
Here's 50% noise reduction...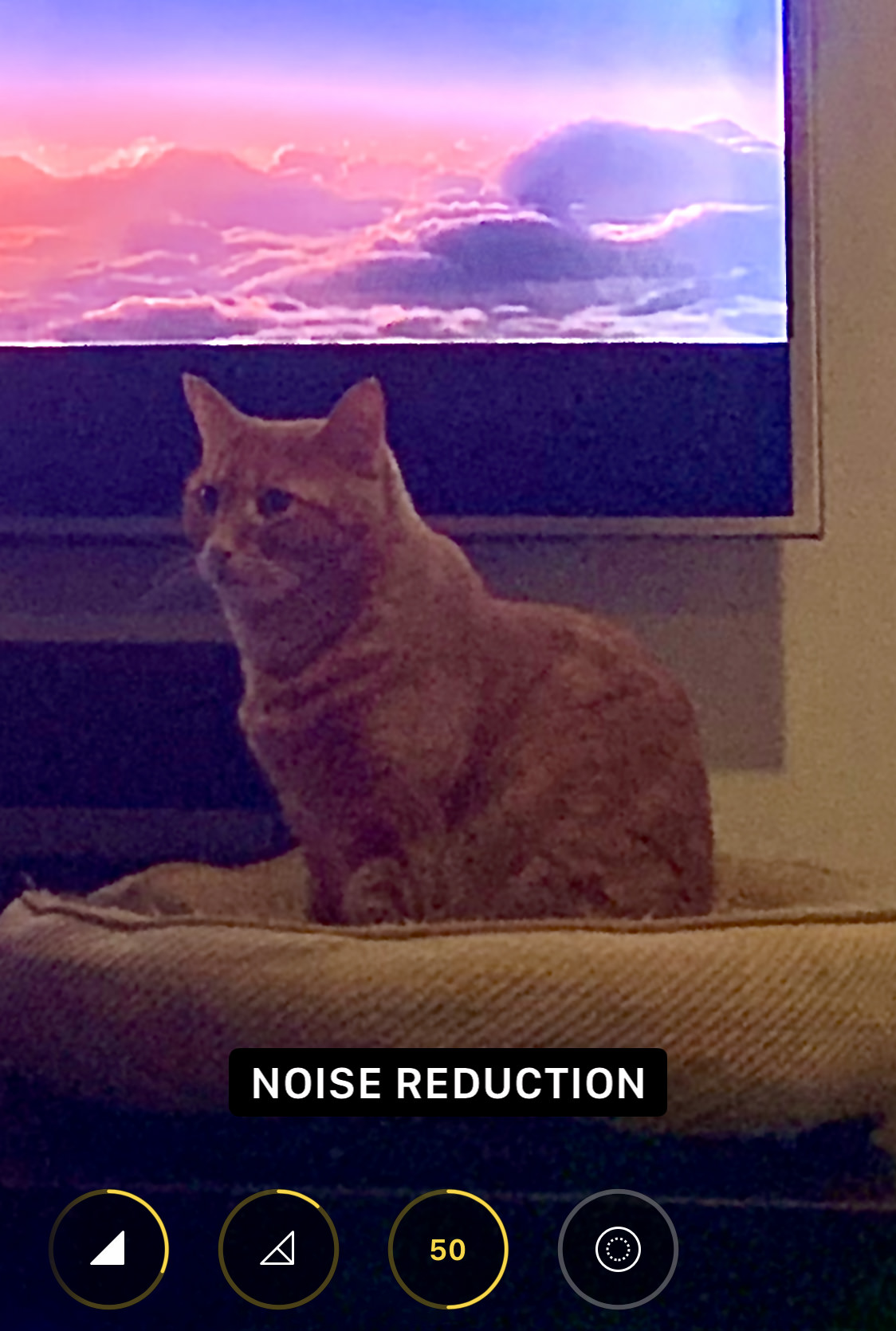 Not bad, but you can see that edge definition is being lost. To see what's really happening you have to turn up Noise Reduction to 100% like this...
Is the noise gone? Sure! But your image is so blurry that even sharpening can't save it. Professional noise reduction tools you can purchase for Photoshop try to eliminate noise while leaving detail. They do a much better job than this, and they do it by not aggressively removing every speck of noise... but finding a way to figure out where noise can be reduced without rendering the image a blur. Since this is Apple's first attempt at the tool, I'm going to give them a pass here... because that they even tried is a good thing... but I sure hope they work on improving it for next time.
PHOTOGRAPHY: CAMERA VIDEO
I don't shoot a lot of video (which is probably why I can get away with the 64GB model phone), but what little I've shot with iPhone 11 Pro is pretty great. Especially using the Ultra-Wide camera. As if the new lens wasn't enough to make videographers start drooling, you can now edit video in ways you couldn't before... like actually being able to crop it. No idea why this took so long, but editing 4K video in realtime is no small feat, so I guess it was worth the wait. Especially since I can now make adjustments and apply filters in the editor... without having to wait for the results to render. That's pretty crazy.
PHOTOGRAPHY: CAMERA SELFIES
I don't do selfies much. But the new front-facing camera got an upgrade to 12 megapixels and does a better job of getting great-looking shots. The "big new feature" for the selfie-cam is the "slofie" which is a slow-motion video capture. Whee.
PHOTOGRAPHY: DEEP FUSION
Later this year, Apple will push out a camera update which includes "Deep Fusion," a technology which uses machine learning to assemble the best parts of multiple photos shot in rapid succession to pull out detail and color like never before, as demonstrated at Apple's keynote last month...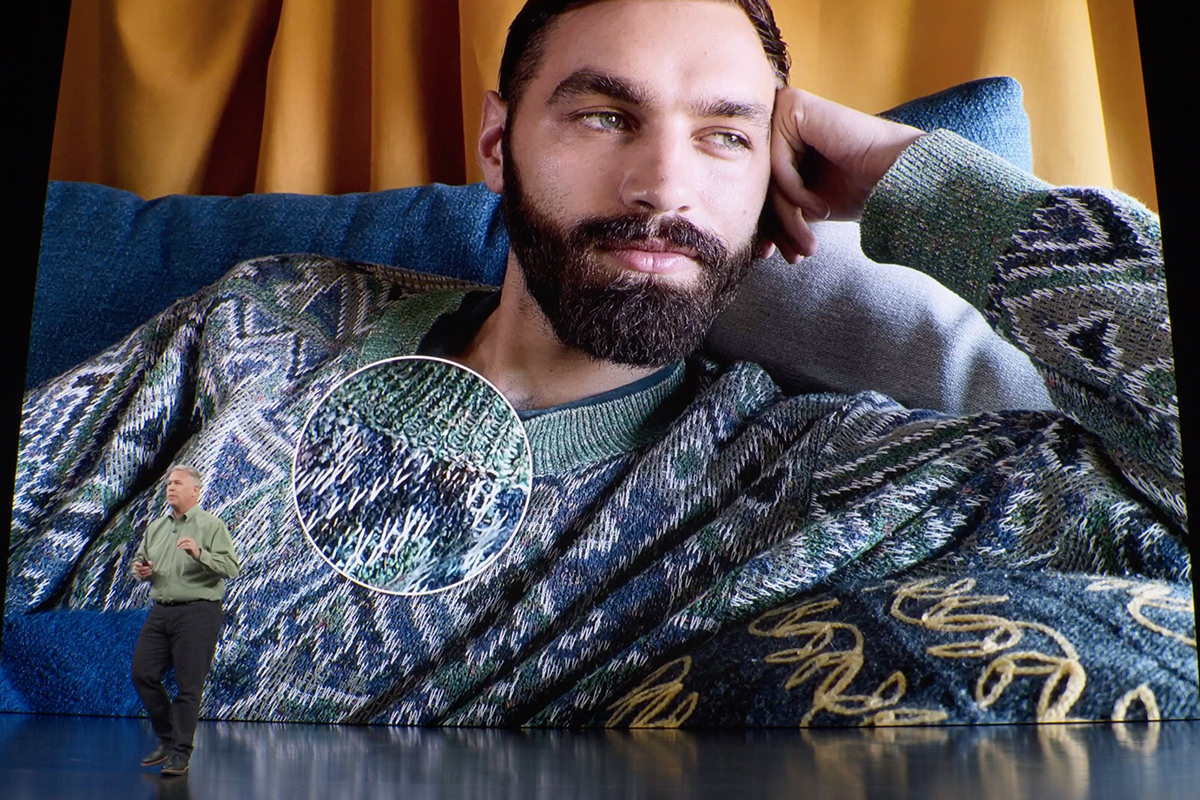 It's kinda a "smart HDR" technique which uses pixel shifting to enhance detail (I talk about HDR here). Naturally I can't wait to give it a shot. Or a hundred shots.
CONCLUSION
The iPhone 11 Pro is pretty much the iPhone I've been waiting for... and not for the phone part... it's for the camera part. No, it's not going to take the place of my DSLR camera, but it is so vastly improved for photography that I will likely be using my DSLR much less than I already do. This new model is just so incredibly capable of getting fantastic shots that I don't need to be lugging around a big heavy camera everywhere. And it has me wondering what iPhone 12 will bring to the table. Probably more incredible camera features that I can't live without. =sigh= I really would like to be able to skip a year of upgrading... but this was definitely not that year. I will likely be posting more photos as I explore the iPhone 11 Pro's capabilities more, so you've been warned.