This has not been a good week. Adobe updated their Creative Suite (which includes the primary tools I use for my work... Photoshop, Illustrator, and InDesign) and, just like last time, there have been serious problems. Things that used to work great no longer work at all. Things that used to work one way now work an entirely different way. It's as if Adobe doesn't bother to beta test with people who actually use their tools, because so much of the stuff I'm having problems with are not esoteric, hidden, or new features. These are basic functionality issues that have been killing my productivity during a busy time.
I guess the good news is that I have less time for all the political drama. Facebook has gotten completely out of hand, and I just don't need it.
Tonight as I was listening to YouTube videos while I (tried) to work, I found out that even that's not safe...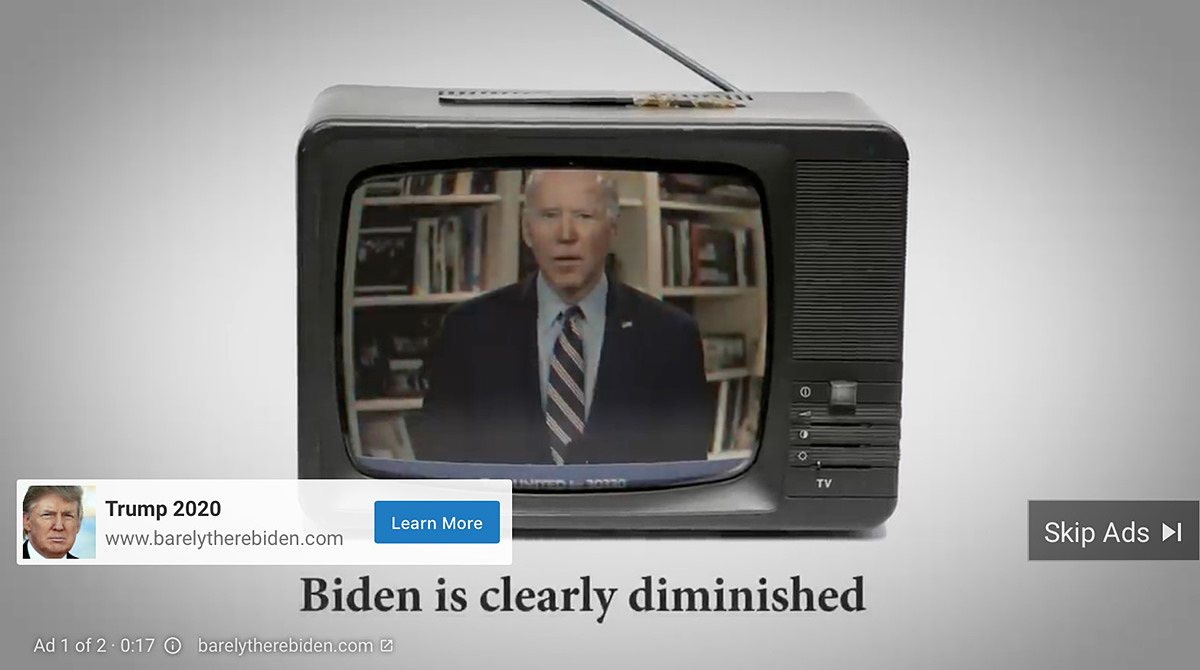 Holy shit... Impeached President Cadet Bone Spurs is calling Uncle Joe "diminished?" I'm not even going to argue that point, but the most diminished person in this fight is so obviously Cheeto Jesus that I guess he pretty much has to point fingers.
It's all he's got, really...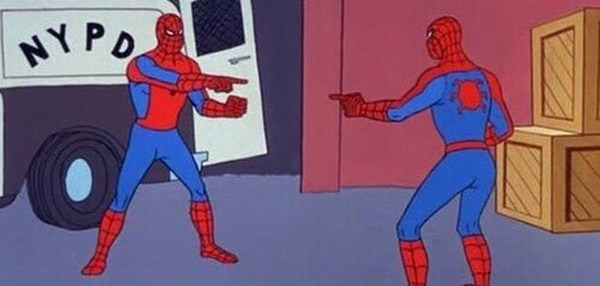 I suppose it's too late for Spider-Man 2020?
Hasan Mihaj from Patriot Act has a really great take that pretty much mirrors where my head is at these days...
So long as we keep clinging to a busted-ass, shitty system, we're going to continue getting busted-ass, shitty candidates. I don't even think that's something that's up for debate.
Time once again to post this fantastic video from CGP Grey on the Alternative Vote...
And if you haven't seen his amazing look at elections, do yourself a favor and take a look at the entire series right here.
Sorry, if I'm forced to be mired in this shitty political bullshit, you get to as well.

Washington State is 100% vote-by-mail, so I already voted last week.
When it comes to local races here, two of the biggest are too close to call. We won't know the outcome until the remaining mail-in votes are tallied on Friday. Frustrating, but it's a small price to pay for a system which allows you to vote in the privacy of your own home without standing in line. And now that we have automated voter registration for all of our eligible citizens, Washington State has one of the highest voter participation rates in the nation...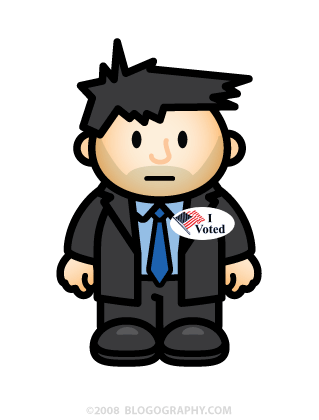 Now that Halloween has passed, the country is already preparing for Christmas.
Back when I had work in Orlando two and three times a year, I'd fly in for my conference then fly home the next day. I'd rarely go to Disney World (even though work would pay for it) because it got to be more of a chore than fun. I just can't handle the lines and crowds of people.
In December of 2007 I was working in Orlando when some work friends and I decided to go to Epcot for dinner in "Italy." After that we took the bus to Disney Studios to goof off for a bit. While I was there, my mom called to tell me something. "What's all that noise?" she asked.
"Oh, that's The Osborne Family Spectacle of Dancing Lights," I replied.
"What's that?"
"It's a show at Disney World where they have a bunch of Christmas lights flashing to music. I'll send you a picture..."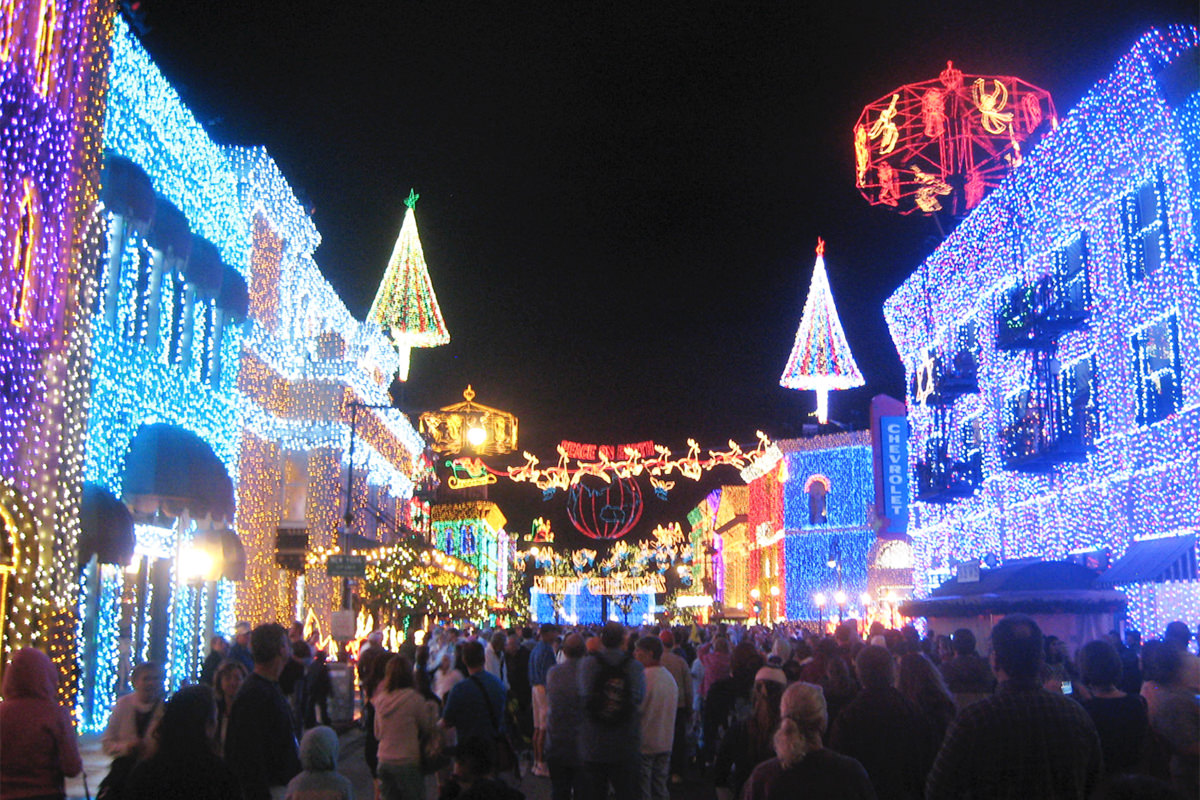 "That's pretty! I want to go to Disney World!"
"I've taken you to Disney World lots of times!"
"But not at Christmas! I want to go at Christmas!"
"Okay. Next year I'll bring you along then."
One year later I kept my promise, and here she is...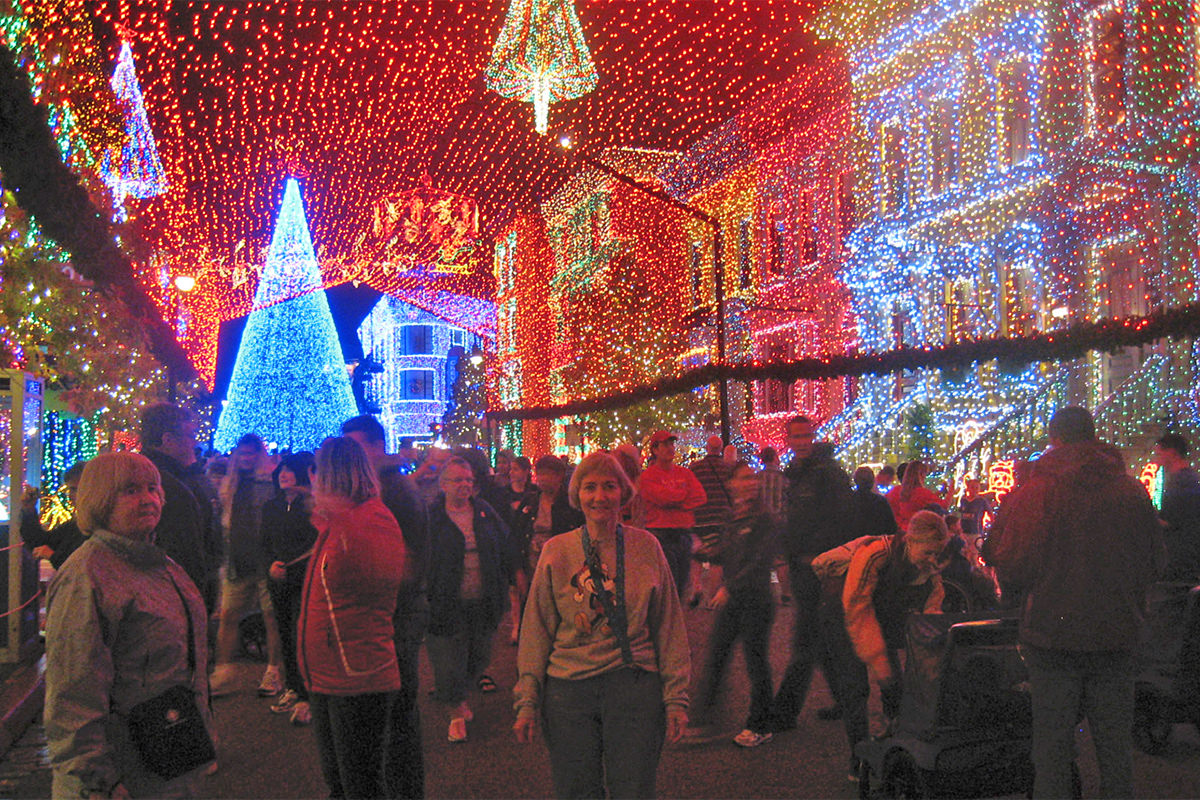 It immediately became her favorite thing. She loved it so much that I ended up taking her a couple more times. The last time was in 2012, I think, since that was the last year I had work in Orlando. They closed down The Osborne Family Spectacle of Dancing Lights in 2015.
This morning I was flipping through my newsfeed while waiting for work to start and saw this terrific video from Disney World showing how they transform The Magic Kingdom Park for the holidays with Christmas decorations...
Pretty cool!
A part of me is glad that I don't have work in Orlando any more. Especially over the holidays. It would be really tough to go there knowing what it meant to my mother. Perhaps it will be easier over time. But right now? I just can't fathom it.
It's that way for a lot of things though.
I miss my mom.