Posted on November 8th, 2020

The election may be (mostly) over, but don't destress just yet... because an all new Bullet Sunday starts... now...

• FAME! One of my earliest blogging friends is Heather Scarbro Dobson (formerly of Coal Miner's Granddaughter). She's an author and paranormal investigator living in Georgia. We've met up several times when I was in town for work and I've been on two investigations with her. The first was to Waverly Hills Sanatorium in Louisville, Kentucky in 2011 (which I wrote about here). It was on that trip where we saw a board that had photos of all the "famous" paranormal teams who had investigated there. I knew none of them. But one of the photos stood out because it was a glossy, fully-staged production which had a team of brooding, pouty badboys... and it was autographed!
I mentioned to Heather that their tagline might as well be "Bustin' Ghosts and Breakin' Hearts!" And ever since then we've been joking back and forth about who the sexiest member of the team was. She picked Chris, I picked his brother Brannon, and we've had a faux fight going on ever since...
I mean, seriously, Brannon is totally the hottest, amiright? Anyway, Heather writes about the time that we met up in Jefferson City to go on an investigation with The Wraith Chasers in her new book, Recollections of a Future Ghost...
Naturally I wrote about the trip here on Blogography. If you want to read about it, here's your link.

• Count! I laughed way, way too hard at this...
The best part about visiting Australia is the Australians.

• Chappelle Show! Just like after the last election, the host for Saturday Night Live this election was Dave Chappelle. He is one of my most favorite comedians because his form of insightful commentary illuminates in a way comedy so rarely does...
"Don't let hunger dictate your life" is almost prophetic about where we're headed.

• Trebek! Many times, the host of a game show just has to rely on their personality to get the job done. It's not like Pat Sajak requires anything past the bare minimum of smarts to get through a game of Wheel of Fortune. But the host of a show like Jeopardy really has to be on their toes. They have to review all the clues prior to the show. Be sure to grab the right clue from 30 clues. Read the clue in a fluid way that makes it easy to understand. And be sure to pronounce even the most complex words from clues correctly in order for them to be correct. On top of having a winning personality. Alex Trebek has done all this by reading the answers on Jeopardy in the most brilliant way possible for years. That alone deserves kudos... but the fact that he was such a good sport about being lampooned over it all was what made him so beloved...
Trebek was parodied for years on Saturday Night Live, but the best bit was when the Alex Trebek himself made a cameo appearance...
Business Insider did a really cool behind-the-scenes with Trebek last year...
But my favorite appearance out of everything he's ever done? When he was a man in black on The X-Files...
What a sport. I've been watching Alex Trebek on Jeopardy for most of my life... and was saddened that he passed away at 80 years old today, losing his battle with stage 4 pancreatic cancer. He was a truly great and talented personality and will be missed.

• Masked! At this point, I don't know why anything more on this subject needs to be said, but here you go...
Science has laid it all out on the table. There it is. Masks can halt the horrific effect of the pandemic and save lives. But too many people refuse to fucking listen, so here we are.

• Maya! I tell you... every single time I see Vice-President-Elect Kamala Harris speak, all I can think of is just how totally on-point Maya Rudolph's impression of her is...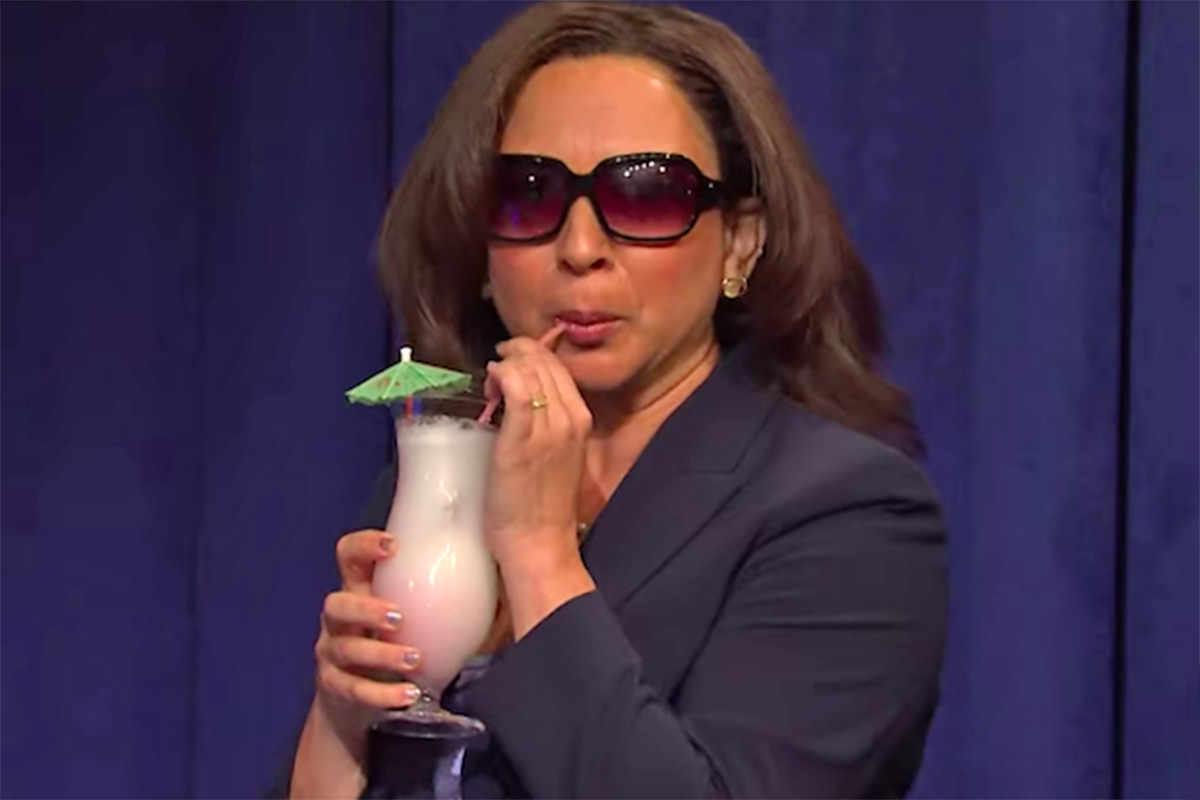 I sure hope that this means we'll be seeing more of her on Saturday Night Live!

• Burn! Soooo... is Bernie Sanders psychic?!? No. He just saw what so many people saw was going to happen...
"For whatever reason?" Come on, Bernie. Democrats were specifically told by Biden to vote safely by mail. Republicans were specifically told by Trump to vote in person. What happened is exactly what was always going to happen given how Republicans were cutting into Post Office operations, restricting drop-off locations, and doing whatever they can to delay or eliminate votes coming by mail... up to and including calling those votes "illegal" with no evidence at all. What's funny is that they also dictated in some states that votes couldn't be counted as they were received, but instead had to be counted after Election Day... once again to provide the illusion that votes were being "found" after Election Day. It's such a transparent load of bullshit. But that's politics for you. Don't hate the players, hate the game for allowing this kind of stupid shit to keep happening.

And that's your election coverage for this fine Sunday.
Posted on November 3rd, 2020

Well, maybe not so much "love" as "acknowledgement." An acknowledgement that they too are a living creature on this earth and deserve to be cherished as any living creature should be.
Which is why I don't kill spiders or flies or anything else if I can help it.
All Hallows' Eve was a depressing affair. I bought Halloween candy thinking that I would figure out a way to pass it out in case trick-or-treaters showed up. But, alas, I ultimately decided it would be better to close the blinds, turn out the lights, disconnect the doorbell, and drink. In the near-five-years that I've lived here I've never had the blinds down. I didn't even know if they worked...
I ripped down the blinds by the cat tree so the cats wouldn't get caught up, so I had to board it up. Jake was not happy...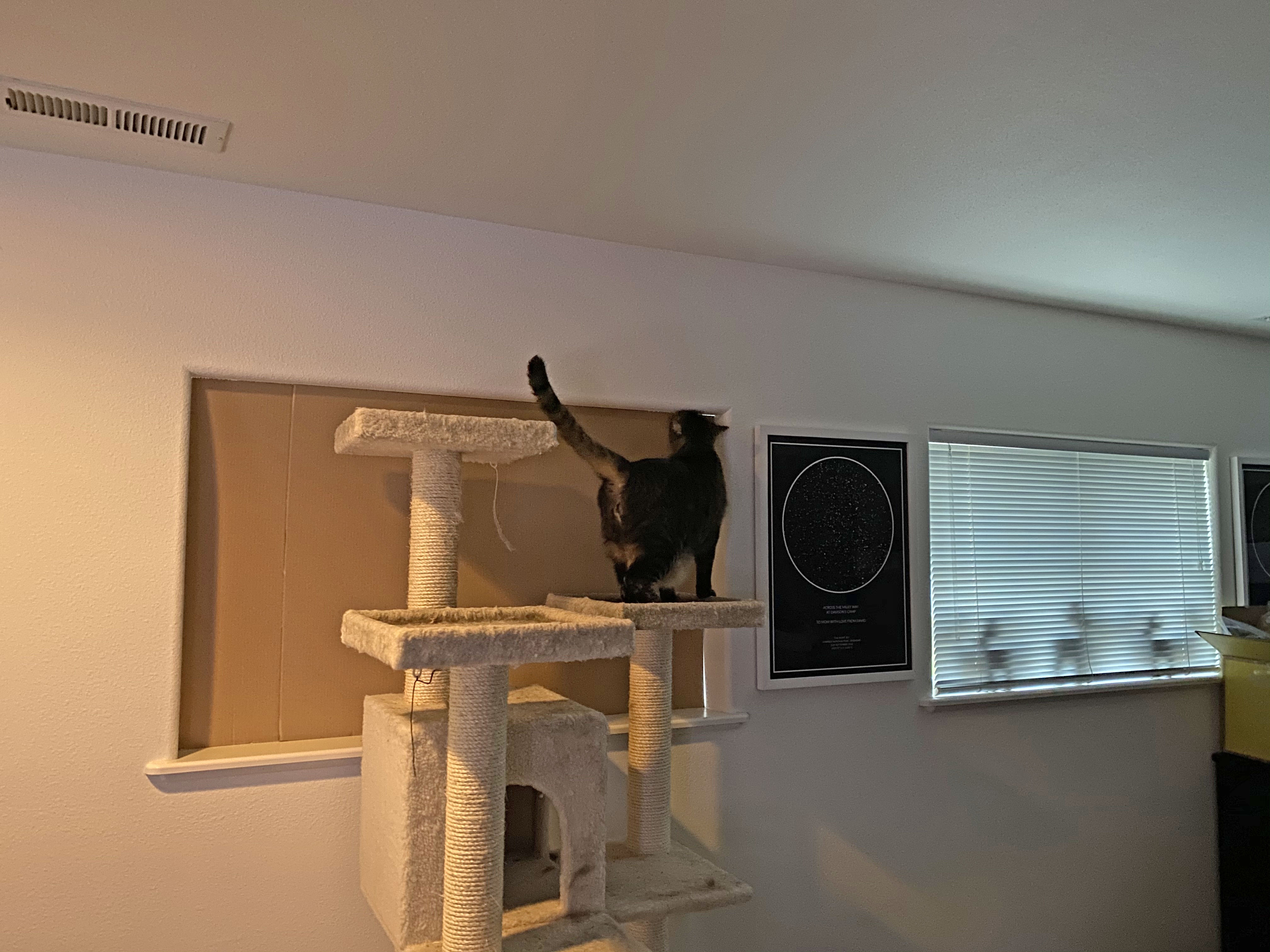 The drinking had more to do with ending Daylight Saving Time than being depressed at how shitty my Halloween had become, but you probably knew that already.
When I woke up Sunday morning the first thing I saw was a tiny fuzzy spider on my bedside table lamp. I took my chocolate graham crackers out of their Ziploc and used the bag to trap the little guy. And I do mean little, as you can see by the grain of sugar on his back...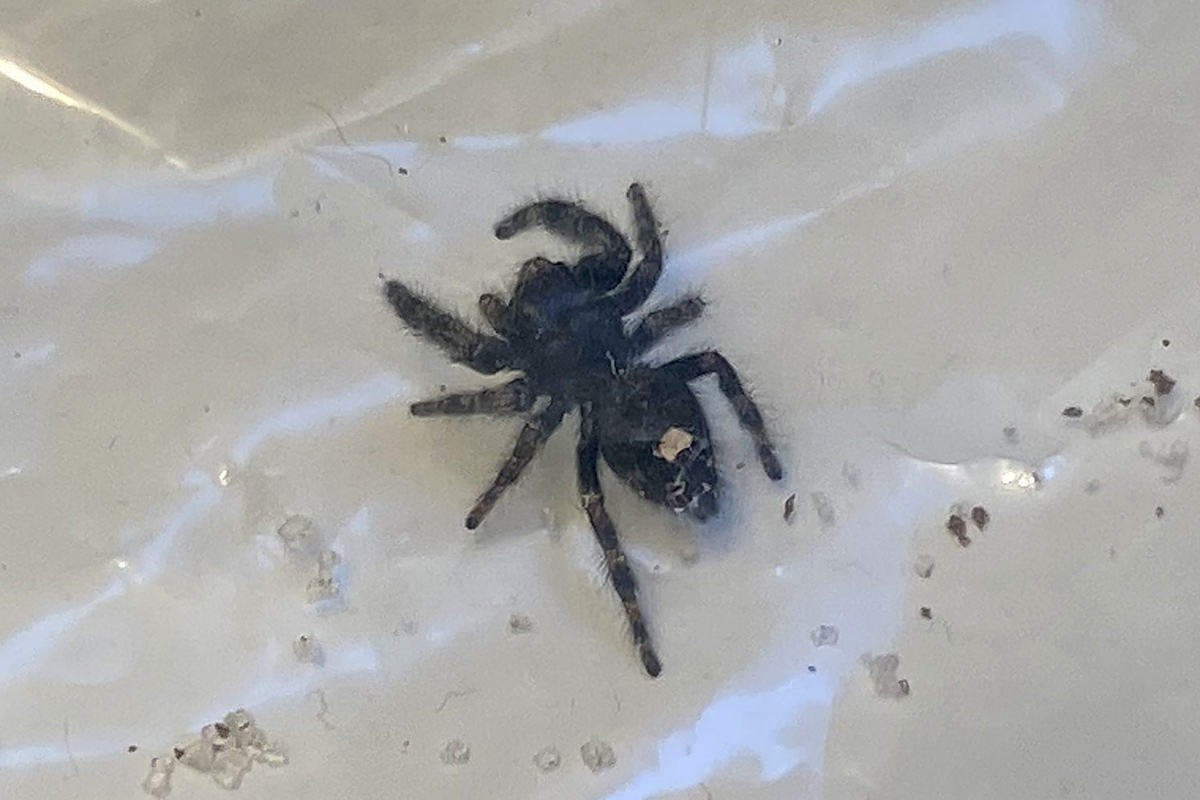 It's a nice warm Fall day so I set him out in the sunshine, make sure he could walk okay, then took his picture...
It wasn't until I got back inside my home and looked down to admire my clean floors that I noticed I was in my underwear. I didn't think that I saw anybody out there with me... but didn't know for sure. Can they call the police for indecent exposure if you're outside in your drawers? Probably...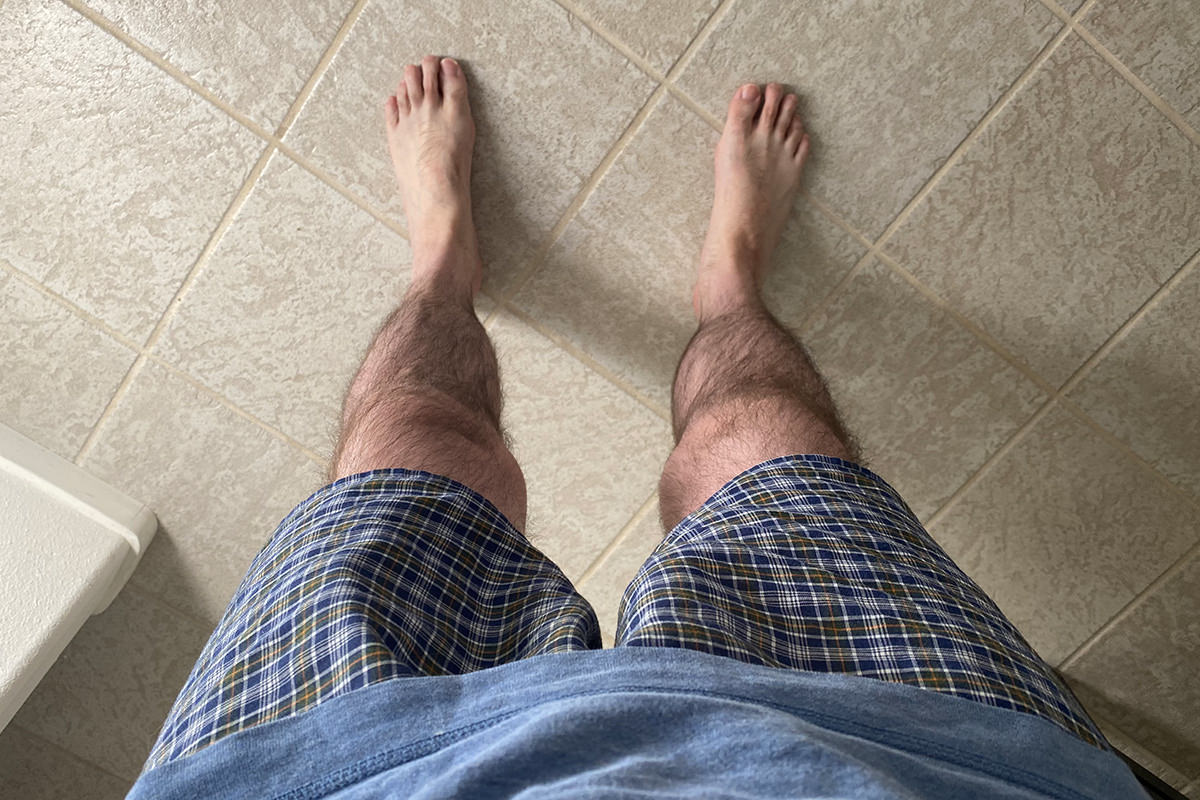 And now I guess it's time for me to willfully ignore Election Night coverage. I've voted and that's all I can do. Whatever happens happens and I'll find out about it tomorrow... or next week... or next month. In the meanwhile it's once again absurd how all these sites are forecasting a runaway election for Biden. I know better. We've been through it all before.
Posted on June 24th, 2020

This has not been a good week. Adobe updated their Creative Suite (which includes the primary tools I use for my work... Photoshop, Illustrator, and InDesign) and, just like last time, there have been serious problems. Things that used to work great no longer work at all. Things that used to work one way now work an entirely different way. It's as if Adobe doesn't bother to beta test with people who actually use their tools, because so much of the stuff I'm having problems with are not esoteric, hidden, or new features. These are basic functionality issues that have been killing my productivity during a busy time.
I guess the good news is that I have less time for all the political drama. Facebook has gotten completely out of hand, and I just don't need it.
Tonight as I was listening to YouTube videos while I (tried) to work, I found out that even that's not safe...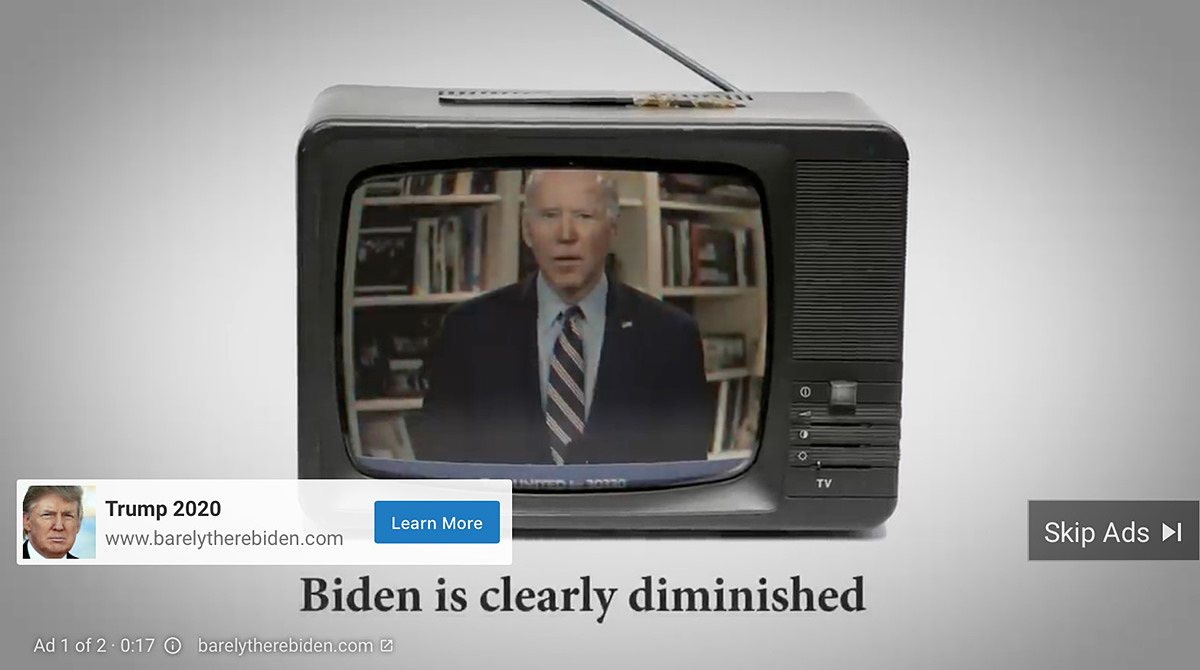 Holy shit... Impeached President Cadet Bone Spurs is calling Uncle Joe "diminished?" I'm not even going to argue that point, but the most diminished person in this fight is so obviously Cheeto Jesus that I guess he pretty much has to point fingers.
It's all he's got, really...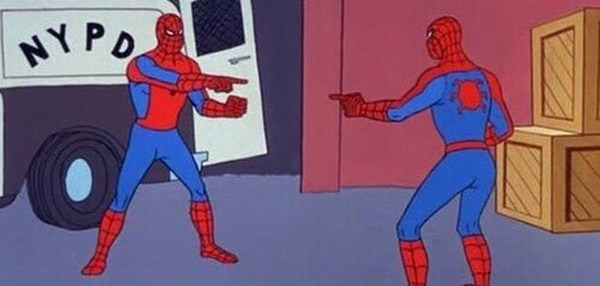 I suppose it's too late for Spider-Man 2020?
Hasan Mihaj from Patriot Act has a really great take that pretty much mirrors where my head is at these days...
So long as we keep clinging to a busted-ass, shitty system, we're going to continue getting busted-ass, shitty candidates. I don't even think that's something that's up for debate.
Time once again to post this fantastic video from CGP Grey on the Alternative Vote...
And if you haven't seen his amazing look at elections, do yourself a favor and take a look at the entire series right here.
Sorry, if I'm forced to be mired in this shitty political bullshit, you get to as well.
Posted on November 6th, 2018

Washington State is 100% vote-by-mail, so I already voted last week.
When it comes to local races here, two of the biggest are too close to call. We won't know the outcome until the remaining mail-in votes are tallied on Friday. Frustrating, but it's a small price to pay for a system which allows you to vote in the privacy of your own home without standing in line. And now that we have automated voter registration for all of our eligible citizens, Washington State has one of the highest voter participation rates in the nation...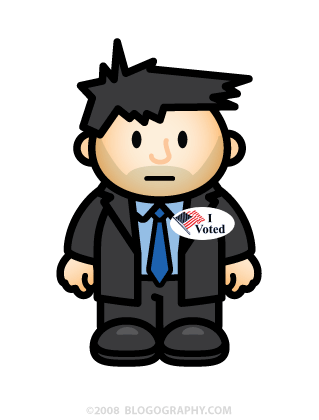 Now that Halloween has passed, the country is already preparing for Christmas.
Back when I had work in Orlando two and three times a year, I'd fly in for my conference then fly home the next day. I'd rarely go to Disney World (even though work would pay for it) because it got to be more of a chore than fun. I just can't handle the lines and crowds of people.
In December of 2007 I was working in Orlando when some work friends and I decided to go to Epcot for dinner in "Italy." After that we took the bus to Disney Studios to goof off for a bit. While I was there, my mom called to tell me something. "What's all that noise?" she asked.
"Oh, that's The Osborne Family Spectacle of Dancing Lights," I replied.
"What's that?"
"It's a show at Disney World where they have a bunch of Christmas lights flashing to music. I'll send you a picture..."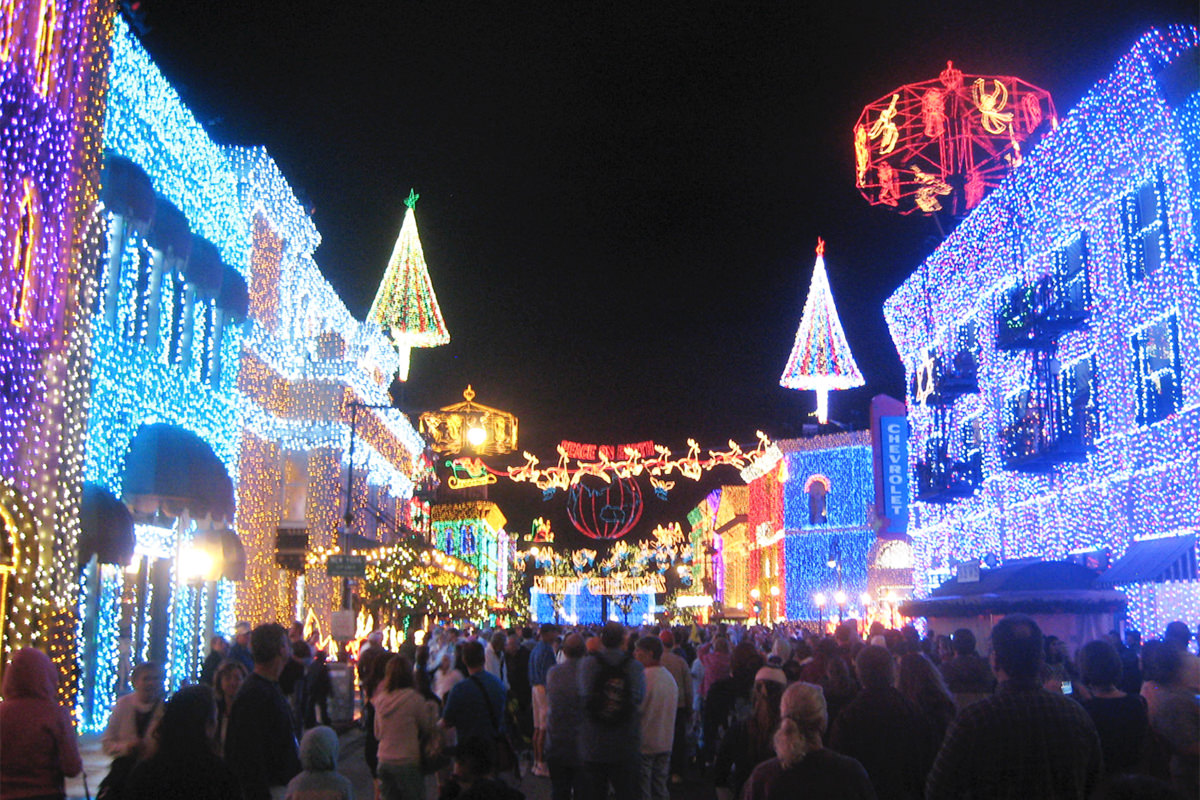 "That's pretty! I want to go to Disney World!"
"I've taken you to Disney World lots of times!"
"But not at Christmas! I want to go at Christmas!"
"Okay. Next year I'll bring you along then."
One year later I kept my promise, and here she is...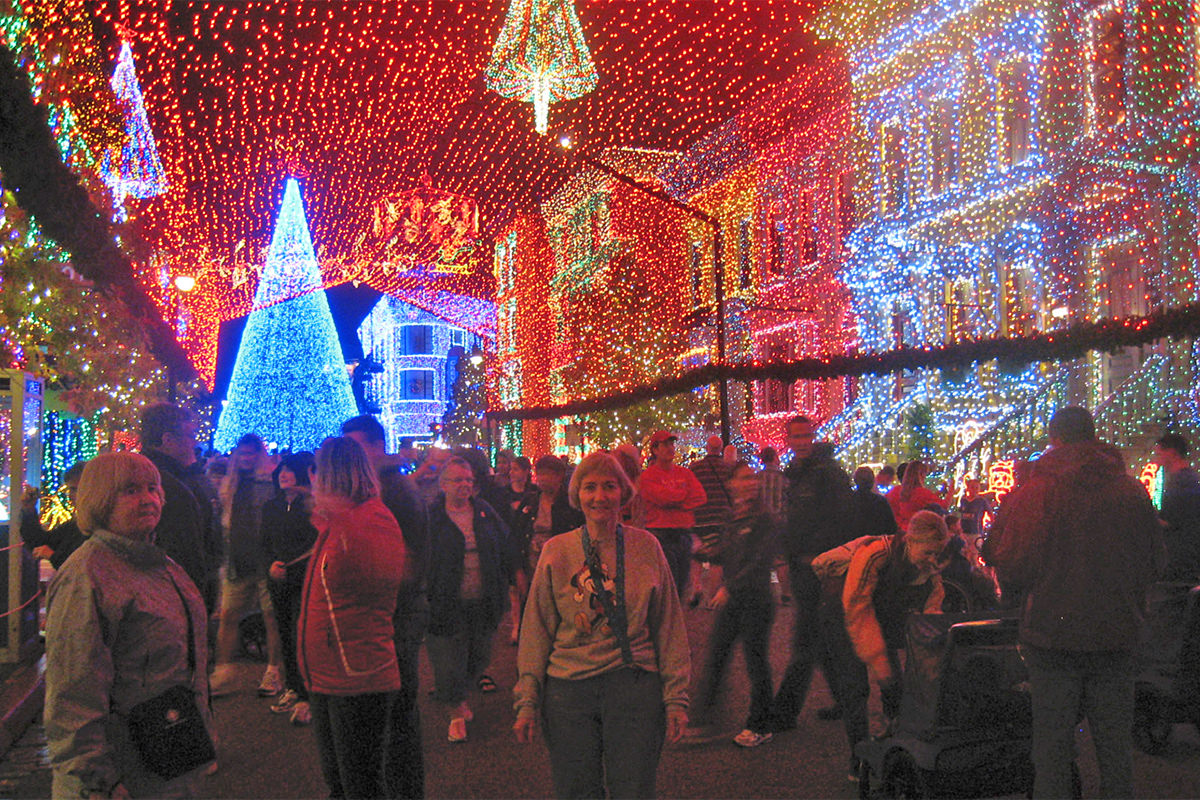 It immediately became her favorite thing. She loved it so much that I ended up taking her a couple more times. The last time was in 2012, I think, since that was the last year I had work in Orlando. They closed down The Osborne Family Spectacle of Dancing Lights in 2015.
This morning I was flipping through my newsfeed while waiting for work to start and saw this terrific video from Disney World showing how they transform The Magic Kingdom Park for the holidays with Christmas decorations...
Pretty cool!
A part of me is glad that I don't have work in Orlando any more. Especially over the holidays. It would be really tough to go there knowing what it meant to my mother. Perhaps it will be easier over time. But right now? I just can't fathom it.
It's that way for a lot of things though.
I miss my mom.