Before I get to my latest frustrations with Apple...
One of my favorite movie franchises is Kingsman. It's James Bond films for a new age and the first one was sublimely good. Smart, funny, thrilling... it had it all. The second movie faltered quite a lot, but was still good entertainment. Now there's a prequel called The King's Man which, despite the shitty kerning on the title logo, looks very good indeed. And now a trailer has landed...
I talked about the logo here... but this is what's so horrific to design-minded people...
But anyway...
Apple has built a business around making computers easier and more seamless to use than other computer manufacturers. "It just works" is the mantra that they bash you over the head with over and over again. And that's a pretty compelling reason to get a Mac, and a very cool perk which comes from owning one.
Until it isn't.
That's when it makes you want to hop a flight to Cupertino and start throat-punching people.
My photo cataloging software is Adobe Lightroom. The full-resolution original photos themselves are stored on my NAS file server, but Lightroom keeps a catalog of thumbnails on your local drive to speed things up. It's a pretty great system which allows me to have terabytes of photos... but only have to keep around 100MB on my local hard drive.
Last night I decided to install Lightroom on Lemon (my new iMac). I was originally just going to AirDrop my catalog files from my MacBook Pro to Lemon. But since the MacBook Pro doesn't have WiFi 6, it was going to take nearly an hour to copy. No thanks. Instead I grabbed the USB-C power cable off my MacBook Pro charger and thought I'd just put the laptop into "Target Disk Mode" which turns it into a big hard drive.
Easy, right?
Not really. I fired up the MacBook Pro in "Target Disk Mode" and it wouldn't mount. For whatever reason, Lemon couldn't see it.
What the hell?
A quick Google search reveals that Macs can, in fact, do "Target Disk Mode" over USB-C... but only if you use a special designated Firewire cable.
And the cable Apple includes with their pricey charging brick... isn't.
This meant I had to dig through a big box of cables until I found a USB-C that was Firewire compatible. Which is tough because manufacturers other than Apple don't seem to mark their cables with a little thunderbolt logo. Eventually I found one in an old hard drive box that had a Firewire logo on the tag that tied it together. I plugged it into my MacBook Pro in "Target Disk Mode" and the hard drive came up.
Eventually.
It took several moments. It started working just as I was going to unplug the thing.
So surely it should be easy now, right?
Lord, no.
Using the MacOS Finder to copy the Lightroom catalog files took frickin' forever because it was stuck on "Preparing to Copy"...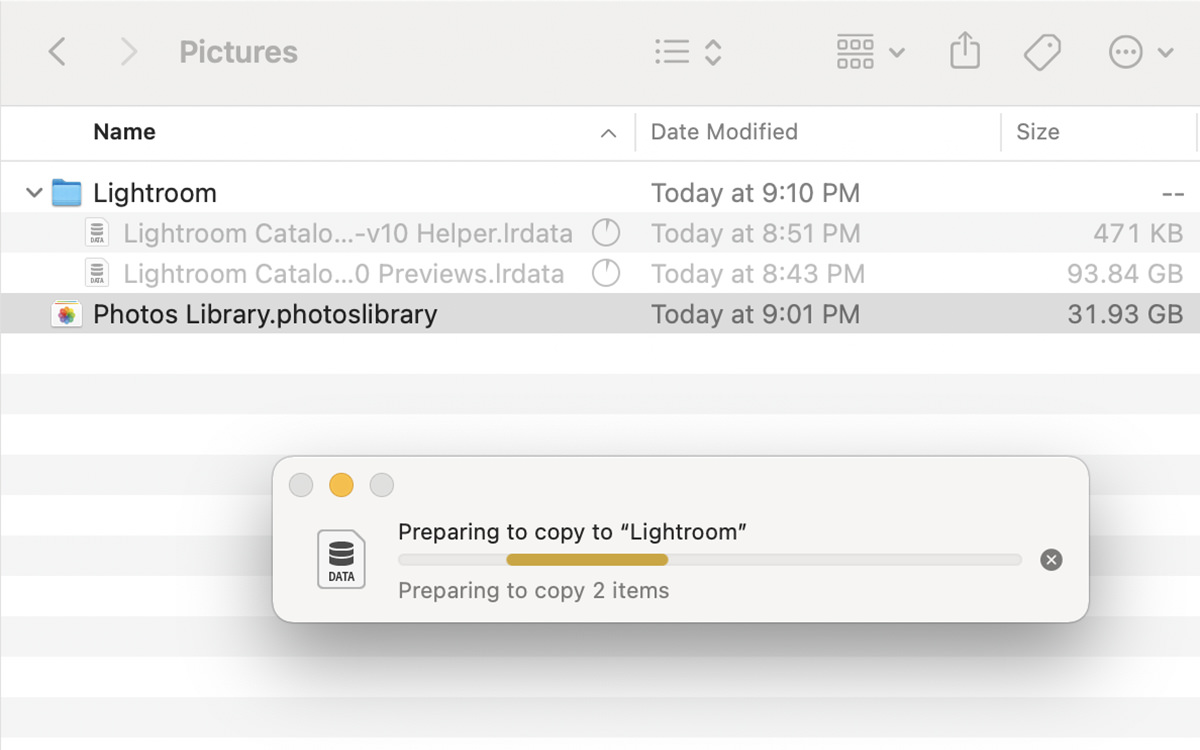 Time to install ChronoSync to see if my backup software would go any faster.
The answer is yes and no.
Yes it was faster to initiate the copy... but the copy itself? It never went over 70MB/second. Even though the Firewire 3 port on my MacBook Pro and Thunderbolt 4 port on Lemon can (theoretically) transfer 40GB/second. Yes, you read that right... I'm getting less than 70 MEGAbytes a second when I should be getting 40 GIGAbytes a second.
I mean, yeah it was faster over cable... 20 minutes instead of an hour via WiFi... but still, this is really shitty. Factoring in the 30 minutes it took for me to get "Target Disk Mode" working, and I ended up saving a whopping 10 minutes over just AirDropping the stupid thing over WiFi.
So... uh huh... somebody at 1 Infinite Loop needs a throat punch. Bad.
I'm not ruling out that it was the cable that was the limiting factor, but a hardwire transfer of any kind that can only sustain 70MB/second transfer is pathetic and embarrassing.
But oh well. Despite the monumental waste of time, Adobe Lightroom is functioning flawlessly... and it positively flies on the M1 chip in my iMac thanks to Adobe investing the time to make it run natively on the hardware. It really is astounding to contrast and compare using the software on my MacBook Pro vs. my decidedly non-Pro, consumer-model iMac.
There's good news though. It only took Lemon 6 minutes to backup the new data to the attached Time Machine Thunderbolt 3 SSD backup drive. Much more inline with my expectations of how long it should have taken to get the data to be transferred to Lemon in the first place.