"Hey Siri, Fuck you, you steaming pile of shit!"
"I won't respond to that."
I have a SONOS smart speaker music system and I am very happy with it. It gives me great sound in every room... from my home theater to my kitchen to my bedrooms to my bathrooms. Thanks to integration with Amazon Alexa, I can control all the speakers with my voice. Or control all aspects of my smart home and ask for information just by talking to the nearest speaker. And thanks to integration with Amazon Music Unlimited, I can tell SONOS to play whatever music I want anywhere I'm at. It's glorious.
The only shortcoming is that SONOS cannot integrate with iTunes Match. Which means all the music I've purchased through iTunes or ripped into iTunes is off-limits. This is generally not an issue, because Amazon Music Unlimited has most everything I own anyway. It can be an issue when I am wanting to play different music in different places because I only have a single license for Music Unlimited... which, I guess, is not so unlimited after all.
Enter HomePod. Apple's answer to SONOS...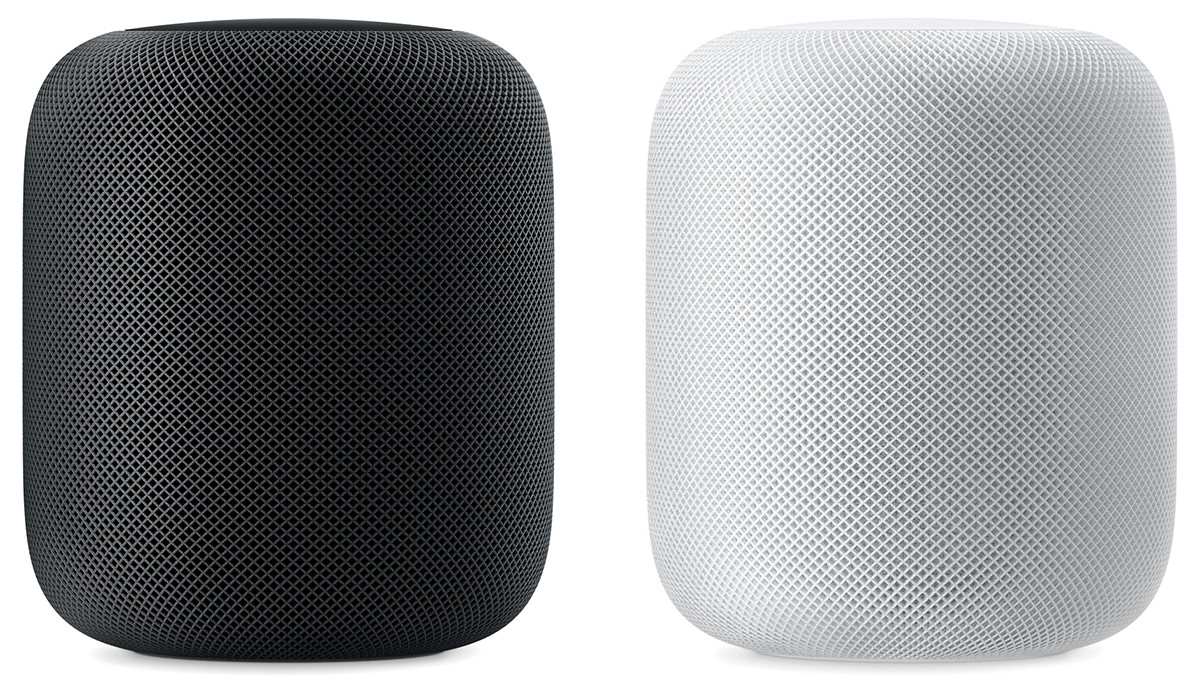 I had no intention of buying one because A) I already have SONOS, and B) they're $300 a pop!
Apparently nobody else is buying them either, because they're regularly discounted to $250. And now Best Buy had them knocked down to $200. Factor in my Best Buy Card cash-back and the credit and cash I had, and I was able to pick one up for around $150.
So why not? I'll just pull the money out of my Black Friday fund. I have plenty of clothes anyway. And it's not like I'm going anywhere thanks to a pandemic raging.
And so...
I'm going to get this out of the way right now... the sound out of this speaker is exceptional! It absolutely trounces my Amazon Echo and the SONOS One. The fidelity, bass, and clarity is off-the-charts fantastic. It cannot, of course, compete with my SONOS home theater setup... because how could it? But for a single speaker? Incredible. Room-filling sound that seriously blows me away. Unlike SONOS which requires you to tune it to a room using your iPhone to listen to itself as you walk around the space, HomePod automatically listens to the space its filling and adjusts itself to fit without you having to do a thing. And it's not just hype... I moved the HomePod to different places in the room and it is absolutely creating magic. So when it comes to the acoustical abilities of Apple HomePod I am 100% sold. Also nice? The sound doesn't drop down (AKA "ducking") when you talk to it like what happens with Alexa devices.
And that's about it for things I like about HomePod. Except perhaps the looks, which are not bad.
Setup is admittedly a piece of cake if you own an iPhone... you just hold iPhone up next to the speaker and it automatically detects it and asks if you want to set it up...
After set up, I asked Siri to play the album 101 by Depeche Mode...
"Sorry, I couldn't find Depeche Mode in your music. If you subscribe to Apple Music, be sure that it is set up properly in the Home app."
Well that's odd. I repeat my request in a half-dozen different ways. Each time I'm told that Siri can't find the music I want to play.
The Apple forums say that individual items sometimes cause problems, but creating a playlist usually works. So I tried creating a playlist called "DM 101" with the album 101 as the only content. I verified that it was showing up on all my devices, and it appeared almost instantly. So sync is definitely working. So then I ask HomePod to play it...
"I couldn't find DM 101 in your music."
After a half-hour trying to figure this shit out, I finally gave up and reset HomePod so I could start over. Maybe there was something I missed? Maybe the OS update didn't register?
Same damn thing.
OVER AND OVER AND OVER AND OVER.
So then I think that I'll just use my MacBook Pro to tell HomePod to play Depeche Mode's 101 directly. I use the Music app to find the song... send it to HomePod... and it's actually playing! At last! But then I close the lid on my MacBook Pro and HomePod stops playing. I wasn't telling HomePod to play my music... I was merely streaming music to HomePod over AirPlay.
Ditto with Music on my iPhone. You cannot control HomePod from there either... only stream to it. The HomePod setup controls are in Apple's shitty Home app, but there's no way to find out why it can't get to iTunes Match. Nothing that even indicates you are set up to use iTunes Match. And, of course, nowhere to type in what I want HomePod to play.
So I reset HomePod AGAIN and go through setup AGAIN.
I tell Siri to play the album 101 by Depeche Mode...
"Sorry, I couldn't find Depeche Mode in your music."
Now I'm actually worse off than I was before. Not only can HomePod not find the album 101, it can't find ANY music by Depeche Mode at all? I HAVE 30 FUCKING ALBUMS AND 197 SONGS BY DEPECHE MODE! AND HOMEPOD CAN'T FIND ANY OF THEM?!?
"Hey Siri, Fuck you, you steaming pile of shit!"
"I won't respond to that."
So here I am... searching the Apple support communities trying to figure out how the fuck I play a damn album that I own and have synced with iTunes Match WHEN THAT'S THE ENTIRE FUNCTION OF APPLE HOMEPOD! I've tried absolutely everything I've managed to dig up on Google. Turning off personalized requests... using playlists... unplugging and re-plugging back in... everything.
I've spent hours searching for solutions in the Apple Communities.
I've reset HomePod three times. Unplugged/plugged numerous times.
I've sat back and waited for an hour, thinking it just needed time to sync stuff.
I've tried controlling via my MacBook Pro and iPhone but can only stream, not control.
What the fuck else is there?
I bought HomePod to play my iTunes Match music. If I wanted to stream my music to a speaker over AirPlay, I WOULD JUST USE MY SONOS SYSTEM SINCE IT HAS AIRPLAY BUILT-IN! Not only that, but I have a Plex server sitting on my NAS with all my purchased music on it. So what happens if I ask Alexa to play it via my SONOS?
"Alexa, tell Plex to play the album 101."
"Playing the album 101 by Depeche Mode."
Can you believe this shit? SONOS/Alexa/Plex didn't even fucking hesitate! It just started playing what I asked, even though it takes THREE SEPARATE SERVICES TO MAKE IT HAPPEN! And of course it sounds amazing because it's using my SONOS Playbar, two SONOS One speakers, and the SONOS Subwoofer...
Meanwhile Apple HomePod can't even make it happen with their own iTunes Match service! How fucking embarrassing.
Time to schedule a call with Apple Tech Support.
Despite scheduling a call and specifying I need help with HomePod, I was put on hold 15 minutes to wait for an Apple HomePod Specialist. Then after I explained the problem, I was put on hold for 22 more minutes. Then the HomePod Specialist came back and said he would transfer me to his supervisor, Mason. AT WHICH POINT I WAS DISCONNECTED!!!
Despite Apple knowing who I am and having my number, nobody calls back. So I call them back. Keep in mind I have been working on this problem FOR THREE HOURS AND 45 MINUTES!
On hold waiting for Apple again, this time for 51 minutes until somebody answered. TWELVE MINUTES LATER I WAS DISCONNECTED AGAIN!
Fuck it. I am returning this HomePod pile of shit. Four-and-a-half hours of my life wasted.
And definitely fuck Apple.
Apple tech support is the absolute WORST! They used to be the gold standard, now they're just the shittiest of the shitty. I haven't had a truly good tech experience with Apple for nearly a decade. You would think that a company with BILLIONS in the bank would do something about it... but, alas. My advice to you if you ever have a problem needing Apple support? Don't even bother trying to solve it on your own. Call immediately. Then, if you happen to solve it while you're holding for hours, then say that when they call... or you get off hold. Because otherwise you're just wasting your time. And Apple doesn't not give a fuck about your time, trust me.
I found that out the hard way when they accused me of not returning my iPhone... THAT THEY TOOK FROM ME AT THE APPLE STORE! A fucking week of my life wasted on that bullshit. I really need to type up that story one day... but I am enraged just thinking about it. Maybe one day.
God how I hate Apple. I really, really do.