First I talked about deciding what specs to order for my new iMac. Then I talked about the design of the thing yesterday. And now I suppose I should talk about actually using Lemon (which is what I named my shiny new yellow... er... gold computer).
When it comes to my iPhone, I am a part of Apple's iPhone Upgrade Program. I make a monthly payment for the iPhone, AppleCare, and Theft+Loss... and, in exchange, Apple lets me upgrade to the latest model iPhone every year. It's a pretty sweet deal, because I can't afford to pay $1000 for a new iPhone model every year. The down-side is that I don't own my phones. I have to return them to Apple when I upgrade. The only way I get to own my phone is if I skip an upgrade and make payments for two full years. I never do this. I'd rather have the latest iPhone than an old phone that loses value with each passing minute if I were to pay it off.
But there is no "Mac Upgrade Program."
So when it comes to my Macs, I use them until they fall apart, or can't run my software, or die (as in the case of my last iMac).
As you can imagine, it's always quite a shock getting a speedy new Mac after using nothing but old hardware for years and years (my iMac was 12 years old when it finally died, and my iMac at work is 7 years old). My MacBook Pro is my newest Mac (purchased 2019) and the fastest Mac I own, despite being the cheapest model available at the time (hey, I was on a budget!).
My new iMac 24" positively smokes all of them.
I am not kidding. This thing with it's new M1 chip is unbelievably zippy.
But before we get into it all, it's important to bring up the elephant in the room... to get the best performance out of your Mac, you need to be running native apps for the M1 processor. Anything that's not native (i.e. written for old Intel Macs) has to be run under an emulation layer that Apple calls Rosetta 2 (the first Rosetta was from 2006 when Apple made the relatively seamless switch from PowerPC chips to Intel chips).
You would expect that any Intel apps that have to use Rosetta 2 emulation would run much slower than on actual Intel-based Macs. And they probably do. But when comparing my 2-year-old MacBook Pro with emulated apps on my new iMac via Rosetta, the performance is very close. Meaning that I don't actually lose anything by running non-native apps on Lemon.
Native apps are called "Universal" (because it runs native on the M1 and will also run on Intel), which you can see in the Get Info box...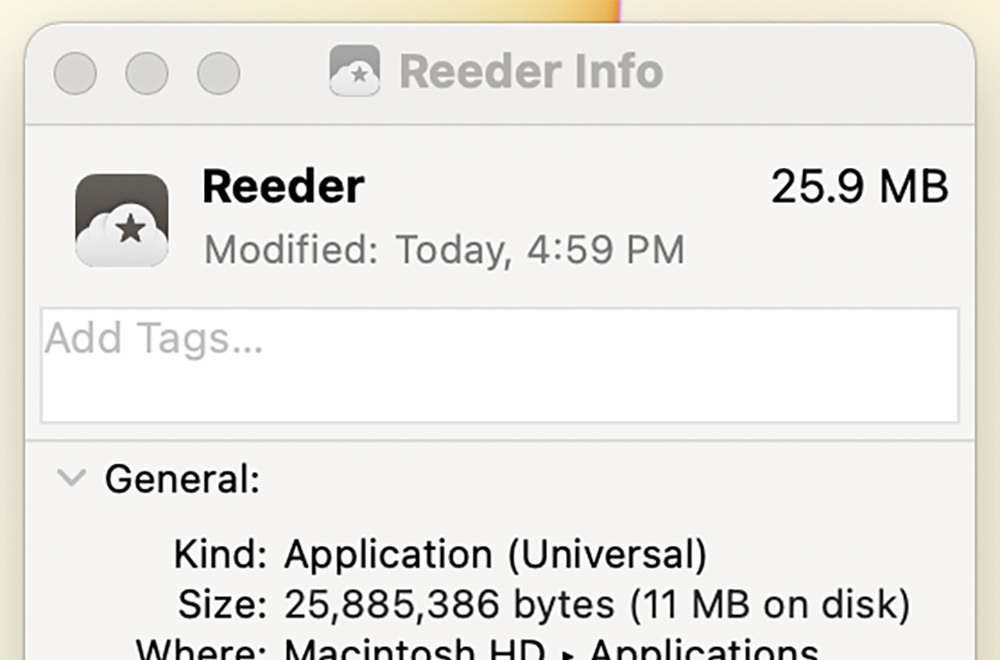 Whereas Intel apps are called "Intel" in the Get Info box...
Fortunately, a lot of the apps I use have been compiled to run M1 native. This includes Adobe Photoshop, Adobe Illustrator, Adobe InDesign, and Adobe Premier. There are a few things in these apps that aren't working yet (so if you need them you'll need to run them in Rosetta 2 mode) but those features are things I don't use anyway.
And let me tell you, the M1 native apps absolutely fly.
Working on large files in Photoshop and big documents in InDesign is positively dreamy. Everything is so snappy and so smooth. Something that would be impossible with just 16GB on an Intel Mac. InDesign is a particularly crappy app to use because just scrolling through pages with lots of images is a jerky mess that will have you screaming at your computer. But on my new iMac? Butter.
Kinda.
As I mentioned in part one, I put the $200 upgrade I had into 16GB of memory. I do not regret this choice, because the work I do benefits from having extra room to do the processor-intensive stuff I do. I didn't want to put that $200 into getting extra storage because all my files are stored on a NAS network file server. Why invest in storage that I won't use?
The answer is that on-chip storage makes loading my big documents much, much faster. Which means I can start work quicker and get more done. Loading files from my NAS over WiFi is pretty good speed-wise because the iMac has WiFi 6, yet far slower than from internal storage. Once my iMac has the file loaded everything is super-speedy though, so it's all good.
But when I transfer the files to Lemon's internal storage and load them from there? Good Lord. It's almost instantaneous! Not even enough time to take a sip of Coke Zero! The files are just... there! It's computer Nirvana.
Which makes me wish that I had the extra cash to have purchased more storage. The iMac tops out at 2TB of storage. But I didn't have $800 to make that happen, so I went with the base 256GB.
If I ever need to use Lemon for serious work, I'd probably end up moving my NAS from downstairs to upstairs so I can plug it in directly. That would speed up file-loads a bit (but not huge because the iMac is limited to a pokey 1GB ethernet port instead of the 10GB that my NAS can dish out).
So, yeah, I'm positively thrilled with the performance of the 2021 iMac 24".
And this is a consumer machine! Can you imagine what the Pro models will be like?
Well, my work iMac is going to die eventually, so I guess we'll see sometime in the future.
Because the future of the Mac is clearly on Apple silicone like the M1.